6 Tacoma & Seattle Hikes for Families
This post may contain affiliate links and I may be compensated for this post. Please read our disclosure policy here.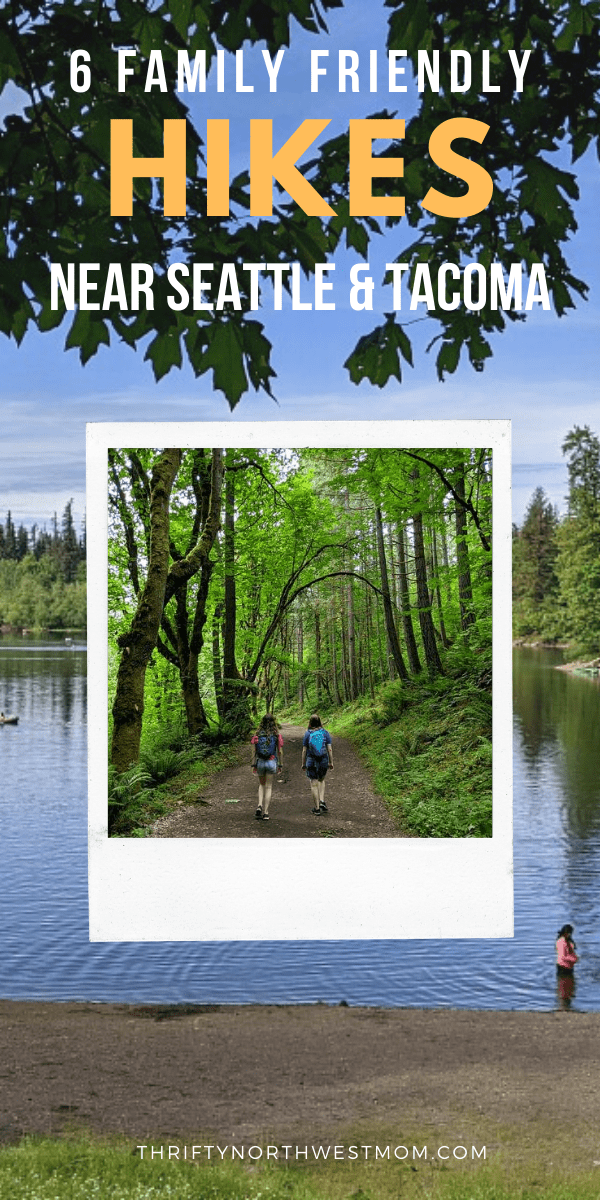 6 Tacoma & Seattle Hikes for Families!
Getting out in nature has been such a welcome respite for us, especially with all the stress going on in the world, so we have been enjoying exploring all around our local area & checking out new-to-us hikes. We have so many gorgeous areas around the Northwest to get out into nature & many of them are even hidden right within our cities & towns or very close to travel. This makes it much easier to get out for a hike early morning or in the evening after school & work. The majority of these hikes are ones that we visited in the early evening hours on weekdays (love the long summer days in the NW!) to keep the crowds to a minimum. And these would be great hikes for all year round too!
Yesterday we shared our 6 favorite waterfall hikes around Seattle & Tacoma, so make sure to check out those trails as they are most definitely some gorgeous hikes! Those waterfall hikes can tend to be more crowded, though, especially on weekends, so these are some hikes that you might find that are a bit quieter (depending on when you hike, of course). And such a wonderful opportunity to "get away" even just for a few hours.
None of these hikes are more than 5 miles long, though & most have fairly mild elevation gains, so they are great hikes for any age & skill level. If you have never really done any hiking before & may be out of shape, start with the easier (less elevation), shorter hikes & you'll find yourself building endurance & strength to work towards some of the longer hikes.
Definitely utilize the Washington Trails Association website or app (WTA). I have this app on my phone & you can search for hikes by location closest to you, difficulty level, kid-friendly, dog-friendly, etc. It makes it so nice to see a variety of trails. They also will give you very specific directions (that are better than Google maps in several occasions) & detailed instructions for the hike & where to go.
All Trails website & app is another great resource to use (especially in other locations like Oregon, which does not have a website like the WTA). I have both apps on my phone so I can check them both out.KS
A few more tips for hiking with kids:
Remember the 10 essentials – even if you are just going out for a short hike, it's important to always have the necessities in a backpack or fanny pack in case you need it for an emergency
5 important hiking items for kids – check out this list for any other necessary items for kids
Always, always bring plenty of water (or a water filtration device to filter extra water if needed). If bringing your pup, bring water for your pup & a bowl (we like these collapsible bowls as they easily fold up for your backpack)
Make sure to download the trail information to your phone (so you don't need wifi) from WTA or AllTrails or take screenshots of the trail details so you can reference it if you need directions on the trail
Always take a photo of the map at the trailhead (if there is one) – they are typically the best maps & if you have trouble finding the route or location, you can easily reference this
Tacoma & Seattle Hikes for Families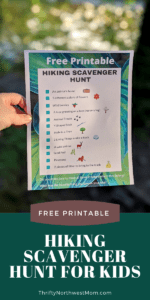 Download this free Scavenger Hunt for Hikes printable before you go, to make the hike even more fun for your kids!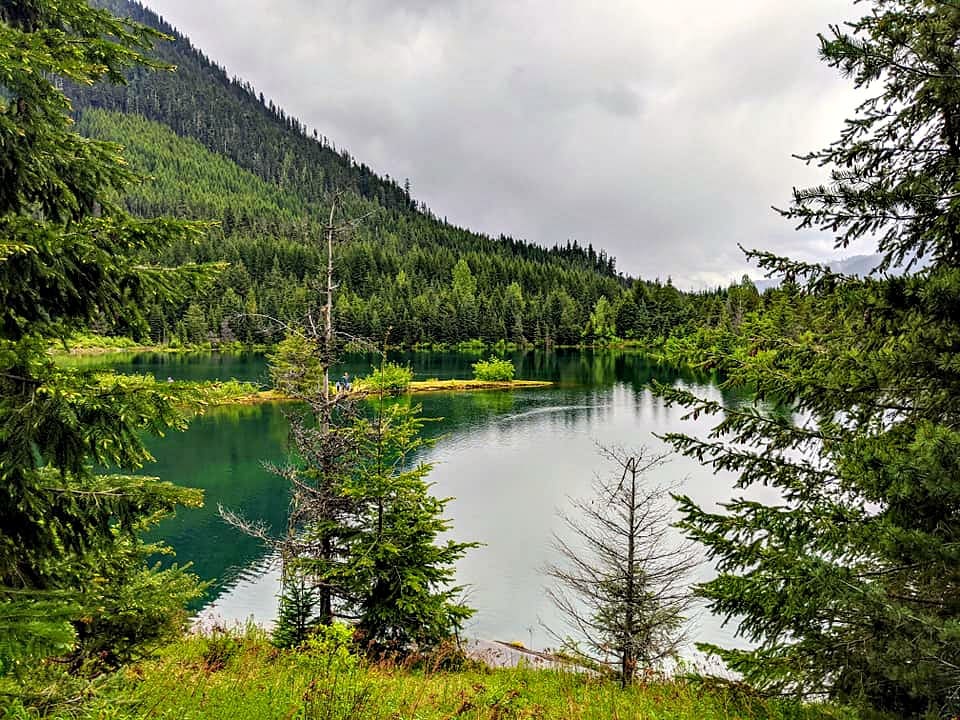 Location: Snoqualmie Pass, WA
Miles: 1 mile round trip (loop)
Elevation Gain: 10 ft
Pass Needed: Northwest Forest Pass (if you go in winter when there is snow, it will need a Sno-Park Pass)
Parking: In the summer, you can park in the parking lot. In the winter, you will need to park on Forest Rd 4832 & hike in on the road a short little bit to get to the trail
Restrooms: No
Pet Friendly: Yes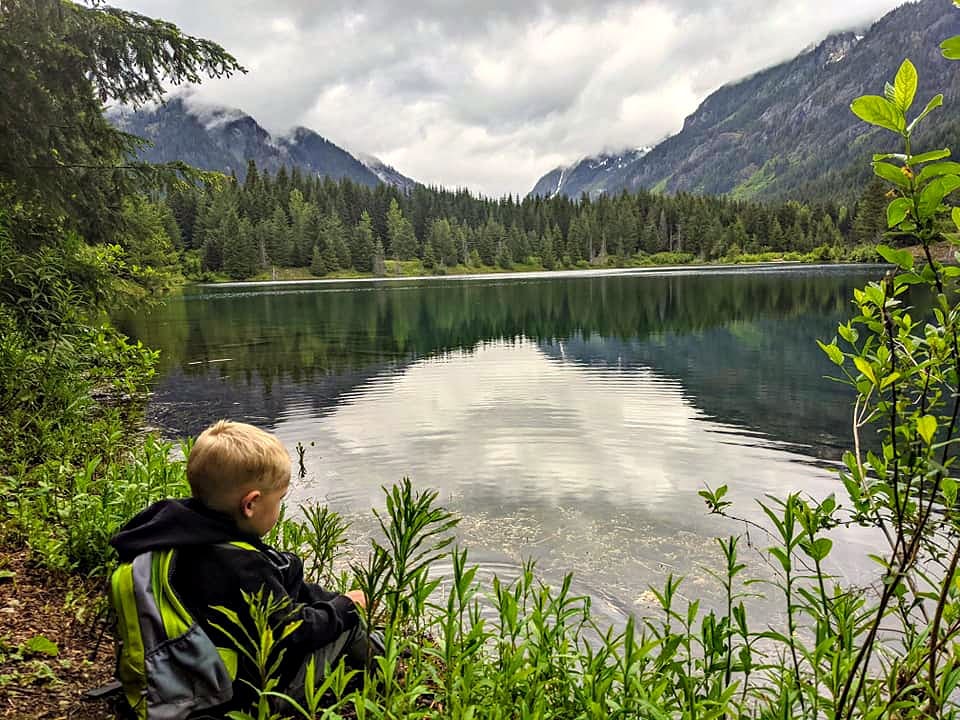 Gold Creek Pond is absolutely one of the best beginner hikes around in Western Washington in my opinion & with some of the most incredible views you'll find for such a kid-friendly trail. It is totally flat, stroller friendly, & ADA accessible, so also a great hike you can bring grandparents to as well.  It is a combination of packed gravel & boardwalk around the pond. It is located just 2 miles east of the Snoqualmie Pass summit, so it's just about an hour to the trailhead if you live in the greater Seattle area. It's definitely worth the drive up to the mountains, though, for this peaceful hike in the mountains, with gorgeous views of the Alpine Lakes Wilderness in the distance.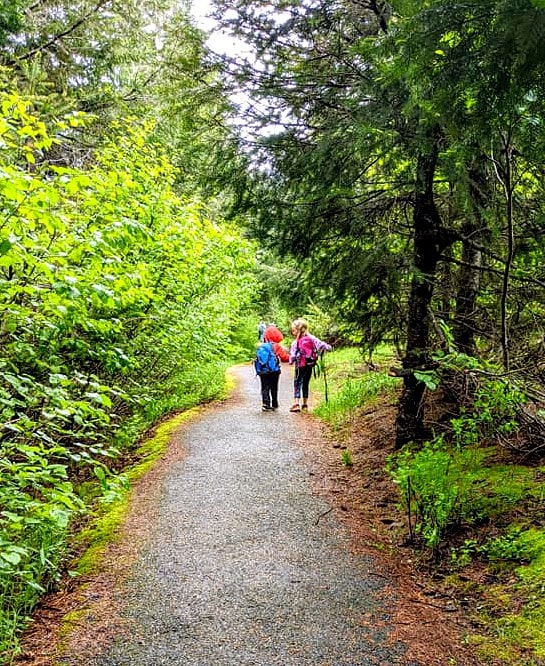 I have not done this hike in the summer yet, but I hope to soon. But it is one of my favorite places to snowshoe for a beginner snowshoe hike (so keep that in mind if you want to try snowshoeing – the gentle grade & scenic views make it the perfect place to try snowshoeing in the winter). Even in the off-seasons with rainy weather, this hike will work well for the whole family. Kids will love venturing down to the pond to check it out & crossing the various little bridges.
Make sure to pack a picnic lunch to enjoy before or after your hike as there is a large area with picnic tables and it's such a picturesque spot to each lunch. There is no shade, though, so be prepared for that with sunscreen.
(Thanks to my friend Heather for these photos as all of my photos of Gold Creek Pond have snow in them!)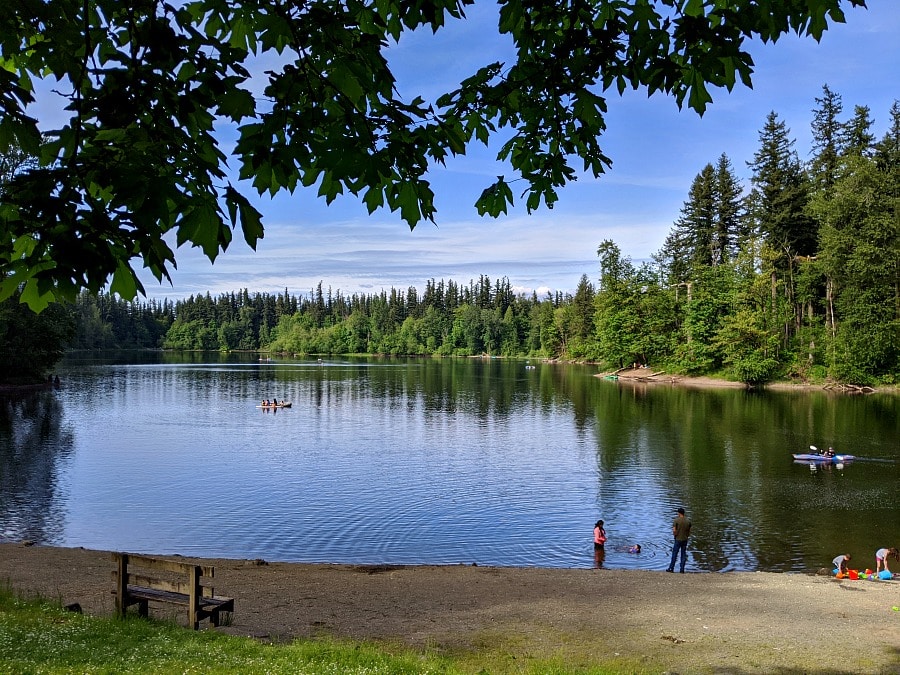 Location: Outside of Enumclaw, WA
Miles: 1.45 RT (loop around the lake)
Elevation Gain: can't find this information, but it is very minimal (under 200′ I'd assume)
Pass Needed: State Park Day or Annual Pass
Parking: Parking lots at the Nolte State park
Restrooms: There are bathrooms at the playground / beach area
Pet Friendly: Yes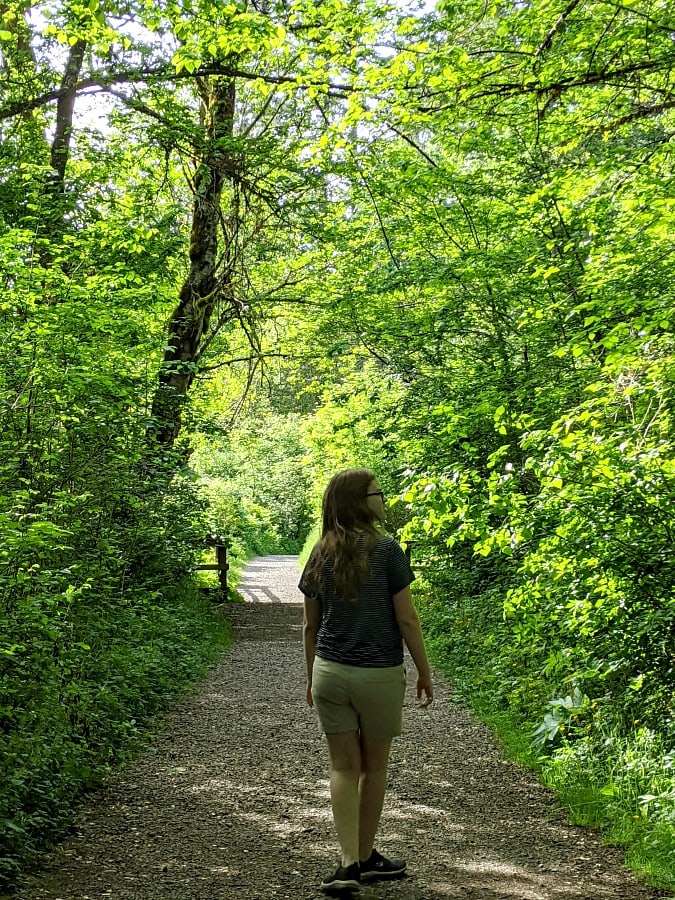 I love hikes that are near water as they are often so peaceful & this hike at Nolte State Park is such a great beginner hike that is a loop around Deep Lake. It's not very long, but it's the perfect length to get started as it's flat & winds thru the forest & next to the lake.  We saw a variety of plant life (watch for nettles though as we did see that along the sides in some areas) & we even saw an owl just sitting in a tree a little off the trail! That was the coolest experience!
This hike is really perfect in any weather. Even in the rainy weather, the lake looks so misty & is fun to explore around. And in the summertime, you can load up the car with floats & water toys, take a hike first to get some exercise & then grab your beach towels & chairs & floats for some fun at the lake. There is also a playground and a big field behind the beach for kids to get out the wiggles at the end of your hike.
Location: Dupont, WA
Miles: 3 miles roundtrip (to the beach & back – you could add more mileage walking along the beach though)
Elevation Gain: 218 ft.
Pass Needed: None
Parking: Park in the parking lot between Dupont City Hall & the police station
Restrooms: Port-a-Potty at the trailhead (but none at the beach)
Pet Friendly: Yes
If you are looking for a hike with a great reward to keep your kids engaged, the Sequalitchew Trail hike is perfect as it is an out & back hike thru a dense forest & small little canyon area to the beautiful beach along the Puget Sound. The Sequalitchew trail in Dupont is such a great, kid-friendly trail as it's very wide and flat and a nice walk to the beach. Once you get to the beach, there is actually quite a bit of room to spread out in either direction which can be more rare on Puget Sound beaches. The railroad tracks (in use) are also behind the beach but up on a hill, so it's safer for kids as you walk thru a tunnel under the railroad tracks to get to the beach.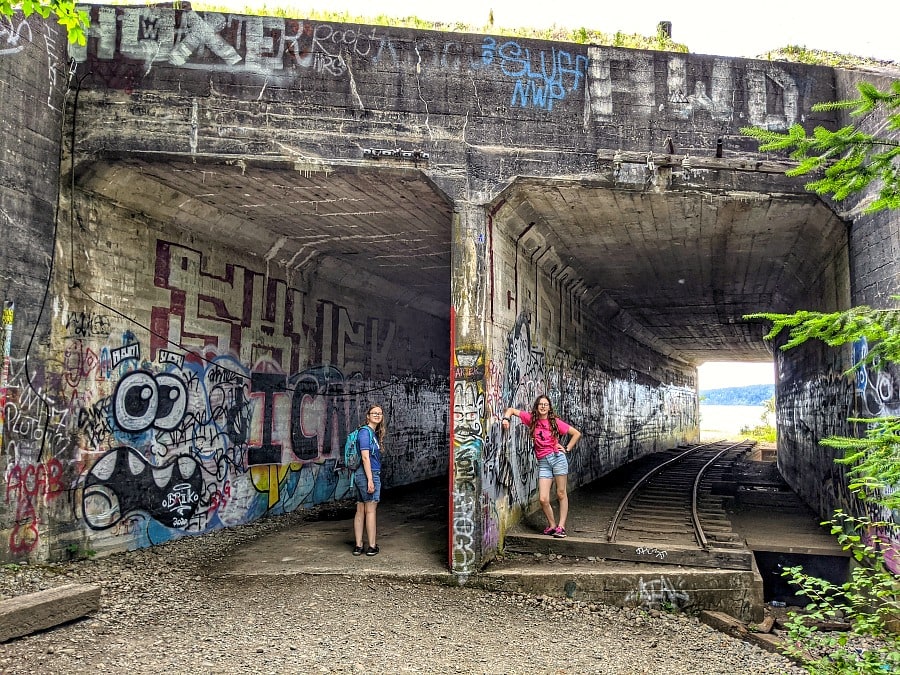 There are a few sets of abandoned railroad track (unconnected to anything, they are literally small sections) but they are fun for kids to try to walk on & make great photo opps. Especially the train tracks going thru the tunnel (under the real train tracks) – there is a lot of graffiti so it's a fun, urban look thru the tunnel & then you emerge from the lush forest to the peaceful beach.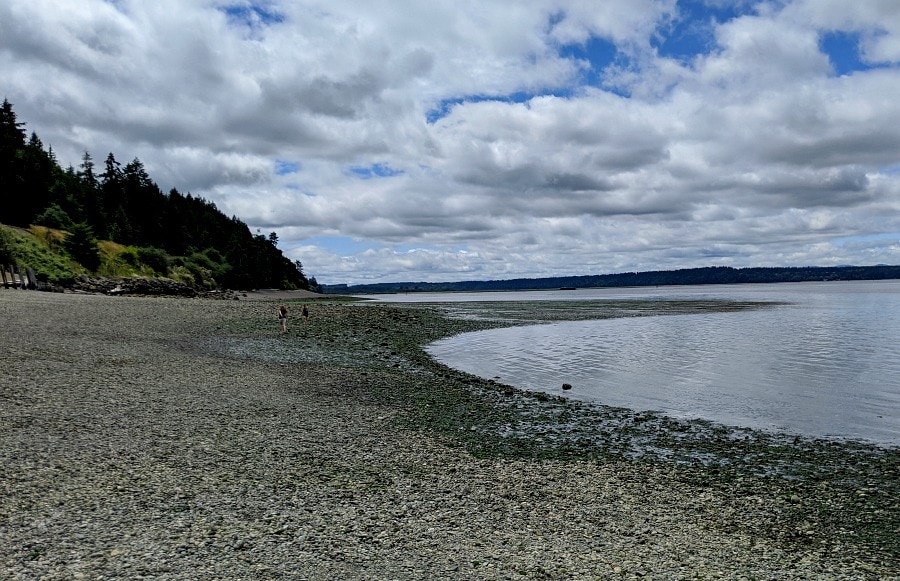 Pack a picnic lunch in your backpack and bring a blanket to spend some time on the beach on a gorgeous day. There is plenty of space to spread out, but weekdays are best if you really want a quieter beach. The only thing to note is that like many of the Puget Sound beaches, this beach is rocky – smaller, round rocks, so you can still sit on a blanket, but it's not a sand beach like the ocean beaches. But that also made it an interesting destination at low tide as the kids were finding a lot of little crabs & shells & such. I bet at a really low tide there might even be some more interesting sea life.
We packed backpack beach chairs to wear on the hike (similar to these although we got ours at Costco last year) & it was perfect for relaxing on the beach without having to carry the chairs the full 3 miles.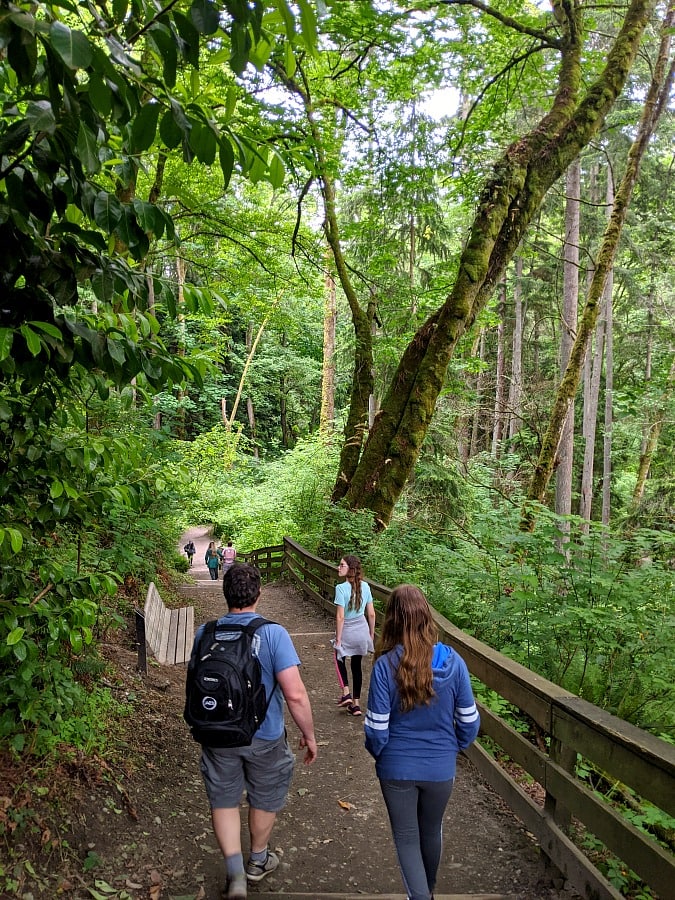 Location: Lynnwood, WA
Miles:  2.5 miles round trip (to the beach & back)
Elevation Gain: 425 ft
Pass Needed: None
Parking: Parking lot at the trailhead (only holds 30 cars), so if full, you'll need to go up & find street parking in the neighborhood nearby (make sure to only park where it is permitted, but we just found parking on a side street & walked down)
Restrooms: There is a port-a-potty at the trailhead & also at the picnic area right before the beach
Pet Friendly: Yes
This is another favorite hike which is an out & back hike, going from a residential neighborhood area to lush, green forest thru a ravine with a creek running alongside. You make your way down to the beach in Lynnwood. We visited on a Friday back in early June in the afternoon and it was popular, so this would be one that would be best on a weekday or in the off season as I expect it gets quite busy on the weekends. Your main issue will be parking, so just be prepared you may have to park up the hill & into the neighborhood areas.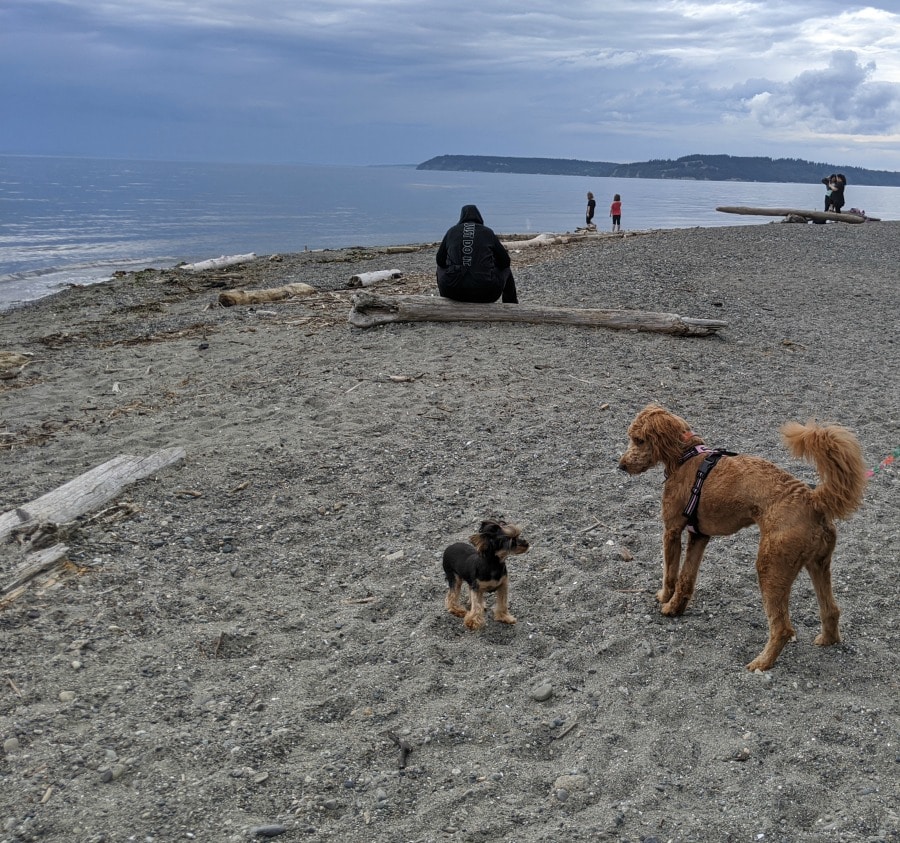 The path was fairly wide throughout the trail which was great for kids to have the space, but it does have some elevation coming back from the beach. So, just be prepared for that as kids may use up all their energy at the beach & you'll want to save some energy for the last bit of the hike when you'll hit some stairs & some elevation (under 500 ft though so it's doable for kids).
You'll meander thru this lush gorgeous forest & listen to the creek and then end up at a park with a large picnic area & grassy area. (You can actually just drive to the picnic area & beach, too, if you prefer to be able to bring coolers, beach chairs, etc.). The train does run along this section of beach too (like most of Puget Sound), but there is a small tunnel to walk under to access the beach safely. There was a pretty good section of beach to enjoy & this beach had a bit more sand & less rocks, so it would be a fun beach to relax on in the summertime. Look for the mini community library near the end of the path & picnic area.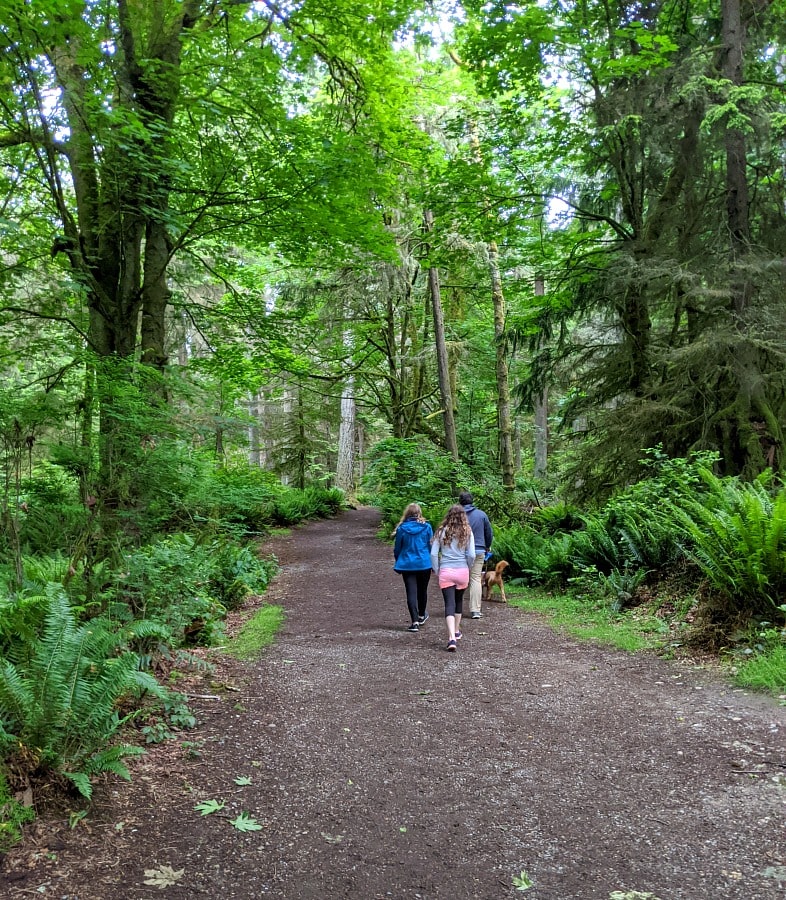 Location: Tacoma, WA
Miles: Many different trails to choose from – they range from 1/2 mile to 4 1/2 miles. You can also walk the 5 Mile Drive at certain times when cars are not allowed for a paved pathway
Elevation Gain: 200 ft (at most)
Pass Needed: none
Parking: multiple free parking areas around Point Defiance park – check Metro Parks Tacoma for more details on parking
Restrooms: there are several public restrooms located around the park (check with the park website to see if they are open)
Pet Friendly: Yes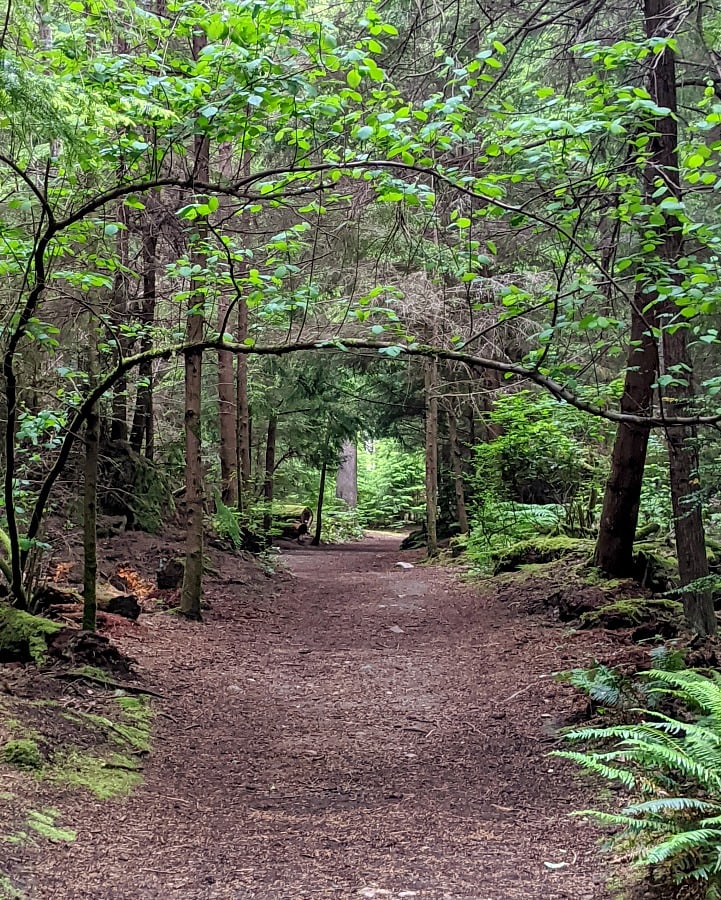 Many of you may have visited Point Defiance Park when you drove to the Point Defiance Zoo but that is such a very small part of the Point Defiance Park. It really is quite large as it goes out to the point & has such a wide variety of trail systems in this park, perfect for both shorter & longer hikes up to 4 1/2 – 5 miles. You can combine several hikes & loops for even more mileage. It is a very gentle grade, though, with very little elevation gain, which is what makes these hikes so kid friendly.
There are 2 loops of Five Mile Drive at Point Defiance Park – the inner loop is what most people are familiar with as it leads to the zoo, Fort Nisqually, Owen Beach, the Pagoda & Conservatory & more. But there is also an outer loop which leads all the way out to the point of land that makes up this park, with various viewpoints along the way of the beautiful Puget Sound, the Tacoma Narrows bridge, Vashon Island & more. There are trails interspersed around this outer loop to get to these various viewpoints.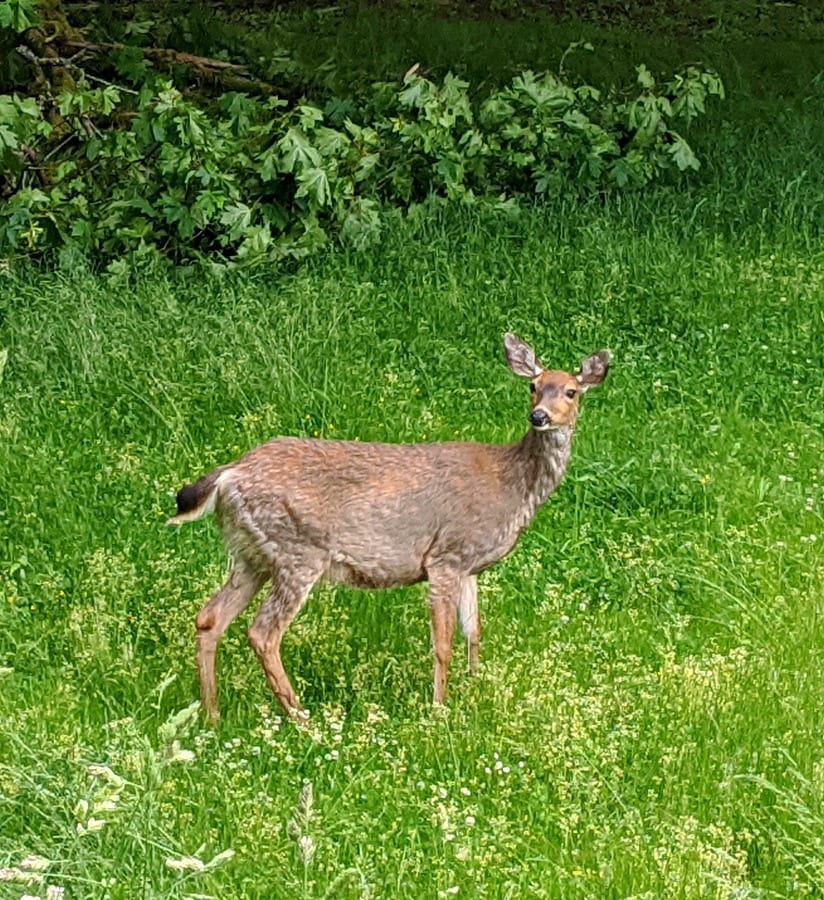 At different times during the week, the 5 mile drive outer loop will close to cars & only open for hiking & cycling (Saturday mornings till 1pm & early weekday mornings typically – make sure to check their website before you go).  Walking the Five Mile Drive is perfect for strollers or kids wanting to bring their bikes while you walk. If you bring your dog, head on over to the off-leash dog park to let them run free for a bit before continuing on your hike.
End your hiking time with a walk over the new Wilson Way bridge to the new walkway to Dune Peninsula Park & Point Ruston. Right after the large connecting bridge, you will see the new slides that go down the hillside on the way to Dune Peninsula park.
If you really have a lot of energy, walk all the way to Point Ruston for ice cream at Ice Cream Social (we had dad take the car over from Point Defiance & meet us over there so we didn't have to walk back after several miles of walking in the park).
Location: Black Diamond area
Miles: 2.5 miles
Elevation Gain: 200 ft
Pass Needed: None
Parking: You will need to pay $5 to park as the parking area/field is private property (the actual trail is state park land though)
Restrooms: no
Pet Friendly: Yes
The Franklin Ghost Town is located on a hill above the Green River, not too far from Flaming Geyser State Park & Kanaskat Palmer State Park.  It makes a great addition for a hike if you are heading to Kanaskat Palmer or Nolte State Parks for the day. We hiked at both Nolte & the Franklin Ghost Town & even made a short trip to Kanaskat Palmer to see the river up close, too.
It is a wide pathway to walk up the hill to the ghost town of Franklin. Franklin was a town situated around a coal mine in the 1880's, but the coal mine eventually stopped by 1919, so the town became abandoned over the years once the mine closed. When you take this trail, you will come up on a coal cart at the split in the trail. You can keep going straight on the path to see the remains of the town, which our girls enjoyed climbing around on & seeing the remains of the buildings scattered throughout that area.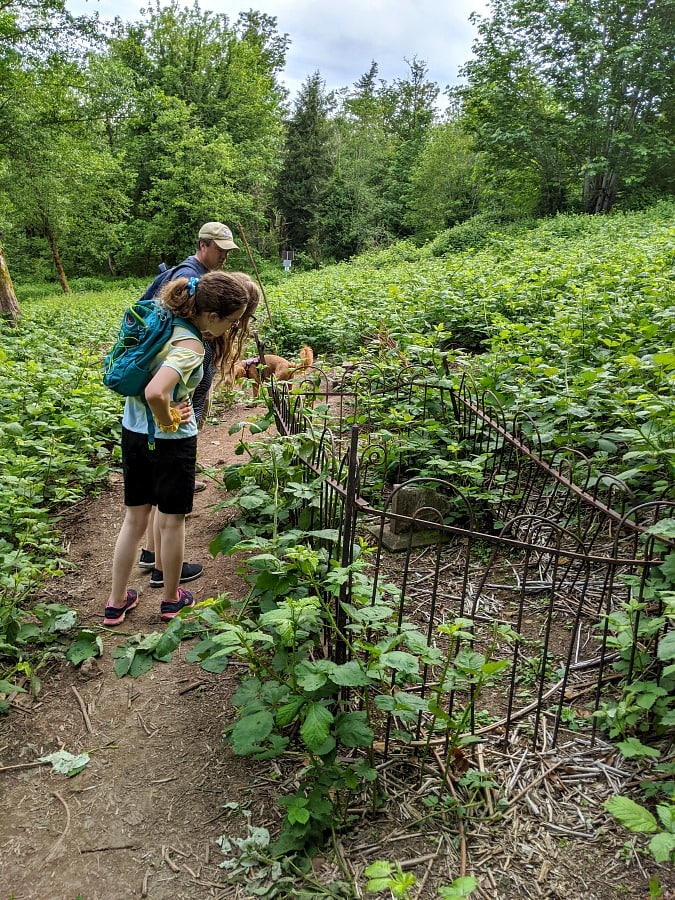 In order to find the Franklin Ghost Town trail, park in the parking area & then head to the far side of the field away from the road where there is a yellow vehicle gate. This is the start of the Franklin Ghost Town trail. If you turn to the left at the coal cart & continue up that trail, you will head to the sealed mine shaft. This is now covered up with a steel grate & a barrier around it, but we saw people laying on the bars trying to get pictures of the mine shaft down below (this is definitely not recommended as my former State Park ranger husband said you will get a ticket if caught by a ranger as it's not safe). But it's fun to check it out from around the mine shaft & see how far down the mine goes. Off to the left of the mine shaft is a narrow footpath that leads to a very old cemetery. You'll probably need to walk about 1/4  mile to get there, but this was a fun addition to our hike as it was quieter and we enjoyed checking out the cemetery.
The Franklin Ghost town trail is right next to the Green River & close to the Green River resort where they do have some hiking trails & a waterfall trail, which is all private property & they do charge extra fees per person if you are going to go on those trails ($5/person). However, this is also the same parking area / field where you park for the Franklin Ghost Town trail (there will be signs), which is a state park trail, but the parking is on private land. So, in order to access the trail, you will need to pay the attendant or in a box.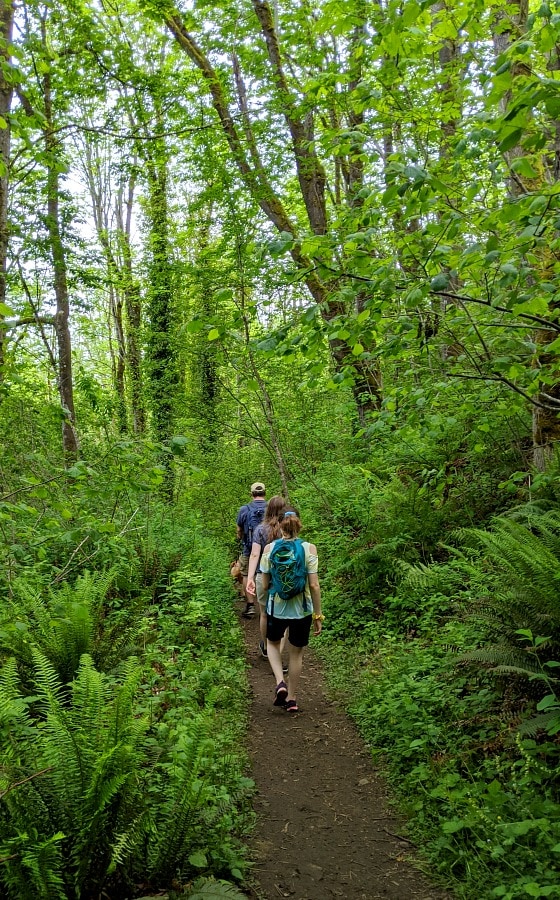 We visited this trail in very early summer on a weekday afternoon/evening, so it was quiet, but I have heard this area of the river gets very crowded, so the parking lot may fill up. However, it sounds like the majority of crowds are going down to the river & waterfall, so the ghost town trail should not be as crowded.
This was my teen daughter's favorite hike out of all the hikes we did even compared to the waterfalls! She just thought it was so interesting seeing the ghost town remains, cemetery, etc (the cemetery was a bit like a scavenger hunt trying to find the gravestones as it's pretty overgrown in there). So, it might be one that your tween or teens enjoy too! I say give me a waterfall hike any day, but this was a nice, enjoyable & interesting hike for all of us.
What is your favorite trail around the Pacific Northwest? We'd love to hear your favorites to add some new ones to our list!
Don't forget to check out our list of hiking essentials with kids too!