Walmart Beauty Box – $5 Shipped!
Did you know that Walmart.com is also now offering Beauty Boxes, similar to the Target Beauty Boxes and the Amazon Beauty boxes? You can sign up right now for a Walmart Beauty Box for FREE + $5 for shipping & handling. It says that you will receive a "collection of trusted beauty brands" in your box. You'll find sample beauty products and tips on how to use them. You should receive your Summer/Fall Beauty Box within 5-10 days of receiving your shipping confirmation email from Walmart.com.
It is pretty simple too:
Start by signing up here.
4 seasons, 4 boxes
Then, four times per year, you'll receive an assortment of new beauty products and helpful tips delivered to you.
You just pay the shipping cost, which is $5. You can check out sample boxes from the past here, to get a better idea of what you can expect in your beauty box (note, your box may vary from the samples, but it will give you a good idea, just scroll about half way down the page to see the samples. You can click on the images and it takes you to the Instagram accounts of other people who have received the beauty boxes and shared about theirs on their Instagram accounts).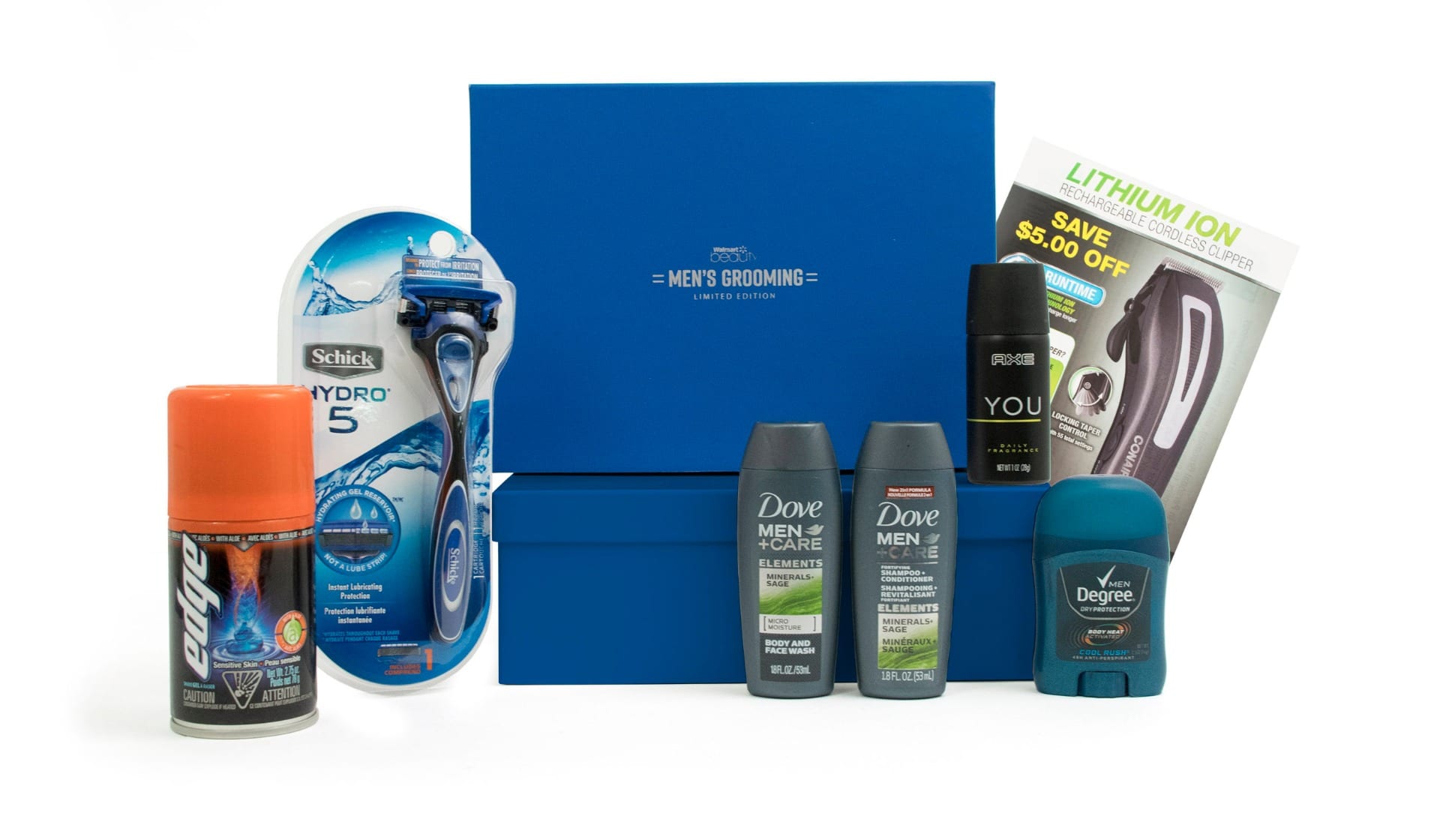 They also just released a Mens Grooming Box for $7! Each box contains AXE YOU Body Spray, Dove Men + Care Elements Mineral & Sage 2 in 1 Shampoo & Conditioner, Dove Men + Care Elements Mineral & Sage Body Wash, Degree Men Dry Protection Cool Rush Antiperspirant Deodorant, Edge Shave Gel For Men Sensitive Skin, Conair Lithium Ion Cordless Clipper Coupon and Schick Hydro 5 Razor.
*one time only fee, this is not a reoccurring subscription
More Beauty Box Offers You Can Check Out:
Target Beauty Boxes (these are usually between $5 and $7 and are released at the beginning of the month, and can sell out quickly).
Amazon Sample Boxes/ Amazon Beauty Box – Amazon has a number of different sample boxes, including beauty boxes. They are usually around $7 to $19 but you get that same amount back as a credit to shop on Amazon for more similar products (so if you buy a $7 sample box, you get $7 in credit from Amazon).
Macys Beauty Box Subscription – this one is $15 but comes with 5 deluxe  size sample items!
Fab Fit Fun, the Ultimate Beauty Sample Box!