Allure Beauty Boxes – Free Gifts + $12.50 For Your First Box ($203 Value)
This post may contain affiliate links and I may be compensated for this post. Please read our disclosure policy here.
Allure Beauty Boxes – $25 $12.50 For Your First Box ($203 + Value)
For those of you who love the Beauty Box deals, here is another fun one. Get a beauty box from Allure for just $12.50 for a limited time (valued at $203 this month).  This is the a fun beauty box packed with great offers, and a great price, if you are looking for beauty box deals. You will also get FREE gifts with your first beauty box and then they are $25 per month after that – so grab yours now!

This is a nice offer as it includes several full sized items & a total of 7 items! This is a subscription service you are signing up for, but you can cancel at any time. This month's beauty box is estimated to be a $203+ value, but each month they are estimated to range from $100+ value, so you can expect to get your money's worth regularly.
In addition to the monthly items, the Allure beauty boxes also come with a special gift for first time subscribers in your first box and then each box monthly has a mini-mag with tips, shortcuts, and step-by-steps too.
Allure Beauty Box September!
What's included in Allure Monthly Box this month:
They hare runnig a Flash Sale, where you can get your first box for just $12.50 with promo code FALL
This month's Allure Beauty Box (September 2023 box) has $203+ VALUE – YOURS FOR $12.50. Get 7 total products — including 4 FULL SIZE — when you sign up today. Plus, get a free gift valued at $58 this month, while supplies last.
Get 6 editor picks, including your choice of three award-winning full size products, including Rare Beauty Mascara! There's a full-size facial moisturizer, clarifying mask, fan-favorite facial oil and more!
Sign up today to get $203 worth of products this month for only $12.50 with coupon code: FALL
Find all of the details for this month's box here.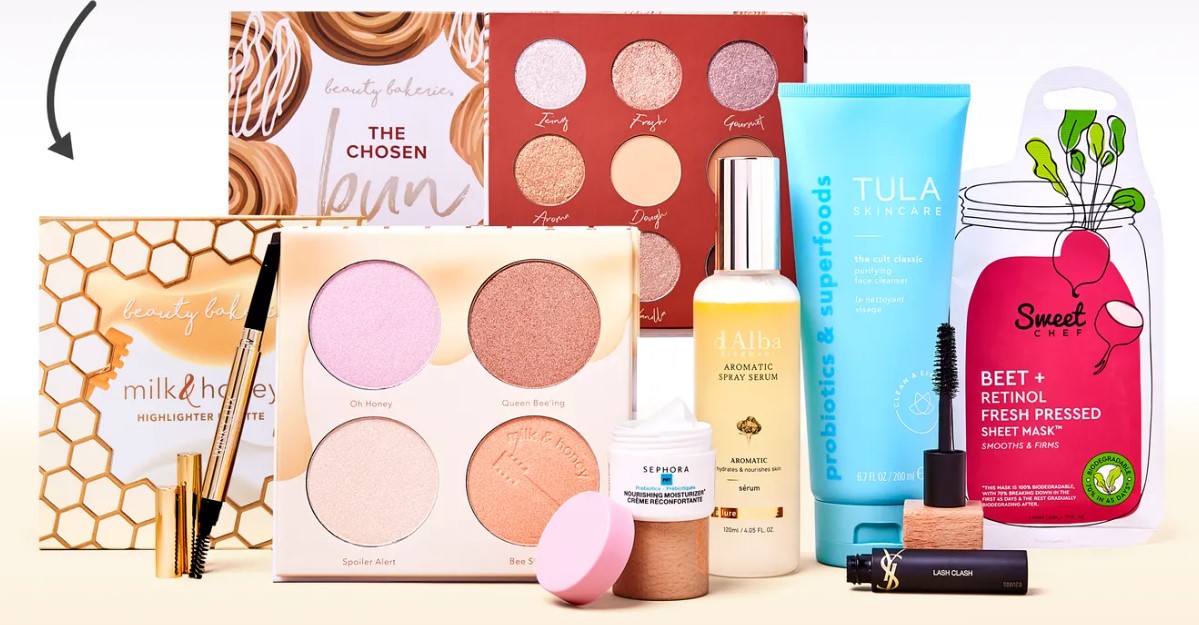 Here is a picture of previous month's beauty box too, just to give you an idea of what you can expect each month. These are nice boxes, especially for the price!
How To Get This Allure Beauty Box Offer:
Head to the Allure Beauty Box website here, and then you can choose to sign up for a monthly subscription, quarterly or yearly. Here is the break down for each one, and what they will cost (you will get one beaty box per month, regardless of which payment plan you choose):
Monthly Plan – $25 per box Billed monthly – Use promo code FALL and get your first box for $12.50
Quarterly Plan – $20 per box, $60 Billed every 3 months – Use code FALL and pay $55 for your first 3 boxes! (that's only $17.33 for each box)
Annual Plan – $19 per box, $228 Billed annually – Use code: FALL and pay $218 for your first year! (that's only $18.17 for each box)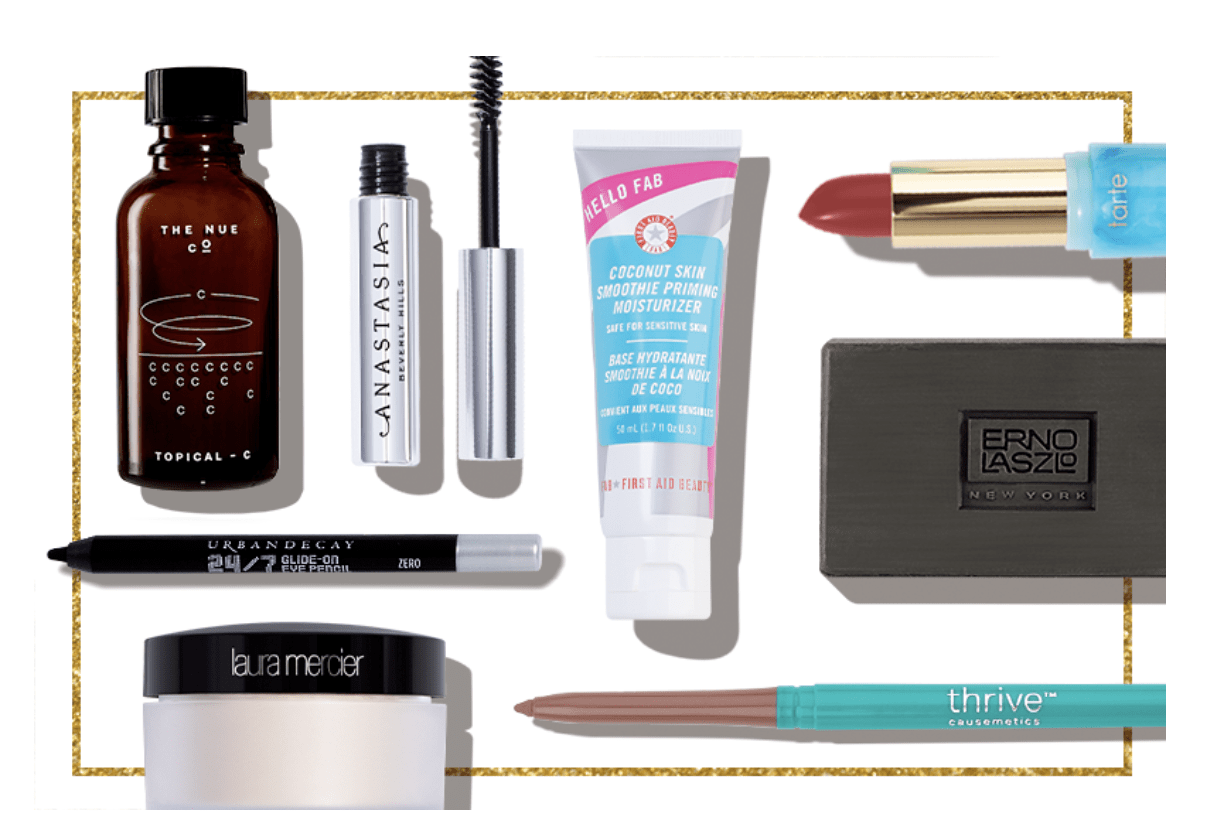 You can also get a Get a FREE Mega Bundle (12 products valued over $315) with purchase of an annual subscription!
Review of Allure Beauty Box : This is what was included in my Allure Beauty Box several years ago: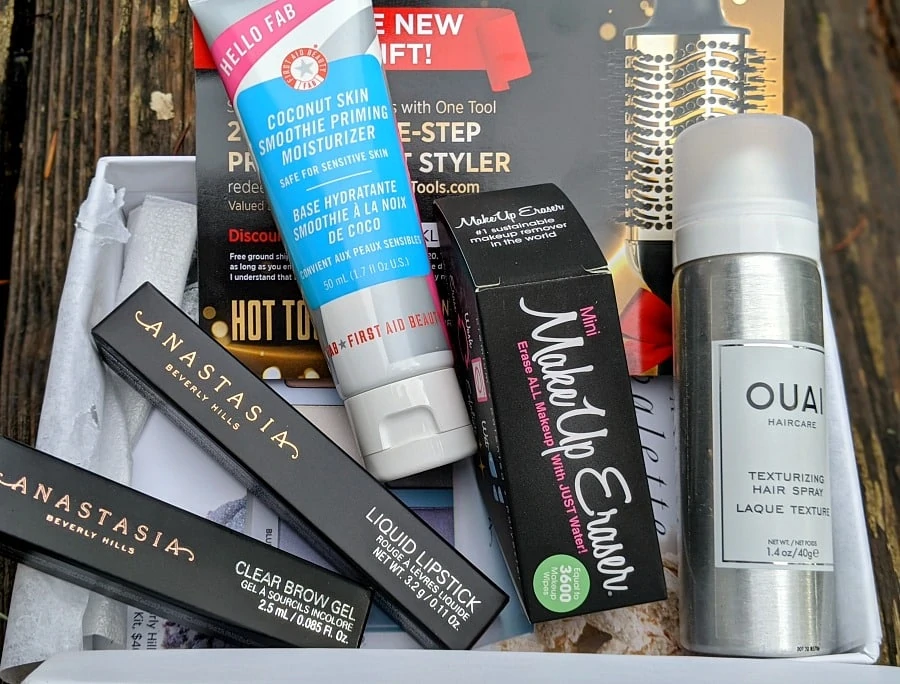 I ordered the Allure Beauty Box a few years ago & this is what I received in my box (remember that it will be different each month):
Anastasia Liquid Lipstick
Anastasia Clear Brow Gel
Mini Makeup Eraser
Ouai Texturizing Hair Spray
Coconut Skin Smoothie Priming Moisturizer
Anastasia Eye Shadow Palette (pictured below) – this is my favorite part of the box! (& I totally missed it in the first pictures as it was hiding at the bottom of the box!)
I also ordered in December when they were offering the free gift of a Hot Tools 24K Gold One Step Blowout Styler ($75 value).  So, I received a certificate to mail that in & redeem that free gift. (They are offering this as a free gift right now if you sign up for an annual membership)
Things to Know about Ordering Allure Subscription Boxes:
It could take awhile to arrive – I did order in the very busy December/Christmas season, so it took over a month to arrive. They did send me an email to let me know it had finally shipped & then I received it about a week & a half later. So, I anticipate it won't take that long for future months' but just know that it could take longer.
By signing up for a box, you are signing up for a subscription – however this can be cancelled at any time (even if you have not received the box yet, you can cancel the subscription after ordering your first box.
You must cancel the subscription before the end of the month that you ordered during – so if I only wanted to receive 1 subscription box and I ordered in January, I would need to cancel by January 30th. This is the case even if you do not receive your box by that date. You can either call or email them to cancel your subscription.
Your first month's box will be $17 with this offer and then it is $25 + free shipping per month after that ( a good value for getting full size products)! You can also sign up for an annual membership, which is $150 (and that makes it just $12.50 per month if you do it that way).
Other Beauty Box Deals you might be interested in: