Curology Free Trial Offer – Get One Month Free!
This post may contain affiliate links and I may be compensated for this post. Please read our disclosure policy here.

Curology Free Trial Offer – Get One Month Free (Pay $4.95 S&H)!
Have you heard about this Curology Free Trial offer yet? It is a great offer if you need some great facial products created specifically for your skin! Get dermatologist tested skincare from Curology, with their custom formula options made just for your specific skin types and needs! PLUS, right now you can unlock this Free Offer for a one month supply of custom products for your skins needs (just pay the $4.95 shipping fee)!
**SPECIAL Black Friday Offer**
Curology is running its first ever Black Friday sale this year, and it is a good one (maybe the best offer we have seen from them yet)!
Get all of this for just $15 shipped with code: HOLIDAY1 for a limited time only.
Get their custom Curology Formula
+ 6 Free Gifts
+ a Free Limited Edition Sugar and Spice Lip Balm
+ Free Shipping all for just $15 with code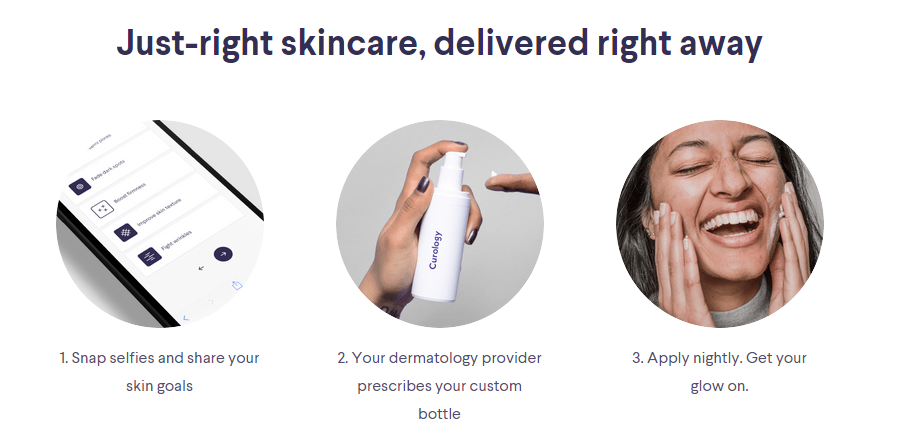 What is Curology?
Curology is a prescription skincare subscription service that can be useful to those not already seeing a dermatologist in person, and are looking for a more affordable option to treat their skin. It targets all skin types, but in particular those with acne and then connects you with a licensed dermatologist who will send prescription medication every month depending on your specific skin needs.
Some highlights of this service include from their website include:
Customized for your skin

Prescription ingredients, picked for you

Expert support from a real provider

Love your formula in 90 days, or get your $ back

Try it for free for the first 30 days! It is pretty affordable after that too (at least as affordable as most drug store options)!
How Does the Curology Free Trial Work?
Your free trial includes your Custom Formula, plus an essential skincare routine to work alongside it. Try your products free. Then, edit your box to fit your needs and budget.
To get your free trial offer you will:
Head here and enter your state and birthdate to confirm you are eligible for the offer.
Sign up with your email and password
Take a brief survey a out your specific skin type, etc.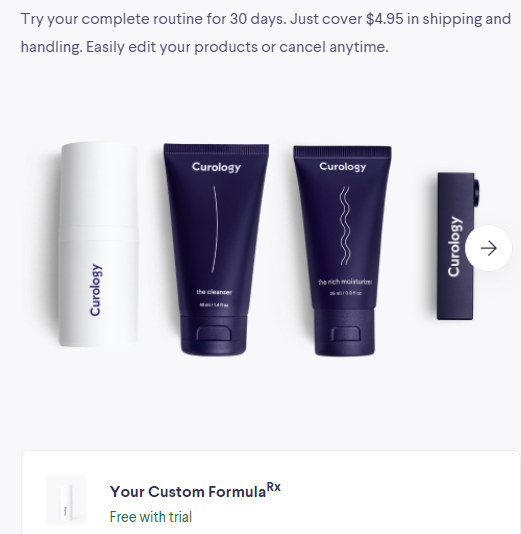 Then based on your custom responses they will recommend a custom kit for you. Mine included:
my custom formula based on my responses
a cleanser and moisturizer set
a Curology lip balm ( I got to choose from 4 different ones)
and the micellar makeup remover
Next it asks you to activate your trial by paying the $4.95 shipping and handling charge (the products for this month will be free).
Later in the process it will ask you to upload some photos of your skin for the best results from the custom formula they send you.
You can also edit the products in your box or cancel anytime. Love your formula in 90 days or get your money back.
How much is Curology after the free trial?
Curology is actually really affordable for as far as skin care products go. How much Curology is after the free trial will depend on what you order. They start at as low as $19.95 per month (and the $4.95 shipping fee). The custom treatment box is $29.95 and then you can add cleanser and moisturizer for $10 a month and acne body wash for $6. These prices are as low as drug store prices (even more affordable in many cases)!
Also, according to their FAQ: "As the end of your trial period approaches, you can log in to your account to adjust your plan. After your first 30 days you'll be charged every 60 days for Curology refills. You can pause or cancel your subscription anytime."
How to Cancel Curology
You may be wanting to know if you can you cancel Curology after the free trial? Yes, you can cancel for any reason if you do not want to continue getting the product.
Although you may cancel at any time that you want, they do recommend sticking with the program for 90 days to get the best results. If you are not happy at any point, they recommend you reach out to them to discuss tweaking your formula and getting it just right.
To cancel Curology at any time select 'I want to cancel' at the bottom of your payment page. (You can access your payment page via the dropdown menu when logged in to your Curology account). Then simply follow the steps as prompted to finish the cancellation process.
Find out more info on the Curology Free Trial Offer, or Sign Up Now here!