Target Beauty Box Deals for $7!
The Target Beauty Boxes are such a popular deal, and here is how you can get one right now for $7 for the October box.  Head to Target.com here and grab one of this month's new Target Beauty Boxes. If you have a  Target red card, you can get an additional 5% off the price, too.
If you love beauty products, these are fun boxes to get. This month, there are a number of Target Beauty Boxes available and they all offer free shipping!
These are fun to have on hand for small gifts for folks (just because gifts, teacher appreciation, gifts for tweens and teens, etc.). I sometimes get them and put items away for a gift bag I want to make someone. Or grab them and have a fun spa night with my kids.
Details on the current beauty boxes now available are below: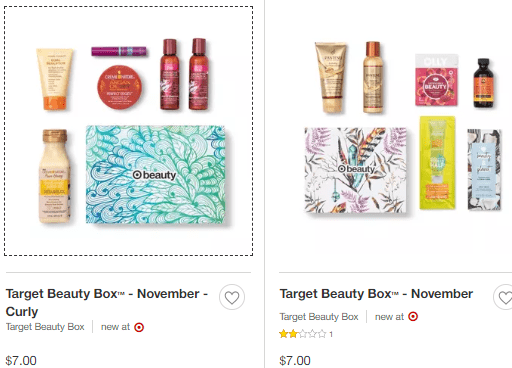 There are currently two boxes available to choose from for November – at $7 each!
L'Oreal Paris Colorista Hair Makeup: Hot Pink & Raspberry
2 Pairs of Ardell Faux Mink Lashes
Crest 3D White Brilliance Toothpaste
Vaseline Extremely Dry Skin Rescue Lotion 1 oz
Head & Shoulders Moisture Boost Shampoo/Conditioner
No7 Laboratories Line Correcting Booster Serum 0.1 oz
Lumene Nordic Hydra 24 Hour Moisturizer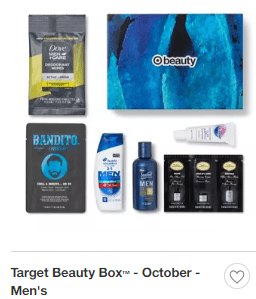 Schick Intuition Sensitive Care Razor – 1 ct
Signature skin-conditioning solid contains vitamin A and aloe to gently moisturize skin, while the four-blade razor
and pivoting head provide precise control for a smooth, even shave.Trim Salon Board in Pink – 2 ct
Gently buffs and smooths out edges, giving nails a soft, shiny finish so polish goes on seamlessly and looks perfect.TRESemme Botanique Color Vibrance and Shine Shampoo – 0.27 fl oz
Blend of pomegranate and camellia oil deeply nourishes hair and gently cleanses strands, giving locks a beautiful, healthy glow.TRESemme Botanique Color Vibrance and Shine Conditioner – 0.27 fl oz
Pomegranate and camellia oil provide salon-level conditioning that won't strip strands of their gorgeous color, leaving hair silky smooth and shiny.
Miss Spa Hydrate Facial Sheet Mask – 0.88 oz
Aloe vera and sodium hyaluronate deliver a healthy dose of hydration, while the sheet mask allows the yummy ingredients to absorb into skin—hello glow!
Dove Dry Serum Powder Touch – 0.028 fl oz
Dry serum formula absorbs into skin instantly and provides up to 48 hours of odor protection so you'll smell delish and feel clean all day long.
Number of Pieces: 7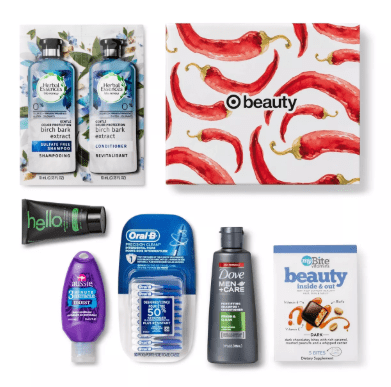 WHAT'S INCLUDED
MyBite Vitamins Beauty Inside & Out -Dark Chocolatey Peanut
Delicious dark chocolatey bites filled with extra-strength biotin and vitamins C and E help support skin, hair and nails so you can look and feel your best—inside and out!
Aussie 3 Minute Miracle Moist Deep Conditioning Treatment
Intensely hydrating formula infused with Australian aloe, jojoba and sea kelp helps transform dry, dull hair from lackluster to lush in just three short minutes.
hello activated charcoal + hemp fluoride free whitening toothpaste
Activated charcoal works to remove surface stains for noticeably whiter, brighter teeth, while farm-grown mint keeps your breath smelling fresh.
Oral-B Interdental Picks
Flexible, yet strong bristles glide between teeth to help remove food and plaque, while gently massaging and stimulating gums to promote gum health.
Herbal Essences Birch Bark Extract Sulfate-Free Shampoo/Conditioner
Sulfate-free formula and blend of real botanicals gently cleanse and protect color-treated hair, keeping strands silky-smooth.
Dove Men + Care Fresh and Clean 2 in 1
2-in-1 formula with caffeine and conditioning agents cleanses hair and moisturizes your scalp, so strands feel stronger and more resilient.
July Target Beauty Boxes:
July Beauty Box – $7 + free shipping
Here's what is included:
Simple Sassy Sachet Moisturizing Face Wash – 1.69 fl oz
Formulated with skin-loving ingredients and triple purified water to gently cleanse and provide instant hydration.
Simple Micellar Cleansing Water – 1.69 fl oz
Micellar cleansing bubbles lift away makeup and impurities, leaving skin refreshed, rehydrated and revitalized.
Nexxus Frizz Defy Anti-Frizz Sheets – 8 sheets
On-the-go frizz sheets are crafted with Argan oil to calm static and help seal out humidity so tresses are perfect— whenever, wherever.
Crest Kid's Anticavity Cavity Protection Fluoride Toothpaste Strawberry Rush 
Fluoride toothpaste in a fun strawberry flavor delivers fresh breath and provides effective cavity protection.
Head & Shoulders Smooth & Silky Shampoo – 3.0 fl oz
Intense moisture nourishes hair, leaving strands sleek, 100% flake-free, and controls frizz for 24 hours.
Head & Shoulders Smooth & Silky Conditioner – 3.0 fl oz
Protects against flakes, calms itching and relieves irritation so locks are lustrous, fresh and full of life.
Acure Radically Rejuvenating Day Cream Facial Moisturizers – SPF 30 – 1.7 fl oz
Rich blend of SPF 30 and good-for-you ingredients keep skin feeling nourished, looking rejuvenated and protected from the summer sun.
More Target Beauty Boxes Still Available::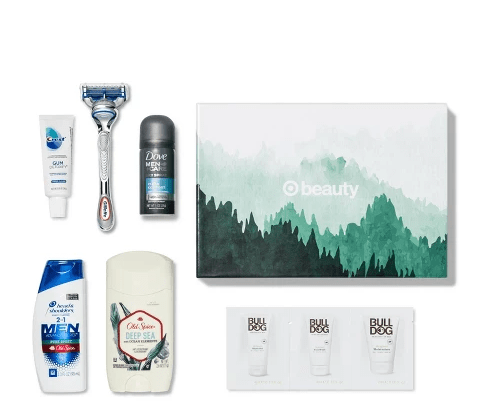 June Mens Beauty Box – $7 + free ship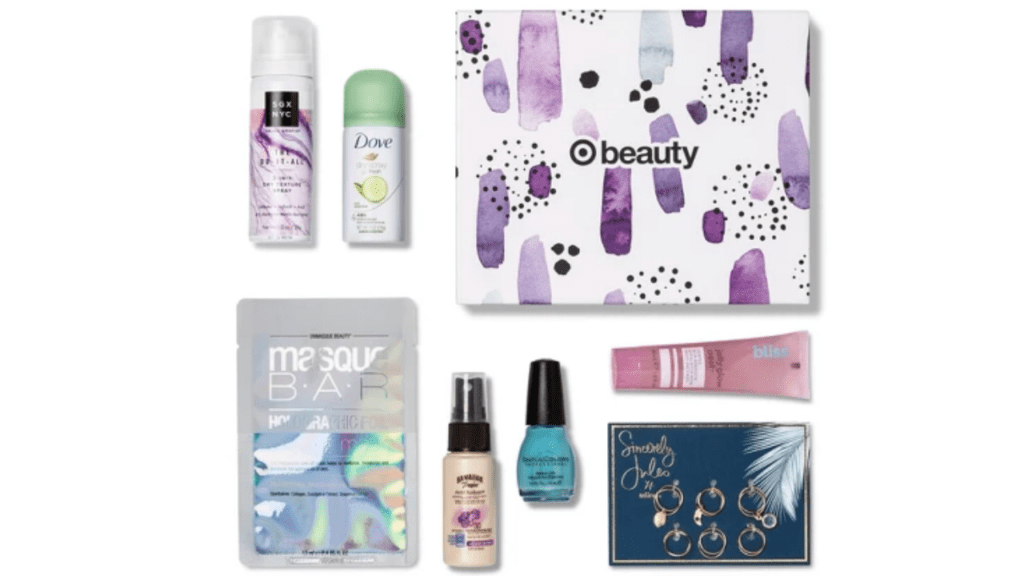 Target Beauty Box In Your Skin – $5.00 
Dove Cool Essentials Dry Spray Antiperspirant
Bliss Jelly Glow Peel
Sincerely Jules Assorted Jewelry Hair Rings
Masque Bar Holographic Mask Sachet
Hawaiian Tropic Antioxidant Sunscreen Mist
SGX NYC The Do-It-All 3-in-1 Dry Texture Spray
SinfulColors Nail Polish Fool for Azul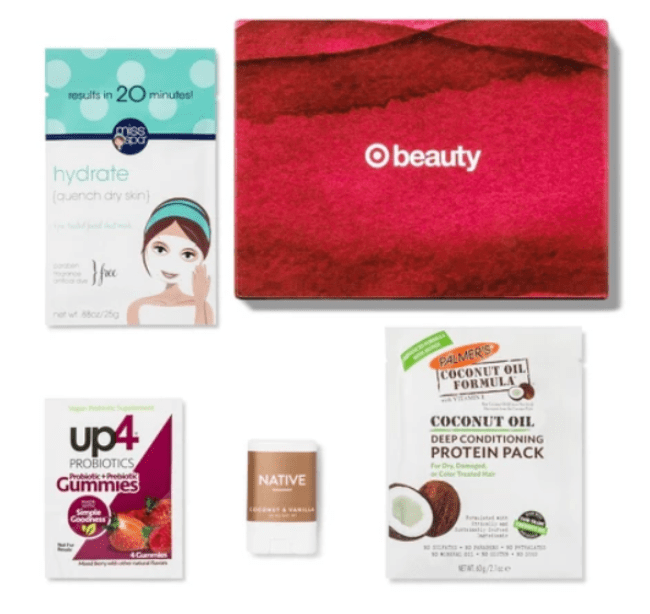 Target Beauty Box Bloom Into Beauty – $5.00 
Native Coconut & Vanilla Deodorant
Miss Spa Hydrate Facial Sheet Mask
up4 Probiotic + Prebiotic Gummies
Palmer's Coconut Oil Formula Deep Conditioning Protein Pack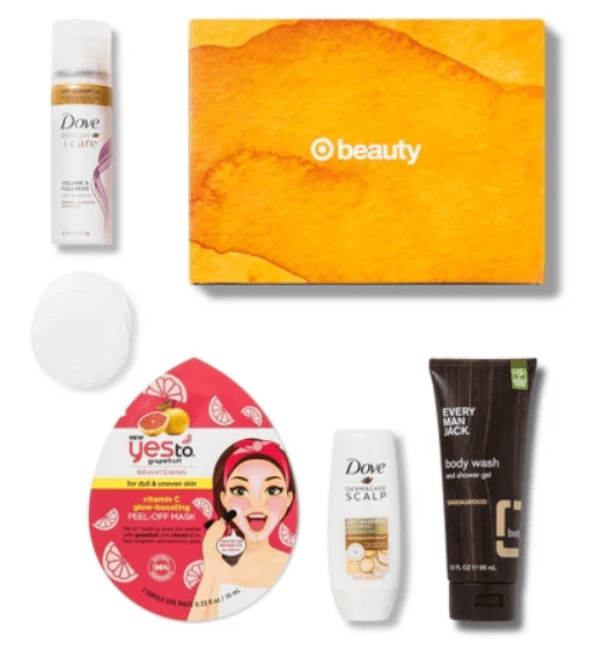 Target Beauty Box So Fresh, So Clean – $5.00 
Yes To Grapefruit Vitamin C Glow-Boosting Peel off Mask
Up&Up Premium Cotton Rounds
Dove Derma Care Dryness & Itch Relief Shampoo
Every Man Jack Sandalwood Body Wash
Dove Dry Shampoo Volume & Fullness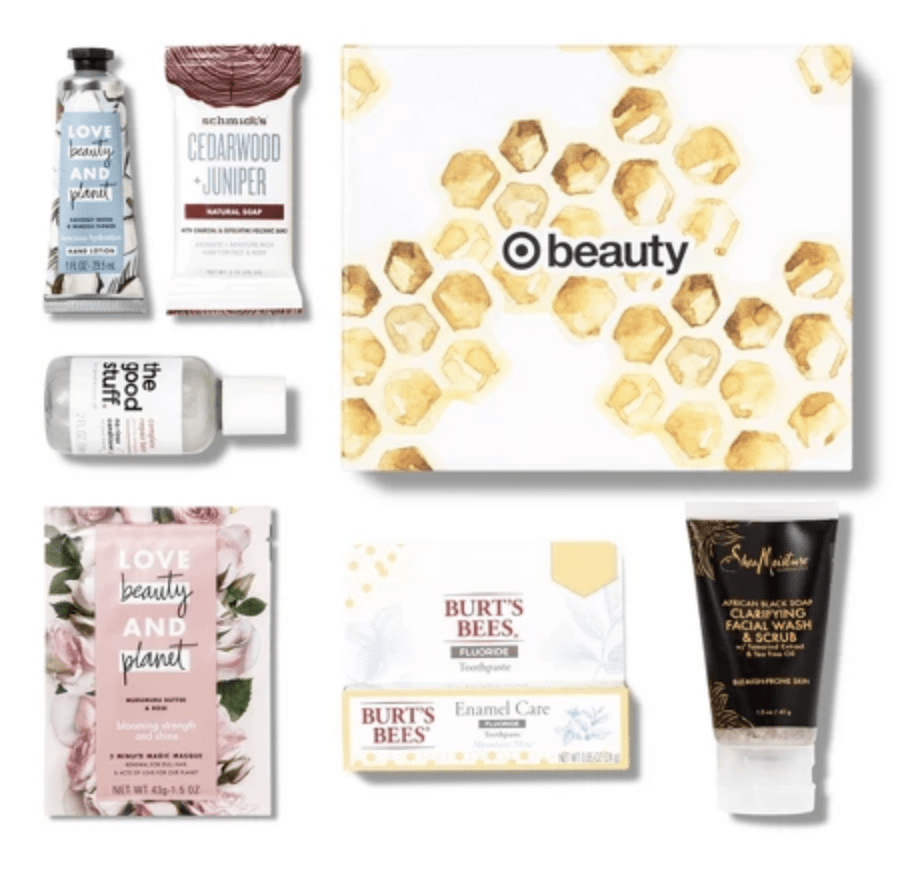 1st Box for $5 & Free Shipping Includes:
African Black Soap Clarifying Facial Wash & Scrub
The Good Stuff Repair Balm
Schmidt's Cedarwood+Juniper Bar Soap
Love Beauty & Planet Muru Muru Butter Mask Sachet
Love Beauty & Planet Coconut Water & Mimosa Flower Hand Cream
Burt's Bees Enamel Care Mountain Mint Toothpaste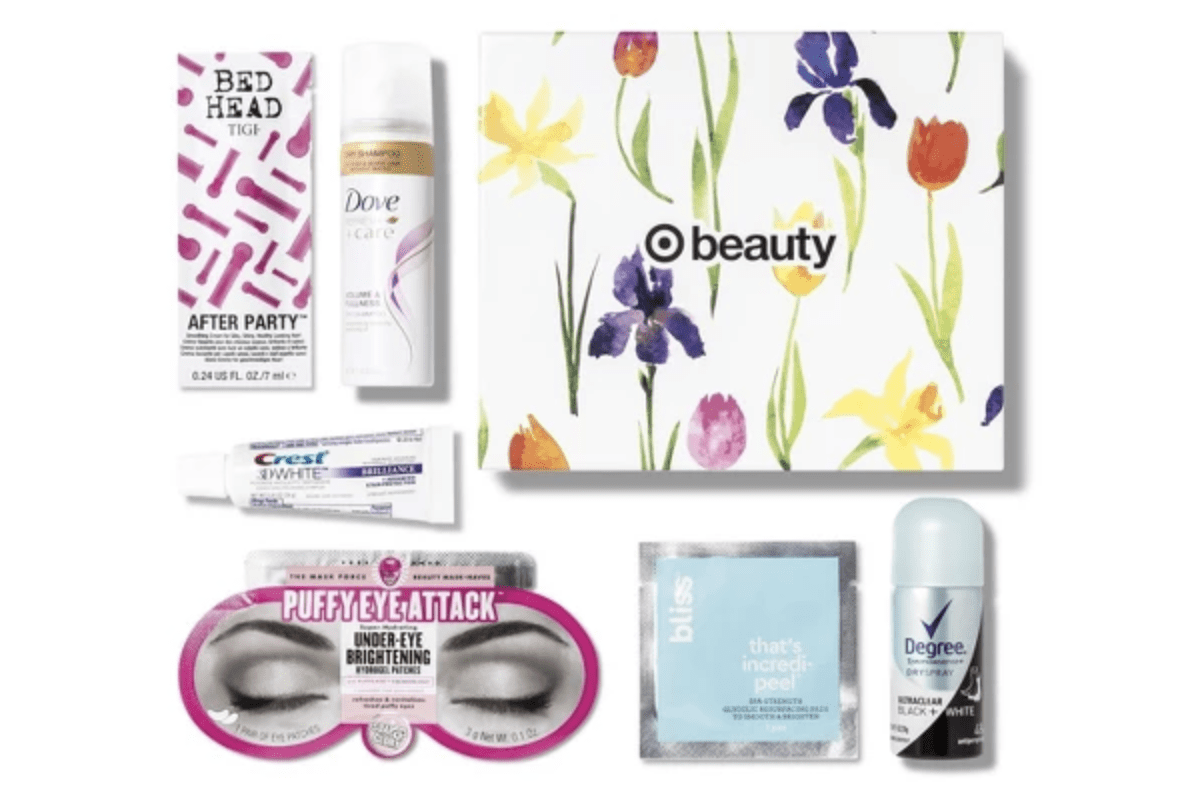 April Box for $5 & Free Shipping Includes:
TIGI Bed Head After Party Smoothing Cream
Soap & Glory Puffy Eye Attack Under-Eye Brightening Hydrogel Patches
Dove Dry Shampoo Volume & Fullness
Crest 3D White Brilliance Toothpaste Vibrant Peppermint
Degree For Women Black+White Dry Spray Antiperspirant
Bliss That's Incredi-peel
Shipping is FREE too! The Target Beauty Boxes could be perfect as small gifts or grab for yourself just because! I like to have them for my guest bathroom, or they are fun to add to gift baskets and more. You are limited to being able to buy 1 this time. These are popular items and can sell out fast, so grab yours soon if interested (they almost always do sell out at some point)!
Plus, if you have a Target Red Card, you can get an additional 5% off too!
Other beauty box deals to check out: