Holiday Magic Washington State Fair – Fun Christmas Event!
This post may contain affiliate links and I may be compensated for this post. Please read our disclosure policy here.
Disclosure: We were hosted for the Holiday Magic Washington State Fair so we could share a review with you all.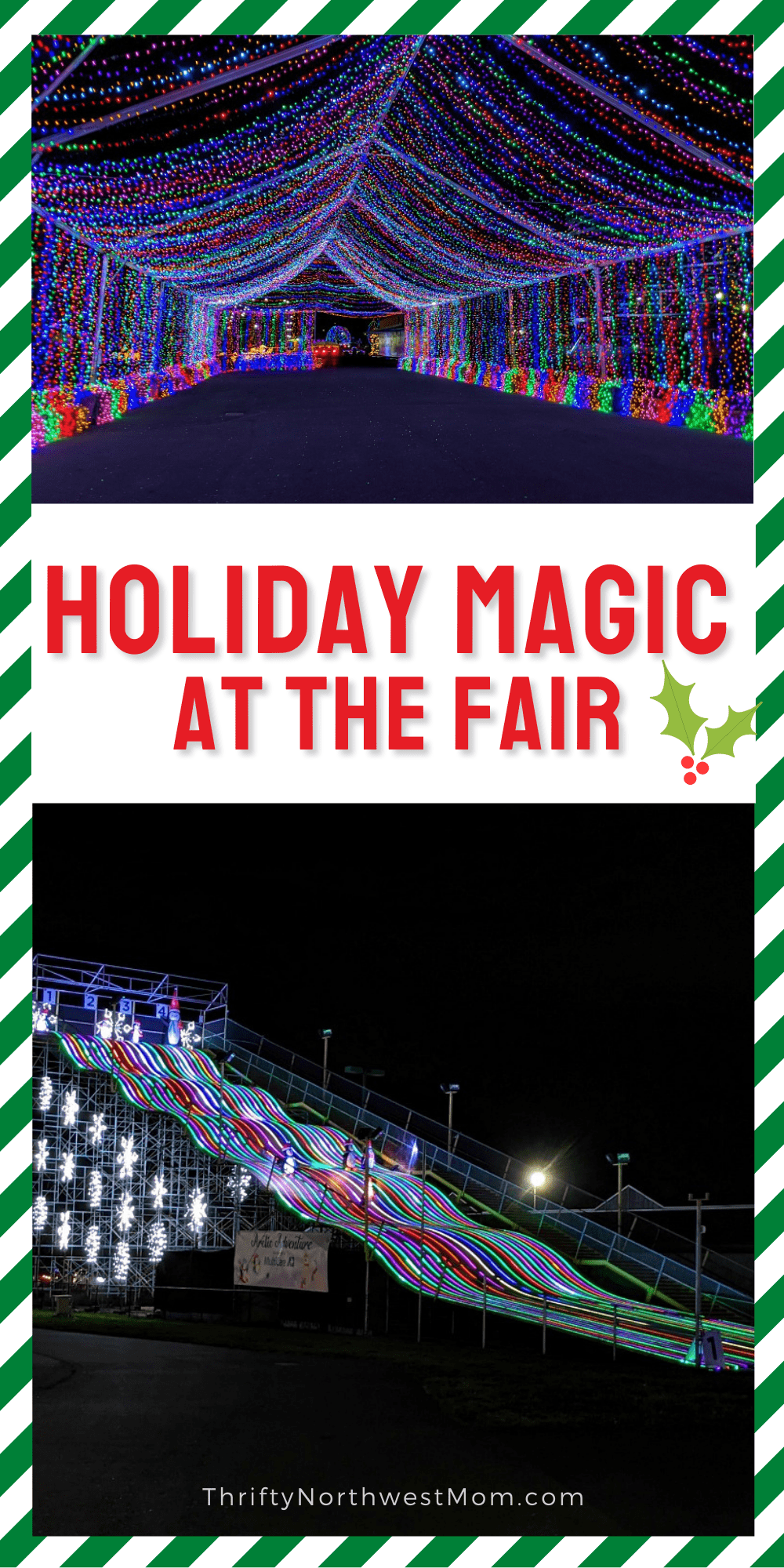 Holiday Magic Washington State Fair – Fun Christmas Event!
The Holiday Magic Washington State Fair Event will continue this year, with some fun changes. We went a couple years back, and this review is from that trip, to give you an idea of what to expect. Find Christmas Lights Display & they have combined beautiful Christmas light displays with delicious fair food favorites you can purchase for a winning combo for families with the Holiday Magic Event! They transform the fair grounds into a Christmas event this time of the year, and you can see all of the fair displays, rides & more transformed into a winter wonderland. We wanted to share with you what to expect & tips for your visit!
In the past it was a drive through event, but this year it will be a walk through event with many things added (like Ice Skating, Putt Putt Golf and other games, and more). This review is from the drive through times, but we will update once we get a chance to experience the new festivities. It will still give you a taste of what it is like though.
There are lots of fun new attractions added to this events. Here are some examples.
Some Additions to This Years Event Include: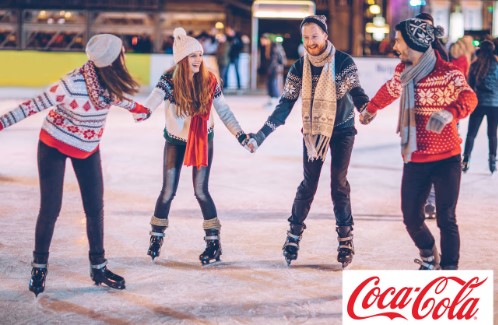 Add a trip around The Glice® Synthetic Ice Rink to your experience. Tickets are $8 online or $10 on-site, if available. Ice Skating tickets are in addition to general admission. Limited quantities are available each day, so buy in advance!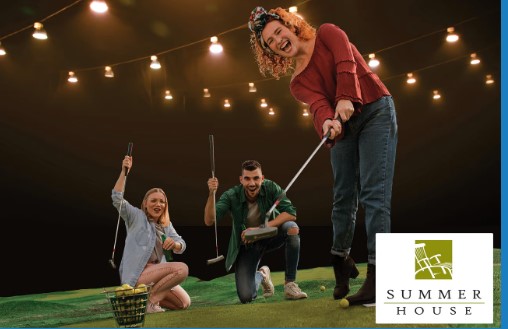 This all ages, festive area will offer free games and activities including miniature golf, corn hole, giant Jenga and more! Included with admission.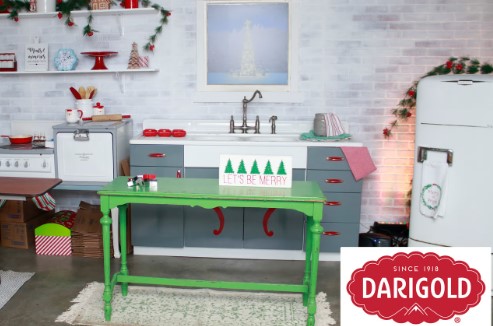 Step inside Santa's Village and into the cozy Claus home where Mrs. Claus spends her evenings baking cookies. Included with admission.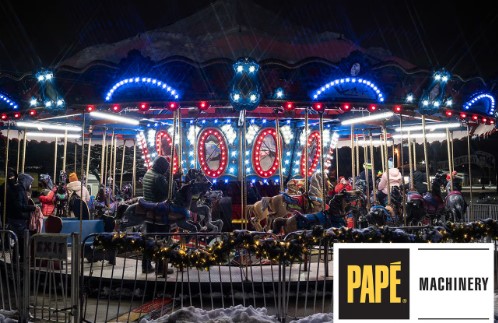 Ride for FREE! Hop on the Sugar Plum Merry-Go-Round to take in the sights and sounds of the holidays. Included with admission.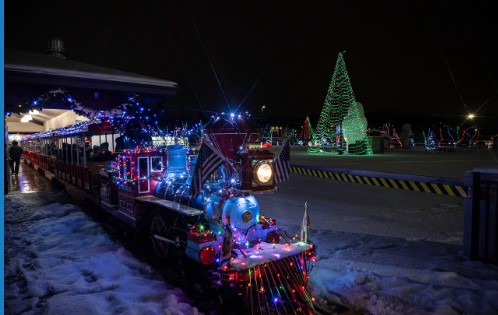 All aboard the Santa Express Train. You'll travel past Christmas on the Farm, through the fun tunnel and find your favorite characters along the expanded festive ride. Included with admission.
What to Expect at the Holiday Magic Display?
Exhibits:
As you are waiting in line to enter the Holiday Magic display, you may want to crack your window to listen for Santa's Express train to go by on the tracks to your right of the line of cars.  We were so surprised when we saw it go by the first time – and it was filled with "passengers" & driven by Caboose the Moose.  After the first time through, we all had fun looking for the next time the train would pass by.
When you first enter the fairgrounds, you will see the giant slide off to your left. This was definitely one of my favorite displays as it was lit up in bright neon colors & penguins were having a race down the slide. At the bottom of the slide are polar bears to catch them! So creative!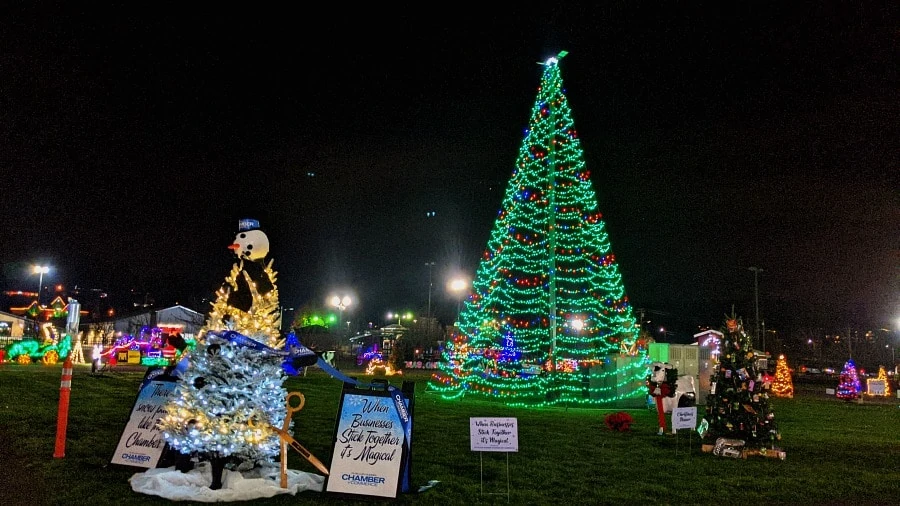 Then you will enter a loop with the "Hometown Holiday Forest". This is similar to a festival of trees type of event with different decorated & lit up Christmas trees all along the loop. Local organizations that make a difference in the community adopted a tree & decorated it, so it's fun to see the unique decorations & lights they each chose.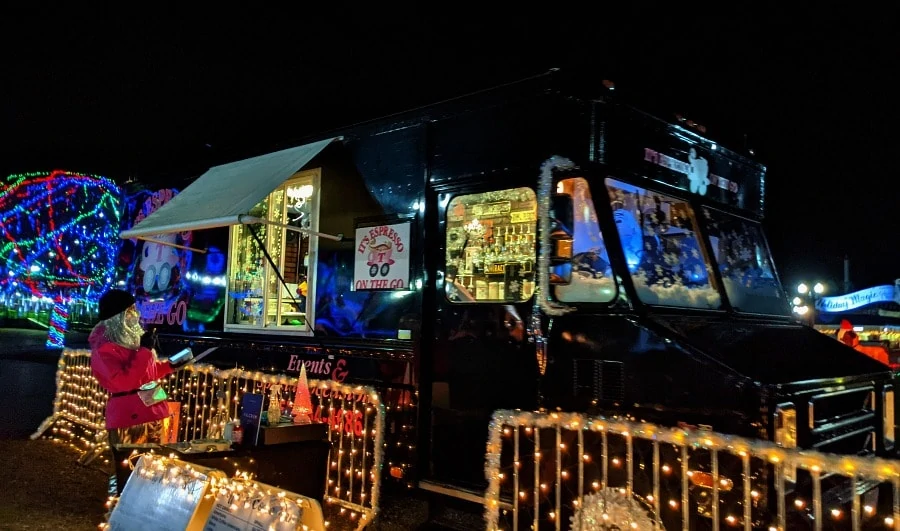 As you exit the loop, you'll see the Christmas on the Farm display, with elves playing on the tractors & farm equipment. Once you drive out of this loop area, you'll hit Candy Cane lane, the espresso shop to get all your hot drinks to keep it cozy while you drive thru the lights. You will also have the option to choose any of the fair food vendors at this time. I have a list of all the vendors below, so make sure to know which ones you will want to visit beforehand. If there are any you are skipping, then they will direct you to a different lane. So, this is important to know as you will only have that one opportunity to visit those vendors since all of the cars follow a one-way path thru the Christmas light display.
You will either choose to visit the fair food vendors or they will take you on the "fast-track" with different paths to bypass any food vendors you are skipping. This is all lit up with beautiful Christmas lights along the way, too.  Once you exit the food vendor area, you'll be able to enjoy eating your food & treats while driving through the rest of the Holiday Magic display.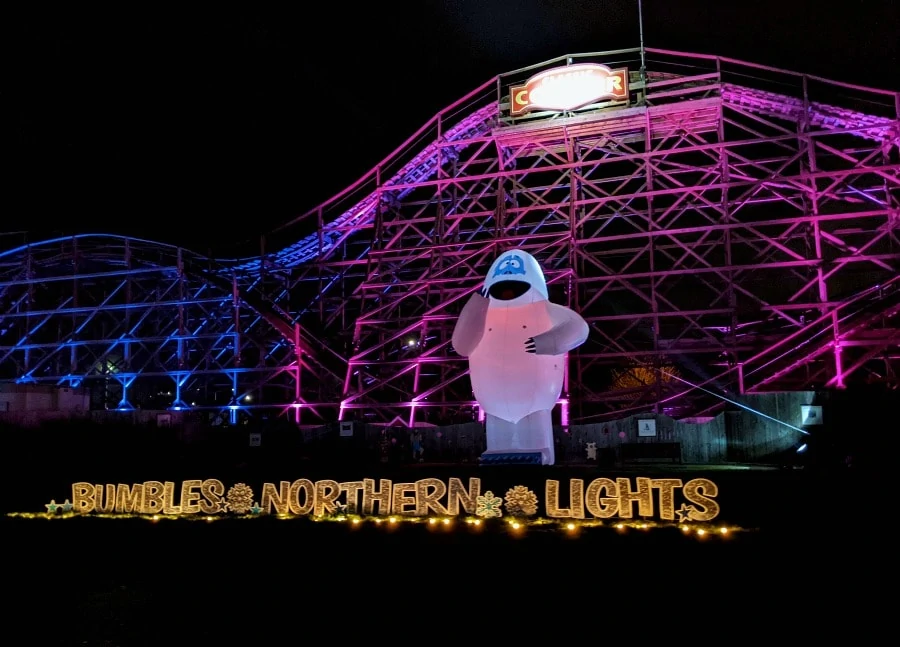 We totally got a kick out of the Christmas Classics area with fun displays from some of your favorite movies. Our favorite was the hilarious display from Christmas vacation. Make sure to say "hi" to Cousin Eddie & ask him to say the famous line from the movie & he will say it (thanks Cousin Eddie for the tip! :) ).    We loved seeing the roller coasters all decked out in lights, too, with the Abominable snowman perched near the Classic coaster!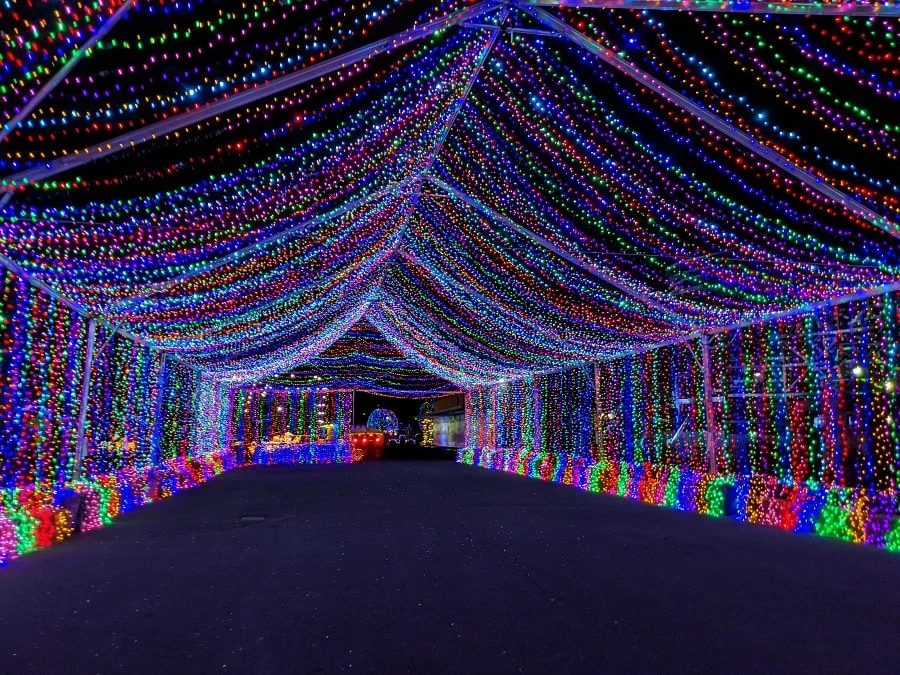 But we all agreed that our  favorite part of the Holiday Magic Display was the Light up the Night tunnel! You will drive through a 100′ tunnel filled with bright Christmas lights – it definitely feels so magical driving thru this area! And perfect for photo opps inside the car!
Scavenger Hunt for Kids:
When you arrive to the light display, they will give you a scratch off ticket for your car, which is a scavenger hunt. Grab a coin & have the kids scratch off the items as they look for them along the drive through the light display.  You will turn the scratch ticket in before you exit & they will give you a colored rubber ducky for each of the kids + 2 2021 Spring Fair tickets.
Food at the Fair: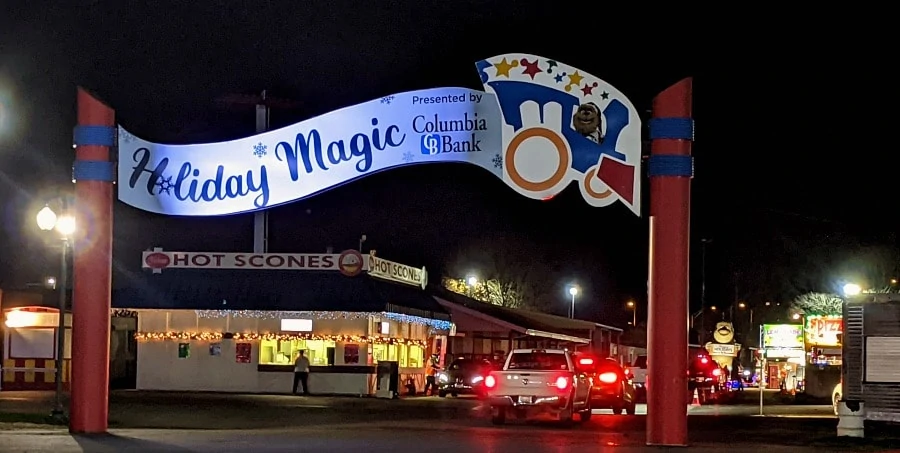 Ok, one of the best parts about visiting the fairgrounds is the food, am I right?! And thankfully this Christmas lights display event also has some of the Washington State Fair favorite food vendors available for you to purchase some popular food items! Here are some of the food vendors you'll find (you can see these listed on their website as well):
Candy Cane Lane – The first stop you'll hit is "Candy Cane Lane, It's Espresso on the Go food truck, with quite a wide variety of specialty coffee & hot cocoa drinks (all sorts of fun toppings).  A warm drink is always a must for us when driving to see christmas lights, so this was fun for us to pick a specialty drink.
Route 66 Pizza & Lemonade – You can order on your phone ahead of time if you'd like & pick it up curbside to save time.
Big Mama's Meat Shack & Funnel Cakes – Order everything from burgers, corn dogs, kids' meals, & turkey legs for dinner. Plus, you'll find funnel cakes, cotton candy & more for extras.
Duris Concessions –  You'll find some of the all-time favorites here – elephant ears, dole whip & a dole whip float. Yum!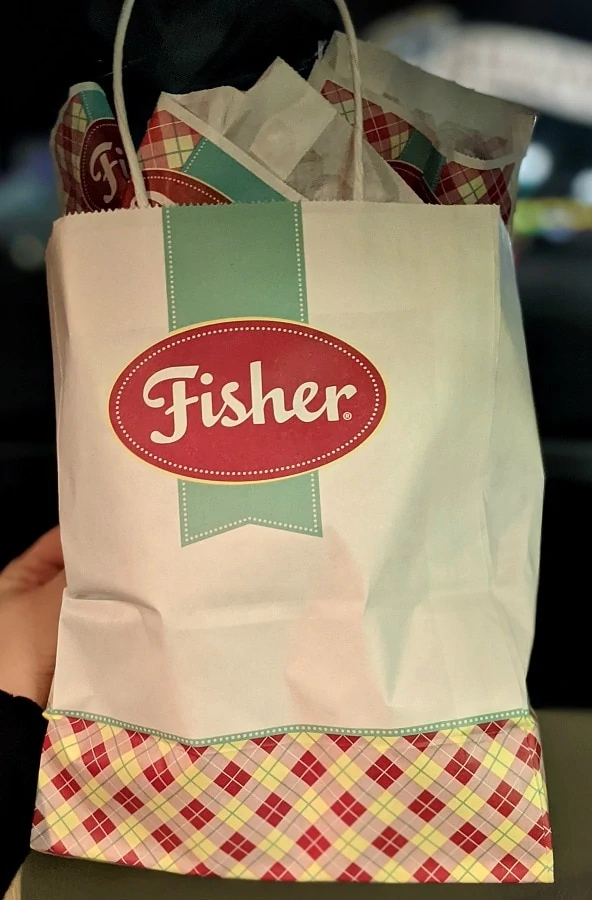 Fisher Scones – this is definitely a highlight of the fair in Puyallup, so we were excited to get our Fisher scones at the event. We were stuffed from our food we ordered, but we love to bring these home to enjoy for breakfast!
Pioneer Popcorn – If you're looking for the most affordable option the whole family can enjoy, kettle corn is always a great option for fair food!
Seattle Fudge – stock up on some fudge for the holidays & bring some home for gifts
Shopping: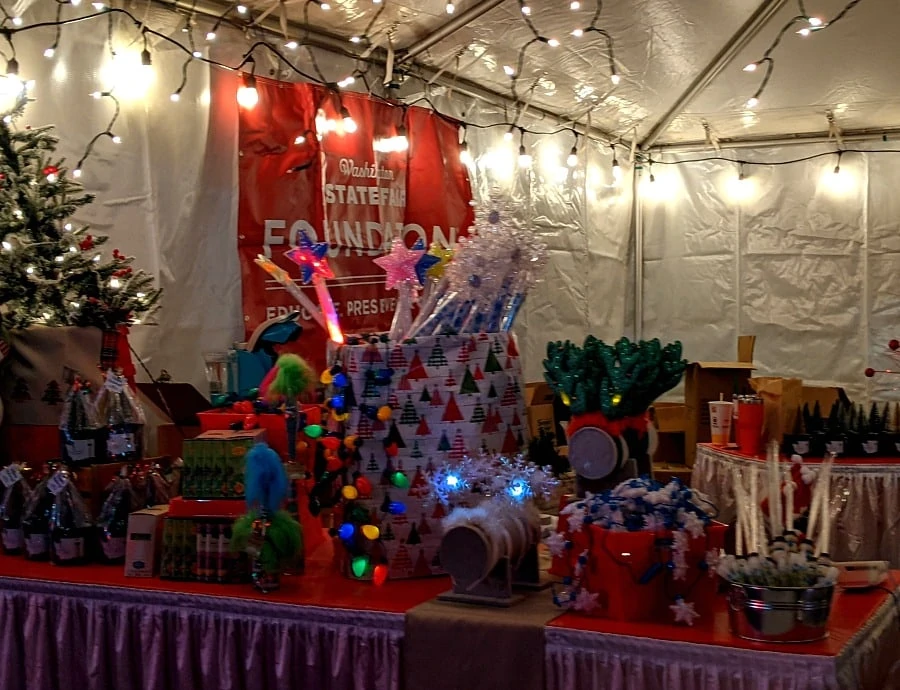 After you pass through the first light display area & coffee stand, you will drive by the "Let your Light Shine" merchandise area. This is an area where you can add some fun light-up items such as Christmas bulb & Snowflake necklaces, snowflake or star wands & more. You can also get 3D snowflake glasses here if you forgot to order them with your tickets.
Near the end of the event, you'll find another merchandise shopping area with all things Washington State Fair. They have t shirts, hoodies, state fair masks & more.
They can bring items from either of these shops to your car or if you do get out to shop, you will need to have a face mask on as well.
Hours/ Dates of the Event & Cost:
Opening night is December 1st & Holiday Magic will run through December 23rd on weekend nights, this year. It is open from 4:30 – 9:30 pm.
(Note that kids 2 and under are free for all of the pricing options). 
Prices range from $10 to $20, if you get in on Early Bird pricing (available now through November 27th).
General (ages 13+): $20
Child (ages 6-12): $15
Preschool (ages 3-5): $10
Kids (ages 2 & younger): FREE
Otherwise tickets will range from $12.50 – $22.50 online (depending on age, etc.). You won't be given a specific time, you just choose the window of time when you purchased your tickets.
New this year – you can buy anytime tickets for $25.
Extras – 
Ice Skating: $8 online / $10 on-site – . Limited quantities are available each day, so buy in advance!
3D Glasses: $3 online or on-site
They do offer some package deals here as well, that will save you if you want more than one ticket, some activities and food.
Tips for Your Visit: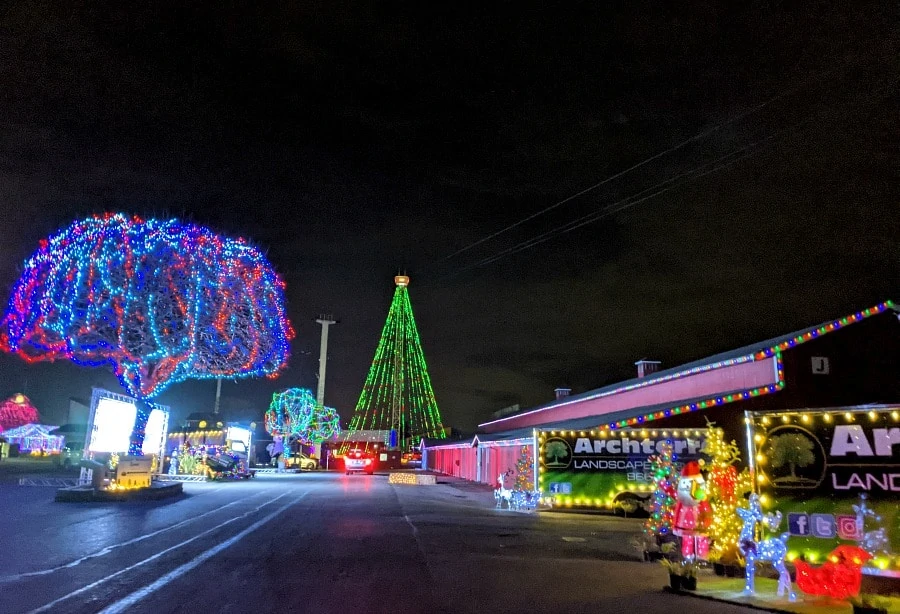 Get there early – or late – depending on your tickets – This is a very popular event (as it sold out completely yesterday), but this is different from the fair food-to-go in that you buy tickets ahead of time & go during that time slot. If you bought the tickets with a more flexible time slot, I'd recommend either going as early as possible for less lines for food or a later time (as less people will be waiting for food then).
Be prepared for lines for food – Some of you may have visited the fair this late summer when they offered fair food-to-go. If this is your first experience, my best tip is to just plan on longer lines if you are getting food. This is the part that can take time, especially if you want to order from multiple vendors. You will have longer wait times, but what's nice is that you can eat your items as you wait for the next place. We found that the time went by fast that way as we'd enjoy one item before ordering the next item on our list. And it's fair food – so it's totally worth it! Love those scones & funnel cakes! :) You just need to be prepared with some activities in the car to keep kids entertained.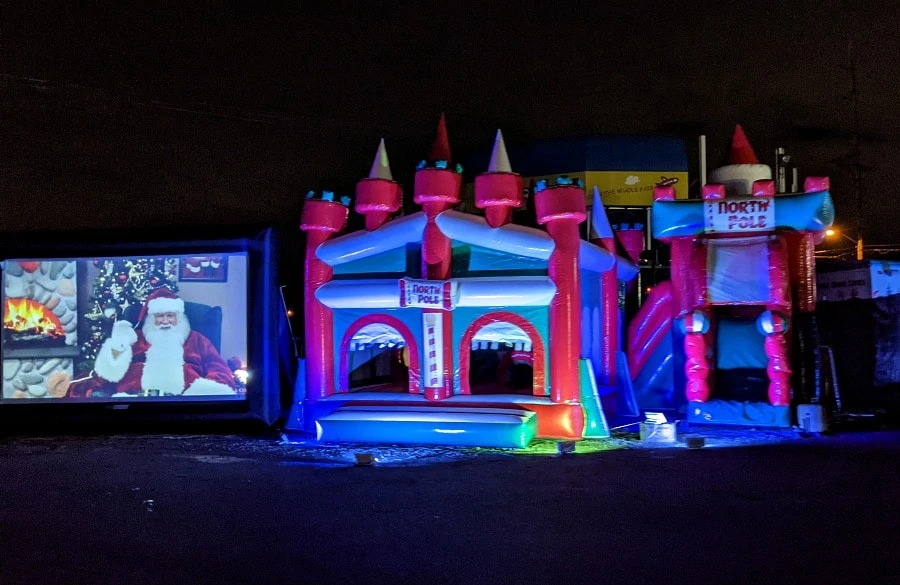 Decide on food to order ahead of time – The faster you can order & know what you want (& in some cases, you can order before you get up to the food vendor), then it will speed it up for you & everyone else. They will give you the brochure with the list of all the food vendors & their menus & prices. Or you can look online at the fair website to see the full menu ahead of time for each vendor as well. Use the time while you are waiting in line to get your orders all ready to go & write it down on a piece of paper. Then, you will know exactly which locations you want to visit & head to those stops along your way.  If you are skipping a stop, you can take a different route to drive thru those areas without waiting in the longer lines. So you definitely want to look at those menus beforehand or you'll need to wait until you get right up to the vendor to see what they are offering (& you'll spend time in a line you may not have wanted to go thru)
Bring glow sticks or light up necklaces, hats, etc – These light displays are always more fun when you get into the Christmas spirit. Dress up in your favorite Christmas outfit & bring some extra lights for the kids to enjoy in the car. Glow sticks from the dollar store are always fun or if you have any Christmas light-up toys, light-up necklaces & more. They do have a merchandise stand early in the event where you can stop for some fun light-up items as well.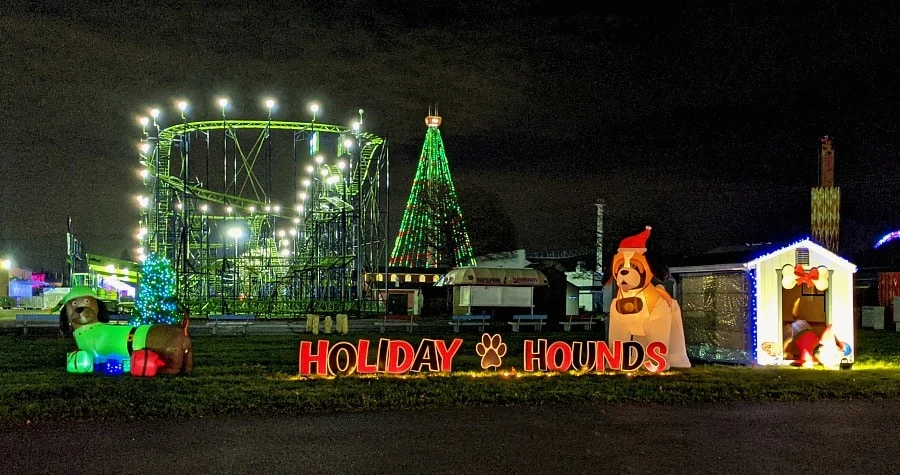 Bring your pooch along for the fun – I wish we had thought to bring our puppy to this drive-thru event as they even have a little area where they give your pup a treat in the Holiday Hounds area.
Let us know what you think if you are visiting the Holiday Magic Washington State Fair Christmas Display this year!