Edmonds Wa. – Great Day Trip or Getaway (Beaches/Parks/Ferry/Shops & More)!
This post may contain affiliate links and I may be compensated for this post. Please read our disclosure policy here.

Explore Edmonds Wa. – Great Day Trip (Beaches/Parks/Ferry/Shops & More)!
The Pacific Northwest is filled with many opportunities to get your kids out and active on a budget. Towns like La Conner, Sequim, Leavenworth and more often hit the top of folks lists for day trips or weekend getaways. Edmonds is one that I think could be added to that list. It is full of shops, restaurants, beaches, ferry rides, parks and more. It really is a great way to spend a day or a weekend.  I have had family living in Edmonds, pretty much my entire life, so we have spent many weekends exploring the town – and we think it makes a wonderful getaway for a family or a couple, or you can just plan a day trip here and create many wonderful memories with your family.
For years my family has been enjoying the Edmonds area (my great grandmother owned a laundromat there when it was just a tiny town) and we have enjoyed the beaches and parks (and really the entire Edmonds downtown area) ever since. You can make it an overnight trip, by booking one of the local spots through something like AirBnb, but it is a really easy day trip if you live in driving distance. We have always found parking to be easy, the pace nice and relaxed, tons of natural beauty, as well as many shops and restaurants to occupy your time. We have lots more details on why we love to visit Edmonds for a great family day trip here.
Also, be sure to check out our Park Reviews page here for inspiration on what parks you can visit in the NW, or our travel page here for ideas on budget friendly getaways for the family in the Northwest!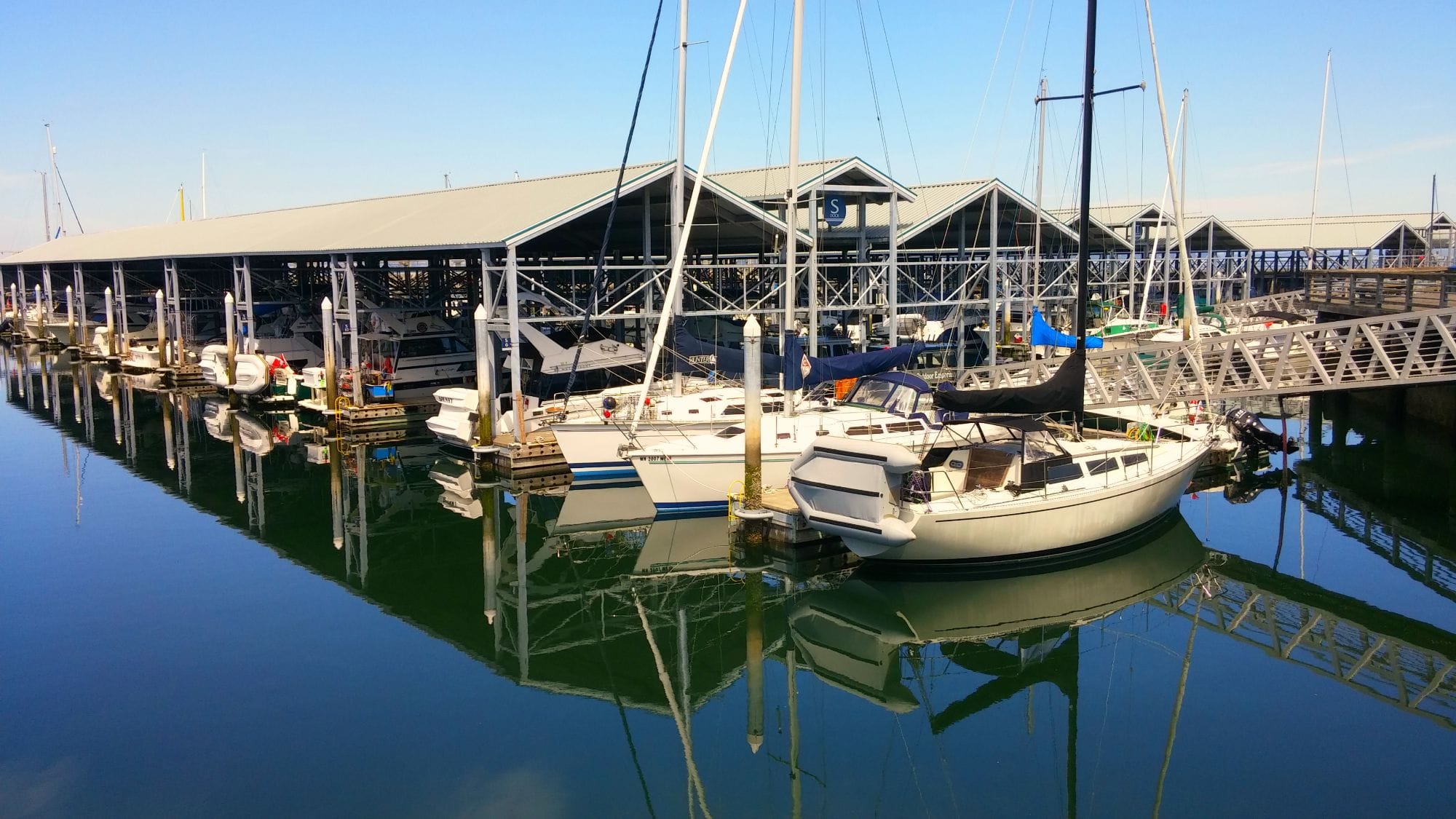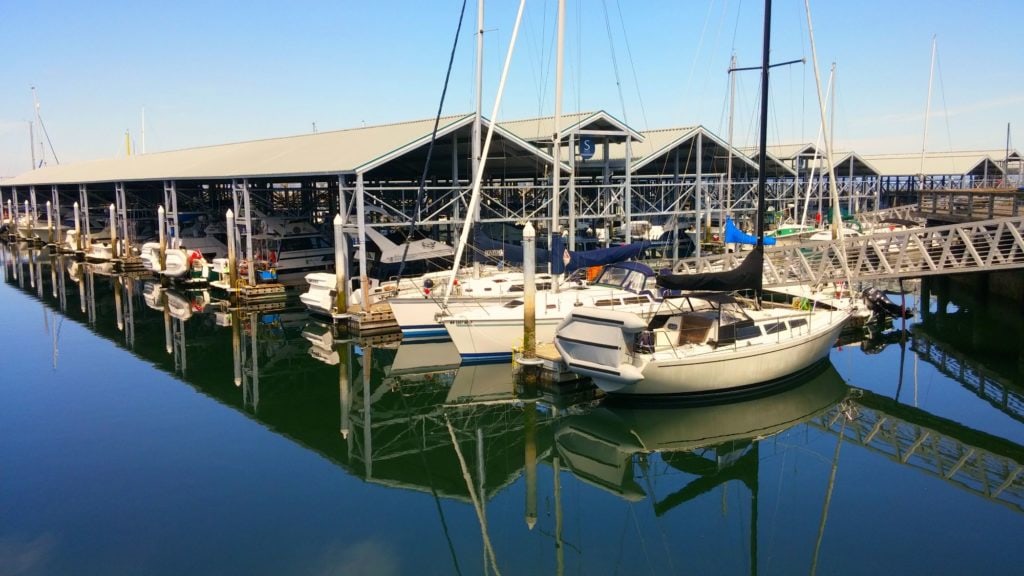 The Marina in Edmonds
Exploring Downtown Edmonds – Shops, Restaurants, Beaches and Parks!
We make multiple trips out to the Edmonds area and enjoy time at the beaches and parks each summer. It is so beautiful, and there is a full days worth of activities, so its worth it even if you have to travel a bit (and you could even hop the ferry over to downtown Kingston and beyond too). There are two beaches, parks, marina, board walk, restaurants, shops and a small downtown area with a historic theater to boot! One of my favorite things is that its a walking city, so you can park the car and walk for the day if you like.

Art Sculpture along the waterfront walk
One of the things I like best about visiting Edmonds Beach, is spending time walking and exploring the town at a leisurely pace. I always feel relaxed, and not worn out, after a visit here.
Parks in Edmonds
Edmonds has a number of parks to enjoy. There is a large (and fun) park uptown called the Edmonds City Park, and is located off Third Ave. S. between Howell St. and Pine St. This is the bigger park, if your looking for primarily park fun (it also includes a spray park). It is my kids favorite park in the area. I walk to this park with my kids (but I love to walk, and we have a home base to rest at in Edmonds, as we have family that lives there). It is a long walk from the downtown Edmonds area though, so you may want to drive, especially if you have little ones with you. You can also find a list of other parks in the area if you want to explore some of those.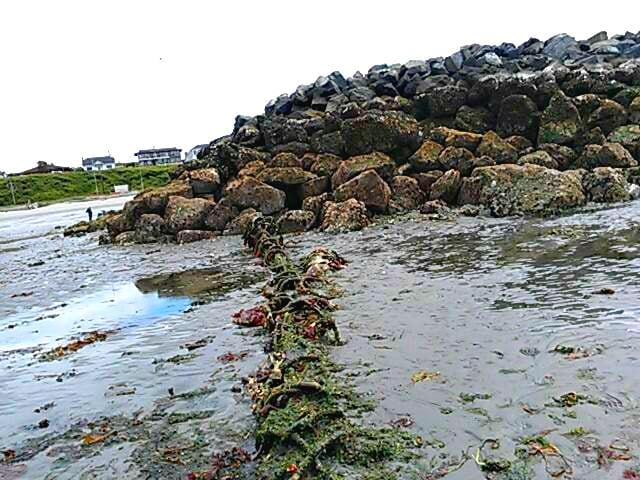 Beaches in Edmonds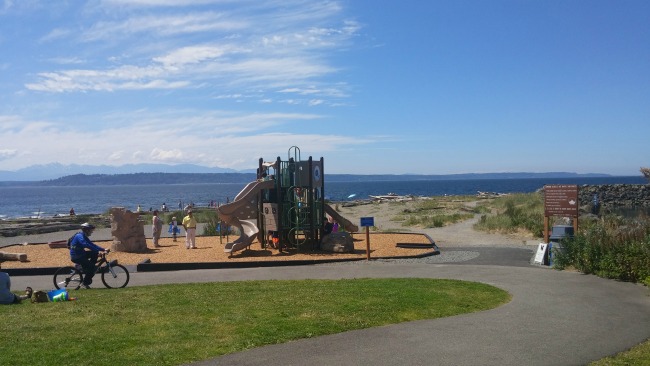 This is the new park structure at the Marina Beach.
There are a few beaches to explore, right in downtown Edmonds, including a couple right next to the Ferry.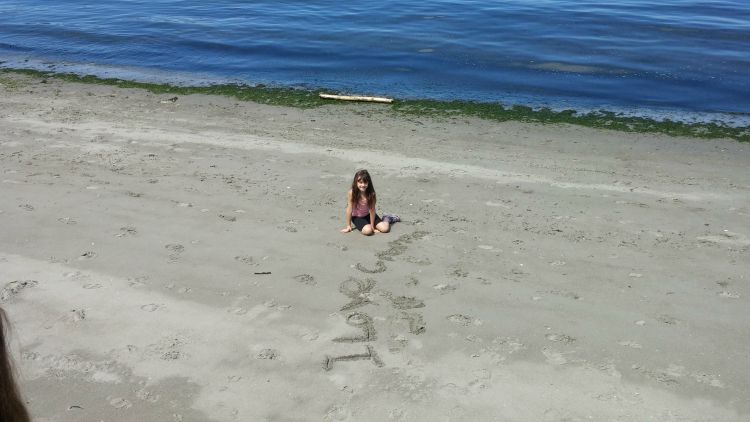 My kids favorite is the Marina beach and park. It is a short walk from the central downtown area (and the walk is paved and  beachfront, so worth making just to enjoy the walk). and has sand, a playground and lots of kids swimming in the Puget Sound – so it can work for all ages. Because its the Sound, swimming is best suited for those that can swim well but little ones can play on the shore line.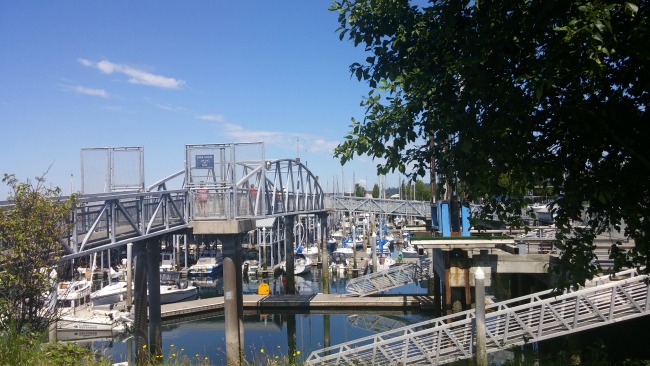 You can park at this beach, or park in downtown Edmonds and walk over (its a bit of a walk, but we love it). We often stop and watch boats being launched, smell flowers, get ice cream and more on our walk over! If you are walking you get to cross this fun bridge over the marina to enter the park!
There are also the Brackett's Landing North and South beaches, near the ferry terminal. This spot is well known with divers (as there is an underwater park for divers here) and makes for nice strolls along the water too.
You can spend a good portion of your day playing on the beaches down at the Edmonds waterfront.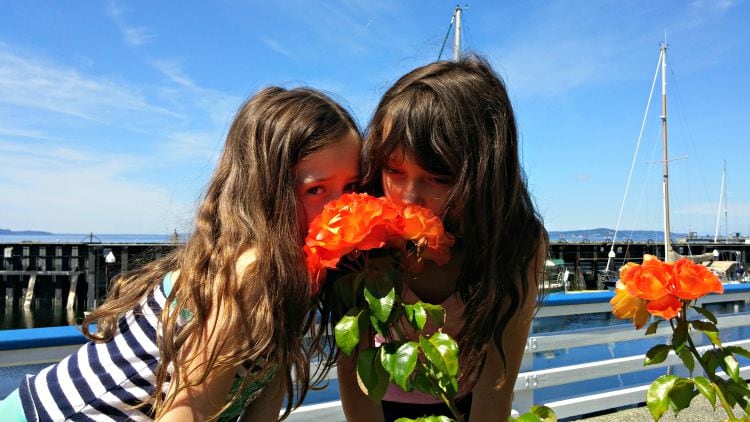 Plenty of spots to stop and smell the flowers along the way. They take very good care of the waterfront and the downtown area, so its a clean and beautiful city to walk through!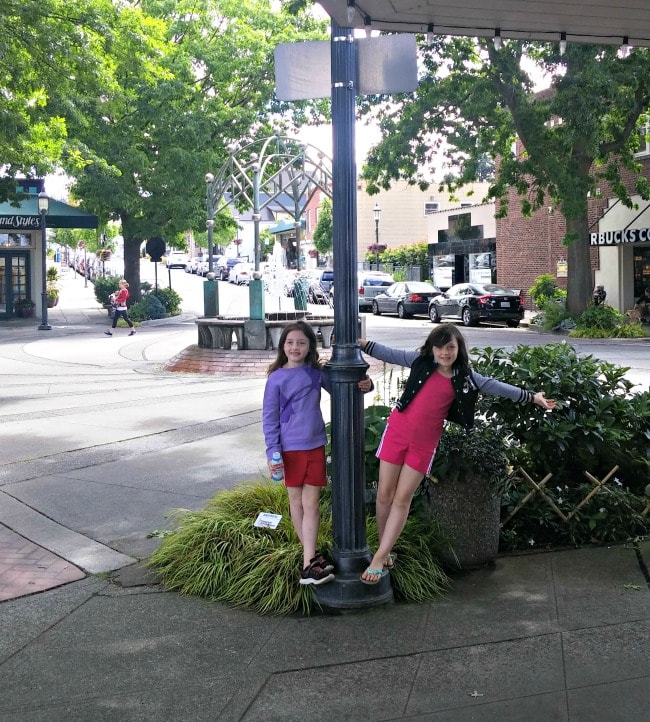 After being down on the water, we like to head up to the small downtown area. There are a number of shops, restaurants, and a small historic theater that often has movies the kids enjoy (and provides a cool break in the day).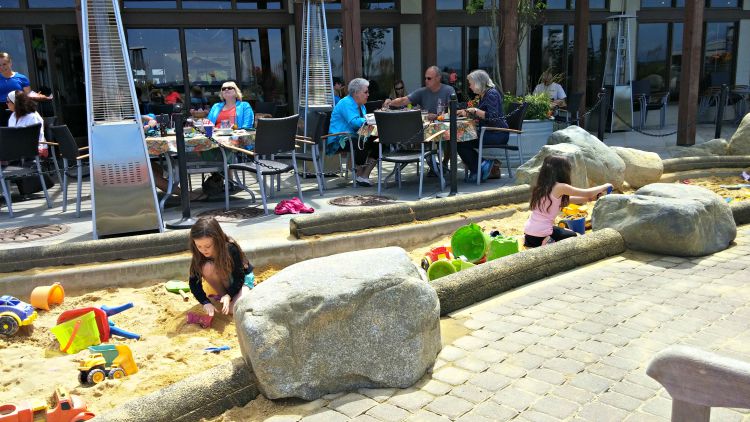 This is the sandbox out in front of Anthony's Beach Cafe
Recommended eating spots nearby:
Edmonds is full of fun and delicious restaurants. There are so many great spots to try out. Also, be sure to check out Groupon as many often offer discounts there (just put Edmonds up on the search bar).
I have many favorite eating spots here! Here are a couple highlights:
Girardis – this is an Italian restaurant with a very popular Happy Hour. The Happy hour has extended hours, and you can eat at it with the kids. There is outdoor dining, and prices start at around $5. We have done their Happy Hours many times over the years. Due to popularity their prices have increased some recently, but its still a good option. Dinners are pricier, but you can often find them on Groupon if your looking for something special. This spot is in uptown Edmonds, so a bit of a walk from the beach (but an easy walk on sidewalks).
The Beach Cafe below Anthonys. This is an Anthony's restaurant. The prices are better than Anthony's and there is outdoor seating overlooking the Marina. Plus, there is a great sand box that my kids love to play in there (pictured above).
They recently opened a spuds down by the art museum (not too far from the beach and boardwalk) if you love their fish and chips. If you visit there, there is also a honey shop right around the corner that has the best honey candy I have ever tasted (it was awesome)!
The Edmonds Bakery is my favorite spot for a sweet treat. It has not changed much since I was a little girl, but their doughnuts are amazing! They have limited hours so be sure to check those ahead of time.
The Rusty Pelican is a super popular local spot for breakfast and lunch. They do get very busy, but you can order boxed lunches and take them down to the beach to eat as a picnic! You do have to call ahead 24 hours in advance to order those, so this is one you will want to plan for.
Rorys of Edmonds is another spot that has been around for a very long time. It is your classic bar and grill, but you can get seating out on a deck that looks over the beach and ferry, for beautiful views (and they offer a happy hour M-F too).
Find many more dining options for Edmonds here too.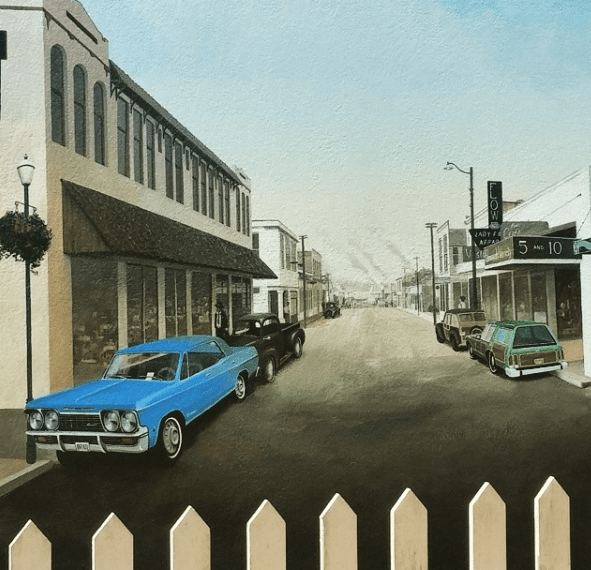 You can visit the small downtown area for shops, restaurants and more. There are these fun murals throughout town you can spot too, in various alleys. There is a toy store downtown that my kids love to buy squishies at, if your looking for something to entertain the kids with.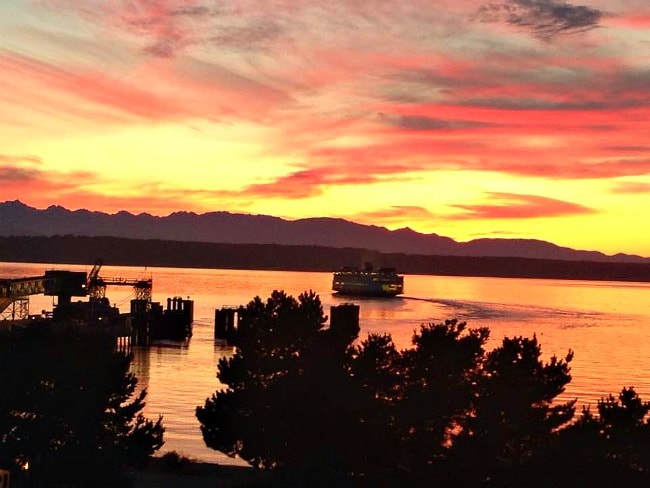 If you stay until the evening you may even catch one of their amazing sunsets. We have enjoyed so many beautiful sunsets along the Edmonds waterfront. If you are a fan of a great sunset, this is a wonderful spot to enjoy them.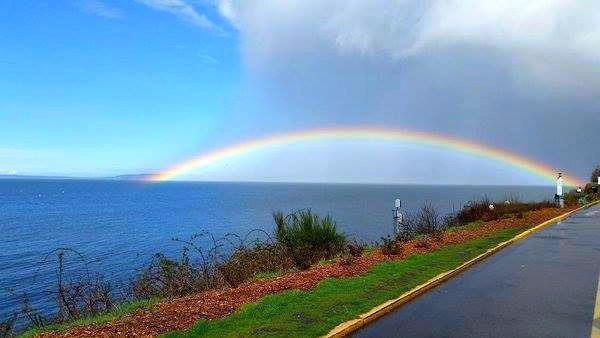 Or maybe you will get lucky and see a rainbow. Unfortunately that means you may have had to sit through some rain too, so these are not as likely in the summer, but what a sight if you do catch one.
Location:
Edmonds is approximately 14 miles North of Seattle, and is also the location of the Edmonds / Kingston Ferry Terminal.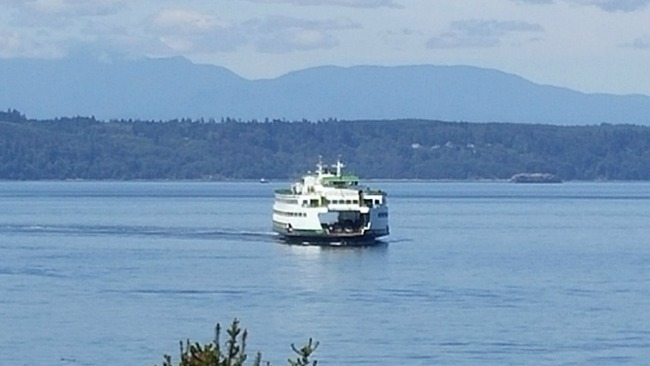 Additional Tips:
Want to visit Edmonds and Kingston. Take a ferry across to Kingston for a round trip excursion (park and walk on to keep it more affordable). Downtown Kingston is small, but cute. It has a great Crepe shop, an amazing Gelato shop (my daughter said it was the best banana ice cream she has ever had) and a few other restaurants and shops in the immediate walking area. In the summer there are different events and evening concerts you can enjoy as well.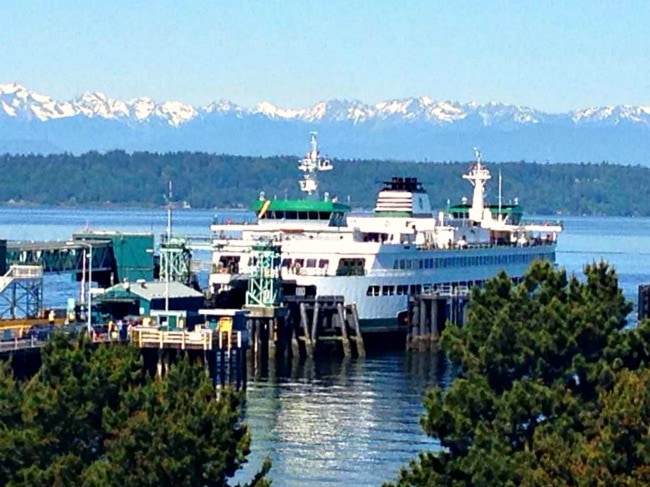 The ferry trip is around 30 minutes, and I would say you could explore the town in an hour easily, or two if you wanted to eat there, enjoy events or just take more time.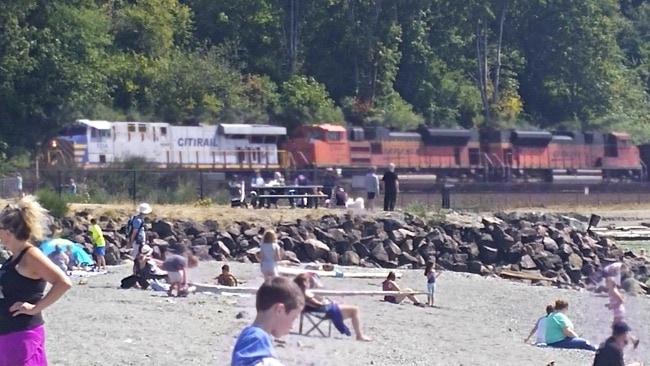 If you love trains, there is also some great train spotting opportunities in this area. There are also trains that run through if you have a train lover with you!
You might also be interested in:
Lots of places to explore on the Kitsap Peninsula if you take the Ferry across to Kingston too.