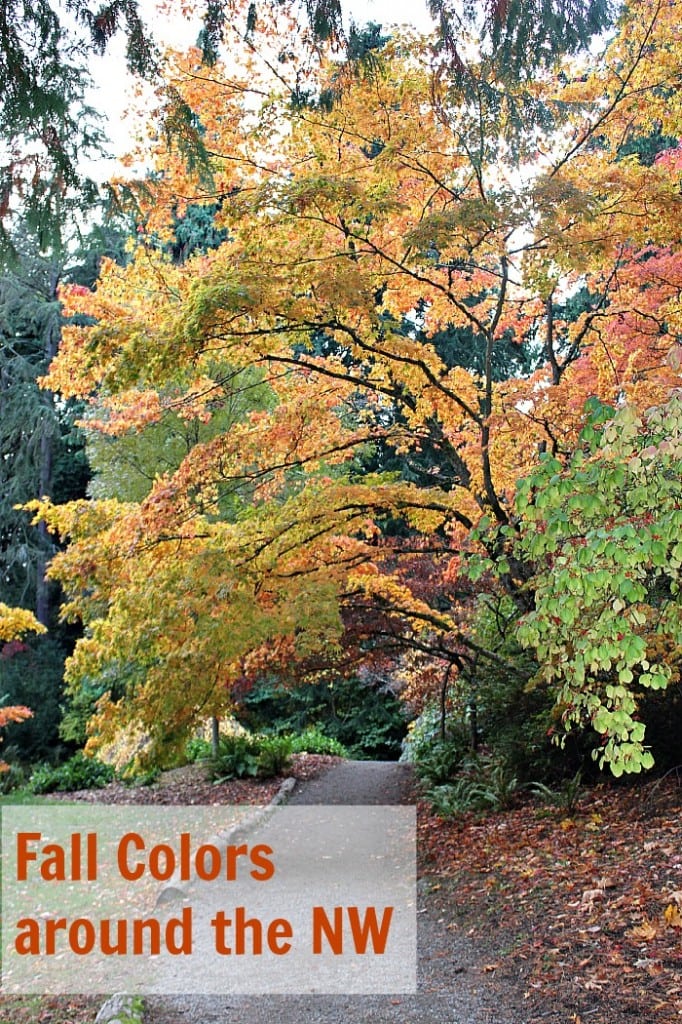 This fall, we will be sharing some of our favorite places to enjoy the autumn season with our families including pumpkin patches, trips to view the fall foliage & more.  One of my favorite parts about autumn is heading out to check out all the beautiful, changing colors of the leaves. I spent half of my life on the East Coast & we used to head to Skyline Drive in Virginia for some incredible views of the changing colors. So, I've been on the hunt for locations around the Northwest where we can enjoy the same type of views.
We also  shared the question with all of the Facebook readers & got some awesome answers & I thought I'd compile a few of them in this list.
Places to View the Autumn Leaves in the Northwest: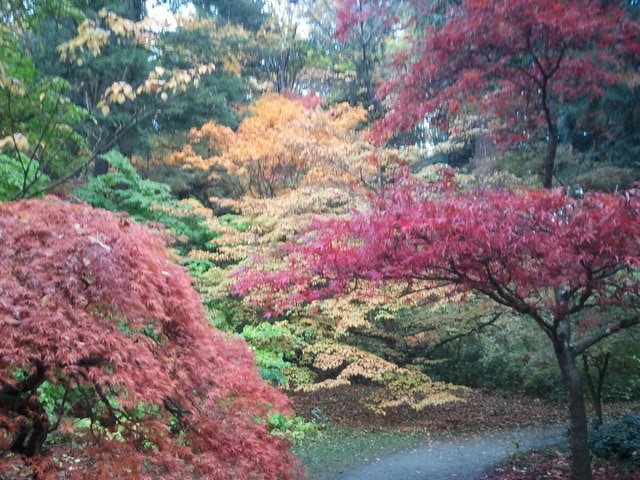 Washington:
Volunteer Park – Seattle, WA
Wright Park – Tacoma, WA (this is an incredibly popular spot for photographers because of the abundance of gorgeous colors on the huge trees)
Northwest Trek – a fun place to see the animals on a tram ride – and the beautiful fall colors
Route from Ashwood to Packwood, WA near Mt Rainier
Marymoor Park – Redmond, WA
Nisqually Wildlife Refuge – Lacey, WA
Chuckanut Drive – from Bow, WA to Bellingham, WA (I've never checked out the fall colors on Chuckanut, but this is probably my favorite drive in WA for watching the sunset – so go on a beautiful day & check out the fall leaves & then stay for the sunset over the San Juan Islands & you have the perfect day! :) )
Leavenworth, WA – take Highway 2 over the pass for a beautiful drive along the way to Leavenworth, too! Make sure to check out our ideas on ways to save & fun things to do while you're in Leavenworth. Octoberfest is also happening in October in Leavenworth
Whatcom Falls Park – Bellingham, WA
5 Mile Drive at Point Defiance Park – Tacoma, WA
Kobayashi Park – University Place/Tacoma, WA
Tumwater Falls Park  – Olympia/Tumwater, WA – check out our review of this beautiful park just right off I-5 – great stopping off point if you've got a long drive
Oregon:
*While doing some searching on fall colors in Oregon, I found a great website called Oregon Fall Foliage which is run by Travel Lane County & they have partnered with forest rangers, biologists & others who share the best places to view the fall colors in Oregon. Looks like a great resource!
Washington Park Arboretum: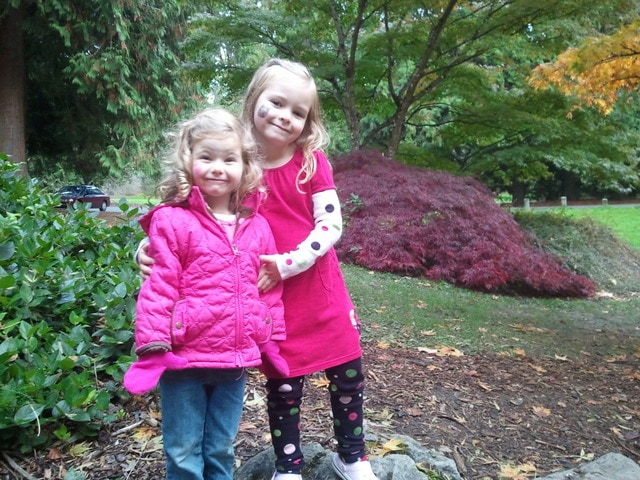 Our favorite place to view the fall colors in the Puget Sound area is to head up to the Washington Park Arboretum near the University of Washington campus in Seattle. It is 230 acres located just south of the campus across the Mountlake Bridge. I love that it's so close off the freeway in the middle of Seattle (literally 5 minutes off I-5 or the 520 bridge). Once you're there, you'll find an amazing assortment of plants & trees within this park.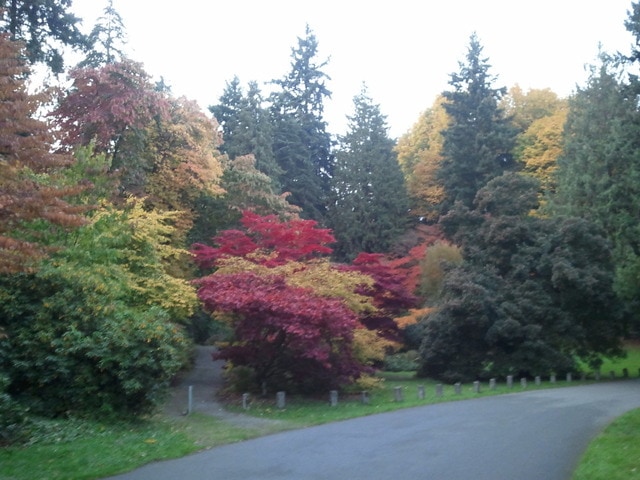 I love that the Arboretum is so family-friendly – they have large paved pedestrian paths that run throughout the park which are great for bike rides, stroller walking, jogging & more. These paths can get pretty busy on beautiful fall weekends, so we mainly use them to get to certain areas of the park & then head into the smaller trails that wind thru the woods. Even with the smaller paths, we have taken our girls even as toddlers & they have been able to walk on the trails easily & we've been able to take a jogging stroller thru the trails.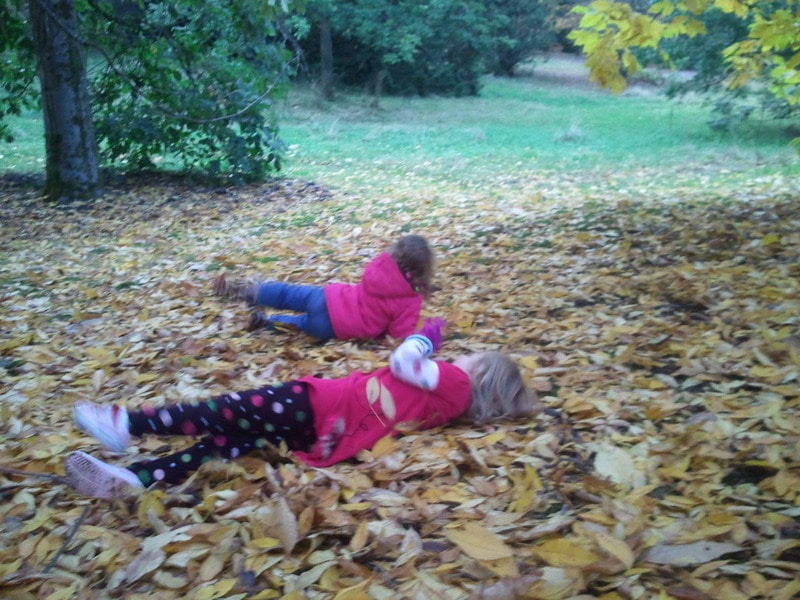 You'll find plenty of opportunities for jumping in the leaves & rolling down the hills – my girls' favorite pastime in the fall! 
As I mentioned, this park is very popular on the beautiful, sunny weekends in the fall, so if you're wanting to take a lot of fall photos, you may want to wait until the weekdays or just head there in the mornings or the evenings on the weekends for more opportunities to get your photos without people. However, there are plenty of trails throughout the park, so just look for those paths that are less traveled.
Washington Park Arboretum offers free admission; however, the Japanese Garden is also included within this park & you do have to pay admission prices for the park – adults are $6, seniors/youth 6-17/college students with ID/disabled is $4; & children ages 0-5 are free.
Other posts you might be interested in for more Fall Fun:
Make sure to check out all of our fall-related posts – everything from pumpkin patch reviews, favorite places to view the fall colors, fall recipes & more!
Here are a few of our favorites:
Where is your favorite place to view the autumn leaves around the Pacific Northwest? Make sure to leave a comment so we can add it to our list!