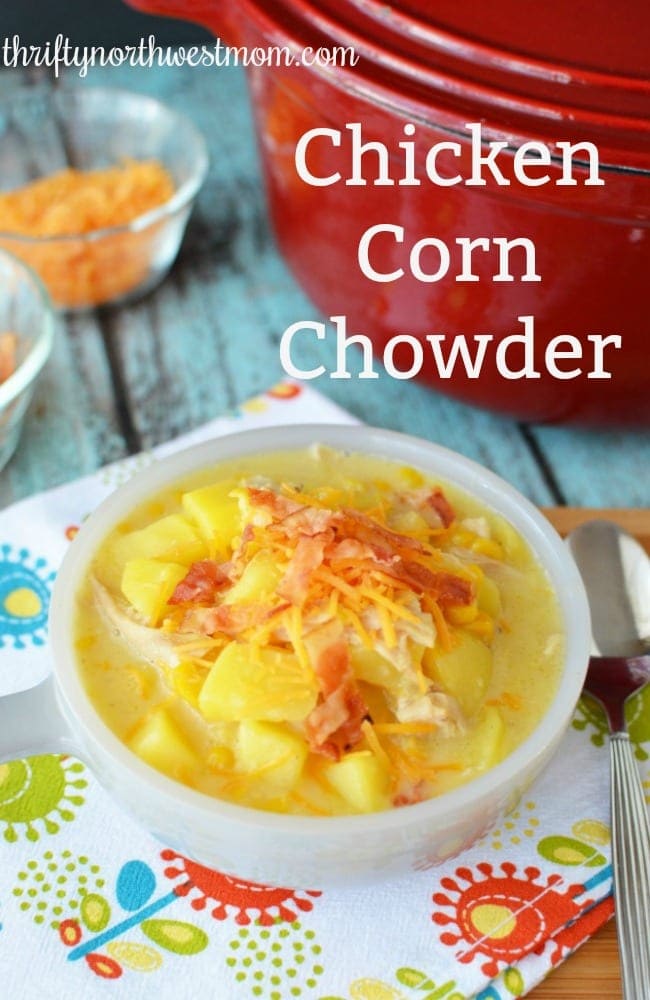 Chicken Corn Chowder is one of those recipes I like because I can make it early in the day, let it simmer and then just dice up some great toppers that I serve right on the cutting board for everyone to select what they want to add to their soup. Add a basket of bread, and you have a hearty meal for the whole family.
This recipe is a great comfort food too. Its rich in taste but it's also a soup, so I love to serve it year round. It is also a very affordable meal to make, using ingredients like potatoes and creamed corn. It has become a staple recipe at my house.  Serve it up with this homemade honey wheat bread for the perfect summer or fall meal!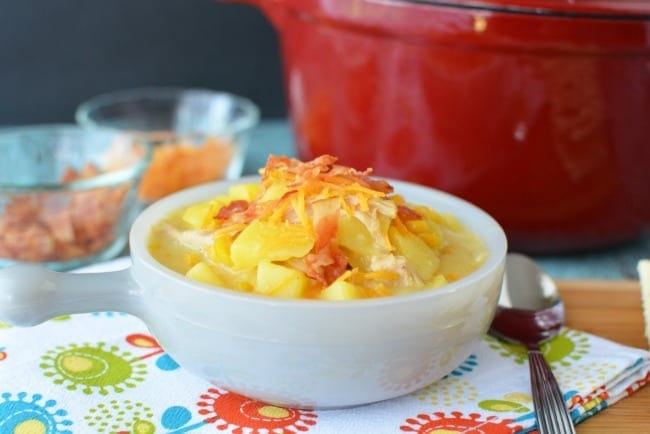 It's also a forgiving recipe and can be modified to use the ingredients you have on hand (for instance, you can add milk instead of cream or skip it all together). You can use a whole chicken, frozen or fresh chicken breasts, etc..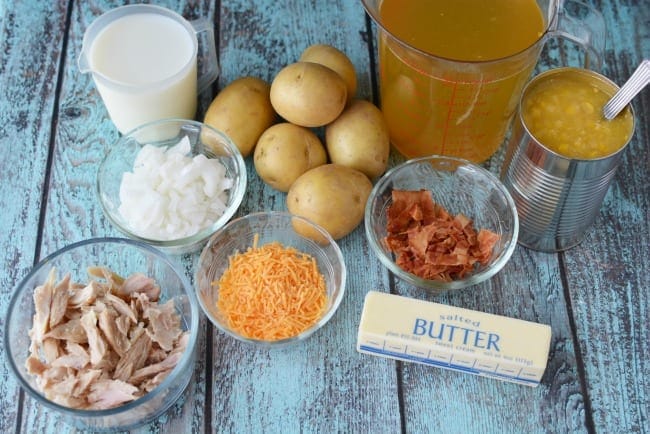 Ingredients
4-5 medium sized chicken breasts (or 1 small whole chicken)
4 cups of Chicken Broth (I like to make my own, but can used canned or bullion too)
2 cups of milk (can substitute heavy cream here, but you may want to omit butter if you do)
2 tbls butter
3 potatoes peeled and diced
½ medium sized onion diced
1 can cream of corn
Salt and pepper to taste (approx. ½ tsp of each)
4 slices bacon (crumbled – optional for toppings) – or you can add directly to soup
3 cups of shredded cheddar cheese (optional for topping)
Diced green onions (optional for toppings)
Hot Sauce (option for topping)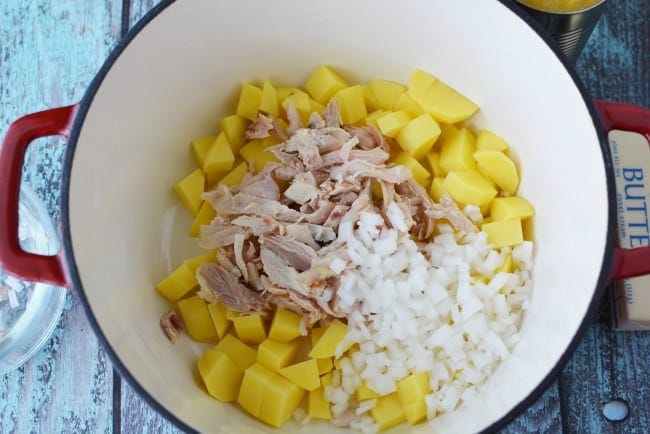 In a soup pot (or you can use a slow cooker) add the chicken broth, potatoes, onions, shredded chicken.
Simmer on medium heat until potatoes are tender.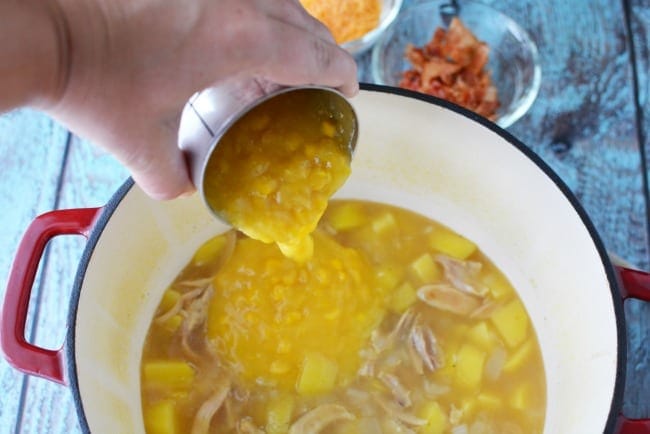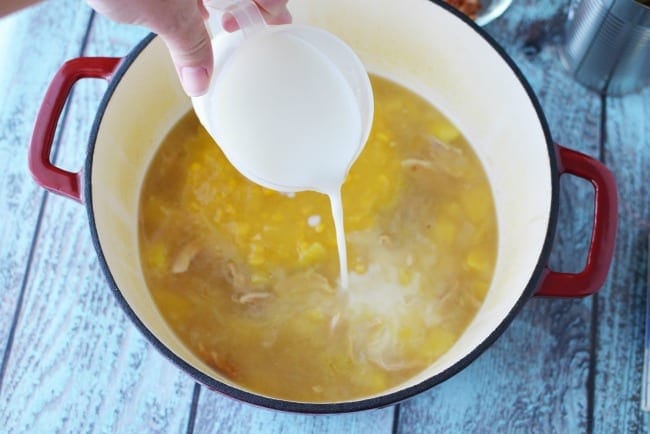 Add the can of cream corn, milk, butter and salt and pepper.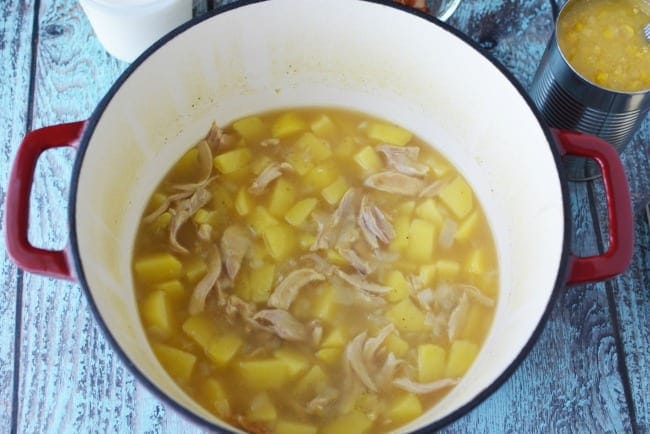 Simmer on low until it thickens and you are ready to serve.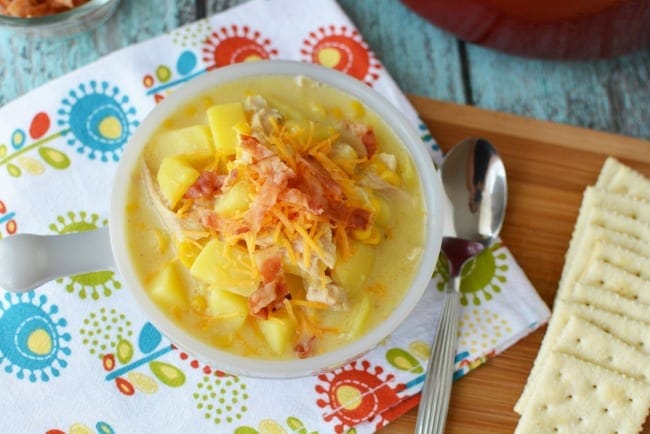 Prepare desired toppings to serve with soup.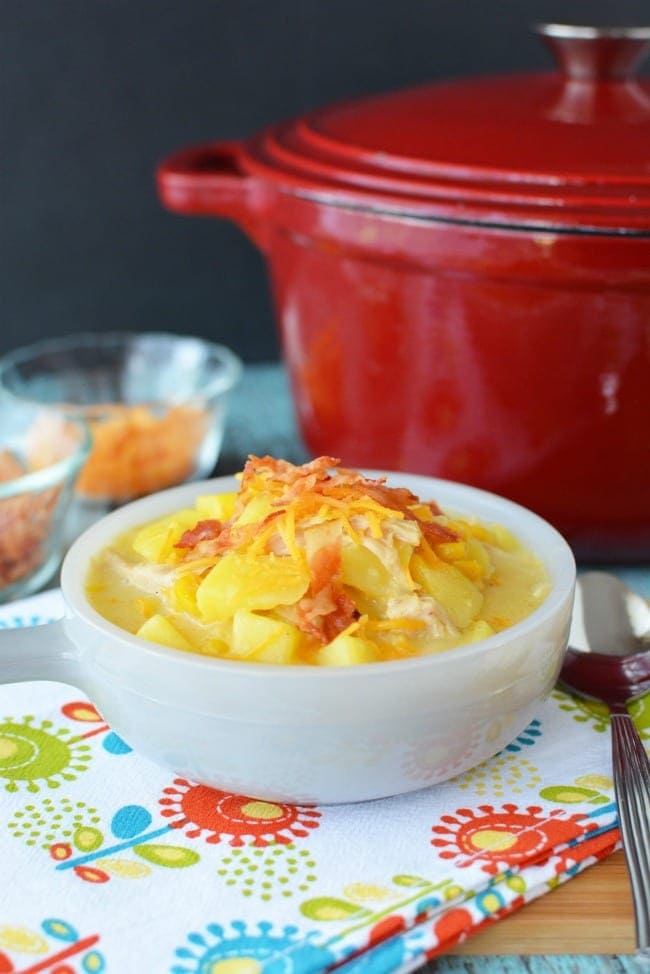 Print
Chicken Corn Chowder (Make in Slow Cooker or Stove Top)
---
Ingredients
4

–

5

medium sized chicken breasts (or

1

small whole chicken)

4 cup

s of Chicken Broth (I like to make my own, but can used canned or bullion too)

2 cup

s of milk (can substitute heavy cream here, but you may want to omit butter if you do)

2

tbls butter

3

potatoes peeled and diced

1/2

medium sized onion diced

1

can cream of corn
Salt and pepper to taste (approx. 1/2 tsp of each)

4

slices bacon (crumbled – optional for toppings) – or you can add directly to soup

3 cup

s of shredded cheddar cheese (optional for topping)
Diced green onions (optional for toppings)
Hot Sauce (option for topping)
---
Instructions
Boil your chicken until cooked through. Let it cool, and shred it.
In a soup pot (or you can use a slow cooker) add the chicken broth, potatoes, onions, shredded chicken.
Simmer on medium heat until potatoes are tender.
Add the can of cream corn, milk, butter and salt and pepper.
Simmer on low until it thickens and you are ready to serve.
Prepare desired toppings to serve with soup.
(Note – you can also add all the ingredients after the chicken is cooked (minus toppings) to a slow cooker and make the soup that way)