Potato, Chicken and Corn Chowder – Delicious with Side Delight Potatoes!
This post may contain affiliate links and I may be compensated for this post. Please read our disclosure policy here.
Side Delights® potatoes sponsors this post through Kitchen PLAY. All opinions are 100% my own.
Potato, Chicken and Corn Chowder – Delicious with Side Delights Potatoes!
Chicken Corn Chowder is one of those recipes I like because I can make it early in the day, let it simmer and then dice up some great toppers that I serve right on the cutting board for everyone to select what they want to add to their soup. Add a basket of bread, and you have a hearty meal for the whole family. This meal is not only delicious, but also really affordable to make. We use Side Delights® potatoes to add a creamy richness to this recipe.
This recipe is a great comfort food too. It's rich in taste, and it's a soup, so I love to serve it year-round. It is also a very affordable meal to make, using ingredients like potatoes, that are often very affordable year- round. It has become a staple recipe at my house.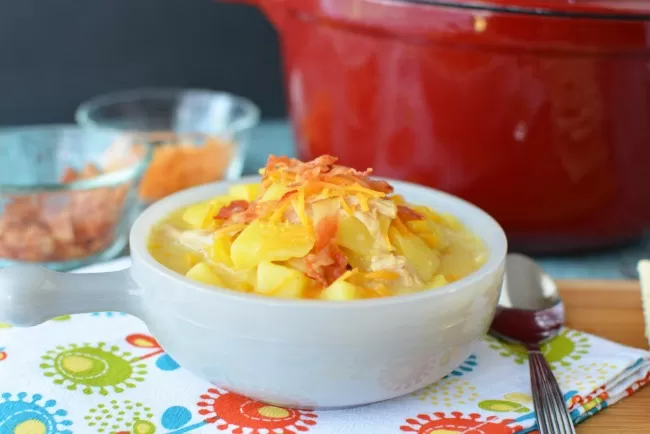 It's also a forgiving recipe that can be modified to use the ingredients you have on hand. For instance, you can add gold potatoes for a creamier recipe base, red potatoes to add some color, or Russet potatoes to make it extra hearty. You can use a whole chicken, frozen or fresh chicken breasts, etc.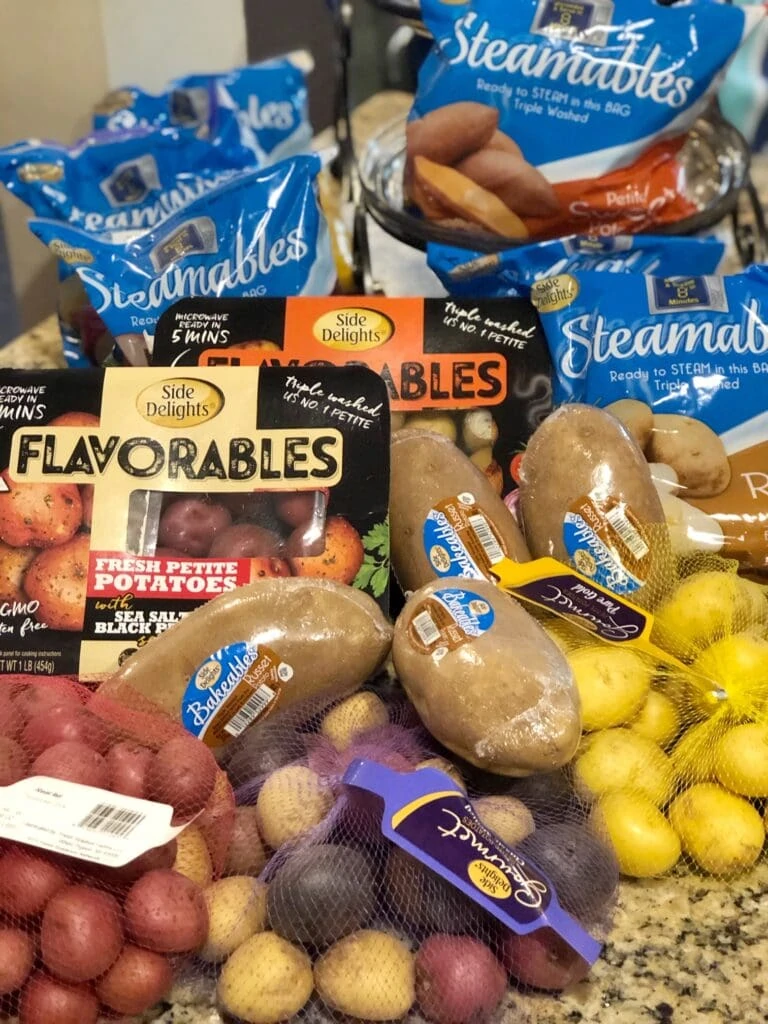 There are a couple of reasons I love to make this recipe with Side Delights® potatoes.
The first is because they are a local farm to our area, and I know I am getting a quality product. I recently learned that the Columbia Basin in Washington is the highest producers of all kinds of potato varieties annually, and the nature of the growing environment there yields more and higher quality potatoes. This area of the country is a temperate climate for growing potatoes and as a result, has a longer growing season. Basin Gold Cooperative goes back three generations, and started as a fruit stand in 1941, before evolving into the quality potato farm that it is today. I was able to talk with one of tthe owners, Mike Connors, and the passion for the quality of their product convinced me to try out their potatoes, and I loved them.
Also, I love some of their packaging options, that make cooking potatoes simpler than ever, but you are still cooking real potatoes (you do not have to resort to frozen potatoes). They offer a few options that made cooking the potatoes, in just minutes, in the microwave, so simple. And you do not compromise any flavor or nutrient value when doing so. Did I say how much I love these options!
I also picked up a few tips from Side Delights® that I want to pass on to you, that will help you make the best pot of this Chicken Corn Chowder, depending on what you are trying to achieve (convenience, cost savings, etc.) but never compromising on quality.
Tips for which Side Delights® potatoes to choose for your pot of Chicken Corn Chowder, and how to store them:
Regardless of which potatoes you choose, you will want to store them in a dark, cool spot. Light exposure causes them to green faster. If your potatoes have turned green, you will want to get rid of the green parts, so be sure to store appropriately, and they will last a bit longer.

Potatoes are one of the fresh ingredients in this recipe (you can use many of the other ingredients frozen, or canned). This is a wonderful recipe to keep ingredients on hand for, so when you need to make an unexpected meal , you are ready for it! Like I said, it is important to store your potatoes correctly, and this recipe can always be a go-to in your house.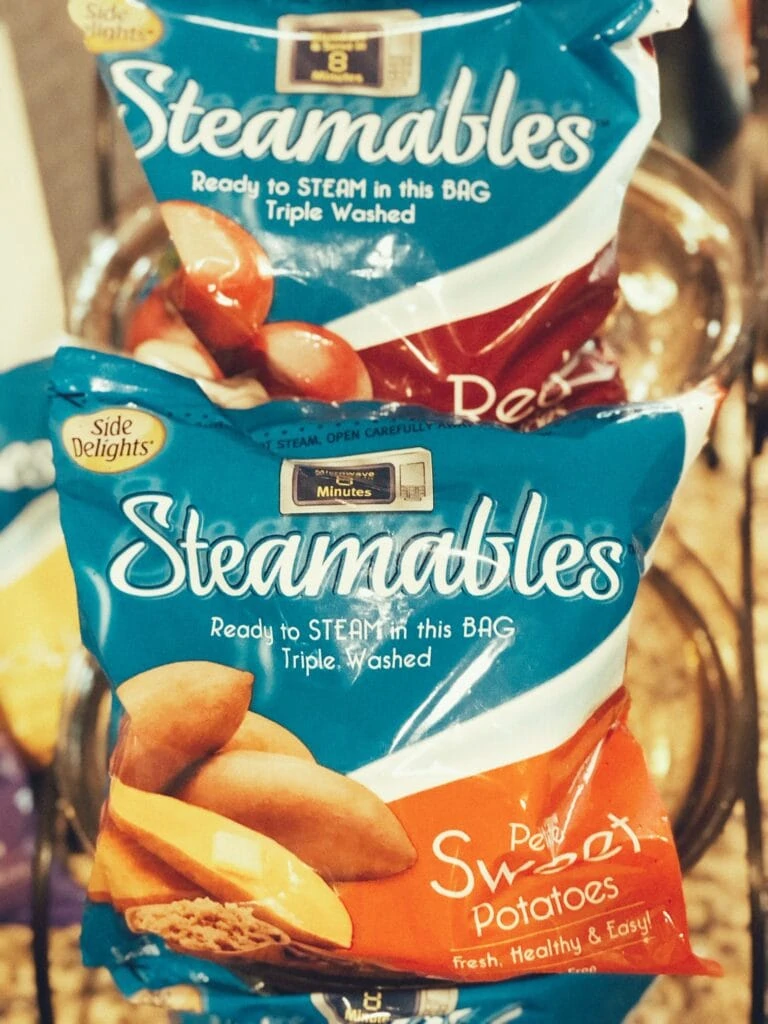 If you are looking for convenience, over cost savings, Side Delights

®

sells Steamables -– 1.5 lb. of fresh, triple-washed steamable potatoes that cook in their own steam in the microwave bag. I love these because they are real potatoes (not frozen or modified in any way) but packaged in such a way that you throw them in your microwave for 8 minutes and they come out perfectly cooked. They taste the same as potatoes I boil or bake in the oven, and the convenience is wonderful. Potatoes are the part of this recipe that takes the longest to make, so if you want to throw it together quickly, you can use a Side Delights Steamables bag and have it ready fast.

If you are trying to decide which variety to use in this recipe, I generally love creamy yellow Fingerlings. Alternatively,Red potatoes add color, and Russets will help you feed a crowd on a serious budget. Russets may fall apart in this chowder, so a waxy potato (White, Red, Yellow, Fingerling) may work a bit better. They all contribute subtle taste differences, but any one of them will create a delicious tasting soup.

Potatoes are the most nutrient dense product in the produce department for the price. Keep the skins on when you are dicing up for this recipe, and you will get all the nutrient value of the whole potato (lots of fiber is in the skin).
Ok, now that you know why I love to use Side Delights® in this recipe, let's get to the recipe itself.
How to make Chicken Corn Chowder with Side Delights® Potatoes: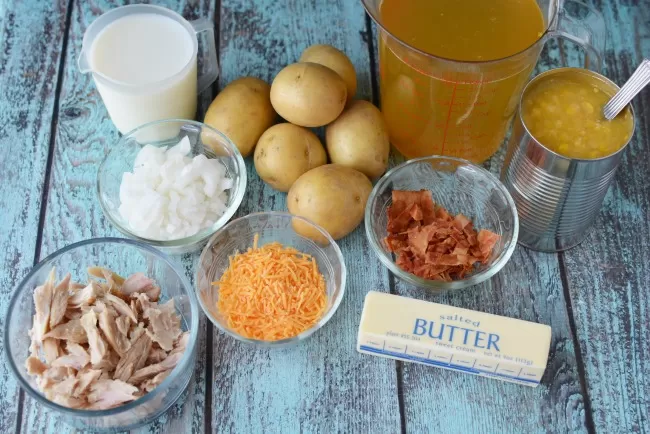 Ingredients
3 -6 Side Delights

®

potatoes peeled and diced (depending on what size you are using)

4-5 medium-sized chicken breasts (or 1 small whole chicken)

4 cups of Chicken Broth (I like to make my own, but you can use canned or bouillion too)

2 cups of milk (can substitute heavy cream here, but you may want to omit butter if you do)

2 tablespoon butter

½ medium- sized onion, diced

1 can cream of corn

Salt and pepper to taste (approx. ½ tsp of each)

4 slices bacon (crumbled – optional for toppings) – or you can add directly to soup

3 cups of shredded cheddar cheese (optional for topping)

Diced green onions (optional for toppings)

Hot sauce (option for topping)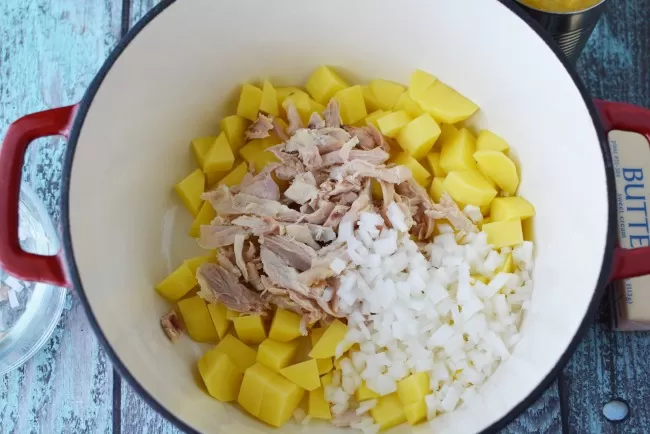 In a soup pot (or you can use a slow cooker) add the chicken broth, potatoes, onions, and shredded chicken.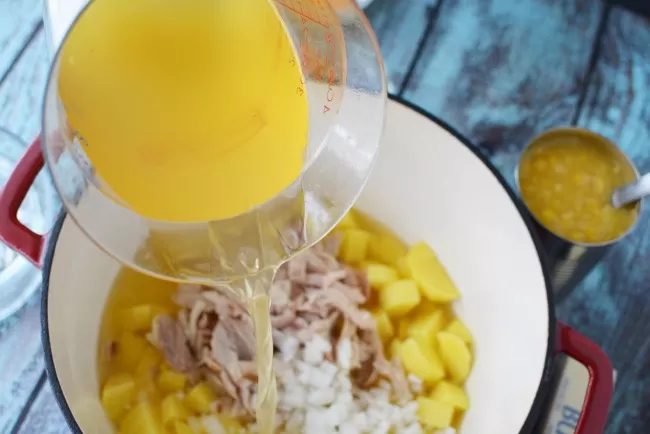 Simmer on medium heat until potatoes are tender.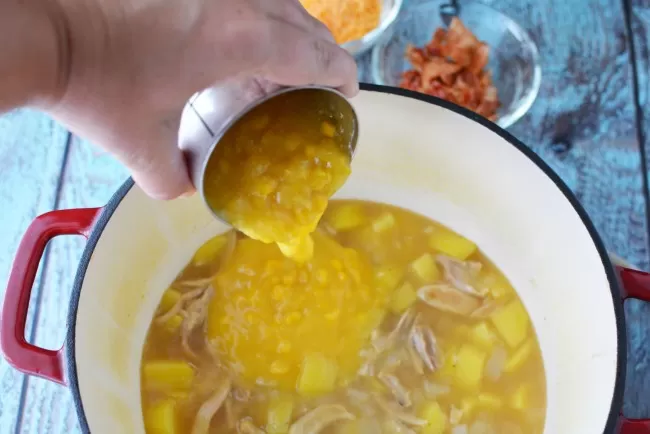 Add the can of cream corn, milk, butter and salt and pepper.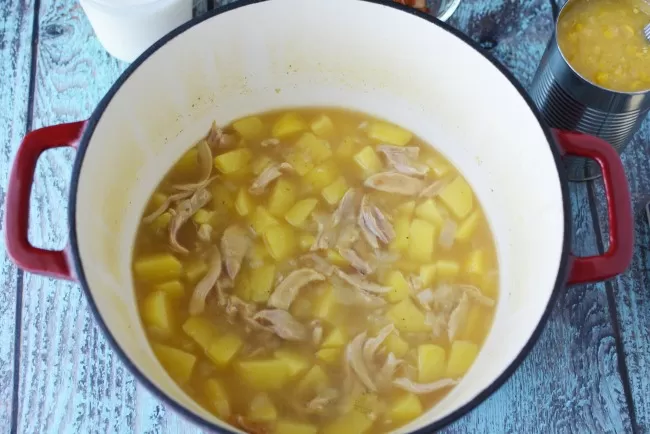 Simmer on low until it thickens and you are ready to serve.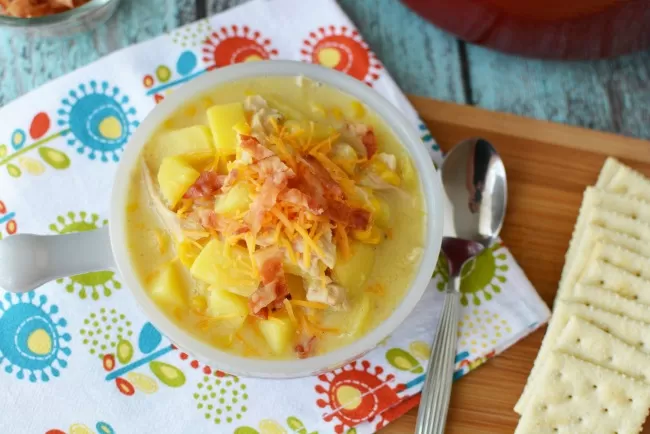 Prepare desired toppings to serve with soup.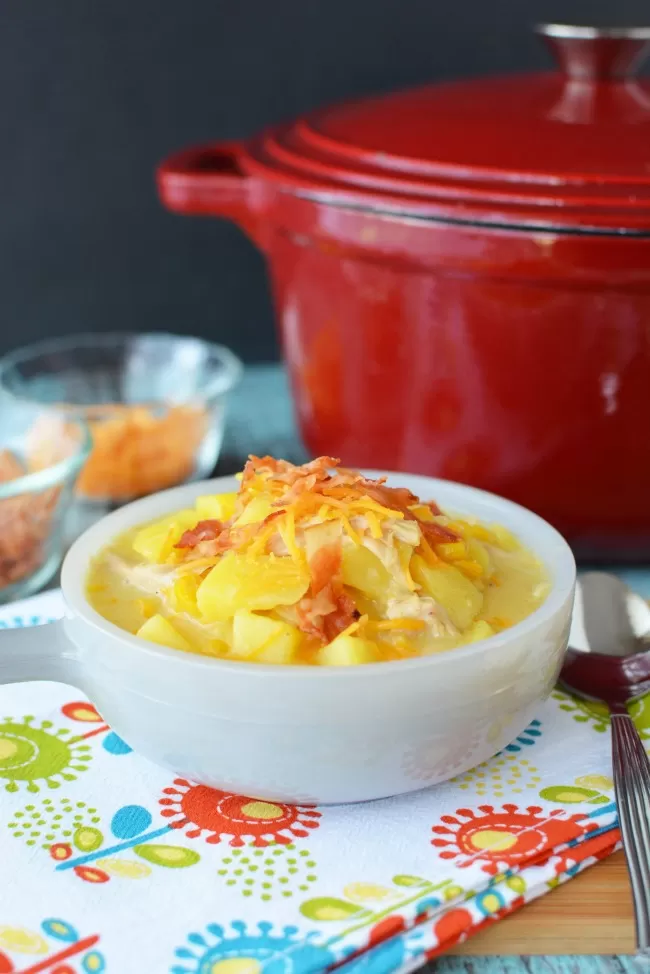 Print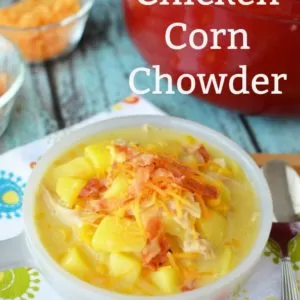 Chicken Corn Chowder (Make in Slow Cooker or Stove Top)
---
4

–

5

medium sized chicken breasts (or

1

small whole chicken)

4 cups

of Chicken Broth (I like to make my own, but can used canned or bullion too)

2 cups

of milk (can substitute heavy cream here, but you may want to omit butter if you do)

2

tbls butter

3

potatoes peeled and diced

1/2

medium sized onion diced

1

can cream of corn
Salt and pepper to taste (approx. 1/2 tsp of each)

4

slices bacon (crumbled – optional for toppings) – or you can add directly to soup

3 cups

of shredded cheddar cheese (optional for topping)
Diced green onions (optional for toppings)
Hot Sauce (option for topping)
---
Instructions
Boil your chicken until cooked through. Let it cool, and shred it.
In a soup pot (or you can use a slow cooker) add the chicken broth, potatoes, onions, shredded chicken.
Simmer on medium heat until potatoes are tender.
Add the can of cream corn, milk, butter and salt and pepper.
Simmer on low until it thickens and you are ready to serve.
Prepare desired toppings to serve with soup.
(Note – you can also add all the ingredients after the chicken is cooked (minus toppings) to a slow cooker and make the soup that way)