Bellevue Botanical Garden – Free For The Entire Family!
This post may contain affiliate links and I may be compensated for this post. Please read our disclosure policy here.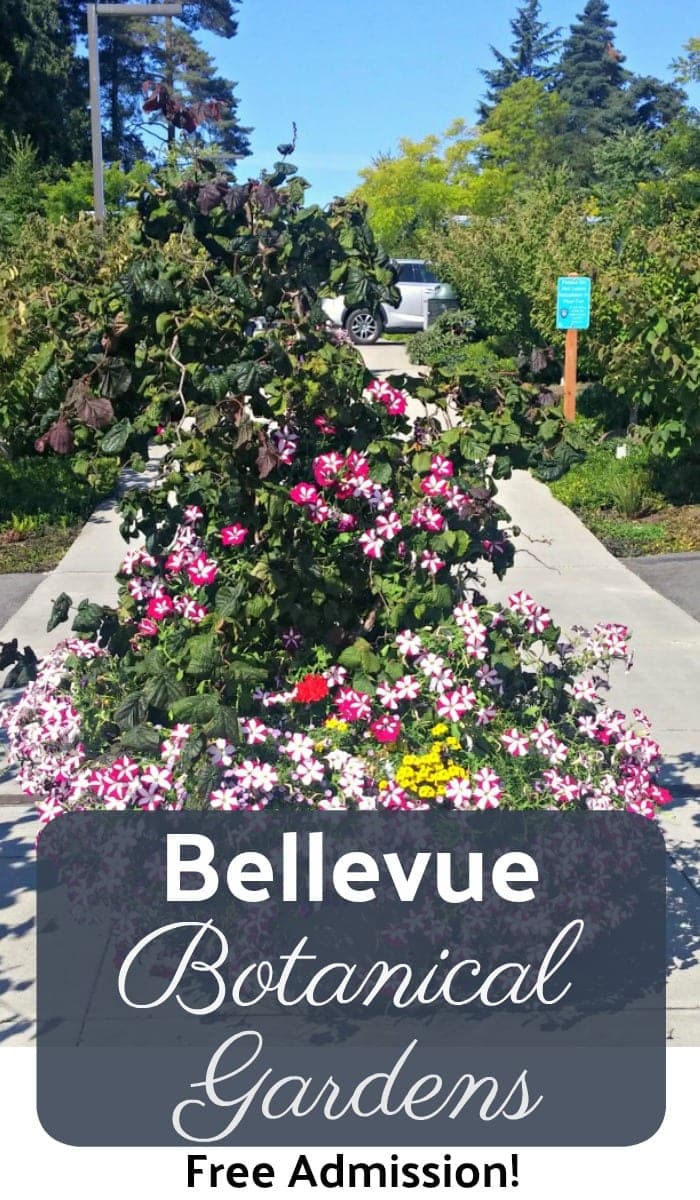 ** Current updates – "The Garden grounds remain open daily, dawn to dusk. The Visitor Center and Shorts House are closed until further notice. Parking lot and restrooms are open. The Trillium Store is open limited hours, and Copper Kettle Coffee is offering take-out service.  Please see our COVID-19 page for additional information."**
The Bellevue Botanical Garden is one of those local NW gems that we wanted to make sure you all know about. It is a labor of love, that started with a Bellevue family who donated their home and property to be used for the garden years ago. Today, its manned by 400 volunteers and a joint effort between the Bellevue parks department and other organizations like the Botanical Society.
If you love gardens, be sure to also check out these seven gardens to visit in the Northwest too.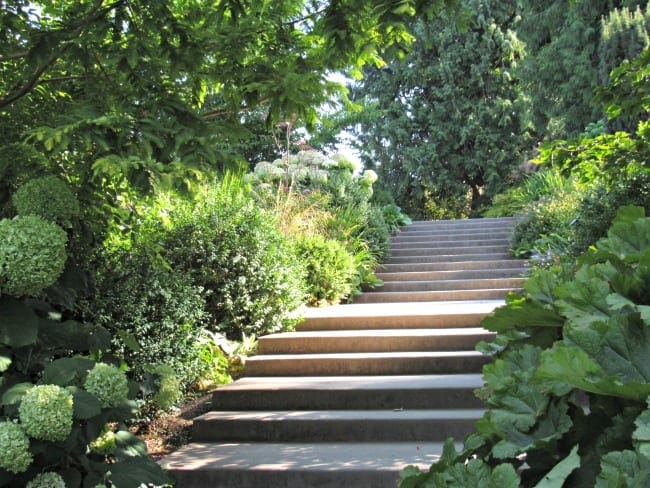 It is free to visit, and there are beautiful walking trails throughout. We saw couples there, spending a romantic afternoon together. Its definitely a place I would like to go back to with my husband, and just have a peaceful stroll through the garden. This trip I was there with my two daughters (9 and 10) and my mom (who is a gardener herself). We all enjoyed it, and think its a great stop for couples or families. It is especially cool that you are just minutes from the downtown Bellevue area by car, but you feel like you are really out exploring nature. Its a great little getaway, in the middle of the city!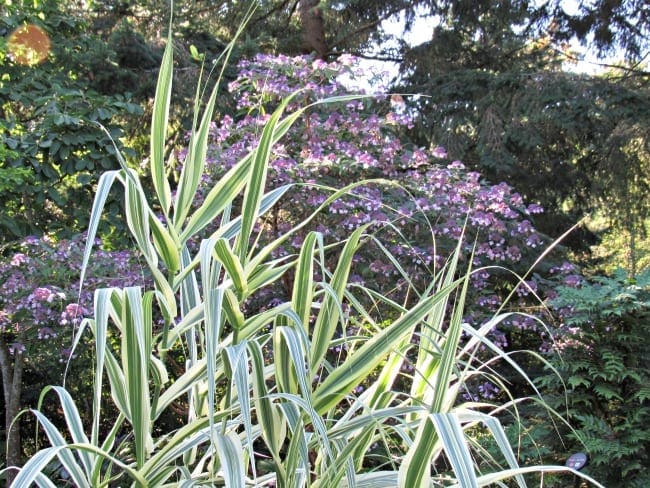 Everything in the garden can be grown locally, so not only is it a beautiful and relaxing place to explore and have coffee at, it's also a great spot to get ideas for what to try out in your local gardens as well. You can download an app that you can use to scan flowers with your phone throughout the trail to learn more about them too.
Cost: 
FREE!
The parks are maintained by a joint effort between the Bellevue Parks and Botanical Society (as well as other partnerships where companies may adopt a garden or area to maintain). There are also over 400 volunteers that come each year to help maintain the beauty of the park, and all of this means that we all can enjoy it for free.
There is a popular Christmas Lights set up at the garden each Christmas season called Garden d'Lights (cannot wait to go back for that) that has a small cost to attend – but even that has free days!
They do offer a number of classes at the BBG, like Kids in the Garden, Wreath Making, etc. These will all have a cost associated with them. More details on this is here.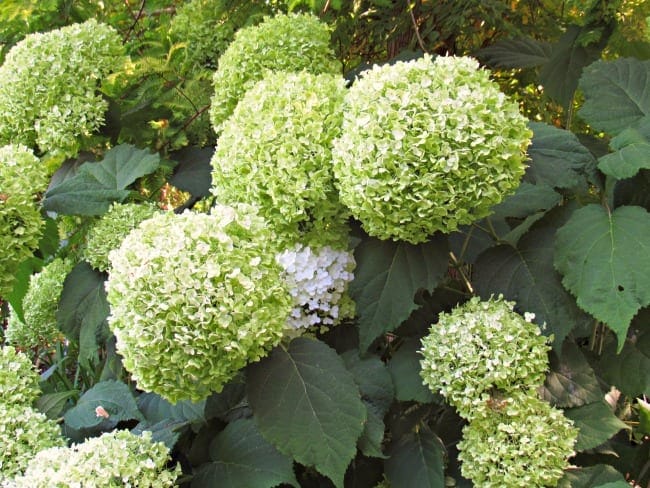 Parking:
Free and there seemed to be plenty of parking space when we were there. You will find directions on how to get there here.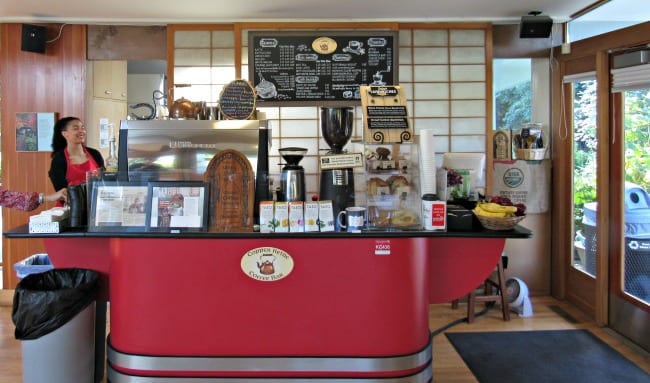 Where to Eat:
There is a small espresso shop on site that serves drinks as well as makes sandwiches so you could come for lunch. It is inside of what used to be the homeowners house (the garden and house were donated to the city of Bellevue by the last owners).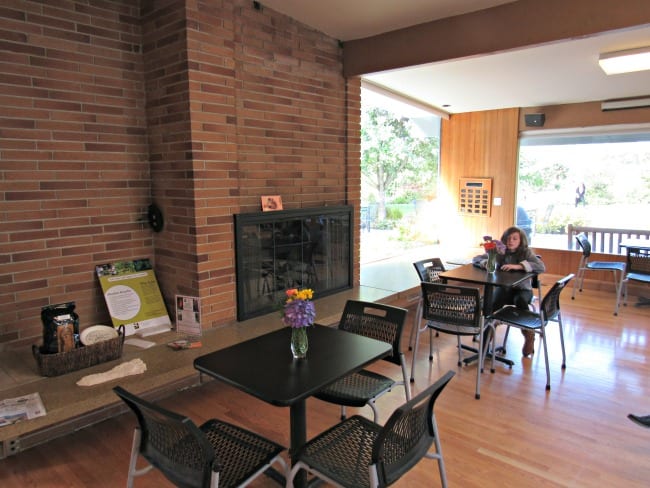 There is plenty of seating to enjoy lunch, and its fun to imagine what it must have been like to live there.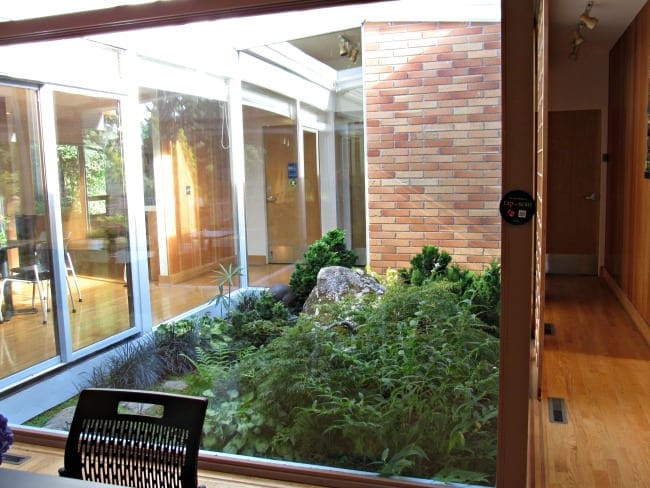 They had an indoor atrium, which I thought was such a cool feature for a house!
There is also a small gift shop (and sometimes plant sales) and more to explore in the Visitors Center too.
Time Needed to Explore: 
The garden is open daily from dawn to dusk, so you will want to plan your visit during daylight hours.
You can take one hour to enjoy the park, or half a day if you also include a stop at the neighboring park and lunch.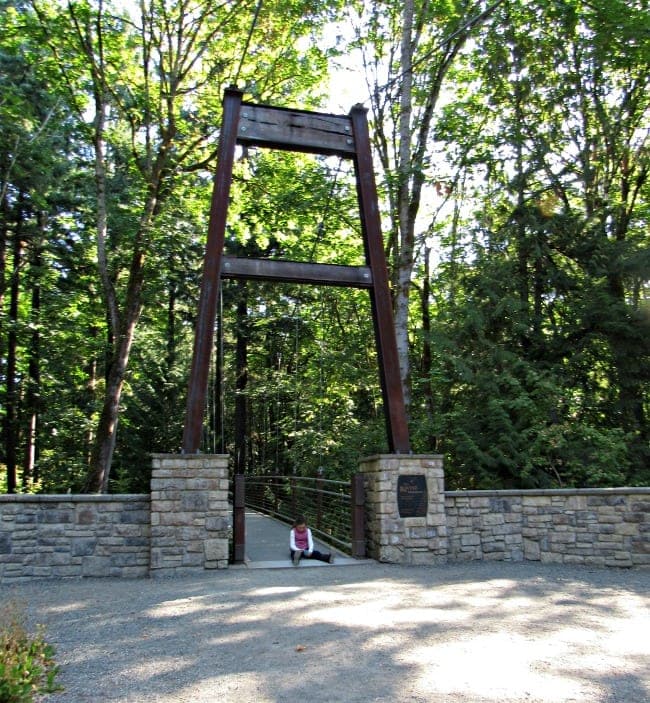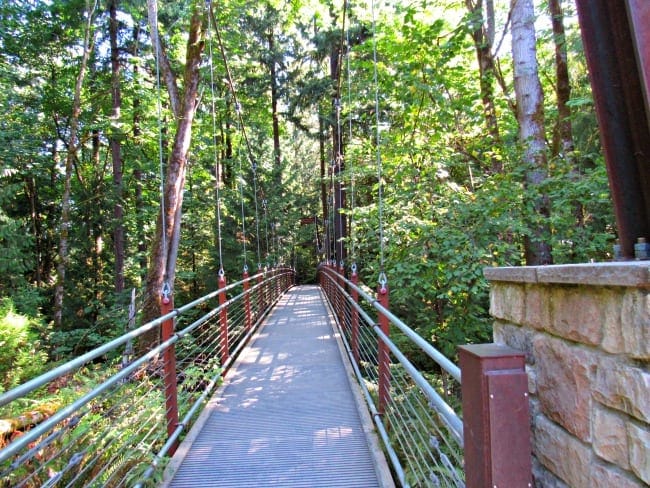 A highlight for us was the suspension bridge. I love a beautiful bridge, and this one was a great surprise. I had no idea there was a beautiful suspension bridge sitting back in the woods like this in the garden until we visited.
You might also encounter some wildlife! We saw this adorable bunny that my girls just fell in love with. We did not see any deer during our visit, but we have heard that others have run across them during their visits.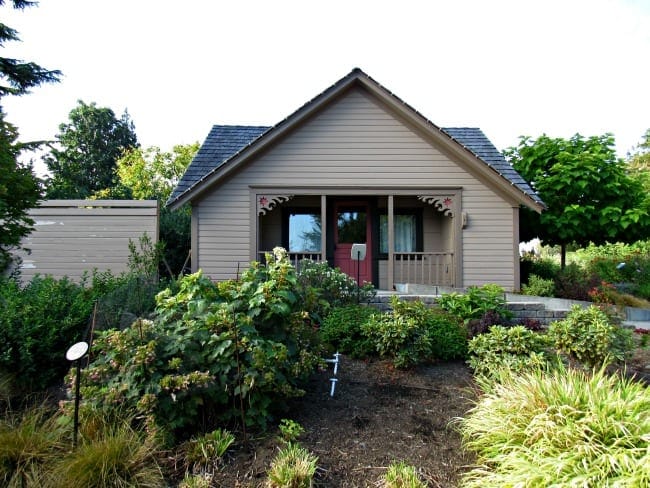 There are some outbuildings. This one was a two story house that they moved the top story to this location. They make for great photo opps.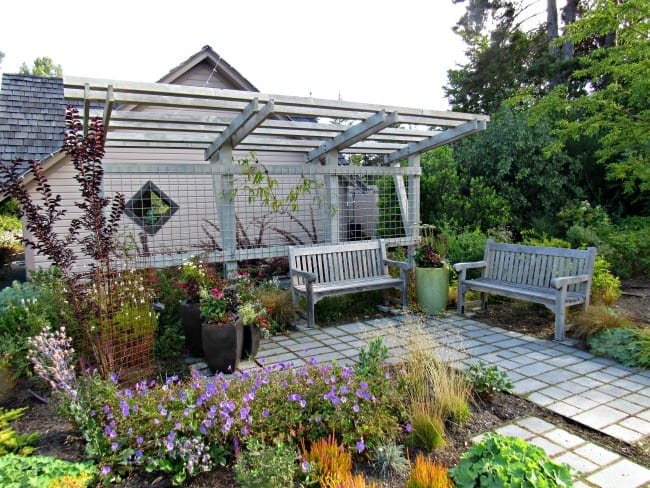 There are various seating areas throughout the garden if you wanted to bring your own picnic to enjoy, or just need some time to relax. Here is one of the gazebo areas outside the cafe area you can enjoy.
BBG is on the Lake to Lake trail system, that will lead you out to a fun Bellevue Park called Wilburton Park (we have a review of it here) that the kids can play at as well (its just outside the Bellevue Botanical Garden, but its an fairly easy walk, and is just a short trail walk past the suspension bridge if you cross that.
All in all, we had a great day exploring the Bellevue Botanical Garden. Its a real NW gem, especially considering that its free!
More Articles You Might Like:
Bellevue Staycation – Exploring the Eastside with Your Family!
Embassy Suites Bellevue Seattle – Great Family Friendly Hotel Option
New Bellevue Downtown Park – Park Review