Dinosaur Park in Granger, Wa. Perfect for Dinosaur Fans!
This post may contain affiliate links and I may be compensated for this post. Please read our disclosure policy here.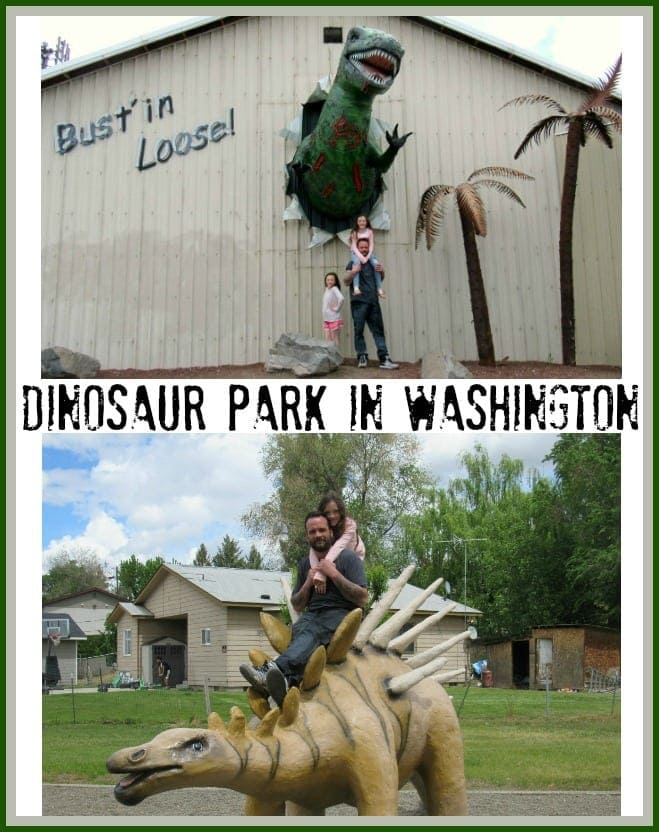 Dinosaur Park in Granger Wa.
Do you have anyone in your family who loves Dinosaurs? If so, you may want to consider planning a day trip to the Dinosaur Park in Granger, Wa. Granger is about 25 minutes from the Union Gap / Yakima area and around 2 hours and 45 minutes from Seattle. We recently took a weekend trip to Union Gap, Wa. and spent an afternoon out at the Dinosaur park as part of that getaway. It did not disappoint. The park is old school, but my kids loved the novelty of being able to climb on dinosaurs as well as swing on swings in a park. My girls are 8 and 10 now, so its getting harder to impress them with parks, but they loved this one.  If you are planning any visits to the Yakima Valley this summer, you might want to add the Dinosaur park to your list.
(**Note – we have had some reader feedback that some folks found the park dated and dirty. It is certainly an older park, but we enjoyed the novelty of it personally. We also must have it on a great day, as we did not find it dirty during our visit. That is important feedback from others experience though, that you will want to consider when deciding if it is a trip you want to make or not.)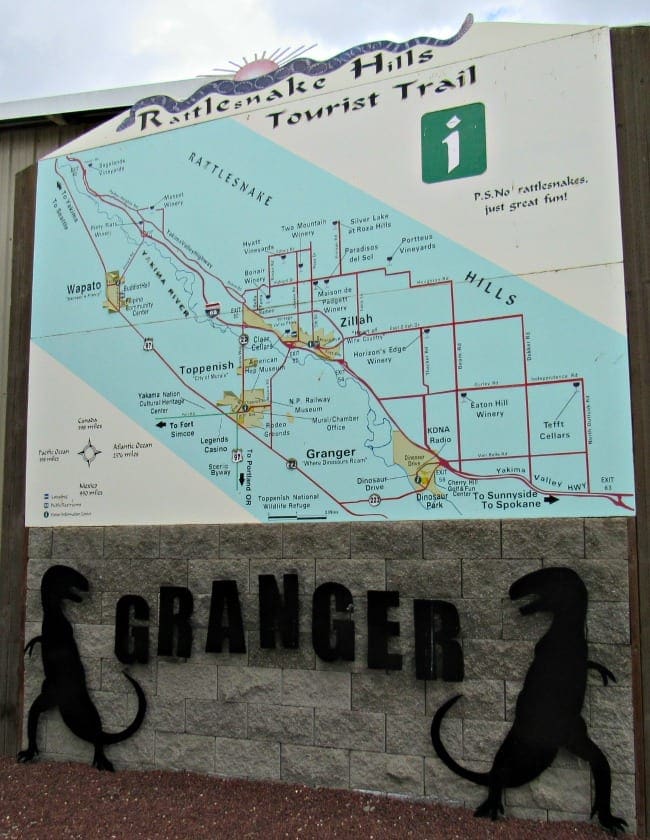 In fact, dinosaurs have taken over the entire town of Granger. Not only will you find the dinosaur sculptures in the park, but they are also at the entrance of town, and down main street as well.  Over near the park you will find this sign, that provides you a map of the area in case you are looking for find more things to see in the area as well.
Although you will find dinosaurs throughout Granger, most of them are concentrated in Hisey Park.
Be sure to check out our Park Reviews page here for inspiration on what parks you can visit in the NW, and get some more detailed info when planning a day of frugal park fun for your family.
We would also love to hear your thoughts and opinions on these parks. Please comment below with your review, additional tips, or anything else you want to add. If you have requests for additional parks that you would like to see reviews on please email us at [email protected] We are always looking for new ideas!
We also post a weekly Frugal Family Fun roundup, of each weeks best and most affordable entertainment and event options for families. Be sure to check that out for more ideas on what to do on a budget!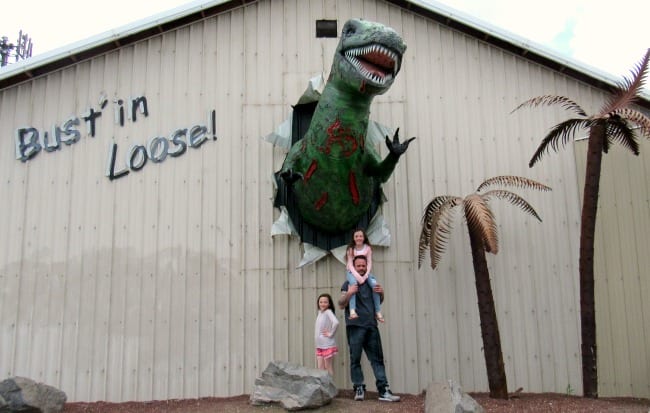 Directions:
Take I-82 exit 58 onto Hwy 223, and then turn right onto Main St.
Approximately 25 minutes from the Union Gap / Yakima area and around 2 hours and 45 minutes from Seattle.
Cost:
Free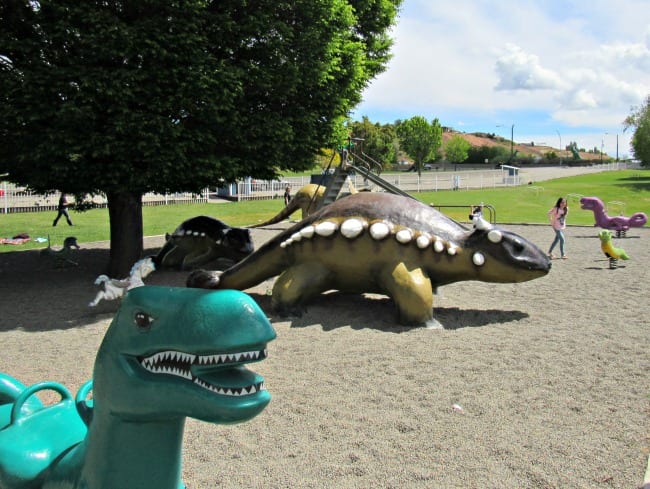 Once you get to the actual park, there are dinosaurs on both sides of the street, and a dinosaur path to get across. Here is one of the play areas for the kids to use actual park equipment.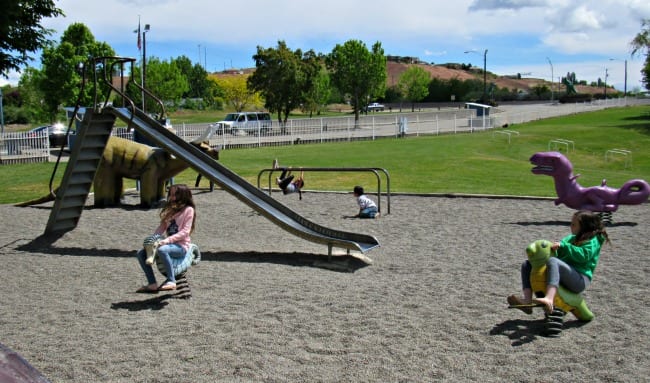 There were slides and swings, and the small dinosaurs the kids could ride on this side of the street.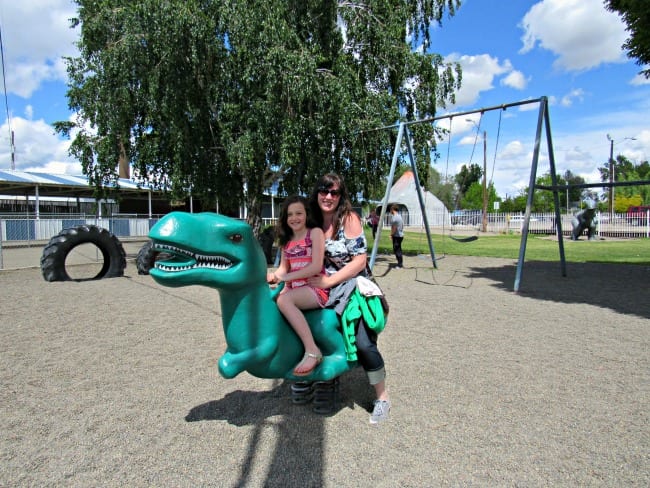 There is even a two seater dino to ride! They kids talked me into riding with them. The day we visited the parks were not too full, and the sun was out, so it was a perfect day to enjoy the park.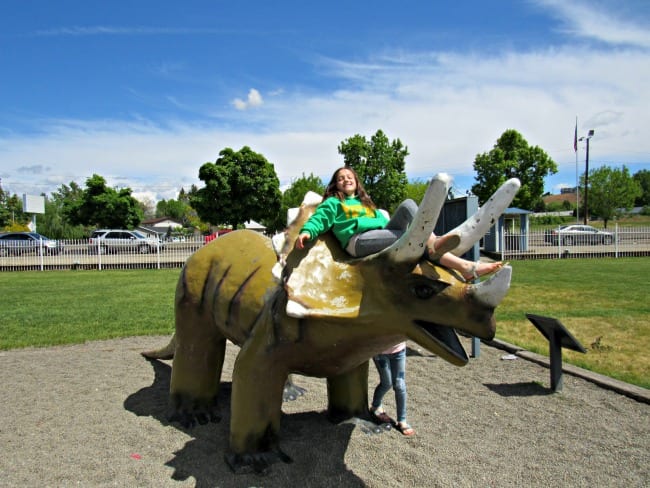 In the playground area there is a dinosaur that was really easy for the kids to get up on and relax.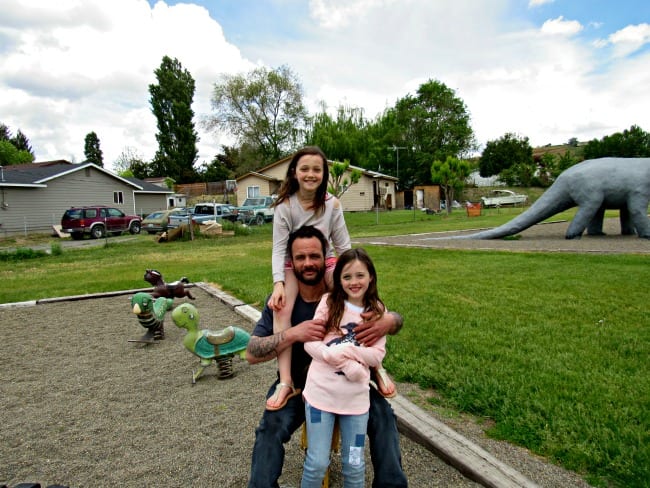 On the opposite side of the street there is a large field, and then a small sand lot with smaller dinosaurs they can rock on.
Most of the dinosaurs are on this second side of the street, and my girls loved trying to climb all over these dinosaurs. There are no signs anywhere telling you to stay off, so I assumed it was fair game for them to play on.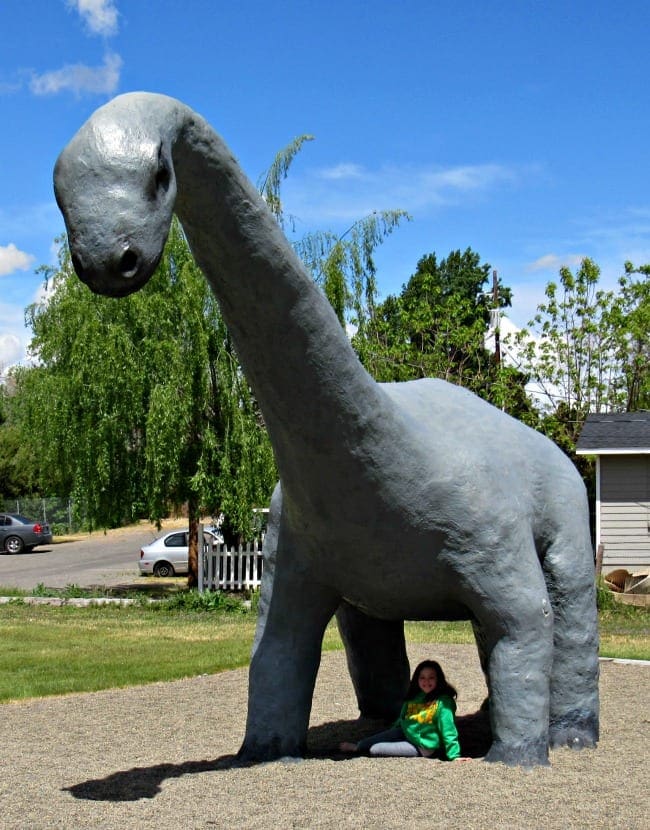 One of my girls is enjoying a little shade under the large Brontosaurus!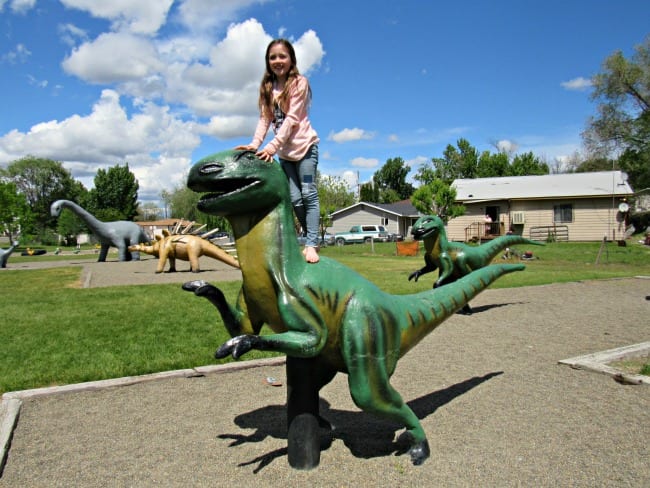 More dinosaur fun!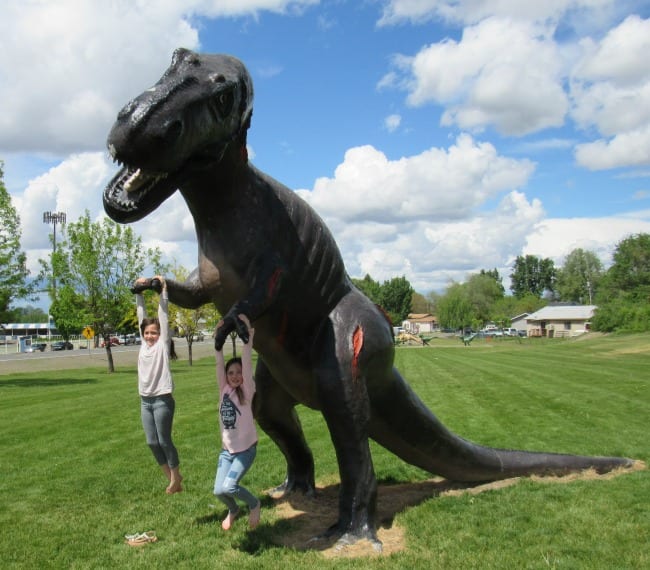 You can see the large lawn area behind this one.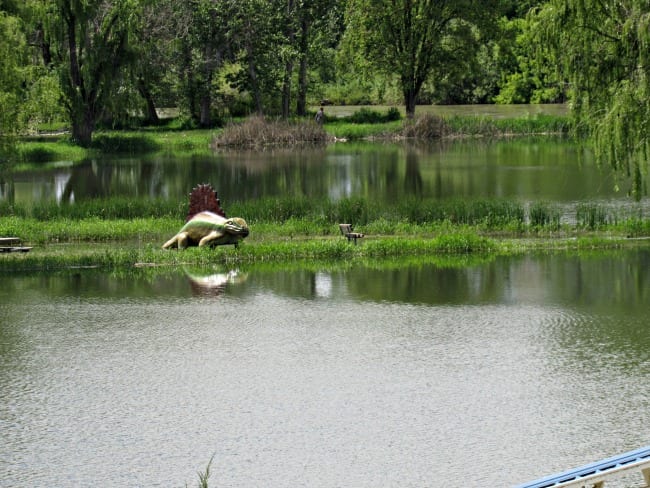 There is also a fishing pond (We saw many folks fishing that day. We asked and they were catching bass and trout). They even have dinosaurs out on the lake! The pond is man made, and is stocked yearly, so its a great place to stop to fish, and let the kids play. There is also river access to the Yakima river down behind the pond, so you can enjoy the river and the pond.
There are picnic tables and BBQ pits if you wanted to bring out a picnic to enjoy for the day. Be sure to download the Granger brochure here, to show you where the dinosaurs are throughout town. It will also give you a little history about the sculptures, as well as some other monuments you will find in town.
Have you been to the dinosaur park? If so, what did you think?