Palouse Falls State Park – Washington's Official State Waterfall
This post may contain affiliate links and I may be compensated for this post. Please read our disclosure policy here.
Palouse Falls State Park –  Washington's Official State Waterfall 
Have you ever visited Washington's official waterfall? It is not an easy destination to get to as the falls are located right in the heart of Eastern Washington & at least an hour away from the nearest city of Walla Walla, WA. However, even though it's quite the drive thru farmlands to get to Palouse Falls State Park, the drive is SO worth it!
What unique waterfalls to visit – I definitely think you should put this on your bucket list & if you ever find yourself out in this area of Eastern Washington or if you have time to make a detour on your way across the state, you will not be disappointed.
Palouse Falls is so unique as they fall from a narrow opening into this deep, bowl shaped cavern of the Palouse river to then flow down thru this gorgeous gorge with huge basalt cliffs to meet up further downriver with the Snake River (at Lyons River state park). The falls themselves are 200 ft tall.
It was named Washington's official waterfall in 2014, when local school kids advocated for it & the state legislature passed a bill naming it the official waterfall. I think it's a great idea as it brings more tourism dollars to this side of the state.
This is such a popular spot to visit since it's so picturesque & you honestly cannot take a bad photo here! There are a number of different angles & viewpoints so you can try different spots to get the best lighting & angles!
It's worth it to visit Palouse Falls during the different seasons, too, as it will be so different depending on the season. Winter would be an amazing time to see it with all the snow & ice. We visited during the spring & loved how green & lush everything was in the river valley. The fall would have some pretty autumn colors to enjoy, too.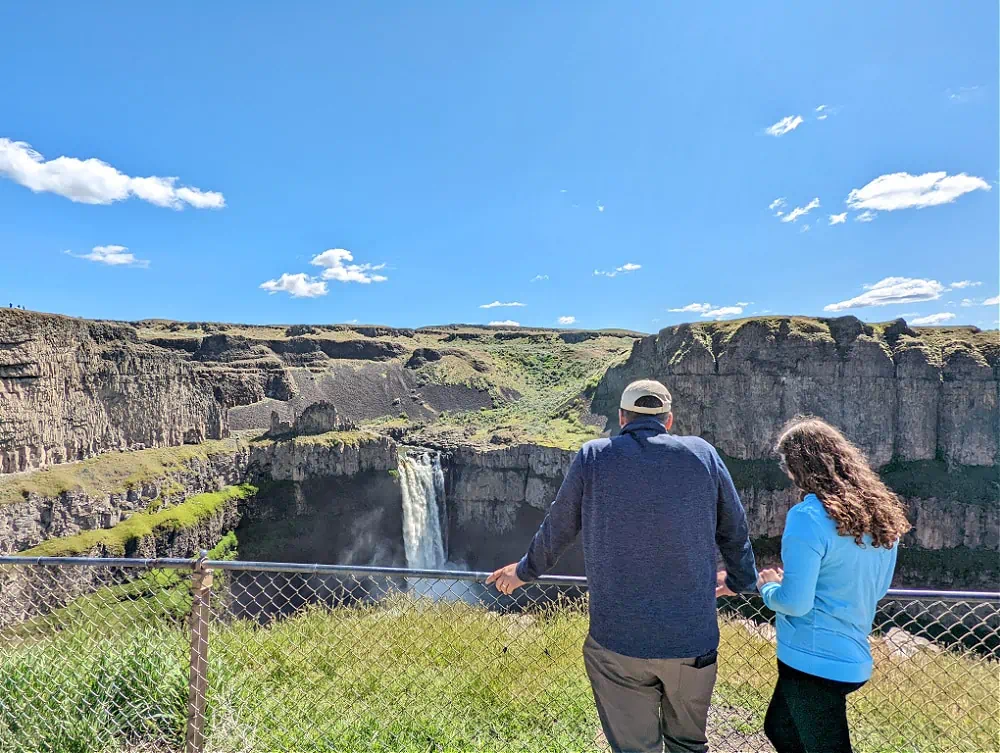 Location:  Eastern Washington
Miles: 
Elevation Gain:
Pass Needed: Washington State Park Discover Pass is needed (there is an automated pay station to pay for a $10 one day pass or you can pay for an annual pass)
Parking:  There are 2 parking lots, a main lot & an upper lot, but they do not have enough parking for the crowds they frequently receive, so you will have to wait for parking on busy days (could be waiting in line on the dirt road for parking to open up) – so just be prepared for limited parking.
Restrooms: there are pit toilets (both port-a-potties & permanent pit toilets here, but I'd make sure you have your own hand sanitizer in case they are out
Pet Friendly: Yes (Dogs allowed on leash at all times)
Cost: Free to visit falls when you pay for the state park entrance
Palouse Falls is a 94 acre state park with plenty of viewpoints to enjoy different perspectives of the waterfalls. It is fully fenced in for these various viewpoints to keep you safe & be safe to bring kids here as well.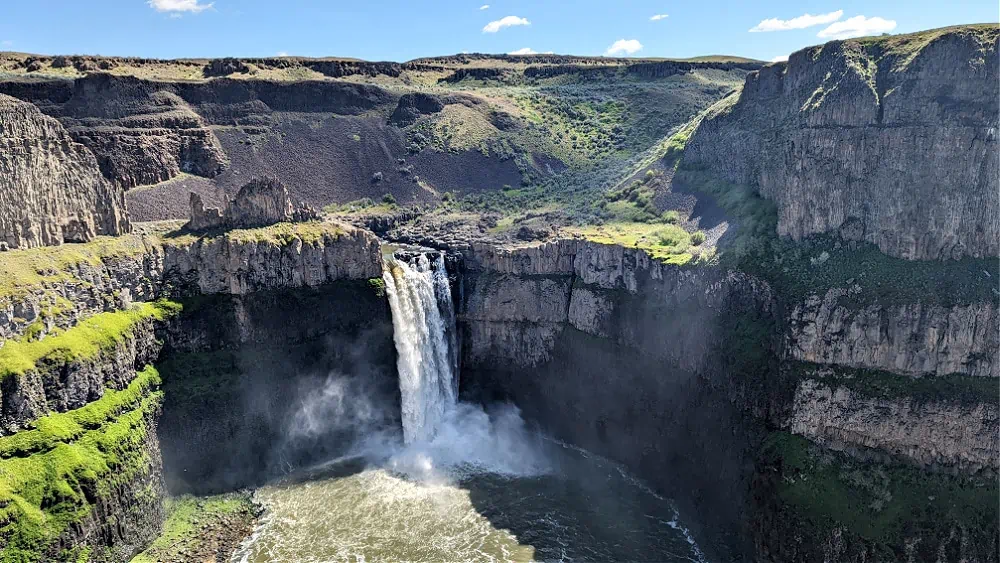 The viewpoints are in 3 different sections with the first viewpoint the closest to the lower parking lot. Stairs will bring you down to this main viewpoint, which has the most direct view of the falls – if you are very limited on time, just head straight to this viewpoint for the "Wow" effect! You will not be disappointed!
There is then a paved, interpretive path  that will give you more information about these waterfalls & the canyon you see before you & its history. There are great views all along this pathway & they will lead you along to the 3rd main spot, which is the highest viewpoint & it has a covered area with picnic tables too. This gives a unique, further away perspective of the falls & a closer look at that gorgeous gorge area with the high basalt cliffs.
There are plenty of picnic tables & grassy area if you want to bring a picnic & enjoy in this area between the parking areas & the viewpoints. Since there are no towns nearby, you may want to bring a lunch or at least snacks to enjoy in  the picnic areas.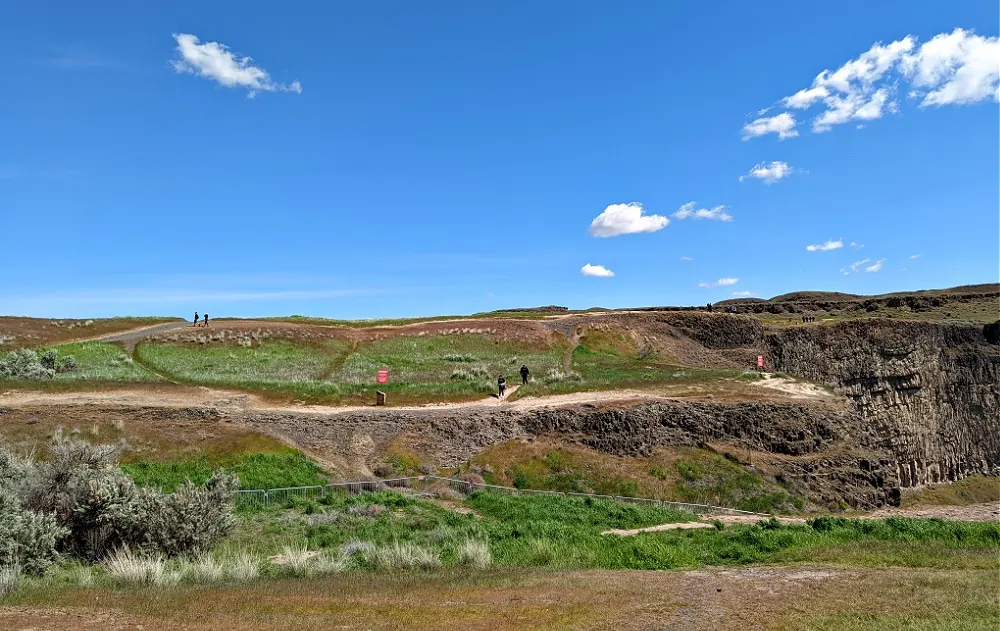 If you are up for a little hike, you can also head out on the trail that goes above Palouse Falls. We did not have time to go on this trail, but it's a dirt trail that heads up above the falls for a unique perspective & view.
Just be aware that this trail does not have the fencing like the other viewpoints, so if you have young kids, you will want to make sure they will stay on the path  (as there are steep dropoffs with the waterfalls & the cliffs if you went off-trail).
FYI – there is also a dirt path you will see that descends into the canyon (which is not accessible) – this is not a state park sanctioned trail as it leads to the base of the waterfalls & canyon. They have officially closed all of these trails as of early 2022 that go to the bottom of the falls/canyon as it's very steep & there are many hazards due to loose rocks.
There have been many injured hikers, as well as deaths, when people have followed these trails down to the bottom. So, please do not cross any of the areas that are closed for hikers as they are closed for your safety. It's just not worth trying to get that perfect picture by climbing over these areas that they have deemed unsafe.
Animals to Watch For: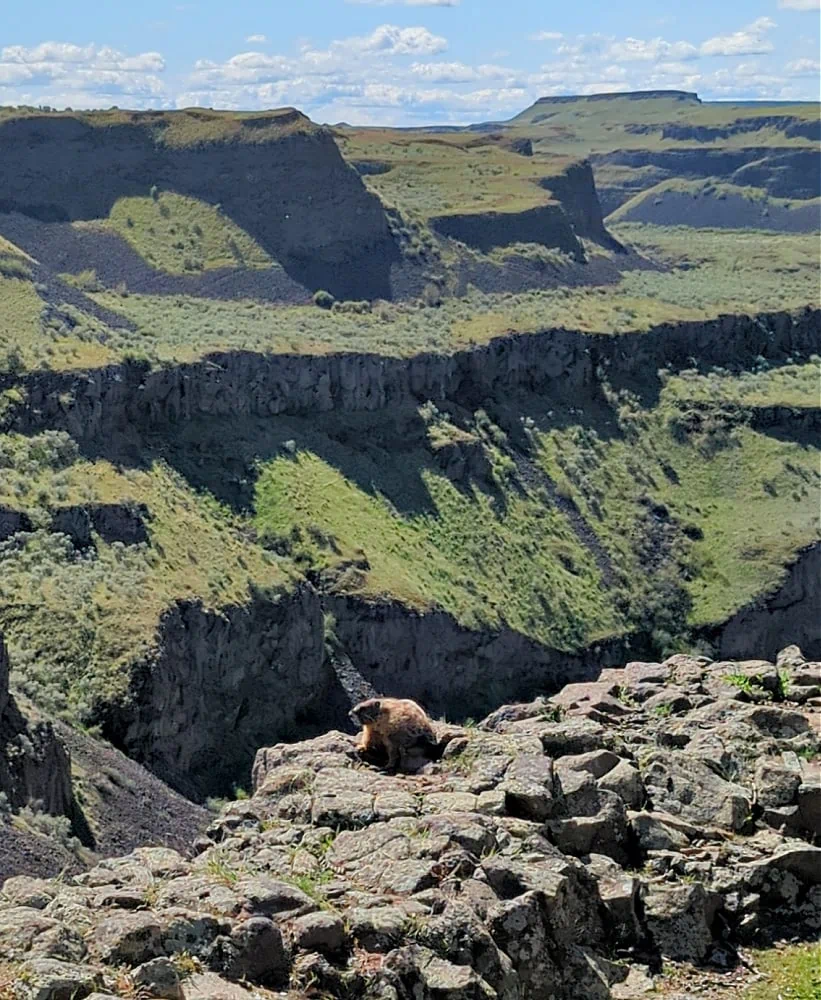 This is a popular area to spot marmots so be on the lookout. We saw a marmot just literally off trail, just a few feet away on the other side of the fencing. It was right on the cliff & we realized they had a whole underground system of tunnels that go all around the park, so keep an eye out for them.
They blend in very well with the cliffs & rocks, so you'll want to keep your eyes peeled. The first one was easy to spot – the other one was definitely well camouflaged. They were so fun to watch!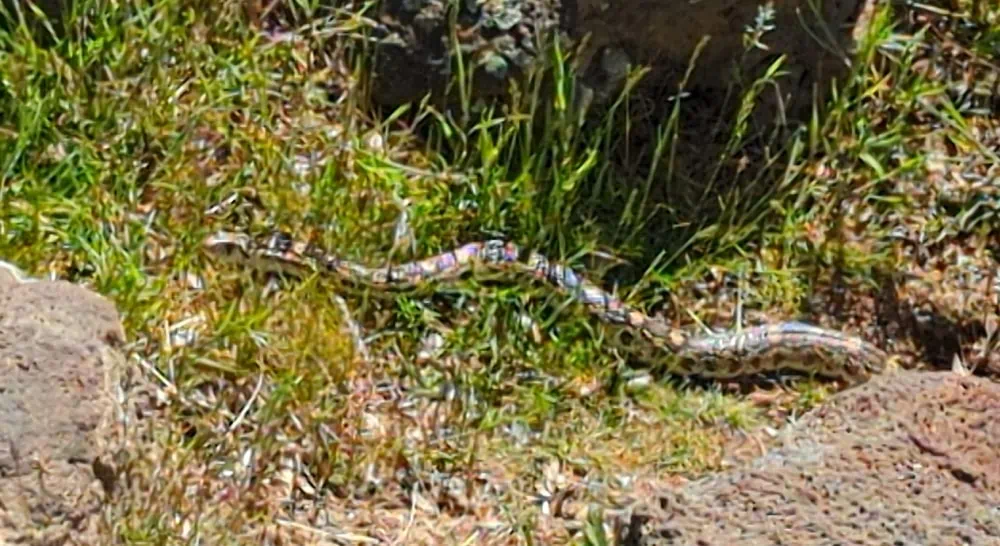 I was not a fan of the other thing we saw – a snake! Eek! It was also just a few feet off the trail and I moved quickly past him since he could have moved fast onto the trail. My family was fascinated by him, though & had fun watching him. There are definitely rattlesnakes in the Eastern Washington area, too, so just keep your eyes out.
Ticks are also more known to be in the eastern Washington area & if you are doing more of a hike around the trails of Palouse Falls state park, you'll just want to make sure you check yourself & your pets, especially, when you get back home (or back to the car), just to make sure you didn't bring home any unwanted creatures!
Parking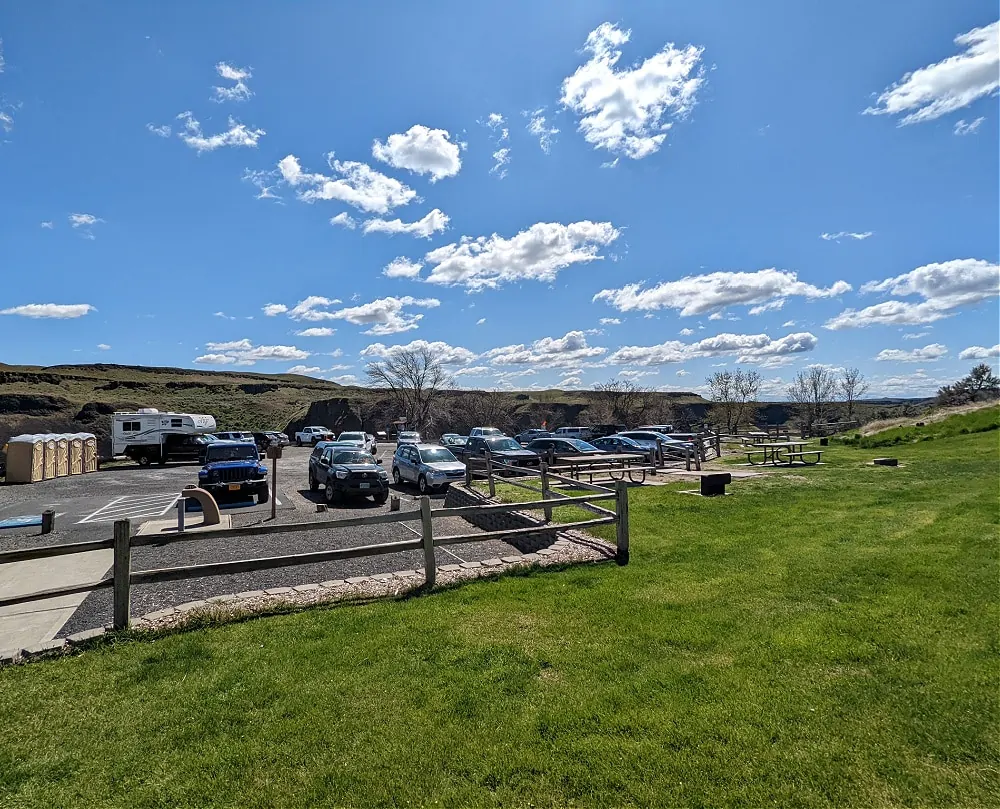 One of the biggest issues you may face with visiting Palouse Falls is the parking situation. While this park is at least 1 hour from the nearest city, it is still very popular as Washington's official waterfall. But they have very limited parking options.
There is a main parking lot & small extra lot, but other than that, you will have to wait. So, be prepared for long waits to enter the park on weekends & holidays.
Additionally, RV's & trailers are not allowed within the state park, as there are no turn-arounds in the small parking area. So, if you are traveling to WA, make sure you bring your other vehicle & leave your RV or trailer at the campground, so you can enter the park.
Important Things to Know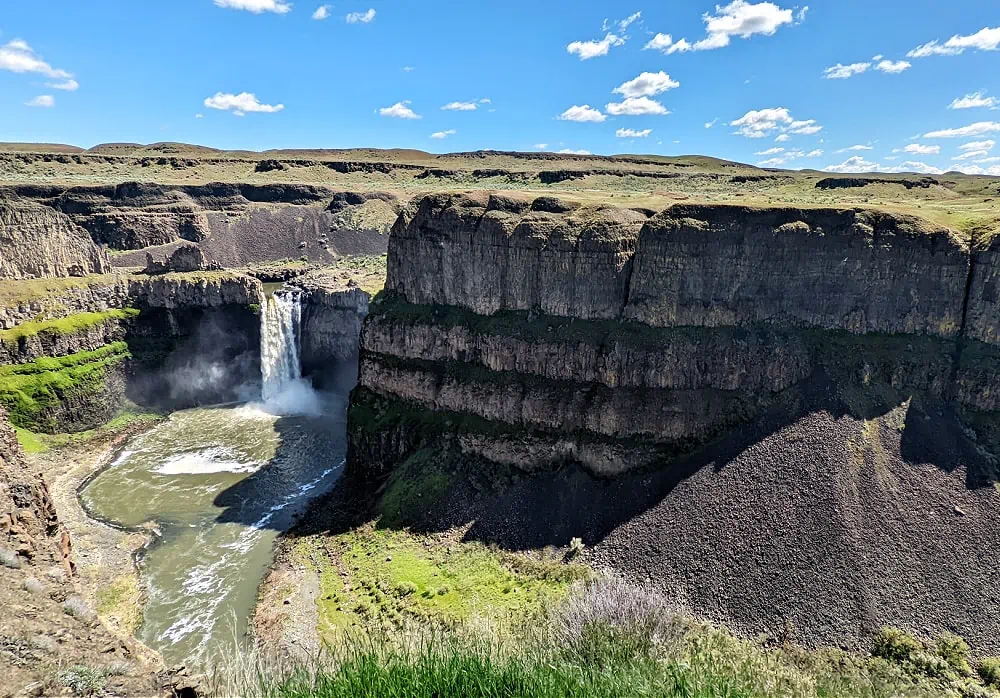 There is VERY limited cell service at the park as well as most of the drive to the park since it's quite isolated in the farmlands. So, just make sure to load your GPS/Google maps before you go. We were able to get a very small cell signal to load the Google maps for the way home from the bottom parking lot, but I wouldn't count on that.
This is a day-use only park right now – no camping or overnight parking is allowed here at this time. (There is a tent-only campground with 11 spots, but that is closed at this time. No idea if that will reopen or not.)
They may allow you to be there for nighttime photography, but you'll need to get a photography permit
Always check the weather just before you leave – Palouse Falls weather can be so variable so you always want to be prepared for any weather & bring layers
Bring plenty of water to drink – There is no potable water currently in the park and in the summer, it's going to be quite hot. Make sure you bring plenty of water, especially if you plan on hiking around more than just the quick viewpoints. You want to make sure you won't get dehydrated with the heat of the summer.
Keep your pets on leash – this is a dog-friendly park, but you will want to keep your pets on leash for their own safety (to make sure they stay within the bounds of the fencing & away from dropoff areas) but also because there are snakes & birds of prey in this area, so you want to protect your pup , as well as protect the animals there like the marmots. And make sure to bring plenty of water for your pup too since there is no potable water there.
Where to Visit Nearby: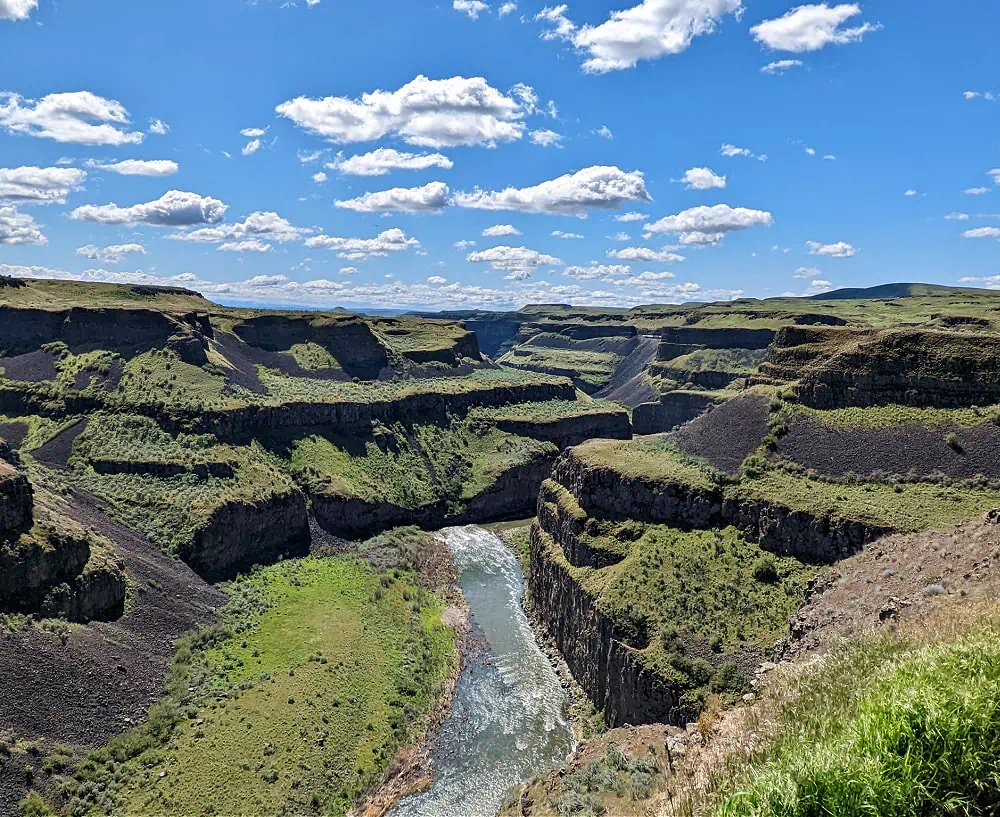 Like I've said, there is not much nearby Palouse Falls (the nearest city , Walla Walla, is at least an hour away, but there are a few options of things to do nearby::
Lyons Ferry State Park 
If you want to find a place to cool off in the summer, head to nearby Lyons Ferry State Park, which is right at the confluence (joining) of the Snake & Palouse rivers. It is a 168 acre day-use park with a swimming area on the river, as well as a small boat ramp. It's also a place to do some fishing on the river, too, if you'd like. Since this is another state park, make sure your Discover Pass is in view (or pay the $10 fee to use the park).
#ThatNWBus 
We found out after we visited Palouse Falls, thanks to an Instagram follower, that we missed out on seeing #ThatNWBus, which is an old, broken-down school bus filled with graffiti. It looks like it's around 25 minutes from the Falls to the bus.
The bus is located about 7 miles southwest of Washtucna, WA & is basically an Instagram sensation. So it's more just a fun place to take pictures, but might be fun just for something different when you are in the area for Palouse Falls.
According to the website, the Outbound, you will want to make sure you watch your step as you step thru the grass to see the bus as there can be some sharp, rusted metal debris & broken glass lying around the area as well as inside the bus.
So, you may want to check this out before your kids venture out. Or just take pictures zoomed in from the road? They also suggest parking on the right (if you're headed northeast from Hwy 260, so you don't have to cross the highway.
Where to Stay Nearby:
Tri Cities, WA – We just recently visited the Tri-Cities for the TBEX travel bloggers conference as well as a tournament for my daughter & we really enjoyed our stay at the Best Western Kennewick Center hotel. It was located just a 5 minute or less walk from the convention center, making it such a great location & central to everything in the TriCities. It also included a hot breakfast (with waffle bar) as well as an indoor pool & fitness center.
Another great option for where to stay in the TriCities is the Lodge at Columbia Point, which is a nicer hotel right on the river at the marina & the RiverWalk trail. There is an outdoor pool, firepits on the patio & more. The Marriott Courtyard Richland Columbia Point is also located right next door and on the Columbia River with an indoor pool & access to the beautiful riverfront trail. Both of these hotels are just down the road from downtown Richland in a convenient location.
Spokane, WA – Spokane is a bit farther away from Palouse Falls (2+ hours), but if you are stopping at Palouse Falls on your way to Spokane, make sure to check out our list of 5 family friendly Spokane hotels!
Walla Walla, WA – If you want a unique experience, head to the Marcus Whitman hotel in Walla Walla, in a 1920's historic brick building. It's set right in the downtown,historic area of Walla Walla & has lots of unique charm. Walla Walla is a popular destination for wine tasting & this would be a fun location for a girls' or couples' weekend.
More Things to Do in Eastern Washington: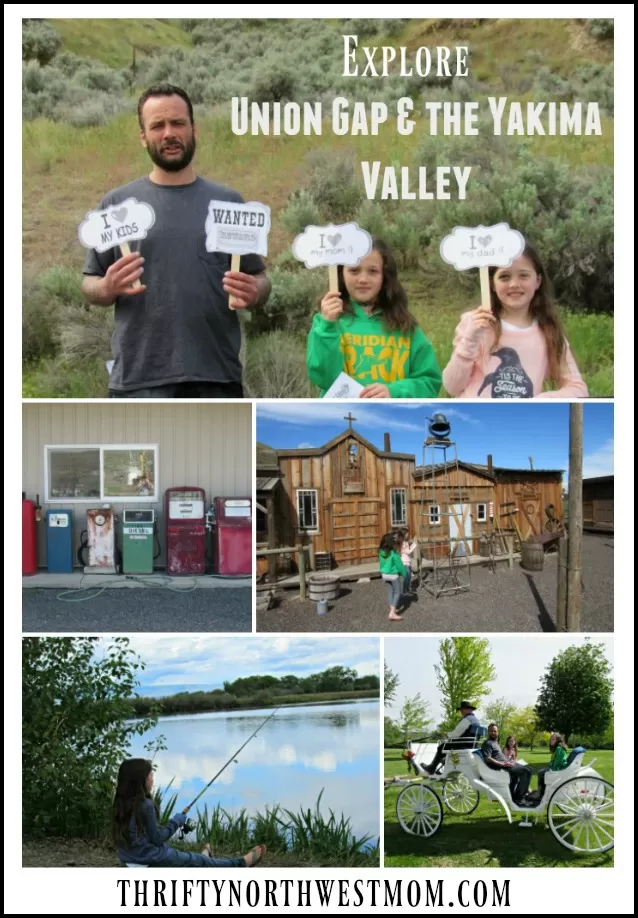 Explore Union Gap / Yakima Valley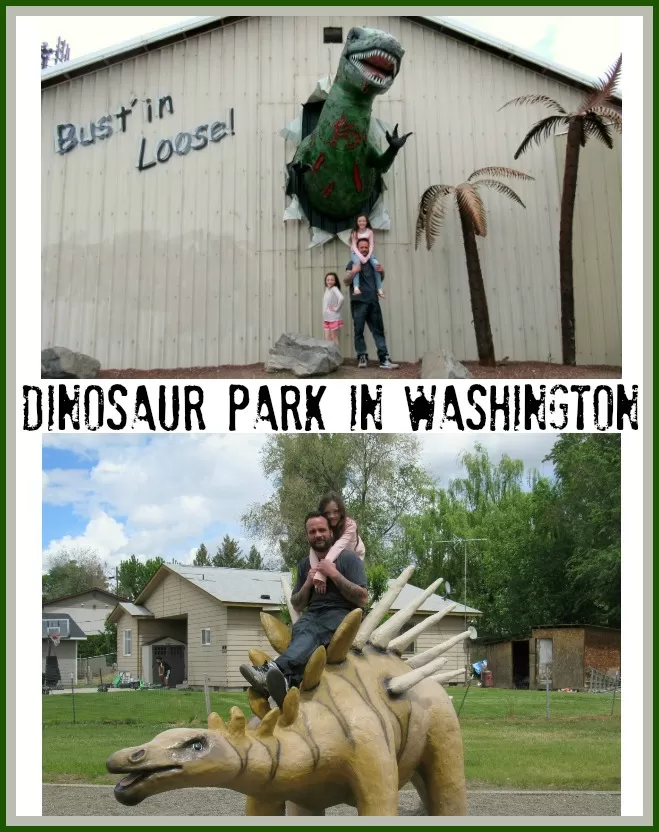 Dinosaur Park – Granger, WA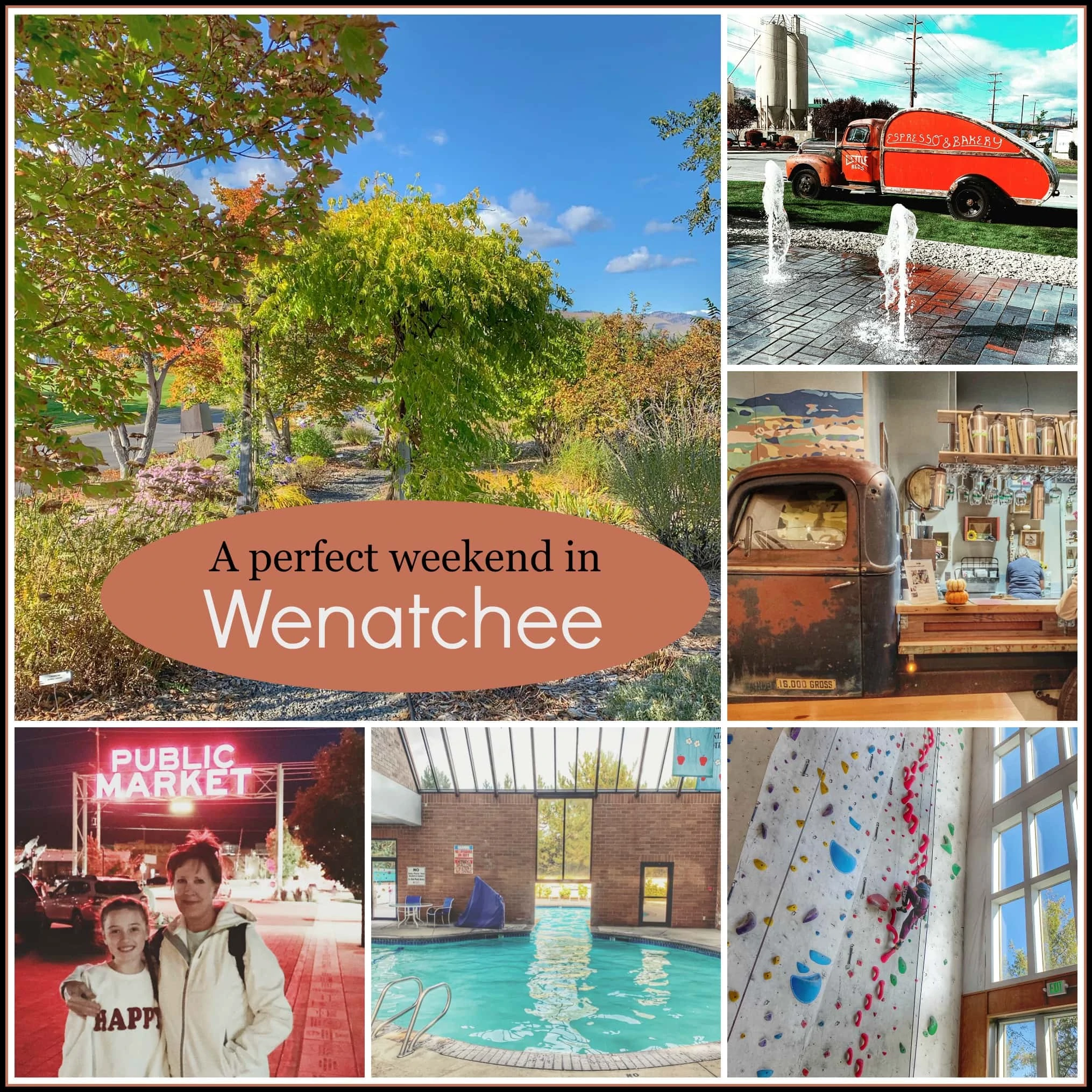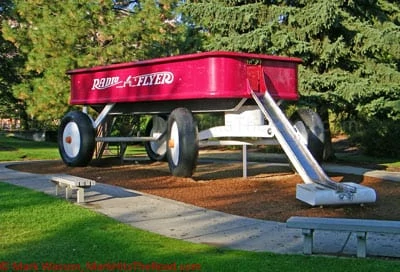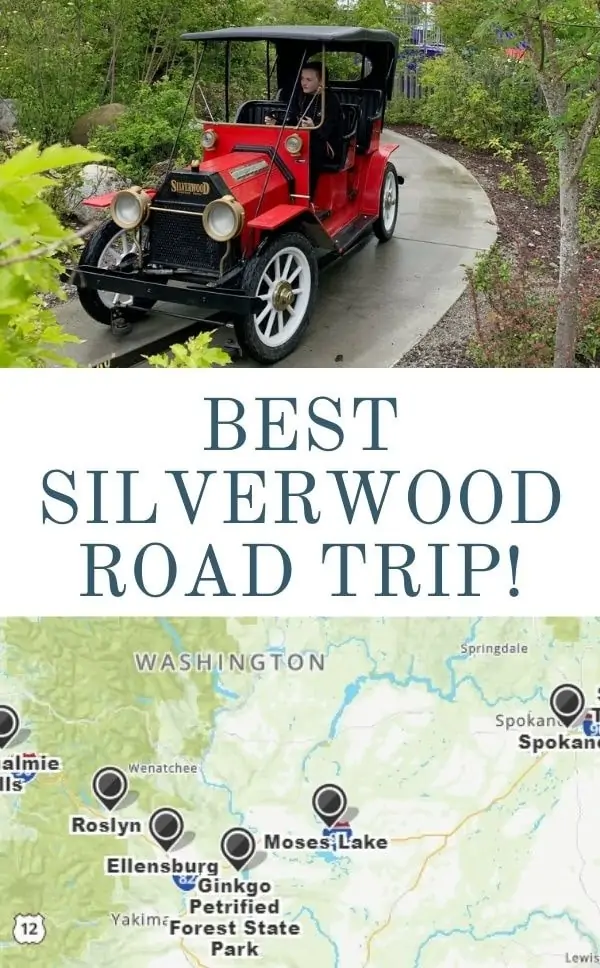 Silverwood Road Trip – Favorite Stops from the Seattle area to north Idaho