Silverwood Road Trip – Favorite Stops From Washington To Idaho
This post may contain affiliate links and I may be compensated for this post. Please read our disclosure policy here.

Silverwood Road Trip – Favorite Stops From Washington To Idaho
Over the years, we have visited the Silverwood Theme park many times. Coming from the Puget Sound area, we have a handful of favorite stops we like to make along the way. We are sharing those with you, to hopefully make your planning process easier, as well make memories that will last your family a lifetime.
Seattle to Silverwood is around a 5 hour trip. These stops will add time to your trip, BUT they will turn the road trip into part of your vacation time too.
If you want to make it a two night trip (with an overnight stop), we recommend staying in either:
Moses Lake – because lodging is affordable, and there is an affordable waterpark to enjoy for the day.
or Spokane, and enjoy the Riverfront park and more that this area has to offer. You will be close to your destination here, but there is enough to do to make it worth an overnight stop.
In all honestly, the stretch of 1-90 from Seattle area to Idaho, is not the most scenic route you will ever travel. That being said, there are a number of fun spots that you can build into your road trip. We do not do all these stops in one trip, but you can pick and choose the ones that work best for your family, and your timeline.
Our Favorite Stops for a Puget Sound to Silverwood Road Trip Itinerary: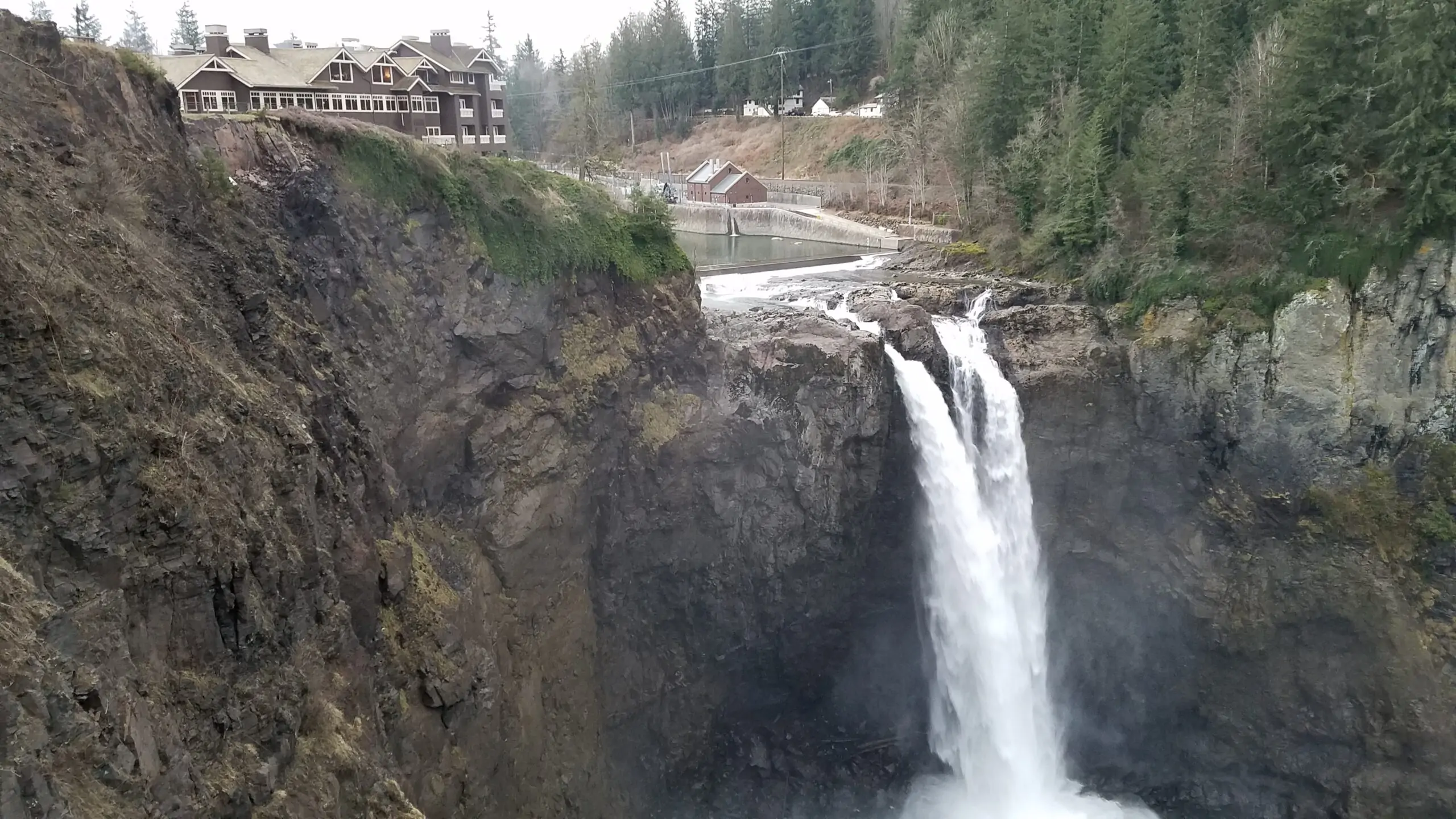 First stop, Snoqualmie Falls to stretch your legs.
There is a parking lot that you can cross the street and easily view the falls from, making this an easy stop if you love waterfalls.
You will also find the North Bend Outlet Malls in this area, if you wanted to build some shopping into your trip. The mountain backdrop to this outdoor mall is gorgeous!
Mountain High Hamburgers for an affordable meal – or just a milkshake break!
We have been stopping here for burgers, shakes and fries for years. It is really easy to get on and off the freeway, they have lots of milkshake flavors, and delicious burgers. You can drive through, sit indoors, or our favorite – eat at one of their outdoor picnic tables.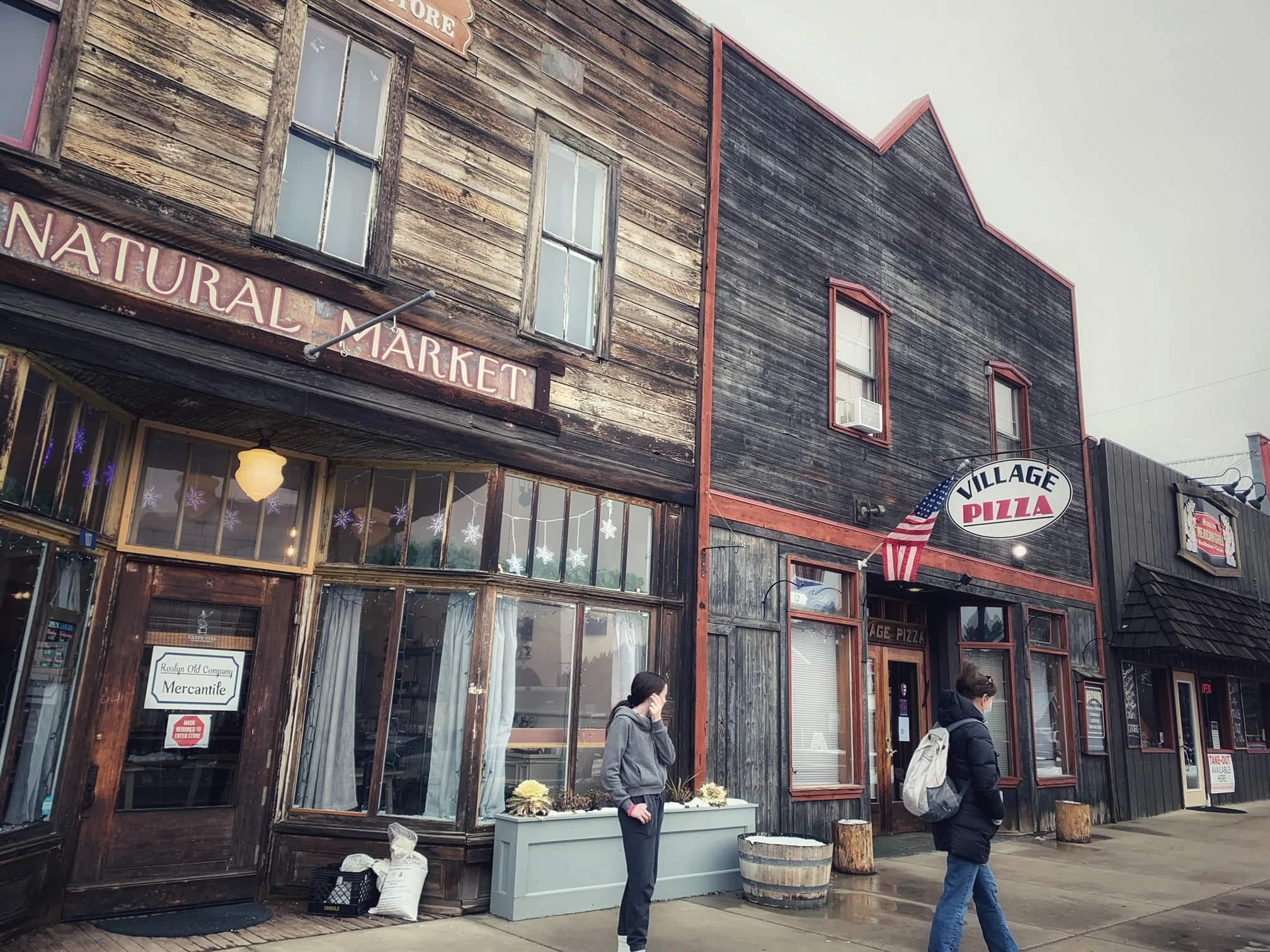 Stop in Roslyn for a quick walk & lunch
Looking for a sit down meal that is not burgers? The Roslyn Cafe is probably the most well known restaurant in this area, from the filming of Northern Exposure. If you are a fan, this is your spot. Our favorite is Roslyns Mexican Grill. The food is amazing, and the ambiance nice. If you want to feed a family on more of a budget, stop by Village Pizza next door.
Or, head into Cle Elum 
There is a beautiful winery at the Suncadia Resort, as well as other restaurant options (beautiful views over the Cle Elum River at Portals). Enjoy miles of walking trails, if you want to stroll after eating, and before getting back into the car.
In downtown Cle Elum, our favorite spots is Beaus Pizza & Pasta. The ambiance is nice, and you can order delicious pasta dishes, or save some money and share pizza.
Just need a snack – check out the Thorp Fruit and Antique Mall 
Before you hit Ellensburg, you will see the Thorp Fruit and Antique Mall. It makes a nice stop to get some healthy snacks on your road trip, as well as some gourmet items (like lots of different flavored jellies or hot sauces).
Pack your own food & enjoy a Picnic at the Irene Rhinehart Riverfront Park in Ellensburg
Ellensburg is around a half way point. It offers lots of restaurants to pick from, as well as being a great spot to grab gas, or a cup of coffee.
We like to stop in Ellensburg if we have packed our own lunch. The Irene Rhinehart Riverfront Park is easy to get to from the freeway, and you can enjoy a picnic with a riverfront view (and other activities to stretch your legs).
Ginkgo Petrified Forest State Park
If you really want to move your legs, check out the Ginkgo Petrified Forest nearby. There is lots to see and do here, like  Columbia River views, outdoor exhibits of petrified wood and much more (you will need a Discover Pass).
Wild Horse Monument in Quincy Wa.
Shortly after you cross the Vantage bridge, up on the right you will find the Wild Horse Monument. It is a short uphill hike to the iron horses, and a great place to let kids stretch their legs (have them race to the top to get some wiggles out).
Moses Lake – A good spot to stay overnight
Moses Lake can be a pretty affordable overnight stop. Lodging in the area is reasonable, and The Surf & Slide Waterpark is here, making it a great overnight choice if you want to break your trip into two days. Plus, they have a Flo Rider!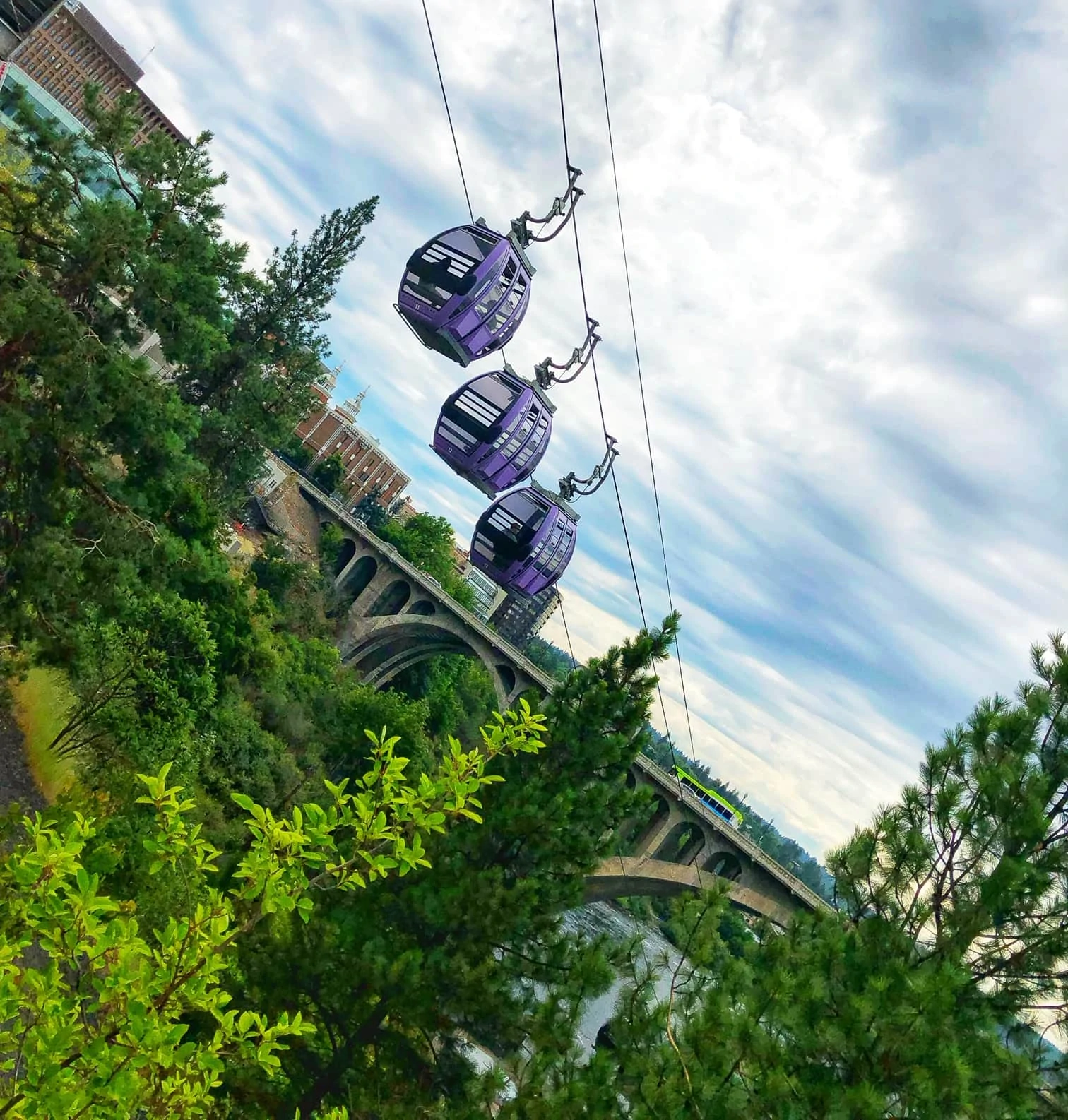 Spokane Riverfront Park
If you are looking for an overnight stay, with plenty to do, consider this one. Check out our favorite Spokane hotels to stay in for families, that provide you easy access to all the fun. Find the riverfront park, with gondola rides over the falls, roller skating, a carousel, miles of paved walking trails and more! You can also access Silverwood from this area, if you wanted to stay a night and easily make it to the park the next day.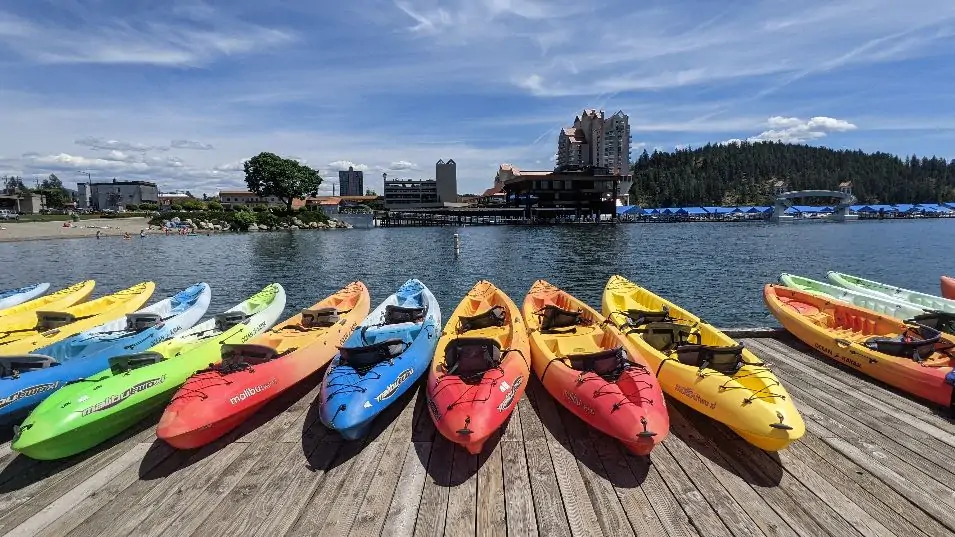 Coeur D'Alene Idaho 
This is usually the last stop on our road trip, prior to heading to Silverwood. There is lots to do here, from a castle themed park, lake with boat rides and a beach, restaurants, shops, hikes and more!
And this was just the warm up…now your ready for the real fun at your final destination – Silverwood!