Disneyland Souvenirs That Are Free & Low Cost!
This post may contain affiliate links and I may be compensated for this post. Please read our disclosure policy here.

Disneyland Souvenirs That Are Free & Low Cost!
Do you have a trip planned to Disneyland anytime soon? If so, one big way to save is to plan on getting some of these free and low cost Disneyland souvenirs. Disney souvenirs can really add up, if you don't have a plan ahead of time. Once you are onsite, it is hard to not get caught up in the "magic" and start spending more money on souvenirs than you planned to. If you have a plan ahead of time though, you could literally save yourselves hundreds.
You might be surprised to learn about how many opportunities there are to get free or low cost Disney souvenirs at Disneyland. Some are things you can grab ahead of time, but most of what we have listed here are items you can get onsite at Disneyland – still enjoying all of that wonderful Disney magic!
In addition to all of these opportunities, I do still recommend purchasing a few things ahead of your trip to help you really save once you get there. For example, all those glowing fun toys will really cost you in the parks. It will save you tons to stop at someplace like the Dollar store ahead of time to get some of the glowing toys.
Also, actual Disney merchandise (like PJs, and stuffed animals etc.) can be found at places like the Disney store for less ahead of time (check their sale section, and shop ship free days), or even the Dollar store. We love to head to the Dollar store to pick up fun autograph books ahead of our trips, verses paying much more when we are in the park).
Even things like the popular Disneyland ears can be purchased ahead of time at huge savings (or DIY them). In the park they will cost you about $30-$40 per pair, or you can find them on places like Jane for just a fraction of that cost.
Once you have done all you can to prepare ahead of time, here are some of our favorite free or low cost souvenirs in the parks too!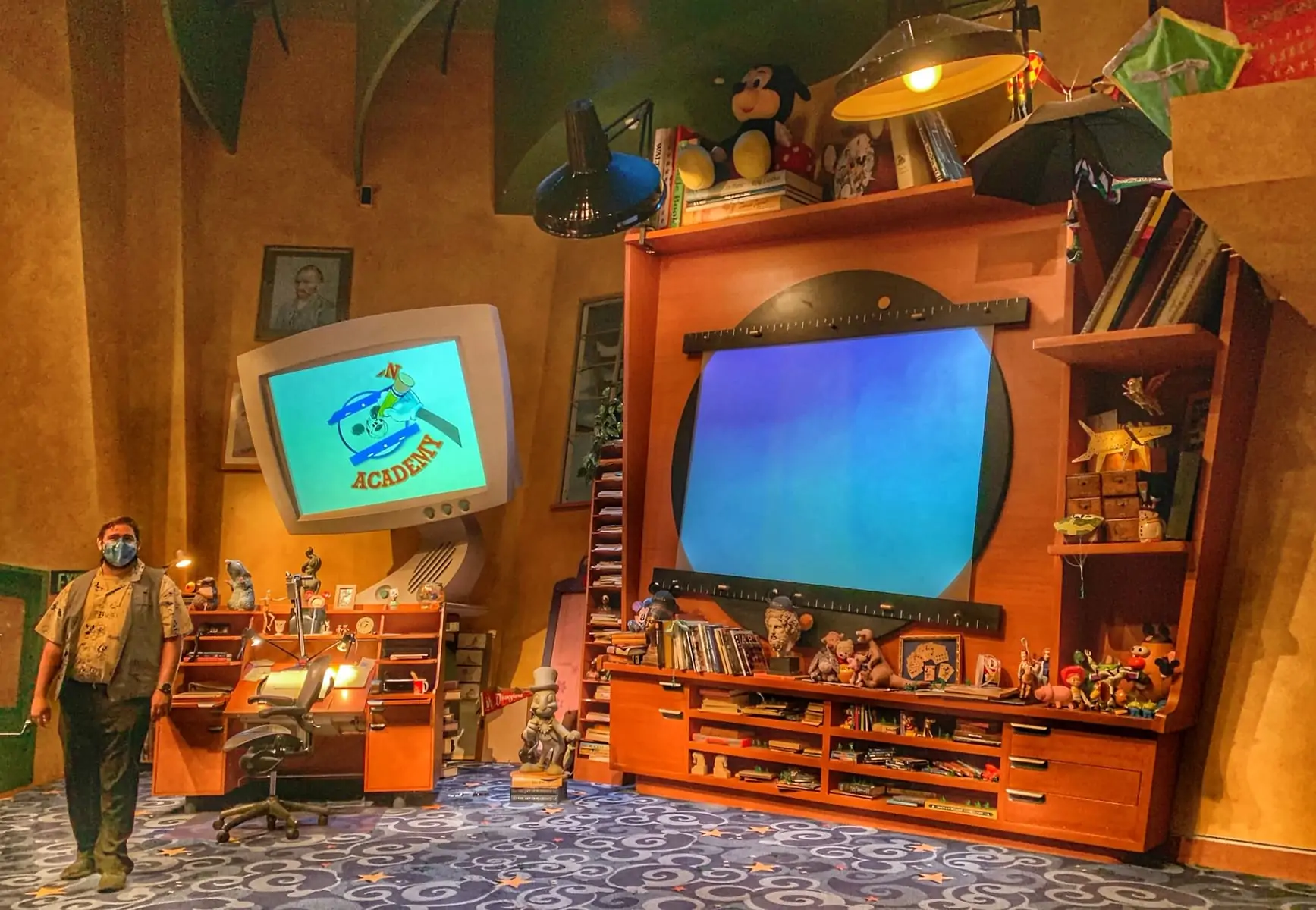 Art Work From Animation Studios – My Favorite Free Disney Souvenirs
This is one of my favorite free Disney souvenirs in the entire park – Disney art work. Head to the Animation Studios in the California park and draw a fun Disney character (with step by step instructions from the facilitator). The reason why I love this one so much, is because you not only get a great free souvenir, but you also get to have fun making it!
The other really great thing about it, is that you get to wait in an air conditioned area (and we have often sat down while waiting in the que), until it is your turn to go into an air conditioned auditorium to learn how to do your drawing. So it makes for a wonderful mid-day activity on warm days too.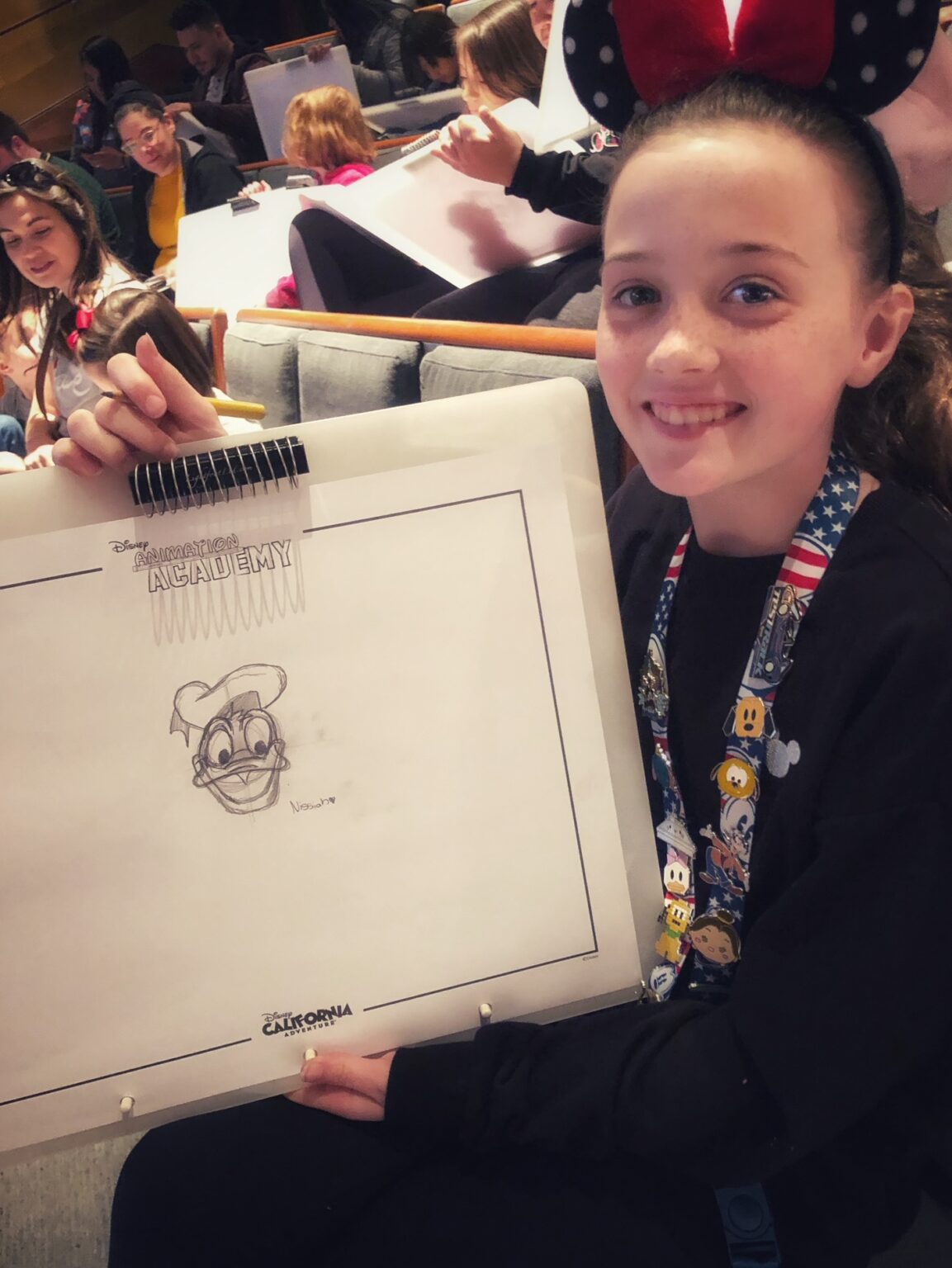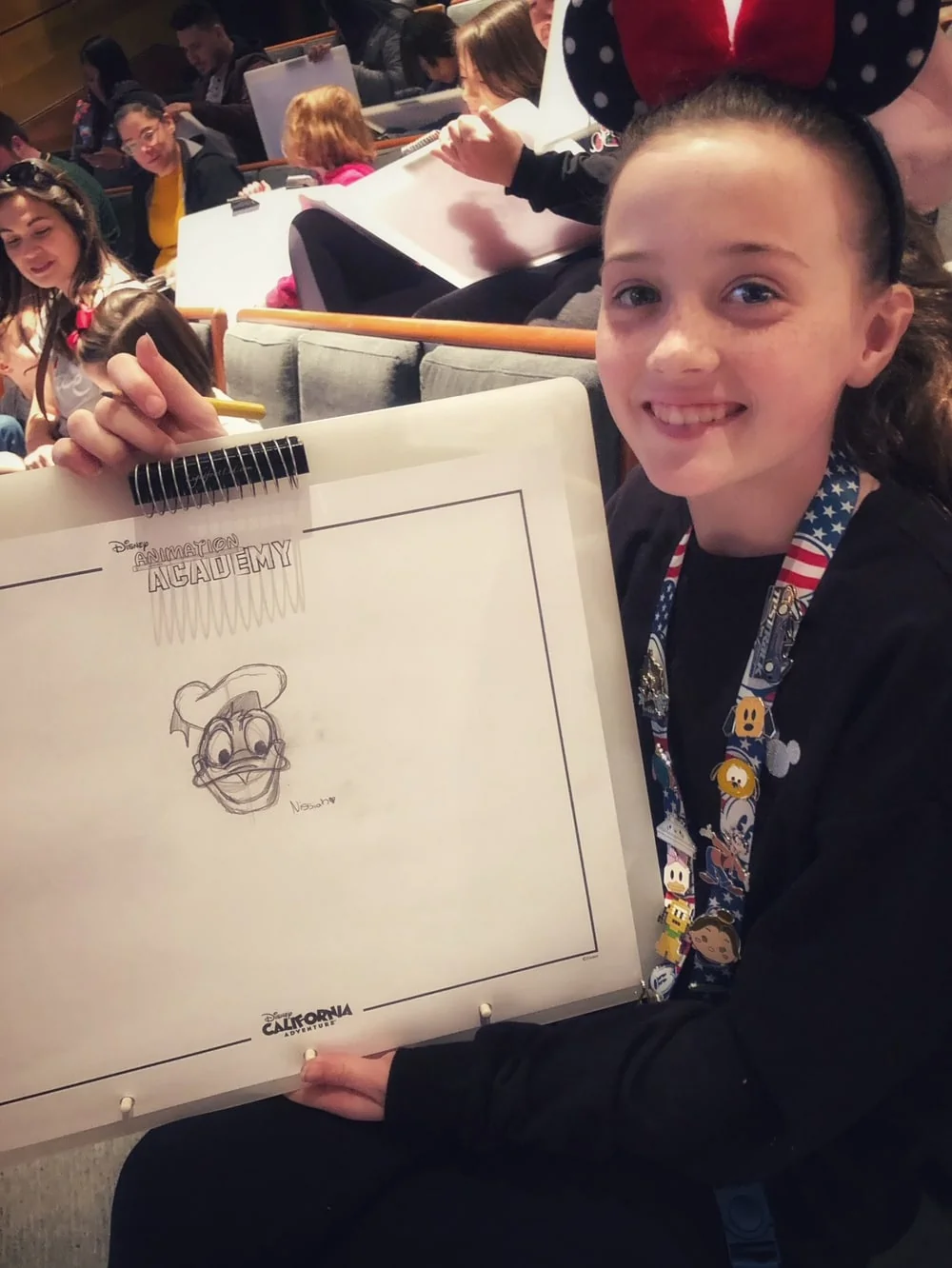 And, they do different character drawings throughout the day. I had my whole family do them, and a different one each day (some days we did more than one in a day). Then once we were home I framed them in black frames, to create a fun Disney art wall in our hallway. Even if you do not want an entire art wall, it is a really fun souvenir to bring home with you from the parks. Another reason that I love this freebie, is that it provides a great opportunity to rest for a bit that day, in a nice air conditioned space at Disneyland!
Disneyland Buttons
Head to City Hall once you enter the Disneyland park (or ask a cast member) about the Celebration buttons. If it is your birthday, your first trip, anniversary, or anything else you are celebrating – you can get a FREE celebration button!
Some of the character dining experiences come with a free memento button too, so be sure to ask about that.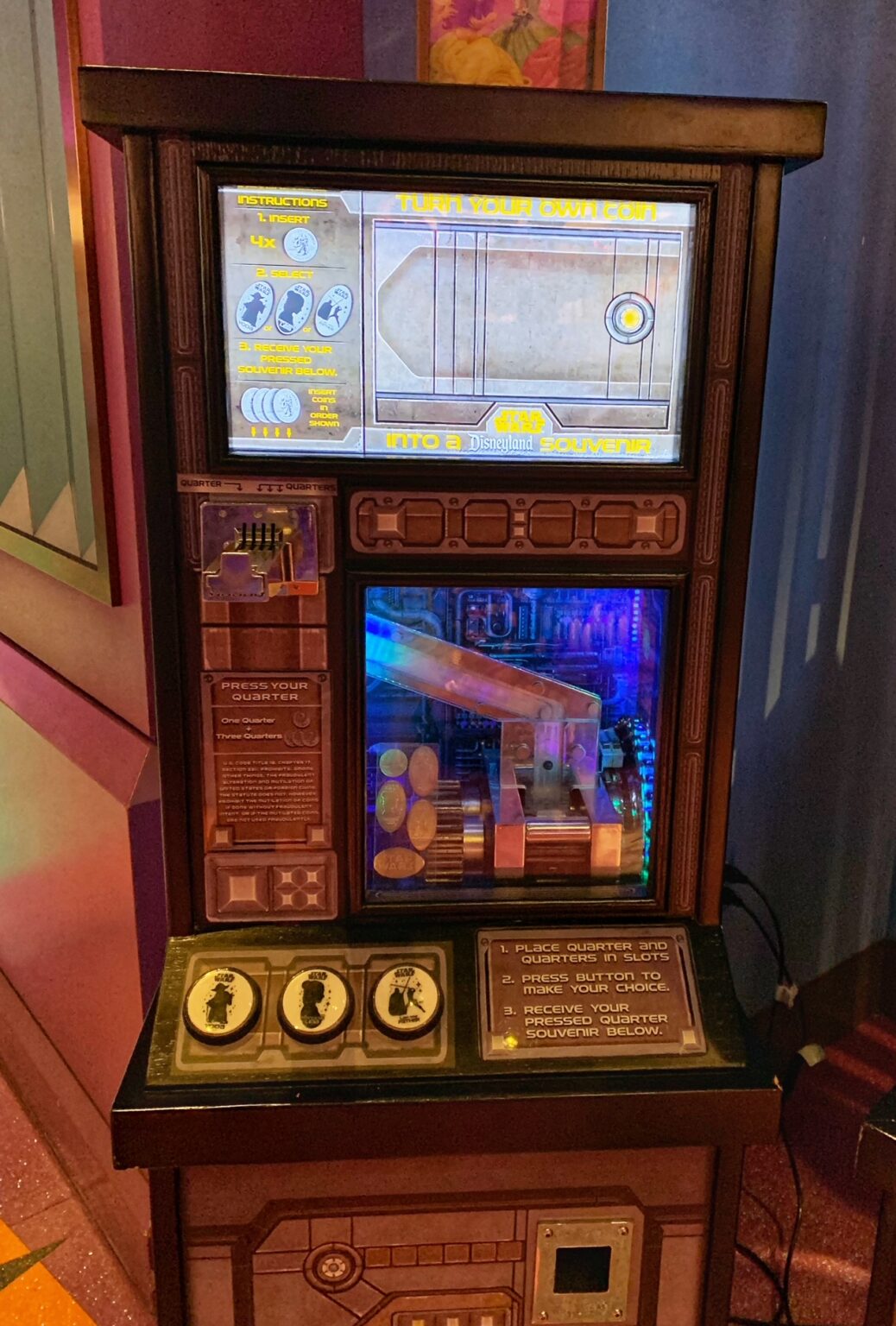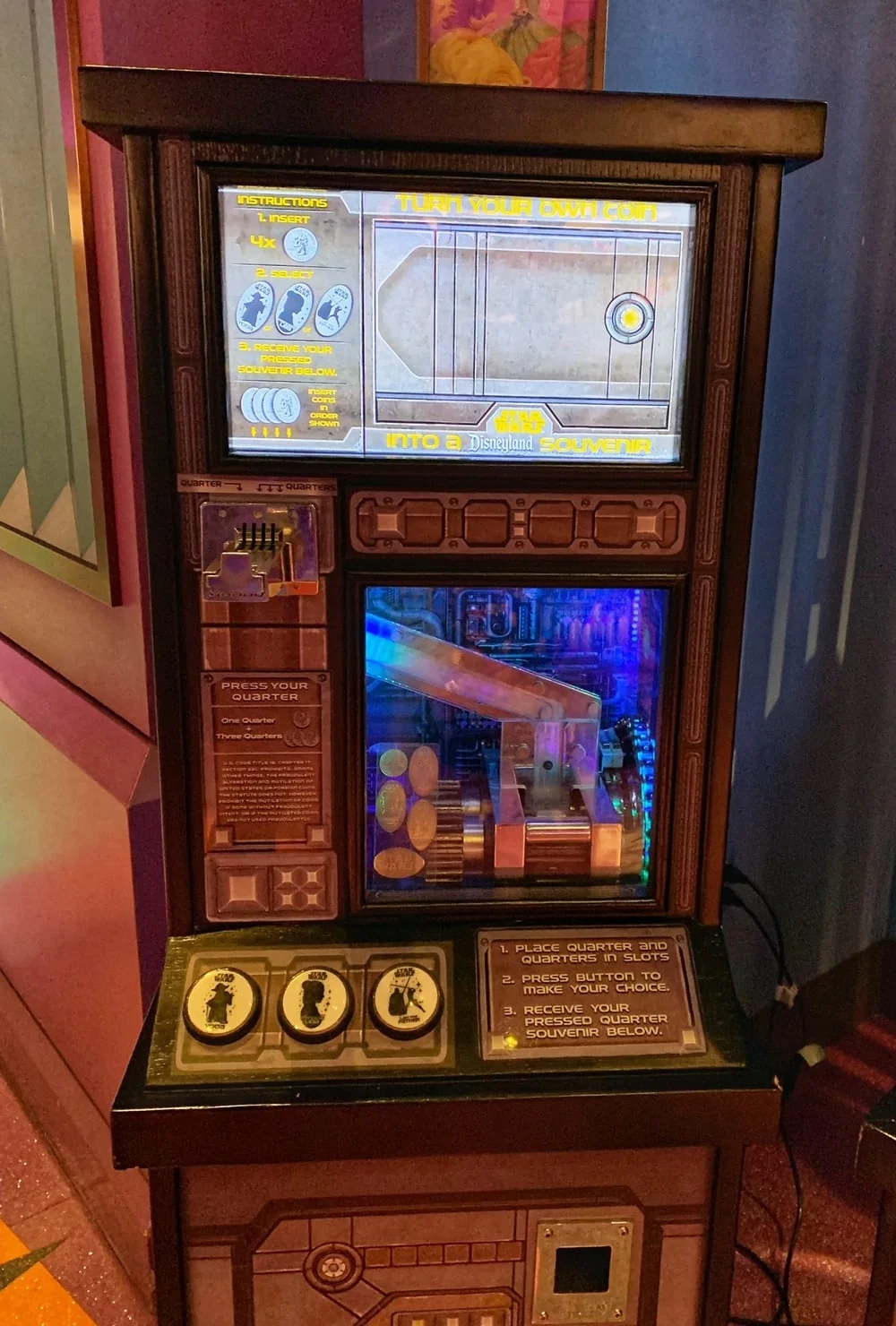 Disneyland Pressed Coin Machines
The Penny Press machines have long been a favorite of my family. It does seem like there are fewer these days, but still a wonderful way to get some fun souvenirs. I still have pennies my kids created years ago at Disney (we keep them stored in penny press books) and they are fun to look back on to remember all the great memories we made that trip. It used to be that they are all penny machines, but now they have nickel and quarter machines too.
You will want to plan ahead and makes sure you have quarters, nickels and pennies on hand to use in the machines.
Disney provides a map of where you can find the various pressed coin machines here too.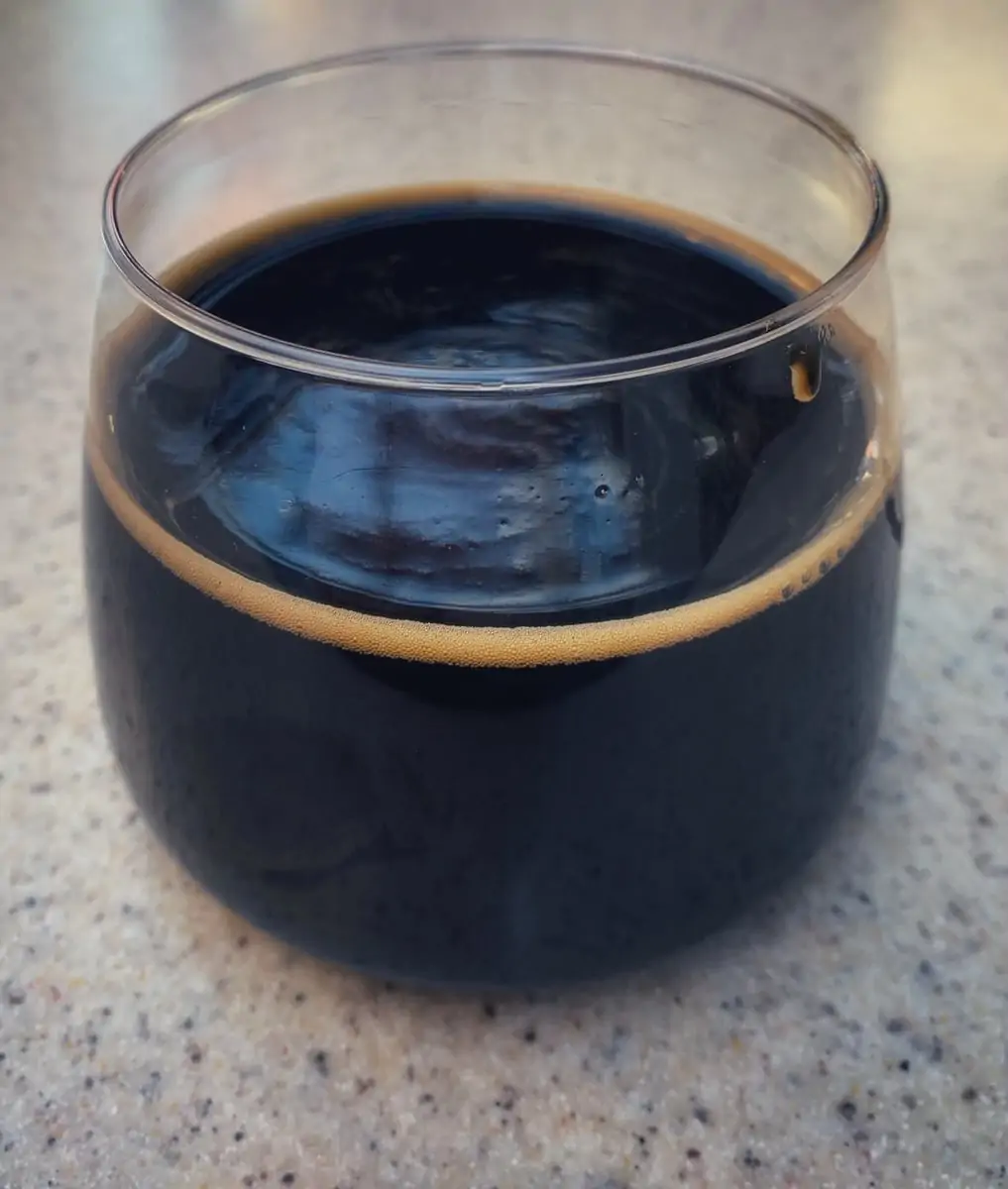 Free Cups –
Ok, this one may sound a little trivial, but we really enjoyed these our last trip. And in all transparency, they are not really free (you are purchasing a beverage), but if you are paying for the beverage sometimes it is fun to get it in a free reusable cup (verses paid souvenir cups you pay extra to have your drink in).
I really liked this one, as our hotel only had these flimsy plastic cups in the room (we were staying at a Disneyland hotel too). So we brought our reusable ones home, and used them in our hotel room for the rest of our trip. I got the cup above with an adult beverage in the California Adventure park, but my kids got some pretty sturdy reusable cups with their green and blue milk at Star Wars Land in the Disneyland park too.
Another great tip here, is if you visit Starbucks on main street, ask for an venti ice water cup with your coffee or tea order. In the past they have provided a nice reusable cup, that you can then re-use at the water stations to keep hydrated throughout the day.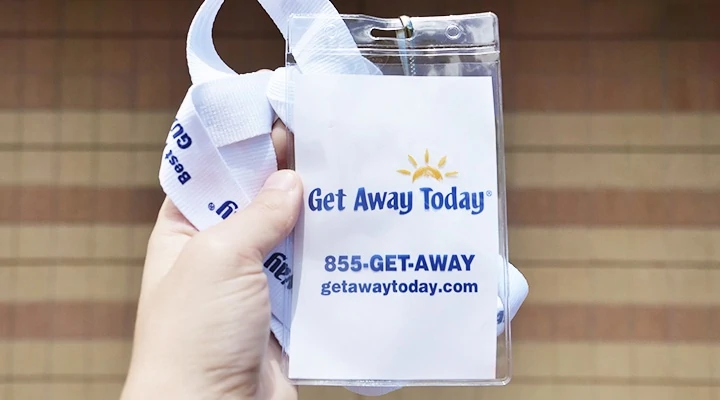 Freebies when Booking Through Get Away Today
If you have not booked your Disneyland trip yet, consider booking through Get Away Today. Not only do they offer lots of perks like interest free layaway programs, free hotel nights, free breakfast and parking for many locations etc. – they will also send you a FREE Lanyard to use on your Disneyland trip, for each adult that you booked your Disneyland Vacation package for.
All of our recent Disney vacations have been booked through Get Away Today, they are wonderful to work with on your Disney trips (true experts). Plus, if you tell them Thrifty NW Mom sent you (or use promo code ThriftyNWMom when checking out you will get an extra $10 off your Disneyland packages).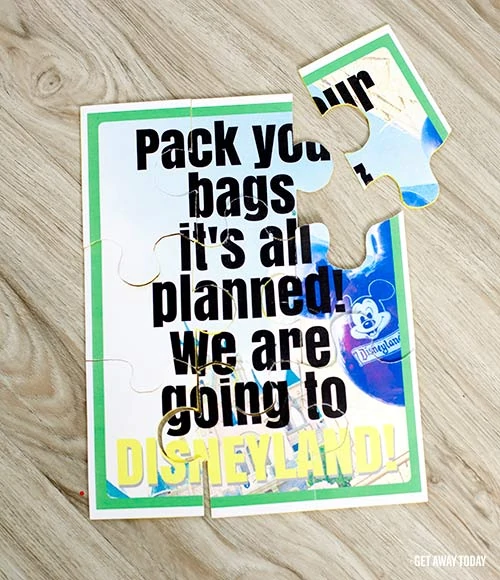 Free Pintable's To Announce Your Vacation To The Kids
If you are planning a trip to Disneyland and want to announce it to your kids in a really fun way, use one of these free printable ideas here. There are 5 to choose from. Just print them out and set up your surprise announcement to start the Disney magic now!
You will also find more pintable's you can use to plan and announce your Disneyland vacation here!
Disney Stickers from Cast Members
(note this one may be temporarily suspended, let us know if you get one)
In our Disneyland Tips for Insiders article, we mention how great it is to talk with cast members, as they often hold so much Disneyland information, and tips to make your trip even better.
Well on top of that, many of them hold stickers they can dole out to visitors as well. So ask if they have any stickers you might be able to get from them, and bring a fun autograph book with you. Attach your sticker, and write a note about where and whom you got it from, for a fun memory and memento from your trip!
Redwood Creek Ranger Badges
If you have younger kids, head to the Redwood Creek area in the Grizzly Peak section of Disneyland. It is the perfect spot for them to run around and burn off some energy, while you can relax a bit. When you enter, there are usually rangers sitting at the front entrance to hand you a map to explore with, including some activities to complete on it. Then when you leave, stop by to see the rangers again, and they will give you a sticker badge to take with you!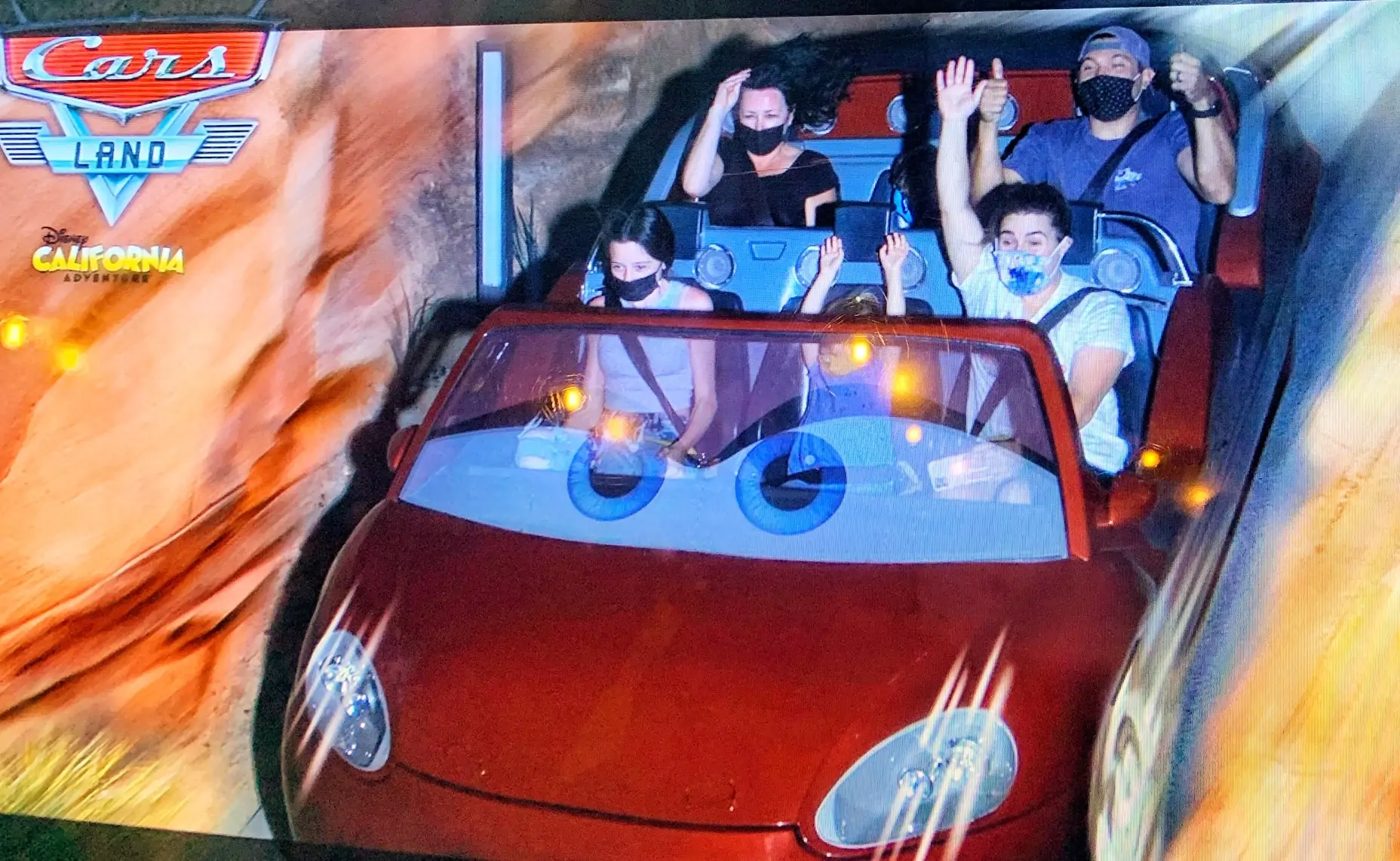 FREE Attraction Photos
There are a couple of ways to get free attractions photos. Many of the large rides (like the roller coasters, Guardians of the Galaxy Ride, Splash Mountain and more) take pictures of you on the ride. Afterwards you can grab a picture of the picture on your phone, for memories.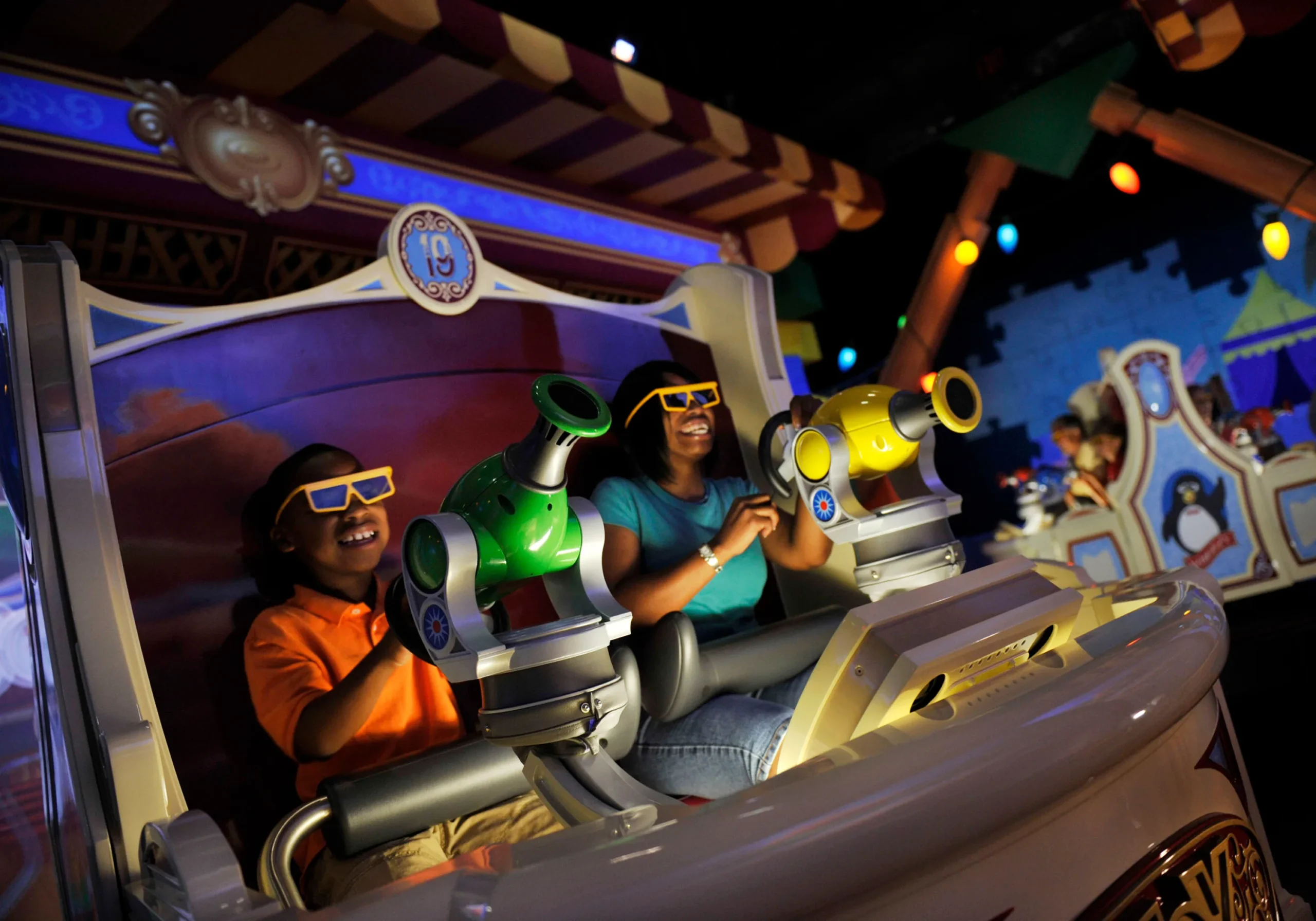 Another fun opp is on the Buzz Light Year ride. It takes a photo of you during the ride. At the end of the ride, you can enter your email address at kiosks in the exit area, and have it sent to you. I always download these and add them to a vacation scrap book we make after our trip.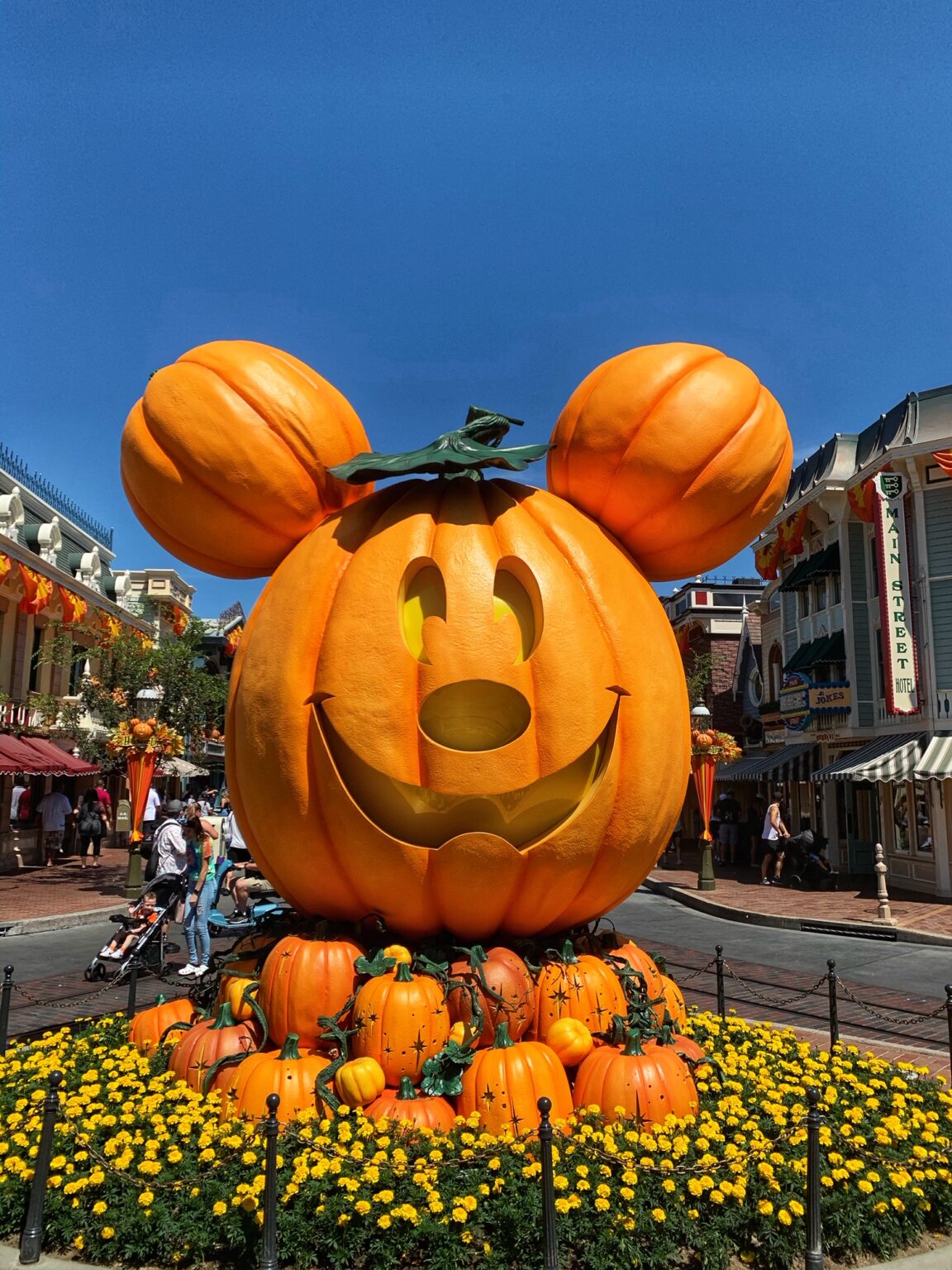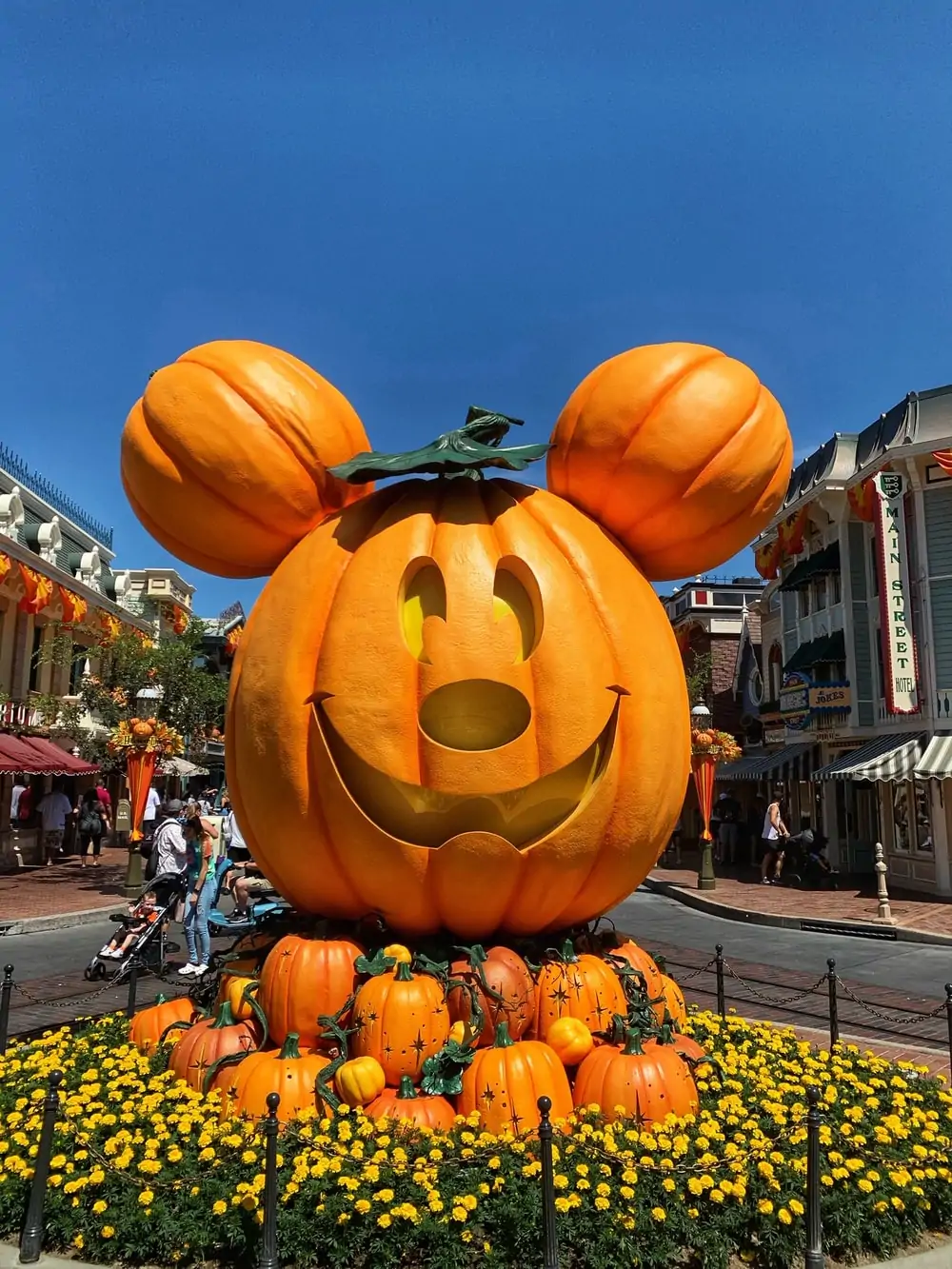 In addition to free attraction photos, did you know that if you ask the Disney photographers that are taking the Photo Pass photos at special locations throughout both parks, to also take a picture on your phone – they will do that for you! If you do not want to pay for photo pass, this is a great way to get some of these special pictures taken for free. Here is a great example of one I asked them to take for me of the pumpkin during our Halloween season visit. It is one I could not have gotten on my own, as there were always people standing in front of it (and if you want them to include your family in the photo they will)!
Autotopia Drivers License
If your kids love the Autotopia cars, this one is a fun one! Get a free version of a drivers license if you do not want your photo on it, or pay a small fee for one with your photo. It is a great keepsake for a small price tag (and I recommend splurging for the one with the photo – they are a personalized keepsake and still low cost). This one is a fun one, so be sure to add it to your list!
Character Autograph Books
We share some ideas below on where to get the character autograph books for great prices. Bring them with you, have the characters sign them and get a picture with your child and the character. When you get home, print the pictures and then tape or glue the picture onto the page next to the autograph for a really fun keepsake book your child will enjoy for years.
Stuffed Animals (if you win a game on the California Adventure Boardwalk)!
Ok, you may or may not end up with this one (my kids usually always win something), and you will have to pay for the game – but that is part of the fun anyway. My kids love carnival games, so they always want to play something on the boardwalk in California Adventure. Since I am already paying for these games for them to have fun, if they win something I consider it a bonus freebie! There was one year I was glad we drove, as my son won so many huge stuffed animals, we would never have been able to get them home on a plane!
Disney Souvenirs to Buy Ahead Of Time & Where To Get A Great Deal On Them:
Here are some more ideas of things to buy ahead of time to use as Disneyland Souvenirs, so your kids won't be asking for the much more expensive versions at the park.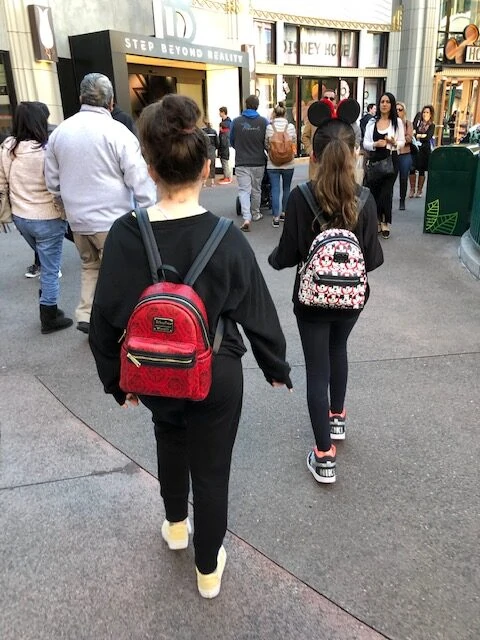 Disney Mini Backs
You will find these mini Loungefly backpacks at many stores in the Disneyland parks and Downtown Disney, and they are not cheap. They are such a fun item for kids to have (especially if you have tweens or teens who may be growing out of the glow lights and plushy stage). My girls each got one in the parks with money they earned, and have used them for years now – so it was money well spent. However, if I had planned ahead they could have gotten them for much less. Here are a couple of spots you can find mini Disney backpacks at big discounts:
From Loungefly – this is the brand most often sold in the parks, and they are quality backpacks, but will run you close to $80 per backpack. Here are some spots you can find them on sale, if you purchase ahead of time. Find them for lower prices on eBay here or
or Dooney & Bourke – this is an even more pricey brand, but they do often have sales, so check out where to find them at a nice discount here.
Glow Sticks –
Glow toys are sold from a number of locations and mobile carts in the Disneyland parks in the evenings. They will cost you too – but the kids love them at nighttime. If you come prepared, your kids can enjoy participating in waving their glow sticks, and toys around during parades or while exploring Disney at night, but you will save a ton of money by buying these ahead. Here are a couple of spots to find them cheap::
The Dollar Store for glow sticks, bracelets and necklaces
Walmart for glow toys (like glow swords, or glow pop it bracelets and more)
Disney Ears –
Ok, Disney ears are one of my families favorite souvenirs of all time! I still have ears, or hats with ears, from decades ago. If there is one souvenir I would recommend investing in, this would be the one. Kids love these, and they are fun to save and bring out to remember memories from previous trips. The thing is though – these are really expensive if you buy them in the parks. There are however lots of spots you can find deals on them ahead of time, and they will be just as fun. For example, one year I took my girls and the rose gold glitter headbands where in that year. We made them ourselves ahead of time – they looked just as good (and the kids had just as much fun wearing them) – but it cost me half as much! Here are some ideas on where to save on Disney ears::
DIY – we have saved lots by making them ourselves, and received lots of compliments too!
PJs & Disney Gear –
From the time my kids where young, I have always bought them a pair of Disney PJs and some tees, etc. to wear during our Disney vacations. It just is a special tradition we have created. It has not cost me a ton though, as I purchase or make these items ahead of time. Here are some of my favorite spots to get these items for great prices::
Stuffed Animals, Autograph Books, Penny Books and More:
These are other items I have purchased for my kids over the years, and places you can buy them ahead of time at big savings.
Disney Store (check their sale page here for current offerings)
Dollar Store (we have gotten autograph books here over the years)
Do you have a favorite Disneyland Souvenirs from the Disneyland Resort that we missed?