Dooney & Bourke Sale – How to Save the Most on Dooney & Bourke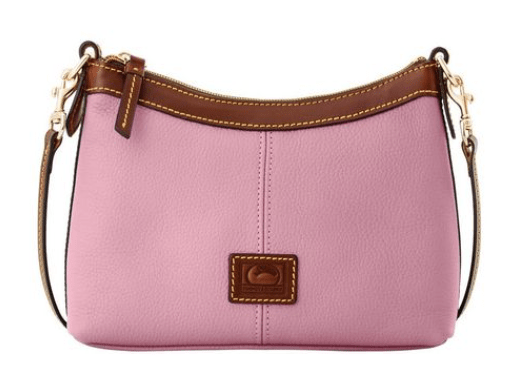 Dooney & Bourke Sale – How to Save the Most! 
If you love Dooney & Bourke purses, we are sharing where to find the best sales on these handbags, both in-store & online. Dooney & Bourke are classic quality leather handbags, as well as men's bags, small leather goods, watches, accessories & more.  Dooney & Bourke has been around since 1975  when they started in Norwalk, CT & they have a reputation for high-quality leather products with classic designs.
There are just 25 Dooney & Bourke retail locations (store & outlet stores) across the US, but you can also find Dooney & Bourke products in specialty stores as well as some great deals online.
Current Dooney & Bourke Sales:
For a few days only get up to 70% off, in the Winter Clearance sale at ILoveDooney site here! Just use promo code CLEARANCE at checkout for the extra savings! Find Crossbody bags as low as $39 (reg. $128) after sale + promo code savings!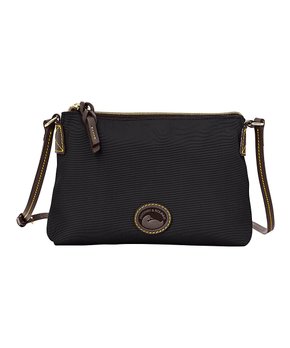 Zulily is offering up to 45% off Dooney & Bourke bags here. There is also a limited time sale on Dooney 7 Bourke at Zulily here as well.
We found wallets starting at $44.99, Crossbody bags starting at $49.99 and lots more great prices here.
Dooney & Bourke Handbags Outlet:
Does Dooney & Bourke have any outlet store?  Yes, they do currently have 17 Dooney & Bourke outlets or "Factory Stores" around the US.  Here in the Northwest, we have one at the Seattle Premium Outlets in Marysville / Tulalip area north of Seattle, WA. You can find a list of all of the Dooney & Bourke Factory Stores here on their website.
I love visiting outlet or factory stores for my favorite products as they often will have special sales around holiday times & other times, for even more savings on top of the outlet savings.  Sometimes the outlet items are specific items that are made for the outlet stores, but that doesn't mean that the quality is any less, they just may be different products that they carry.
Where to Buy Dooney & Bourke items for sale online:
Always check the Dooney & Bourke retail site sale page first in their sale section to see what type of sale & clearance items they offer. Make sure to sign up for emails alerting you of sales & special promotions on the site & follow them on social media to find out about special sales as well.
Another excellent resource for authentic Dooney & Bourke items on sale is the I Love Dooney online retailer.  They offer Dooney & Bourke products but at lower prices, up to 50% off. They do also offer sales occasionally as well, which is a discount stacked on top of their already low prices.
Does I Love Dooney sell authentic bags? Yes, they have a partnership with Dooney & Bourke (you'll find them linked at the top of the Dooney & Bourke site) &  all products sold on their site are 100% authentic & covered by Dooney & Bourke's guarantee. The Dooney & Bourke guarantee states that they offer an unconditional guarantee against any defects in craftmanship for a full year of normal use.
How to Save on Dooney & Bourke:
The best way to save on Dooney & Bourke at the I Love Dooney site is to sign up for their emails (click on the box at the bottom of any page). When you sign up, you will receive a 10% off coupon in your email. But, most importantly, you will then be notified of their online sales that happen during the year.
The I Love Dooney site also offers a loyalty program. You can earn 1 point for every dollar spent (they will give you 25 points when you first sign up). You will also get first access to new products, birthday rewards, double point & other special promotions, discounts & much more.
Another way to save more at I Love Dooney is to invite friends. When you invite friends, you can give them a coupon for $10 off & you will receive a $10 coupon when they make their first purchase. This is a great bonus way to save money on Dooney & Bourke handbags & more.
I Love Dooney Sale Items:
We will share current sales & deals as we find them here for you to check out more savings on Dooney & Bourke handbags & more. Right now, they are having a sale with an extra 30% off sitewide for a limited time! Use the promo code: FALL to get the extra 30% off (which is equal to up to 65% off regular prices). Shipping is free when you spend $99 or more or it will cost $7.50.
The regular Dooney & Bourke site is also offering up to 60% off sitewide, with prices starting at $39,
Deal Ideas from I Love Dooney:
Save up to 70% off select items with the promo code: CLEARANCE at checkout. Prices start at $39.99
Nylon North South Triple Zip – several colors as low as 39 (reg $128) – 40% off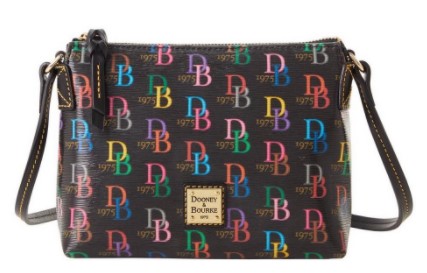 MULTI CROSSBODY POUCHETTE – $49 (reg $148)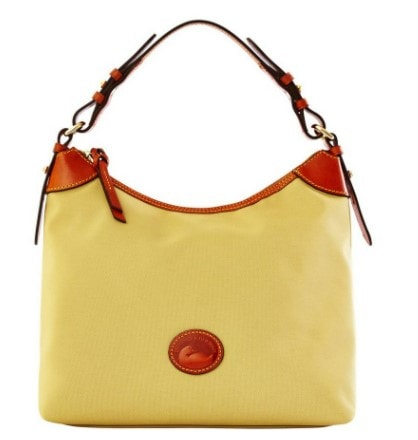 Nylon Large Erica – $49 with promo code (reg $168)
Find more discounted Dooney & Bourke items in the the Dooney & Bourke Sale here!
You might also like these deals on: