Suncadia Resort in the Winter – The Perfect Family Getaway!
This post may contain affiliate links and I may be compensated for this post. Please read our disclosure policy here.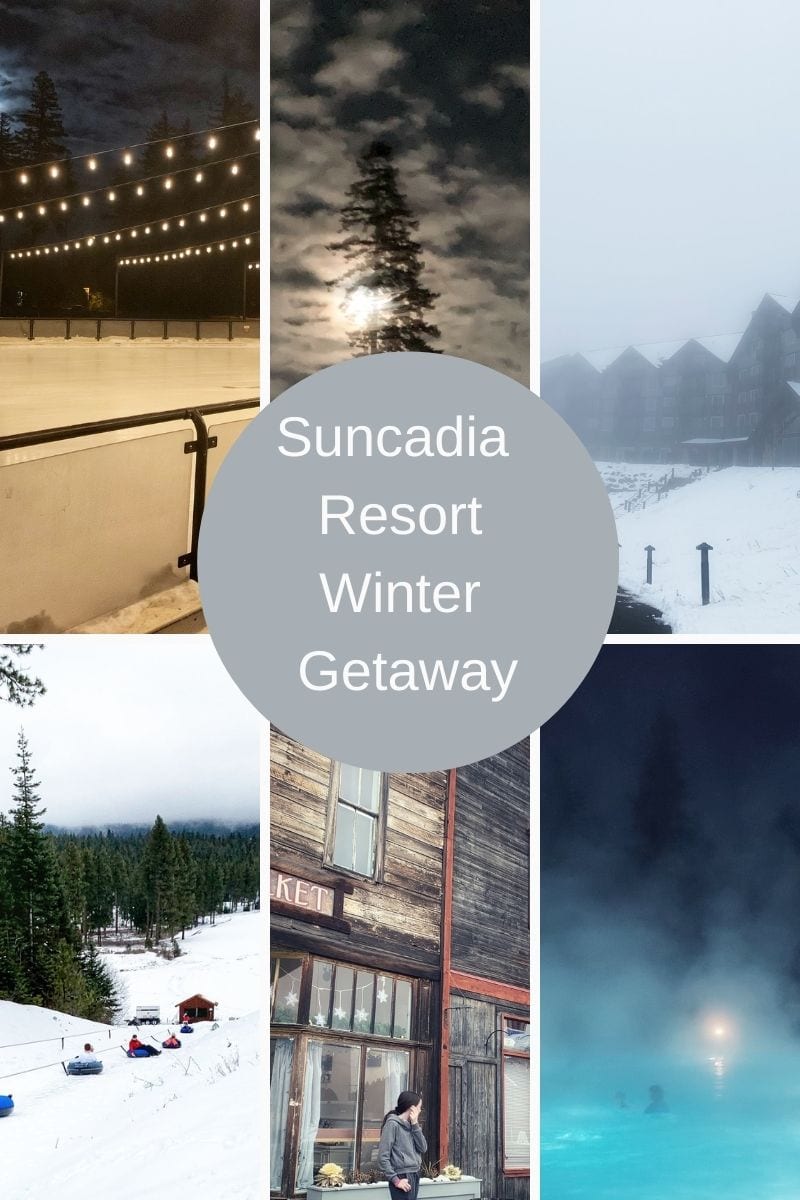 Suncadia Resort in the Winter – The Perfect Family Getaway!
( Note that during these times, things can change regularly so we recommend calling to make sure all of this info is still accurate during your stay, before booking). 
We headed out to Suncadia, Washington recently, to enjoy a beautiful winter getaway, and we were not disappointed. We have shared about Suncadia in the summer, so now want to share all of the family friendly activities in the winter to do.  It took us just over an hour from the Seattle area, to get there – so it makes a perfect short getaway. There is also lots to do, so you can stay as long as you like to as well.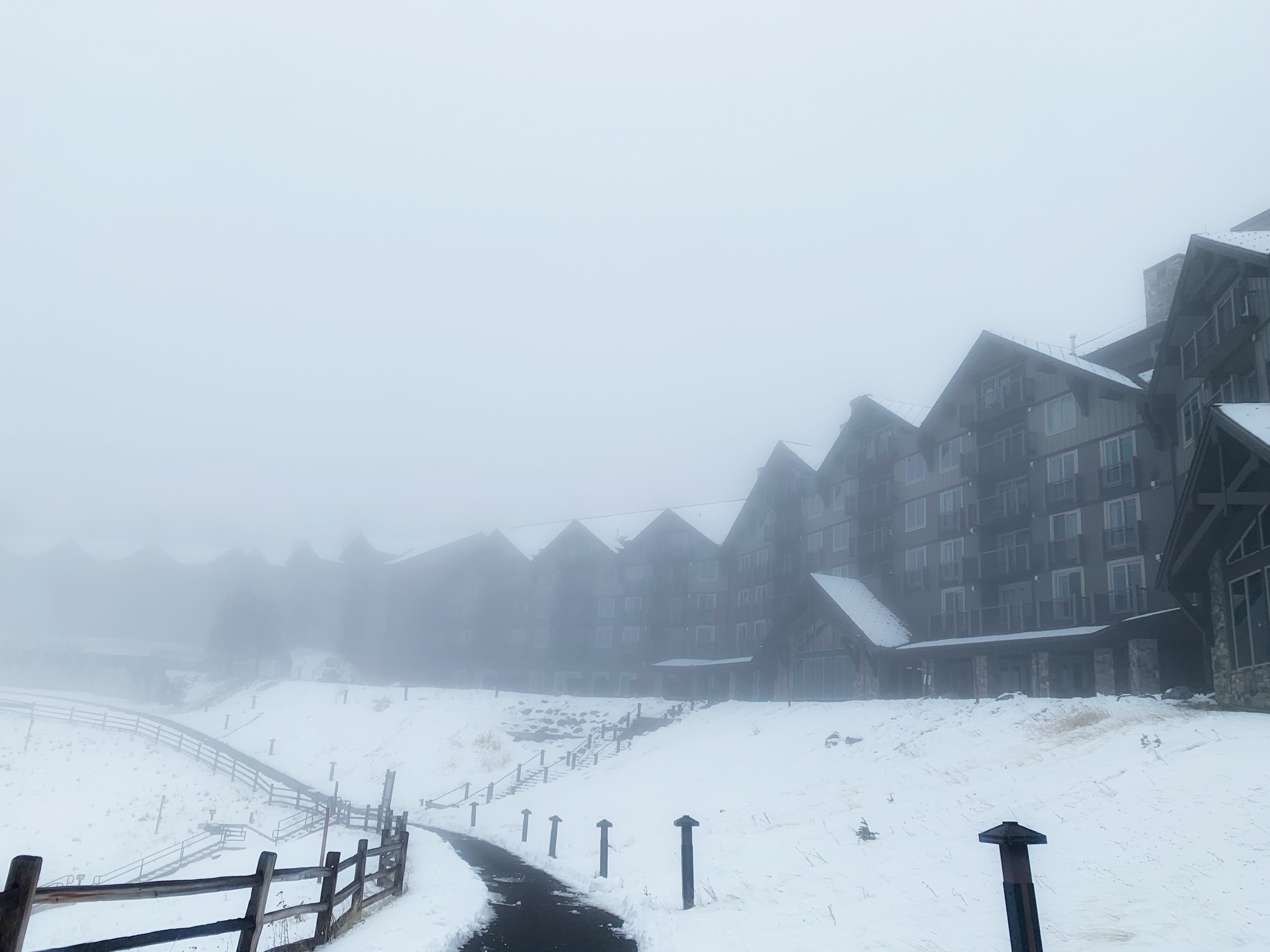 One thing that is wonderful about the Suncadia resort, is that there is so much to do in the outdoors year round. It also offers a number of different accommodation options, to pick from, making it a great option for families of all sizes.
There is a main lodge, where you can rent out everything from a standard hotel type room to suites with bedrooms and kitchenettes. For those wanting a space more their own, there are a number of stand alone homes you can rent in the area. We stayed in the Inn, which was a nice option right in between the other options. Some things to consider when deciding where to book at Suncadia:
Suncadia Rentals to Choose From – 
Staying at The Main Suncadia Lodge – 
This is where many people book, as it has a variety of rooms that are more moderately priced then the homes. You have a restaurant and coffee shop right in the lodge, and it does have access to a small pool right out back too. These rooms usually come with a small kitchenette to use as well.
Staying at the Inn (pictured above) – 
We love to stay at the Inn. While the room is a basic hotel room, they are spacious. They also come with a fireplace and balcony (two things we love when traveling). It is located across from the fitness and pool center, as well as the ice rink, so close to many of the activities. It sits on the Suncadia golf course, and there are walking paths to the main lodge and other areas you may want to access at the resort.
The other thing I like about the Inn, is that there are only a handful of rooms….so you really do have more space to yourself (there is only one floor of rooms here).
Renting a Home In Suncadia – 
This is often the most expensive option, but you will have a nice beautiful (and often large) home to yourself. It is also a good option if you are wanting to travel with another family (some of these homes sleep quite a few people.
Another option is to rent one of the condos. This will give you more of your own space, but at a more moderate cost.
Some things to know for 2021 travel here (this can change at any time of course, but was true during our stay) –
Masks required in public areas
Restaurants where only open for delivery or pick up during our stay, but that may change. Many restaurants in Cle Elum and Roslyn where open for dine in (both a short drive away).
Lots of outdoor areas to enjoy, so plenty of space, and we found the resort to be clean and everyone courteous.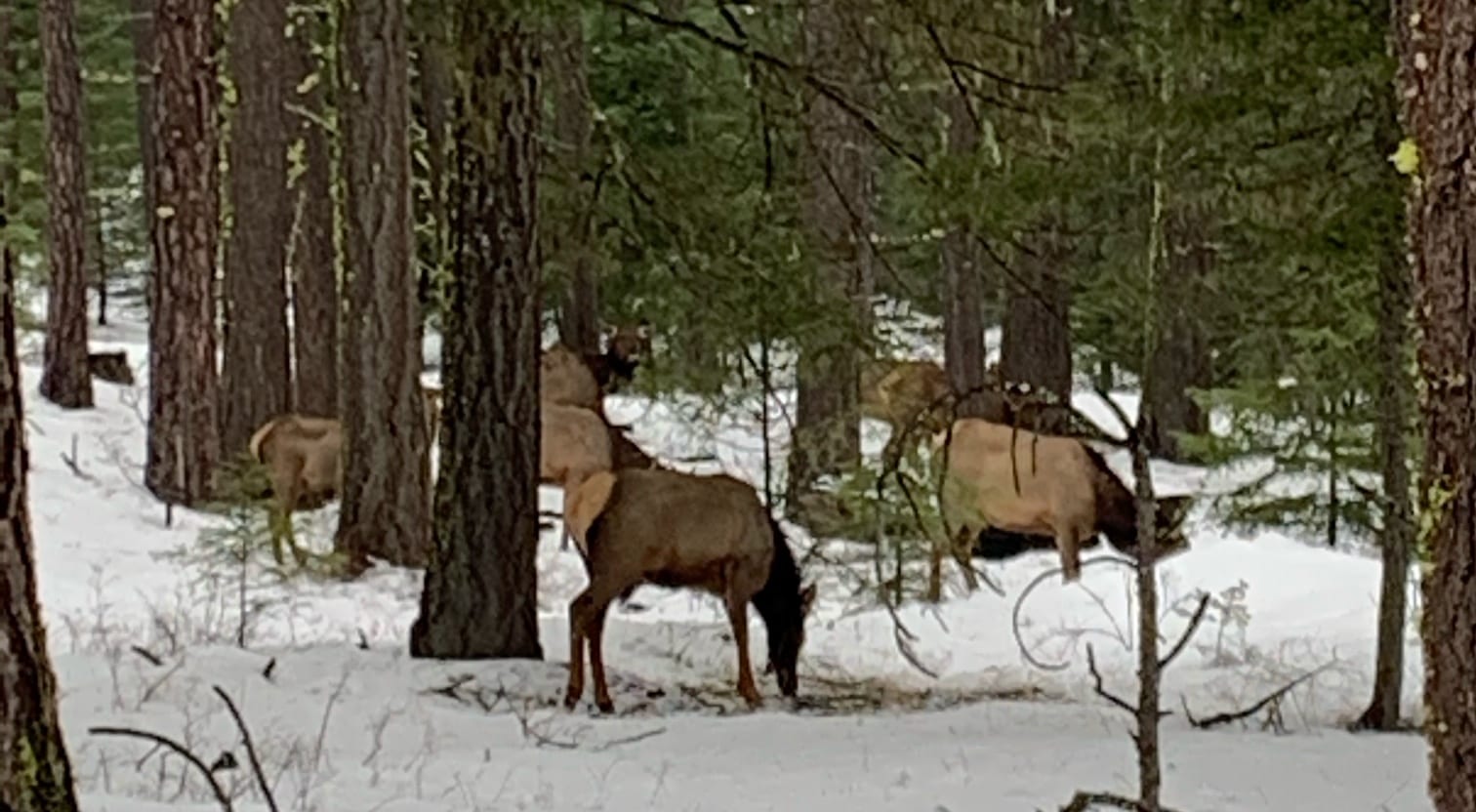 The outdoor beauty at this resort is wonderful. You can take walks along miles of trails, and not have to spend any extra to enjoy the beauty. We have run into wildlife year round (usually deer in the summer, and we were fortunate enough to come across a herd of elk this winter)!.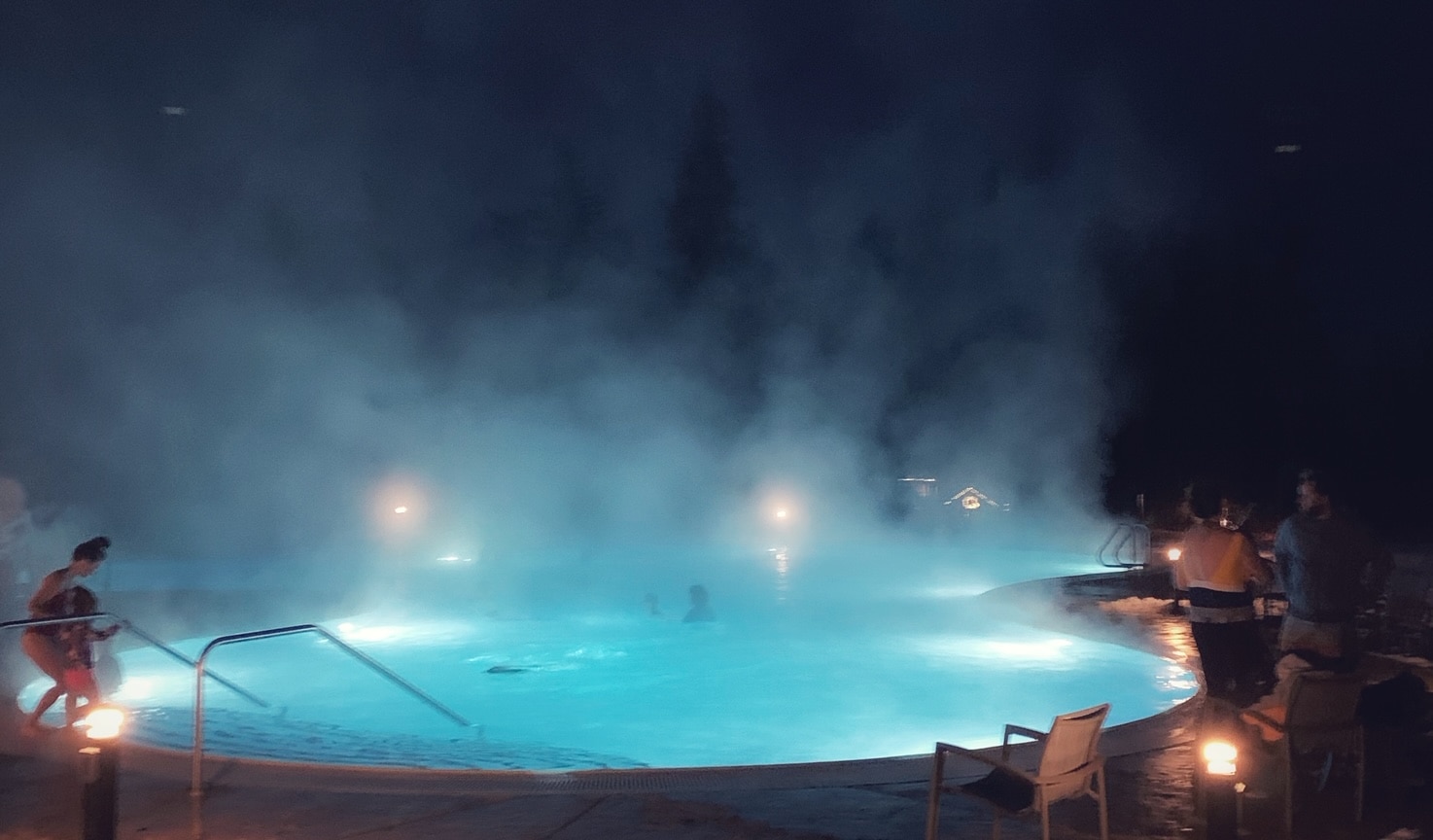 Swimming at Suncadia
In the Winter, there are three pools open for guests to use. The first two are right next to each other at the Fitness Center (one indoor and one outdoor). You will need to make reservations to use the pools right now. Weekends will be harder to get reservations, as it is busier, so if this is really important you might want to consider booking a stay during the week.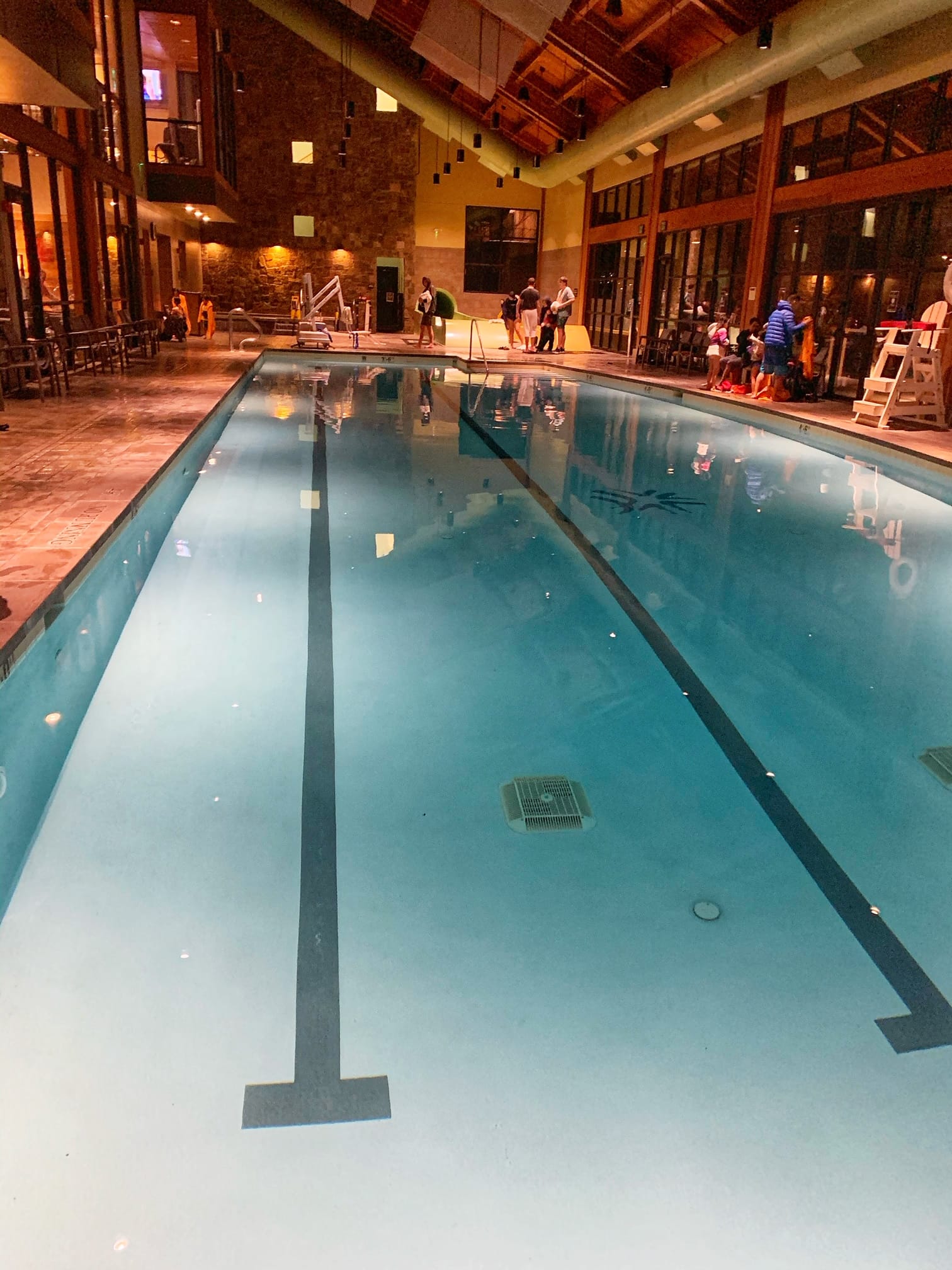 Two days (48 hours) prior to your reservation the resort will send you a link that will allow you access to reserve a swim time slot (they are all two hour time slots). If you fail to make your reservation you will be charged $25 (unless you cancel ahead of time). The reservation will give you access to both the indoor and outdoor pool (they are next to each other so you can go between them both during your reservation). Towels are provided so you do not need to bring those with you.
The indoor pool does have two waterslides, but they are only open on the weekends (Friday through Sunday), so if that is important to you make sure you book during those times. There are also lifeguards on duty.
This year they have heated the outdoor pool to 97 degrees, and it was my kids favorite pool to use. They loved this one especially at night. If you have tweens or teens, I recommend making the later reservation so they can do night swimming (we booked the 5:30 to 7 timeslot and the kids loved it).
There is also an outdoor pool at the lodge, that we were told we were allowed to use without reservations (and it is heated as well). We never made it out there to verify how that worked, but that is what we were told at check-in.
Ice Skating at Suncadia (extra fee for this activity) –
There is a beautiful outdoor ice rink that is open for skating. There is an extra fee to do this, and it does require reservations too. Ask when you check in, and they will text you the link to make your reservations. Skates and helmets are provided.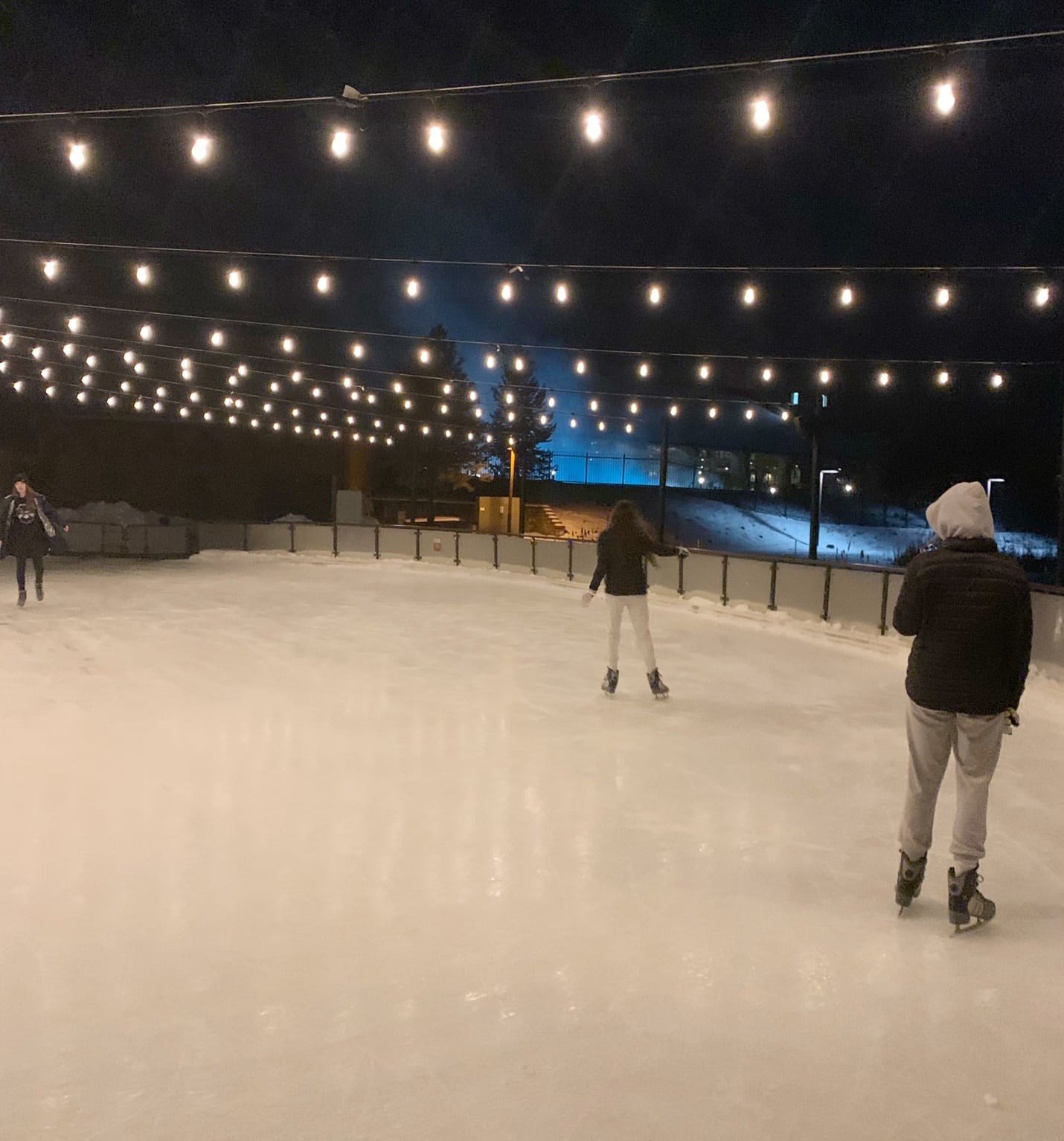 The skating rink is open all day, but my kids preferred to skate in the evening as all the lights where lit up. It was the busiest time when we were there, so you will want to make night time ice skating reservations early, to make sure you are able to get in.
Snow Tube Tow Hill at Suncadia (extra fee for this activity) –
There is a snow tubing hill on the Suncadia property (you will find it up next to Swiftwater Cellars). It is generally open on the weekends in the Winter, depending on the weather. We were told it was closed when we checked in on Thursday as there was not enough snow, but it opened Friday morning for the kids to enjoy…so be sure to check in to see if it is open during your visit.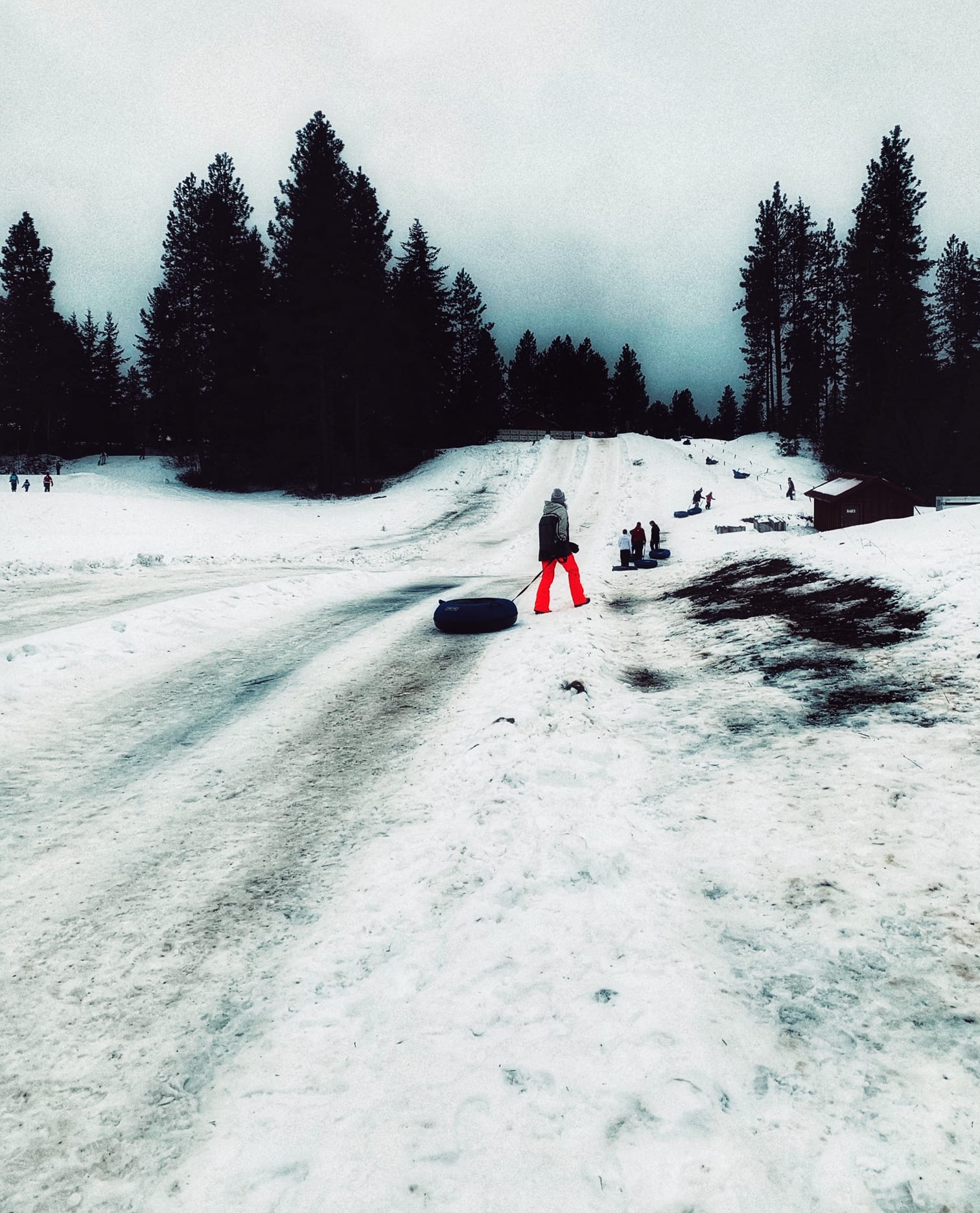 Like I mentioned above, it was iffy if they were going to open during our stay, so the hills usually have more snow on them then you see here – but it worked and the kids had fun! There is a rope tow they hook you to, that pulls you back up to the top, to make the return easy.
Sledding
You can bring your own sleds (or they have a store in the INN, that sells them too), to sled for free around the resort. My kids went hunting for hills, and did not find anything that impressed them too much (but they did have fun). The resort recommended the golf course behind the INN (where we were staying) but those hills were not huge, as well as a location over behind the Fitness Center (where the pool is) that we were never able to find. If you have a favorite sledding area at the resort, let us know how you get there so we can recommend it to others.
There is also a popular sledding area on the way back from Suncadia to the Puget Sound, called the Hyak Snow Park. It can get crowded, but is a great spot for some sledding. You will also find a larger tubing area at the Summit at Snoqualmie, with a magic carpet, if you wanted to plan a stop there on your way back too (you have to make reservations ahead of time, and they fill up). Find out more about both of those options in our Sledding and Tubing in Washington article here.
Snow Shoeing & Cross Country Skiing
There are miles of trails at the Suncadia resort, where you can enjoy snow shoeing and cross country skiing. They will provide you a map at check-in that shows those areas. You can also rent equipment on site if you do not have your own.
In addition, there is a sno park in Cle Elum called the Salmon La Sac Sno-Park, which is also set up well for both these activities.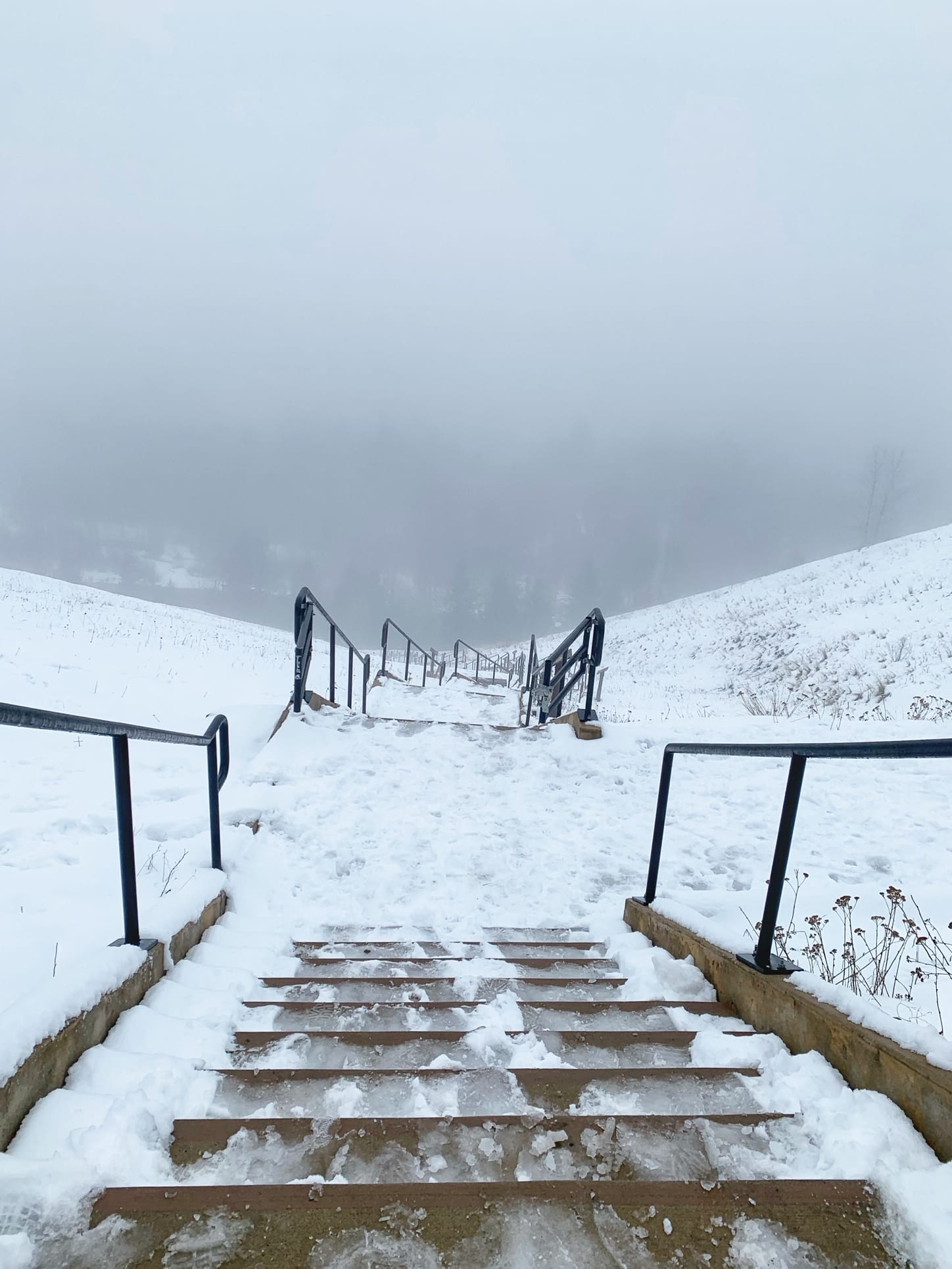 Hiking or take 1000 Stairs Down to the Riverfront!
There are stairs from the back of the resort, all the way down to the Cle Elum river. 1000 stairs to be exact! If you are looking for some great exercise, this is open during the daylight hours.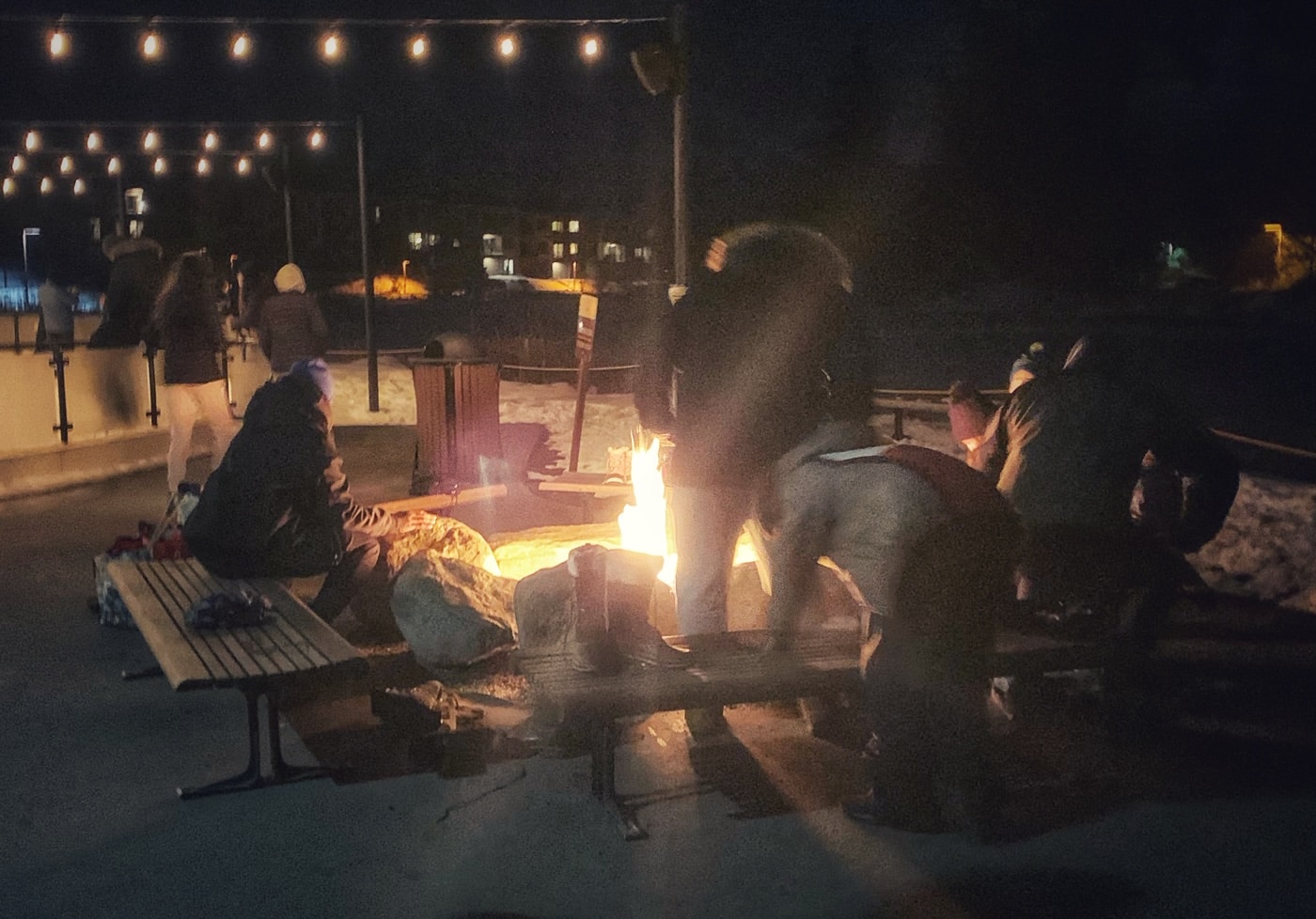 Smores Around a Bon Fire at Night
There are a couple of fires they get going in the evenings, that families can sit around and roast smores at. Bring your own supplies, or you can buy small kits at the coffee shop in the lodge too. Find the fires at the main lodge, and ice rink areas.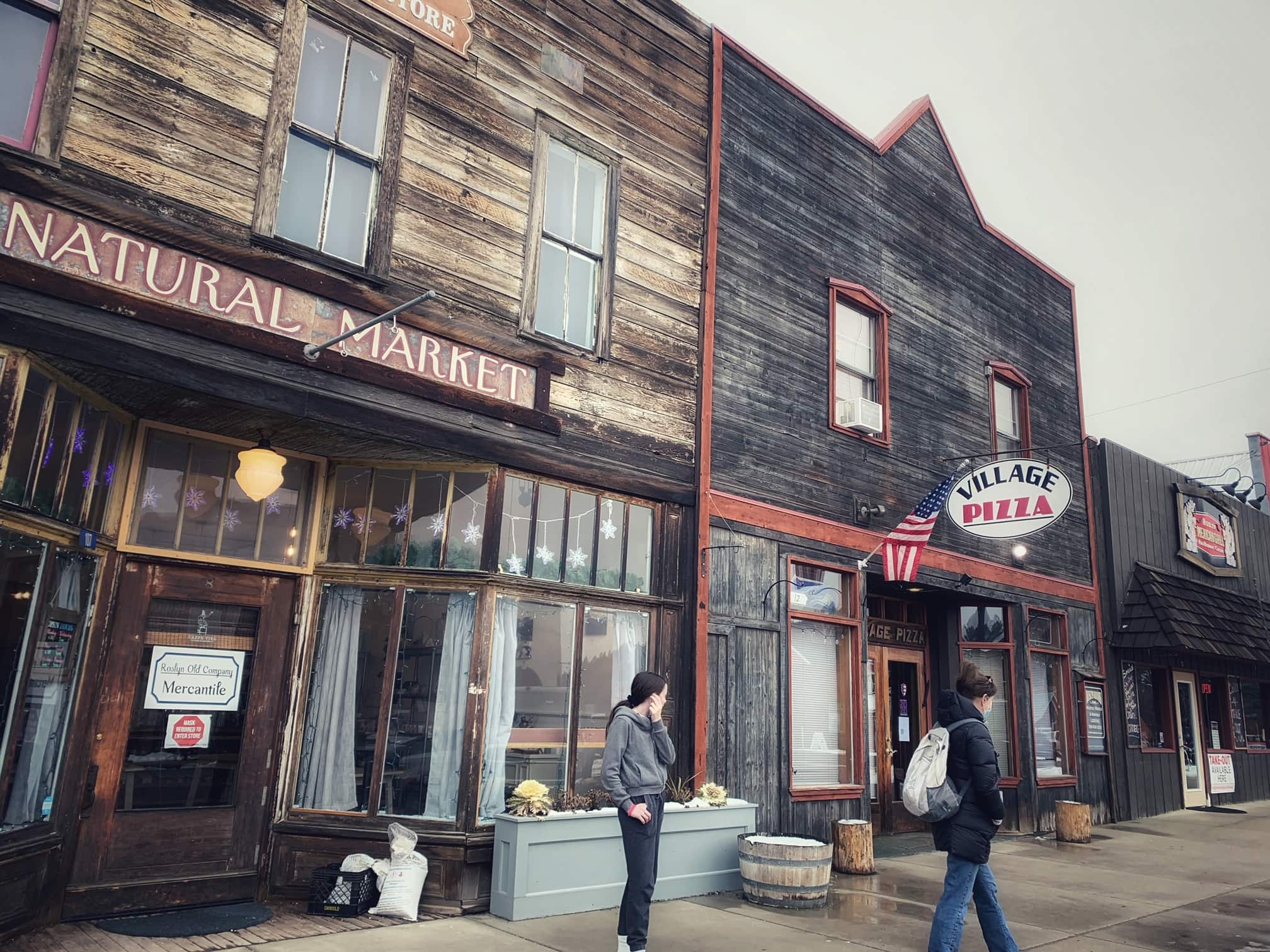 Exploring Roslyn and Cle Elum
Get out and do a little site seeing, or dining and shopping in these small towns. While Rosly is famous, as Northern Exposure was filmed here, it is small….but fun to visit. It is a quick 5 minute trip from the resort. The Roslyn Cafe is the most well known eatery there (from Northern Exposure filming) but we had the most amazing food at the Roslyn Mexican Grill during our visit, and plan to go back there on our next visit too.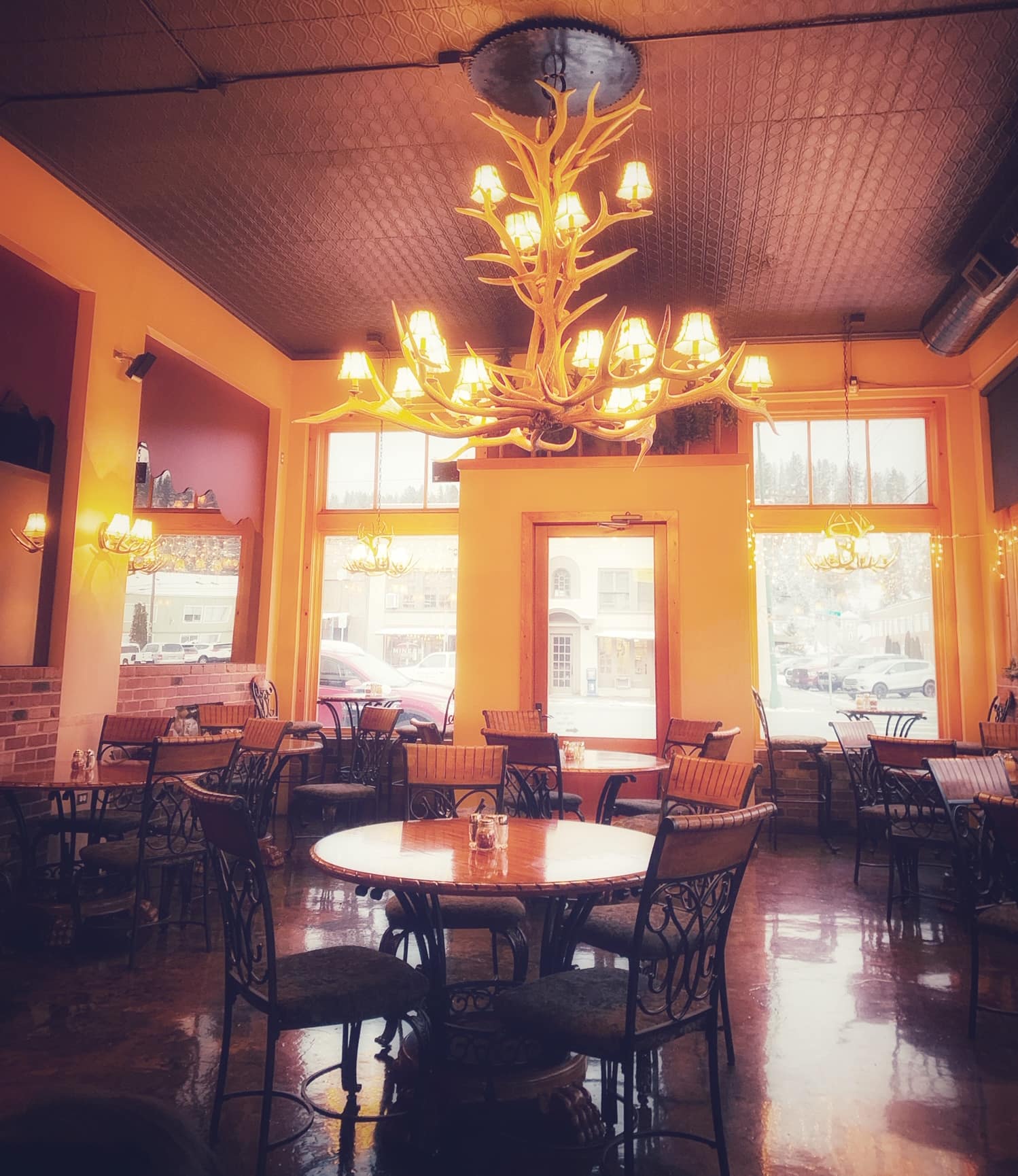 If you are looking for a great spot to eat in Cle Elum, we always stop in at Beaus. It is a tradition for us, and I am never disappointed. They serve delicious Italian food and pizzas, in a cozy dining room.
Ways To Save Money On Your Stay –
Suncadia is lots of fun, but it is not a cheap getaway. Here are a few tips on how you can save some money on your stay.
Follow them on Social Media for promotions (or check their deal page here). We booked a stay with a $50 credit included, and used that to cover our dinner one night, for example.
Book one night, but play two days. This is something we do often for our Suncadia stays. For example on this last trip, we checked in by 11 am and had a full day there, then played and had a late lunch before coming home the following day to make the most of our one night stay. Note that check in is at 4pm, so there is no guarantee your room will be ready early (but ours always has), however even if it is not you can still enjoy the grounds or one of the nearby towns.
Book a Thursday night if you can. The reasoning here is that weeknight stays are almost always more affordable than weekends, and usually easier to find openings for. However a few of the activities are only available on the weekends seasonally (like the tubing hill and waterslides). We reserve those activities for Friday morning, and do the rest Thursday. That way we can enjoy it all, but at the lower weekday rate.
Go in on a house with another family. This can bring your nightly rate down significantly, but you will enjoy beautiful accommodations.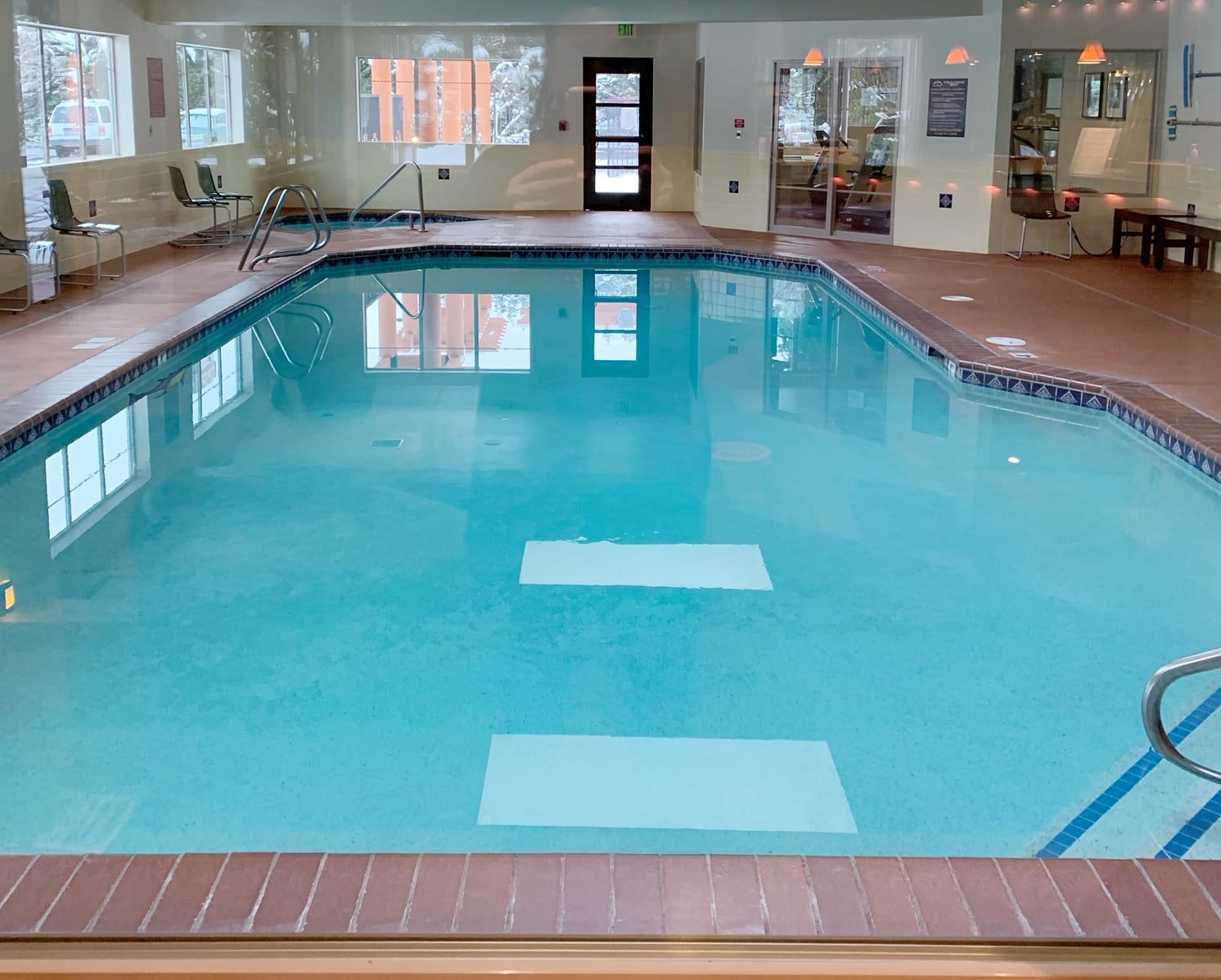 One last idea, if you really want to bring down your costs is to stay in town at a much more affordable hotel or rental, and then go over to Suncadia to enjoy their amenities. You will want to call ahead and make sure they are open to the public (for example the ice skating rink was open to the public one day a week, and the tubing hill open based on availability).
We tried this for one night to see how it would work out, and stayed at the Best Western in Cle Elum for half the Suncadia rate (remember Suncadia charges a resort fee, so be sure to factor in all the fees when comparing). This stay also came with a breakfast, and it had a pool that was pretty easy to get access too. We found this hotel very clean and comfortable, and was just a short drive from Suncadia. It is always the most fun to stay on Suncadia property, but this is another option if you do not want to pay those rates.