Indoor Scavenger Hunt for Kids Free Printable
This post may contain affiliate links and I may be compensated for this post. Please read our disclosure policy here.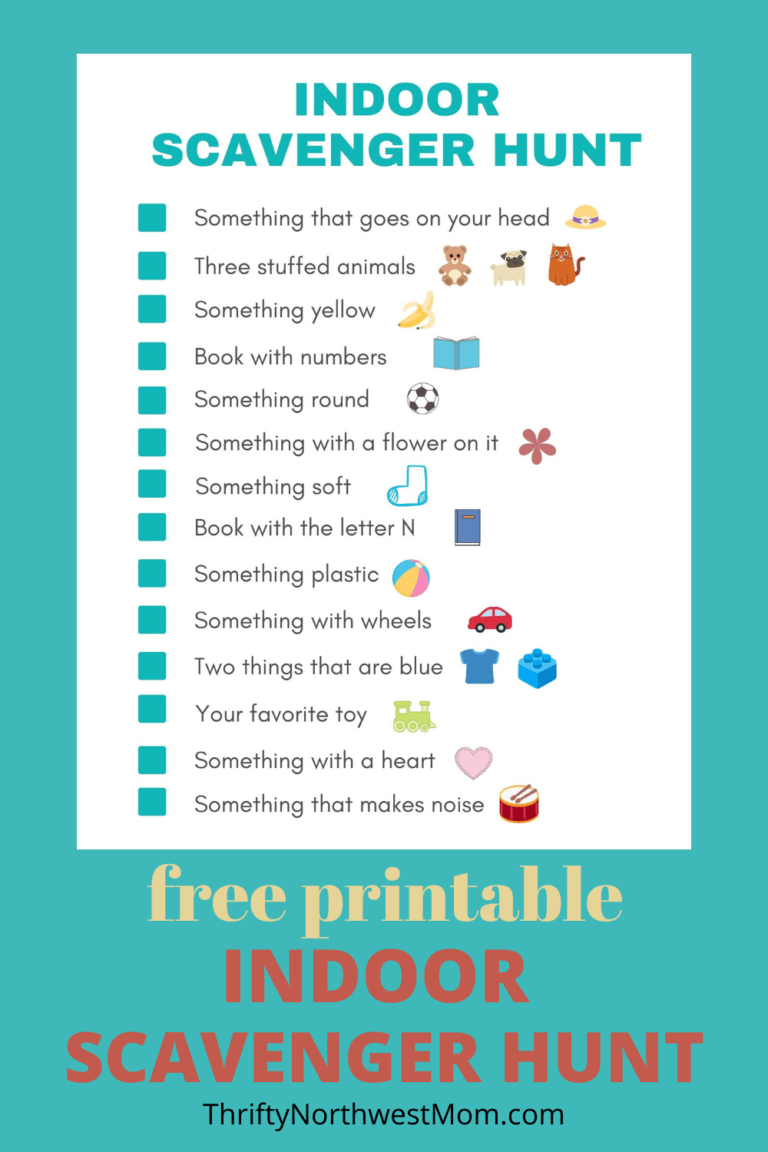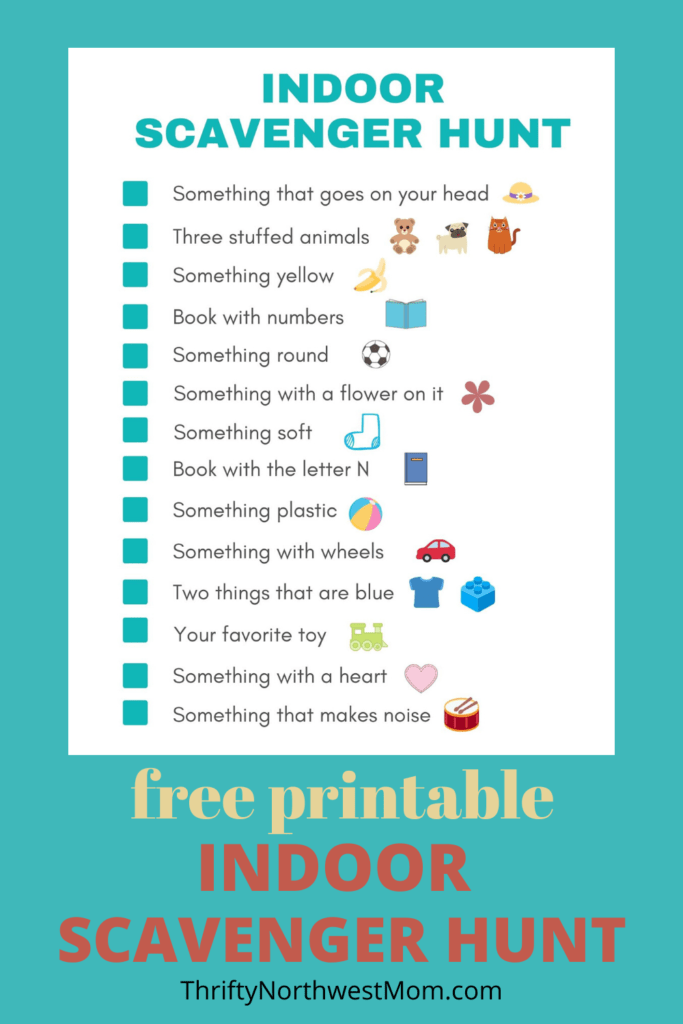 Indoor Scavenger Hunt for Kids Free Printable
With kids home from school, you might be scrambling for ideas on things you can do to keep their time occupied. A indoor scavenger hunt is a fun way to get them thinking and moving, as well as having lots of fun. You can come up with your own ideas, or we have a free pdf version of the indoor scavenger hunt for kids, shown above, that you can print out here and it is ready to use – already full of indoor scavenger hunt ideas! You can also use this one as a guide, to make one that is customized to items you might have in your home (or make it tougher for older kids, or easier for younger kids).
Some Ideas To Use for This Indoor Scavenger Hunt:
Team Play or Individual Play: 
Decide if you will play in teams, or as individuals. Then print out one set of scavenger hunt clues per team or individual player here.
Add Treats To the Hunt: 
An idea to make the stakes a little higher for the Scavenger Hunt is to hide some kind of treat (ie, a piece of candy, or a dollar bill, etc) for each clue. So for example, hide a piece of candy under one of the hats in your house. If you have three kids playing, hide one under 3 different hats, and so on. This way it makes it harder for the kids. If they are looking for a specific hat with candy under it, verses just any hat in the house, it will take them longer to complete the scavenger hunt and make it more challenging (and more rewarding if they get to keep the treats they find along the way too).
Take Pictures (and Finish with an Art Project):
Traditionally, kids would collect the items as they find them on the scavenger hunt, and bring them back as proof .One thing that I find the kids like to do with scavenger hunts, is to use a camera or phone to take pictures of the items they find as proof. Phones are an easy no cost way to do this (just have them snap a shot as proof they found it). Another idea is if you have an instant camera available. My girls have the Instax, and so they will take pictures of the items they found during the scavenger hunt and print them out. After the scavenger hunt is over, we can turn it into an art project by having them make paper bag scrap books with their images of the scavenger hunt.
Finish with a Bang:
Have a puzzle or final clue ready for when kids have finished the scavenger hunt. Require them to solve that last clue, for a prize. Prizes can be treats like we listed above, or they could be things like a day off cleaning their room, extra free time, etc.
Have the Kids Create the Next Scavenger Hunt:
Now that they have the idea of how this works, sit them down with some paper and art supplies, and have them create the next scavenger hunt for the rest of the family to do!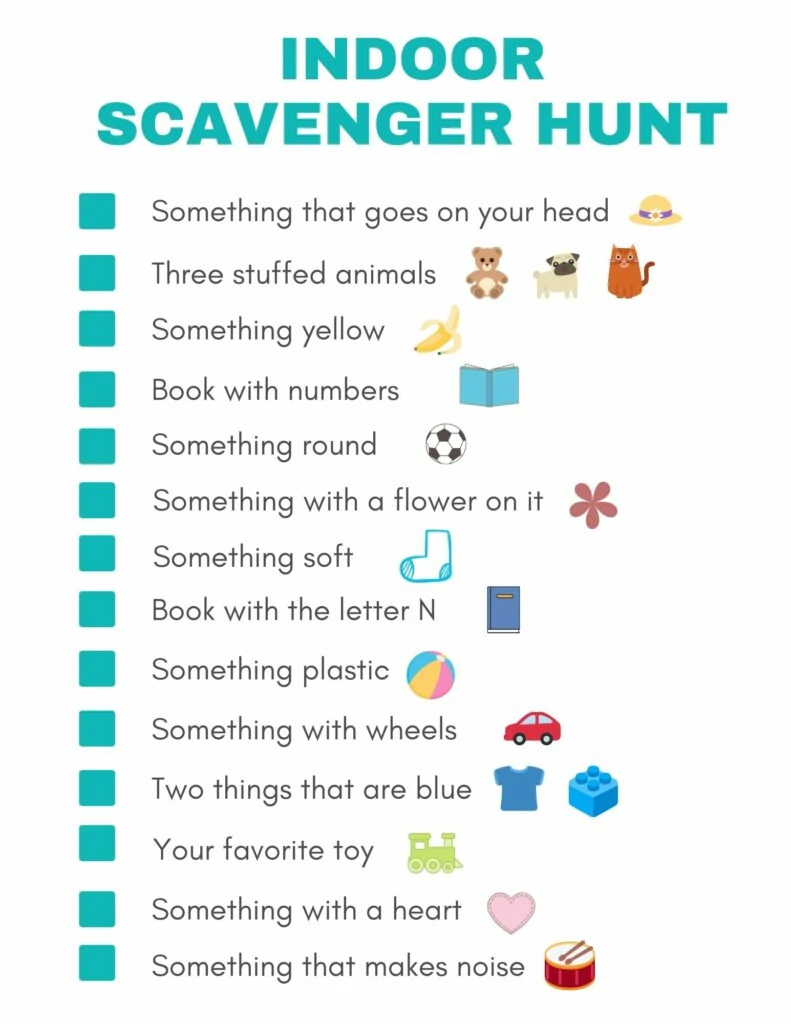 Move to the Backyard with this Outdoor Scavenger Hunt Next:
If you are looking for an outdoor version that kids can use in the backyard, to get some fresh air check out this one from Thrifty and Thriving here.  She offers a free printable version of an backyard outdoor scavenger hunt your kids are sure to love.
Other Articles You Might Like:
DIY Backyard Games on a Budget