Zoos in Washington & Aquariums – Where To See Animals (Petting Zoos, Reptiles, Kangaroo Farms & More)!
This post may contain affiliate links and I may be compensated for this post. Please read our disclosure policy here.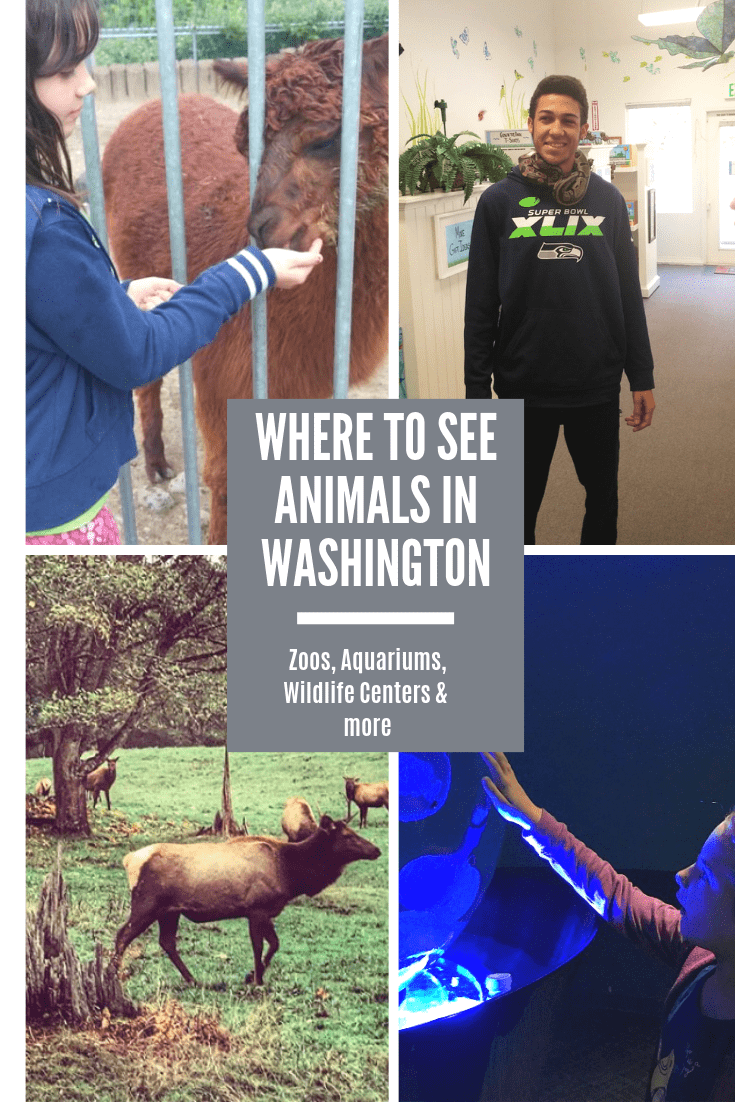 Zoos in Washington & Aquariums – Where To See Animals (Petting Zoos, Reptiles, Kangaroo Farms & More)!
My son loved animals growing up, so we made it our mission to hit as many spots that we were able to get him close up with the creatures he loved. We visited zoos in Washington, aquariums, reptile and bug museums, petting zoos, natural habitat spots, and more all over the state (and all over the country). Although we loved to see these spots wherever our travels might take us, we quickly learned how rich our own state was in terms of places to enjoy animals, and the best part is that there is someplace for you to explore regardless of budget.
Do you have an animal lover in your family? If so, there are many places to get up and close to enjoy animals here in Washington. You will find everything from some larger zoos and aquariums, to smaller locations like petting zoos, reptile zoos, Kangaroo farms and more. You will also find that they range in price, starting as low as FREE!
Here are some of our favorite spots to visit, that you may enjoy ,too, if you have animal lovers in your family! Let us know if you have a favorite spot we missed, so we can be sure to share with others.
Zoos in Washington:
Woodland Park Zoo
The Woodland Park Zoo is the largest and most well known zoo in Washington. It has some great parks included within the zoo, as well as many fun animal attractions and a petting zoo  (and a very cool indoor play area for kids). We had a annual membership for many years, and the kids and I never got tired of visiting. There is a food court so you can enjoy either a packed lunch or purchased lunch. They are also part of the reciprocal program, so if you are a member, you can use that membership to get free entrance into other zoos as well.
Find ways to save here. The Entertainment books are also another great way to save on Zoo tickets (buy one get one free coupon is included) or you can find the on Groupon here sometimes too.
Pro Tip – Head to the left when you enter. It seems most folks head to the right, so if you start your zoo adventure going to the left you may avoid some of the crowds.

This is the second largest zoo in Washington, and also has a recently redone aquarium (which we will share more about below in aquariums). I love this zoo, as it is not as large or crowded as the Woodland Park zoo, and it includes the aquarium. There are peacocks that roam freely, a carousel and fun kids playground, as well as daily shows. My favorite exhibit has always been the polar bears here.
We have a full review of this zoo and aquarium, as well as ways to save here, to plan your visit.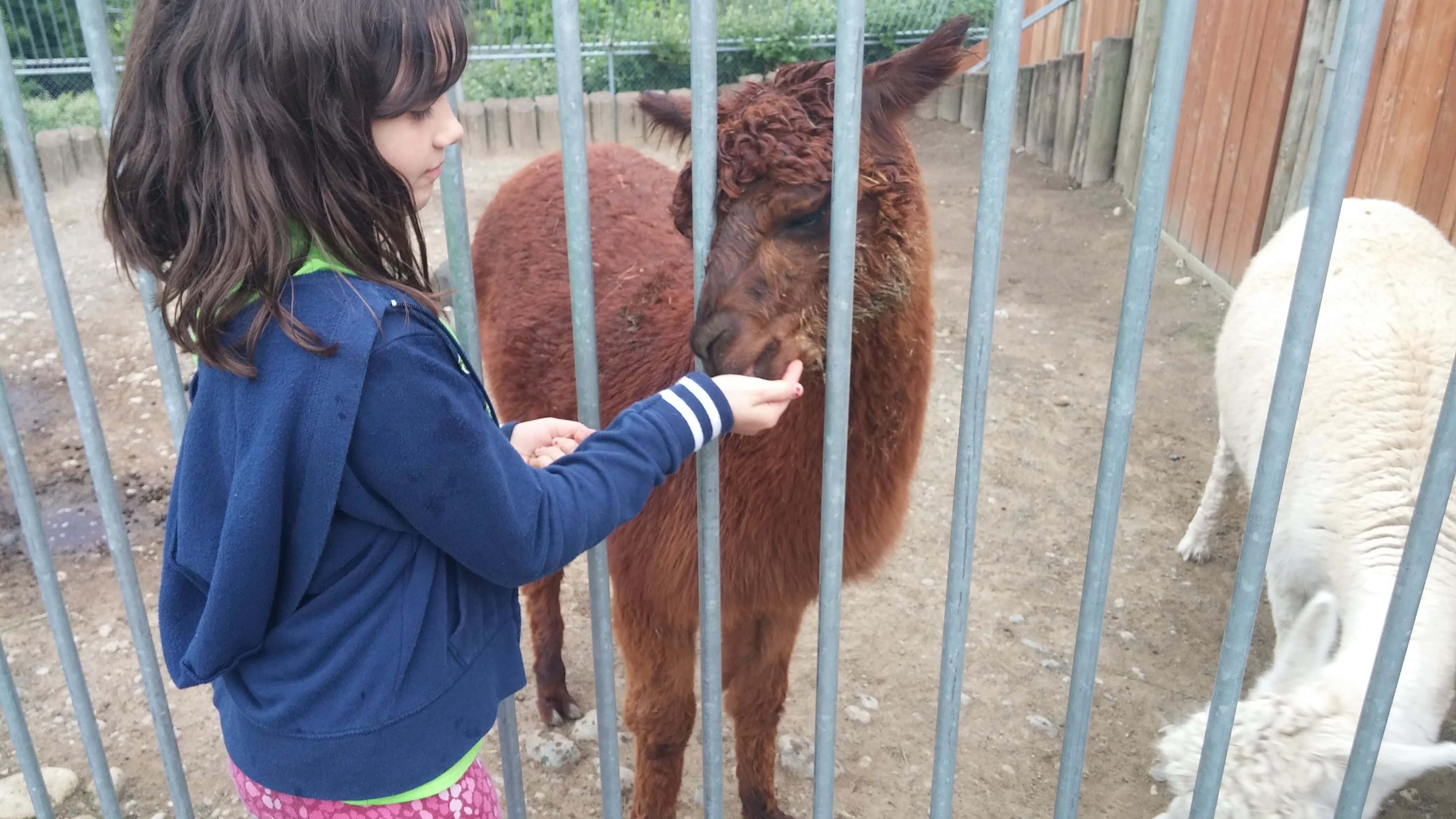 This is a small zoo located in the Issaquah area. It is not like a typical zoo with larger exhibits, but you will see many of the cats up and much closer than you do at the other two zoos mentioned. One of the pros of this spot is that the crowds are much smaller. You can get up and close to some of the animals (that is one of my kids feeding the animals above – be sure to bring your quarters for the food machines), but it is much smaller then the other zoos in the area. They do have a very popular Reindeer Festival during the holiday times.
Be sure to check out the Springfree Trampoline store nearby too. Kids can jump for free when you visit!
Aquariums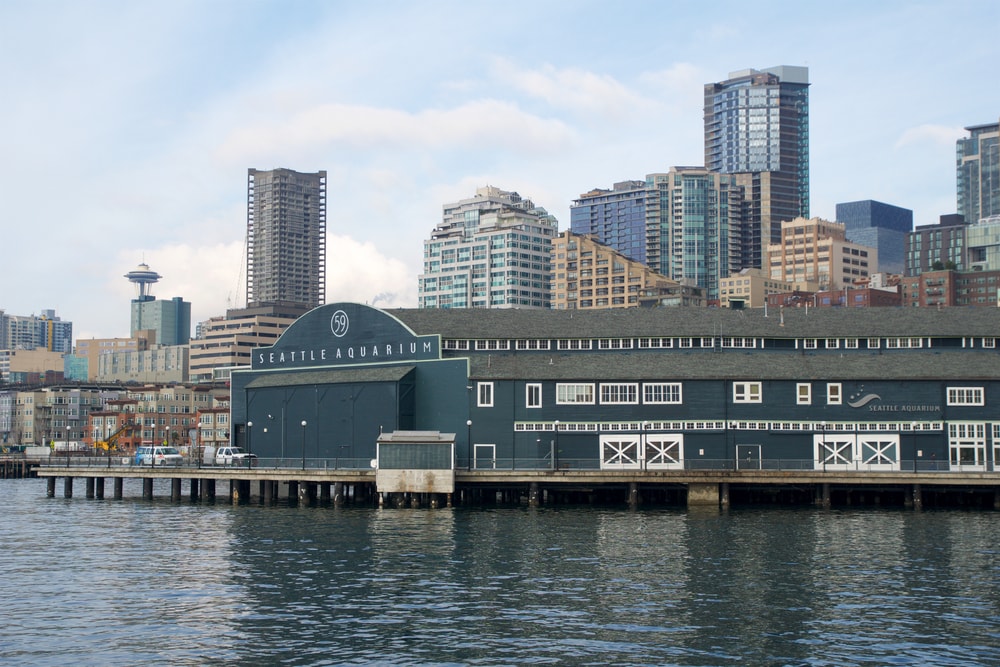 This is another spot that we used to have an annual membership, as it was just fun to visit then spend the rest of the day down on the Seattle Waterfront having fun. There are great otter exhibits, hands on exhibits for kids to get their hands wet, and seasonal events. My kids favorites have always been the otters and the octopus, but it is a great day of fun, especially if you combine it with everything else there is to explore on the Seattle waterfront.
Be sure to check out our review on Wings Over Washington, which is another attraction near the Aquarium you can check out.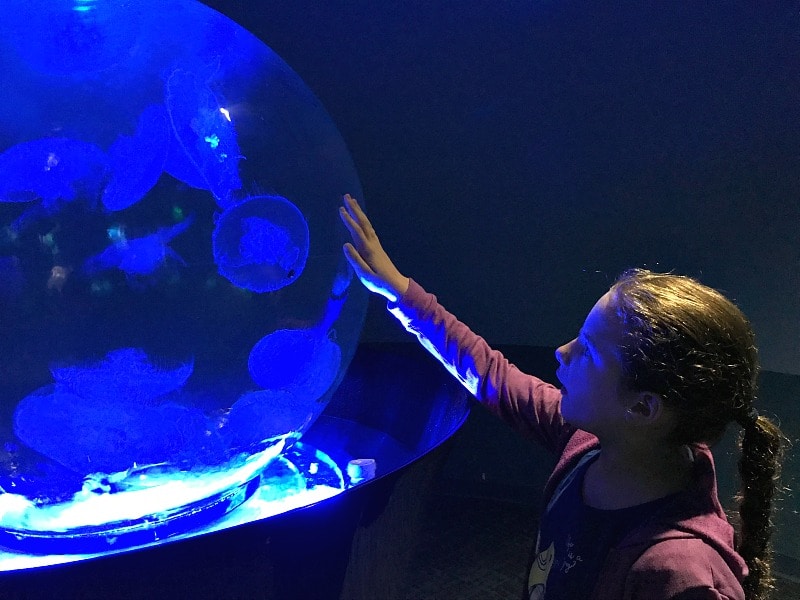 The Point Defiance Zoo recently went through a nice remodel for their aquarium. One of the perks of this spot is that you also get access to the zoo with entry, so it is a great day to both enjoy the zoo and aquarium. We have a full review here.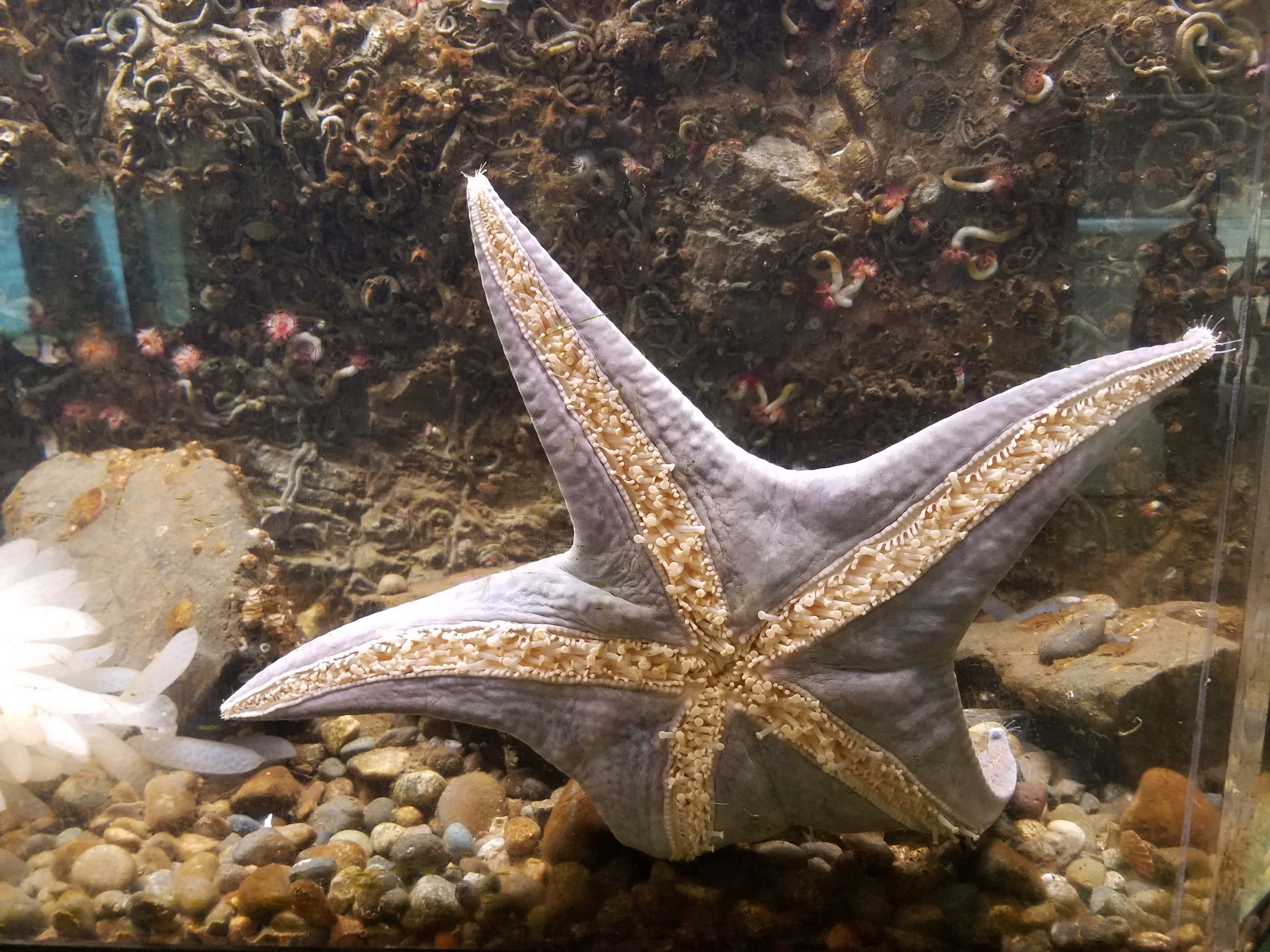 This is a small and free aquarium, open on the weekend. You can read more about it in our review of our South Sound Staycation here and our Seattle Southside guide.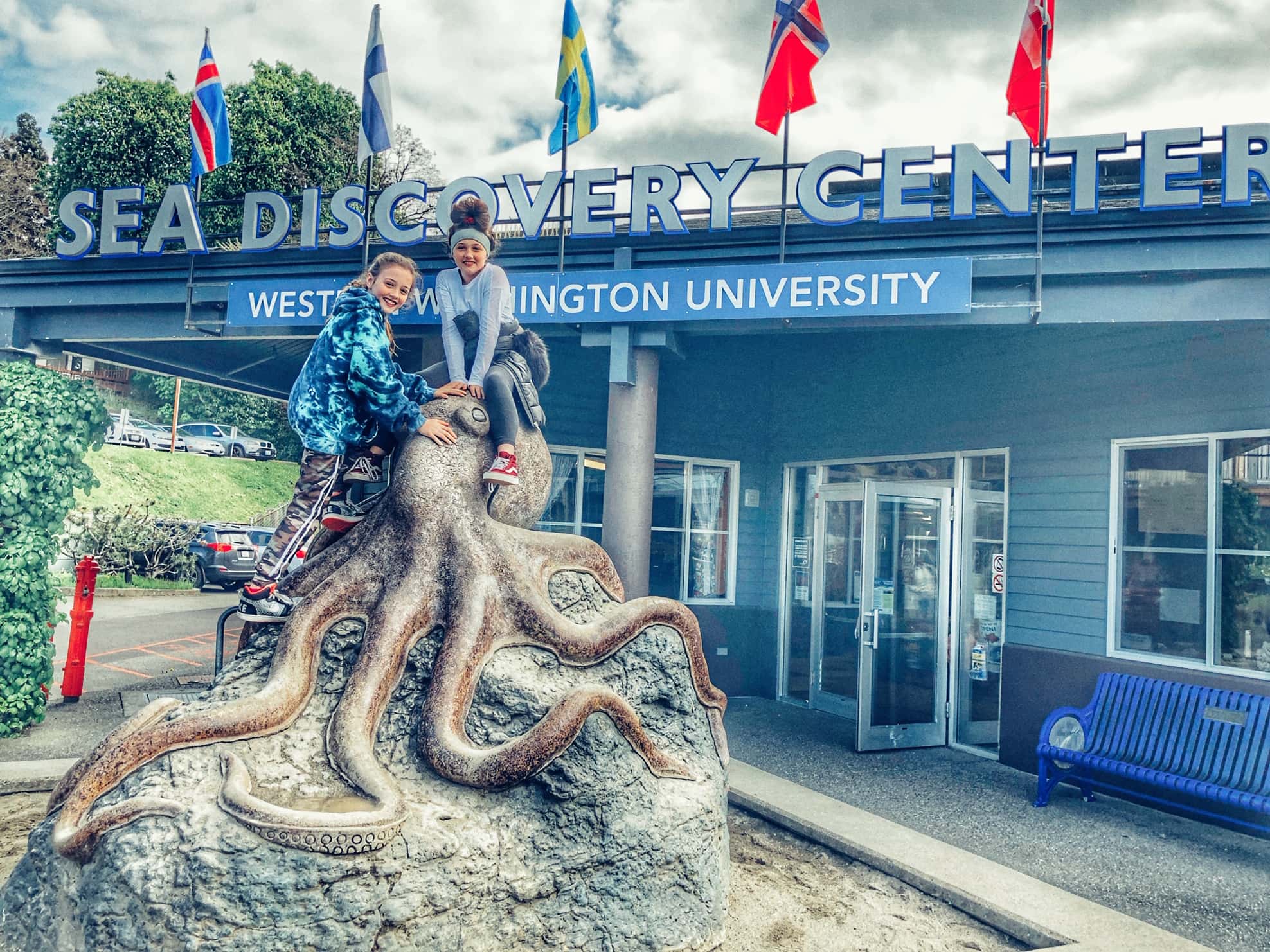 The Sea Discovery Center in Poulsbo is on the smaller side, but it is free and you can combine it with a visit to explore Poulsbo at the same time (see our review of a day trip to Poulsbo here). Kids can touch sea urchins and star fish, as well as explore the beach in a real life habitat too.
Foss Waterway Seaport Museum in Tacoma includes Critter Touch Tanks, where kids can reach in and feel starfish, sea anemone & other sea creatures. You can find ways to get in here for free in our review post here. 
Drive Through Parks to See Animals In Natural Habitats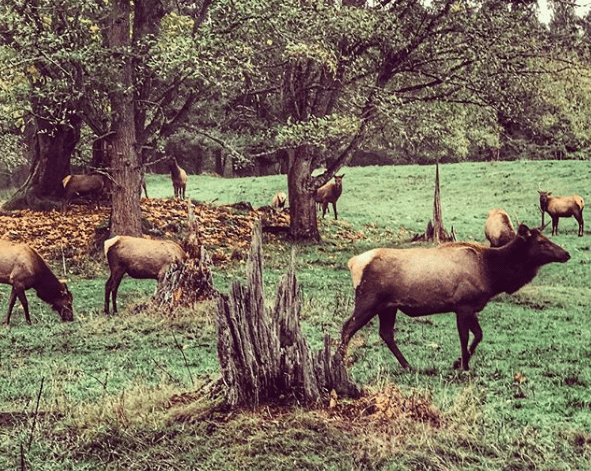 Northwest Trek is a wonderful spot to get out and see animals roaming in their natural habitat. You can take a tram tour throughout the grounds (included with admission) and see lots of different animals. It is such a wonderful opportunity to enjoy the outdoors in a setting where you are bound to see wildlife.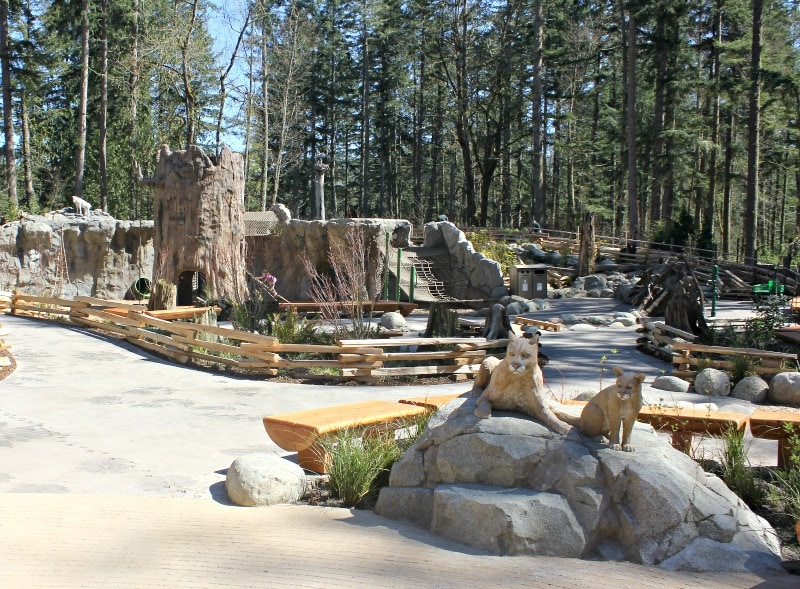 They also have a very cool park for kids to enjoy, and zip lining is available for an extra fee.
The Olympic Game Farm Park is a wonderful spot out in Sequim, that is definitely worth the trip if you love wildlife! This spot is one that you go on a drive through tour in your own car, and are likely to see large animals like bears, cats and more. My kids love this one, as they have seen some pretty large animals roaming about as well as coming up to our vehicle – which is pretty exciting. It includes mostly wildlife that is native to the Northwest, and in addition to the self guided one hour drive through tours, there are seasonal walking tours, and a few spots where you can see animals in their enclosures too.
Bug & Reptile Zoos in Washington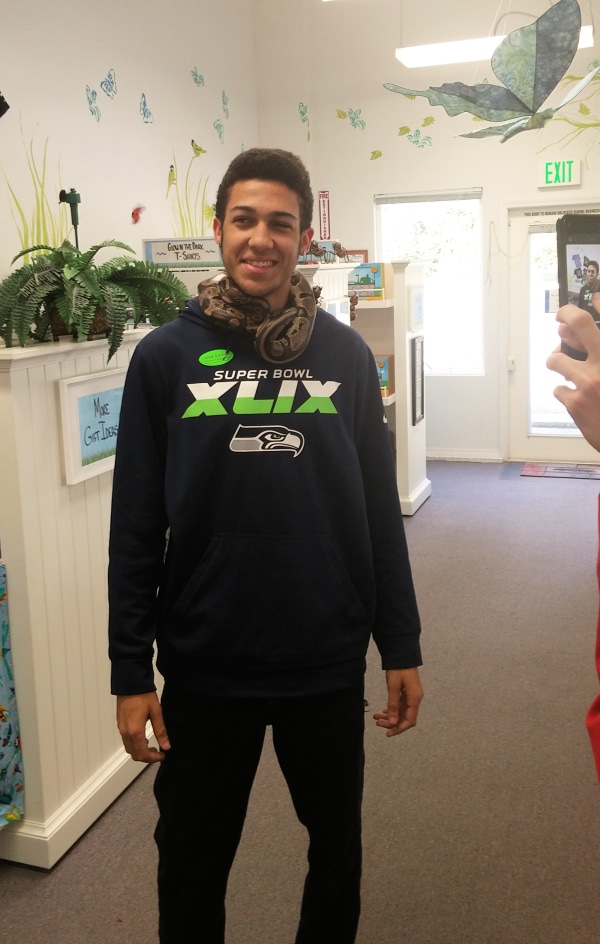 We share a full review of this spot here, but it is a fun (and free) small bug and reptile museum, that offers a scavenger hunt for kids, as well as times that they can get up and close with some of the snakes. My kids love stopping by here, whenever we are heading to the Peninsula. You can find a review of towns to visit in the area here if you want to make a day trip out of this one.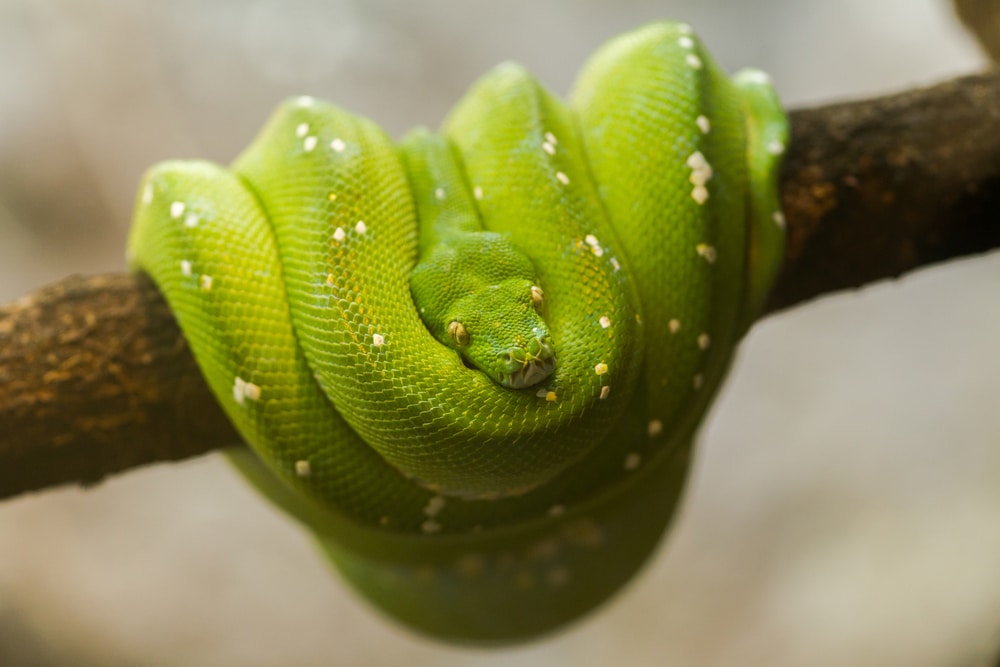 This was one of the first reptile zoos we ever visited, years ago when my son was just a pre-schooler. It has grown quite a bit since that time, and is home of the well known Reptile man (you will find him showing off creatures at many local events). You can find discount tickets on Groupon here for this spot.
Petting Farms , Wildlife Centers & Other Animal Parks in the Northwest

We have a full review of our trip out to this farm here, but we just loved this spot! The kids got to kiss lamas, pet kangaroos, and much more. You pay a small fee to get in, then you go on a group tour to see all the animals.
There are close up interactions with most of them. The experience probably took us just over an hour in total, but you can bring out a picnic and enjoy it on grounds too. We combined our trip with some stops at nearby Snohomish farms to pick our own vegetables, and made a day of it.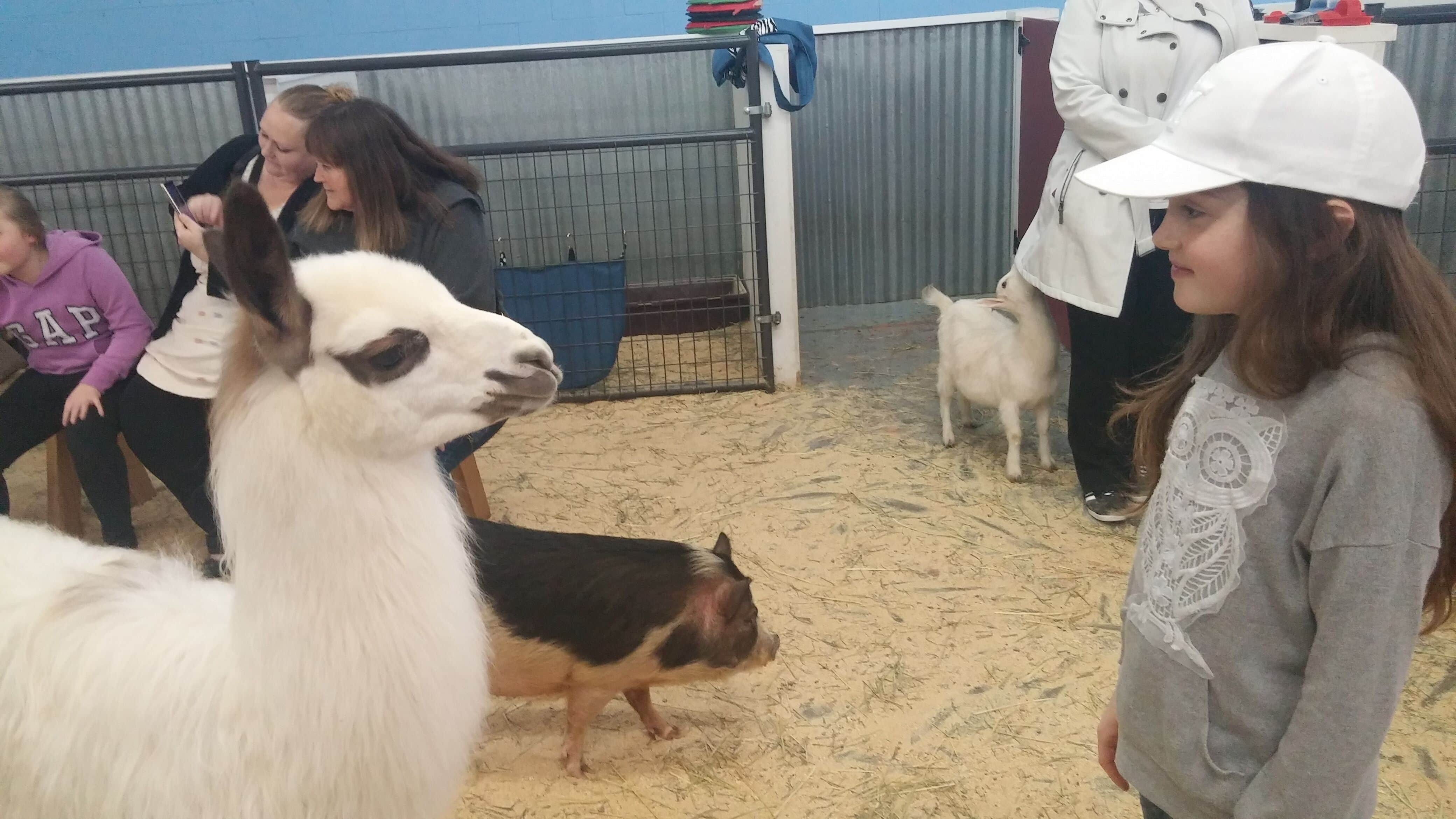 This spot is not large, but is very interactive. The kids can pet lamas, hold bunny rabbits and snakes, and you can buy a cup of food to feed the animals (in which case they will harass you until you feed them, it is lots of fun).  They have added a sloth, and more up close and personal animal experiences as well. And recently, even added an arcade to their party room. They also offer pony rides during select times. This is another spot that pops up on Groupon from time to time.
Thanks to reader Samantha for the heads up on this cool Wallaby ranch, where you can get up close & personal with the wallabys & kangaroos and learn quite a bit of information from the owner. They do offer group tours with 5 or more people, but if you have smaller groups, it says they will pair you with other people to form a larger group.
Right now you can get a discount admission on a private petting farm experience or 4 at the Redmond Petting farm. Find the details on this offer here.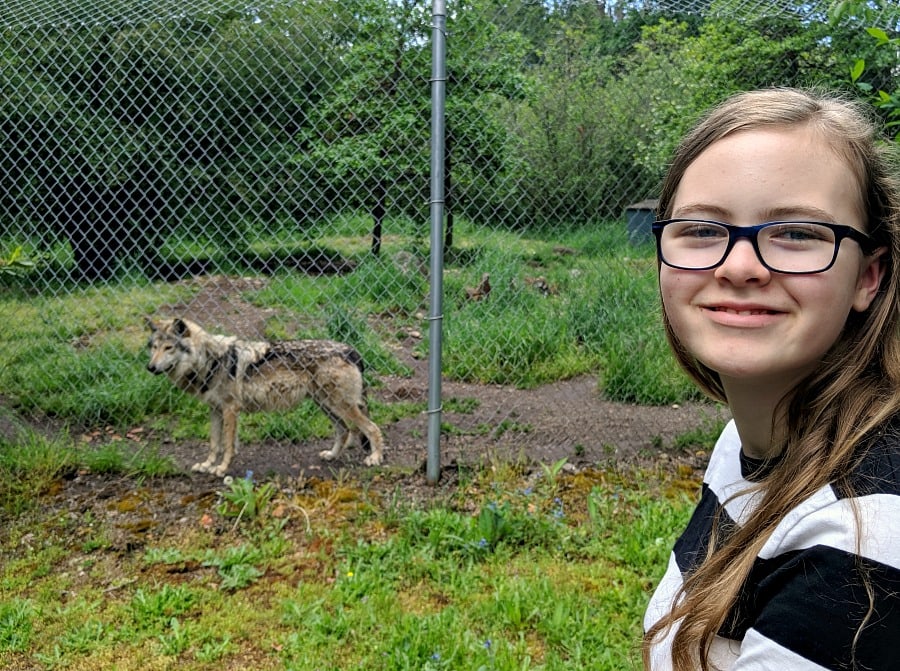 Wolf Haven is located in Tenino, not too far from Olympia and it is a wildlife sanctuary for displaced wolves born in captivity.  They do offer limited 50 minute tours of the public space of their property to see some of the wolves up close. We had the opportunity to visit for my daughter's 13th birthday as she loves animals & had requested for her gift to "adopt" an animal, where you can provide money towards the care of a wolf and learn about the wolf as part of the gift. So we went to Wolf Haven so she could see her "adopted" wolf on the tour and it was a great opportunity to see the different breeds of wolves. We learned not only a lot of information about wolves on the tour, but we also learned about the important wolf restoration efforts that are happening in the Northwest as they work to protect the remaining wolves in the wild & their habitat, so it's a great educational tour.
The Tahoma Vista Fiber Mill is located in Yelm & it currently has a Groupon offer available right now. You can get a guided tour for up to 5 people for $26 or a guided tour for up to 10 people for $52.50. This tour is an hour & a half long with a sweet couple who have an Alpaca farm on their property,  as well as a fiber mill in their garage. You will meet, greet & feed the alpacas for 30 minutes & then you will spend the rest of the tour learning about the process of using their wool to turn into fiber & beautiful products. At the end, you can then see all the products they have created in their store. We did this tour with friends with this Groupon offer and had fun meeting the alpacas & learning about the process for creating the beautiful Alpaca wool products.
You can get a deal to visit this farm on Groupon here. The tour of the farm, will provide visitors opportunities to learn about the farm's alpacas, feed them by hand, and see products made from alpaca fiber. If you're an Alpaca fan, this is a fun one.
Opportunities to view pet and feed animals at this spot as well bouncy houses sometimes, smores sometimes and more. Best part is that it is just a $5 admission fee too! Open weekends only.
This place is free to enter (some things fee based). Kelsey Creek Farm is set back in the Bellevue area with beautiful green hills, and a playground and walking trails. Kids can get up close and pet bunnies, goats, chicken cows and more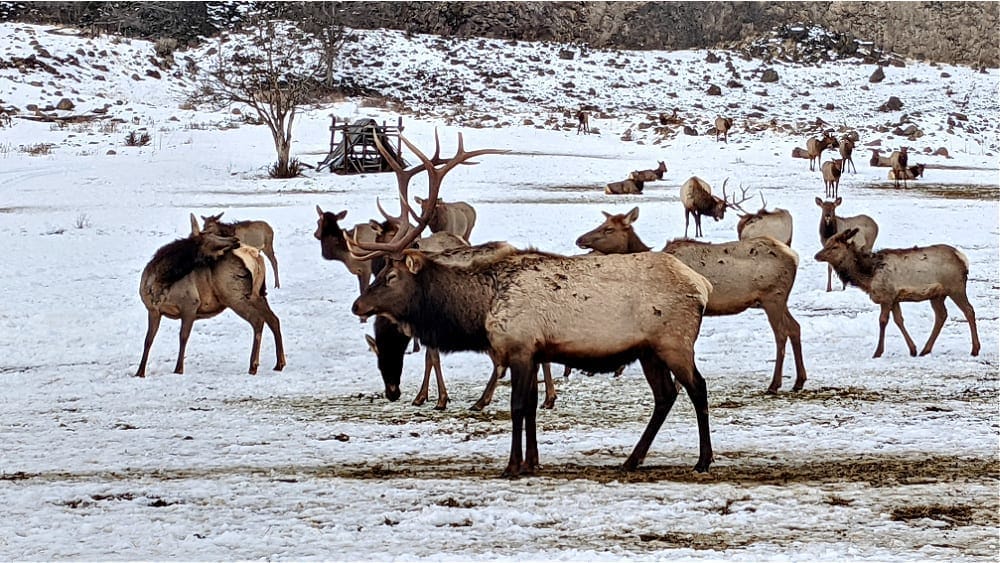 If you are looking for a truly unique experience, watching the feeding of the elk & bighorn sheep during the winter in the White Pass / Naches area of Washington is such a fun close-up view of these animals in the wild.  The feeding stations are located on the eastern side of Mount Rainier, but only accessible by Highway 12 coming from White Pass or Highway 12 north coming out of Yakima & up into Naches.
Located in Redmond – this park provides free access and their is a kids farm where young and not so young can visit goats, chickens, bunnies, sheep, cows and more!
This one is in Issaquah, and is full of lots to do for little ones and families. You will need to pay to get into Fox Hollow Farms, but if you have younger kids, it is packed full of fun for them. Not only are their animals for the kids to pet, there are also pony rides and some other fun things to do (like John Deer tractor rides – the small ones for kids, not real tractors, inflatables to jump in and more. It is set within the beautiful backdrops of the mountains, and is really a beautiful area. Parking can get congested on the weekends, so get their early. Our favorite time to visit is the Fall, with them have festivities going on to celebrate the season (like a barn with hay you can swing into, corn and more). They do have lots of events and fun happening all year long though (summer is beautiful there too), so if you want to splurge on a fun packed day with the kids, check this spot out! You will want to be sure to get your tickets ahead of time online, as they limit the number of entries and often sell out (meaning no walk ins allowed on those days).
Remlinger Farms is a farm with lots of family entertainment & rides, but they also have a big barn full of farm animals. You'll see everything from sheep, alpacas, chickens, rabbits, pigs, goats, donkeys & more. Watch for Group0n deals for this farm as it can be a bit pricier to visit since there are so many activities at the farm.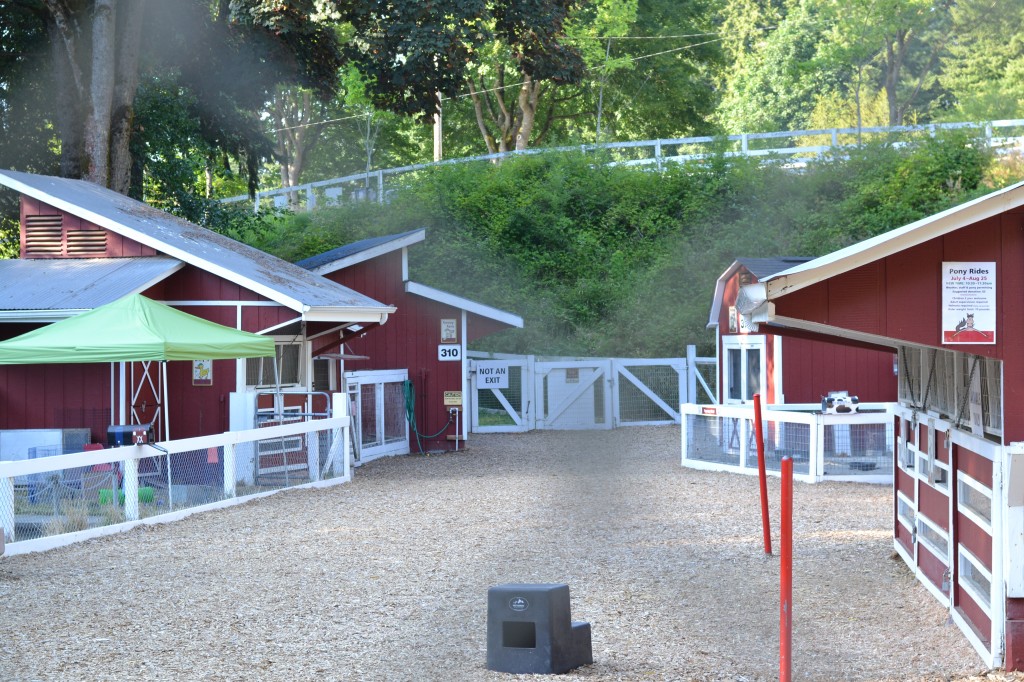 As part of the Forrest Park , there is a free petting zoo where you can see animals, chickens and other small farm animals. Enjoy the petting zoo and the park here (including  a spray park)! Find a full review of Forrest Park here to plan your visit.
This is a small but free petting zoo you can see and touch the animals up close! here you will find chickens, goats, peacocks, sheep, geese and ducks. Plus, not only can you grab some fresh produce from the stand while you are there, but you can head across the street to enjoy a stroll through Flower World too (one of my families favorite nurseries since I was a young girl). The nursery is enormous, and worth strolling through even if you are not in the market to buy flowers.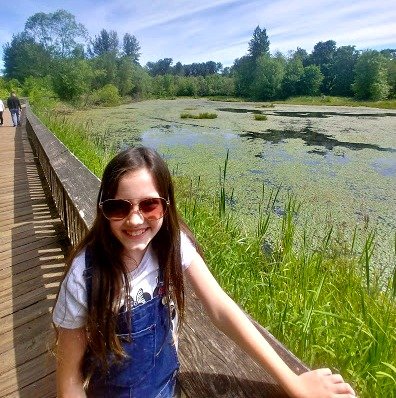 For entrance into the park, the cost is $3 for every 4 adults.  Children 16 & under are free. You can also use an Interagency Annual Pass, Senior Pass or Access Pass, as well as a National Park pass (if you have a 4th grader get one for free here). This spot is not one where you are going to see traditional farm animals, but there is lots of bird watching, and we ran into some snake and turtle sightings too. It is set up on a nice boardwalk, so it is beautiful and relaxing. It is a great stop off  1-5 if you're on a longer trip and want to get out and stretch your feet.
This spot is just outside of Leavenworth, so if you are heading over there for a getaway it could be a fun one to visit. It was the winner of Best Roadside Attraction in 2022's Best Northwest Escapes viewer poll too! This spot is on the river at a private ranch, and the Sleeping Lady mountain is your backdrop – so it is beautiful. They rescue animals here, so you are also supporting a good cause and getting access to pet and visit with a number of different types of animals through their hour-long guided tours, where you also learn what it takes to care for rescue animals.
Head out on a guided tour around the Wild Felid Advocacy Center in Washington, led by a professional – Enjoy a tour that is ideal for the older crowd, with conversations that are tailored to adults and mature children – Meet the animals that live here as you learn about their species, individual stories, and how they are cared for
Blue Zoo in Spokane
This is an interactive aquarium, but also includes things like birds and reptiles too. Find more details in this article here.
This is Spokane's Wildlife Rescue and Eco-Zoo.
Did we miss any of your favorite aquariums or zoos in Washington – or any other spots you love to view animals? Where are your favorite spots to view or interact with animals in Washington?
More Articles You Might Like
10 Unique Parks In Washington State to Visit!
Get Out Pass Washington – $60 Off (Includes Wild Waves, Family Fun Center & More)!
Weekly list of Fun and Frugal Family Events