Kids Trek at Northwest Trek – Nature Themed Playground Kids Will Love!
This post may contain affiliate links and I may be compensated for this post. Please read our disclosure policy here.

Kids Trek at Northwest Trek
Northwest Trek is a favorite destination among locals and tourists alike, especially with its close proximity to Mt Rainier National Park, Paradise Entrance. It's about 45 minutes distance from Northwest Trek in Eatonville to the park entrance. But, from the amazing views of the mountain as you get close to Northwest Trek, you realize it's so much closer as the crow flies. Even within Northwest Trek, you get beautiful glimpses of Mt Rainier peaking out above the hills. We have loved Northwest Trek for years & had a membership the last few years as it is a family favorite to visit to see all the wildlife up close & personal. The featured activity at Northwest Trek is the Tram Ride, which is a 50 minute long ride through the free roaming area to see native Northwest animals in their natural habitat. You get an up close view of bison, bighorn sheep, mountain goats, elk, moose, & more! Plus, you'll find more Northwest native animals on a walking tour around the park, such as grizzly & black bears, mountain lions, beavers, owls & many other animals.
They even have zip lining at NW Trek, if you are really looking to make a day of adventure out of it!
Kids Trek Playground Review: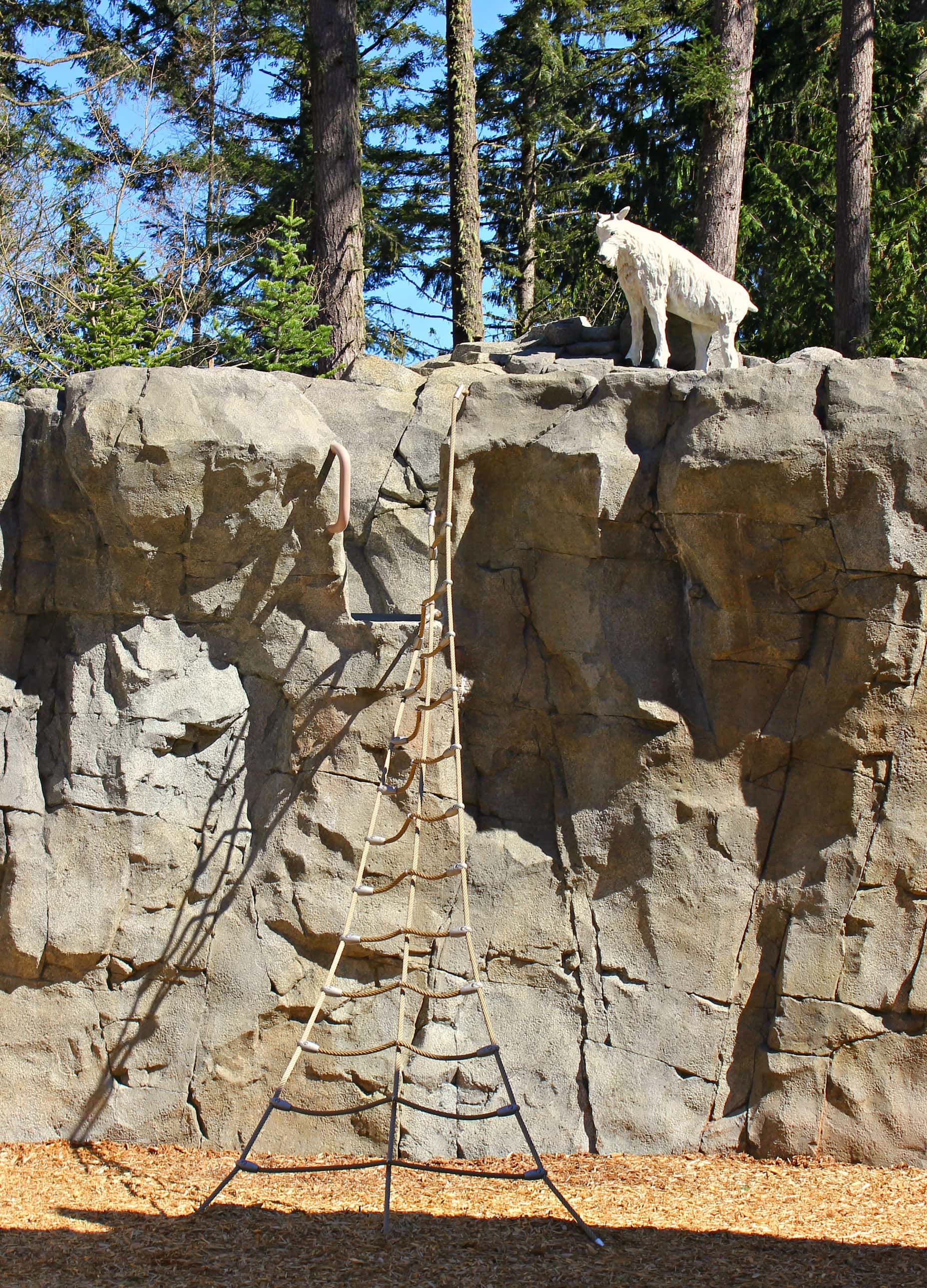 Well, now Northwest Trek has gotten even better than it already is with the addition of the long-awaited Kids Trek playground for kids. Kids Trek is a $1.9 million, half acre playground that has been in the works for many years. It is a nature-based playground & adventure area for kids ages toddler to tweens.  There is no additional cost for Kids Trek – admission to the playground is included with your Northwest Trek paid admission.
We had the opportunity to check out Kids Trek with a couple friends so we could share with you a little about it,  in case you're wondering what it's all about & whether you should make a trip out there soon!  If you are debating it – let me tell you, this is a must-visit destination if you have kids!! I can honestly say that this is definitely the best playground I've found in the South Sound for kids (& maybe in Washington). It is huge – it covers half an acre, making it one of the largest playgrounds in Washington.  It is full of so many different activities that all ages will enjoy – from kids who love quiet activities of building forts & playing in the sand to those who love adventure & climbing ropes, swinging down poles & more. We were there for a short visit yesterday, but my girls honestly could have spent an hour or two there. They can't wait to go back & are already talking about the areas they want to spend more time in.
What I love is that Kids Trek is a very unique playground, very different from most playgrounds you will visit as they really tried to stay true to the nature of Northwest Trek park.   The design of the playground is to  teach kids all about nature and foster imaginative play, while having fun as they explore the different areas of the playground. All of the materials are very realistic-looking and they incorporated many native plants (even ones that were transplanted with the construction of the park & replanted), downed trees from the Free Roaming area of the park to create benches and tree stumps to jump on, large rocks from around the park & more. Along the paths, they have leaf imprints & animals tracks for kids to try to identify which animal the tracks belong to – so many little touches like that to foster learning & curiosity about nature as the kids play & explore.  This is truly an environmentally friendly play space that kids will love and learn more about wildlife & nature thru play.  It is also ADA-accessible so that children of all abilities can enjoy this playground.
Here are just a few of the kids' favorite places in the Kids Trek area. As a mom, I appreciate the fact that even though it's a large play space, there is just one entrance into the Kids Trek – so there is only one way in & out. Most large playgrounds are not set up this way but I think this is a very important safety feature.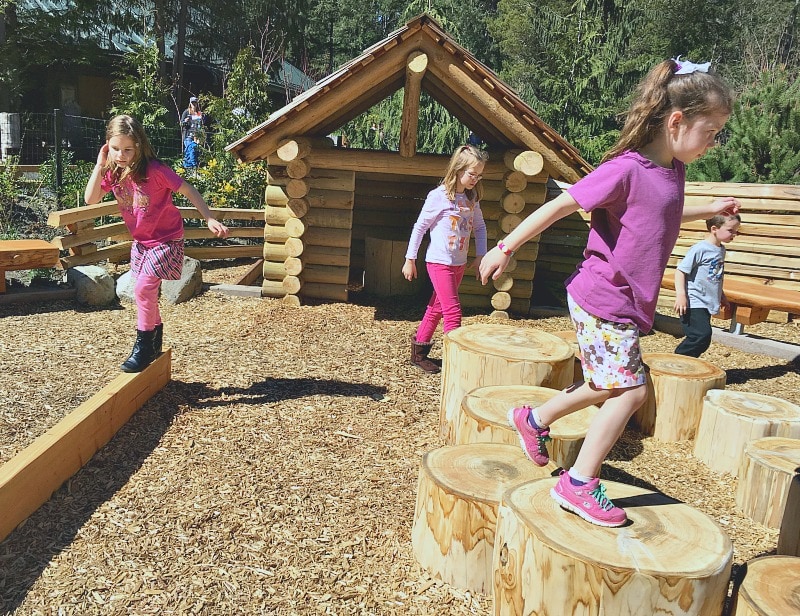 Toddler Zone – There is a special area that toddlers & preschoolers will love (as you can see big kids love it too). It is an area with two log cabins & benches inside as well as balance beam and the popular tree stumps to jump on (which were a popular spot for kids to play before Kids Trek arrived). Not only does this area have wood chips, but underneath the wood chips there is an extra layer of padding to provide some cushion for the little ones if they fall.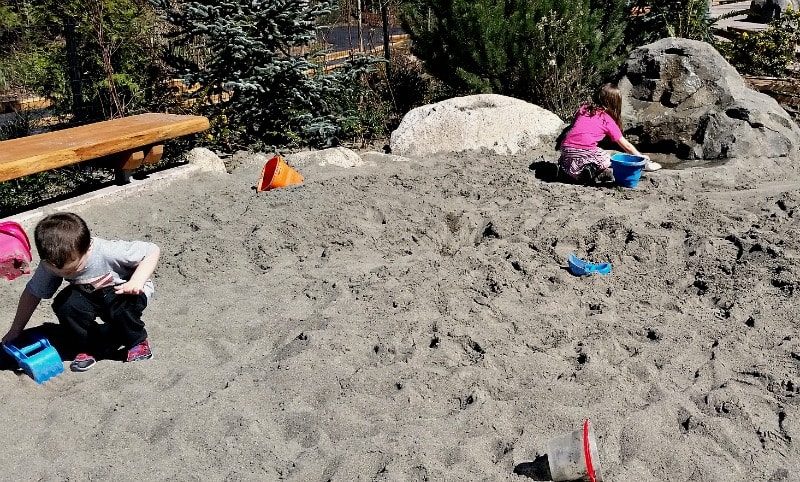 This  sand play area with shovels & buckets will keep the little ones busy building and they can use the "weeping" rock for wet sand for better sand sculpting. This picture only shows a portion of the sand area – it is huge so plenty of room for lots of kids to enjoy this area!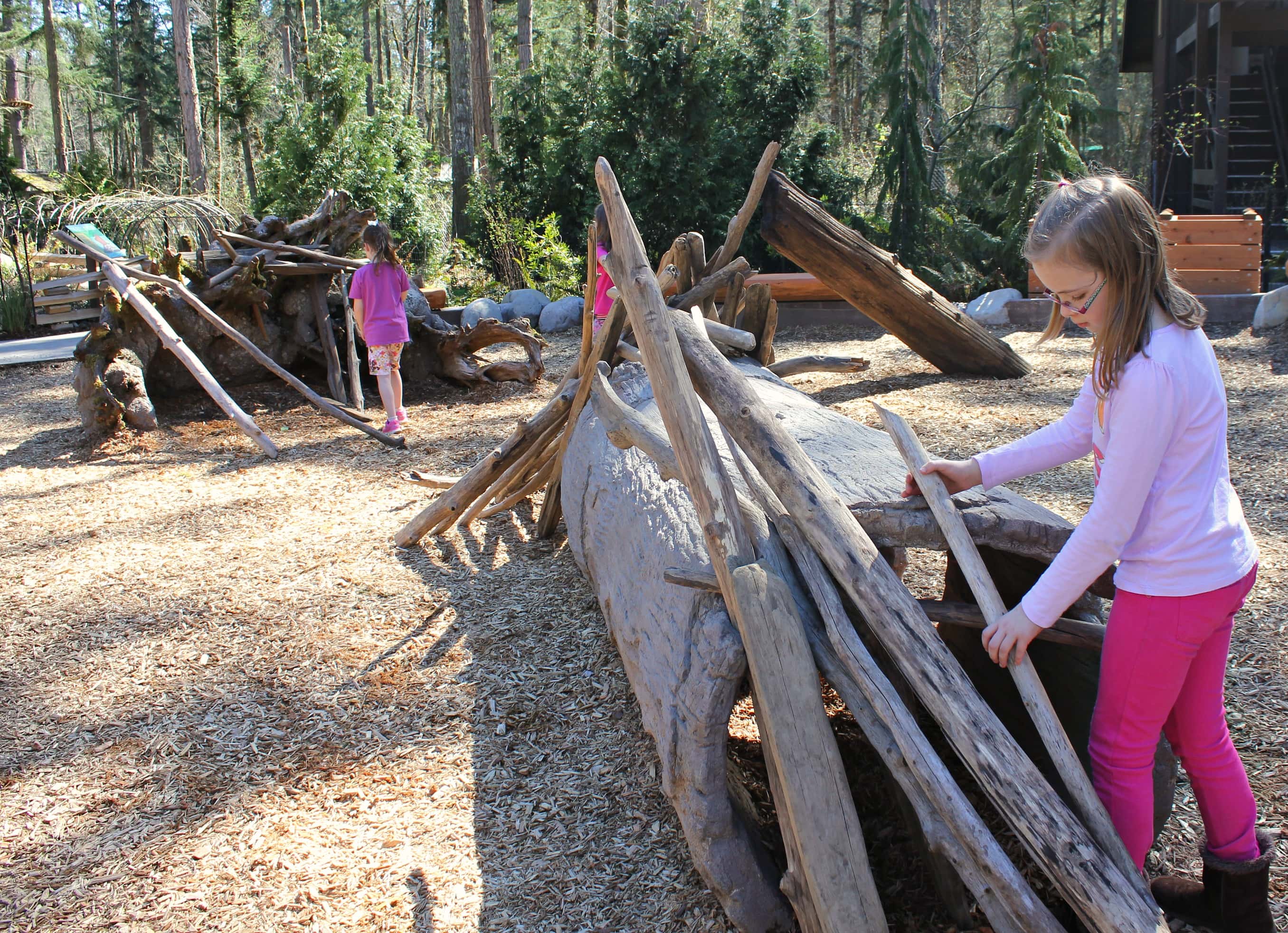 Root Wad Cave & Hollowed Out Tree Tunnel  in "Construction Zone" – There is an actual root wad that they have reinforced with building supplies to make it long-lasting as well as a hollowed out tree for climbing through. But what makes it so unique is that it is a "building" area where kids can gather long sticks from a wood bin and create special caves, forts, etc. I'd say this is definitely going to be an area that older kids will love and want to spend a lot of time in (reminds me of building forts at the beach with driftwood), but you'll want to keep an eye on little ones who could come in contact with these busy builders & the long sticks as they are moving them from place to place.
Cargo Net Tunnels & Climbing Areas – There are so many great places to climb & crawl through in the Kids Trek. Here's an example of one of the cargo net tunnels up on the upper climbing area that kids can use to get from one place to another either by crawling or climbing through.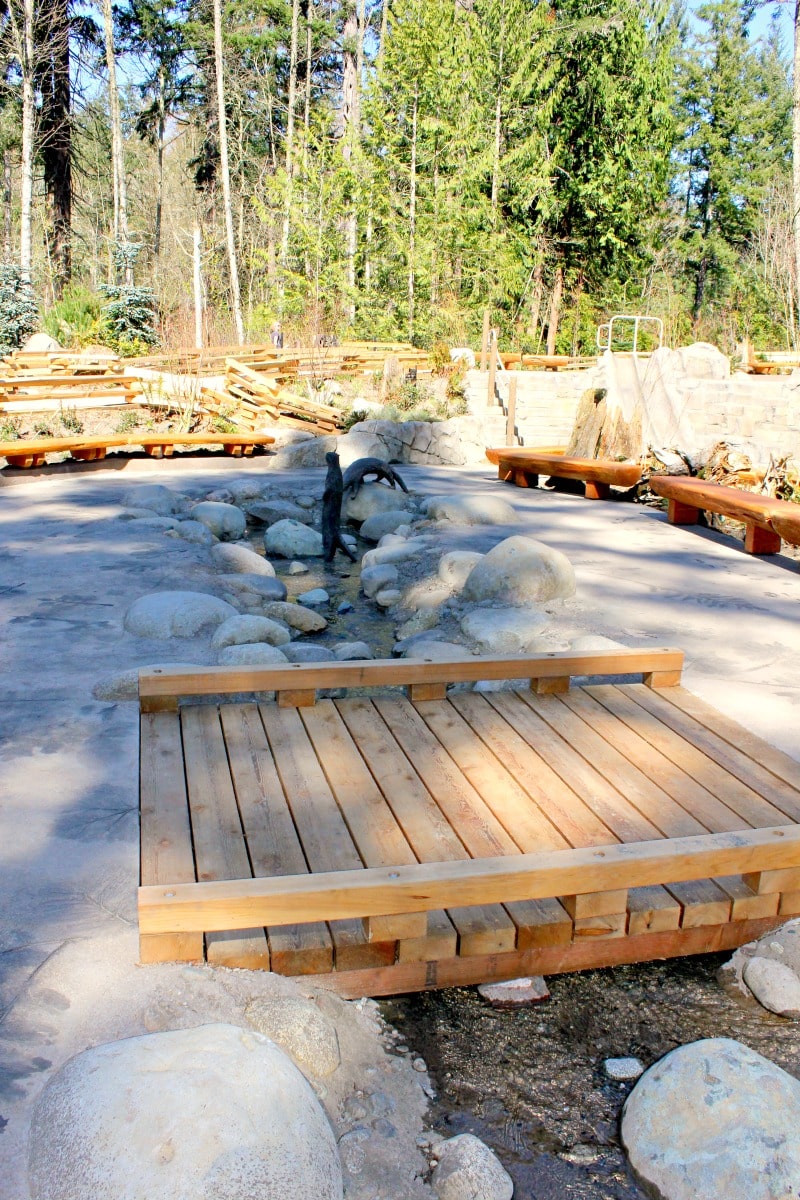 Water Play Area – This is going to be a popular spot in the warmer weather of late spring/summer & early fall. Kids can get right into the stream and little waterfall for some fun water play and climbing over the rocks. There's also a water pump so they can pump out more water to enjoy too.  You might want to bring a change of clothes for little ones as I anticipate they will have fun splashing in this water area.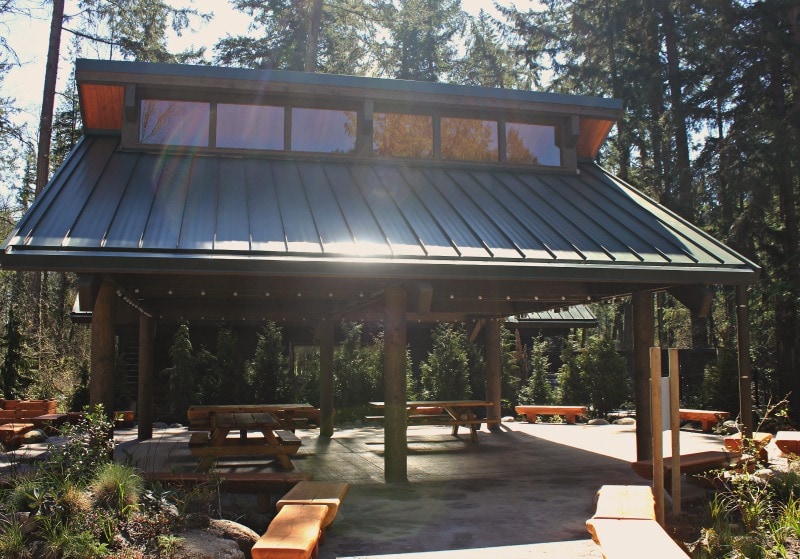 Covered Picnic Area – We love to bring a lunch to Northwest Trek to eat in the sunshine or under the covered area, so I'm glad to see that they have built in a covered picnic area in the Kids Trek area as well. This will be a nice area for parents to hang out while kids play or take a break with lunch or a snack. The only time this will not be available is if there is a birthday party using the covered picnic area.
Features of Kids Trek Playground::
Hollowed-out tree trunk climber: A 20-foot-high simulated tree trunk with nets inside for kids to climb on
Series of scrambling nets: Three wide rope nets on which kids can crawl and climb up, down and side to side
Tunnel slide: A slide through a dark tunnel with a surprise 30-degree bend
Jiggly bridge: A little swaying bridge to walk over, high above the main floor of the playground
Eagles nest: A large, round series of taut ropes that form an area in which kids practice their balancing skills
Log cabins: Kid-sized log cabins in a special Toddler Zone
Root wad cave: A private space to sit and think or talk with a friend under piles of huge tree roots
Animal tracking: Kids can follow animal tracks embedded in cement to learn more about predator and prey
Sand and shovels: A toddler "construction area," complete with a weeping rock so young builders can have wet sand for sculpting
Bubbling stream: A signature feature that burbles over rocks into a cascading waterfall, disappears in the beaver lodge and then reappears at a spot where two whimsical otter statues play
Beaver lodge: Visitors will swear real beavers built this structure of branches and twigs, complete with a realistic beaver statue standing watch. It's the perfect picture stop – and a great space to learn more about nature's amazing construction engineers
Wild Days of Play Program::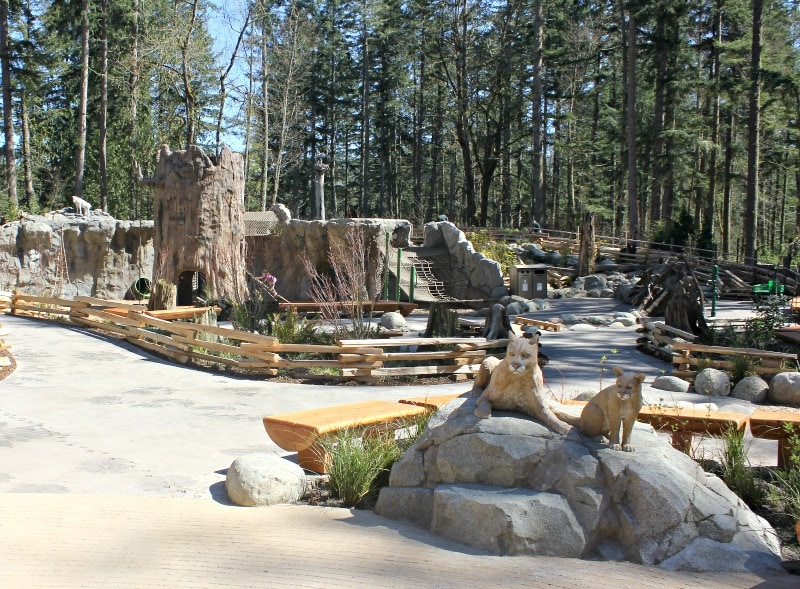 With the addition of Kids Trek now at Northwest Trek, they also are starting a new program called Wild Days of Play. This is a once a month hour long program that will be free for kids with paid admission/membership to NW Trek and taking place within Kids Trek. The Wild Days of Play program is designed for kids ages 5 – 12. Each hour long session will include a take-home craft and an activity children can use to continue learning as they explore Northwest Trek the rest of the day.
When: This will take place on the first Saturday of each month at 11am in the Kids Trek area
Schedule: Check out the full schedule of topics for Wild Days of Play. Topics include Wild Play, Wild Living, Wild Eating & more.
Birthday Party Rentals:
If you're looking for a unique place to hold a birthday party, Kids Trek would be a place that kids would have a blast exploring the playground, plus they will have access to the whole park & tram ride, too. Birthday party packages include a 90 minute rental of the covered picnic area in Kids Trek. The Kids Trek is still open to everyone, but you can use that whole covered area for food, presents, & more. Plus, you'll get admission for 15 people to Northwest Trek & a tram tour, too. The price is $299.95 for the 15 people (kids & adults) & they do offer add-ons such as Animal Encounters, Nature Exploration carts & more.
Be Sure to check out our Park Reviews Page here, if your looking for more park adventures for your kids this summer. You might also like 10 Unique Parks in Washington, if you want to see a list of some of the stand outs!
Let us know what you think if you head to Northwest Trek & try out Kids Trek! We'd love to hear your thoughts & impressions of the new Kids Trek!!
Disclosure: We were provided tickets to Northwest Trek for myself and my girls to check out Kids Trek for review purposes. All opinions are 100% mine. See our disclosure policy for more details.