FREE Trampoline Fun – Jump For FREE at Springfree Trampolines Showroom #SpringFree !
This post may contain affiliate links and I may be compensated for this post. Please read our disclosure policy here.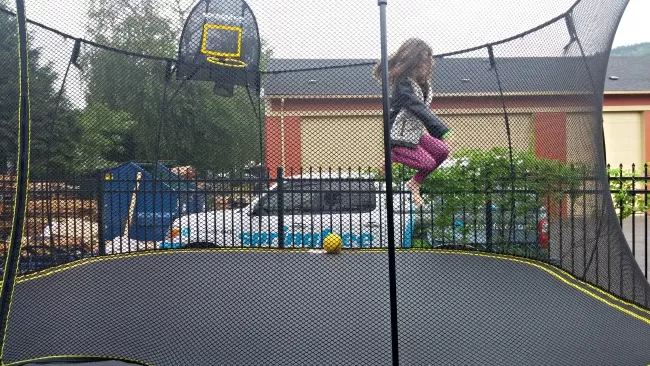 My kids love to jump on trampolines, and we do not yet have one in our backyard, so they are always asking me to take them to local trampoline spots where I have to pay for each kiddo to jump for a specific amount of time. Imagine my surprise, when I found out there was a local spot here in the Puget Sound that I could take my kids to jump for as long as they want to for completely FREE! Yep, you heard that right. There is no cost of entry, and no time limits.
Springfree Trampolines Seattle Showroom, Indoors
Its the Springfree Trampoline showroom in Issaquah, Wa. That is where the Springfree Seattle office is located. My kids love to jump on trampolines, and I had 6 kids with me the day we visited the Springfree Trampoline showroom in Issaquah so I estimate I saved about $66 by letting them jump here (based on the $11/hr per kid fee at our nearby trampoline spot).
The showroom has an indoor area, as well as an outdoor area, and both spots have multiple trampolines to jump on. We were there during an event, so according to the Springfree folks, it was busier then usual (if you come on weekdays it should be less crowded for example).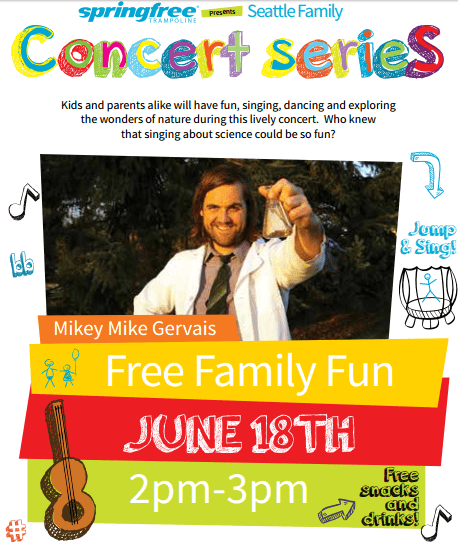 They also provide free Family Fun in the form of family friendly concerts. The next one coming up is this June 18th! I have heard that these are pretty popular events, and can fill up so keep that in mind.
Now, its not going to work exactly the same as if you were at a Trampoline spot that has foam pits and restaurants, etc. but for the savings I think the Springfree showrooms are one of the best kept secrets in the area. They do have multiple trampolines to try out (jump on) and some have their new Tgoma video game system (this is super popular with the kids, all 6 I had with me loved playing with this while jumping), and basketball hoops for added fun! They only allow one person in the trampoline at a time, and so there may be some wait time (depending on how many other people are at the showroom) but they have employees that help move folks along and kept the experience really pleasant for us. My kids end up waiting at traditional trampoline spots, so this was not an issue for us.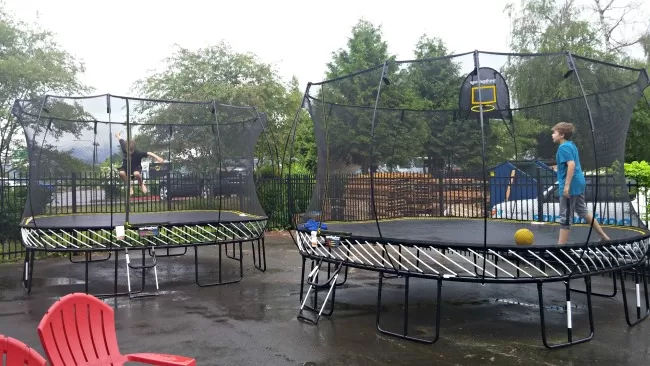 Springfree Trampolines Seattle Showroom, Outdoors
I asked the folks working at the showroom, and they said that anyone is welcome to come by and jump for free during business hours. They welcome your visit!
I do have one caution for you all. It could end up being a very costly visit, if you fall in love with the trampolines (and we definitely fell in love with them). They are great quality trampolines, that are designed to cut down on many of the trampoline injuries that can occur. Plus, the kids just LOVED their new Tgoma system and did not want to stop jumping!
Find directions to the Springfree Seattle Showroom here.
(Note – the Cougar Mountain Zoo is about 10 minutes up the street if you want to make it a day of fun!)