The Outback Kangaroo Farm Arlington Wa. – Great Family Fun!
The Kangaroo Farm in Arlington Wa. A great day trip for families and Kangaroo lovers in the Pacific Northwest!
The Outback Kangaroom Farm (Wildlife Park), Arlington Wa.
Did you know there was a Kangaroo Farm out in Arlington? If you love Kangaroos, be sure to check out the Outback Kangaroo Farm in the Arlington/Oso area for a great opportunity to get up close and feed and pet them. Plus, there are many other animals on this farm too. They offer tours daily. They are only open March through the end of October, so not to much time left in this season, but if you are looking for a fun day trip, this one is great! They open in March, Thursday through Sundays. It is $15 per kid, and $25 per adult, and $10 for Seniors (2 and under free).
The Outback Kangaroo Farm is not a zoo exactly. It is more like a large family farm that they have opened up to the public, for guided and interactive tours. Rather then roaming at your own pace to look at animals in enclosures, you go with a group and a guide into the enclosures and are able to interact with the animals. Our tour was about 45 minutes long, and there was lots of time with the animals. We stayed for just over an hour as there are swings for the kids, a small rustic gift shop and some photo opps to do after the tour too.
Here are some highlights from our visit to the Kangaroo Farm:
The guides start by sharing some basic rules (no running, screaming, who you can pet and where, etc), and then we were off to start our tour. Once you have paid for your tour, you wait by a cage that has Lemurs in it. Lemurs where one of my sons favorite animals, and we have not seen them many places before, so it was a treat to watch this beautiful animal play around.
We loved the Alpacas. We went on a Saturday and the group for the tour was large, so they split us into two groups. Our group headed to the Alpacas first, and we circled around 3 friendly Alpacas. The guides then handed out food, so we would have the opportunity to feed and pet them. This was a lot of fun for my kids.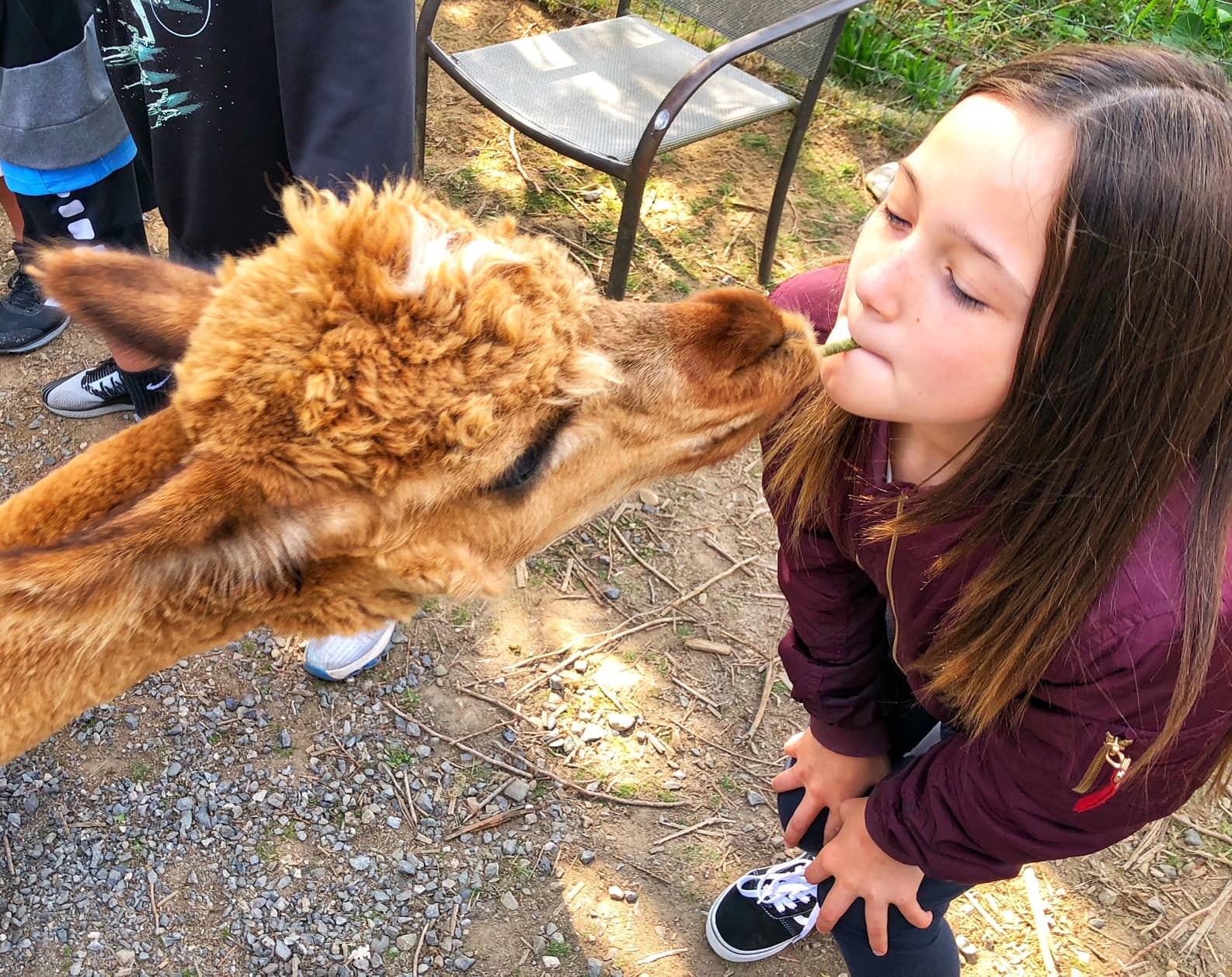 They have longer food pellets you can request to put in your mouth to feed the Alpacas with, if you want to get "kisses" from them. Not everyone wanted to get this up and close to them, but both my girls did. They gave us plenty of time for everyone in the group to be able to interact with the Alpacas.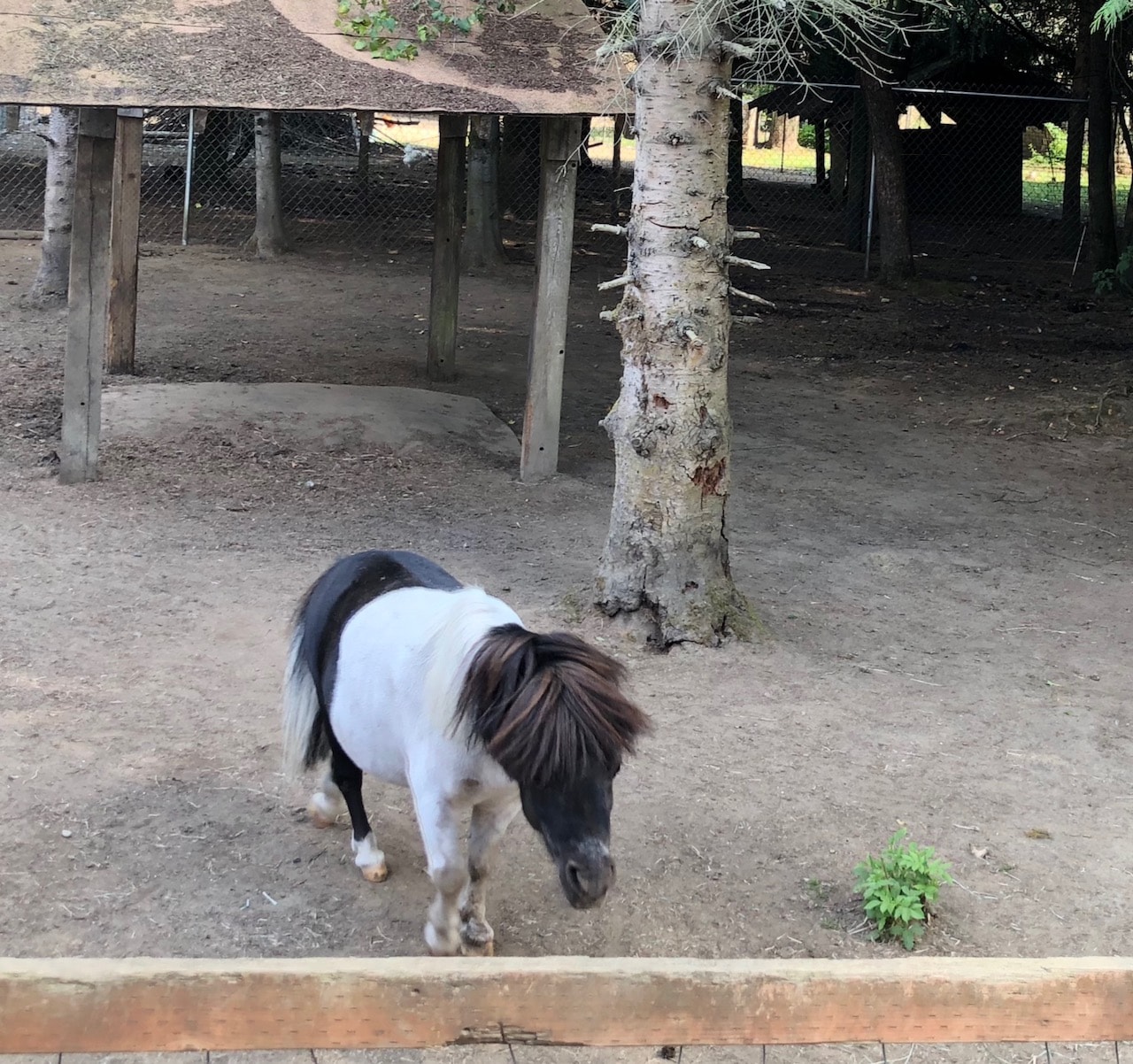 Next on our tour was this dwarf horse, and evidently he is a biter, so you do not get to get too close to him. They have him trained to nod at the tour guides questions though, so he was funny and so cute.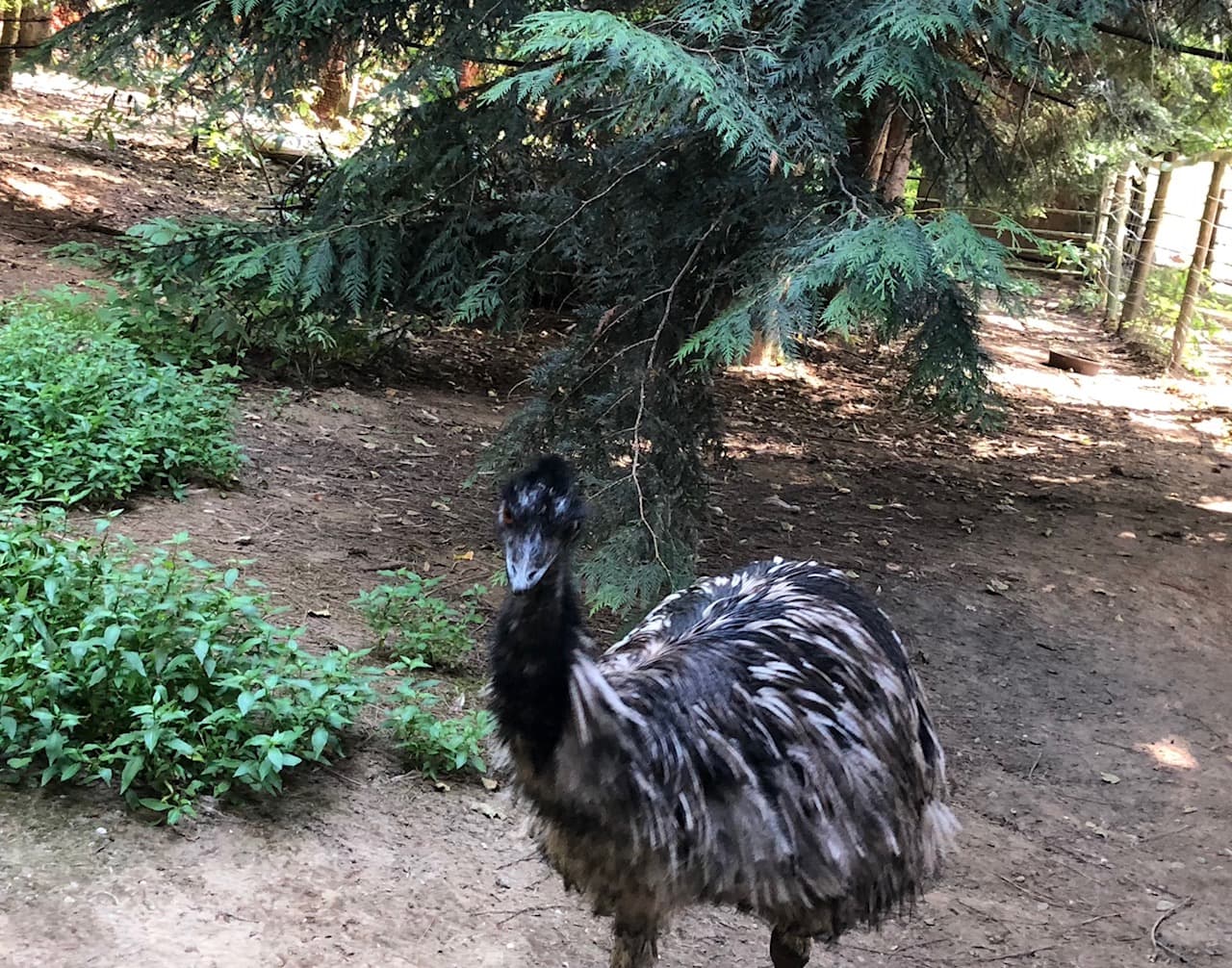 There are also Emus on site. They are in an enclosure as well, but we learned some fun facts about them and were able to spend plenty of time observing.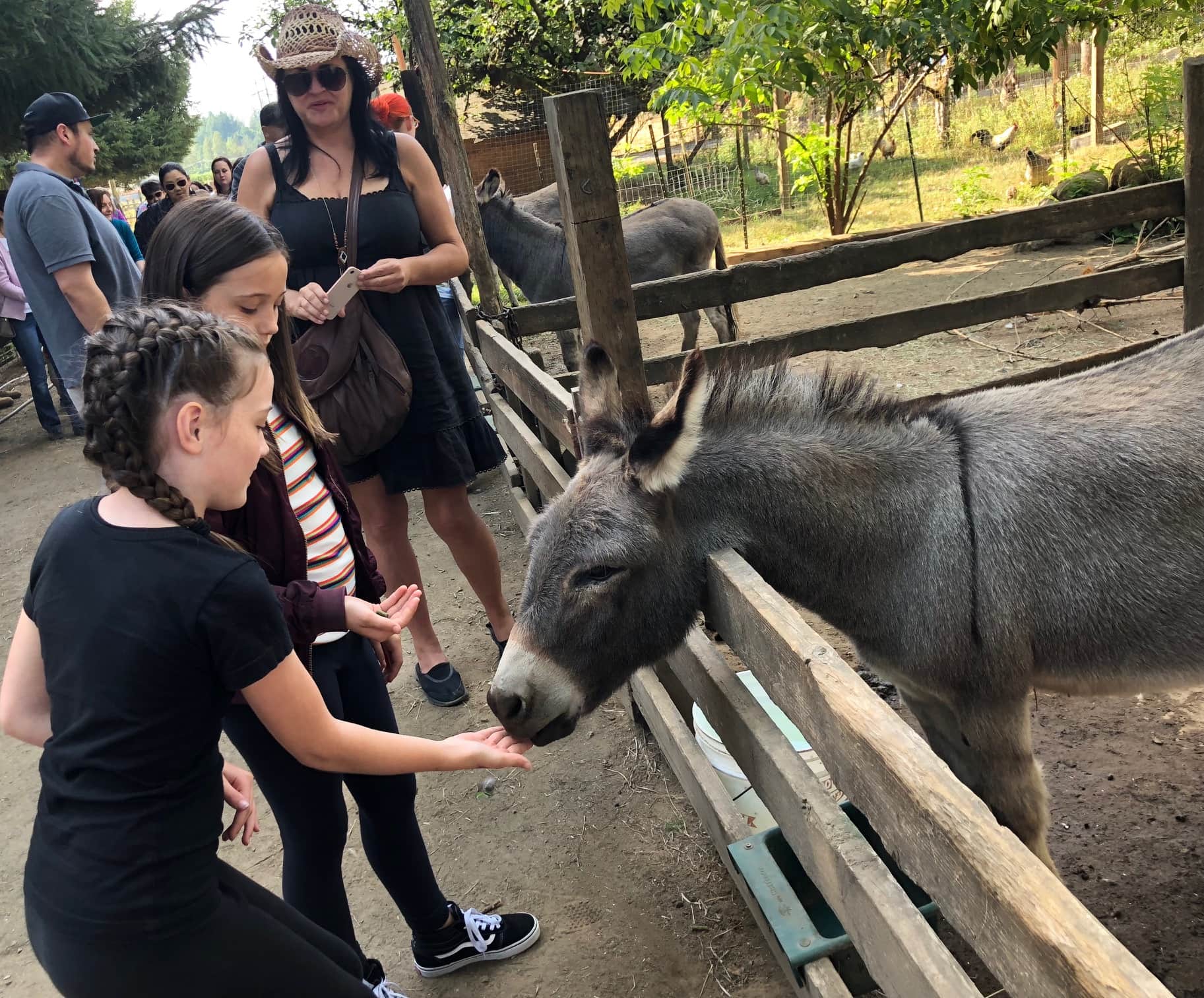 The kids were able to pet and feed mini donkeys as well.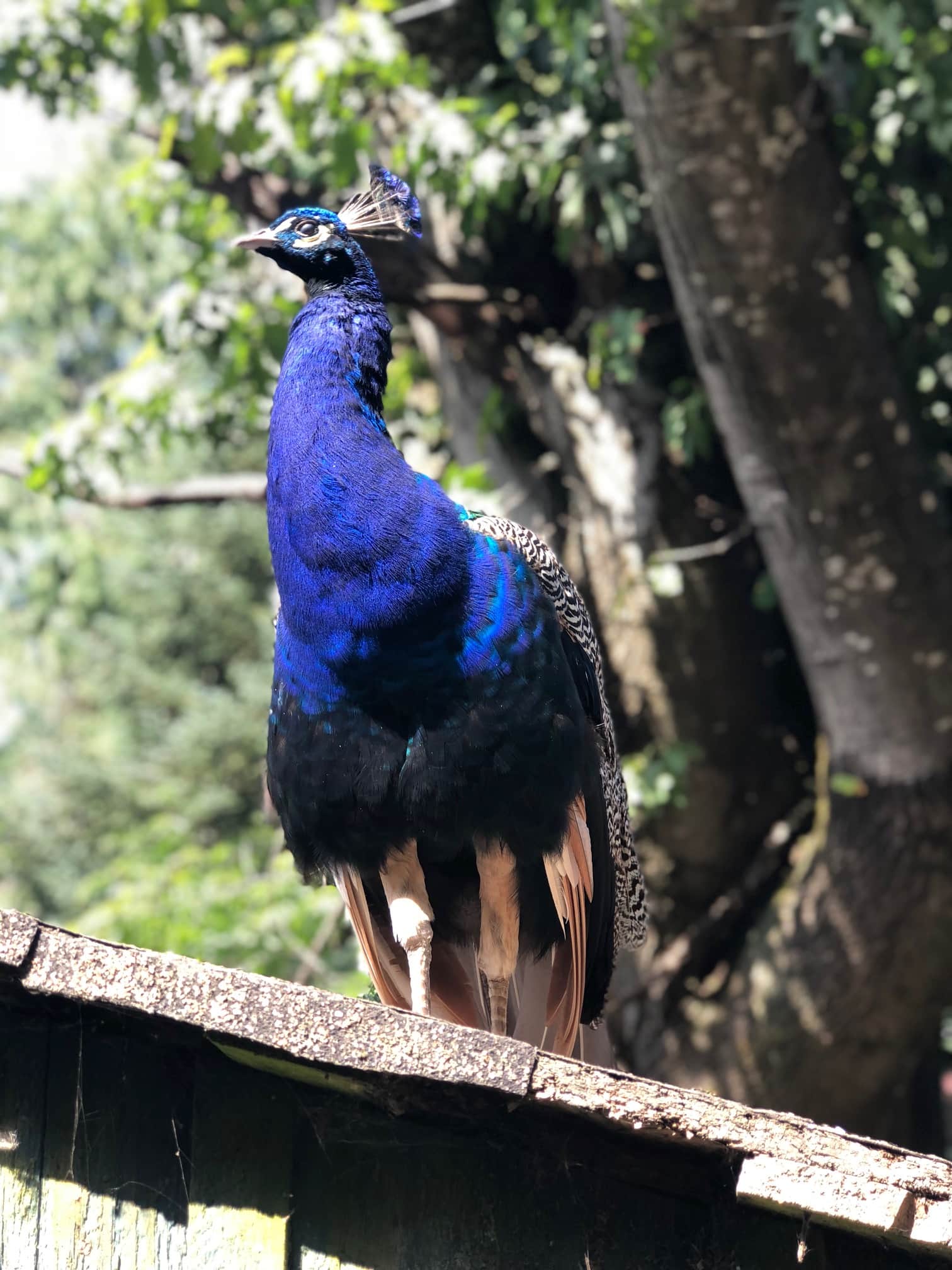 There were a number of different types of birds roaming the property. This beautiful Peacock made an appearance for us too.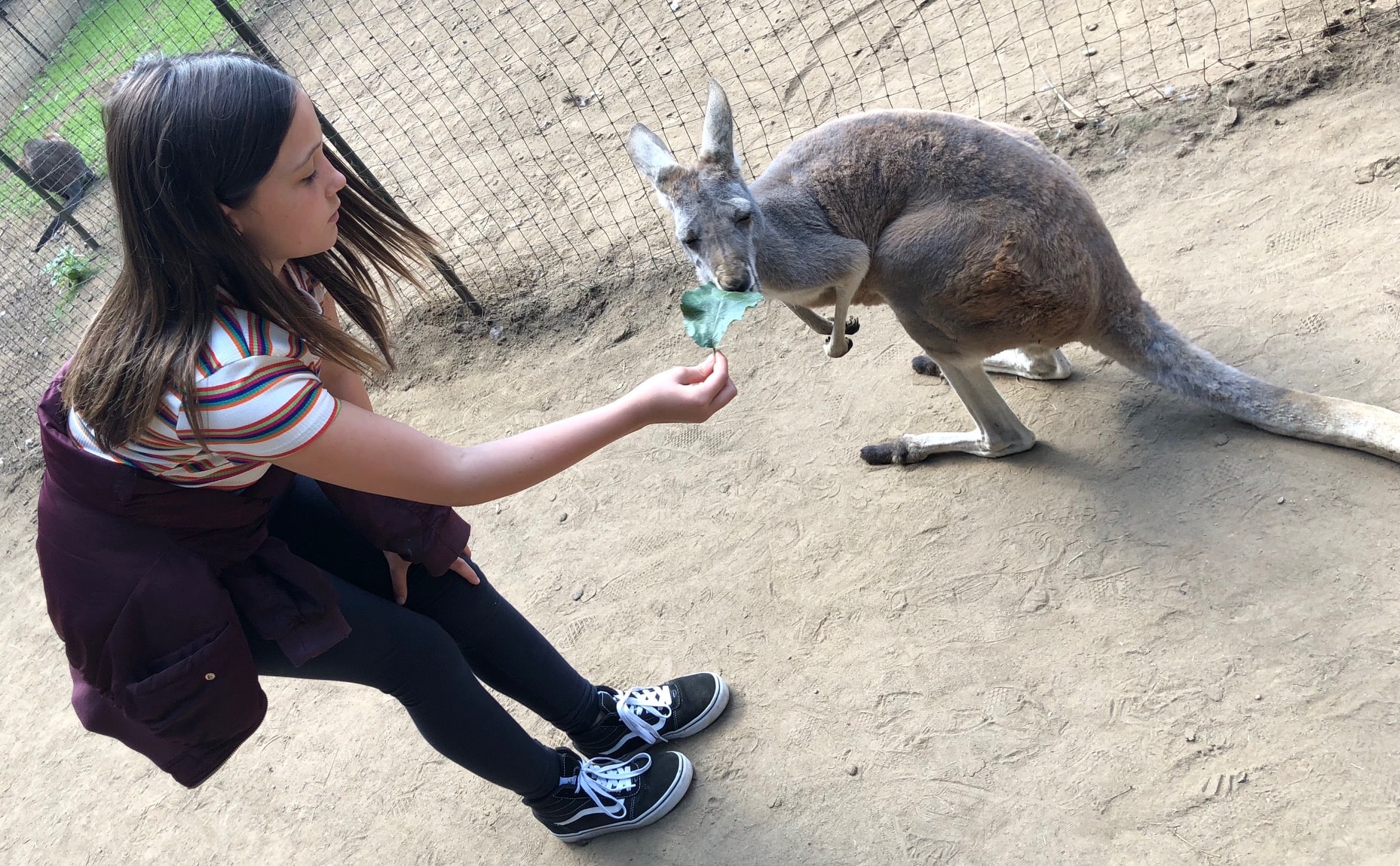 The last stop on our tour was the Kangaroos and Wallabys. The provide you some instruction on which ones you can interact with (basically, if they jump away from you do not follow them, give them their space). There were plenty of friendly kangaroos though, so the kids had lots of opportunity to feed them and pet them. We had a nice amount of this area of the farm.
All in all, it was a nice relaxing day. I loved watching my girls have fun with so many beautiful animals. The folks at the farm where funny and caring, and it I would recommend a visit to other families if you have kids who love animals!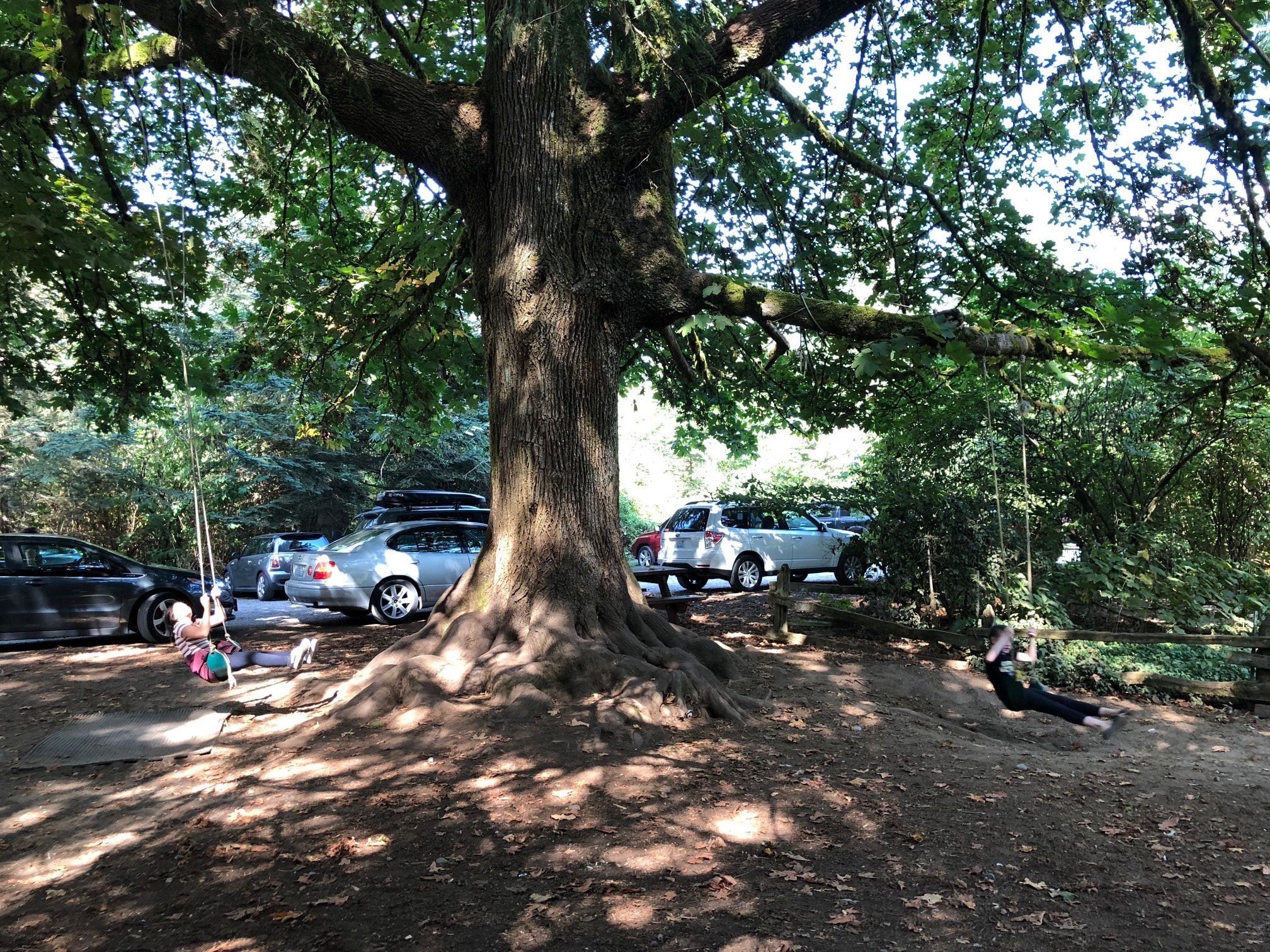 They had these swings in the main area that my kids could not wait to get on. There was also a parking lot, with free parking, and picnic tables near the entrance if you wanted to bring your own lunch.
Other things to do in the area:
If you are coming from further away then the North Sound area, and want to make an overnight trip of it, Angel of the Winds has a hotel nearby. You can read our review of our stay there to see if it might be a good fit for you. We also have some tips on other things to do in the Skagit Valley area if you want to make a full day trip out of your visit.
There are lots of great restaurant options in the area too. We brought a picnic this time and enjoyed that. If you like Greek food, Kafe Neo is also nearby, and this restaurant is near and dear to me. I worked there as a young person, and knew the owner, and the food was always top notch and a labor of love.
Be sure to check out our Travel reviews page too, for more ideas of day trips or overnight trips in the Northwest that are fun for families.