Mod Pizza Deal – $5 Pizzas & Salads (Jeffery Pizza or Roasted Apple Salad)

For those of you who love Mod Pizza, we have a deal for you. Through 9/15, you can take advantage of a this In-App or online special at Mod Pizza. You can get $5 MOD size pizzas or salads, when you order the Jeffery Pizza or Roasted Apple Salad via the mod app. There are no substitutions allowed it sounds like (they say original ingredients only) for this offer. There is a $2 up charge for different crust options.  You do also have the option of ordering online, in addition to ordering via their app.
The Jeffery Pizza has : (sorry, no modifications but don't worry…vegetarians can skip the bacon). Features olive oil, mozzarella, gorgonzola, canadian bacon, roasted apples, arugula, and balsamic fig glaze.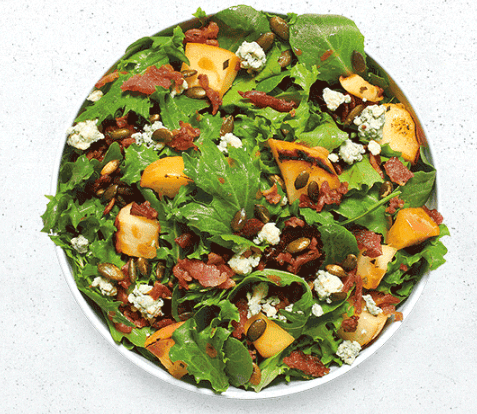 The Roasted Apple Salad for just $5 (sorry, no modifications but don't worry…vegetarians can skip the bacon). Features mixed greens, roasted apples, bacon, gorgonzola, pumpkin seeds, and balsamic dressing.
Here is how this offer works:
Go here and select Order Now to order online, or get their app and order via there.
You will put your zip code in, and then select the store you want to order from.
Next, if you want the pizza, select the Fred Pizza for $5. If you want the Salad go to the salad screen and select the Roasted Pineapple Salad for $5.
Select the time you want to pick up.
Check out and pick up your order to eat inside or take to go!
Fine Print:  $5 MOD-size Jeffrey pizza, or Roasted Apple salad, from 9/9/2019 to 9/15/2019, at participating U.S. locations only, while supplies last. No changes or modifications allowed. Not valid with other offers, in-store and telephone orders, or 3rd party delivery. $2 additional charge for alternative crust options. Plus tax where applicable.
Save
Save