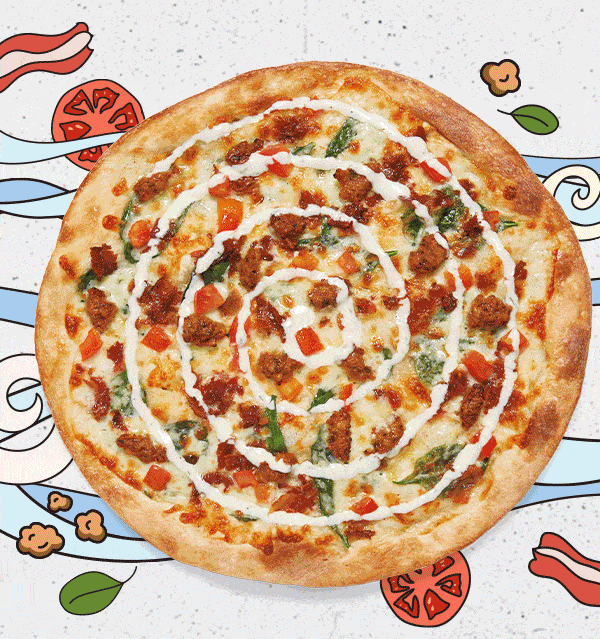 Mod Pizza Deal –
$6 Pizzas Deal & $6 Salads Deal
For those of you who love Mod Pizza, we have a deal for you. From time to time they offer $5 pizza deals, and having the app is the best way to get notification of these offers too. The $6 MOD size pizzas or salads offers lately have been requiring that you order via the mod app or online. You can get that for free here.
Plus when you sign up you will get an automatic 75 points, and once you have earned 150 points you will get a free Mod menu item (so its a great way to be half way to earning your first free pizza or salad)!
You will need to be a member of their rewards program to qualify for this offer (you can sign up for free here). You can earn up to four free salads, and will need to redeem In-App.
Mod Pizza Deal – $6 Pizzas & Salads (Wayne Pizza or BLT Salad)
This weeks $6 pizza deal is for the Lucia pizza or you can also get a Roasted Sriracha Chickpea Salad for $6 this week too. This offer is only available today through October 11th, at participating locations.
Get your $6 MOD size pizzas or salads, when you order the Wayne Pizza or BLT Salad via the mod app or online here. There are no substitutions allowed it sounds like (they say original ingredients only – except vegetarians can remove the meat) for this offer. There is a $2 up charge for different crust options.  You do also have the option of ordering online, in addition to ordering via their app.
The Wayne Pizza has : (sorry, no modifications but don't worry…vegetarians can skip the meat). Features white sauce, spinach, mozzarella, spicy chicken sausage, bacon, diced tomatoes, and a ranch finish.
The green goddess BLT Salad has: Features romaine, mixed greens, asiago, chicken, bacon, pickled red onions, cucumbers, diced tomatoes, green goddess dressing, and croutons.
Here is how this offer works:
Go here and select Order Now to order online, or get their app and order via there.
You will put your zip code in, and then select the store you want to order from.
Next, if you want the pizza, select the Vivian Mod Flash Sale Pizza for $6. If you want the Salad go to the salad screen and select the Cranberry Crunch Harvest Flash Sale Salad for $6.
Select the time you want to pick up.
Check out and pick up your order to eat inside or take to go!
Fine Print: 
$6 MOD-size Wayne pizza or Green Goddess BLT Salad, from 1/18/2021 to 1/24/2021, at participating U.S. locations only, while supplies last. Available online at www.modpizza.com and via the MOD Rewards® app only. No changes or modifications allowed, except to remove meat. Not valid with other offers, in-store and telephone orders. Additional charge for alternative crust options. Plus tax where applicable
Save
Save