Bookroo Children's Book Subscription Boxes
This post may contain affiliate links and I may be compensated for this post. Please read our disclosure policy here.

Bookroo Children's Book Subscription Boxes
Our family is kind of obsessed with reading & I am constantly on the lookout for new books for my girls. We love to get books at the library, but we also love to have a collection of high-quality books at home as well (especially after limited access to libraries during the quarantine, we realized it's even more important to have access to good books at home). I love the idea of subscription boxes, too, as I love having someone else do the research for me sometimes. Especially when it comes to books – there are so many amazing authors out there, but it's hard to keep up with all of the good books, so I love the idea of being surprised by the book titles each month.
The Bookroo Children's Book Subscription boxes are perfect for ages 0 – 10 – they have board books, picture books & chapter books, you choose which level. And the books they offer are fun, engaging reads that kids are sure to love! I like having hardcover books, too, so they stay nice on our bookshelves. It's a great way to discover new authors thanks to a book subscription, too, as these books may be books & authors you know, but they may also surprise you with newer authors you may not know as well, too.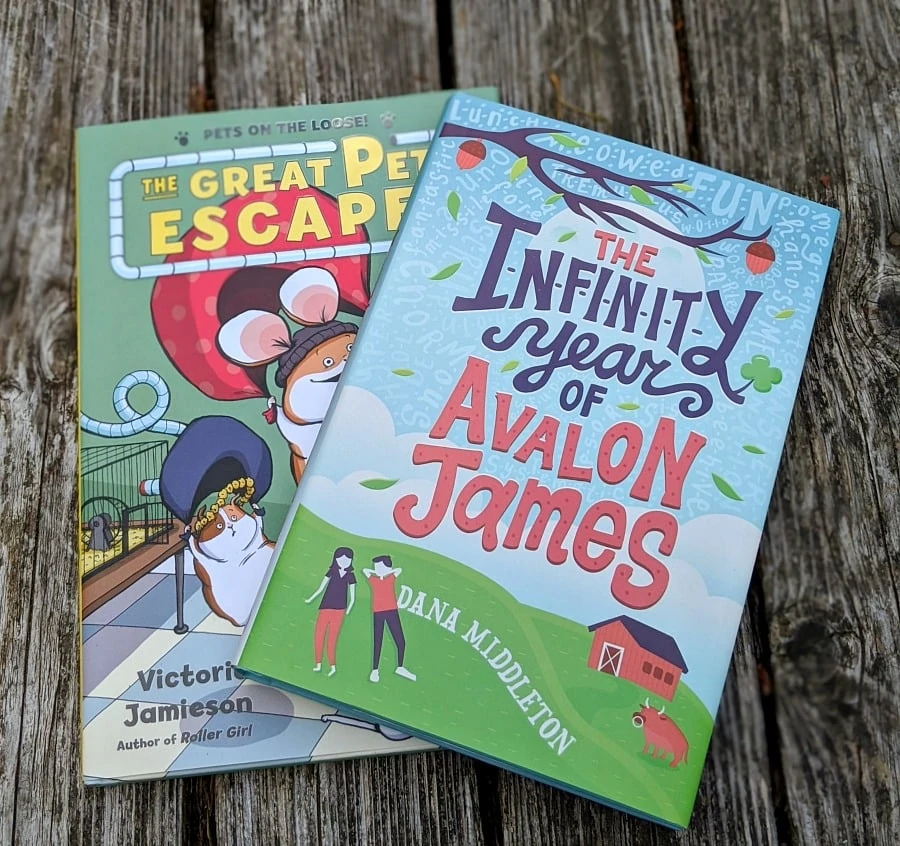 I wish my girls weren't too old for these books as I would definitely be buying this regularly for them, but we were sent these books to check out & they are such great books for gifting to friends & family, too. I think books always make a nice gift to give for a birthday or Christmas and they will choose the books for you, so you don't have to worry about trying to find the perfect book to send, but let their team research the best books to send.
I loved that they included a Parent guide as well, with questions to ask your child after they finish reading the book for comprehension & interaction. The questions also give you a way to tie the books into real-life for your child. Plus, they have a link to a "book quiz" that you can have your child take to test their comprehension of the books. So, it's a great at-home learning tool, too!
And the best part – Bookroo books come all wrapped up individually – this makes it more exciting for kids to unwrap the books when they arrive or put them under the Christmas tree or in their stocking!
Bookroo Subscription Plans:
Bookroo is available for ages 0 – 10 & they have 3 different levels of books you can purchase. These are hardcover books.
Board Books – This includes 3 board books in every box. It is recommended for ages 0 – 3
Picture Books  – This includes 2 picture books & is recommended for ages 2 – 6
Chapter Books – This includes 2 chapter books & is recommended for ages 7 – 10
If you have kids who are multiple ages, they offer an alternating subscription option where you can alternate between board books & picture books. Or you can sign up for 2 subscriptions & get 15% off your 2nd subscription to the same address (just email [email protected] after you sign up).
Bookroo Subscription Prices:
Here are the rates for Bookroo subscription boxes:
Month to month rate – $24.95 + $4.99 s/h
3 Month subscription – $23.95 + $4.99 s/h per box
6 month subscription – $22.95 + $4.99 s/h per box
12 month subscription – $22.95 + $4.99 s/h per box
For anything from the 3 month subscription & beyond, you will need to pay the full amount at checkout. Plans do automatically renew, but you can cancel at any time online. They also offer the option to do every other month if you prefer to spread it out & not have the books ship every month.
How to Save on a Bookroo Children's Book Subscription: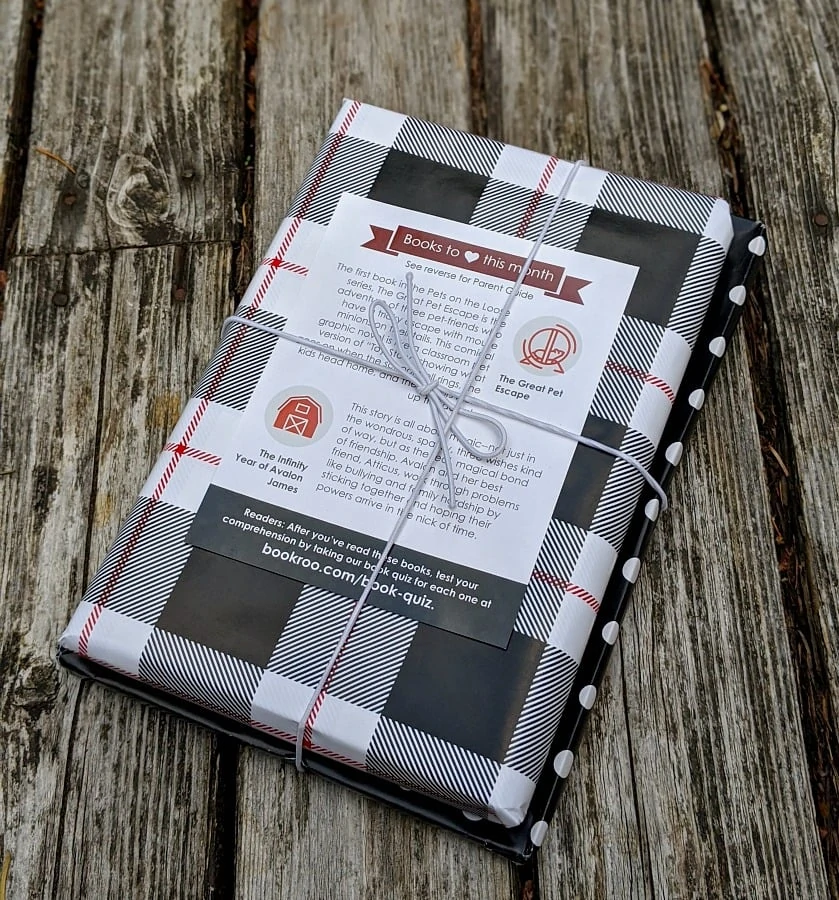 For the month of September, you can save 20% off your order when you purchase any 3 month subscription. Just use the promo code: KEEPCALM at checkout for 20% off!
The price for the 3 month subscription is $23.95 + $4.99 s/h per box. The total amount for 3 months shipped is $86.62. After the 20% off code, that will make the final price $69.30 for 3 months which is $23.10 shipped per month!
Fine Print: This code cannot be combined with any other offers or used more than once per household. Valid thru Sept. 30 (11:59 pm PT).
Here are the books we received in our box: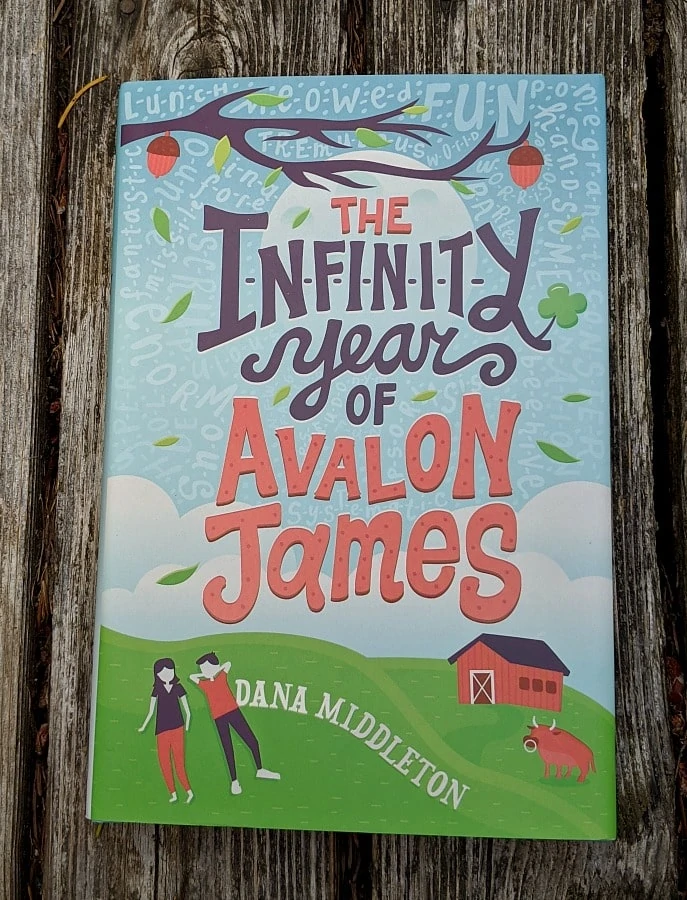 The Infinity Year of Avalon James by Dana Middleton
Avalon James and Atticus Brightwell have a secret—one that they aren't allowed to discuss with anyone. This secret is shared between two best friends. When you and your best friend turn ten years old magical things are said to happen. You both will receive some kind of magical power. It can be a power you can call on time and time again. Or it can be a power that comes once when you need it most. It's your Infinity Year and the possibilities are endless.
After a year of bullying at school and watching her family be torn apart, Avalon is depending on her magical ability appearing soon to help. The clock is ticking toward her eleventh birthday, which would be the end of her powers, and Avalon's hopes are running high. Will she and Atticus get the powers they so desperately want and need?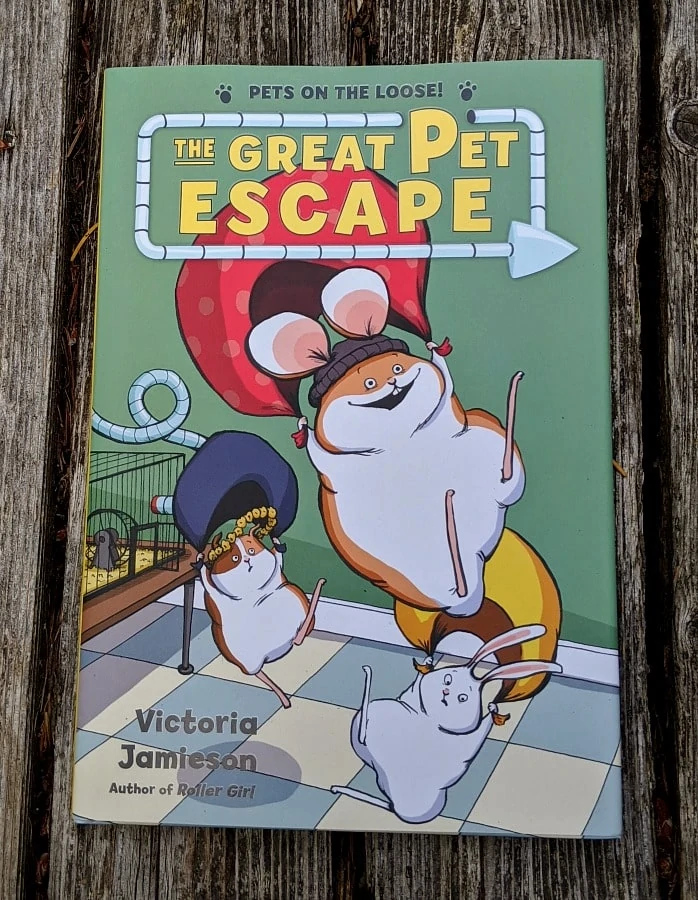 The Great Pet Escape by Victoria Jamieson
The class pets at Daisy P. Flugelhorn Elementary School want OUT . . . and GW (short for George Washington), the deceptively cute hamster in the second-grade classroom, is just the guy to lead the way. But when he finally escapes and goes to find his former partners in crime, Barry and Biter, he finds that they actually LIKE being class pets. Impossible!
Just as GW gets Barry and Biter to agree to leave with him, a mouse named Harriet and her many mouse minions get in their way. What follows is class-pet chaos guaranteed to make readers giggle . . . and maybe look at their class pets a little differently in the future.