Toffee Apple Dip – Make in 10 minutes Or Less for a Fun Fall Treat!
This post may contain affiliate links and I may be compensated for this post. Please read our disclosure policy here.
Toffee Apple Dip
Fall is known for being pumpkin season, but we can't forget about all the delicious apples available in early fall. I love all the different varieties available & how crisp & fresh they taste, especially here in Washington coming from our many local apple orchards over the mountains.
I was introduced to this apple dip many years ago, when my daughters were just babies by a fellow mom in my moms group & knew it was going to be a family favorite the first time I tried it. It is definitely a crowd pleaser – every time I bring this to a party or get-together, I always get requests for the recipe. And it is just so simple & easy to make, you can make this in 10 minutes or less with just a few ingredients! Definitely a recipe that your whole family will love and friends will be so impressed by this treat you bring to parties!
Toffee Apple Dip: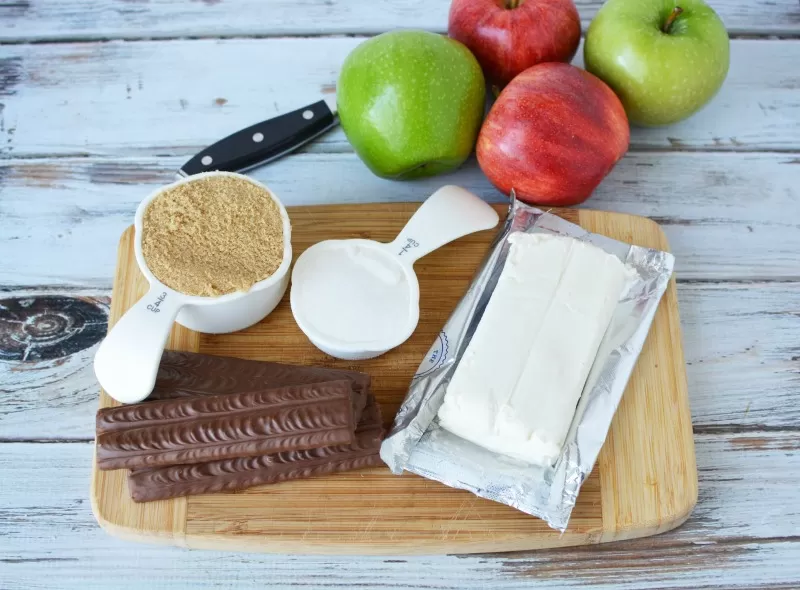 Ingredients:
8 oz package of cream cheese, softened
3/4 cup brown sugar
1/2 cup sugar (can vary amount by taste)
1 tsp vanilla
1/2 bag Heath Bar Bits  (or 4 Heath bars, crushed/chopped up)
Apples
Directions: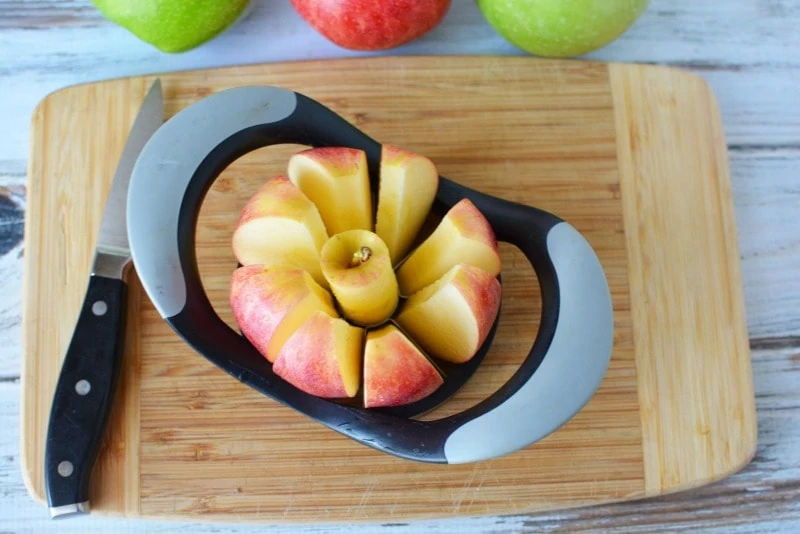 Slice your apples. I like to use an apple slicer and then use a knife to slice each of those pieces into smaller pieces. Typically, I can slice each cut wedge into 2-3 smaller slices after using the apple slicer.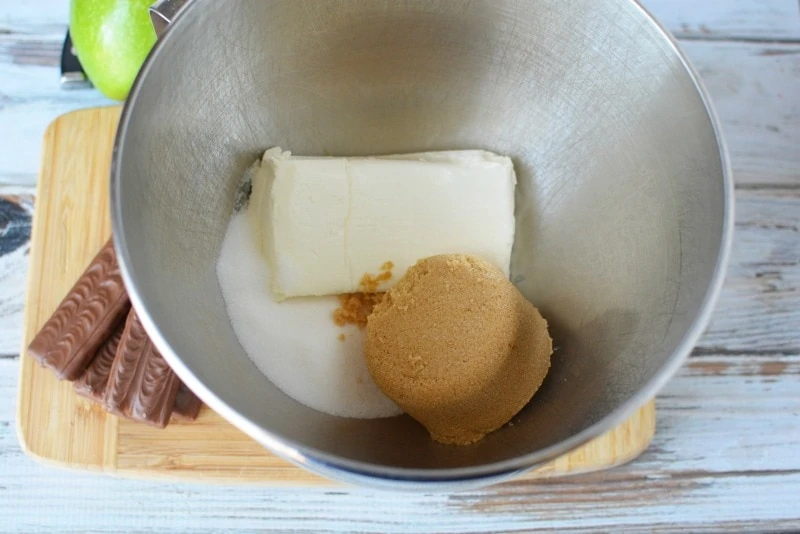 Cream the cream cheese, brown sugar, sugar and vanilla together until well blended.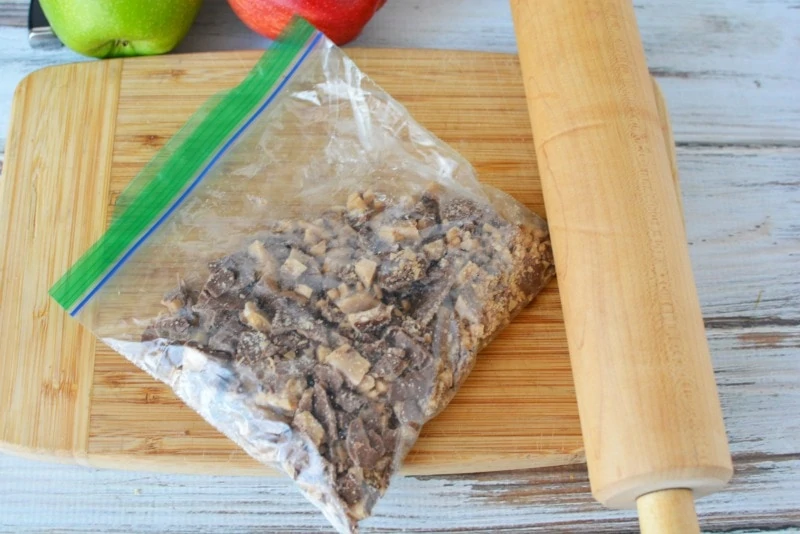 If you are using Heath bars, put them inside a resealable bag and use a rolling pin to crush them.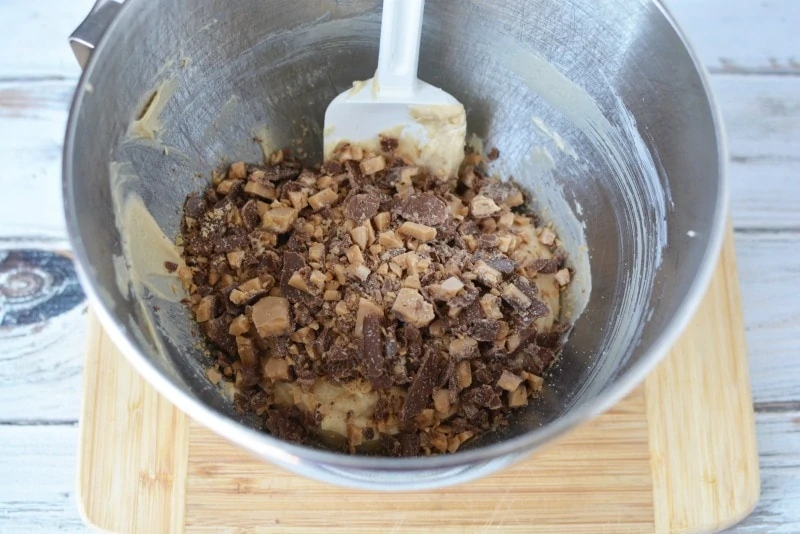 Fold in the Heath bar bits throughout the dip.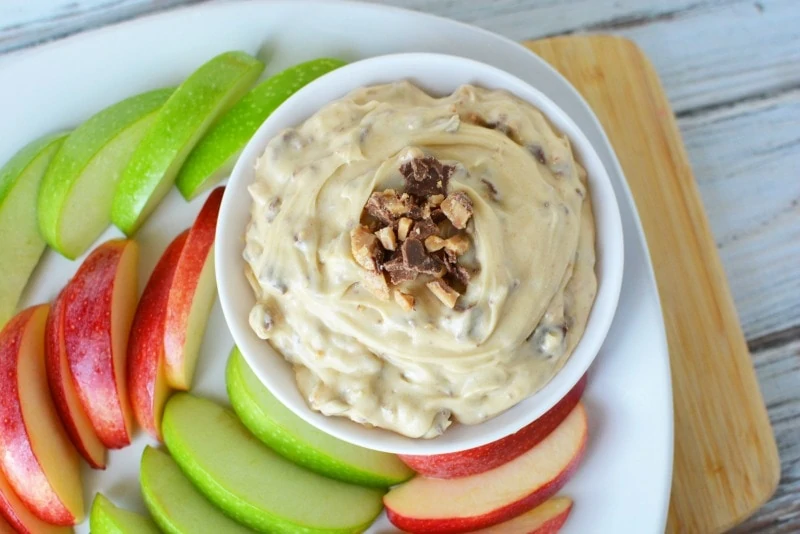 Reserve 1 tablespoon of Heath bar bits/crushed pieces to add to the top of the dip for effect.
Chill.
Serve with fresh apple slices
Optional: A way to keep the apple slices from getting brown is to use Fruit Fresh powder on the slices. I first slice the apples, then put the apple slices into a sealable bag and sprinkle fruit fresh over all the apples. Close the bag & shake it to make sure all the apple slices are covered.
Otherwise, I'd bring your apple slicer with you & slice them right at the get-together if you're bringing this somewhere for a gathering.
Printable Recipe for Toffee Apple Dip: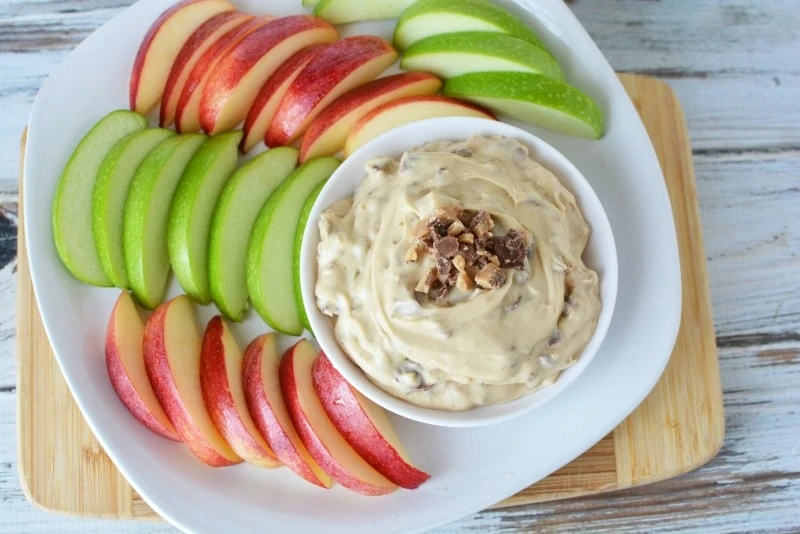 Here's a printable version of the Toffee Apple Dip recipe for you to print off to put in your recipe binder or notebook.
Print
8 oz

package of cream cheese, softened

3/4 cup

brown sugar

1/2 cup

sugar (can vary amount by taste)

1 tsp

vanilla

1/2

bag Heath Bar Bits (or

4

Heath bars, crushed/chopped up)
Apples
---
Instructions
Slice your apples. I like to use an apple slicer and then use a knife to slice each of those pieces into smaller pieces. Typically, I can slice each cut wedge into 2-3 smaller slices after using the apple slicer.
Cream the cream cheese, brown sugar, sugar and vanilla together until well blended.
Fold in the Heath bar bits throughout the dip. If you are using Heath bars, put them inside a resealable bag and use a rolling pin to crush them and then mix them into the dip.
Reserve 1 tablespoon of Heath bar bits/crushed pieces to add to the top of the dip for effect.
Chill.
Serve with fresh apple slices
More Fall Dessert Recipes to Try: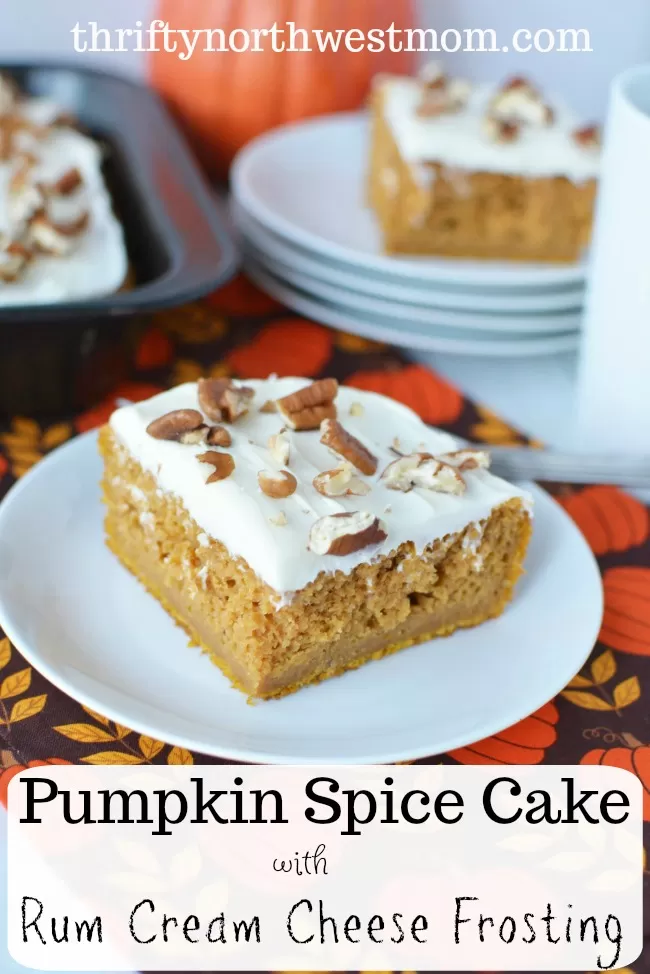 Pumpkin Spice Cake with Rum Cream Cheese Frosting