The Vintage Park Hotel & Tulio Ristorante Review – Romantic Getaway In Seattle
This post may contain affiliate links and I may be compensated for this post. Please read our disclosure policy here.
The Vintage Park Hotel & Tulio Ristorante Review – Romantic Getaway In Seattle
My husband and I have an anniversary at the very end of August. Since that usually coincides with Back To School time, we have not gotten away for our anniversary for quite some time. We decided it would be fun to plan a little weekend away. We wanted to take a romantic trip, but didn't have budget for airfare, so decided to take a weekend here in Seattle. We were able to save by staying local, booking one night at a hotel but spending the day before and after our stay in Seattle to make it feel like we got a whole weekend away. This allowed us to splurge on some bigger ticket things we have been wanting to do, so although it was not a cheap weekend, it was a very special weekend for a fraction of what it would have cost us to go someplace further away.
We stayed one night at the Vintage Park in downtown Seattle, took a cruise to Blake Island, had a very romantic dinner at Tulio and lots of little walks through the city. The Vintage Park was full of so many wonderful perks, and was in walking distance to the shopping hub, theaters, the waterfront (if you don't mind long walks), Pioneer Square, Pike Place Market and much more. It was a great spot for a romantic getaway!
The two of us agreed on our favorite part of the entire weekend (besides being able to spend time together). It was the hospitality that we felt from the staff at the Hotel Vintage Park. The hotel is a boutique style hotel, and while everything was beautiful, there was a very warm, welcoming and comfortable atmosphere that we just loved. We felt like we were getting away for a great adult experience, but at the same time they were so hospitable it was almost like staying at a favorite bed and breakfast! It also has a very romantic atmosphere. Welcoming and romantic – perfect mix for a couples getaway.
We met other folks staying there who were big wine enthusiasts. One group had folks fly in from different areas of the country, and they come to the Vintage Park annually for this get together to enjoy the wine hours and food. The Vintage Park offers a complimentary wine hour each evening, and features many great wineries from around the Pacific Northwest.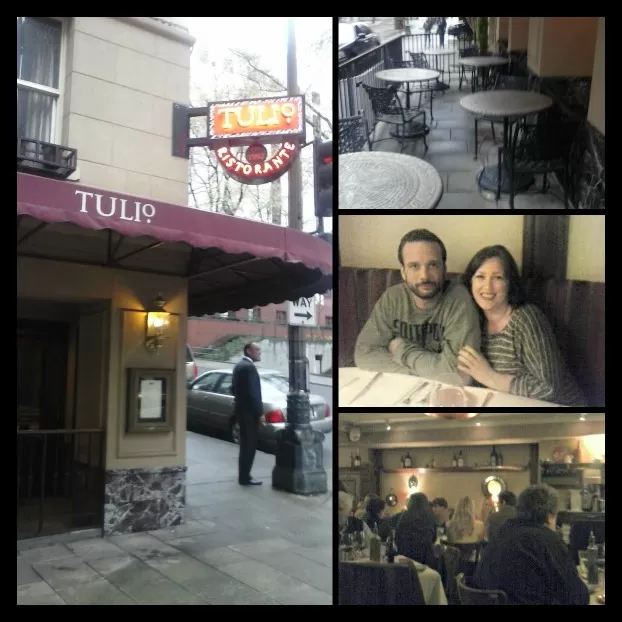 Our dinner at Tulio was amazing. The staff was fantastic, and the food delicious. The restaurant is small and cozy with dim lighting and a great wine selection. The menu consists of traditional Italian dishes. There was nothing we tasted that we did not like! And did I mention how great the staff was. It was a busy Saturday night, and service was fantastic. They served a larger wedding party in front of us, and I was able to watch them interact with a large party. They provided the same great service we had at our small table – the girls in the wedding party appeared to be having a great time.
I asked the waiter for his recommendations, and then ordered what he recommended. He was spot on. I got the pork shank, and it came served still on the bone with whipped potatoes. I ate most of it, my husband had some, and there was still a good portion left on the plate. He had the steak – and left none of that on his plate! We also had the Gnocchi and it was delicious (so rich I could not finish it all – but wonderful). You don't want to skip dessert here either. We tried at first, but ended up sharing the Pistachio Semifreddo, and we were not disappointed. It was a perfect way to end the meal.
If you are looking for a special meal out, this is a good option. Check the money saving section below for ways to save at Tulio too!
Our Favorite Money Saving Tips for The Vintage Park Hotel or Tulio Ristorante:
Hotel Savings – 
They offer a wine hour nightly from 5-6 in the lobby and the unique thing about the Vintage Park (since it's a wine themed hotel) is that they have local winemakers and wineries pouring-so often it's a way to taste pricier wine that's not always available to the public!  I had one of the better glasses of wine during our stay, that I have enjoyed in a while!
Free coffee in lobby in morning (complete with Torani syrups and all!)
Join Kimpton InTouch-members receive emails on great deals AND receive a $10 'raid the minibar' credit during their stay AND get free wifi
We had a note on our bed that we would get a $5 credit if you skip housekeeping (if your staying more then one night). You can use it towards food, etc.)
They offer 50% off parking for hybrid vehicles. Parking is $39 overnight (but they allow in and out privileges  which will save you if you plan to drive around the city, so its something to consider when looking at parking garages. You can go here to compare parking prices in the Seattle)
Check their website for special rates or promotions that they offer before booking. You can also follow them on Facebook or Twitter for special promotions they advertise there too.
Restaurant Savings –
Mention that you saw this article on Thrifty NW Mom when you make reservations at Tulio at get 20% off!
Tulio offers half sized 2nd course items if you want to try a couple of things out and share (everything was good!!)
Some other things that we did during a overnight getaway in Seattle: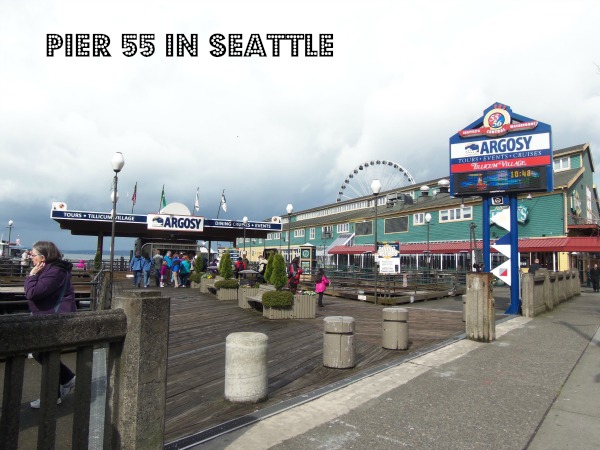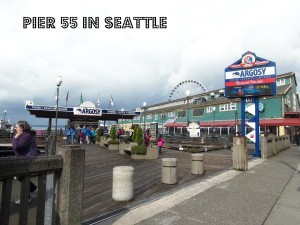 Spent the day on the waterfront, and took afternoon cruise out to Tillicum Village on Blake Island and enjoyed a Salmon Bake! The waterfront has some great budget friendly entertainment too. You can check out Ye Old Curiosity Shop, enjoy the carousel on the waterfront Arcade, or just take a romantic walk out on one of the piers!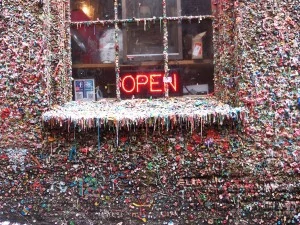 Visited the Pike Place Market (and the Post Alley gum wall – my husband would not get near it (ha!). You will also find Theater Sports back in the Post Alley. That is a fun and affordable impromptu comedy show you might want to enjoy!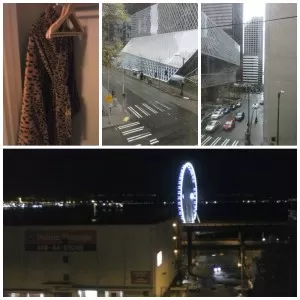 From our room at the Vintage Park hotel we took an evening walk down to view the Wheel on the waterfront (about a 10 minute walk…lots of it is uphill on the way back), and then enjoyed our great animal print robes in the room when we got back! The hotel provides you complimentary umbrellas in your room (which we ended up needing)!
The Seattle Public Library is right across the street too. Its known for its great architecture, and is a wonderful place if you want some fun photos!
More ideas on what to do for a special weekend in Seattle:
The 5th Avenue Theater is just a couple of blocks down the street if you are a theater buff.
Check out Goldstar for discount city tours (like the Chocolate tour)!
The Underground Seattle tour is a popular one.
The Smith Tower Observation Deck is a great one to enjoy ($7.50 pp)
The Columbia Tower Observation Deck (it was $5 to access last time I was there)
Let us know what your best recommendations for a weekend away in Seattle would be. Have you stayed with the Hotel Vintage Park? What were your favorite perks?
Disclosure: The Vintage Park and Tulios provided us with a night's stay and dinner in exchange for me sharing my thoughts & opinions about the hotel. However,  all opinions are completely mine  – we absolutely loved this hotel!  See our disclosure statement for more details.