Tillicum Village Review & 40% Off Tickets Prices!
This post may contain affiliate links and I may be compensated for this post. Please read our disclosure policy here.
Goldstar is currently offering discount tickets for the Tillicum Village four-hour adventure for $54.50 after you add in the service fees for adults, and $22 for children. Regular price is $79 per adult, so its a nice savings.
This adventure includes:
a narrated Cruise to Blake Island,
steamed clam appetizers upon arrival,
a salmon buffet,
Native American-inspired dance show,
exploration time on the island
and a return cruise!
My husband and I took a day/night away from our kids to spend some time together this last weekend, and we kicked it off with trip to Tillicum Village. We had a really great time. It was fun to be tourists in our own city – and was just a peaceful, fun filled opportunity to get away. It was my husband's first visit, and my second – but we felt a little like we had actually gotten away for awhile, and loved that!
If you purchase your tickets through Goldstar as a couple, it will cost just under $110 for the tickets. Although this is pricey, when you consider the fact that it includes a cruise to Blake Island, Dinner and some entertainment – it can be a good value if this is the kind of event/dinner you would enjoy! If you were to try to do all of these things separately, it would likely cost much more.
Here is how it worked out for us:

When you purchase your tickets through Goldstar, you can pick them up at Will Call at the pier. For Tillicum Village there are two spots you can get your actual boarding passes – one is their main ticket office which is that building in between Pier 55 and 56, or the ticket booth you see above right out on Pier 55. You then board the boat right behind the ticket booth. Boarding usually starts a half hour before departure. Although we were on a full trip, there were no big lines or long waits we had to stand in.
Our trip started with a professional photographer snapping a picture of each party. You can then purchase them for $10 for the first photo, and $5 for each photo after if you are interested (when you return from your excursion).
Next we took a 45 minute cruise to Blake Island. It was a narrated cruise, and our guide "Jim" seemed very passionate about his history. It was interesting to learn some new things about the area that both my husband and I have spent most of our lives. We loved the narration, but there were plenty of spots to sit if you wanted to just enjoy the company of those with you. There is food/drink available for purchase, but no need to spend the extra money since there is plenty of food when you arrive (unless you want to)!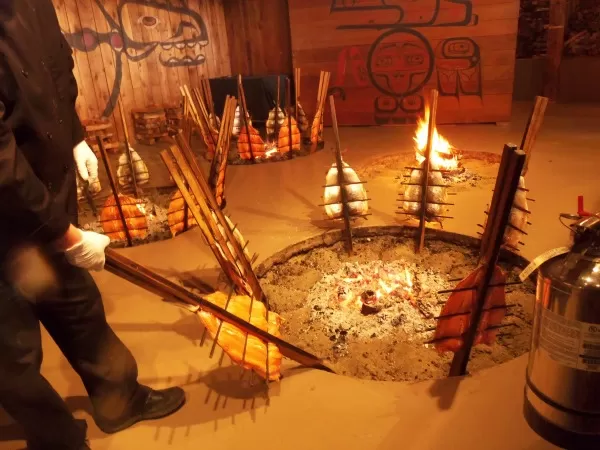 This is the Salmon they cooked around a fire while we were there. You could watch them carry this Salmon directly from the fire to the buffet table!
When we arrived at the island we were greeted with a cup of steamed clams to enjoy. You can then take a few minutes to enjoy the artwork, watch the salmon cook etc., but the doors open for dinner fairly quickly. You are seated cafeteria style (so you may end up sitting next to someone you don't know).
This is my plate piled high with Salmon, salad, bread and more. A server comes by your table to find out what beverage you would like to drink with your meal (I have read about complaints that beverage service was poor – but we had the opposite experience. I got a soda, and before the show our server came back to see if we wanted more and I got a cup of coffee. She was great!).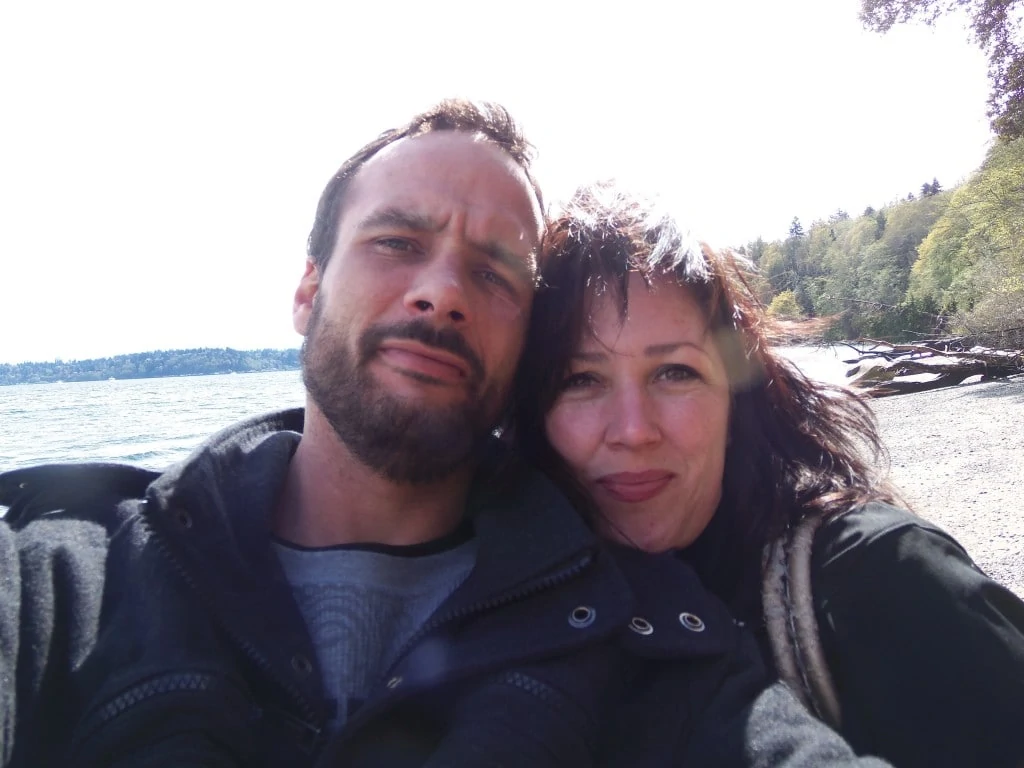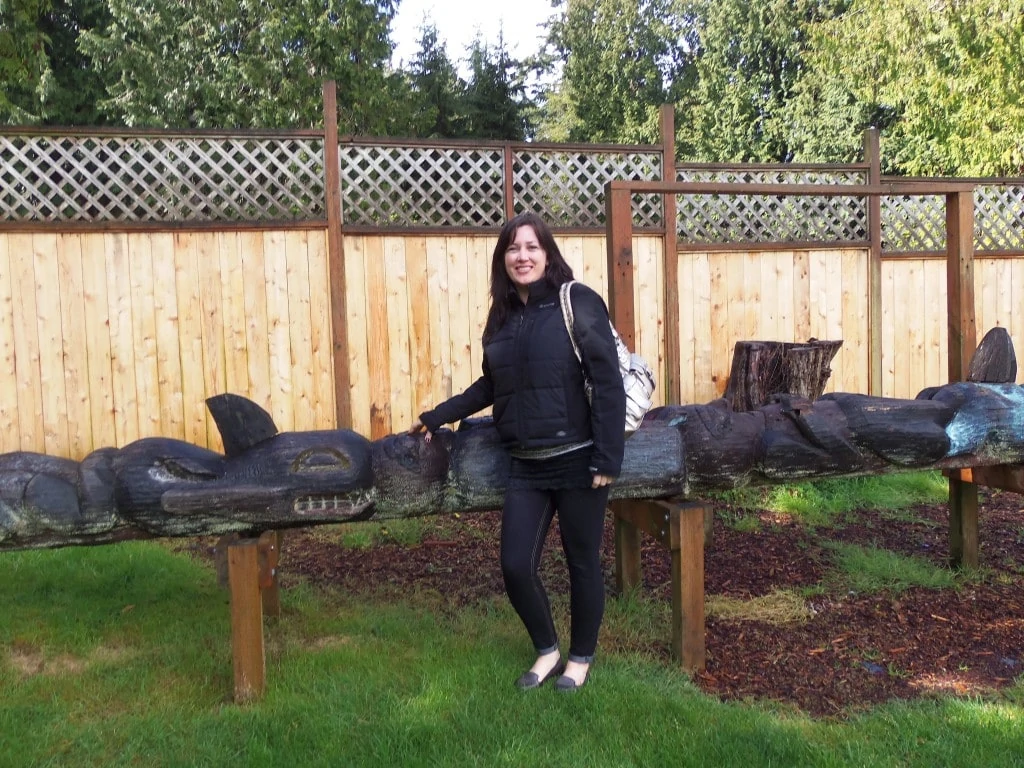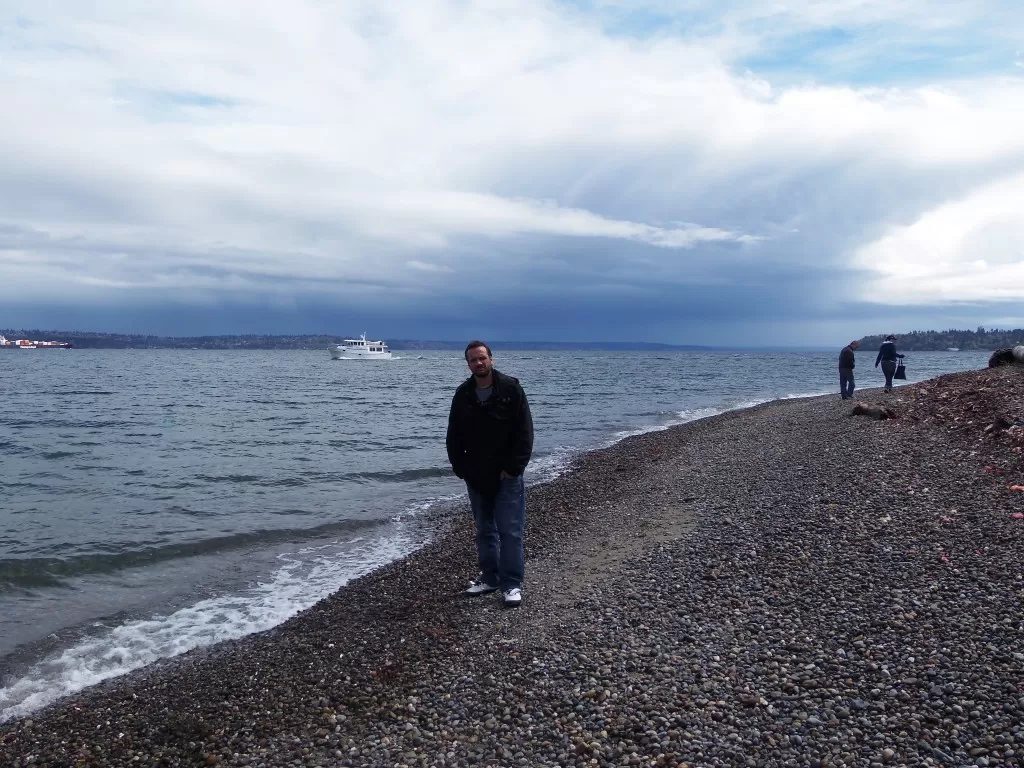 One of my favorite parts of the experience was the chance to explore Blake Island afterwards. The amount of time will vary per trip based on how long dinner and show etc. take you. We ended up with about 45 minutes to hang out. There were deer and geese outside, and my husband and I hit the beach (there was alot of goose poop on the grass this time of the year, so be possibly prepared for that).
If you would rather, you can stay and talk to local Native artisans, the dancers, those who prepared the meal and more too!
Although its a pricier event, for a special getaway we really enjoyed it. We came back relaxed, but at the same time felt like we really got away.  Here are some more tips we brought back with us from our experience…
Tour Tips:
If you are interested in learning about area history, sit on the upper deck. The commentator on our trip walked around the covered part of the upper deck while sharing some great history, so this is where you may be able to hear the best.
I had been to Tillicum Village many years ago, and the show was mostly live. This time much of the show was video based, with three live performers adding to the dance segments. Personally, I preferred the live version – but the story telling that thread through the video narrative was interesting. Just be prepared for the fact that it is not a completely live show.
Exploring the island happens after dinner. We were on an 11:30 tour, but if you take the later 4:3o tour, you might want to consider how much light you will have left to explore (depending on time of the year), if that is important to you.
Make it an entire days event by planning to enjoy the Pike Place Market or Seattle Waterfront while you are down there.
Savings Tips:
If you really want to get your moneys worth, you can try to make an entire days visit out of it. Call Argosy ahead of time and arrange to take the 11:30 boat out, explore the island, and then enjoy the 5:30 dinner and take that boat back (based on booking availability). If you enjoy hiking and nature, its a great way to get alot more time to explore the island (this would make your entire trip approx. a 9 hour day).
Parking can be pricey.  A couple of options to save on parking include:
Book your trip for a Sunday when street parking is free (but you may have to hunt for a spot).
We found $4 parking for Saturdays 1 block north of Bell (a few blocks up from The Bell Harbor Marina) . This was about a 10 minute walk, but it sits right above the Bell Harbor Marina, so you can do most of your walk along the waterfront – which we enjoyed.
You can search for current parking prices for the day you plan to travel on the Seattle Parking site here.
Tips if you take kids:
Its actually a fairly family friendly trip if its the kind of activity your kids would like. My husband and I used it as some time to getaway by ourselves, but there were plenty of families with kids of all ages on our trip. Here are some tips I picked up as I thought about bringing our kids.
They encourage you to throw your clam shells on the path once your finished. The kids on our trip loved stomping on the shells until they were ground up to be part of the path.
Be sure to check the menu ahead of time to make sure your kids will eat off of it – there is no special kids menu for them to eat off of.
Enjoy beach combing with the kids, and be sure to download the Blake Island Scavenger Hunt or Wildlife Guide before heading out!
Have you been to Tillicum Village? What was your experience?