Hyatt Regency Seattle – Wonderful Hotel In The Heart of Downtown Seattlel!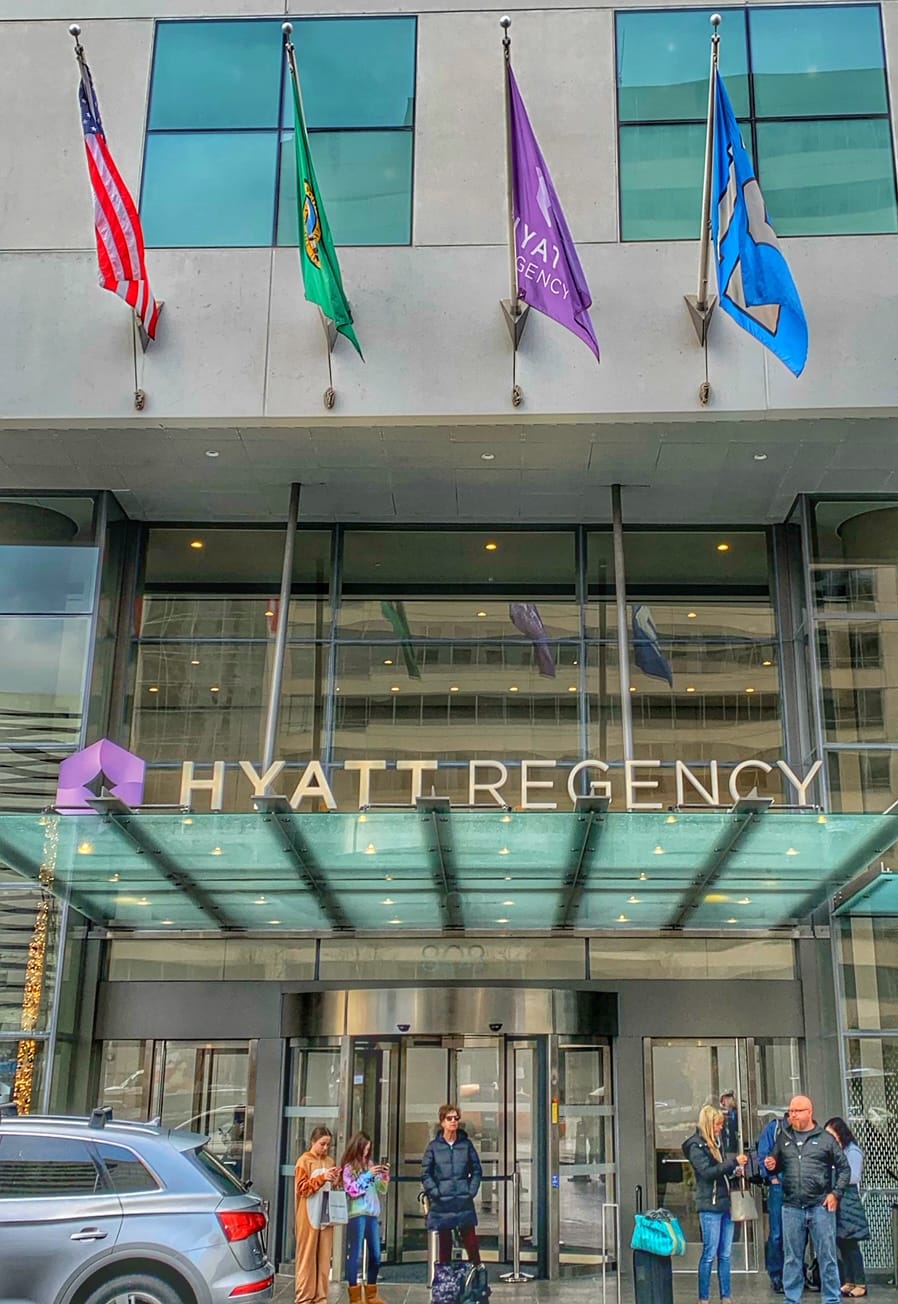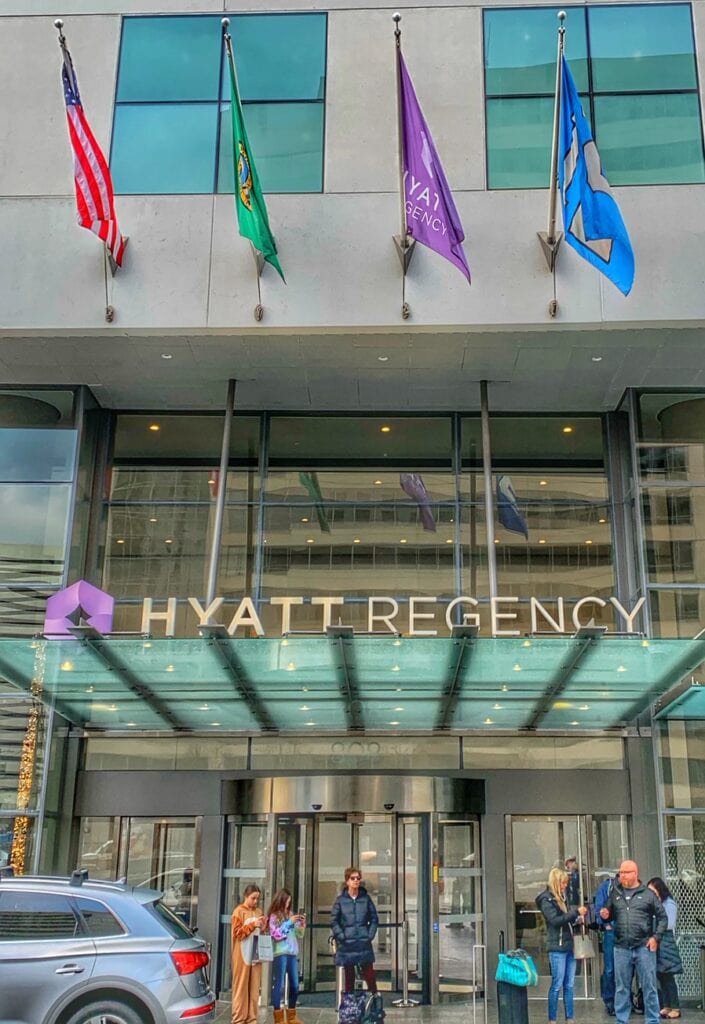 Disclosure: The Hyatt sponsored our stay so we can share the details of the Enchant package with you. All opinions are 100% my own.
Hyatt Regency Seattle – Package Deal for the Holidays!
The Hyatt Regency is a newer hotel in the downtown Seattle area that just opened last year. It is the largest hotel in Seattle (and the entire Pacific Northwest area), with more view rooms than anywhere else in the area. It is also my new favorite hotel to stay at for a getaway in Seattle. You can find room rates that are super affordable for all that this hotel offers and it is now my go to spot for Seattle stays!
One of my favorite things about this hotel where the floor to ceiling windows throughout. In an area like Seattle, which can be grey, it is wonderful to have all of that natural light flooding in. We found this wonderful natural light from the lobby to the rooms, and lots of areas in between.
Here is a fun fact about this Hyatt. It is built where the old Greyhound Bus Station used to exist. That disoriented me a bit, because back in the day that area looked so different, but it is now transformed into a vibrant shopping area full of wonderful restaurants, and more.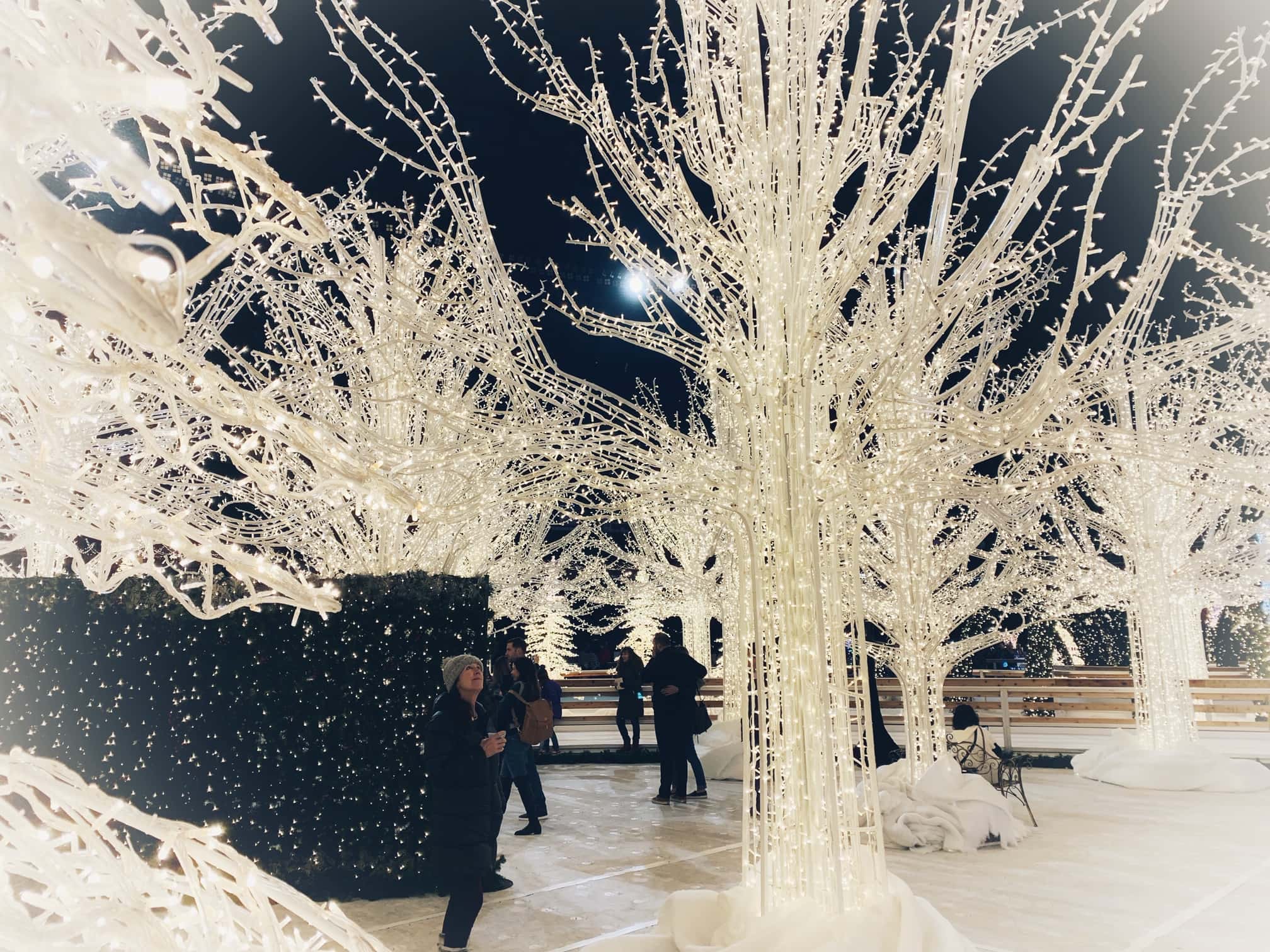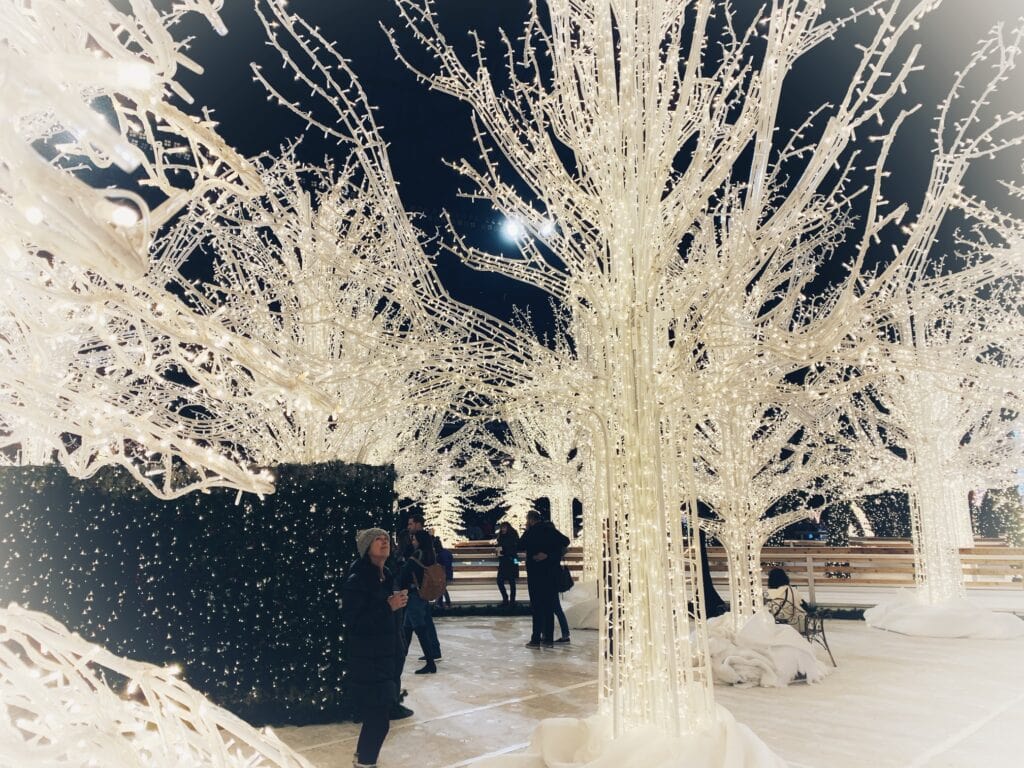 ** Update for 2020** 
The Enchant event will not be happening in Seattle this year, but stay tuned for event updates for 2021. 
Enchant Christmas Package:
We recently enjoyed a stay with the Hyatt Regency for my birthday and experienced the Enchant Holiday Package. If you are looking for something special to create Christmas memories, this stay will check off those requirements for sure.
The Enchant Holiday Package comes with:
An Upgraded room with a view (they have three different views)
Two tickets to the Enchant Seattle light show
Complimentary Valet Parking
Early 2pm check in (come even earlier and enjoy lunch at Andare's, to really make it a full day of fun at check-in)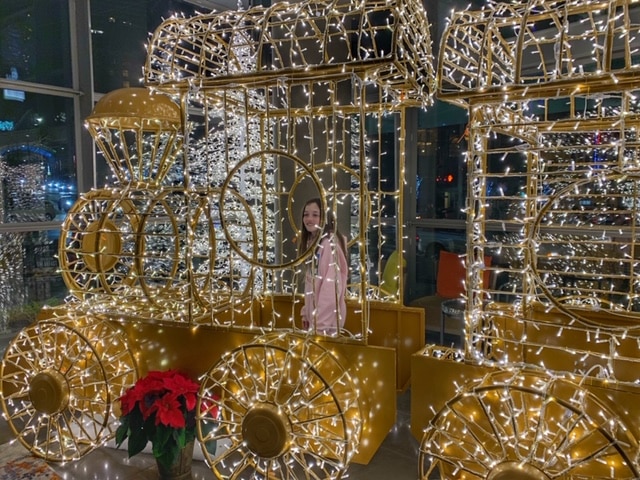 The hotel itself is themed with some beautiful light displays to go along with the Enchant theme, and they make some great photo backdrops!
Rates will depend on the day you stay, but we found packages starting at $214/nt – which I thought was a super value for all that was included.
Find rates for the dates you might want to stay here.
What we loved about the Hyatt Regency Seattle:
It is new, opened in 2018, and there was a great deal of thought put into the design of this hotel. It include beautifully inspired NW art work throughout the hotel
It is the largest hotel in the Pacific Northwest. That means there are more view rooms than any other hotel in the city (and the view is wonderful if you get one of those rooms)! Although it is huge, they have laid out the hotel in a way that feels cozy and not so large that you get lost.
It is centrally located, making it easy to enjoy all that the downtown Seattle area offers.
Ways To Save at the Hyatt Regency in Seattle:
You can sometimes save 20% off room options here, when you join the World of Hyatt (their membership club – free to join), and book at least 7 days in advance, so keep an eye out for that special when it is available.
Be sure to check their offers page here for current savings options.
If you are driving down, consider booking a room with parking included.
It is only 2 blocks from the Light Rail station, so you can also consider that option vs driving in, to save on parking fees.
Consider upgrading to a Club Access room if you are traveling with your family. This can save you on food and drink during your stay.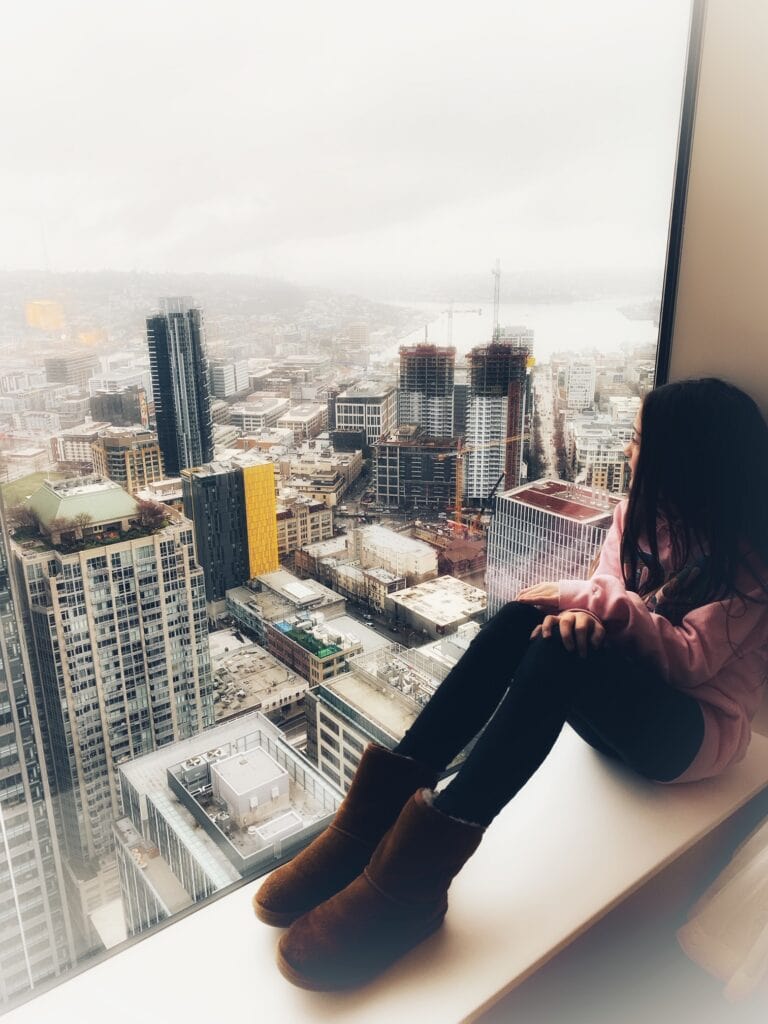 Rooms at the Hyatt Regency Seattle:
We had a view room for our stay, on the 43rd floor, and it was pretty spectacular. Because of the height of this hotel, the chances that you will get a view room are much higher than most hotels. You can book a view room to be sure you get one, or book the lowest rate and hope there is a view room available for upgrade at check in. This hotel is one where large groups of folks will stay, so depending on if there are large conventions in town, your chances may go up or down.
There is a small nook that one of my daughters loved to sit in and look over the city. We had a view of Lake Union, and we enjoyed fog and sunshine during the same day, and the evening view when all of the lights glow around the city. I found it to be a wonderful alternative to a balcony, as we pulled chairs right up to the window to relax to our view, when we were in our room.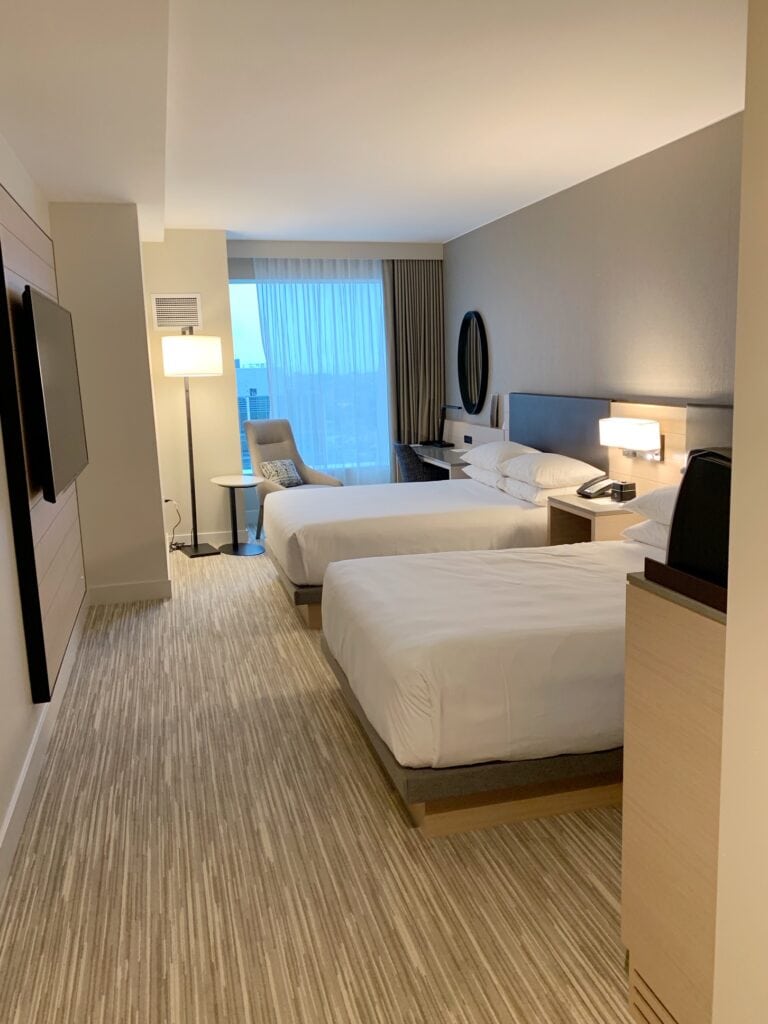 The room itself was spacious, and had that new smell that I love to walk into. The beds were comfortable, and they offer complimentary Starbucks coffee and tea, and bottled water. We had a Queen double room, but there are King options as well as suites.
The bathroom is full of amenities too. No need to pack bulky products here, they have full size (and lavender scented) shampoo, conditioner and bath wash in the shower. For an overnight stay, this made packing so easy – we traveled light because they thought of everything here.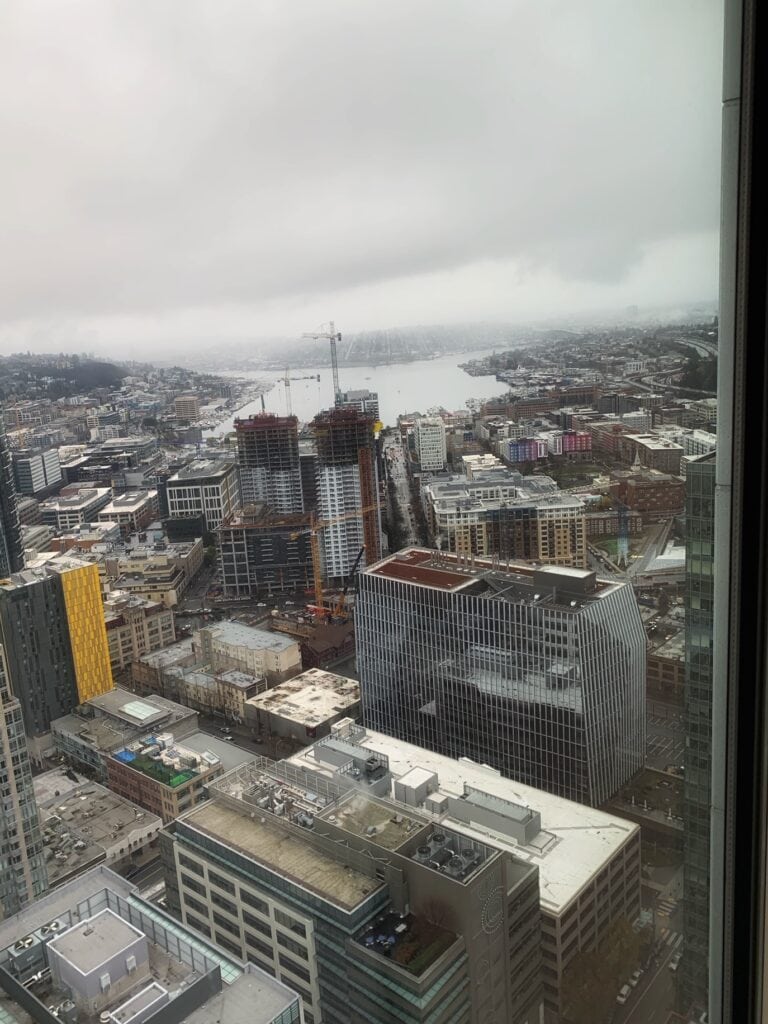 Here is another view from our room where you can see the lake. View options include:
Lake Union
Mt. Rainier
Puget Sound
Find current room rates available at the Hyatt here.
Amenities at the Hyatt Regency Seattle:
I loved the amenities available in the hotel, and near the hotel. There is plenty to do in walking distance, or right in the hotel.
Get a Pool Pass for Next Door – 
The Hyatt Regency in Seattle does not have a pool, but you are able to purchase a daily pool access pass to enjoy the Salt Water pool at their sister hotel, the Hyatt Olive 8 Seattle Hotel, located just across the street. If you are staying for one night, there is plenty to occupy your time with, but it is a nice option for families staying more than one night for sure.
Or a Spa Treatment – 
If you are wanting to enjoy the spa, this is also located at the Hyatt Olive 8 next door. There is one more Hyatt behind this one, and this area is affectionately referred to as Hyatt Row because of the three of them positioned in this kind of row design.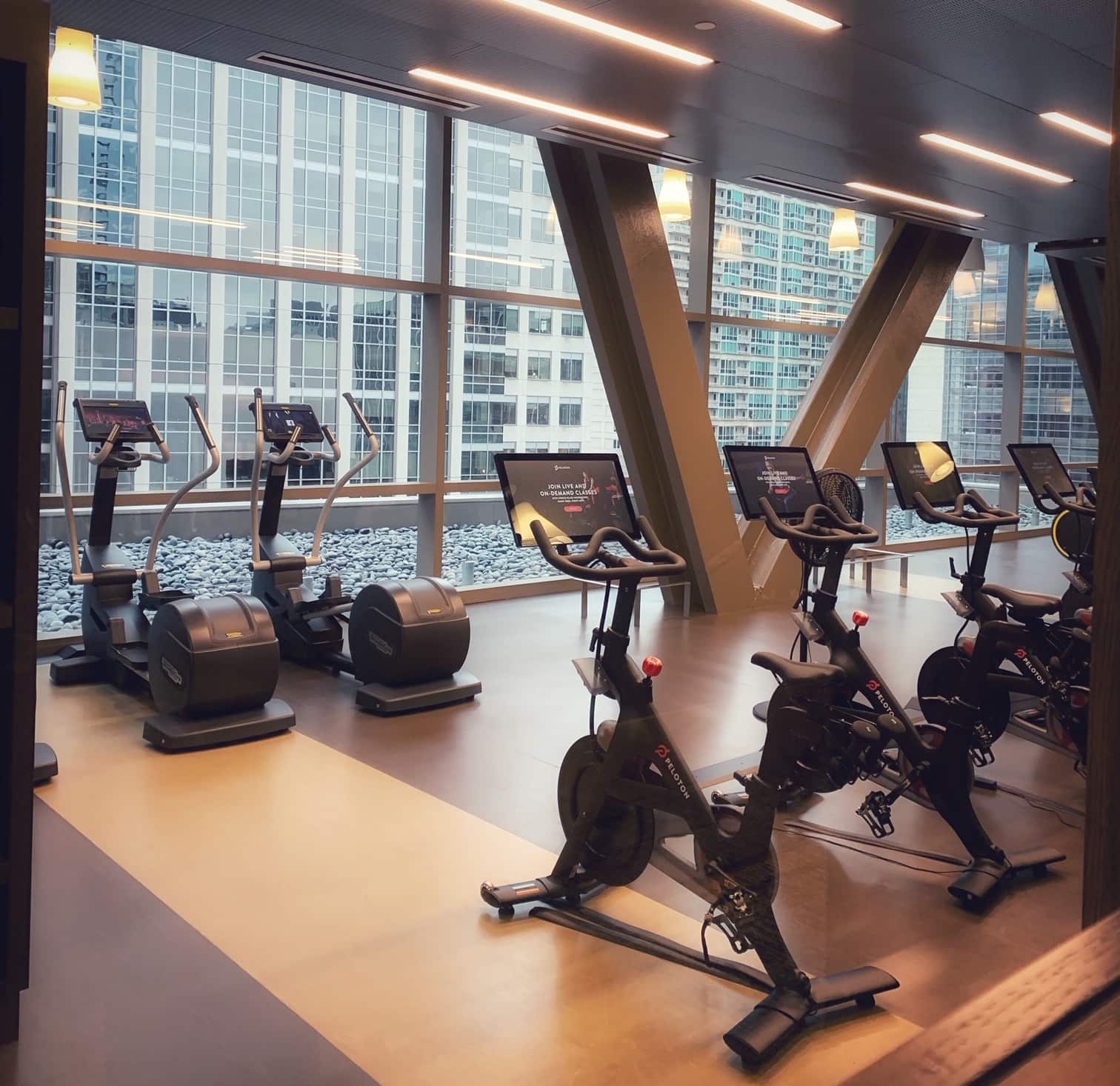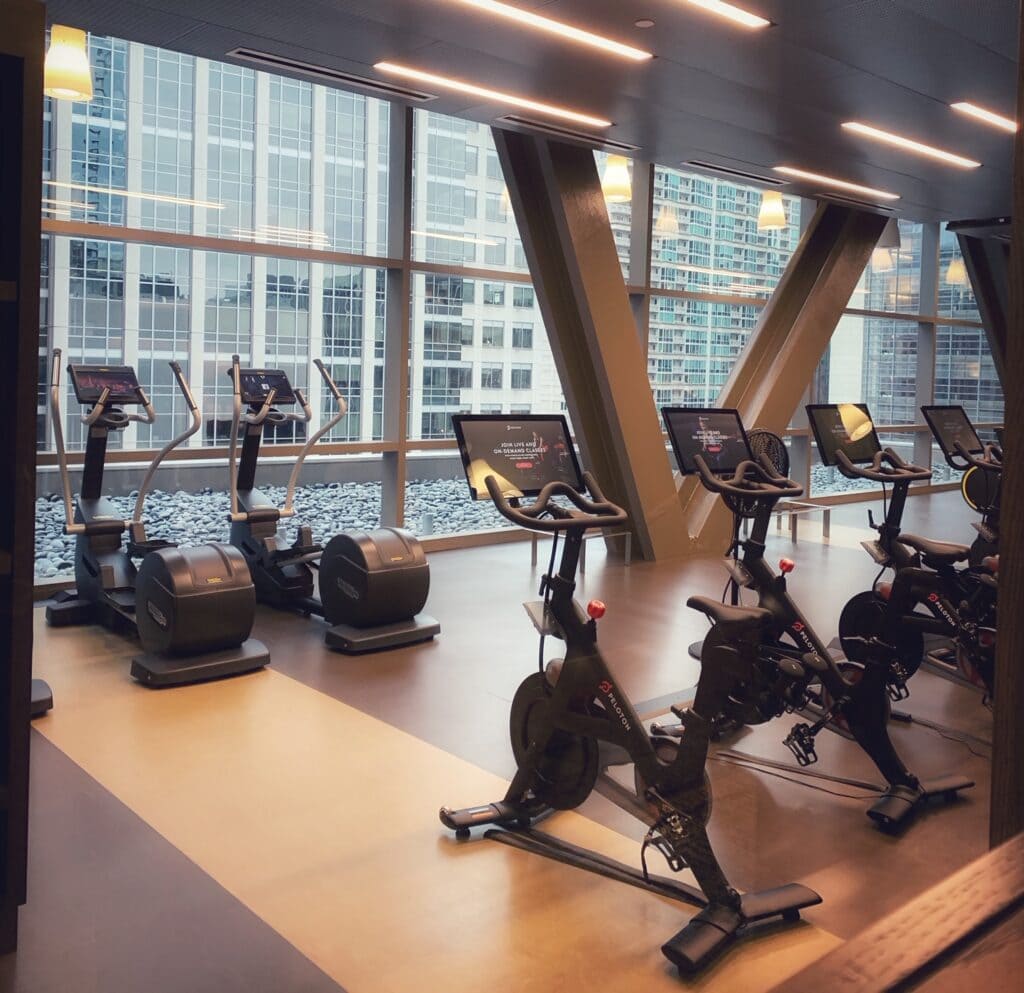 The Exercise Room – 
There is also an exercise room you can access if you want to work out during your stay.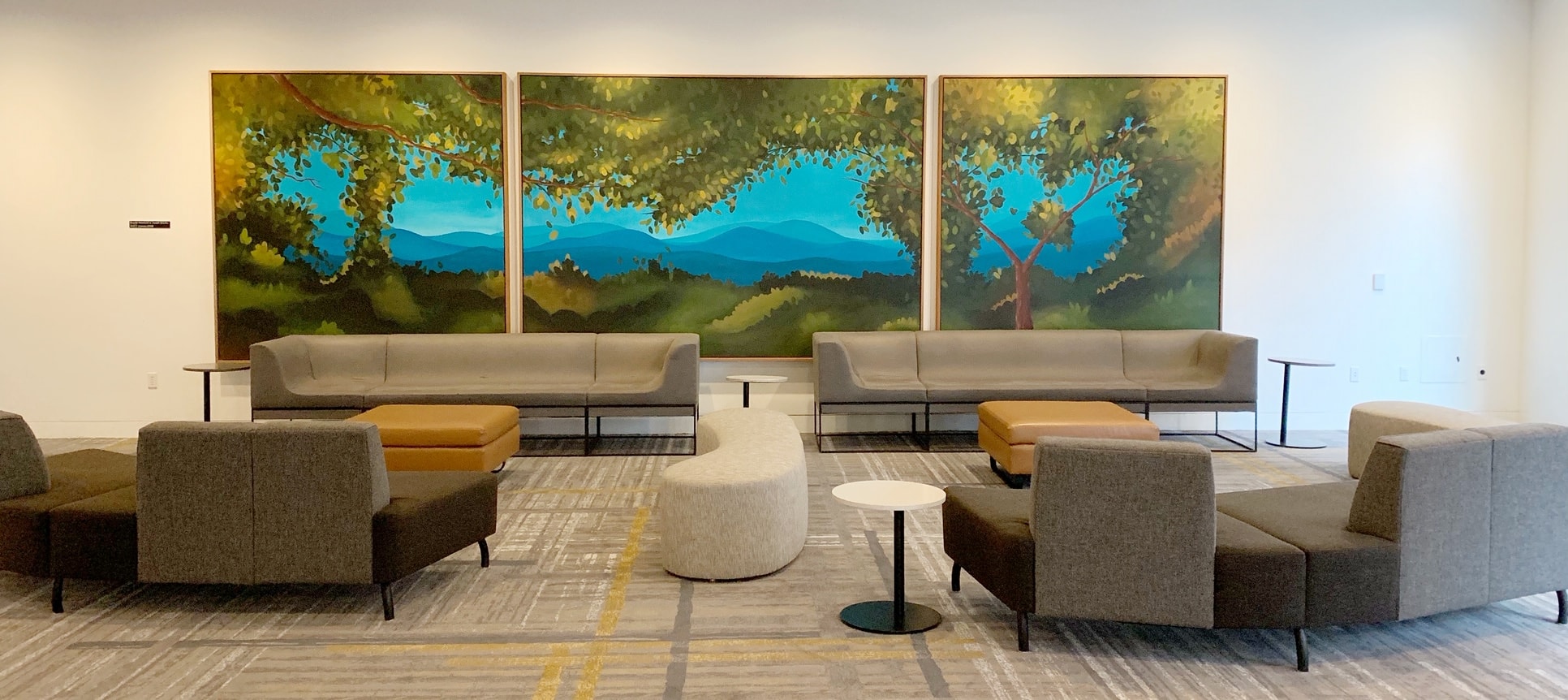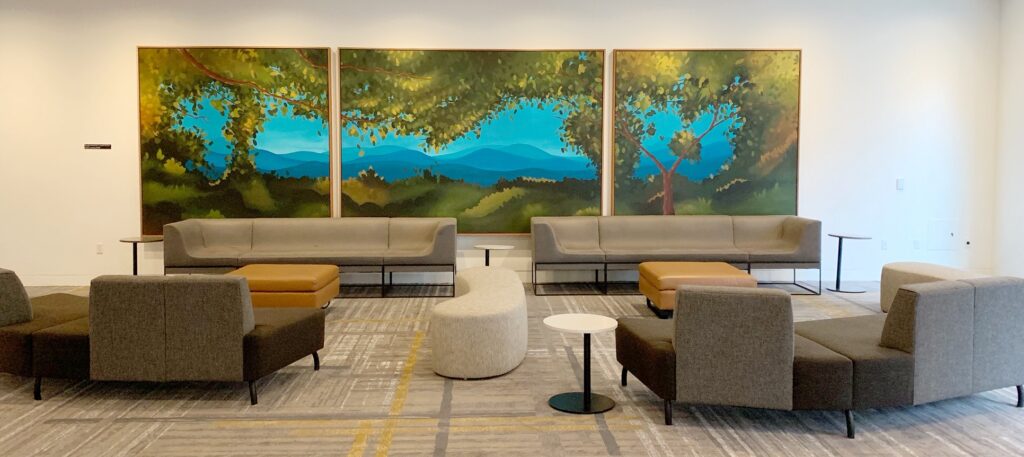 Enjoy an Art Walk – 
If you love art, there is plenty of it throughout the hotel to enjoy. You will find sculptures, paintings and photography in various areas of the hotel, starting with some large pieces in the lobby. Then on each conference floor of the hotel there is a NW inspired art piece depicting the seasons (as well as nice seating areas you can enjoy if you are looking for someplace quiet to work or relax).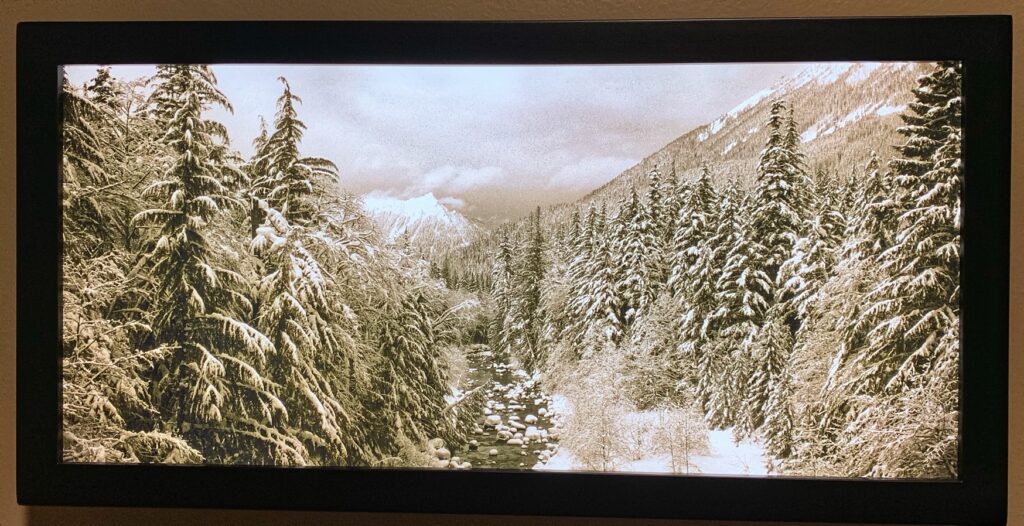 The rooms themselves have beautiful light boxes with photography done by local artists. This was the picture outside of our room, and I loved enjoying it each time we came back to the room.
Upgrade to Get Access To the Club Level – 
My favorite amenity is the Club Level access, and I highly recommend upgrading to this option. It is one of the nicest ones I have been in, and the food and beverage options where amazing. The room itself was super comfortable and a wonderful community spot to hang out in. It was only about $30 more to select a Club Access room at the time of our booking, and I thought that was a great value for all we had access too.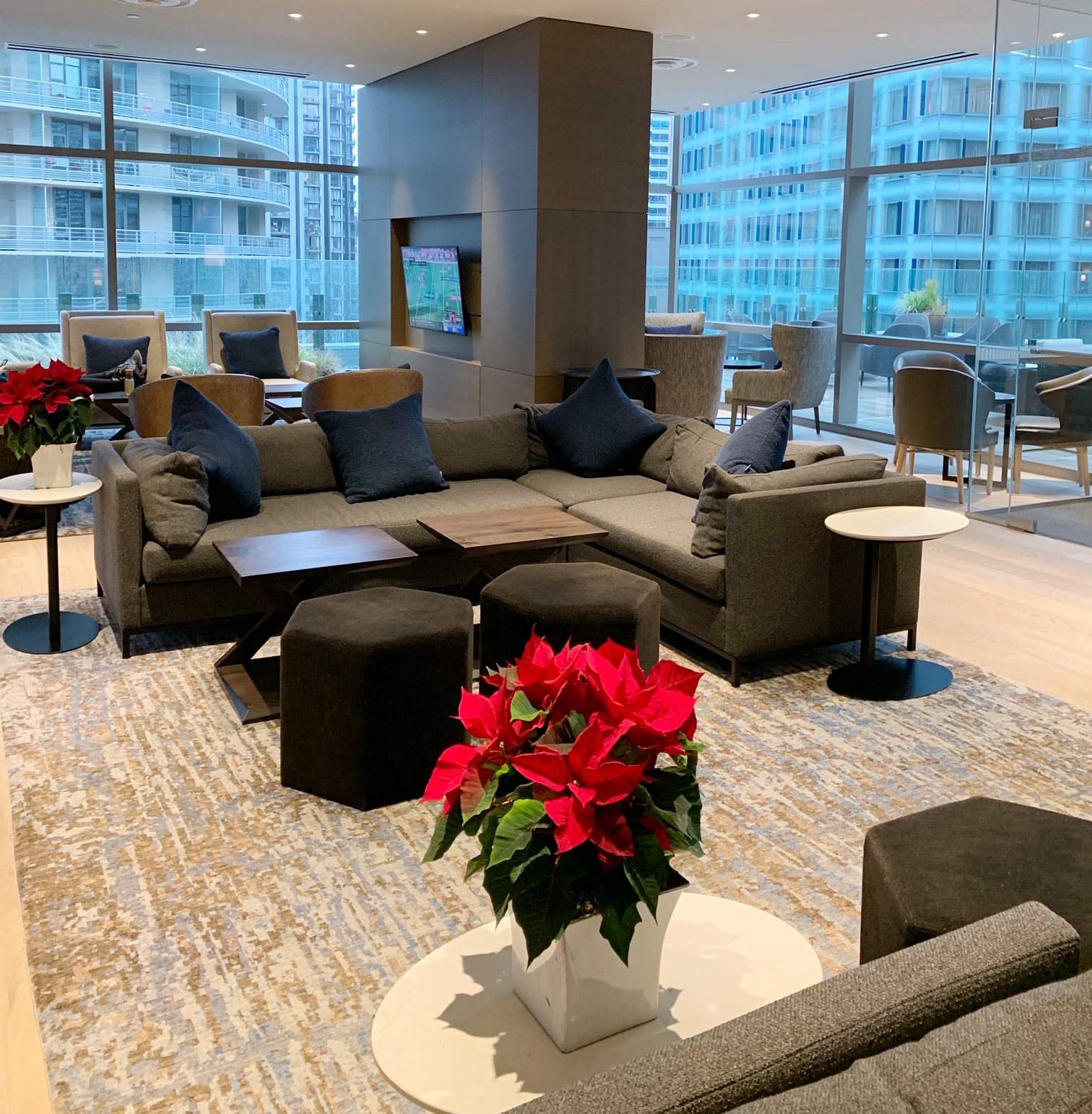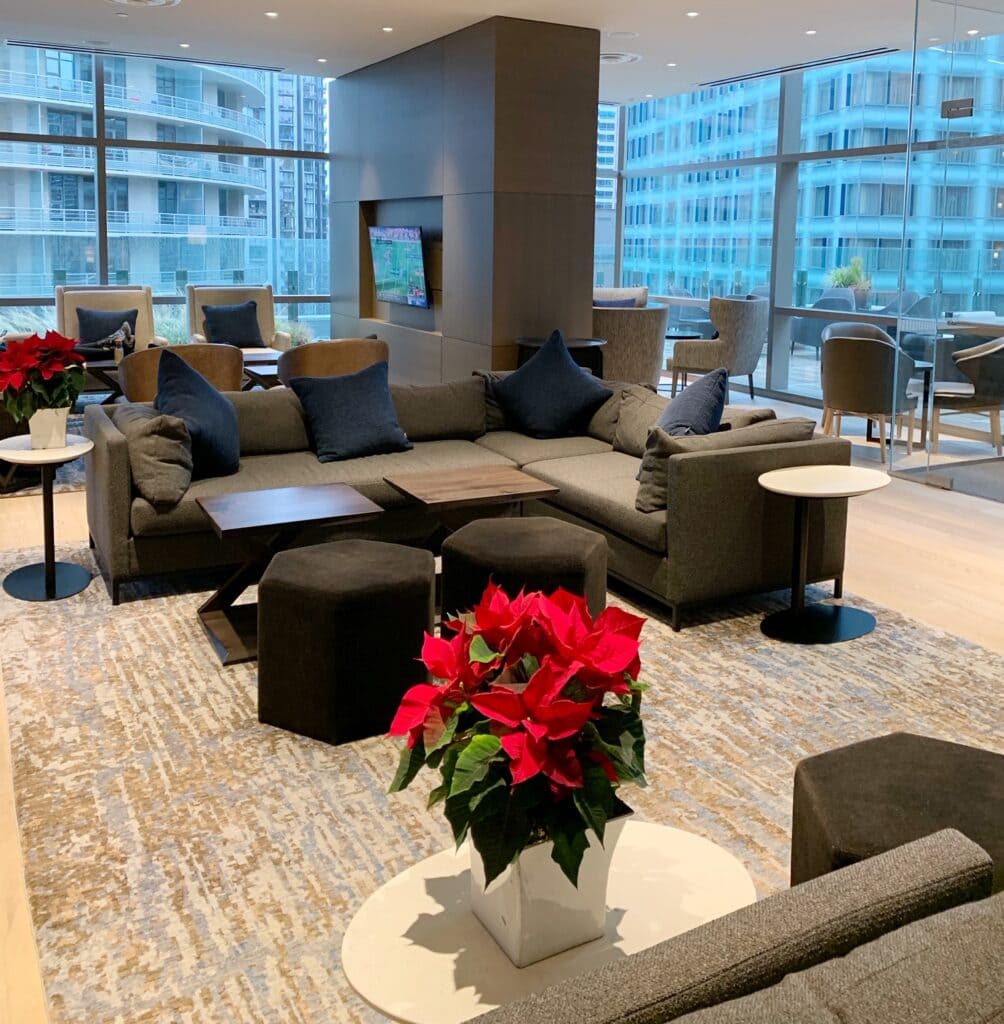 The club room has plenty of different seating options. There was never a time when we entered that we were not easily able to find someplace comfortable to sit. There are also a few table top games to play here and access to a computer center.
My favorite part though, is the complimentary food options they offer when you have access to the club room. They really went above and beyond with these in my opinion! There are two espresso machines (and I really enjoyed my caramel lattes), as well as fridges full of juices, water, and soda options (like Dry Soda and Jones Soda too). They offer Hors d'oeuvres in the evening (although my kids could have made a meal out of this – it included beef sliders, and other hot food options along with a cold spread during our stay) and a complimentary breakfast in the morning. Between all of those food and beverage options, access to this room turned out to be a super deal for my crew, savings us on food costs elsewhere.
The complimentary breakfast is called continental, but there was hot sausage and other warm foods while were were there too. There was a beautiful fruit spread, and some specialty items like these parfaits, and more. The espresso machine alone was wonderful perk.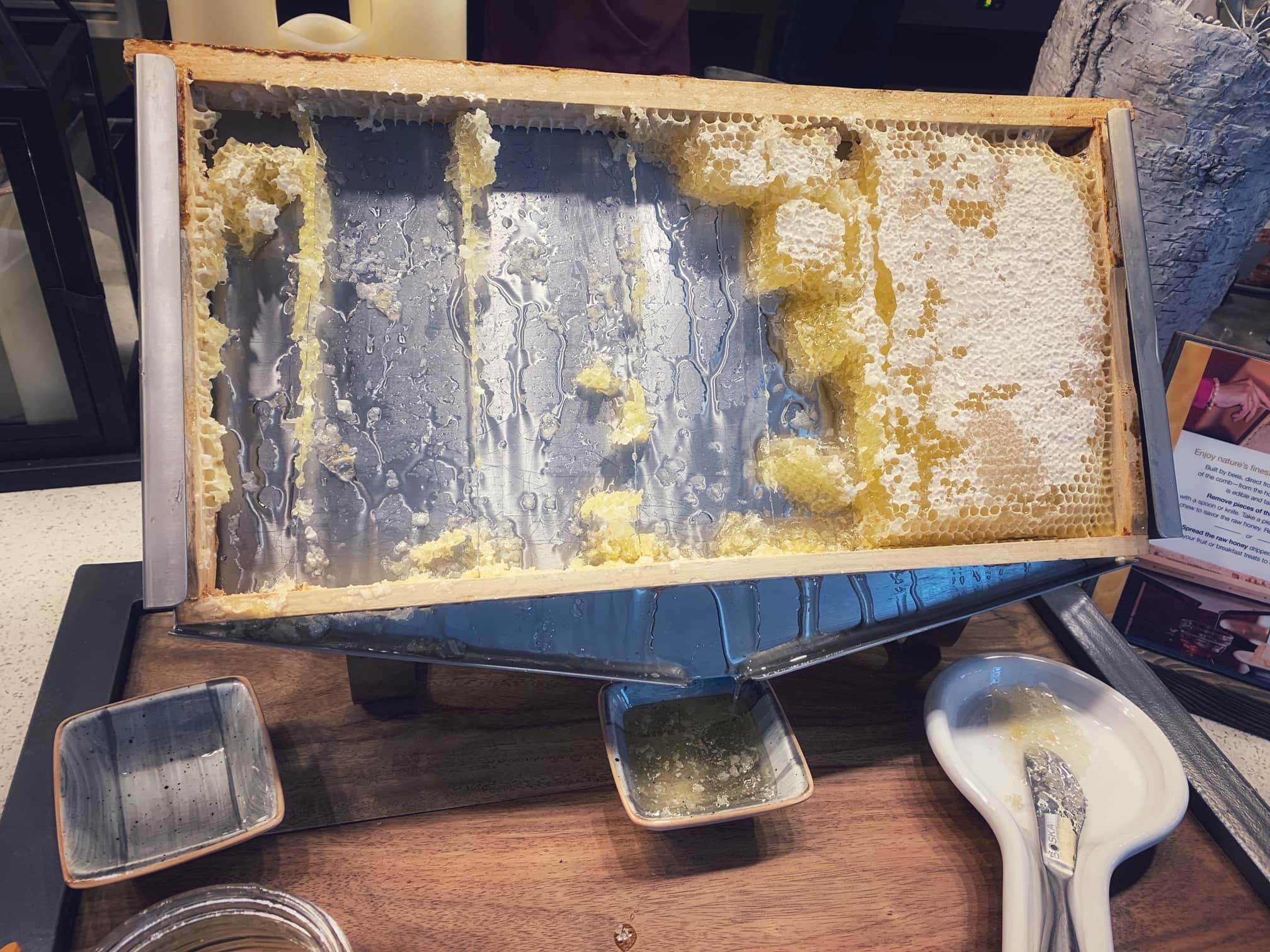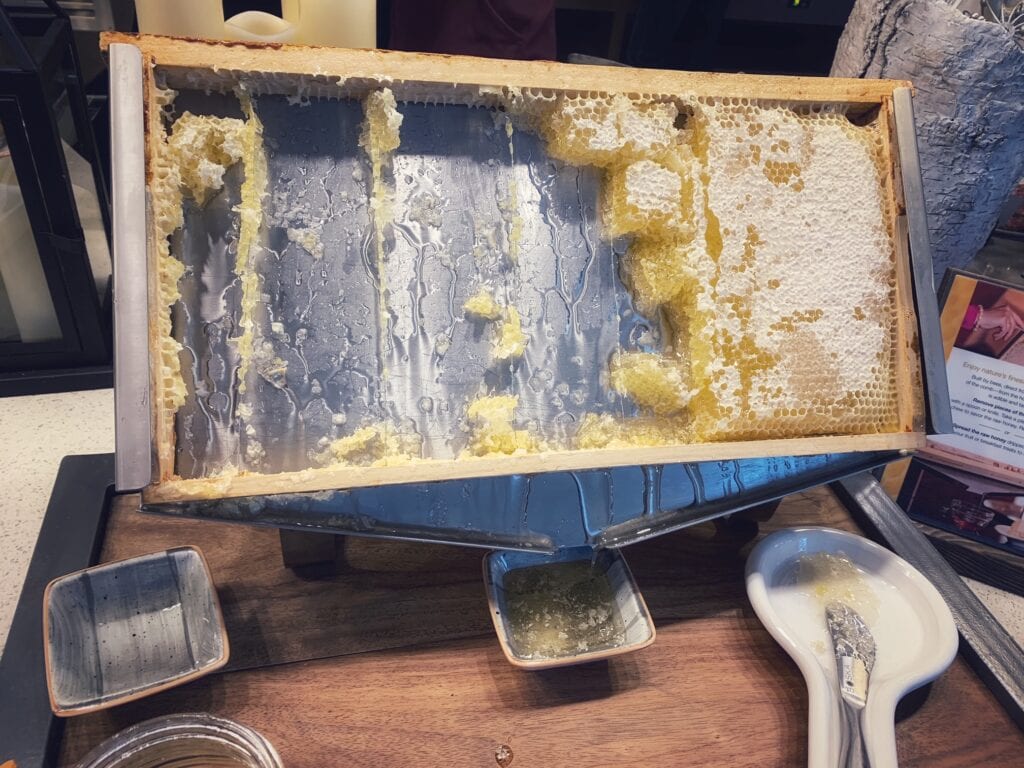 Just to highlight how wonderful the spread was, they served honey right in the honeycomb. My kids are obsessed with honeycomb, so they loved this.
Everything in the hotel is really focused on keeping things local and green, which is a theme that fits well with Northwest culture.
Restaurants at the Hyatt Regency: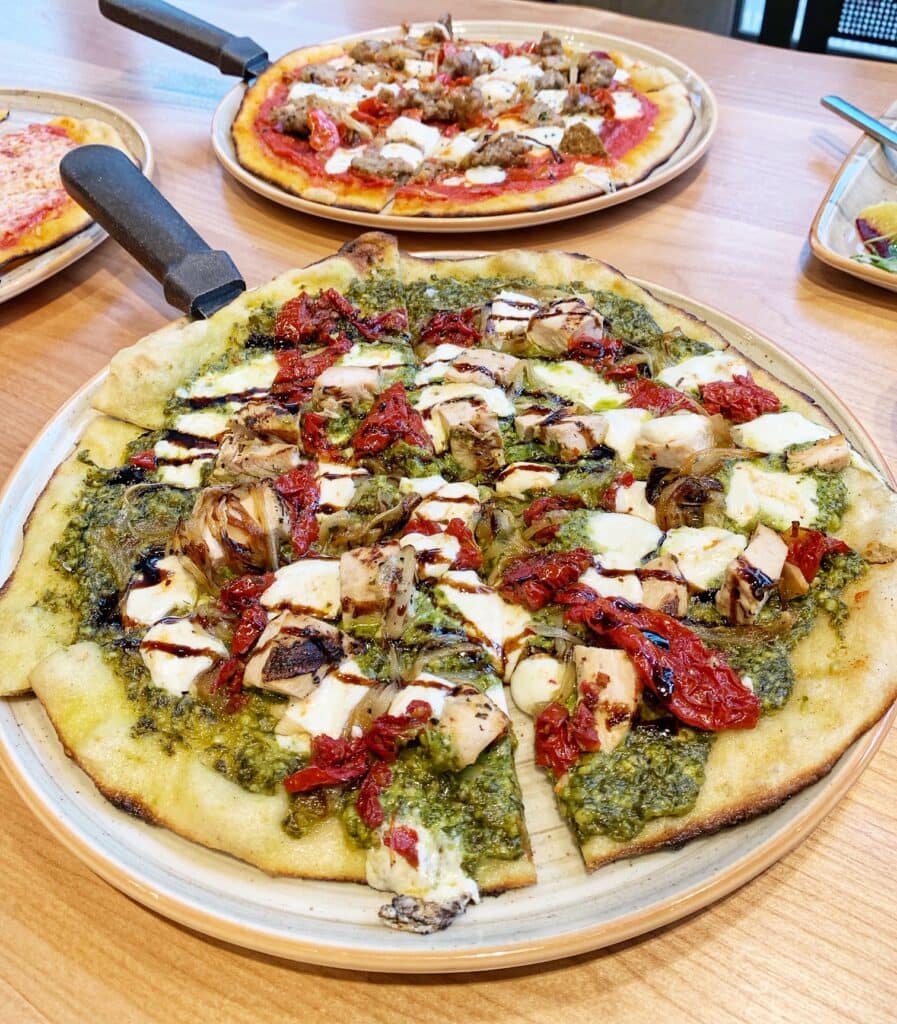 There was some amazing food at this hotel. We started with lunch at the Andare Kitchen and Bar. This spot has a very popular happy hour in the bar area, but the restaurant is a wonderful area to enjoy a meal. It is affordable, I loved the ambiance (floor to ceiling windows, and a beautiful pizza oven the restaurant was built around), and has great options for family dining or a couples or girls night out.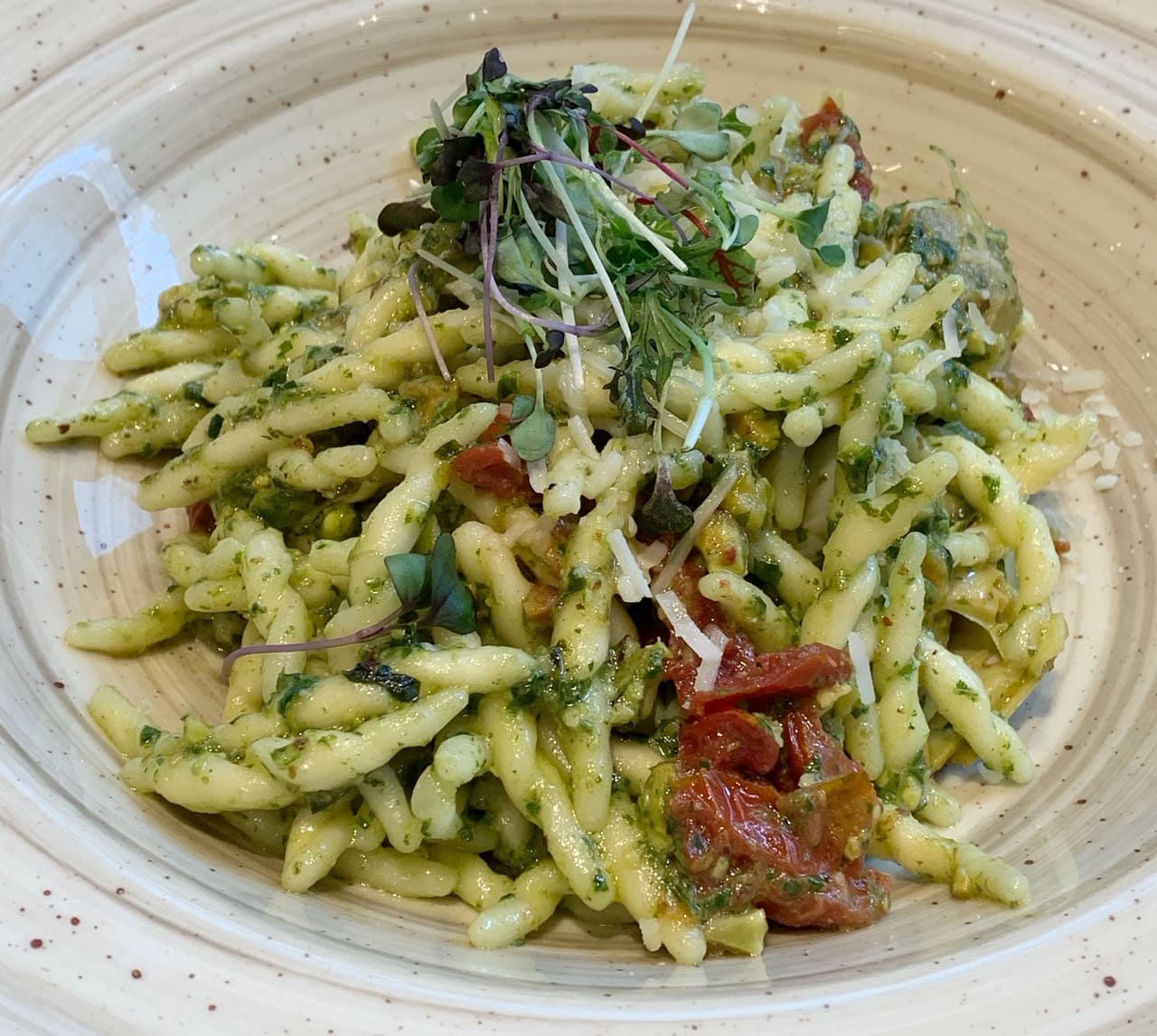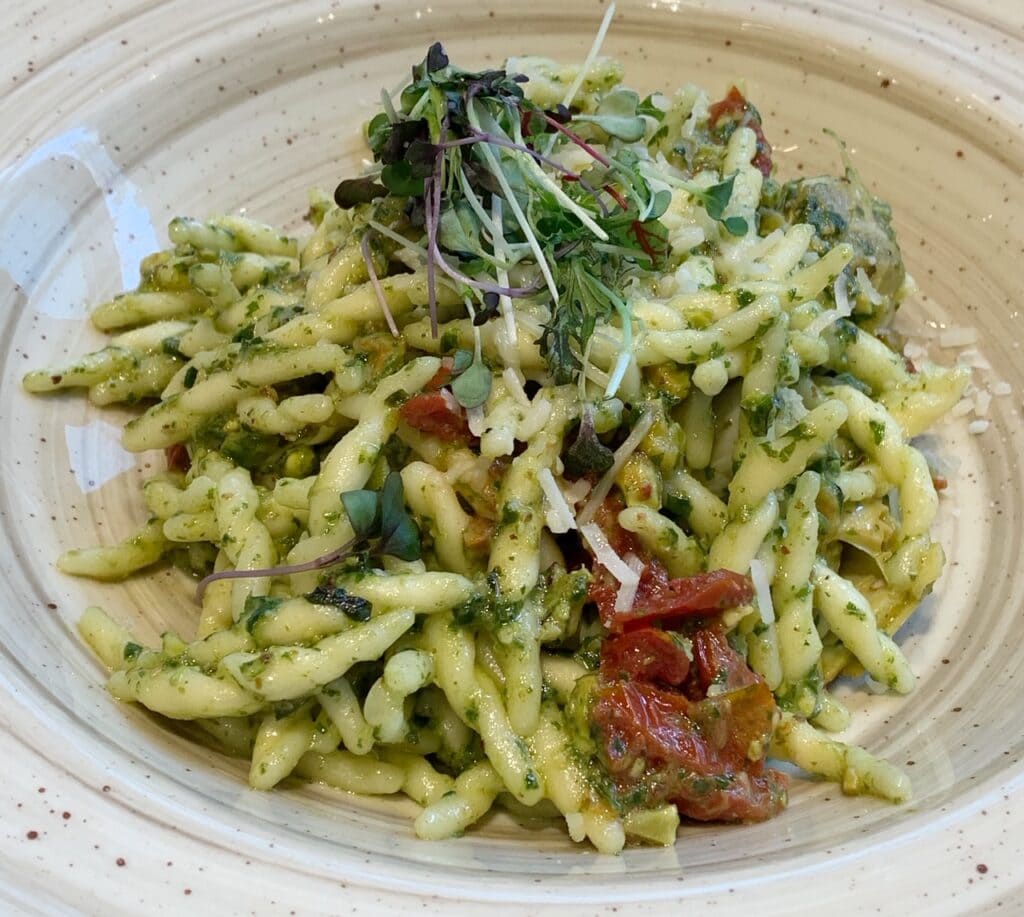 I would come back just to eat here! They use all local products and you could taste the freshness. Most portions are large enough to share, so try ordering a few and eating family style too. There is a pizza oven, so you can get delicious stone fired pizzas (my kids loved these), and don't skip dessert here. You will be in for a special treat with these options, all made in house.
If you are visiting on an adult getaway, the lounge at Daniels Broiler is a great spot to hang out in the evening. There is a piano bar (and live music played on the weekend evenings) and great appetizer options.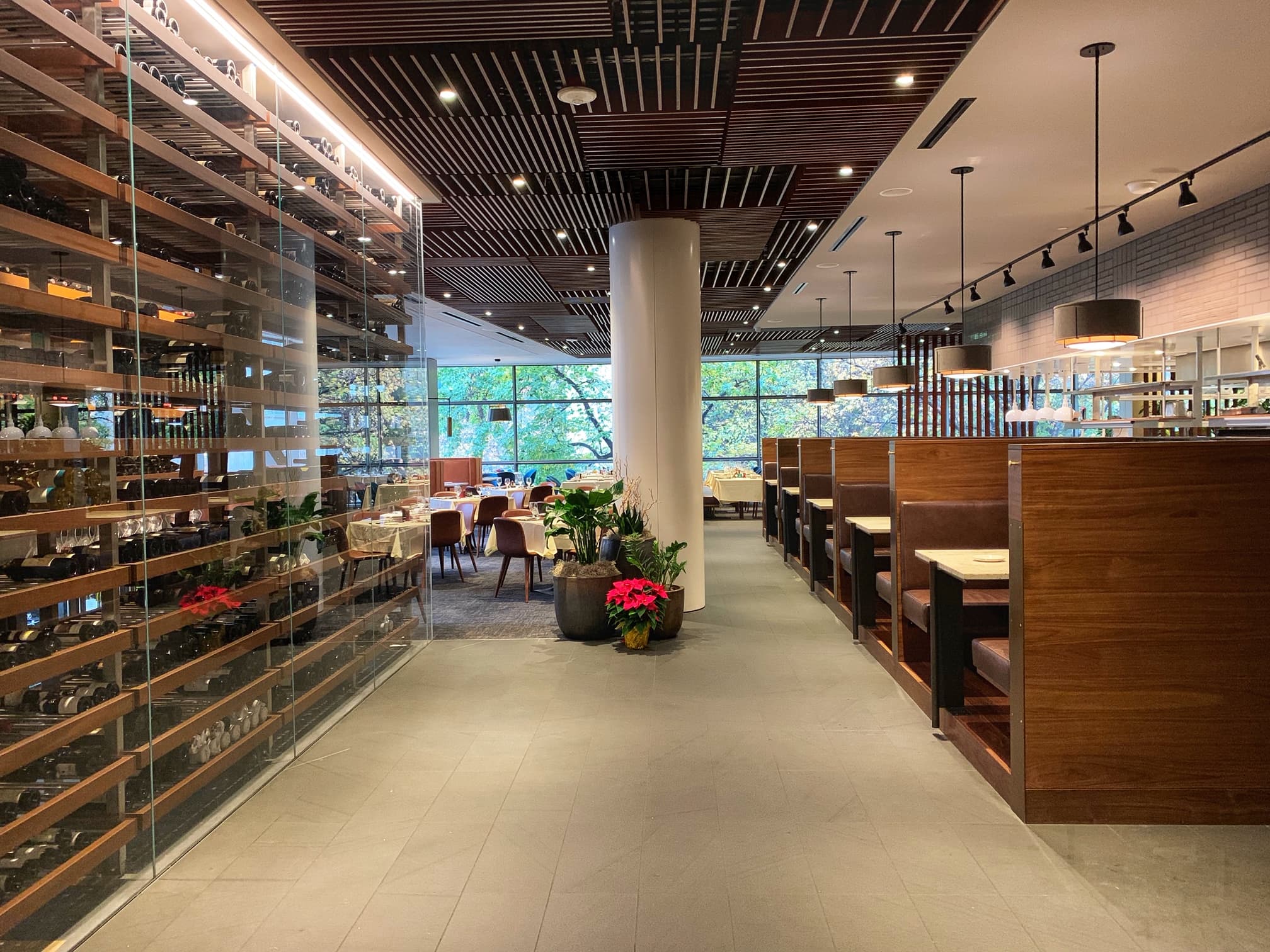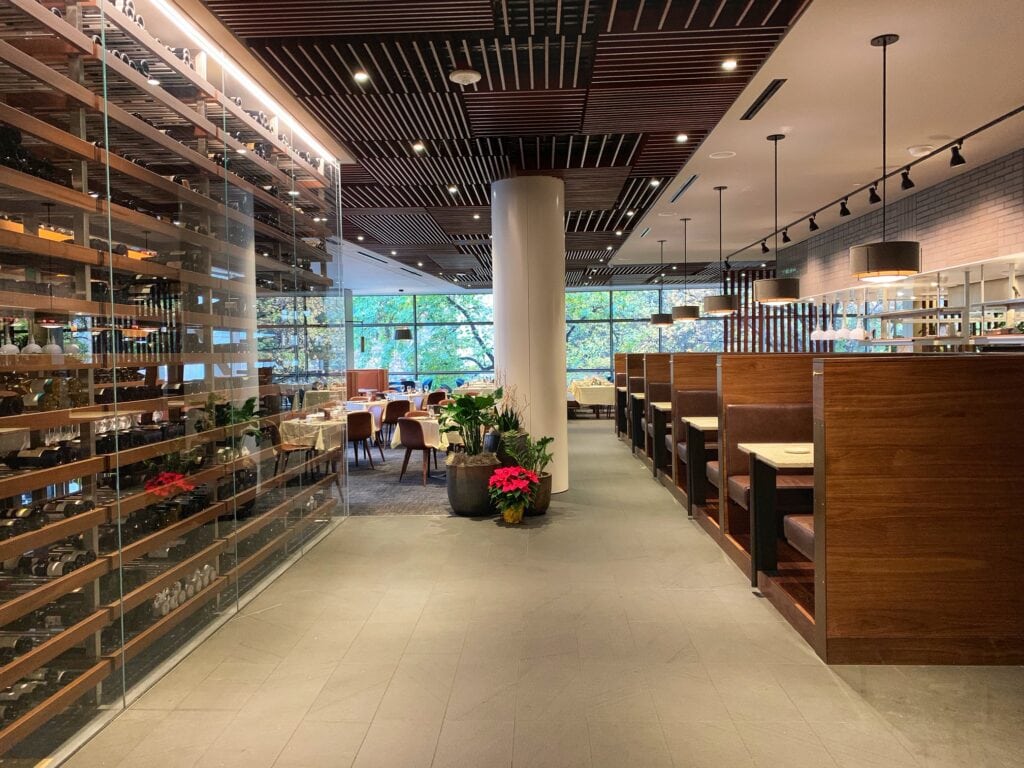 If you are looking to celebrate a special occasion, or just want a great meal, there is a Daniels Broiler right in the hotel too, and it is beautiful. The windows sit right in front of some beautiful trees, making it feel like you are someplace other than right in the middle of the city. I loved the design of this restaurant, and I think the food speaks for itself.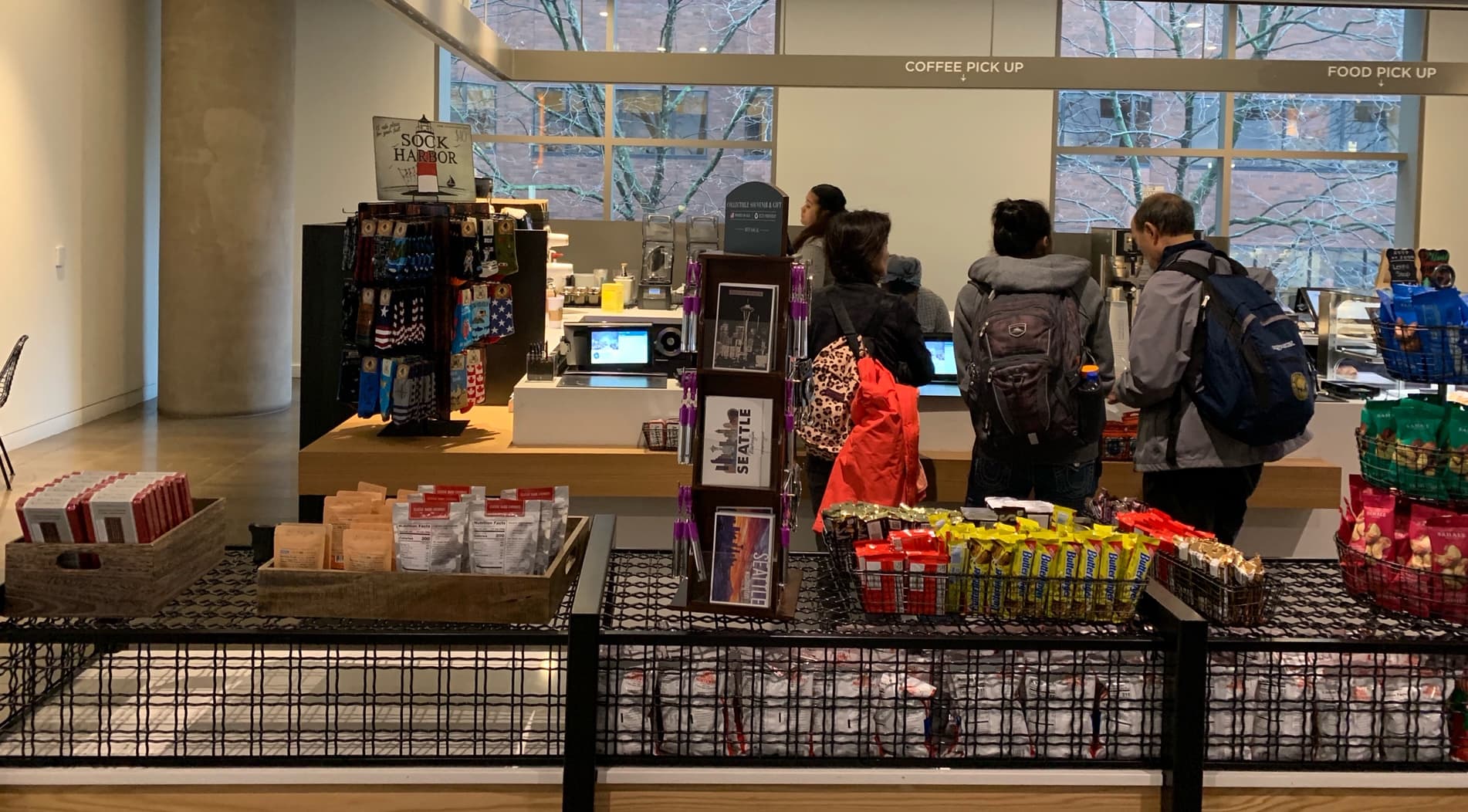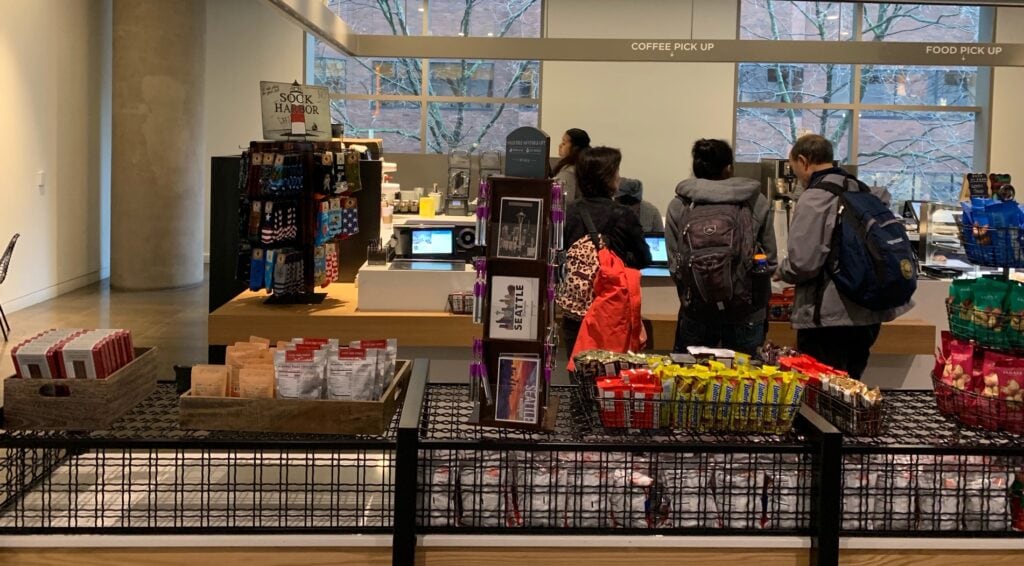 The Market Place – 
There is also a 24 hour Market Place open, which is a wonderful perk for families or travelers getting in late. You can get soups, salads, sandwiches, espressos and snacks at any time of the day or night here. There is plenty of seating in the area too, or take the food back to your room.
And here is another fun fact about this hotel. They built the hotel around a few pillars. One is the Pizza Oven in the Andare Restaurant, another the escalators, and the third is the laundry. That may sound a bit odd, but they have a state of the art laundry facility that recycles water and fits in perfectly with the green focus of the Northwest. 
Meeting Space at The Hyatt Regency: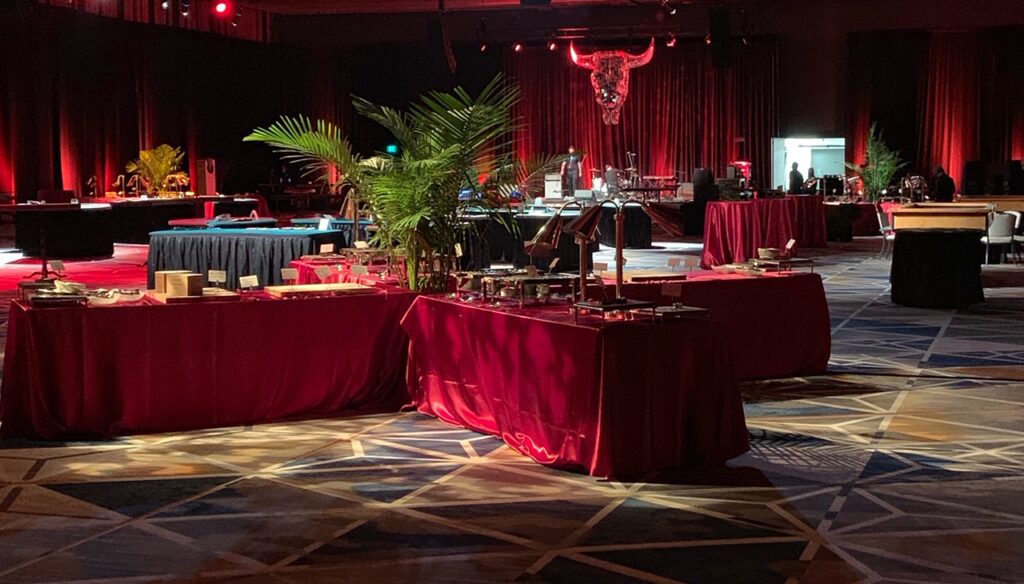 If you are looking for someplace to throw a special event, their meeting space options are impressive. There was a large corporate party taking place while we visited, and it looked pretty spectacular. There are plenty of options for smaller events as well.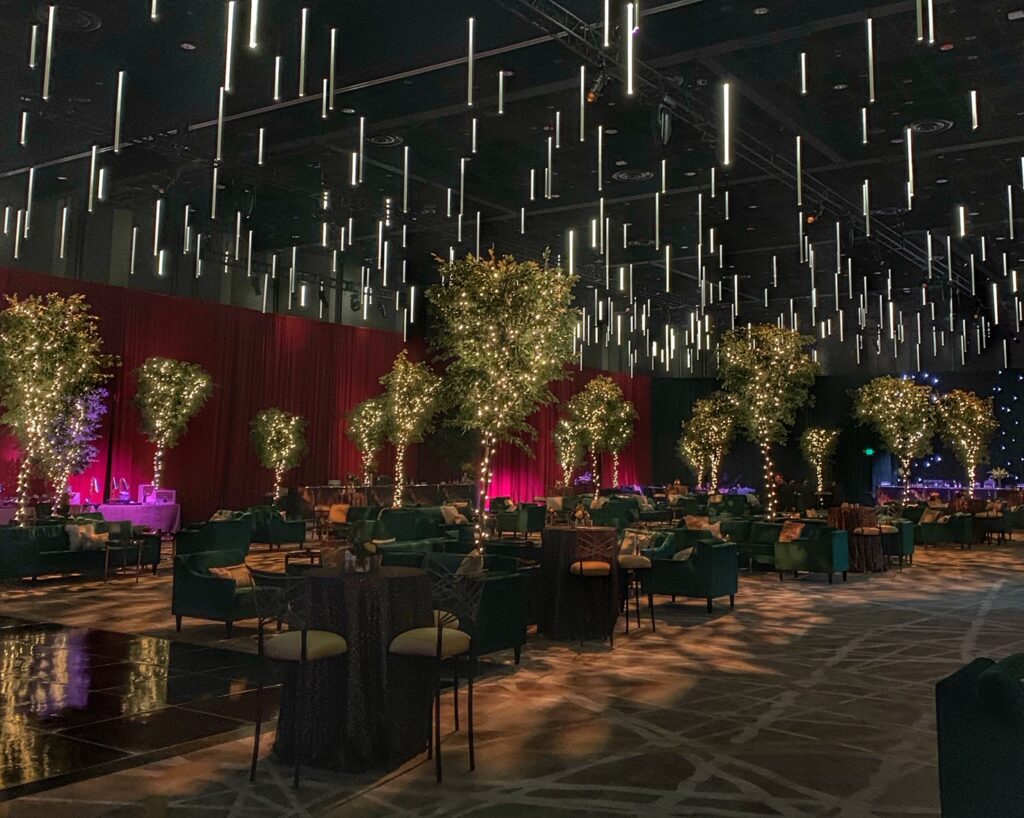 And you will have no problem finding enough space for guests to stay, if you are hosting your event with this hotel!
What to do nearby: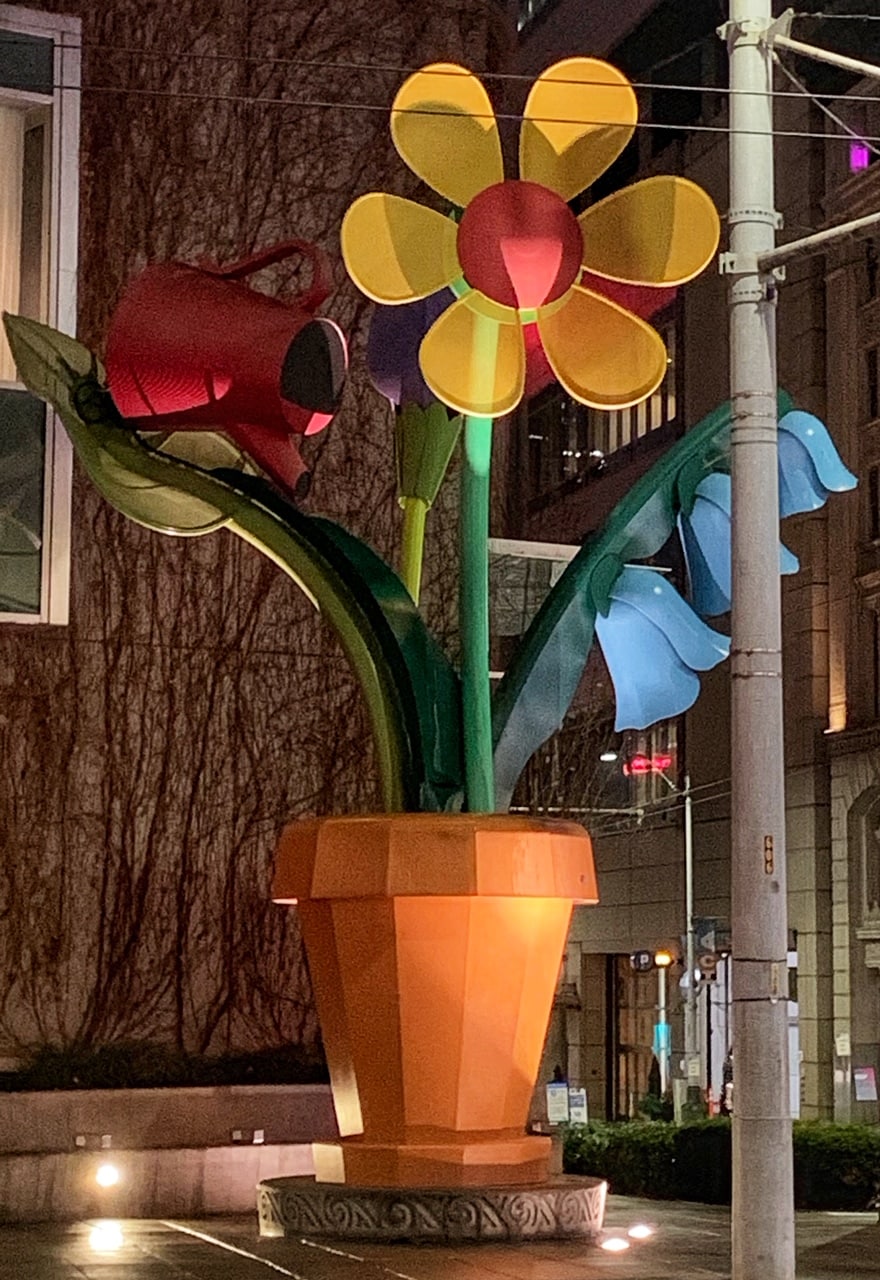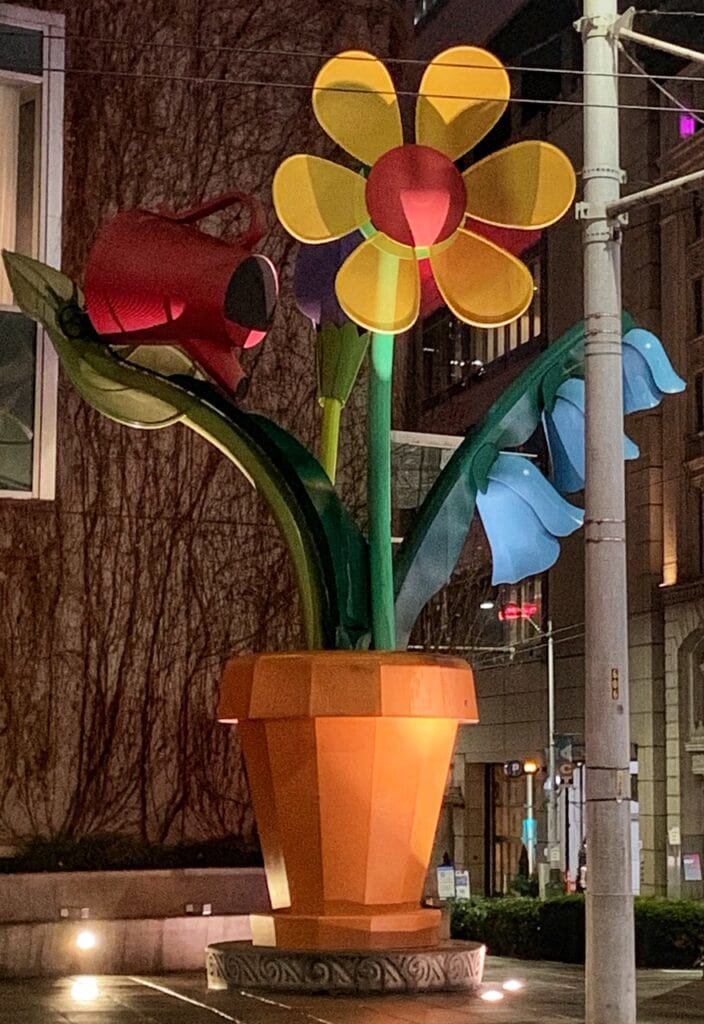 The Hyatt is located on 8th street right in the heart of the Seattle shopping district, and in walking distance to theaters like the Paramount and 5th Avenue. There is also easy access to the Seattle Center via the monorail, and you can take the Light Rail down to the stadiums (or we used Uber to get down and back with ease).
The Pike Place Market is about an 8 block walk, and the waterfront not much further beyond that. So it really did feel like a nice central location to see and do all we wanted to in the downtown Seattle area. The Nordstrom Santa was just a couple blocks down if you are looking for Santa photo opps too).
We spent much of our visit exploring Enchant Seattle with this package. You can read more about Enchant here, and what you can expect at this attraction. It makes for a magical holiday stay for certain!
The Gelato Cart at Enchant. There were many enhanced food and drink options at this years event (compared to last year)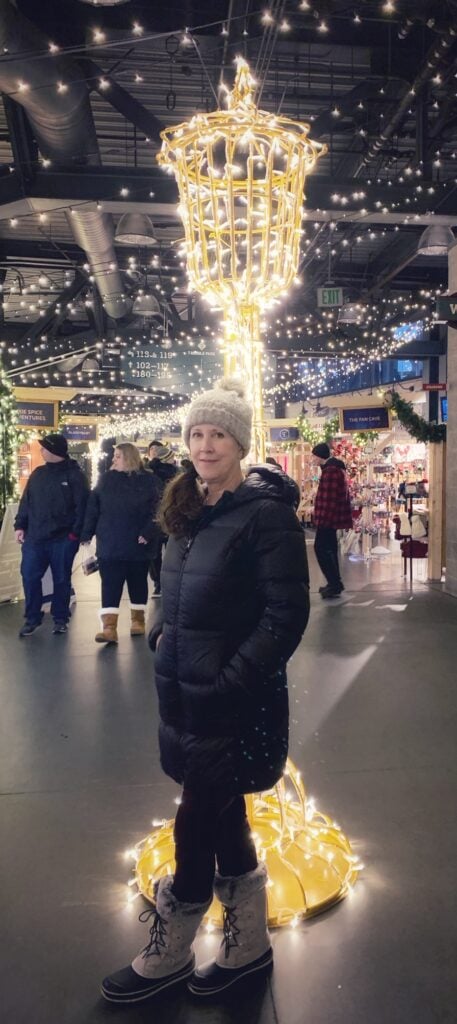 There were lots of photo opps, so be sure to get some Christmas pictures while you are here. There were also Carolers, dressed in costumes from times past, and handing out large chocolate gold coins.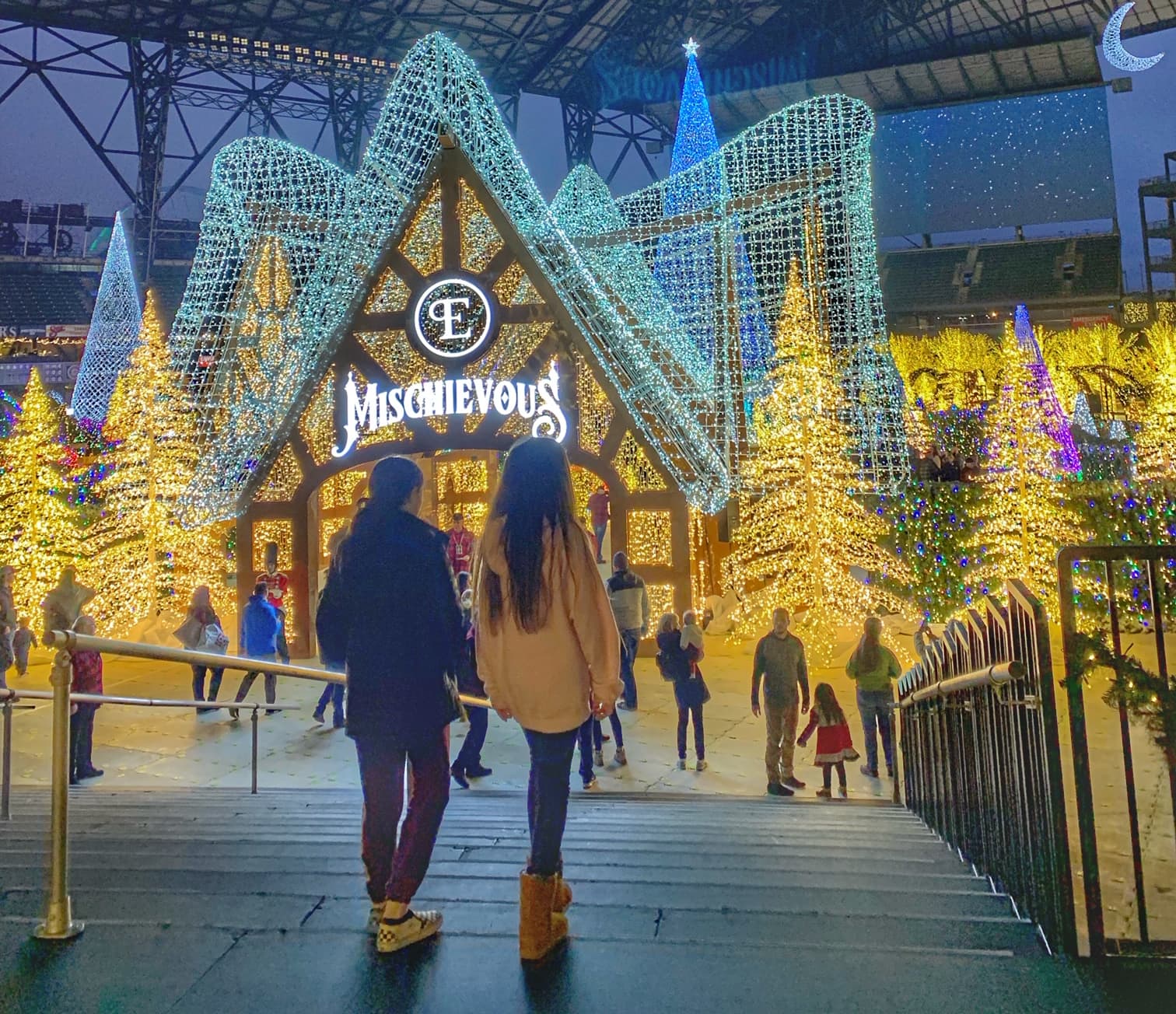 Find more details on what to expect at Enchant here.
You might also like: