Macy's Holiday Savings + a Macy's Surprise!
This post may contain affiliate links and I may be compensated for this post. Please read our disclosure policy here.
Disclosure: This post is sponsored by Macy's & Savings.com. All opinions are my own. 
Macy's Holiday Savings + a Macy's Surprise!
Our tradition in our house at Christmastime is that we focus on spending intentional time together as a family as we countdown to Christmas with our 25 Days of Christmas countdown. Each day leading up to Christmas we do special activities together as a family – some can be elaborate such as visiting Zoolights or other Christmas displays. And they can be as simple as Christmas charades or a "snowball" fight (with paper snowballs – this is always a favorite!).
As part of our 25 Days of Christmas activities, we always include activities where we focus on giving to others on those days, whether it be ringing the bell every year for the Salvation Army outside our local mall or shopping for kids for a local angel tree. One of our favorite give-back activities as a family are random acts of kindness, surprising unsuspecting people by doing something nice for them.
Macy's Surprise Giveaway:
We were approached by Savings.com & Macy's to participate in a BIG Random Act of Kindness this season and we jumped at the chance to participate since we love opportunities to surprise people! And this was perfect timing to do as it was December 1st & we could kick off our 25 Days of Christmas activities with giving back to others, such a great way to start our Christmas countdown!
Our whole family headed to our local Macy's store & we were given the opportunity to surprise an unsuspecting shopper with a $100 Macy's Gift Card! Wow!
We also had a lot of shopping to do while we were at Macy's & first up was looking for Christmas outfits for my girls as we had a day in Seattle  planned for later in the week last week.  My girls really wanted to find a family to surprise, so the kids' section was the perfect place to visit at Macy's! They have been having fantastic savings all month long, so we were excited to take advantage of the sales on dresses.
We shopped for awhile looking at the Christmas dresses & while we were shopping, we saw a sweet family who was there with their 2 girls, mom, dad & grandma. The girls looked like they were having so much fun trying on different holiday dresses & modeling them for their parents & grandma. My girls loved the idea of surprising this family, since they were shopping for Christmas dresses & gifts, too, so we decided this would be the family we would surprise when they headed to the Macy's checkout.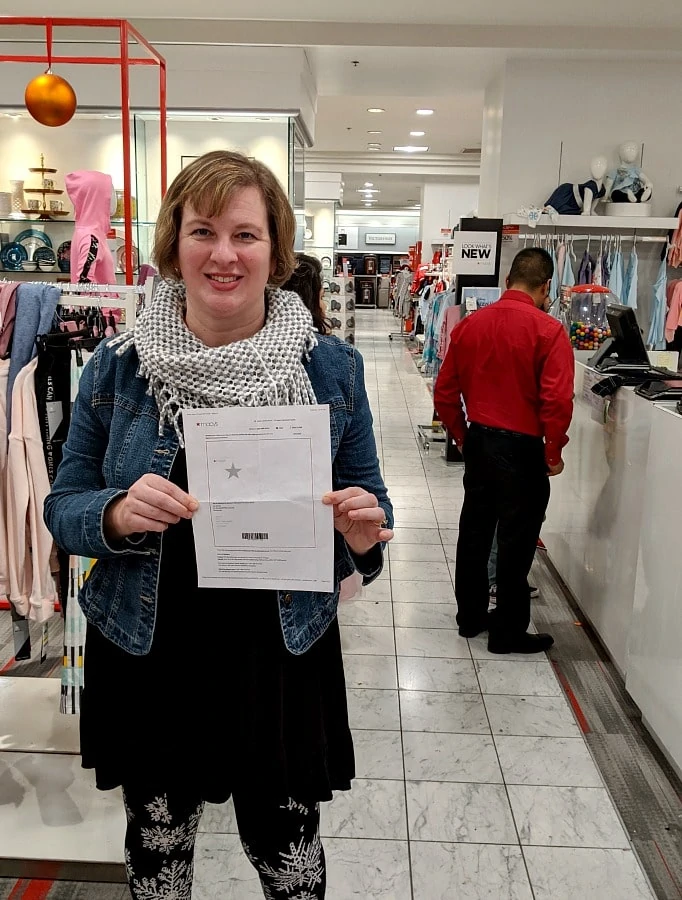 We first approached the mom and I explained that I was partnering with Macy's & Savings.com to surprise shoppers at Macy's with a special gift card to help them pay for their purchases!  She was honestly a bit hesitant, as I'm sure she was wondering who these strangers were & was it for real or a joke? So, she called her husband over & it took a bit of convincing, but we finally convinced both of them to let us gift them with this gift card to help pay for their purchases.
They are definitely feeling a little unsure & not sure what's going on!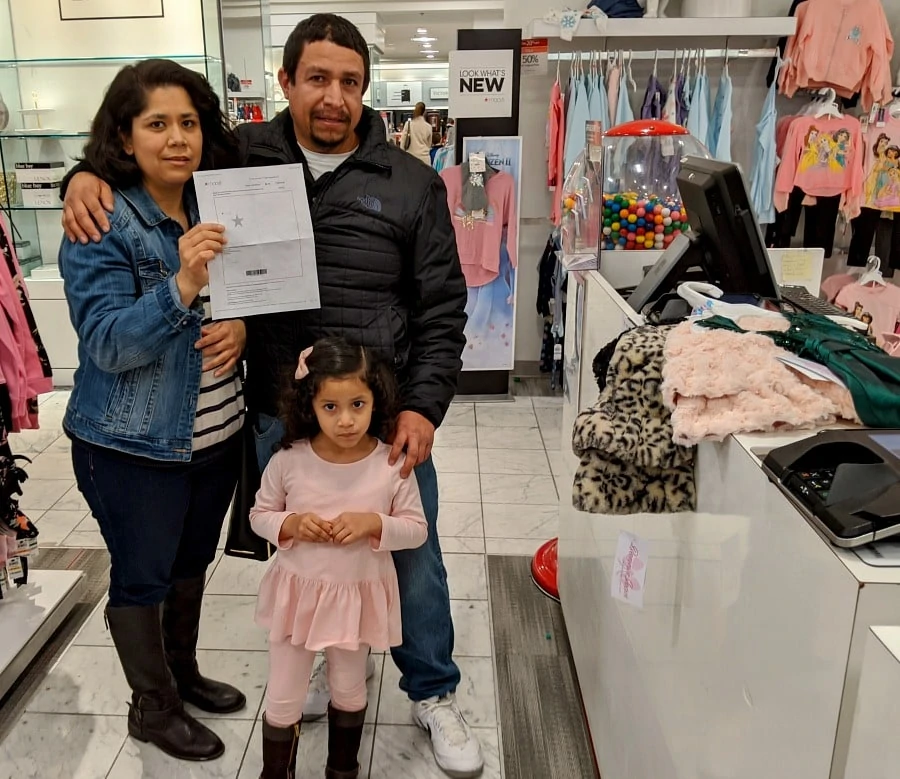 It's starting to sink in as we take pictures that this may be the real thing! We may be giving them $100 to use at Macy's!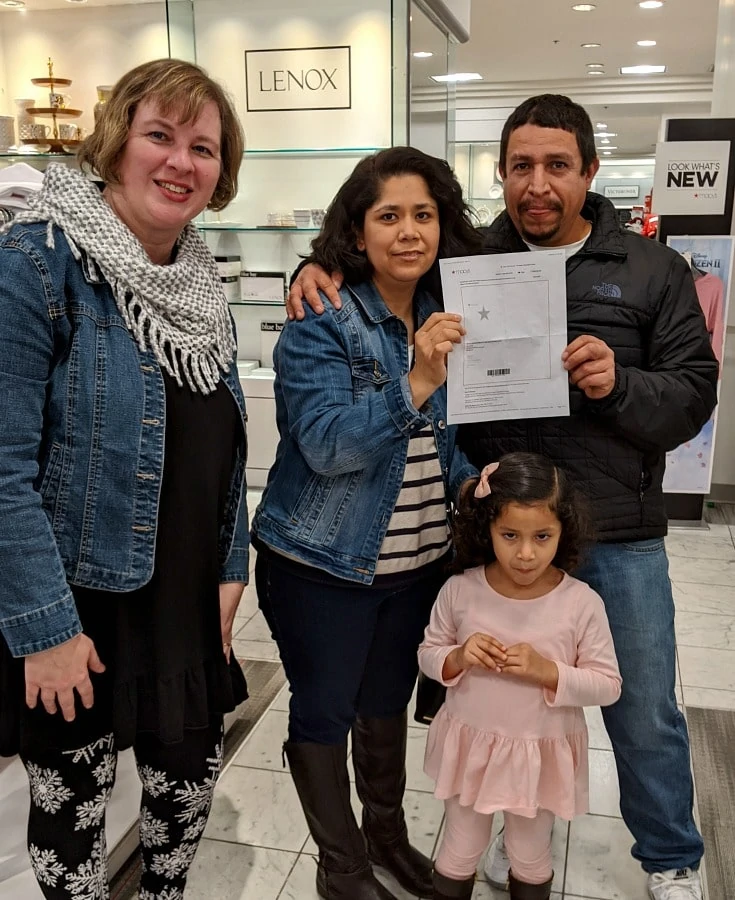 They definitely were cautious & unsure as I handed them the Macy's $100 gift card & the dad then gave the gift card to the cashier (grandma & their older daughter wanted to stay in the background as we took pictures as they were not sure we would really follow through).
But, what big smiles the whole family had when they realized this wasn't a joke (wish I had caught that on camera but we were chatting more with them then) and we truly did want to spread some holiday kindness by choosing them to be the recipients of the $100 Macy's gift card! What a blessing to be a part of paying towards their Christmas outfits for their girls & a few gifts they were giving for Christmas!
The smiles on all of their faces definitely made it so memorable & such a great experience for our whole family! It really made our night – giving to others is so gratifying & it really blesses you as the giver to be able to give so generously! It definitely encouraged our whole family to seek out more random acts of kindness opportunities where we can give more generously to others during the holiday season & more regularly in our own lives. You never know what that blessing will mean to that person or family & how much of an impact an act of kindness can mean to them!
Macy's Coupon Codes & Savings:
Even though you may not find someone to surprise you when you're checking out at the register, thankfully Macy's has been having some absolutely fantastic sales this holiday season!
We have the latest & most updated coupon codes & discount offers from Macy's below so you can search thru & see what will be the maximum savings you can find for your Christmas shopping! Make sure to check this out each day as they are offering more & more coupons & discounts every day!
Make sure to create a Macy's profile to receive a 25% off coupon emailed to you which you can use on your next purchase!
We have been taking advantage of these coupon codes & sales for some fantastic sales this month, including purchasing my daughter's winter coat with their big sale on kids' winter coats as well as matching Christmas PJ's, boots for us girls & much more! I'm still working thru my list of purchases to make & Macy's is definitely at the top of my list of stores to shop with so many coupons & discounts!