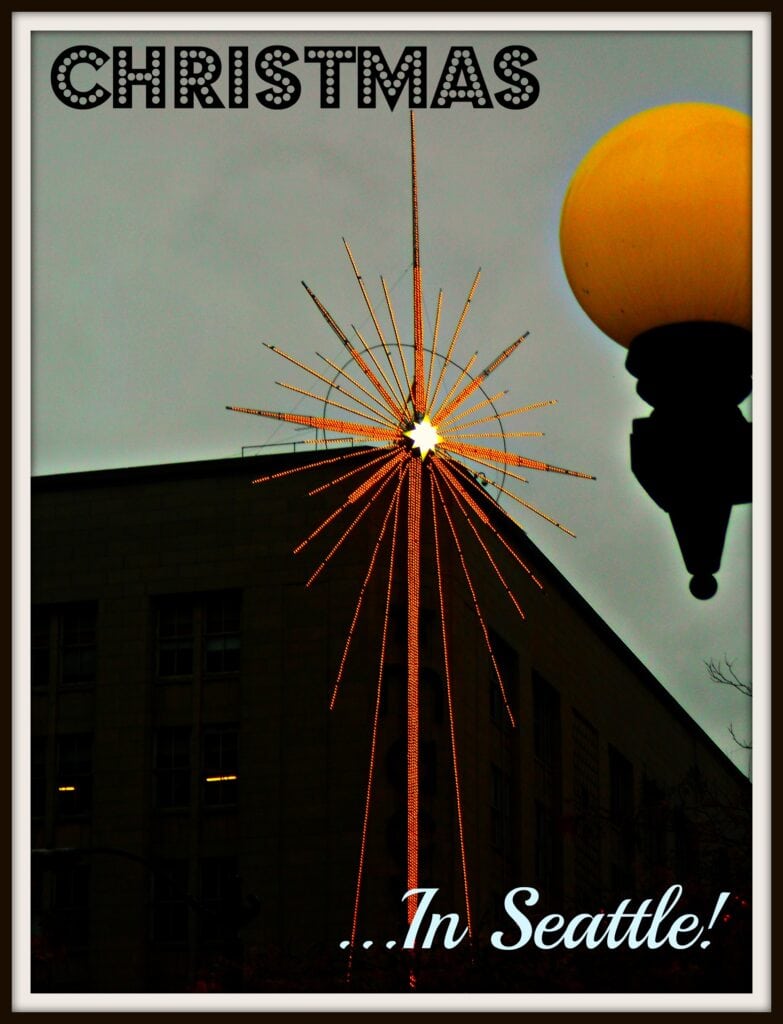 If you're looking for some inspiration on how to have some holiday fun this season, here is a review of my family's trip downtown Seattle! All of these events are still taking place this year.
My family loves to kick off our Christmas season with a visit to downtown Seattle and all of the FREE or affordable festivities available to enjoy. In the past we have stayed overnight, but this year we decided to make it a girls' afternoon out and take my mother-in-law, who had never spent time downtown Seattle during the holidays before.
Parking::
The first thing you will want to do is consider transportation if you do not live in the city. Parking can be pricey, so if you are driving you may want to head down on a Sunday. Street parking in Seattle is free on Sundays. Many holidays offer free parking too (so December 25th will offer free parking in Seattle). If you are not heading down on a Sunday you can use this Parking Search Engine (note – search your 'neighborhood' and then 'Retail Core' if you want to park near most of these activities), to find the best garage rates for the time you will be there, or check out the best street parking rates here. You will also find decent rates if you come after 5pm (like the Park Place Malls flat $6 rate after 5pm). Other transportation options include the Metro Bus, the Lightrail, or Seattle Sounder Train.
We parked in a garage across from the convention center for $8 all day (if you're in before 5pm).
Gingerbread Village – Sheraton Hotel: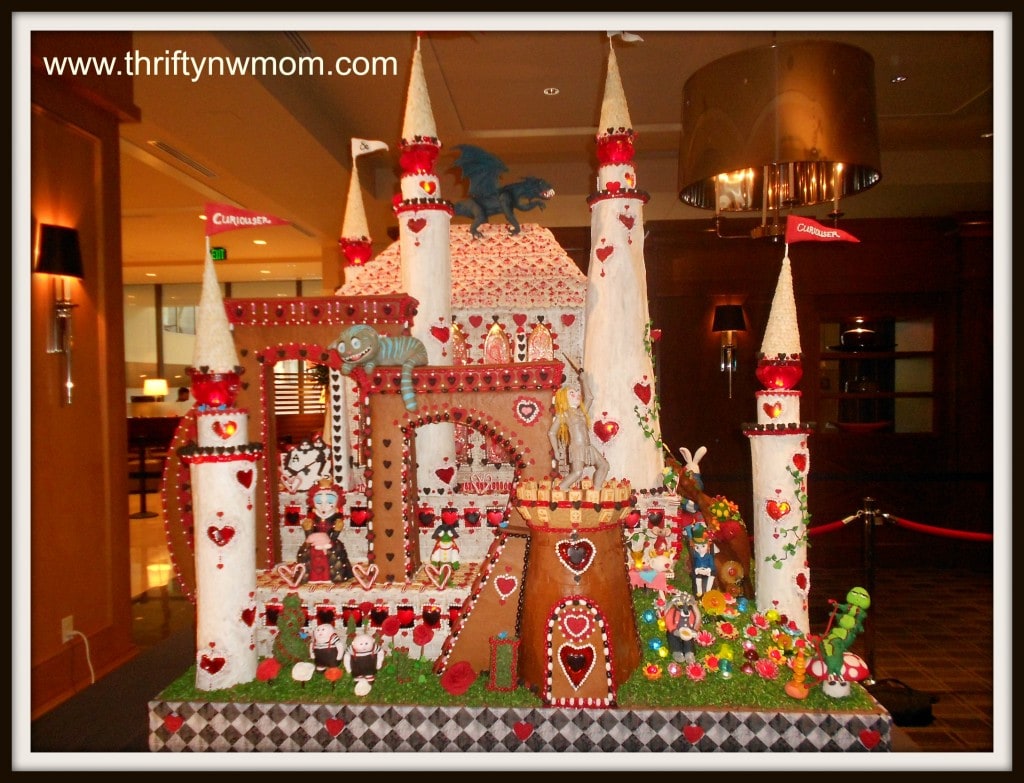 We love to visit the Gingerbread Village each year in the Sheraton Hotel, and this is usually where we start our visit off. When we have visited in the evening (on weekends) we have run into long lines. We went early afternoon this time, and the lines were not bad at all. My girls were so excited to see that they had made huge Gingerbread castles out of fairy tales a few years ago (this year's theme is Harry Potter!)!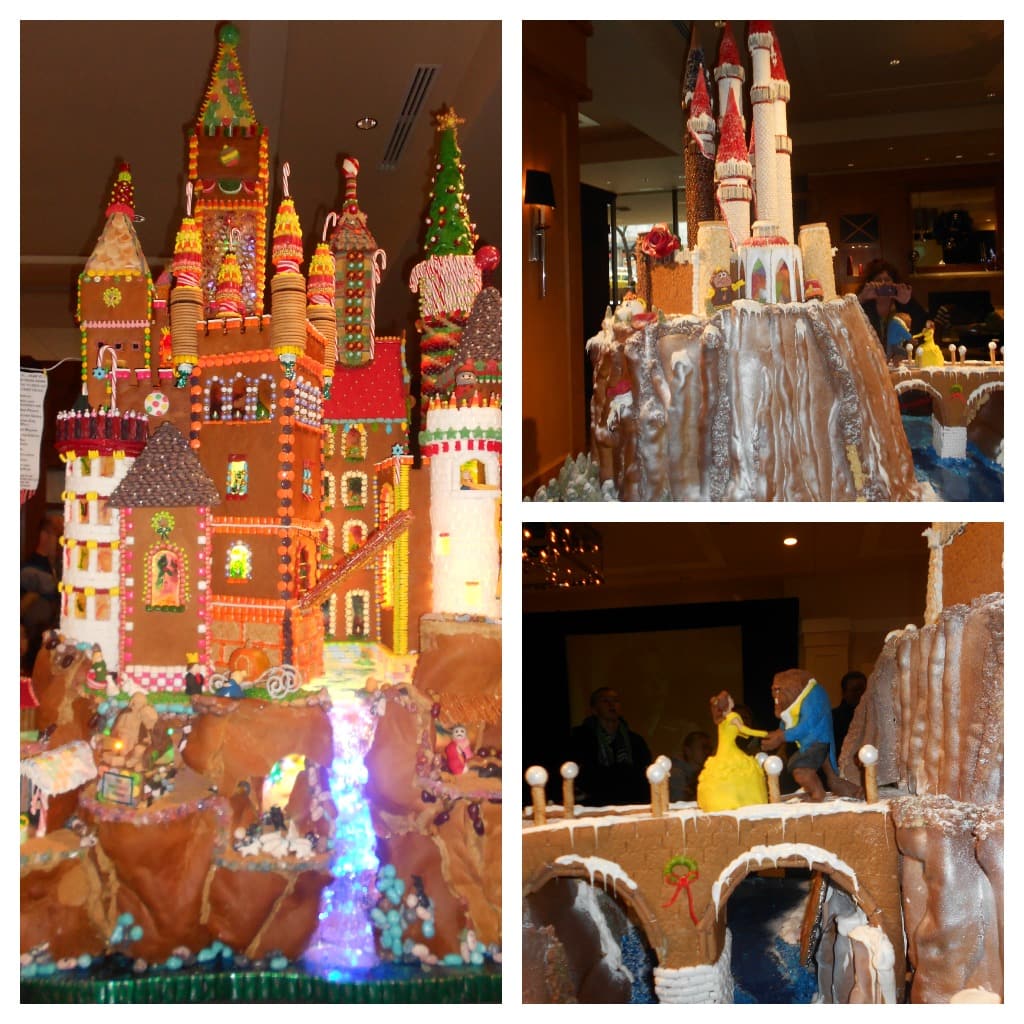 The Gingerbread Village is located inside of The Sheraton Hotel, and is free. Donations are accepted to support Juvenile Diabetes. Volunteers hand out free candy canes while you wait in line. The exhibit is open 24 hours a day.  
Free Santa Photos at Hilton::
I took a picture of the photo, the original is a much better quality!
After hanging out with candy houses, we headed to the Hilton Seattle for the FREE Santa Photo opp. You can see our full list of free santa photo opportunities here, but let me tell you what a great deal these are. We were with grandma, so we got 4 photos total (two of grandma and the kids and two of me with the kids). We price compared these over at a couple of the other Santa settings while we were down there and guess that we ended up with about $50 in free Santa Photos!
My kids always make a big production about sitting with Santa, and since there were no crowds Santa took his time getting acquainted with them and we were able to get a photo taken with no crying or screaming. It was a very nice experience.
There was no line, and best of all we got to enjoy FREE treats afterwards too! The Hilton Seattle had a great cookie and brownie spread, as well as a hot drink bar.
The photo collage above includes two years trip (2012 on the left, and our 2011 trip on the right. The Fairmont is a great spot to get a photo each year and see how your family grows over time!
Teddy Bear Suite – Fairmont Hotel: 
With some Hot Apple Cider and cookies under our belt, we headed over to the Fairmont Hotel next to visit the Teddy Bear Suite. I love this stop each year. It's just a small suite that they decorate up with a bunch of teddy bears each year, but there are many great photo opportunities in this hotel and it creates great memories.
We enter through the entrance that all of the cars circle through (lower level), and you will find a great Santa setting (see photos above). The Teddy Bear Suite is either on the 3rd or 4th floor (sorry can't remember). Admission is free but you are able to donate; all proceeds benefit Seattle Children's Hospital.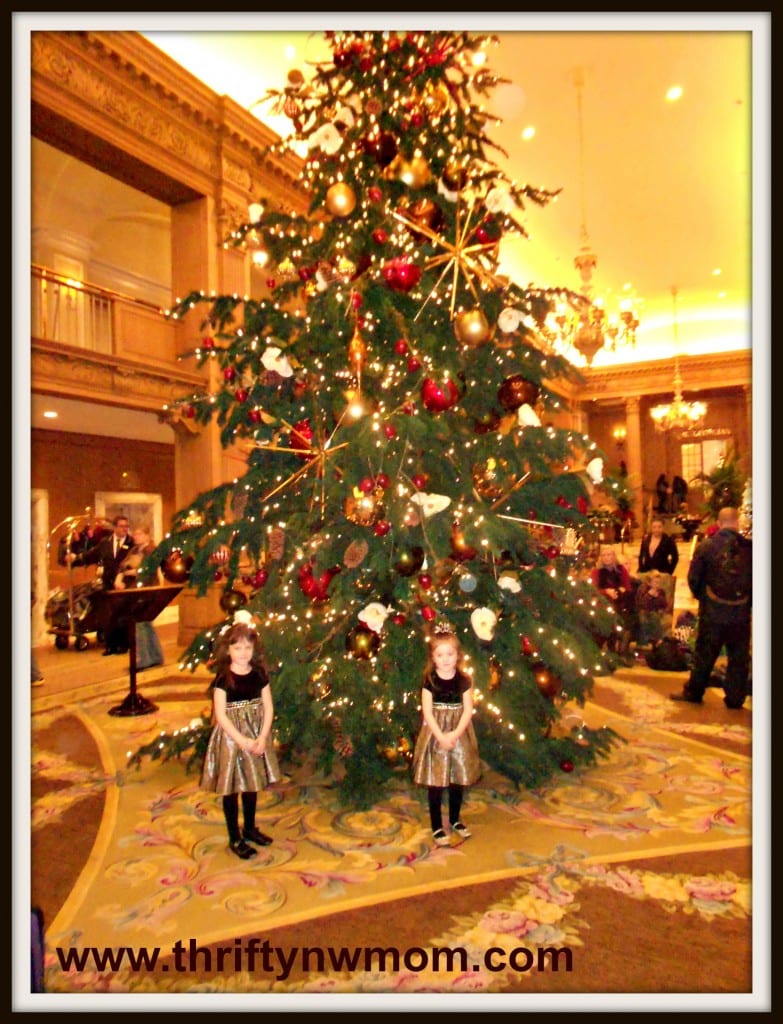 After going through the Teddy Bear Suite, get off the elevator on the Mezzanine Level. Your kids can then walk down a "Cinderella" like staircase to the lobby area where there are more Christmas trees on display (including the one above) along with a gingerbread rendition of the Seattle Waterfront.
After the Fairmont we had to make a quick detour to my all time favorite coffee spot in Seattle – The Monorail Espresso. They are one of the oldest espresso bars in Seattle and my very favorite. No special deals here, but we packed a lunch so this was worth a little splurge. My recommendation – try the creme brulee or sweet creme latte (same drink, just different ways to order it I guess). I take everyone I am with there, and so far all have loved the drink.
Holiday Carousel – near Westlake Center: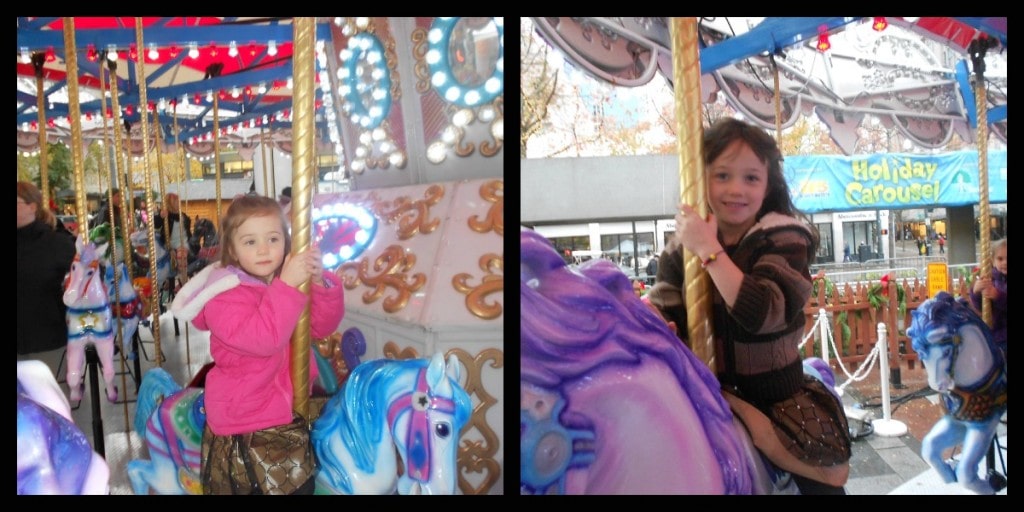 Now, back on track ,we headed to the Carousel for some fun. It's located right across from Westlake Center, and costs $2 per ride. We were able to stand next to the kids for free.
There was also a gentleman making balloons for kids for a donation. My kids love balloons, so we had to stop for one of these too before heading over to Pacific Place Mall.

You can plan ahead of time to have your kids participate in Macy's A Million Reasons to Believe promotion and have them write a letter to Santa (template provided on website) and drop it off (stamped) at a mailbox in Macy's. For every letter they receive they will donate to the Make A Wish Foundation too!  You can create your Santa letter online. Macy's is kitty-corner to the carousel.
Pacific Place Snow Show::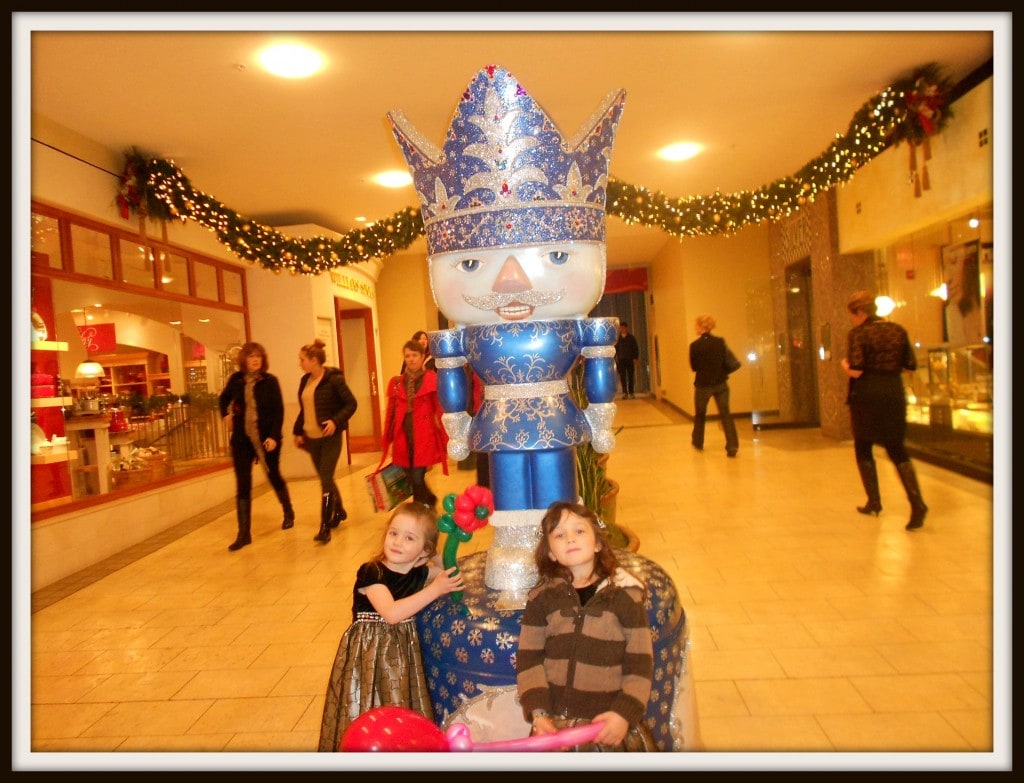 Across the street is the Pacific Place Mall.  They have a snow show each night at 6pm we were hoping to catch – but we were too early and my kiddos were not going to hold out that long. So instead, we found a table in there to let the kids sit down and have something to eat (they have tables and chairs on most floors, circling the walkways (if you can find one)). It's a great indoor spot to stop and eat snacks if you packed them. Besides the evening snow show, you can also find lots of toy soldiers to take photos with, cross the sky bridge to Nordstrom and check out the fish tanks in the kids department (there are two!).
More events to check out:
Winterfest at the Seattle Center  – The 74-acre Seattle Center campus is illuminated in twinkling lights, sets the scene for five weeks of free and affordable, fun-filled activities and entertainment. Winter Train and Village and Winterfest Ice Rink return, along with Saturday afternoon ice sculpting and performances by more than 100 student groups.
Holidays In Seattle page – this page will help you more with planning your visit.  Be sure to check times of each event, so you don't make a trip down when the fun is not open!
Total bill for our day of Christmas Fun in Seattle (not including gas):
Parking – $8 for all day
Santa Photos – Free
Coffee/ Cider / Treats at the Hilton – Free
Monorail espresso – $6
Carousel Ride (2 tickets) – $4
Balloon Donation – $4
Total: $22 (including our unnecessary coffee splurge). We could have done it for just the cost of parking and still had treats and drinks included!
* We provide a few dollars in donations too – as I am a big fan of Children's Hospital and some of the other causes supported.