Christmas In Seattle – Free & Affordable Fun!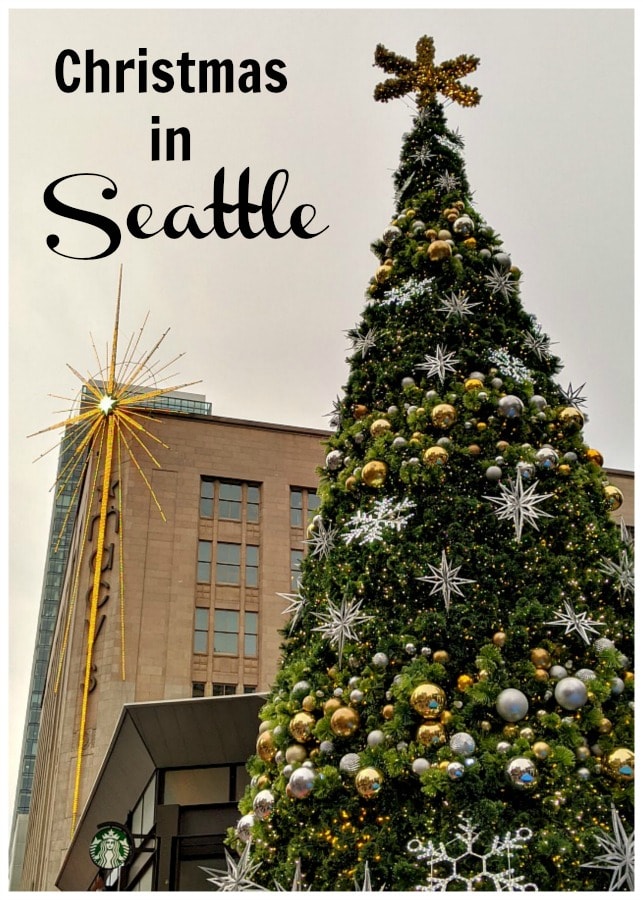 Christmas in Seattle – Free & Affordable Fun!
If you're looking for some inspiration on how to have some holiday fun this season, downtown Seattle has so many fun Christmas activities & decorations up that the whole family will enjoy!
My family loves to kick off our Christmas season with a visit to downtown Seattle and all of the FREE or affordable festivities available to enjoy.  I love that many of these festivities continue on past Christmas, too, so if you don't make it before Christmas, you can still head there during Christmas break & enjoy the holiday fun even after the actual holiday!
Plus, the majority of these are all within a few blocks of each other, easily walkable & you can do some shopping while you're out as well as it's in the heart of the shopping & dining district in Seattle.
Gingerbread Village – Sheraton Hotel: 
The Gingerbread Village at the Sheraton Grand hotel in downtown Seattle is just a few blocks away from Westlake Center & the Fairmont Olympic, right in the middle of these locations & it is a definite must-visit during the Christmas season!
This tradition started in 1992 and it has been a longtime local favorite, drawing big crowds of visitors each year. A few years ago, they changed the design, so there is now a room devoted to the Gingerbread Village (versus being out in the main lobby), which really helps you to see the detail even more on these unique creations. They have the lighting darker with spotlights shown on the gingerbread creations & they are quite a spectacular sight to see.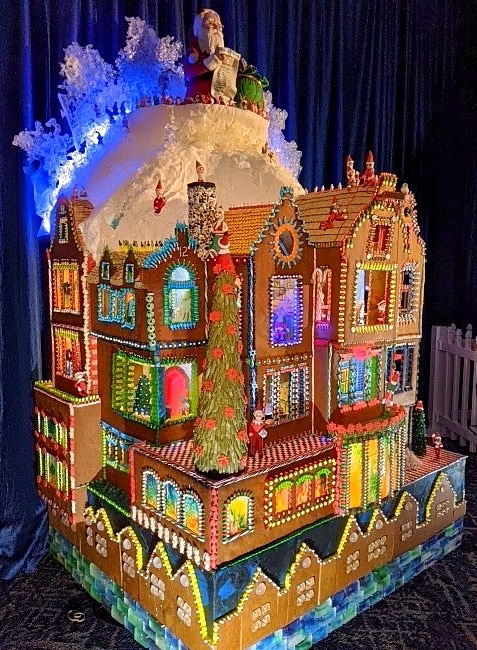 The creations are made by a team of local architects, chefs from the Sheraton Grand Seattle & children collaborate together to raise funds for the local Juvenile Diabetes Foundation (JDRF). This is a free event, but they encourage donations as it is a big fundraiser for the Northwest JDRF chapter to help fund more research & find a cure for diabetes.
The earlier you visit this event in the day or visiting on a weekday is better as it can get busier later in the day or evening.
This event is happening from Saturday 11/23/19 through Wednesday 1/1/2020. It is open until 9pm on weekdays & until 11pm on weekends.
Fairmont Olympic Hotel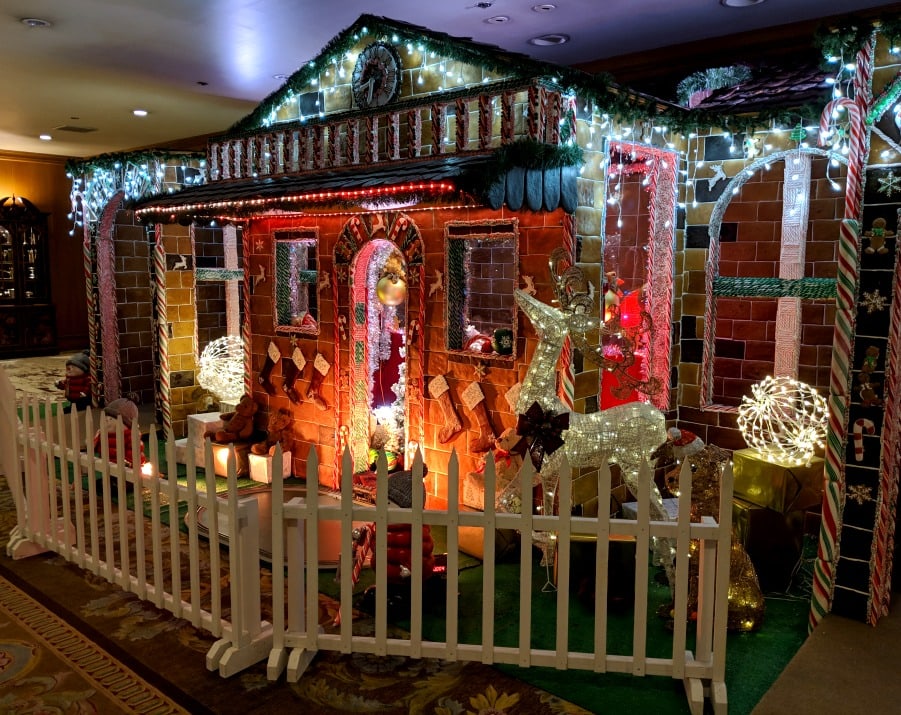 The Fairmont Olympic hotel is definitely a must-visit when you are headed downtown to see all the festivities in Seattle. There are several different places to visit within the hotel for beautiful holiday displays.  These are all free opportunities; however, they do encourage donations to the Seattle Children's Hospital as it's a fundraiser opportunity for them.
We always make sure to enter on the lowest floor, the entrance for cars to drive up to, and on this bottom floor is the Life-Size Gingerbread House. You can walk thru this gingerbread house to marvel up close at all the amazing detail. It is made with 4,000 gingerbread tiles, 2,500 candy canes, 50 lbs of crushed candy & so much more!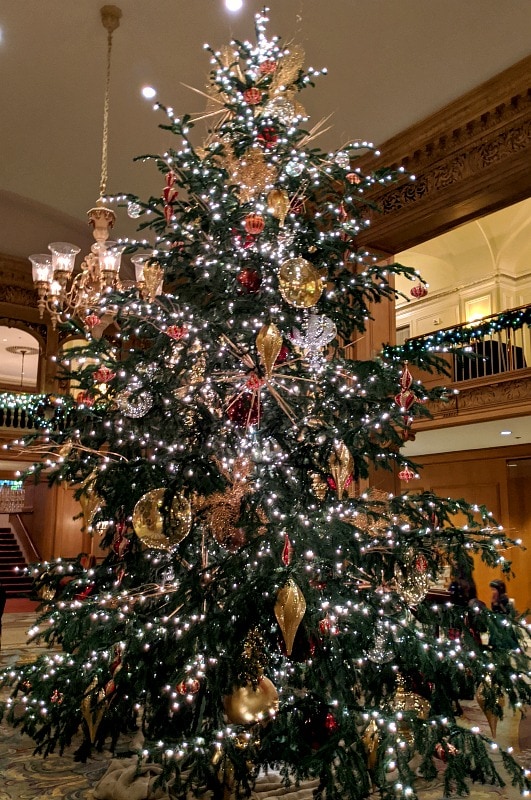 Next, head up the escalator to the lobby. They always have the most beautiful 2 story Christmas tree in the lobby – it's perfect for family photos if you want to get photos in front of it.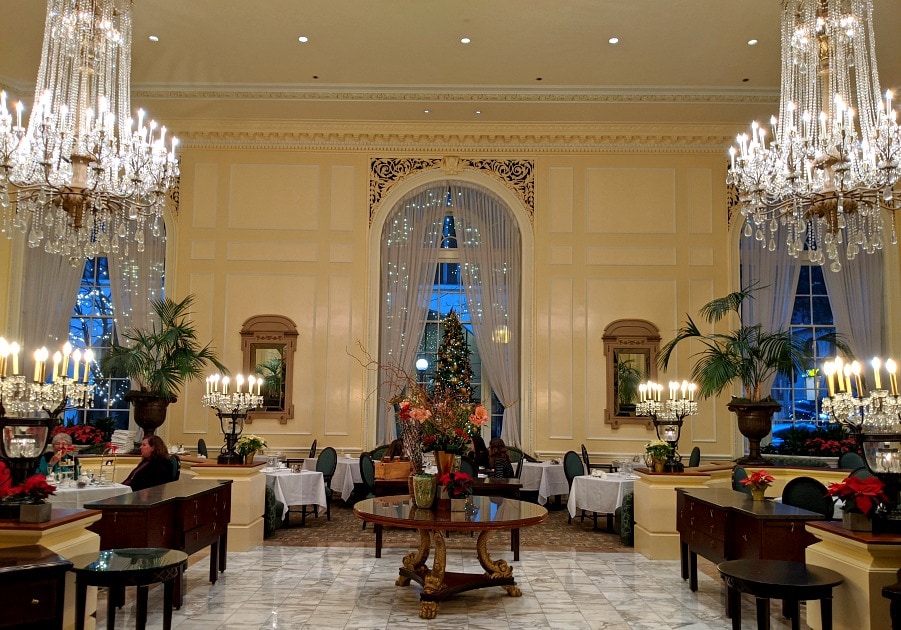 The Georgian is an exquisite room if you want to sign up to have a Christmas tea together – definitely not frugal, but it would be a fun splurge for a very special Christmas tea. It's beautifully decorated for the holidays as well.
On our visit this year, we discovered that there was a Scavenger Hunt for kids, too, in the lobby  – ask the Concierge when you are there for the sheet. All of the facts are hidden around the lobby area.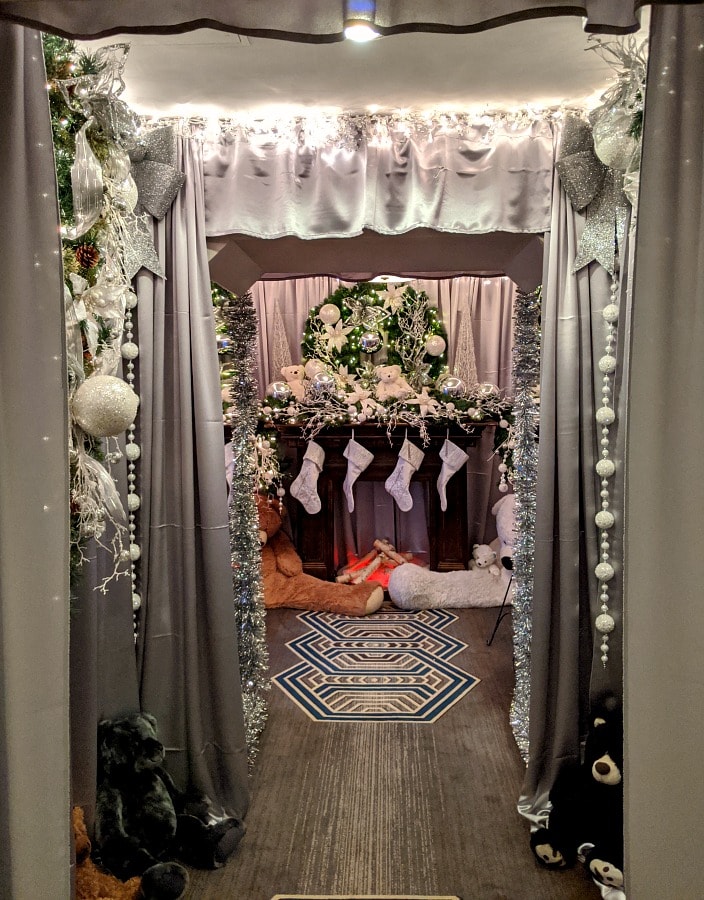 The last stop for the Fairmont Olympic is the famed Teddy Bear Winter Wonderland suite. This is up on the second floor – just take the elevator to get to the right location. They only allow a certain number of people into this suite at a time as it is not huge, but oh so gorgeous! Kids (& adults) will love posing for pictures & snuggling with the teddy bears in this lavishly decorated room. Hop up on the bed to lay down with all the teddy bears of all sizes! Or snuggle on the floor with the giant teddy bear, larger than adult size!
The Teddy Bear suite can get very busy on weekends, so I'd get there earlier in the day or even better, head over there on a weekday. But be prepared for some lines since they do limit the number of people in the suite & like to give everyone ample opportunity to enjoy it.
A few other highlights include roasted chestnuts you can purchase on select dates (we had just missed it by a few hours!) and victorian-themed Christmas Carolers who sing Christmas songs in the lobby at various times. Make sure to check out the Fairmont Olympic's holiday page for all the details & times for the various events.
If you time it right, the Fairmont Olympic also hosts the Festival of Trees for a short time in late November/early December. This year, the Festival of Trees took place in November 24 to December 4, 2019. This is when their lobby is filled with elaborately decorated trees with unique themes & styles to benefit the Seattle Children's Hospital.
After the Fairmont Olympic, Sia & her family like to make a quick detour to her all time favorite coffee spot in Seattle – The Monorail Espresso. They are one of the oldest espresso bars in Seattle and her very favorite. Sia's recommendation – try the Creme Brulee or Sweet Creme Latte (same drink, just different ways to order it). She takes everyone she is with there and so far all have loved the drink.
Westlake Center: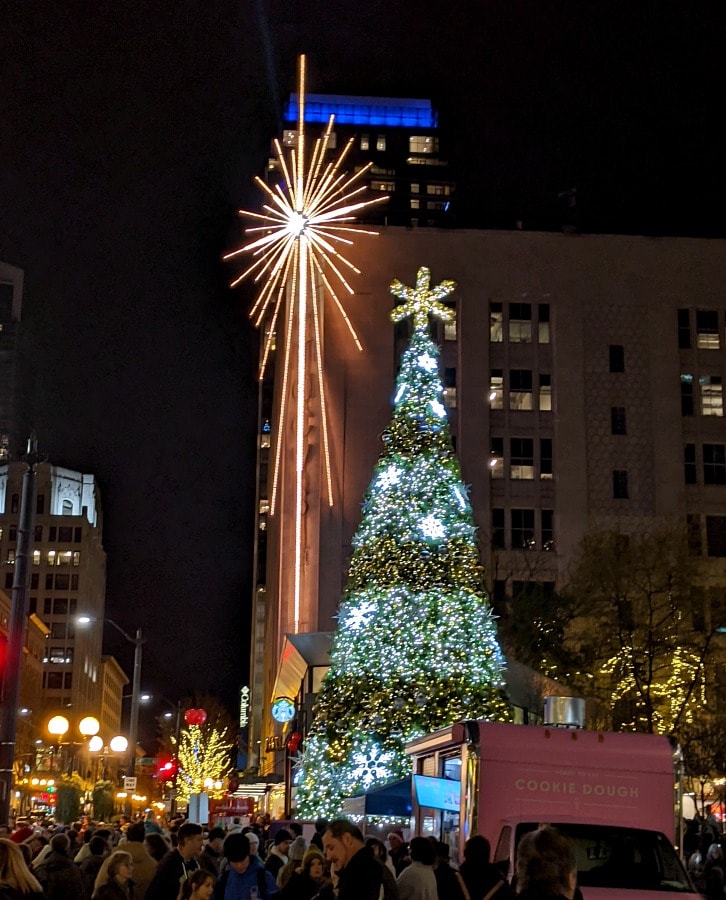 Westlake Center is the hub of all things holiday in Seattle with the grand Christmas tree set up in front of the mall. And on the corner opposite the tree is the iconic Macy's star that is lit up. We always love seeing this view, especially at night as the lights are so beautiful with the star, the tree & the surrounding trees are all lit up as well all around this area.
On the day we were in Seattle, it also happened to be the Great Figgy Pudding Caroling & Competition, hence all the crowds. What a fun night to walk around, though, as there were caroling groups all up & down the streets around Westlake & surrounding stores. We could listen to these pop-up caroling groups as we walked the streets, so it was the perfect ending to our day!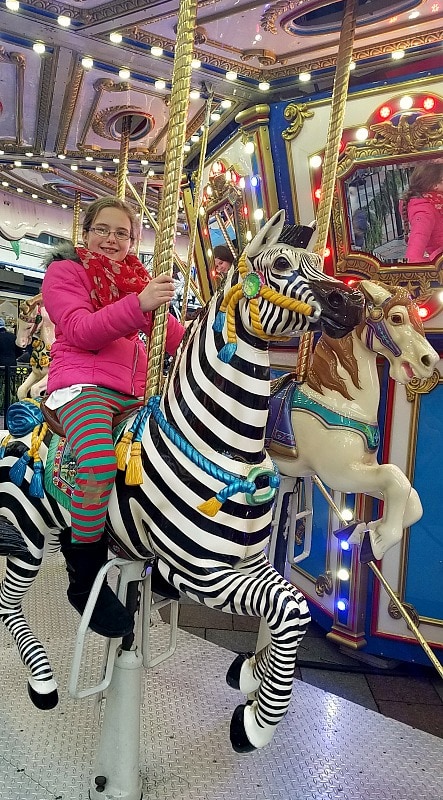 If you have little ones, they may love a spin on the carousel across the street in the park! It's even more magical when it's dark & everything is all lit up. While you're there, do a little shopping with the vendors from Urban Craft Uprising & you'll find some tasty treats, too. The Urban Craft Uprising Holiday market happens every Friday – Sunday through December 22nd.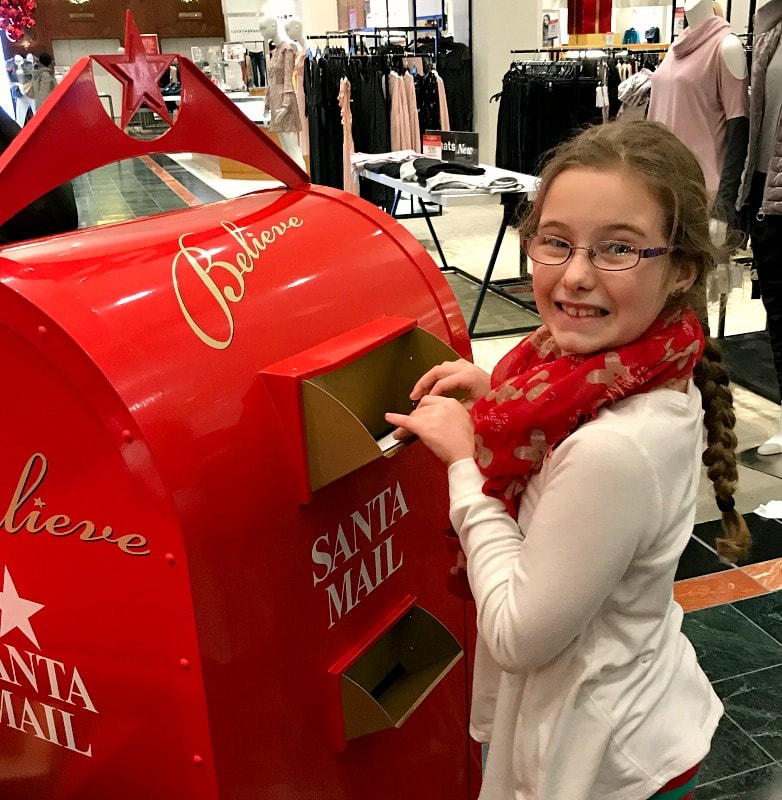 Dropping her Santa letter in the mailbox (a few years ago)
Kids can also visit Santa at the Nordstrom & Macy's stores right next to the mall on either side. The Macy's store not only has Santa set up on the 2nd floor, but they also have a cute little setup for kids to write a letter to Santa. There is a red desk with the letters & then a big red mailbox to drop their note inside.
As part of Macy's Believe campaign, for every letter they receive at Macy's around the country, Macy's will donate $1 to Make-A-Wish foundation (up to $1 million).
Pacific Place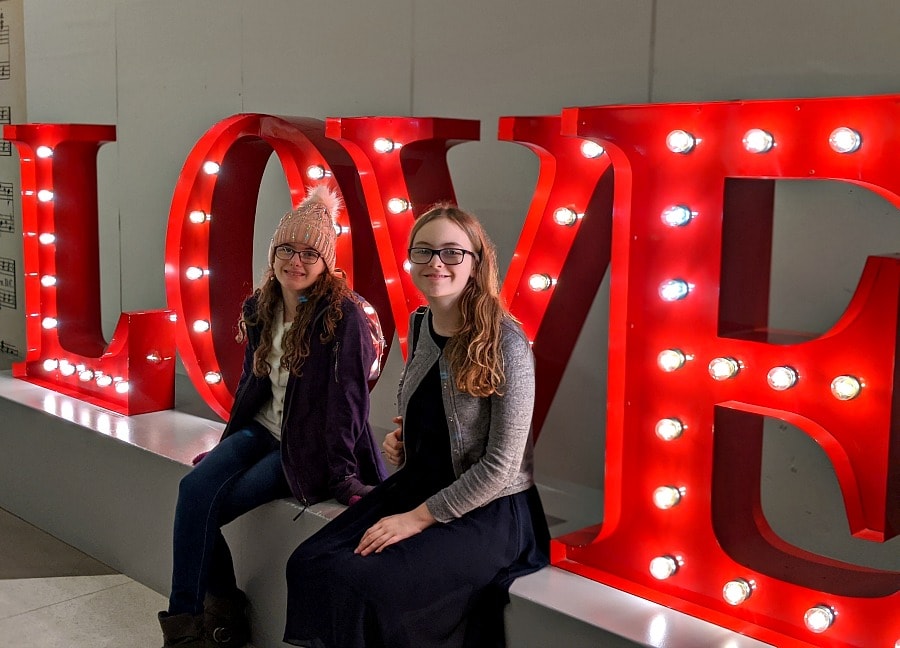 Pacific Place mall is just a block away from Westlake Center and right in the heart of all the downtown holiday activities, too. They are currently undergoing a remodel, but don't let that stop you from visiting as they definitely have some cute holiday photo setups  around the mall for holiday photos.
The main entrance is being remodeled, so it was perfect for the kids as they directed us to enter the mall through the Barney's toy shop.  It's two floors of unique & fun toys to look at, so this was a hit with our group!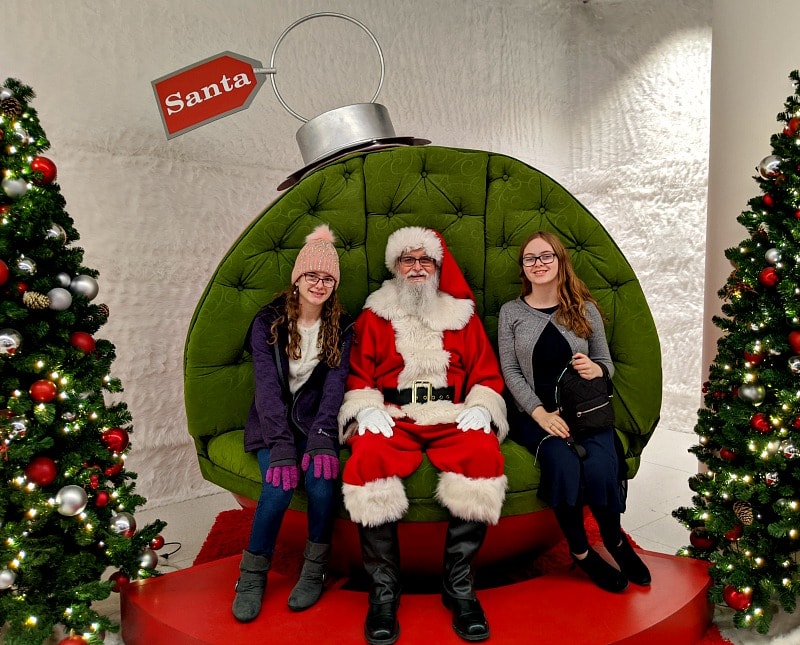 Once inside the mall, visit floors 1, 2 & 3 for interactive & fun photos. My personal favorite were the lighted Marquee signs. The kids loved the white "fur" backdrop near Santa's chair.  And Santa has a cute holiday bulb ornament chair where you can take pictures for free with your camera for a free Santa photo.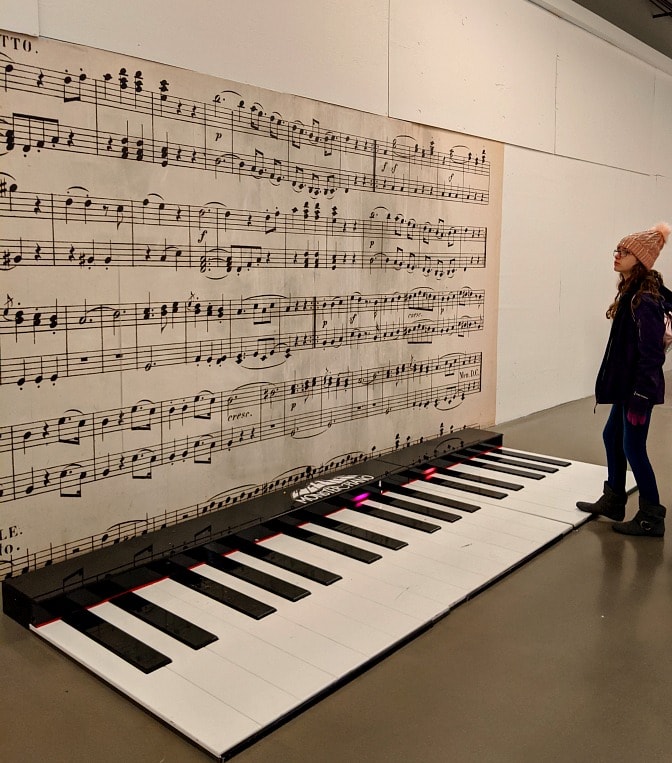 The life-size keyboard and sheet music background was the biggest hit, though, as all the kids swarmed to this & didn't want to stop "playing" the piano with their feet (yes, similar to the movie "Big" when Tom Hanks played the life-size piano).
Winterfest
Winterfest has a variety of family-friendly activities that happen for 5 weeks in late November and thru all of December. Inside the Armory, there is a stage where they feature live weekend performances by various school & other local groups. Head to their website to see a schedule of all the performances. Winterfest is happening from November 29 – December 31, 2019.
We always love visiting the trains and the Christmas village. This is so fascinating to see! We could all stay there forever watching all the trains move thru the village. They also have a Union station where kids can wait in line for a chance to be the conductor of one of the trains (during set hours, so check the website to find out more). If you head there on New Years Eve, there will be the famous Seattle Space Needle fireworks, a Fountain of Light dance party & live music inside the Armory, which sounds like a fun way to ring in the new year!
Winterfest also includes an ice rink, ice sculpting and beautiful outdoor lighting too. Most of the activities do take place during the day, though, as the trains had stopped running in the late evening when we went on a Friday night recently. So just be sure to check the timing for the activities before you go to make sure all of the activities will be available as some will only be available on weekend days.
As I mentioned, we typically start our day in Seattle at the Seattle Center & then ride the Monorail in to Westlake Center. But you can also do this the opposite, too – park near Westlake Center & just ride the monorail over to Seattle Center to see the Winterfest activities.
Parking::
The first thing you will want to do is consider transportation if you do not live in the city. Parking can be pricey, so if you are driving you may want to head down on a Sunday. Street parking in Seattle is free on Sundays. Many holidays offer free parking too (so December 25th will offer free parking in Seattle).
If you are not heading down on a Sunday, you can use this Parking Search Engine (note – search your 'neighborhood' and then 'Retail Core' if you want to park near most of these activities), to find the best garage rates for the time you will be there, or check out the best street parking rates here.
You will also find decent rates if you come after 5pm (like the Pacific Place Malls flat $7 rate after 5pm). Other transportation options include the Metro Bus, the Lightrail, or Seattle Sounder Train.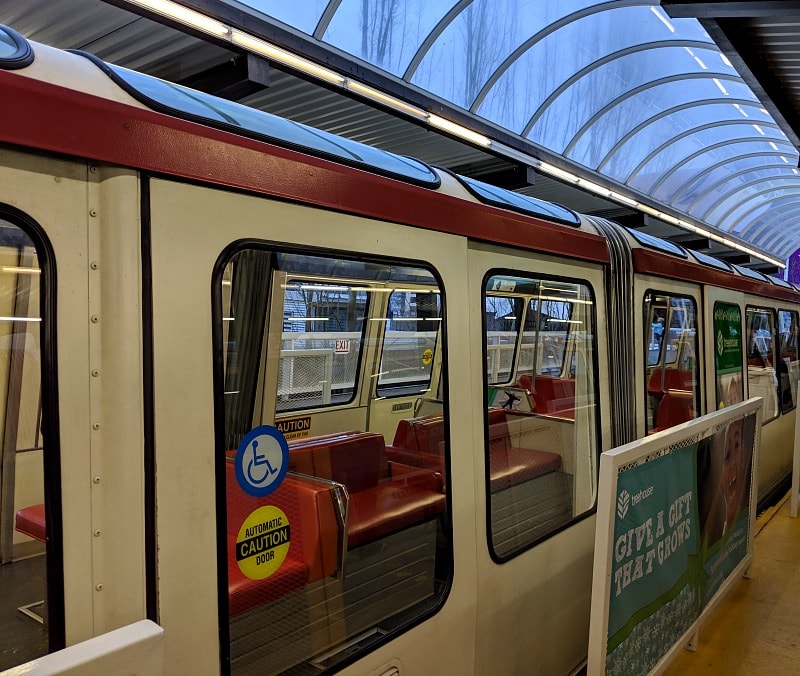 We went first to see the Nutcracker on a field trip & then headed into the downtown area so we parked near Seattle Center & then took the Monorail in, which is a $6 roundtrip for adults ($3 for kids). But it was just a fun way to head down to Westlake Center area for our group. (In the past, I have found cheaper street parking on the other side of the Pacific Science Center, too).
More Places to Visit for Christmas in Seattle:
A few more places to mention that are not within walking distance, but definitely need to be considered when considering a day or maybe a weekend visit to see Seattle at Christmas.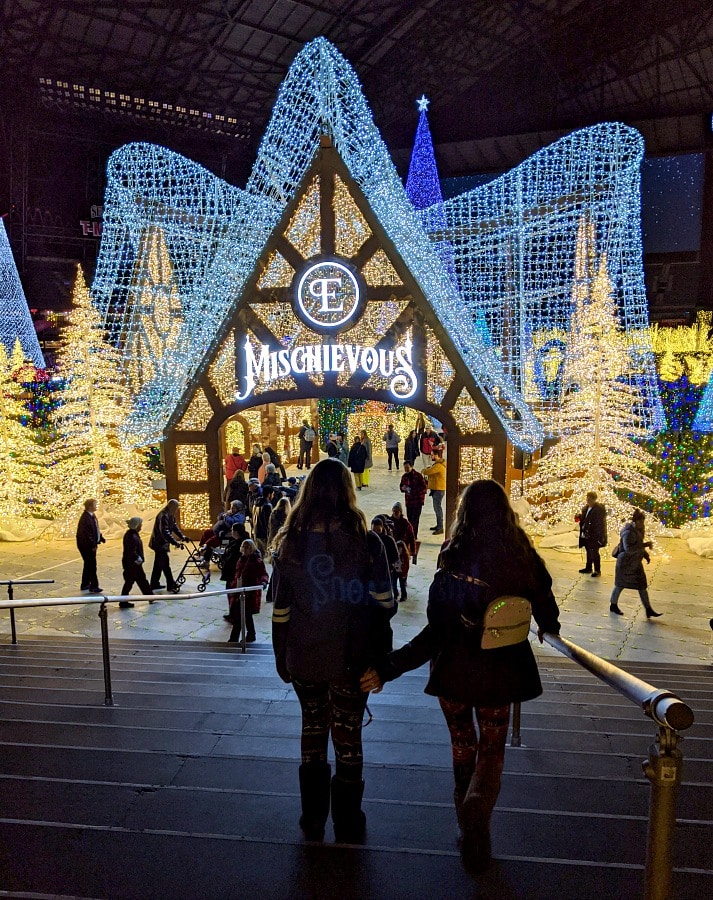 Enchant Christmas in Seattle – Enchant is a Christmas light maze that is covered under T Mobile Park in Seattle. It not only has a beautiful light maze right on the field, but also includes ice skating amongst the beautiful lights, a Christmas market, visit with Santa, and much more!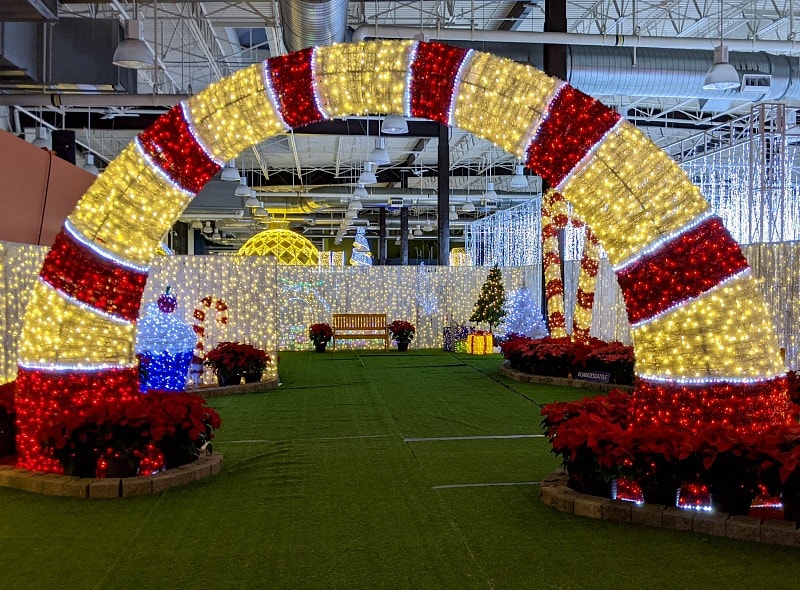 Lumaze in Seattle – This Christmas light display is indoors at the cruise ship terminal on the waterfront & it is very family-friendly. Kids will love all the interactive & fun activities such as life-size Lite Brite, LED Hopscotch, Swings & Teeter-totters & much more.
Candy Cane Lane (near UW area of Seattle in the Ravenna neighborhood) – this is a free neighborhood display that has been happening since 1949 (wow!) & you can either drive thru this short street of homes or even better, park & walk the street as it's more fun to enjoy while walking. This happens typically mid-December until January 1st from 4-11pm in the evenings.
Where to Stay in Seattle at Christmas: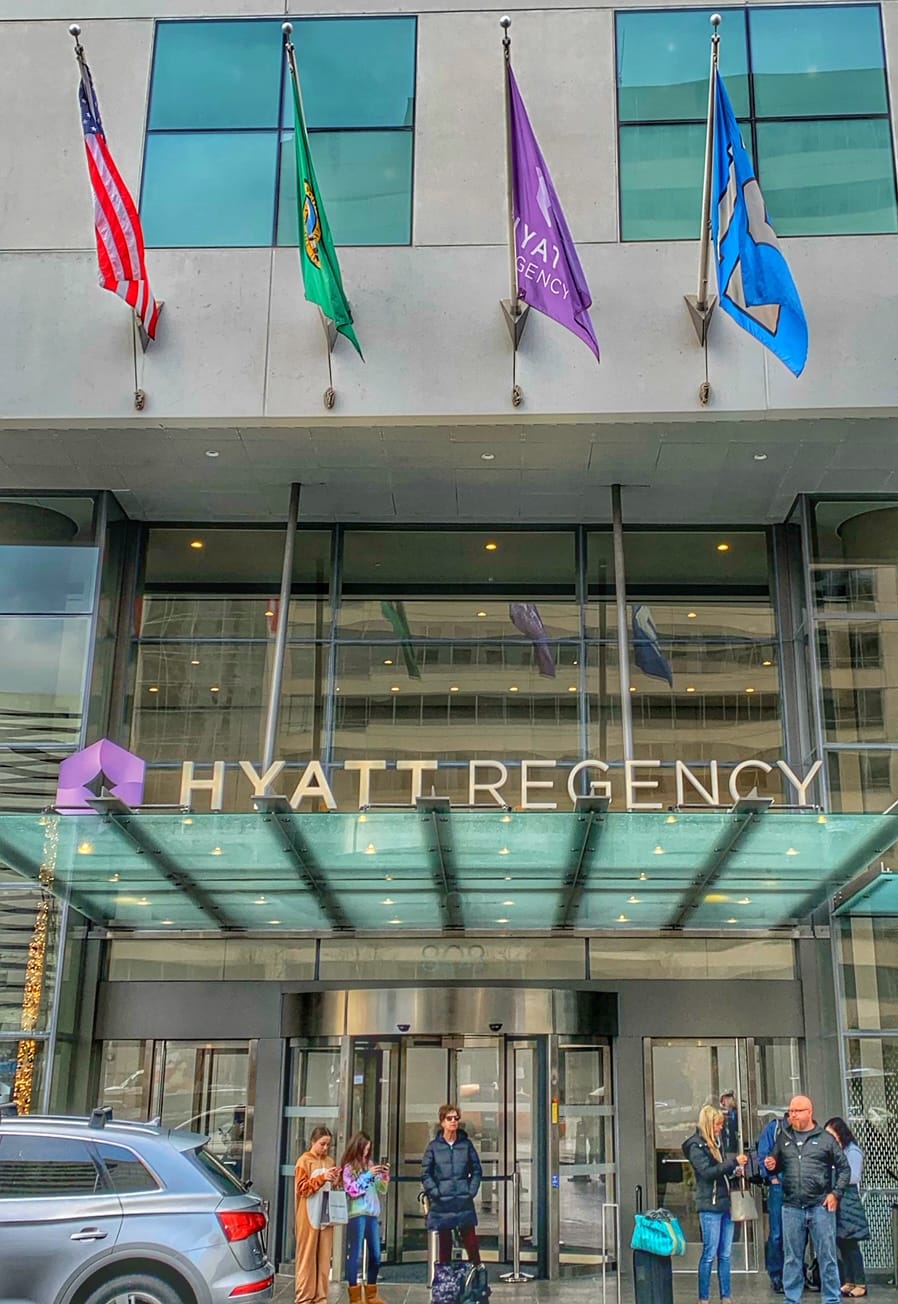 Hyatt Regency Hotel – downtown Seattle
Sia & her family recently stayed at the Hyatt Regency and this is an excellent hotel to stay if you decide to make a few days of a holiday outing to Seattle as it's centrally located. They are offering a special Enchant package, too, if you are interested in going to Enchant in addition to doing all of these fun downtown Seattle activities.  This is the largest hotel in the NW & it is very affordable when you consider all of the amenities it offers.
Residence Inn by Marriott – Seattle 
This hotel is not located right in the heart of downtown, but it's closer to Lake Union so you'll need to factor in transportation to get to the heart of downtown. But this hotel is so family-friendly with suites perfect for larger families & it includes a hot breakfast buffet.
Let us know your favorite things to do in Seattle at Christmas!