Seattle Restaurant Week – 3 Course Meals for $35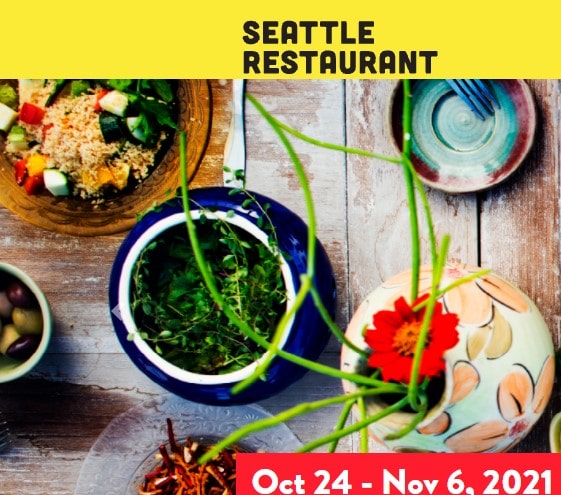 Seattle Restaurant Week 
The Seattle Restaurant Week happens twice a year – every October and April.   They are doing things differently this year in an effort to provide more opportunities to support the hard-hit restaurant businesses. Instead of just running on weekdays, they will be offering the Seattle Restaurant week specials from October 24 – November 6! So, you'll have plenty of opportunities to support your favorite restaurants, as well as find some new restaurants to support. There are over 200 participating restaurants this year!
Participating restaurants will offer special prix fixe menus with $20 lunch & $35 & $50 dinner options. The restaurants will offer different options depending on the restaurant such as takeout, ready-to-heat, delivery, meal boxes & indoor & outdoor dining options. It will all depend on the individual restaurant as to what they will offer, so check the chart on the Seattle Restaurant week website to see what options they will be providing.
This is a chance to check out a restaurant that you've been interested in visiting with some great special deals!!  Find out all the details over at the Seattle Restaurant Week website.  This event is very popular every year, so it's a good idea to start thinking about making reservations now if you're interested in trying out one of the more popular restaurants.
If you have not participated in Seattle's Restaurant Week in the past here is how it works:
Seattle Restaurant Week is hugely popular around here and it's a great way to support these restaurants. This year, they have added a number of other cities as well, including Edmonds, Tacoma & more! (unfortunately it looks like there will not be a Tacoma Restaurant week that we have been able to find).
Examples of restaurants included:
Anthony's Homeport
Copperleaf Restaurant (at Cedarbrook Lodge)
Duke's Seafood
Honest Biscuits
Melting Pot (Bellevue)
Portofino Restaurant (Edmonds)
Serious Pie
Stanley & Seaforts (Tacoma)
The Palisade Restaurant
Toulouse Petit
Tutta Bella….and many, many more!
If you are going or have checked out the list, what are some restaurants that  you would recommend?