Embassy Suites Bellevue Seattle – Great Family Friendly Hotel Option
This post may contain affiliate links and I may be compensated for this post. Please read our disclosure policy here.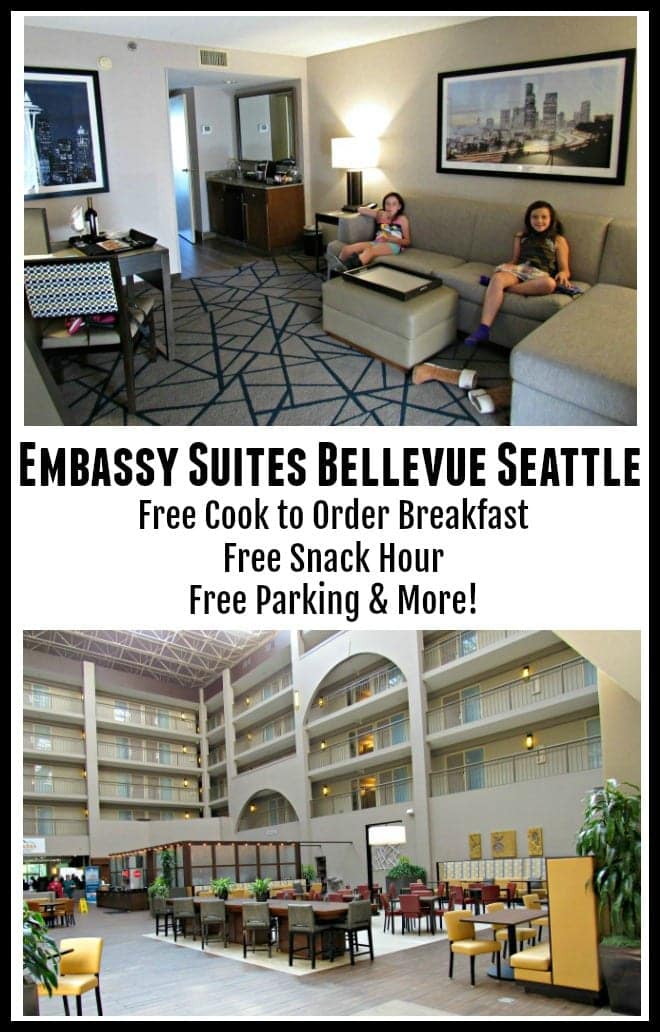 Have you stayed in an Embassy Suites Hotel before? If so, how did it work out for your family?
My family has stayed in a few Embassy Suites Northwest locations recently, and we are becoming big fans of them for family travel. Here are some of the perks we love about staying at Embassy Suites: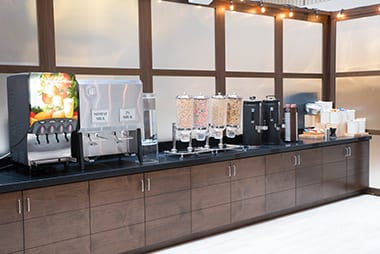 They offer a complimentary snack / cocktail hour!
All rooms are suites, so there is more rooms for families.
They have one of the best complimentary breakfast bars we have eaten at!
The Embassy Suites in Bellevue has recently gone through a multi million dollar renovation, and we thought the hotel was nicely updated. We found this hotel to be a great local option, specifically for families and larger groups.
Location: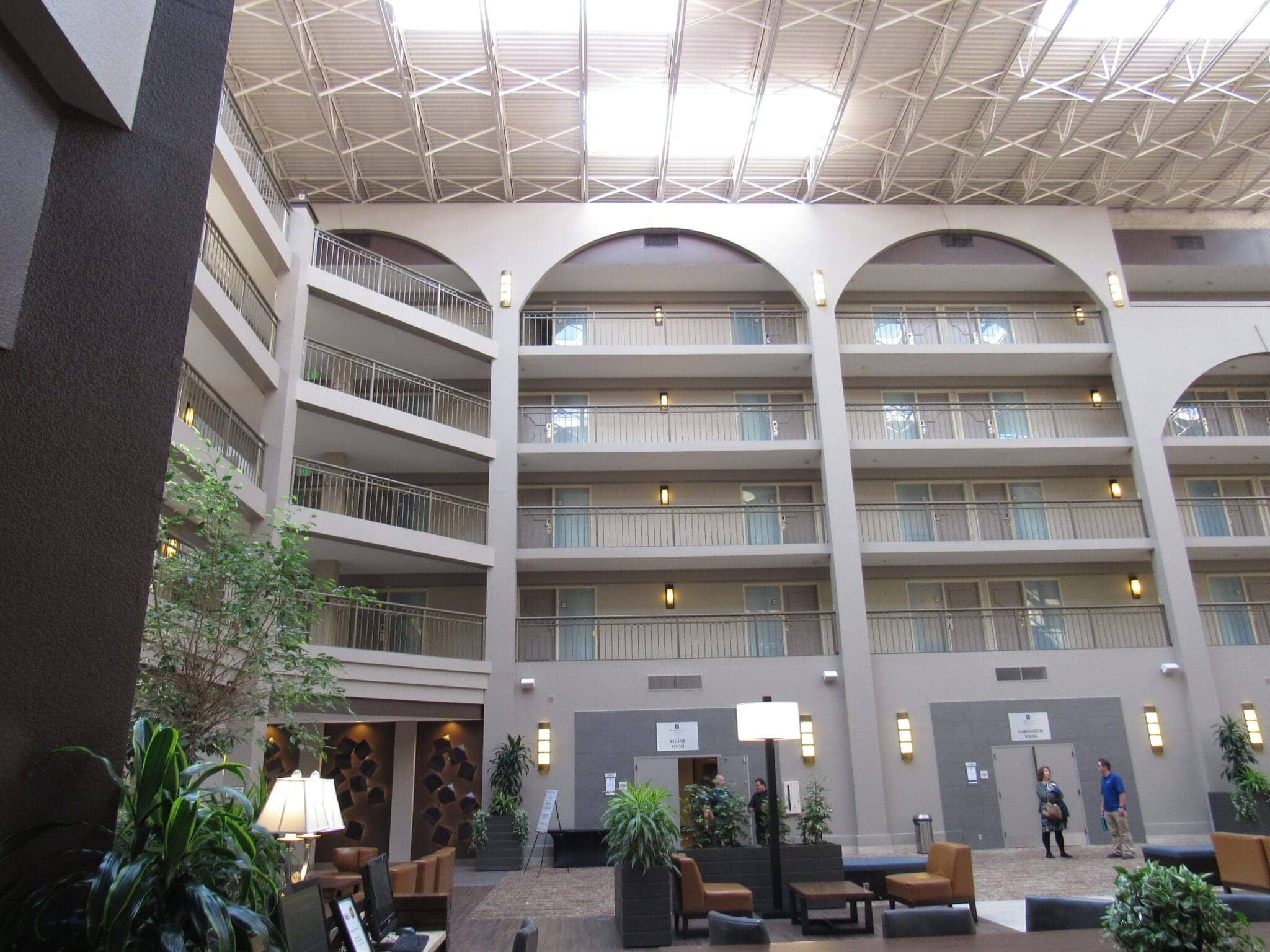 It is the Bellevue/Seattle location for Embassy Suites locally, but it's not located in the downtown area of either of those cities, and that is important to know when you planning your trip. It took us around 10 to 20 minutes to get to and from the Downtown Bellevue area during our stay. The commute will really depend on the traffic (so when you are traveling) and where you are heading to. Although it is only 10 miles from downtown Seattle, you will need to cross the 1-90 bridge, so if you are traveling at peak travel times that could take awhile to get into the city.
We did really like the location in general though. We thought it was a great base location if you want to explore the Puget Sound area, or if you're looking for local staycation ideas this would make a great option to explore the Eastside. You could stay here, and then spend time exploring Bellevue, the Issaquah  and Sammamish area, as well as heading up to Snoqualmie Falls area for a fun packed family weekend!
It's located just off the 1-90, where it intersects with 1-405, heading East towards Sammamish. It's a short drive to the hotel from the exit (it's right off the freeway). The traffic in the area of the hotel was not bad on the weekends, and there were plenty of restaurants nearby, and many family friendly activities within 10 to 20 minutes of the hotel.
Added Perks that Will Help You Save at the Embassy Suites Bellevue:
Complimentary Breakfast – this is a big perk for my family. Breakfast can easily run us $40-$50 to eat out, if we are getting a full breakfast. We like to eat a little later during the breakfast hours, and fill up. That generally holds us over and really helps us save on food costs. I always consider what we are able to save on our food costs when looking at the room rates, and generally this perk alone makes the Embassy Suites very affordable for us.
The breakfast offers made to order omeletts, hot food items (like sausage, bacon, potatoes, eggs), an assortment of pastries, fruits, yogurts and more! Coffee, juice and milk are also available, and there is lots of seating space.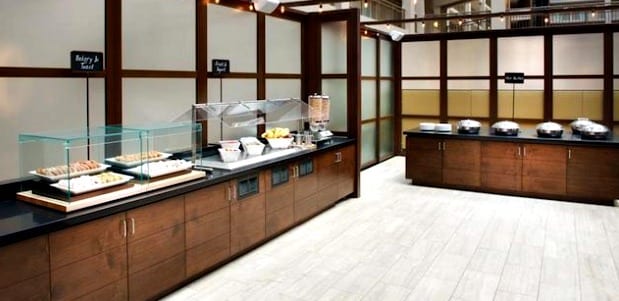 Complimentary Cocktail and Snack Hour  – My kids love this snack hour! If you like to have a drink in the evening, this will save you lots too. You are able to enjoy a complimentary drink (generally wine and beer), coffee, tea and soda is also available complimentary. The snack spread is usually things like popcorn, chips and nacho cheese with guacamole and salsa available, veggies and dip and snack mixes. We find this a good way to hold the kids over, and then we can get a lighter dinner and save money there too!
Free Parking – It's always nice when you get free parking at a hotel, and this is not always the case. It is however, always the case at the Embassy Suites in Bellevue (and we never had any issues finding a spot during our stay).
Heated Indoor Pool and Spa – My kids love a pool to relax in at the hotel when we travel, and so this is an important perk for us. I love having something to take the kids to do outside of the room, to get out when we don't want to have to leave the hotel.  The pool was nice (but crowded while we were there – there was a sports team I believe, so lots of kids in the pool). The pool was heated (not warm enough for me to get in) but the kids had fun!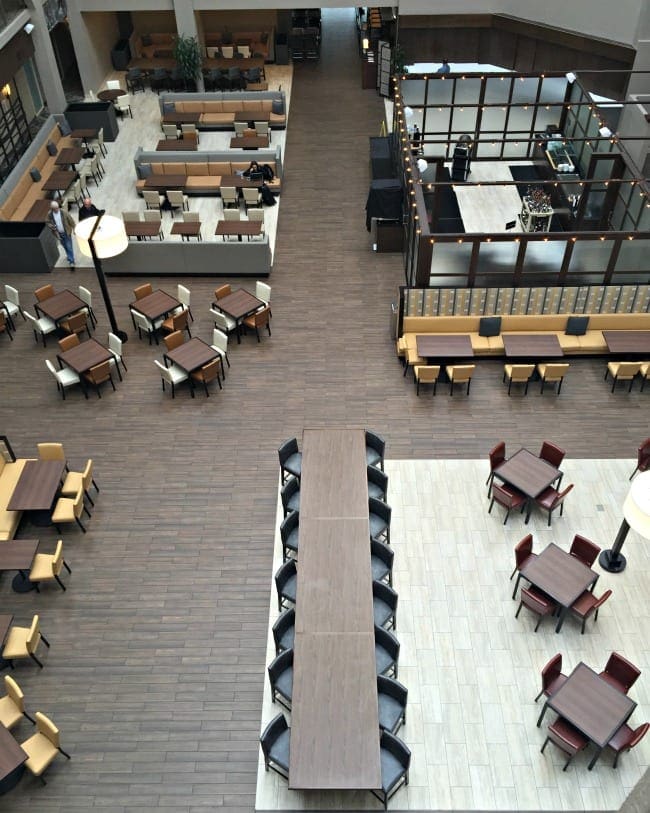 Lots of public space to relax in – This is always a perk if you want to have some down time outside of your room. There was plenty of seating in the atrium area to play some cards with the kids, or just relax for awhile.
Rooms / Suites –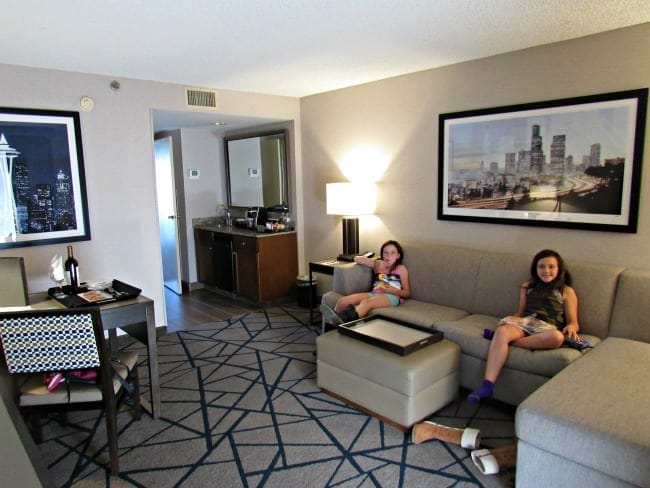 The Embassy Suites Rooms are all two room suites! This is a huge perk for our family, as it provides us some separate space, and enough room to really relax as a family on vacation. Many hotels charge premium rates for two rooms suites, but here you can get one for as low as under $100 (depending on the dates you are traveling, and what room you book etc). Here are a couple of tips we have learned after staying with Embassy Suites Hotels.
All rooms are two room suites, but some offer a King Bed in the sleeping room, and others offer two queens. If you[re traveling with kids, you may automatically think you want to book the two queen bed suites, but we have found that at times we prefer the King Suite. The reason is that all of the suites offer a sleeper sofa in the main room. So depending on what things are most important to you, the King Suite may be a better fit. If we are doing a short trip we will grab the two queen room, and keep our sleeping space separate from our living space. However, if we are traveling for more time, or just want more separation from the kids, we get the King room for mom and dad, and have the kids sleep on the sleeper sofa. If you find a great deal on a King Suite (which sometimes happens, as families assume they need the extra beds), I would not hesitate to grab it to comfortably sleep a family of 4.
The suites are also a great option for larger families. You can get the two queens, and then pull out the sleeper sofa in the evenings too.
Either way, the separate living space is so nice, especially at bed time when we are usually ready to go to sleep and the kids want to stay up later watching TV!
Another thing to consider is that some rooms come with free snacks, and others you pay for them, so pay attention to this. For example, the night we stayed you were able to book an Upgraded Premium Suites for $14 more a night. These suites offer an assortment of non-alcoholic drinks, snacks and K-Cups that they come around and replenished daily (so we had cans of soda, candy bars, chips, nuts, etc) in our room that the kids could eat without being charged for them. It will depend on how your family snacks, etc. as to whether this is a good deal for you to upgrade to or not?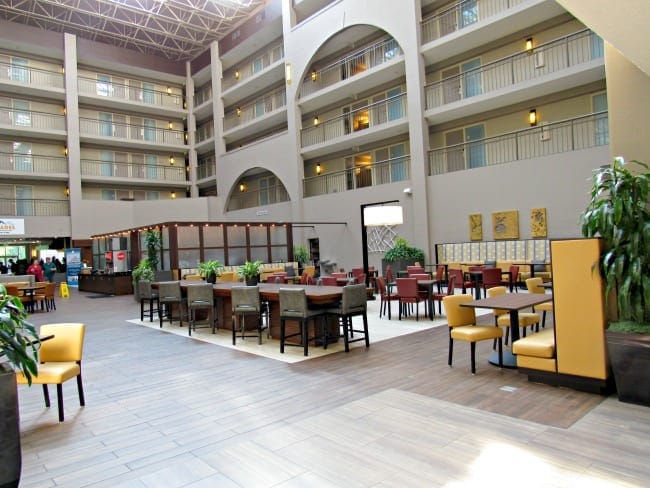 Tips To find the best rate for your stay:
If you can be flexible with your dates, you can find the best rate possible. When you are looking for available dates and rates, select the box that says "Use Flexible Rates". This will pull up the room rates for each day, and you can look ahead a few weeks to find when the very lowest rates are available.
I was able to find rates from $94, using this method (currently available for a family of 4 the weekend of October 20-21)! Considering that rate includes a two room suite, made to order breakfast, complimentary cocktail and snack time, and free parking that is a killer deal! And that would be a beautiful time of the year to explore the Snoqualmie area and falls, and more that time of the year!
We also found rates that low in December, and it would make a fun Christmas getaway. You could go see the Christmas lights at the Bellevue Botanical Garden, hit the North Bend Outlets Malls for some Christmas Shopping, or head up to Snoqualmie for the Santa Train!
Booking in advance will be key to getting the lower rates, and the lowest offers generally require you to pay in advance too (like the Hilton Honor Advance Purchase rates), unless you have a discount like a AAA membership or military discount, etc.
You should save the most by booking directly through their site, unless you get lucky and score a deal on a site like Hotwire or Priceline (but you won't know what hotel you are booking then until after. The reason is that they offer a lowest price guarantee and will discount your room by 25% if you book through them, and then find the same room (all same details) for a lower price elsewhere within 24 hours.
You can find Embassy Suites locations here to see what might fit with your travel needs.
Other Things to Note: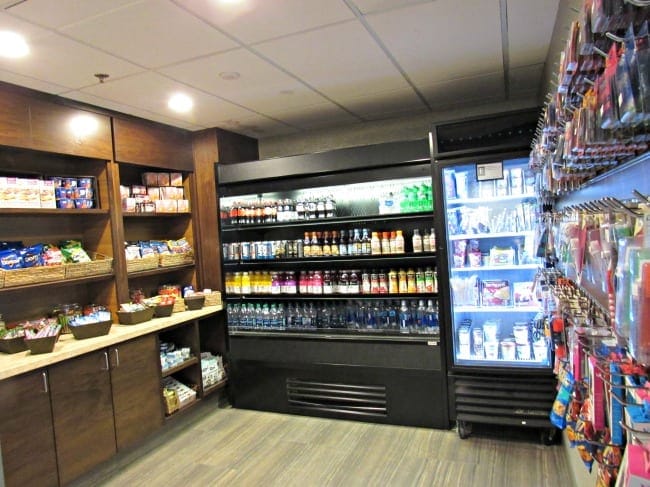 There is a snack shop if you need snacks outside of the breakfast or snack time, or other items you may have forgotten to bring with you.
Checkout time is 12pm, which is nice if you are doing a family weekend getaway. It gives you more time to enjoy the pool, or take your time getting out of the hotel, with the later checkout time!
Disclosure: The Embassy Suites hosted our stay so we could provide a review for Thrifty Northwest Mom readers. Opinions are 100% my own. See our disclosure policy for more details.