10 Tips & Ways to Save When Shopping at Grocery Outlet Stores
This post may contain affiliate links and I may be compensated for this post. Please read our disclosure policy here.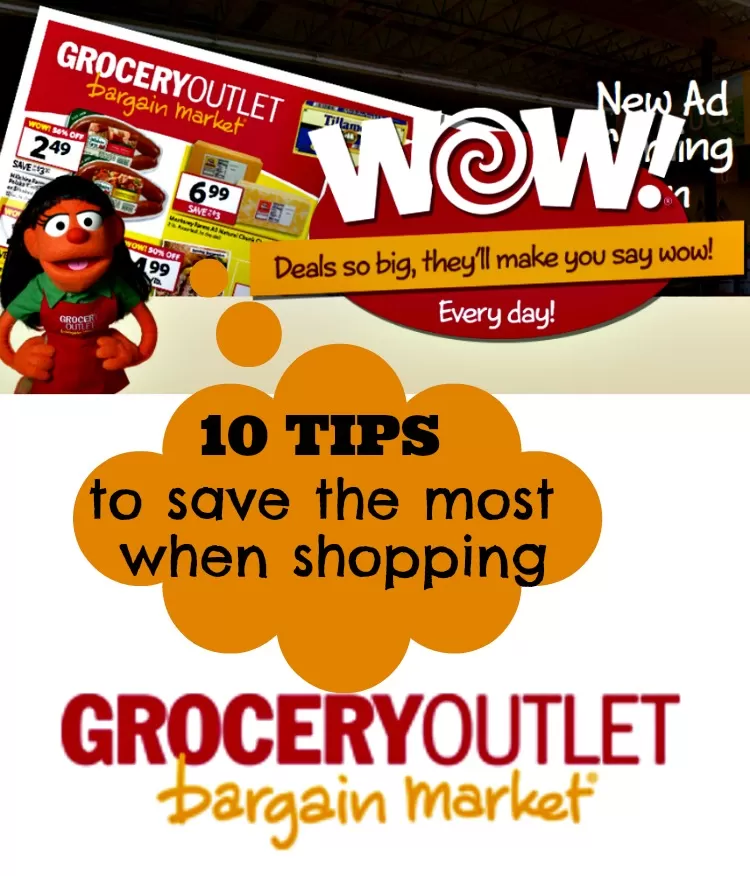 Want to save big without worrying about clipping coupons? Then consider shopping at Grocery Outlet! Grocery Outlet is bargain store, as they are able to resell items at rock bottom prices. Grocery Outlet gets items at these low low prices, through a number of means (ie branding changes, slight damage to packages, seasonal items, overstock at stores, etc). This means that Grocery Outlet is a great place to get some really good deals on various items, and we have some tips on how to best shop for these deals!
Tips on how to make shopping at Grocery Outlet Stores work best for you:
1. Shop Grocery Outlet first
Since Grocery Outlet may not have every item available on your list, but the items they do have will be rock bottom prices, they are a great first stop. I often take 20 minutes to head into my local Grocery Outlet once a week to see what great items they have on sale. I can shop later for any items they did not have on my list, and it helps me save a lot vs. just heading into a traditional grocery store.
2. Sign up for email updates and receive the WOW alerts to get the best deals
How WOW Alerts will help you save:
Currently, Grocery Outlet only sends out store ads 1-2 times per month to its email subscribers to highlight its everyday low prices and new exciting deals. However, due to the company's opportunistic purchasing model, their inventory is always changing and therefore sometimes these monthly ads may not be enough.

Grocery Outlets knows that many of their patrons wish they could receive ongoing notifications about their hottest, unadvertised deals before they sell out. WOW Alerts solve this problem and deliver this information directly to customers' email inboxes.
WOW Alerts are new email alerts you can sign up for,  that will send you an email alert the best, top-selling, unadvertised deals from your local Grocery Outlet location. Customers will only receive WOW Alerts that are tied to their store preference
How do you get WOW Alerts?
Those who are already subscribed to receive email alerts from Grocery Outlet will automatically be opted-in to receive WOW Alerts. However, those who are not currently subscribed may sign up by following these steps: 

1) Visit Grocery Outlet's "Preference Center" on the company's website

2) Select "opt-in" next to the WOW Alerts toggle

3) Set your store preference (i.e., the Grocery Outlet location you typically shop at), frequency (daily or weekly) and content preferences
What Items are Included in WOW Alerts? 
Currently, customers can opt-in to receive WOW Alert and determine how often will get them, and from what stores (can choose up to 5) in the "Preference Center" section of the website.

Items selected for WOW Alerts fall under the following categories:

-Have a high savings. To qualify for WOW Alerts, products must be a standout deal. For most departments, that means a savings of 50% or more off the original retail price elsewhere.

-Top-sellers in their department. WOW Alert items will always be the top sellers from the previous day.  Customers "vote" with the money spent on items they purchase and Grocery Outlet sends you their favorites. In other words, fellow customers select the products showcased in Grocery Outlet WOW Alerts.

-Have ample inventory available. The items highlighted in WOW Alerts will have enough inventory so customers have time to get to the store before they run out. However, products will only remain available while supplies last.
Additional information about WOW Alerts can be found online via this helpful FAQ section.
3. Stock up when you see the products you love
If you find an item you use often, at big savings (and its not close to the expiration date), stock up on it! Since Grocery Outlet will change their inventory often, you cannot be sure it will be available the next time you stop in, so buy as many as you will go through before it hits the expiration date (or if you can freeze it, buy 3-4 months worth).
This will help you by keeping you from paying full price for that item for the next few months at least!
4. Having a party, shop for fine cheeses and beverages at Grocery Outlet first
Grocery Outlet has some of the best prices on specialty cheeses (the stuff you find in the deli section at other grocery chains), that we have found. I have gotten some of our favorites, like Havarti and Gouda cheeses, for less then half of what I can find it in the deli sections of other stores (sometimes as low as 1/3 the price)!
I have also found great deals for things like salami, summer sausage, specialty cracker, truffles or specialty chocolates and more.
Grocery Outlet is also well known for wonderful deals on wines if you want those to accompany your food. They even run wine sales from time to time to help you save even more! You can ask if your store has anyone on staff to help you navigate the best deals in the wine section, or use an app like Wine 4 Me to find the best selection!
(You can check out how we were able to throw a Seahawks party for 12 for just $25, including drinks, to get an idea on how great Grocery Outlet can be for your parties budget)!
5. Head to Grocery Outlet to save BIG on Natural and Organic products by shopping their NOSH sections
Grocery Outlet has recently put a much bigger focus on stocking their NOSH line. This is the Natural, Organic. Specialty, Healthy foods. I am loving the NOSH section at my local store. I am able to find everything from items like organic canned black beans, to more specialty items like Chia Seeds (see our post on how we made Chia Seed Smoothies on a budget by shopping Grocery Outlet).
6. Use coupons to save even more
While Grocery Outlets do not take manufactures coupons, they do offer store coupons and savings from time to time. Be sure to sign up for their email list to get access to the coupons when they are available. They are generally generic coupons, like $5 off $25 purchase etc.
7. Get to know your local store employees
Each Grocery Outlet is independently owned, and so there may be some variance from store to store. My local Grocery Outlet has owners that are originally from Walla Walla (wine country of Washington State). They know their wines, and they hold a monthly free wine tasting, where you get goodies, free wine pours and even get to take a free wine cup home with you. Store employees have also provided me valuable tips on where to find what deals throughout the store, based on the way the store is set up. They can provide tips on best brands, and hot deals the day you are in the store too.
8. Follow Grocery Outlet on Social Media to learn about some of their best deals
You can follow the main Grocery Outlet Facebook page here. We also recommend that you check with your local store to see if they have a Facebook page, or Twitter account you can follow. Many of the local stores will share special offers they have available in their store, so you don't miss them. My local store also posts free events too, so its a great avenue to use to stay on top of what they have going on near you!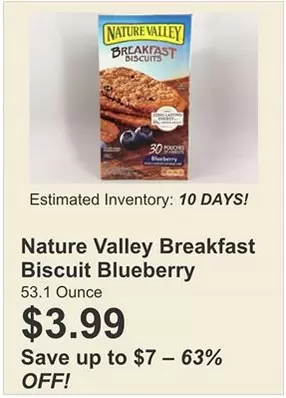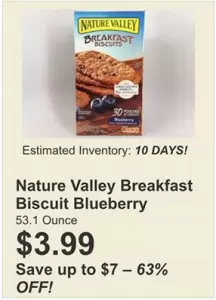 For example, we found the Spokane store sharing photos of some of their hottest products in the store, and they tell you how long they anticipate that product will be on the shelves for!
9. Learn what the labels mean, for the best savings!
Pay attention to the labels at your store. Just like the WOW alerts mentioned above, "WOW" labels on products in the store will alert you to hot offers that are priced at 50% to 70% off!
You can also look for the "Elsewhere Price" noted on the signs. This will give you an idea about what that product is selling for in other stores nearby.
10. Rest assured when you shop, as Grocery Outlet offers a 100% guarantee for everything they sell
If you are not satisfied with any of your purchases, for any reason – you can return it for a full refund!
A couple more things to remember when shopping Grocery Outlet, for the best experience include:
Be sure to stop by frequently. Inventory will change, and hot deals will sell out quickly.
Check expiration dates and make sure they will work for you. Grocery Outlet does have strong safety procedures to make sure the food does not cause a health hazard if its on their shelves but you will want to make sure its a good fit for your lifestyle (ie a suggested by date is different then a sell by date. One is more about quality then food safety).  For example, I am more forgiving of close to expiration dates for products that I can freeze, then other types. Figure out what works for you, and just make sure you are paying attention to that (note – Grocery Outlet sells many items these days that are not close to expiration dates)!
What are your favorite tips for saving more at Grocery Outlet?
Disclosure: This post was sponsored by Grocery Outlet. All opinions are 100% my own. See our disclosure policy for more details.