Chia Seed Recipes – Berry Banana Smoothie
This post may contain affiliate links and I may be compensated for this post. Please read our disclosure policy here.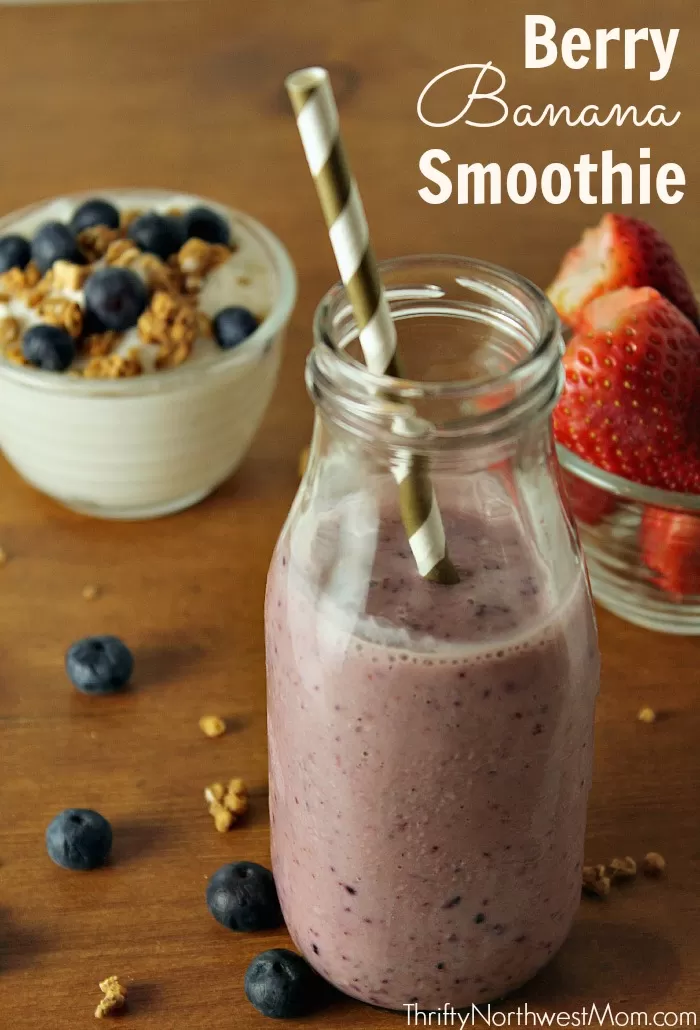 We have been looking for more ways to eat healthier & lighter breakfasts while still keeping us filled up, so my husband and I have been experimenting with some different smoothie recipes. I love a good smoothie as it is a great way to get in more servings of fruit (& veggies too) during the winter time when I find that I tend to eat less fruit. I also like that with smoothies, you can add in extra ingredients to give you some good health boosts.
I have been hearing more and more about Chia seeds the past few years, as they are a popular Super Food as there are so many health benefits to using Chia Seeds in recipes. Chia seeds seem like they are a newer food to be introduced in the past 5 years, however, Chia seeds have been around a long time. In fact, ancient Mayan & Aztec people used Chia seeds to boost energy & increase their strength.
Benefits of Chia Seeds: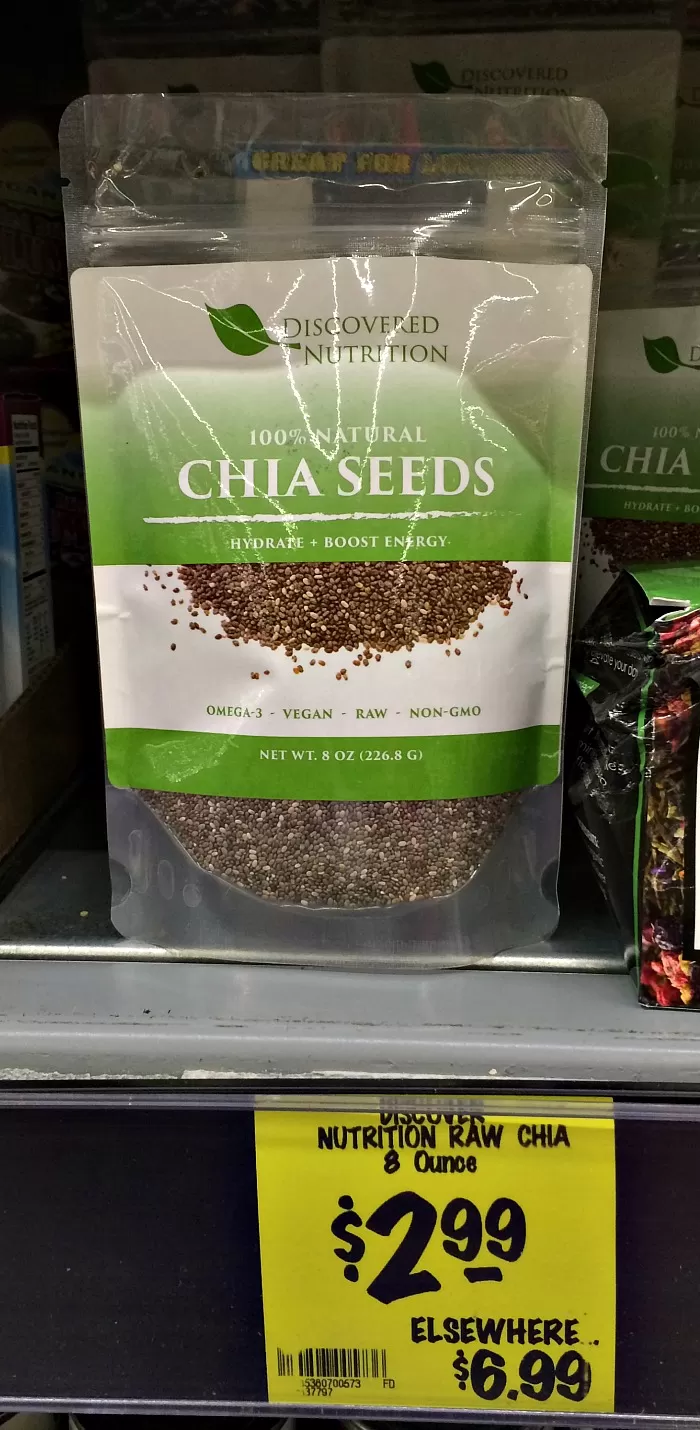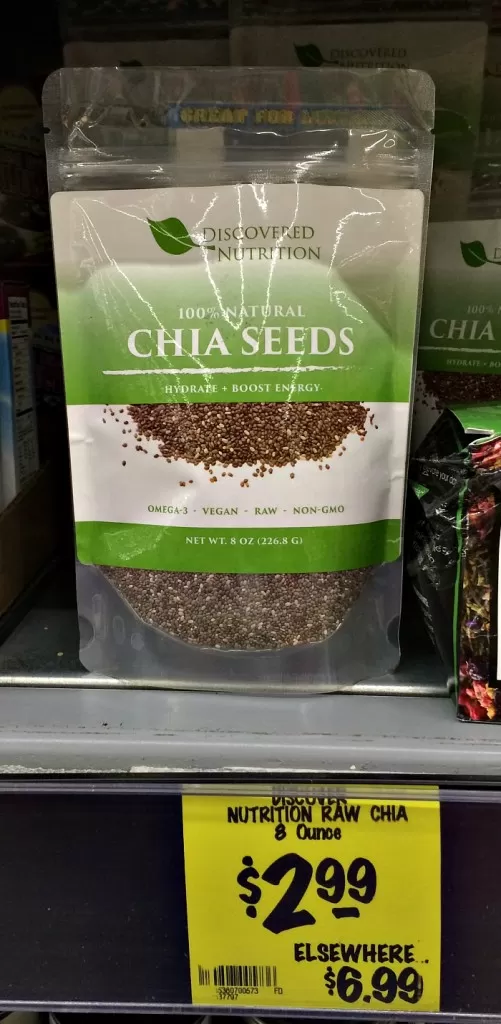 High grams of fiber – there are 5 grams of fiber in 1 tablespoon of chia seeds. This is very good for your health & it's been considered an important aspect for weight loss to eat foods with higher fiber content.  Chia seeds fill you up  quickly as they are more filling than the majority of seeds when you put them in different recipes.
High in antioxidants – Chia seeds are high in antioxidants which are good for your health for a number of reasons
Good for bone health – The seeds are high in a number of nutrients which are good for bone health including calcium, phosphorus, magnesium and protein. They are considered an excellent source of calcium for those who do not eat dairy or who may be lactose intolerant.
High in Omega 3 Fatty Acids – There are almost 5 grams of Omega 3 Fatty Acids in 1 oz of chia seeds, which are good for brain health.
High in Protein – Good for vegetarians looking to get more protein in their body.
I found this interesting article about more ways that Chia Seeds are good for your health if you're interested in checking out more ideas. And here's another article with tips on how Chia Seeds are beneficial to your health. As you can see, they are still studying the effects of Chia Seeds, but as they learn more about it, they are finding more & more benefits for your health in eating Chia Seeds.
Ingredients:
2 cups of your favorite berries (I used frozen mixed berries mixed with fresh but either fresh or frozen works)
1 sliced banana
6 oz of greek yogurt (I used Coconut Chobani Greek Yogurt)
1 tbsp of Chia Seeds (if you're not used to the texture of the chia seeds, you may want to start with just a teaspoon or two)
1 1/2 cup of Almond or Soy Milk (I used Silk Almond Coconut Milk)
1 – 2 tbsp of Agave syrup (this will depend on how sweet you want the smoothie – I used 2 tbsp as my husband preferred it sweeter)
Directions: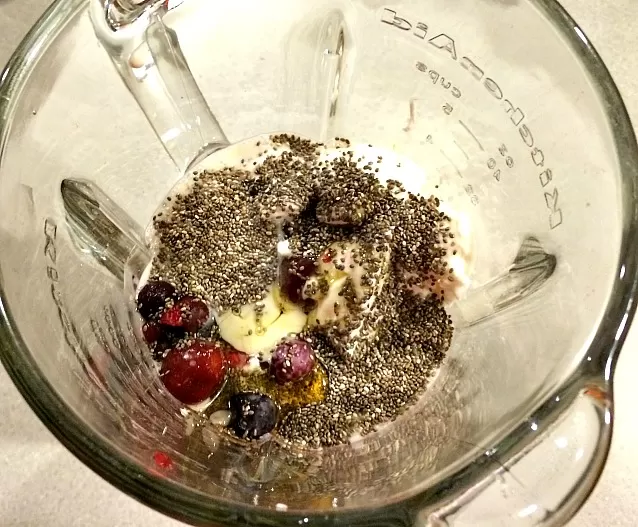 Add berries, banana, greek yogurt, almond/soy milk, and agave syrup into blender
Add chia seeds on top of all the ingredients (if you prefer the chia seeds to gel more for a thicker consistency, then add them at the beginning with the almond/soy milk & let them sit & soak for a few minutes)
Mix together in blender until smooth
Serve immediately.
 I loved that this smoothie was sweet & tasty, while also being very healthy especially with those Chia Seeds mixed in for an even greater boost. You could change this up by adding spinach or other greens to get some veggies in there, too!
We paired the smoothie with the Coconut flavored Chobani greek yogurt & Apple Cinnamon granola mixed in. With the yogurt & granola along with the smoothie, it makes for a very filling & healthy breakfast option. The smoothie was a great, quick breakfast option on the go, too.
Printable Recipe for Berry Banana Smoothie:
Make sure to print this recipe for Berry Banana Smoothies to put in your recipe binder or notebook.
Print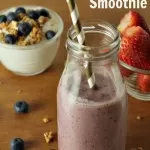 Chia Seed Recipes – Berry Banana Smoothie
---
Total Time:

5 mins

Yield:

1

-

2

servings

1

x
Description
If you're looking for new Chia Seed recipes, try this Berry Banana Smoothie. It's delicious for a hearty breakfast or mid-afternoon snack & you'll enjoy all the health benefits of using chia seeds.
---
2 cups

of berries

1

sliced banana

6 oz

of greek yogurt

1 tbsp

of Chia Seeds (if you're not used to the texture of the chia seeds, you may want to start with just a teaspoon or two)

1 1/2 cup

of Almond or Soy Milk

1

–

2

tbsp of Agave syrup (vary depending on level of sweetness you want)
---
Instructions
Add berries, banana, greek yogurt, almond/soy milk & agave syrup all together in blender.
Add chia seeds on top
Blend it all together until mixed well & smooth.
Serve immediately
Recipe Card powered by