Macys Finish Line End of Season Sale (40 – 60% Off)! #FinishLineAtMacys
This post is sponsored by Savings.com
My kids love to shop at Finish Line, and I just recently learned that there are Finish Line stores inside of many Macys stores (and online at Macys.com too). We recently where shopping at the Finish Line store in Macys, and found some great deals. Then I came home and found this sale online, with some really great prices. This is one of my kids favorite stores for shoes, because they are at the age that they like certain brands. It is a nice compromise for us, to shop these sales, because they get the brands they want and I do not have to pay the prices usually associated with those brands.
Be sure to check out this Macys Finish Line Sale with up to 60% off shoes, for super deals for your family too. This is a great sale for all kinds of shoppers. If you are looking for really low prices you can find name brand shoes as low as $10! If you are looking for certain styles that usually run over $100 you can find them for around $30 to $45 off per pair (which is a nice savings on pricey shoes). If you like sneakers, there is something for everyone in this sale. We found steals on shoes for women, kids and men.
If your kids are in need of shoes for summer, or you need some shoes to get out and hike or keep up with the family in, there are some great prices. We found slides from brands like Adidas, Nike and Champion, starting at $15 a pair (my kids favorite summer shoe). We also found Heelys (fun shoes for kids in the summer), for as low as $10 (we highlight those below). For mom, there are super comfy Sketcher walking shoes for as low as $15 (I have a pair and love them for travel – they are so comfortable).
I know that sometimes it is hard to know how much your kids feet might grow over the summer, but this is also a great opportunity to pick up a couple of your kids favorite brands at steep discounts for the coming school year. Shoes are usually one of the more expensive back to school items, so if I can get one pair out of the way now, and then just keep it put away in the closet until August when we do the bulk of their shoe shopping, it can help me save lots and keep them happy.
Finish Line Shoes in this Macy's End of the Season Sale That We Loved!
We found some crazy deals in this Finish Line sale,  for some popular brands. We found Bear Paw Boots for girls for just $10 a pair, Under Armour Running Shoes for little boys for just $15, Sketchers Women's Running Shoes for $15, and more super deals. My favorite thing to shop these sales for though, are those pricey brands of tennis shoes the kids love to wear, that are hard to find on sale.
Here were three pairs my kids loved, at super prices.
For summer time, these Heely's Wheeled shoes are lots of fun for kids, and we found them for as low as $15 (the pair shown above). That is a super price (reg. $59.99). There are other styles for $20 too (both boys and girls). I grabbed a pair of these for both of my girls for summer fun!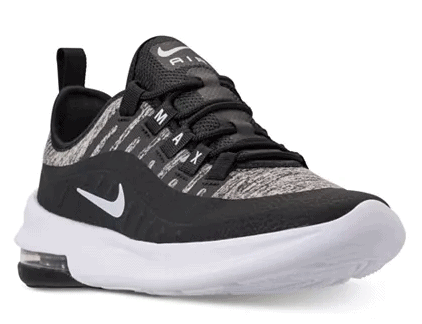 These Air Max Axis Casual Running Sneakers for boys are just $40 right now (Reg. $80)!
This is a super price for an Air Max style, and while they say boys, this grey, black and white colors would be great for both boys and girls (just adjust sizing when ordering). My girls love grey, black and white Nikes, so I thought these would be perfect for bike rides, and some comfortable shoes for travel this summer, in addition to running.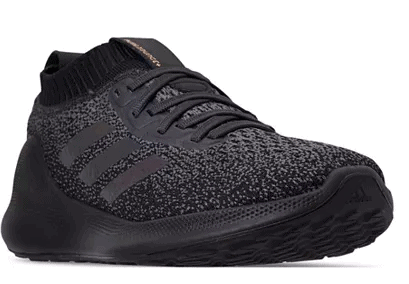 These Adidas Women's PureBOUNCE+ Running Sneakers are regularly $100, and are on sale for $50 right now!
I loved these. I already have the Sketchers that I mentioned above, and rarely spend this much on shoes for myself, but I thought I would try this with a discount this big, to see how they work out for my walking routines.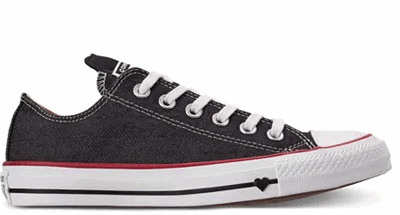 This pair of unisex Converes Chuck Taylors are just $30 during this sale (reg. $59.99).
These are perfect for casual summer shoes for the kids (they have the slides, and those are their favorite pairs of summer shoes, but sometimes they need something light, but with more coverage, and this is a great price. It does say that women will want to order 2 sizes down from what they would normally order, but what a super price for this popular style!
There are so many great prices on shoes right now. Shop the full Finish Line end of season sale at Macy's online here now.
A Couple of Tips for Shopping the Macy's Finish Line Stores and End of Season Sale::
When shopping the sales, sizes can be limited (especially for some of the lowest priced shoes) so choose your shoe sizes that you are looking for on the left, and then search. You can then sort by price (low to high) to find some of the best deals in the size of shoes you are looking for.
My kids love to shop Finish Line, because they are looking for specific brands (ie Nike, etc). If there is a favorite brand you are shopping for, you can filter the shoes by specific brands on the left hand side too. That will save you lots of time on sorting through hundreds of pairs of shoes on sale.
If you are shopping for someone who can fit both kids and women's sizes, try checking in kids sizes first. They are often a little bit less then the adult prices.
Select In Store Pick Up where available to save shipping costs. In store pick up is not always available though, so pay attention to that up front.
Both Macys gift cards and Finish Line Gift cards can be redeemed at Macys Finish Line Locations (as long as you are purchasing Finish Line Merchandise to use the Finish Line Card).
You cannot use Macys Extra Savings passes at the Finish Line stores in Macys locations.
Shop the Finish Line Sale Here Now!