Use Coinstar for Back-To-School Shopping!
This post may contain affiliate links and I may be compensated for this post. Please read our disclosure policy here.
Disclosure: Coinstar has sponsored this post so that we can share about this great new option to earn extra cash. All opinions are 100% mine. See our disclosure policy for more details.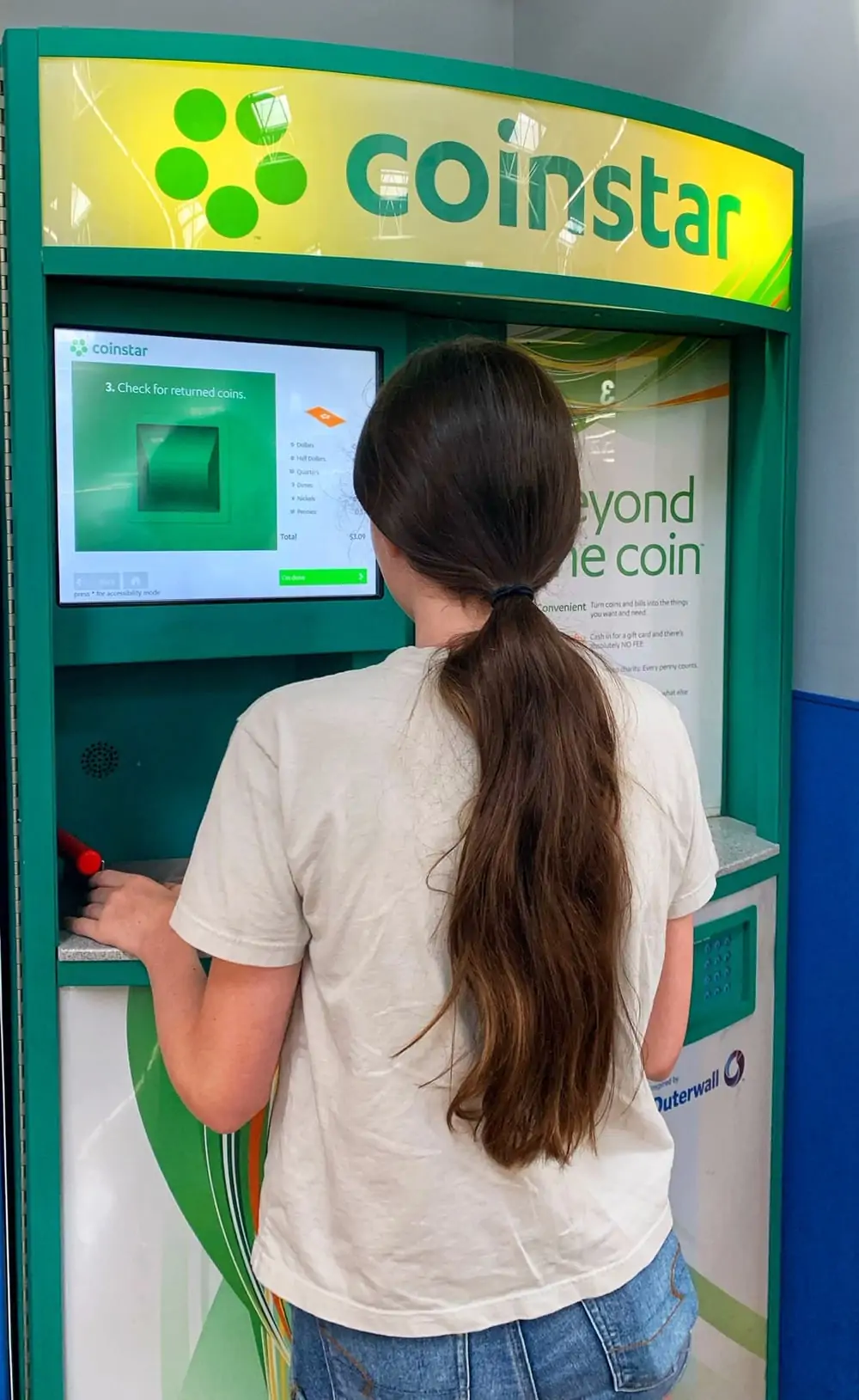 Use Coinstar for Back-To-School Shopping!
Budgets are tight and expenses are anticipated to rise for back-to-school. According to a recent survey from Coinstar, 84% of parents plan to send their child back to in-person schooling this fall, and 61% of parents expect back-to-school costs to be higher than pre-pandemic.
Never fear – we have some smart tips here on how you can turn that spare change hanging out in your home or car, into school shopping money. And no, we do not mean you will need to pay in change while shopping for school items! This is much more convenient. We have been using Coinstar for years, since my kids were little and it works! My kids have always loved the sound of the change being counted, and the excitement of how much we cash in. We always turn it into a game, where everyone guesses ahead of time how much change they think we have, and the person closest gets a small reward.
Coinstar is known for their green grocery store kiosks where you can bring in your coins and turn them into cash, no fee eGift Cards, or charity donations. They have kiosks in select locations around the country. You will be able to trade change that is hanging out in the bottom of your purse, or pockets of clothing (and anywhere else), into cash or eGift Cards you can use for back-to-school shopping!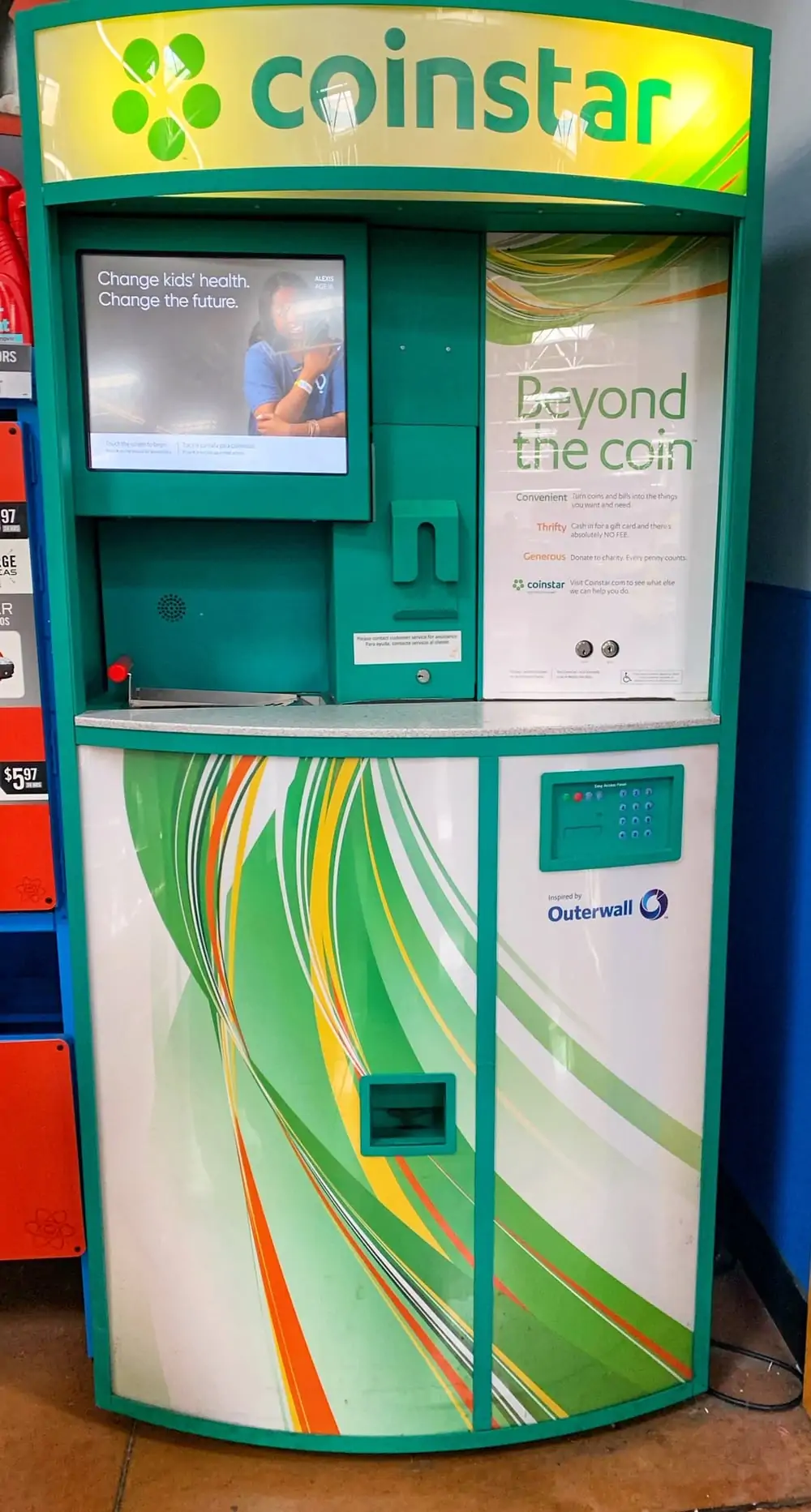 How Do I Find a Coinstar Near Me (Where are Coinstar Locations)? 
For those of us in the Northwest, many Safeway stores around the Puget Sound area have these bright green Coinstar kiosks, as well as Fred Meyer and more stores.
You can check out the Coinstar kiosk finder page to see if they have a location near you. We found many convenient locations in our area. You can do this while you are doing your regular grocery shopping in many cases.
How Much Does Coinstar Cost?
The way you can utilize Coinstar the best is to change your change into eGift Cards for FREE! There are a number of eGift Card options, but if you want to use it for back-to-school shopping check out eGift Cards for stores like Amazon, Nike, Gap and more!
If you choose to turn your coins in for cash, an 11.9% service fee will apply (but you will not need to get coin rolls, and spend time rolling them ect). Just dump your change and exchange for cash!
There is one more option, and that is to donate your coins to charity. If you want your kids to learn more about giving, this is a really fun way to do this as a family. Save your coins together, and then head to a Coinstar kiosk to decide where you would like your charitable giving to be applied.
I love all of the options there are to turn change, that often ends up lost, into something really useful!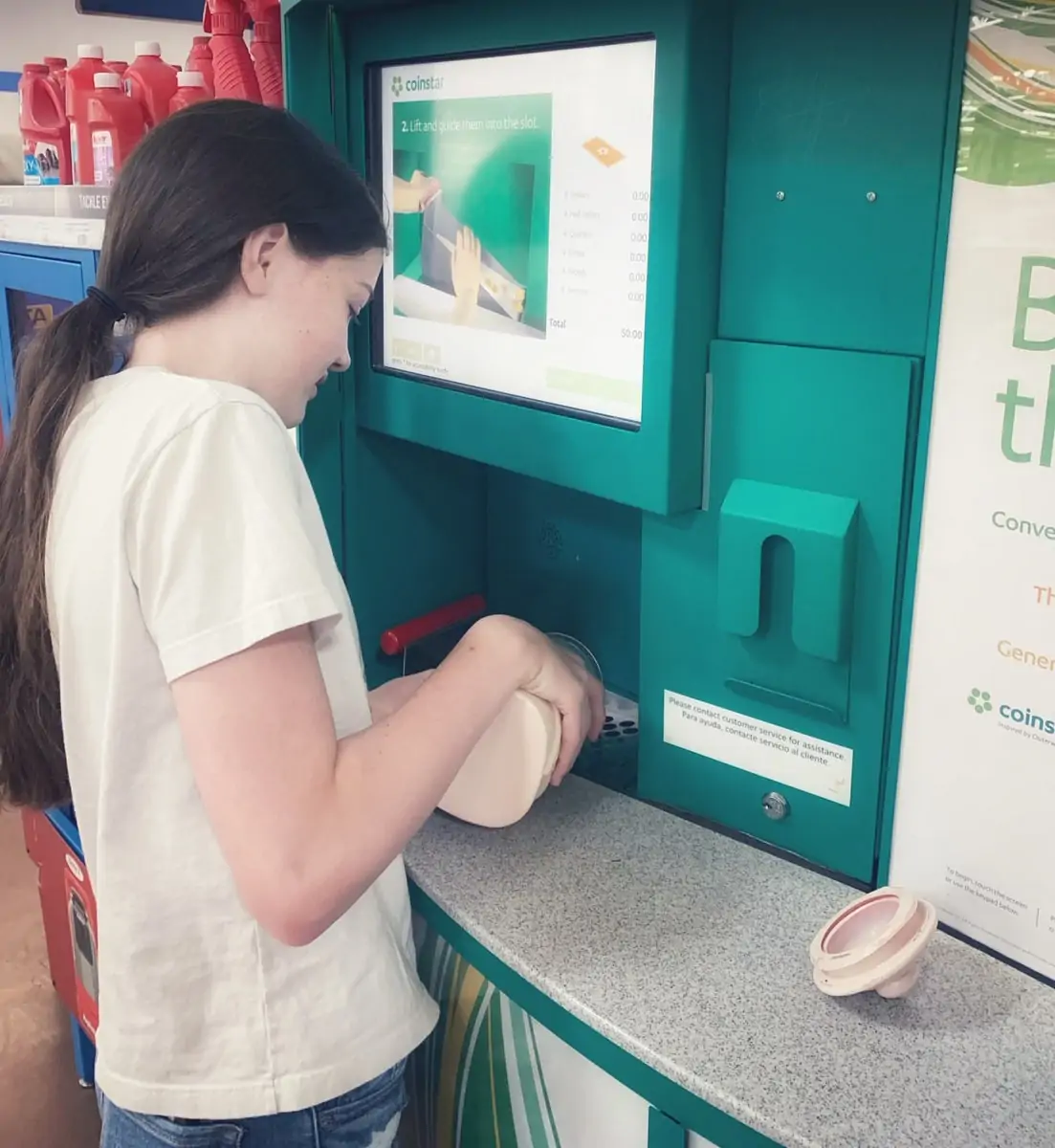 How Does Coinstar Work:
Coinstar created an easy and convenient way for people to turn their loose change into money or gift cards they can use. You can benefit from their convenient and simple Coinstar kiosks by dumping your bucket of change into the machine, and it can convert your change to cash, a no fee eGift Card, or donate to charity at supermarket.
I headed into my local Coinstar Exchange, and this is how it worked for me: 
You will likely be surprised at how quickly your change adds up. Especially if you include quarters in there. A large pickle jar can easily be $200 in cash once full for example. I am always shocked at what my change jars end up amounting to.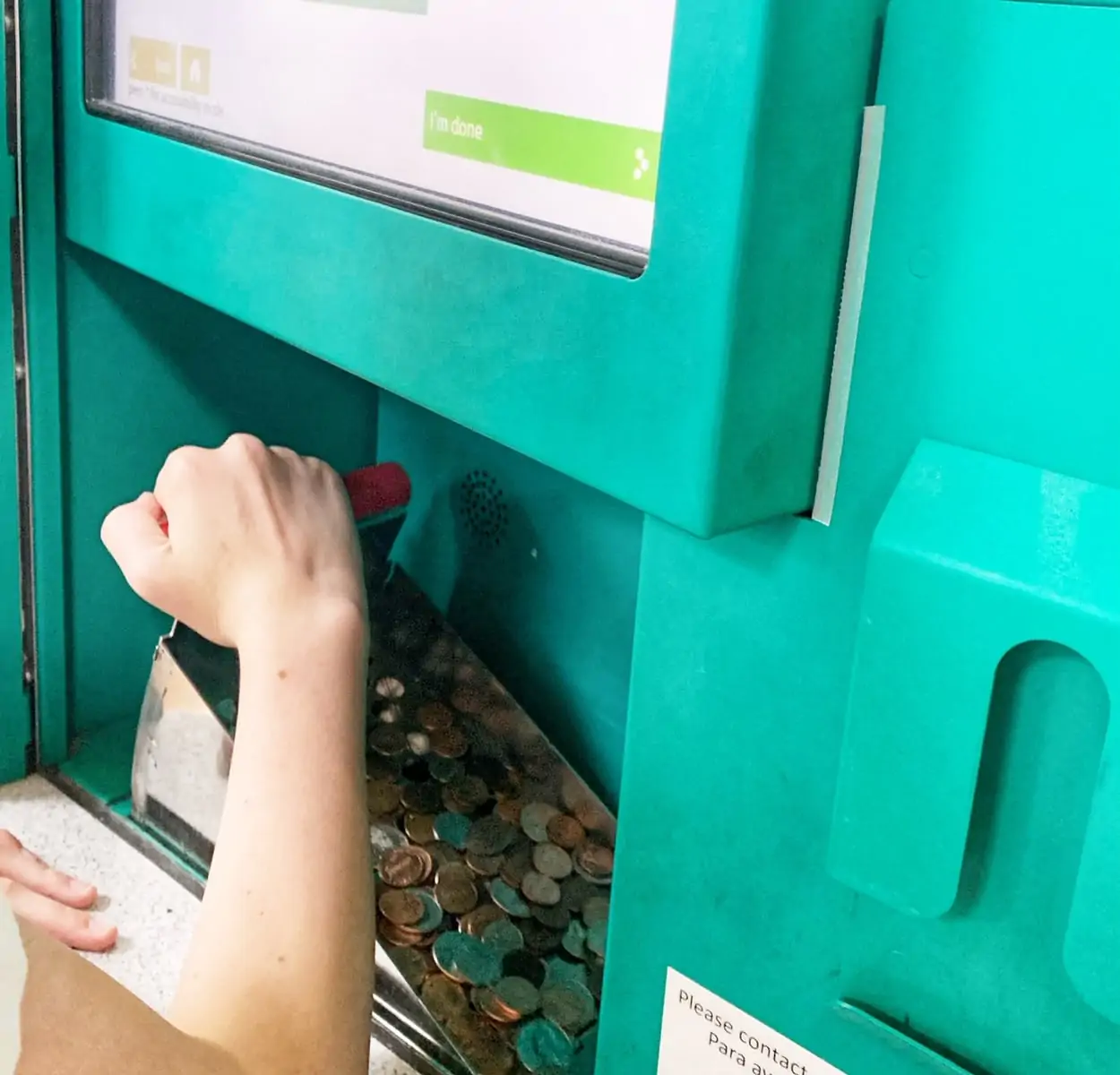 My kids usually fight over who gets to put the change in the machine. I have to divide it and let them all have a turn. Kids love to do this, and it makes saving for them fun. It is a great way to teach some early money management skills to kids too.
Gather your change into a bag or container you can easily transport with you to a grocery store, and dump in the machine.
Head to your nearest Coinstar kiosk (you can find a Coinstar kiosk location

here

)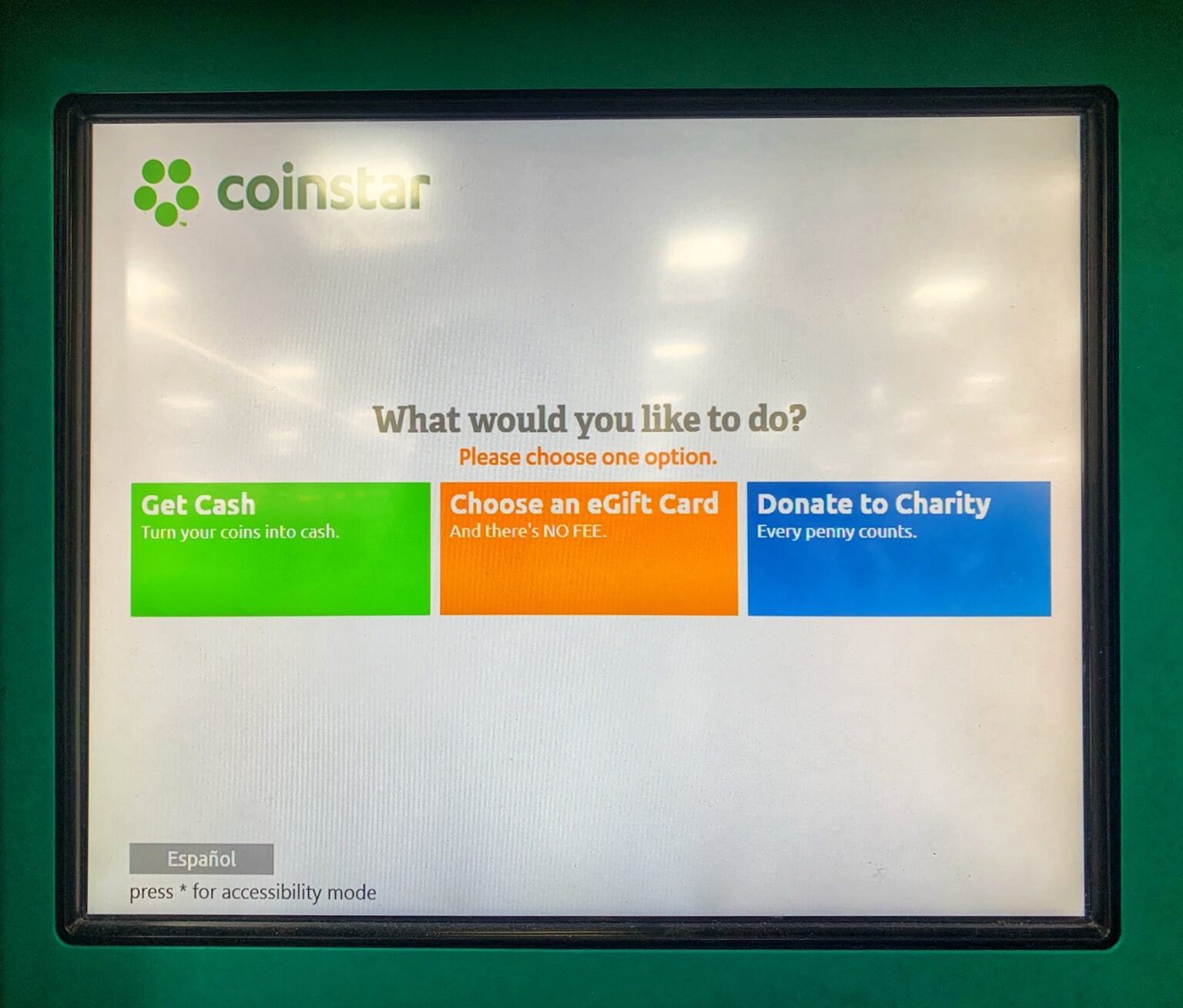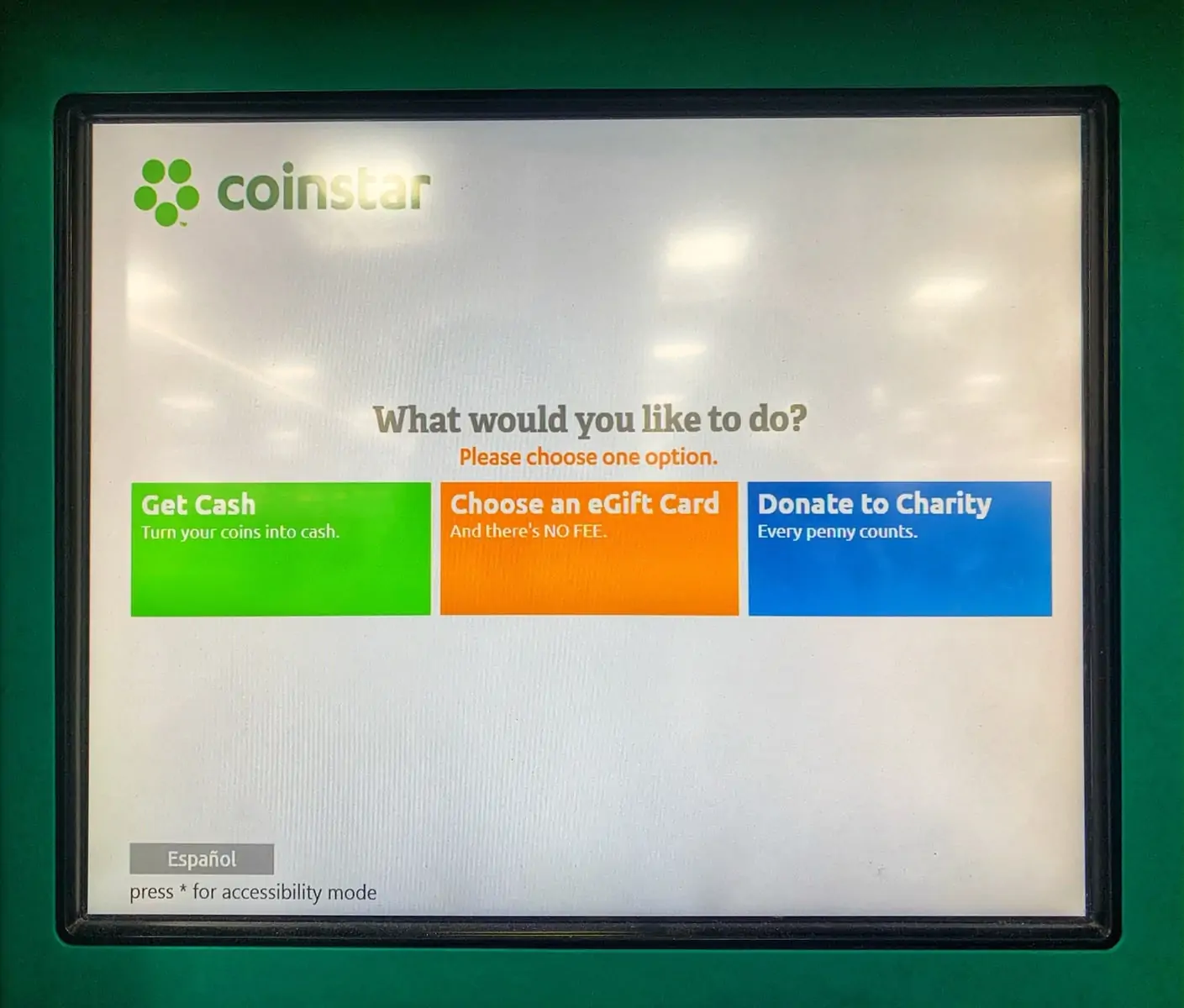 Choose what you want to change your change into (cash, eGift Card or charitable donation).
Dump your change into the machine (note that you do want to make sure it is free of debris before you get to this step).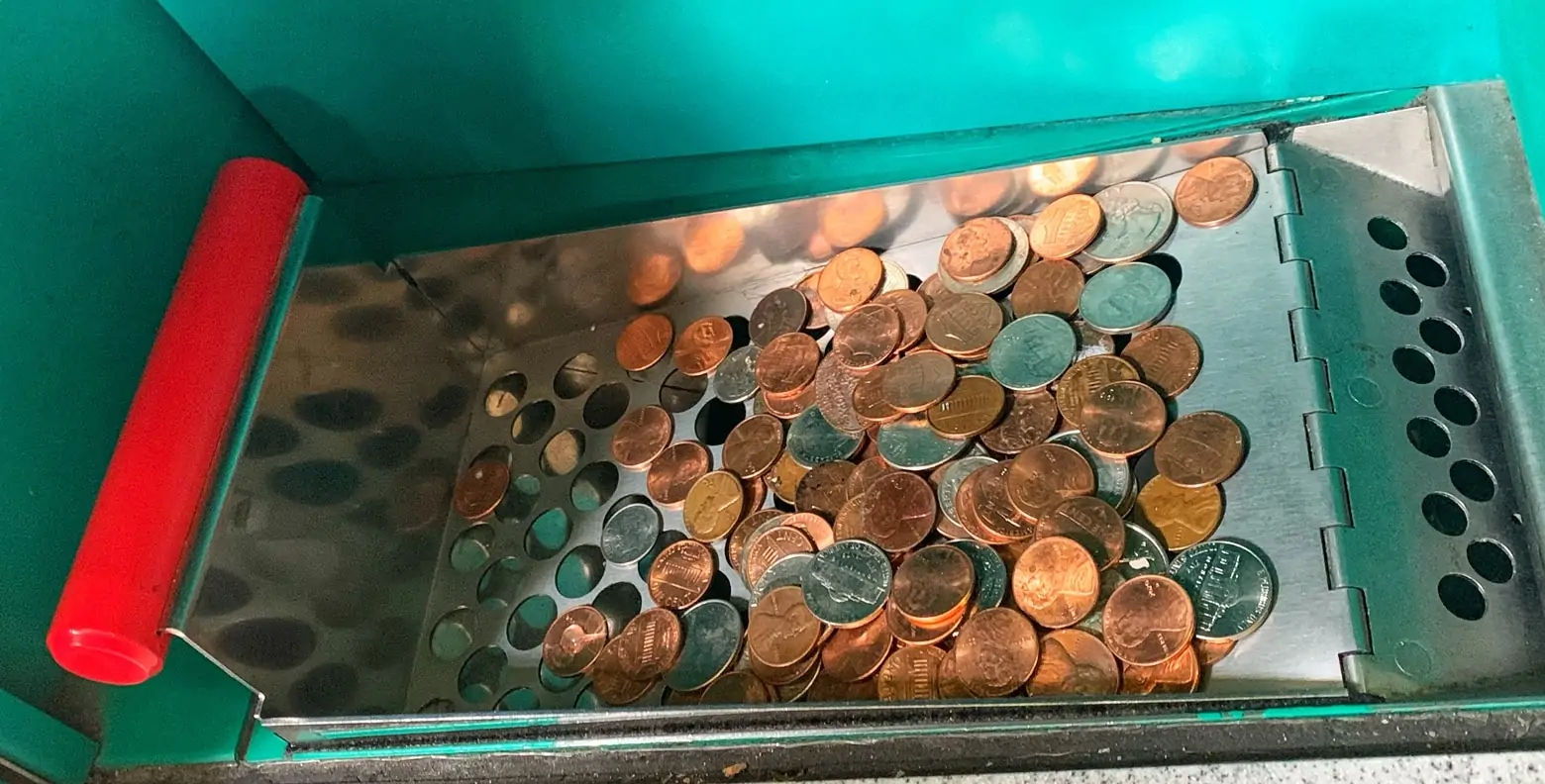 Sometimes some change will come out the dispenser, and you need to reinsert that – so look for that.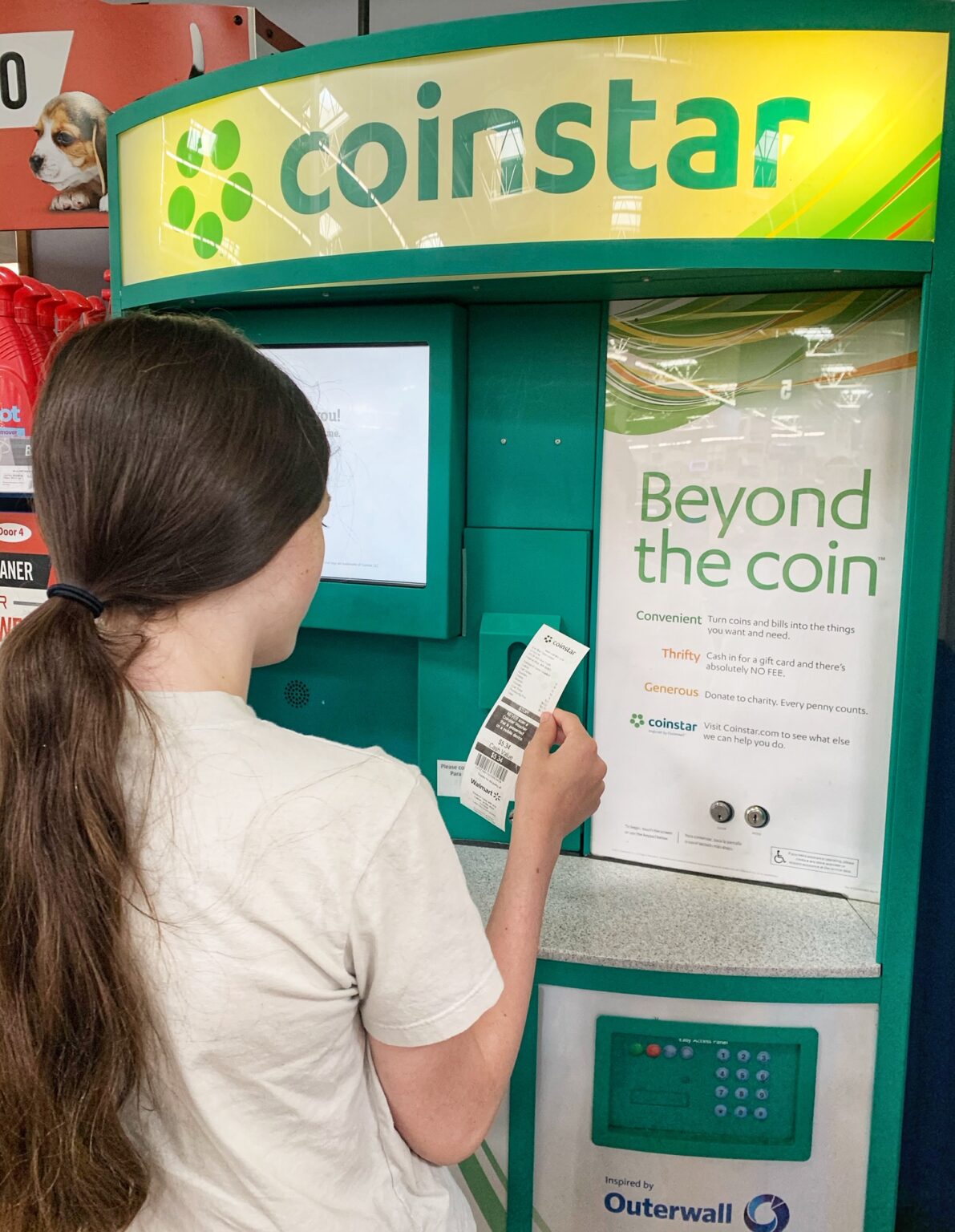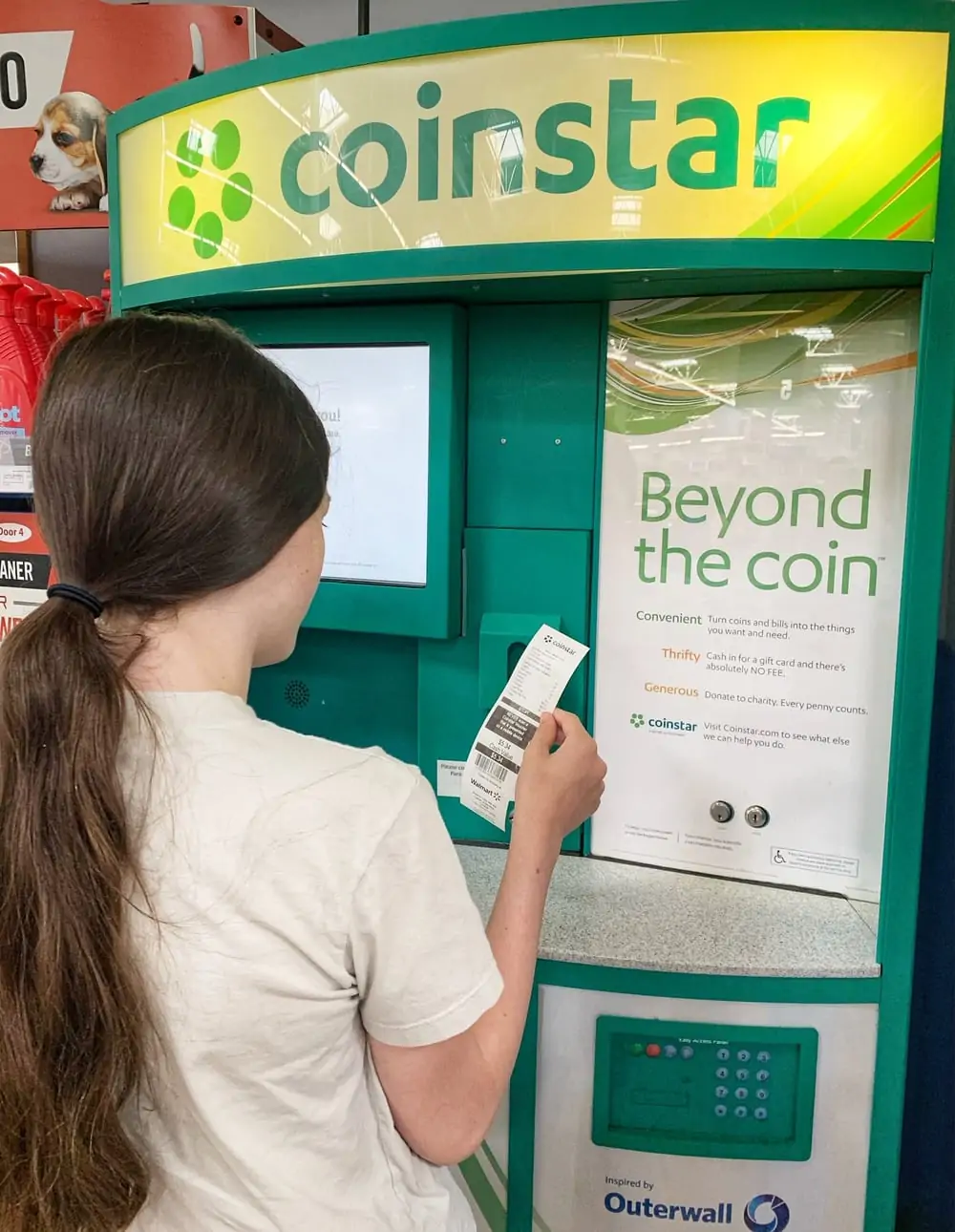 Depending on what you selected, you will get a voucher to redeem for the value of your change deposit.

If you selected an eGift Card option, you will get a voucher for the full value of your deposit as an eGift Card to redeem online.
If you chose cash, it will give you a receipt you can take to the checker at your store to redeem for dollar bills (minus 11.9% service fee).
If you chose charitable donation, you will get a tax deductible charity receipt for the value of your donation.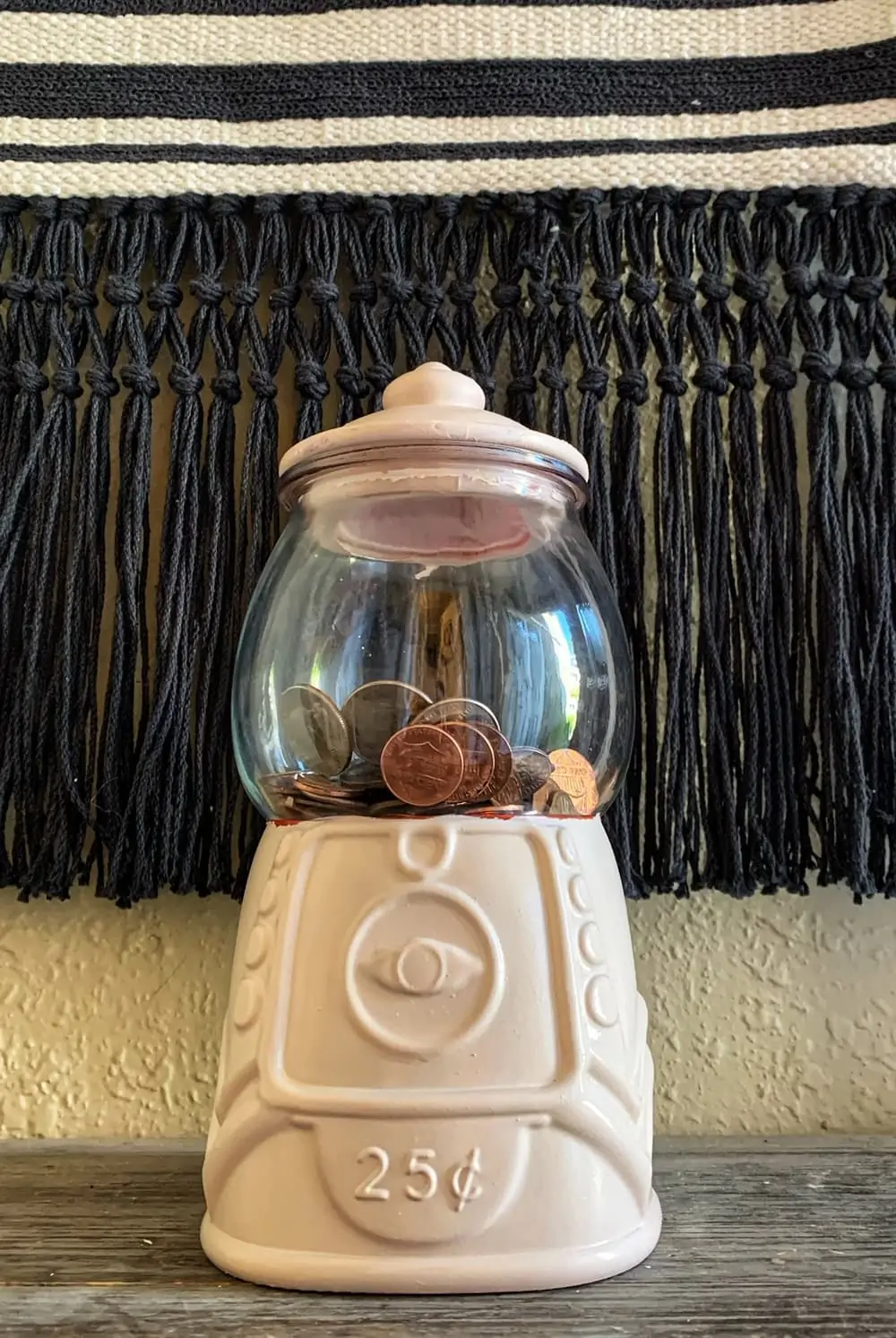 Tips To Make The Most from Your Change With Coinstar Machine:
To make the most from Coinstar, you will want to gather as much change as possible!
Have a centralized container or location, where all spare change in the house can be added to. This may seem obvious, but is important, as a little spare change here and there can easily get lost – but if you let it all add up in one place you will be surprised at what that all amounts to.
Set a goal, for what you want that change container money to go towards. We mentioned school shopping here, but it could also be a vacation fund, or anything else your family wants to save towards. This will motivate family members to get their spare change from the bottom of purses and backpacks, and into the jar – where you can change it into something more at Coinstar!
Save your silver! It may be tempting to spend your quarters, but it is those silver coins that will really build your savings quickly. So rather than spend those, add them to your coin jar.
Select the eGift Card Option! This option will not cost you anything, and as long as you will shop at the store you get the eGift Card from, it is a great way to get the biggest bang for your dollar. We love to get Amazon eGift Cards, as we can buy almost anything off of there.
Locations to look for more spare change to add to your container:

The laundry room. I am always finding spare change in my house when I do laundry. I keep a little bowl in there, where I can keep the change I find, and then transfer it to our main container when I am done doing the laundry
The bottom of your purse. I was really surprised at change that was just hanging out in the bottom of my purse (and just making it heavier to lug around)!
The car. This is another spot you might be surprised at what spare change you find. It is a good idea to not keep spare money in the car in general (to help deter break-ins), so moving it to your family jar is a much better idea.
What are your best tips for saving change, that you can turn into extra funds for back-to-school shopping and more?