Amazon Wedding Registry – 6 Reasons Why to Register
If you are getting married soon, the next few months or year will be filled with many decisions to make regarding the wedding & reception logistics.  It's a very busy time for many couples as they are busy making plans for their wedding.  One of those important decisions as you plan your wedding & your married life is to register for gifts for your home together.
Online shopping is so popular these days, so doing your wedding registry online thru Amazon is a great option to have a wide variety of items to choose from for your home, as well as using a site that your guests will be very comfortable using to order items.  There are definitely a number of reasons to use Amazon for your wedding registry, including special discounts & offers, extended return policy & more.
We have listed some reasons why we love the Amazon Wedding Registry option, as well as some ideas for what to include on your registry if you are needing some inspiration there.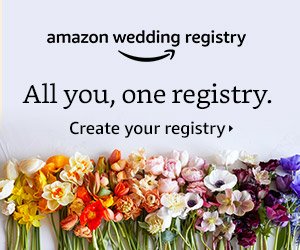 Wide Variety of Items You Can Add To Your Amazon Bridal Registry :
One of the best reasons to choose to register for your wedding with Amazon is that they have such a wide variety of items, more so than you will find at your typical stores for wedding registries. You can register from everything from towels and bedding to kitchen appliances to camping items to movies & more. If you have unique tastes, it may be difficult to find the perfect bedding or home items at some of the retail stores & this way you have a much larger selection to choose from, yet it is still all in one place for folks to make their purchases. Amazon also has an easy app you can use, or your guests can use to grab these gifts for you on the go – making it as easy as possible.
They also make it super easy to thank your guests, as you will have a thank you list right there online.
2 Day Free Shipping for Eligible Items:
I love this benefit – there is 2 day FREE shipping on eligible items from your registry. When people order & then send your item, it will be sent to you quickly, which is one of the things I love most about Amazon & Amazon Prime, being able to receive your items fast! The same is true with your registry items!
Universal Registry:
You can add Amazon's browser application to add items from any website to your Amazon wedding registry. This works so well as you aren't limited to just items you find on Amazon, but you can choose items from different retailers. However, you have all of the items in one place for your guests so they don't have to visit several different online retailer websites to view & order off your registry.
Honestly, it does not get more convenient then this. Especially because guests may live in many different places, and here they can access your list easily online, and get you what you want!
Extended Returns of Registry Items:
You will have up to 180 days to return almost everything on your registry. This means you don't have to rush after you get back from your honeymoon & work to set up your home with your new registry items. Instead, you can take your time & see if you receive any other parts to a set before you decide to return it.
If you decide to buy some items off your registry, though, you must make your purchase as a gift in order to receive that 180 day return policy. Otherwise, the standard 30 day Amazon return policy will apply.

Completion of Registry Discount:
Once you are married & have received your wedding gifts, Amazon will offer you a one-time completion discount off gifts on your registry. If you are an Amazon Prime member, the discount is 20% off for a one-time use. Non-prime members will receive a 10% completion discount for a one-time use. This is so that you can make any purchases on items you had hoped to receive for your wedding.
*This completion discount can be used to purchase anything sold & shipped by Amazon.com for up to 90 days after the wedding
Personalize your Wedding Registry:
I love using Amazon wish lists  for family members as not only  can you add items to the list, but you can leave comments about sizing, specifics about the gift, etc. The Amazon Wedding Registry is no exception as you can personalize the list with a picture of the two of you (helps for those who may not remember your last names to know they have the right couple). Plus, you can leave comments about the items (if you want to explain any specifics about it), you can prioritize what you are wanting most (this is very helpful to the guests!) and more!
What to add to your Amazon Bridal Registry::
If you need some inspiration on what to add to your registry, Amazon has created some featured collections that will help you easily decide (like top brands and designers, or shop by category). Other ideas include:
My favorite way to use their tools, is to shop by room. This way you can go through each room and be inspired by what you might need for each area of your house that you can add to the list.
Register together – so that you both get some items that will work for your style as a couple.
Add items of varying price ranges – so there is something that will work in the price range that all of your guests will be shopping in. You want to make sure that folks have the opportunity to afford a gift for the wedding.
Along with items of varying prices, add a mix of items that will be useful in everyday life for you, as well a splurge item or two. It is great to get things you need, and will use, but it is also fun to have a piece or two you pull out of the cupboard yearly to remind you of your special day (like some special china for example).
Don't be afraid to add it all. Folks will shop for what they can, but if you run out of items on your registry they will likely have to shop off registry, and although it is generous it may not be items you need. Whatever items you do not get off your registry that you needed, you can use it as a list for future purchases you and your new spouse can work towards together.
Don't have a honeymoon planned? Set up stuff you can use for a romantic weekend getaways following your wedding. Things like a 2-person tent, sleeping bags, a french press, and fun snacks can be used for a really special weekend away that won't cost you much. Find a special river or lake you can book a camping spot, then pack up these things you got from your guests, and take off together for the weekend to celebrate being Mr. and Mrs. We did this once for a friend who did not have a honeymoon planned, and she still talks about what an amazing gift it was all these years later.
More Ways to Save at Amazon:
What were some of your favorite items you registered for when you got married? Or what are your favorite items to give as wedding gifts?