Amazon Prime Deals – as low as $6.99 / Month (SNAP / EBT Card Holders) & More!
This post may contain affiliate links and I may be compensated for this post. Please read our disclosure policy here.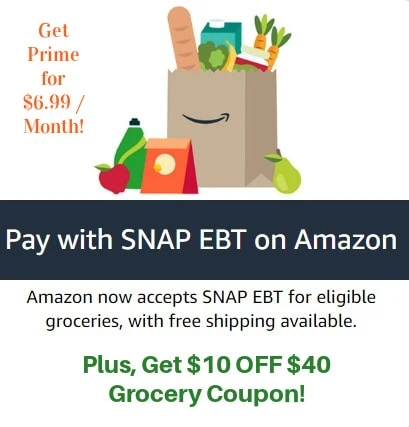 Amazon Prime Deals – as low as $6.99 / Month (SNAP/ EBT Card Holders) & More!
Amazon is wanting to make Amazon Prime membership more affordable to lower income households by offering it for just $6.99 per month for those who are SNAP/ EBT card holders & Medicaid card holders. That works out to $83.88 per year, so provides some savings over the standard price of $139 per year, and it allows folks to pay monthly, versus having to come up with the annual payment in one lump sum.
EBT cards / SNAP cards are used for government assistance programs, such as Temporary Assistance for Needy Families (TANF).  Medicaid cards are issued by states to qualified recipients.
If you qualify, you can go here and enter your EBT number and upload an image. The EBT card will not be used to pay for your membership, only to confirm eligibility. You will then be able to sign up on the monthly payment plan, and can cancel at any time, and will have access to all Prime Membership benefits.
There is also currently an offer for $10 off of your eligible grocery orders of $40+ here when you use your registered ebt card. Find the details on this offer here. You will only be able to use this coupon one time per account. You can use any payment method, but you will need to have a SNAP ebt card registered with Amazon to be eligible. Once you are registered, then go to this page here and select the yellow "Apply code to my account" button
Note: This monthly offer does not include Household sharing of Prime benefits. You will need to qualify every 12 months, for up to 48 months.
You can also go to this page here to register your SNAP / ebt card to shop with online for groceries, with no monthly subscription fees.
Add your SNAP EBT card to qualify for select benefits on Amazon:
Purchase groceries online for delivery with SNAP EBT (available in all states except: Alaska, Hawaii, Louisiana, Maine and Montana.)

Get 15% off select Mama Bear, Happy Belly, and 365 Everyday Value groceries, and qualify for free shipping on Amazon Pantry with a SNAP EBT card.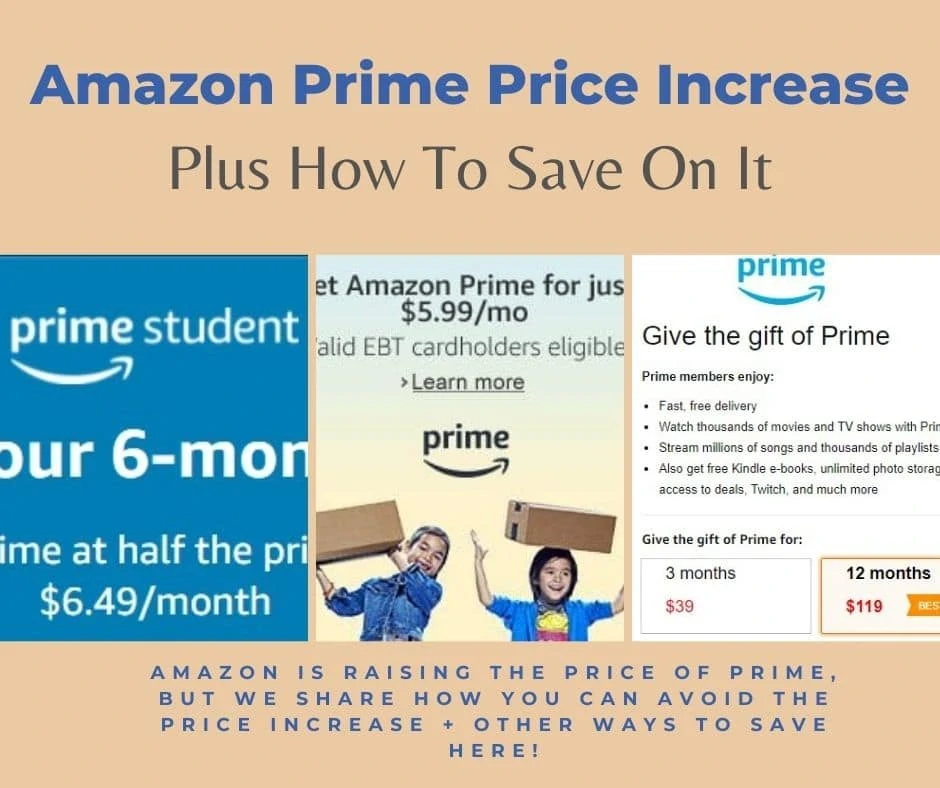 Other Amazon Prime Membership Discounts Available Too:
Have you heard that Amazon Prime Memberships will be jumping in prices from $119 to $139 per year, starting February 18th? If you already a Prime member, you should see the increase start if your renewal happens on March 25th or after. If you are a monthly subscriber, the price will go from $12.99 per month to $14.99 per month. In addition to the ebt discount for Prime, here are a couple of additional ways to save still.
Gift Membership:
Consider getting a Gift Membership now, before the price increase on 2/18. You can use a gift membership for up to 3 years, so you will be able to use this one for the coming year. You can then go in and set up your account to not Auto Renew (cancel it, but select Keep Benefits), and once that has stopped you can add your gift membership for one more year of Prime at the current rate. Find the gift membership options here.
PLUS, if you want to give a membership as a gift, you can buy a 3 month Amazon Prime membership for just $39 here too! Amazon will send your gift recipient an email on the day you choose, along with redemption instructions. The gift recipient can start their Prime membership right away. If the recipient is already a Prime member, the gift can be exchange for an Amazon gift card. The gift membership does not automatically renew & is not eligible for promotional offers. The gift of Prime can only be redeemed on Amazon.com.
This is a really great gift idea as it offers streaming movies & TV (like Netflix) so it could be a great fit for everyone – not just regular Amazon shoppers. I do also love the idea that those that have Prime can add it on their subscription , so it's a great idea for many folks you may be shopping for.
Get a student membership for just $6.49 a month!
Are you a student? If so, you can get a free 6 month trial for Amazon Prime for students. After the 6 mos, you will pay just $6.49/mo & can cancel at any time.
If you have not joined Amazon Prime yet, you might want to try the 30 day free trial offer. Amazon is offering a FREE 1 Month Trial of Amazon Prime.  Not only is it great for free shipping, but we use it like you would Netflix and stream the free movies and TV shows to our TV!
Benefits to Amazon Prime:
FREE Two-Day Shipping on over 30 million items

Watch thousands of movies and TV shows with Prime Video

Stream millions of songs and thousands of playlists

Also get free Kindle e-books, unlimited photo storage, exclusive access to deals, Twitch, and much more
You can watch the movies on your Kindle or other devices or stream them to your TV (find a list of devices you can use to
st
ream to your TV here)
The cost is $119/yr (works out to $9.92 per month if you are comparing to services like Netflix – but you will have to pay the fee all at once). There are no strings attached, you can cancel at anytime (and easily, from your Amazon account online – no phone calls required)
If you have not tried it, I highly recommend this free trial. 30 days gives you enough time to decide if its a good fit for your family or not. Since my kids like movies and we like to shop the deals through Amazon, it is a good value for us.
Beyond the shipping, it's also a great program for the free Video and book rentals, or free streaming TV options. It works similar to Netflix in that you can stream their videos to your TV, Kindle or other devices. We grabbed the free trial before our recent roadtrip, and the kids were able to download some of their shows for free to watch on the road. Whenever we pulled into a spot with free internet, they could connect and grab new books or shows – so it was a great option for the road trip.
Plus once, we got home we streamed it to our TV through the Xbox (you can use other options), and figured that Amazon Prime was cheaper than other subscription plans available and you get free shipping too!
Do you use Amazon Prime?  What are your thoughts on why you love it, or why you do not use it?