Walmart Plus Membership Free Trial & What It Is!
This post may contain affiliate links and I may be compensated for this post. Please read our disclosure policy here.

Walmart Plus Membership Free Trial & What It Is!
Have you heard that Walmart is now offering a Walmart Plus Membership? If you do Walmart Online Shopping, you will want to check this out.
Walmart used to offer a 15 day free trial, but right now you can get a 30 day Walmart free trial offer here.
The 90 Day Walmart Plus FREE Trial Membership has ended, but we will update here if we see it come back. Find the 30 day FREE trial of Walmart Plus here, also referred to as Walmart+, to see if it works for you!
Plus, right now they have a super membership offer where you will get 50% off a membership (equivalent to 6 months for free). If you want to buy a Walmart+ Membership, they are offering it at $49 – which is 50% off (reg. $98)- so a super deal for the full year!!!
I have used it and love it. You can find all of the reasons I love the Walmart+ membership in my Walmart+ review here as well.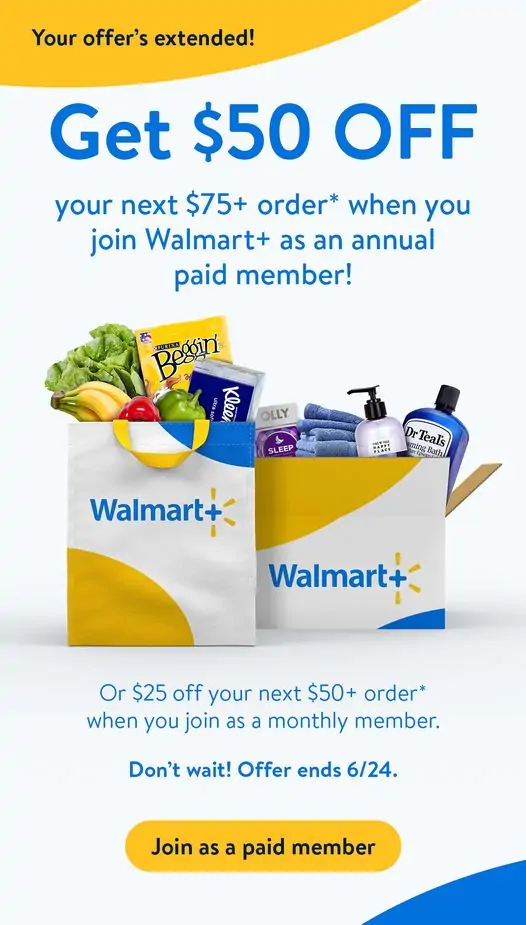 Plus, right now they have a great deal on paid memberships too, here. Get:
If you want to try the Walmart Grocery Pick Up Service, you can use these Walmart Promo Codes to save on your groceries too:
WOWFRESH – $10 off your first $50 order (new customers only)
TRIPLE10 – $10 off $50 order (new customers only)
Find all of the details on this offer right here.
What is Walmart Plus?
Walmart Plus Memberships are premium paid subscription memberships that give you access to things like free online deliveries, and grocery deliveries from your local stores, among other benefits. In many ways it is in competition with services like Amazon Prime plus their Amazon Fresh or Whole Foods offerings. There are some different benefits to both programs, and Walmart Plus has a lower price point available right now too.
What does Walmart Plus include?
Walmart+ offers a variety of different benefits, including:
Walmart+ members will now save up to 10¢ per gallon at Exxon and Mobil gas stations, and at select Walmart gas stations in 48 states across the country. (Fuel discount varies by location & station, subject to change).
Get free unlimited grocery delivery from Walmart stores ($35 order min. Restrictions apply.)
Free shipping on Walmart.com with no order minimum (Excludes most Marketplace items, location & freight surcharges),
Scan & Go to make in-store shopping faster & easier.
A Paramount+ subscription included at no additional cost (Paramount+ Essential plan only. Separate registration required.)
 Members get access to over $1000 in Walmart Rewards offers
And more for just $98 a year or $12.95 a month.
See Walmart+ Terms & Conditions
Find all of the Walmart+ membership benefits here too.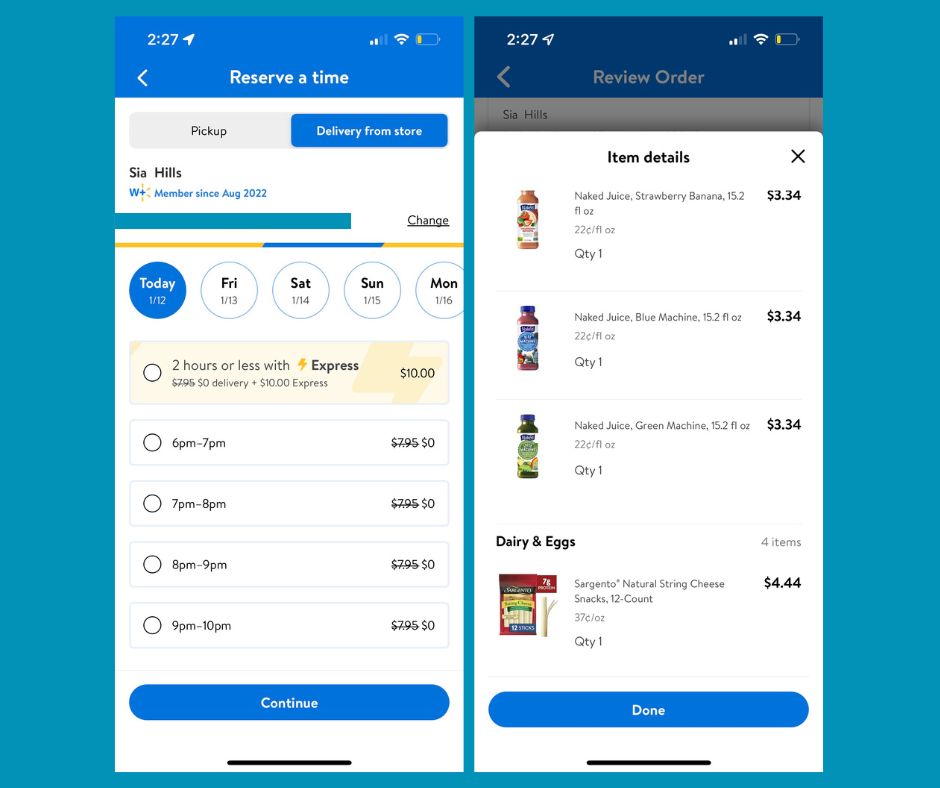 Here is a more detailed break down of some of the benefits to.  They have more recently added Walmart Rewards too, where you can access to special coupon savings in your account to save even more while shopping (and I also love the new Paramount+ perk!).
Free Shipping available – 
On items shipped by Walmart
Excludes oversized, freight, & Marketplace items
Restrictions apply
Free Deliveries from your Store –
Get items as soon as today at the same everyday low prices you love$
35 minimum on orders
Member prices for Fuel
Save 10¢ per gallon
Valid at Walmart, Exxon, Mobile and Murphy fuel stations
Plus receive member prices at Sam's Club fuel centers
Scan and Go – Mobile, contactless checkout in the stores
Check out with your phone while shopping in-store
Contact-free!
Plus, right now they are offering a FREE 6 month premium Spotify Membership ($59 value)! This perk is only available with the paid membership, not the free trial offer.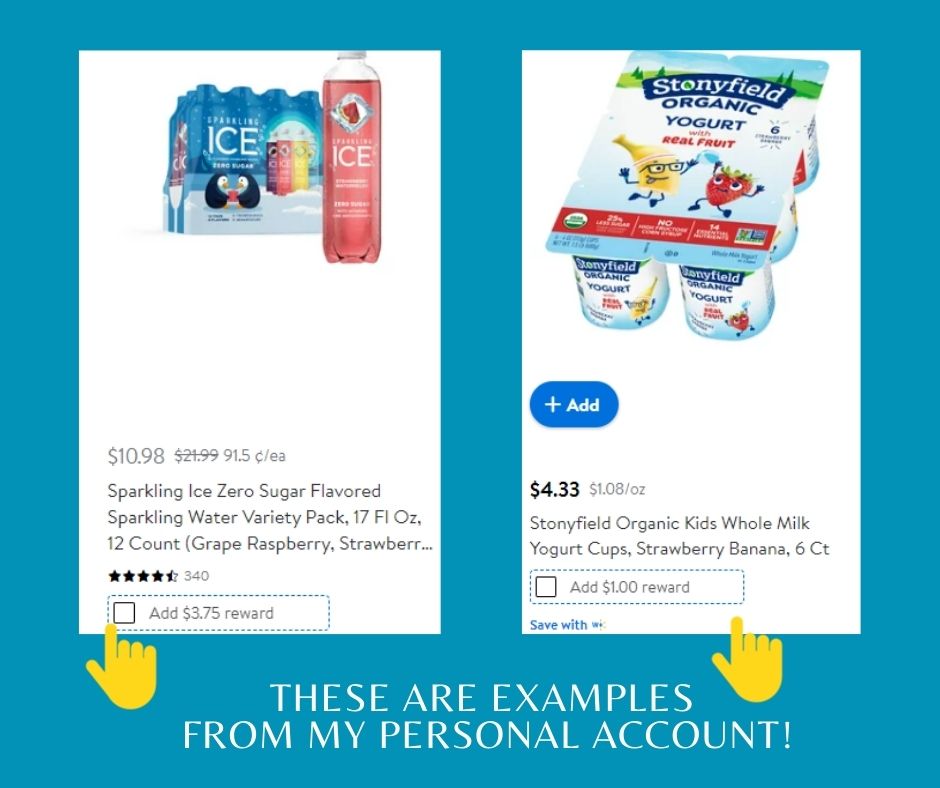 Walmart Rewards for Members –
Walmart Rewards for members is a part of your membership that is a super way to save extra money. It is such a great opportunity to really save, as you can use these savings on the go. Sometimes when my schedule gets really busy it makes it much harder for me to save, as I get overwhelmed and have a harder time planning my savings. I love the rewards program as I can do it all online (right from my phone in my car). It lets me take back control of my savings, even when I am on the go much of the time, and that feels good.
Walmart+ members can claim special offers on everyday items to earn rewards for future savings. The way it works is simple: login to your account, select the rewards options, check the rewards that you want and add those items to your cart and check out. You then earn those rewards that can be spent on future Walmart purchases.
This program is so cool, because in the example I show you above from my personal account, these are two products I would have bought anyway. But by checking my rewards I can earn an extra $4.75 to use on future purchases, just from purchasing these two items! Then on a future purchase you can choose to apply those rewards towards that purchase amount right in the app when checking out. The savings for your next purchase can really add up if you shop your rewards options first. Reward quantities & eligible items are limited & subject to change.
What are the benefits of Walmart plus?
Now that we have listed out all of the things that Walmart Plus includes, here is some more detail on those benefits to asses how they might work out for your family.
Free shipping with no order minimum.
There are two things I would consider here, in comparison to other online services that do this:
a) Walmart had some of the lower prices, and better deals this holiday season. If current shopping prices are any indication, Walmart is being very competitive with their pricing strategies, and they also had more inventory then other stores it seemed this year. Even going as far back as Spring, I found almost all of the best price deals on things like blow up hot tubs, and outdoor umbrellas at Walmart this year – and the shipping was very convenient.
From this perspective, being able to order quickly and with great prices, makes this benefit a nice one. I had a number of items shipped from Walmart in previous months, and had very good experiences with that process.
b) If Walmart consolidates their shipping process (vs places like Amazon where I can make one order, and it will still arrive in 3 different deliveries), this could be a major benefit. It is hard enough to make sure you are home for 1 delivery, let alone having them spread out over many deliveries, so this is one I will be keeping an eye on.
Free delivery from your store – 
I think the ability to get groceries & more delivered as soon as today with the same everyday low prices you expect at Walmart, is a big benefit. If you look at the delivery fees from other grocery store chains, this benefit alone might make the service worthwhile. Some chains will charge you as much as the monthly fee per delivery, so to be able to get unlimited monthly deliveries (AND, have then delivered day of order), is a big benefit for those who like to do most of their grocery shopping from home these days.
(note – $35 order minimum. Restrictions apply)
Member prices on fuel
While I would not subscribe for this benefit alone, it is a nice added extra.
Mobile scan & go
If you want to avoid lines (and close contact of others) the ability to shop contact-free by checking out with your phone as you shop in-store is a nice benefit. Imagine shopping and scanning as you go, then walking out of the store, vs looking for the shortest line to wait in!
How much is Walmart plus a month?
Walmart Plus memberships are available for only $12.95/month or $98/year! That is lower then many of these similar subscription services available right now.
The Best Current Offer is for this 90 day Walmart+ free trial here.
Get a free trial of Walmart+ right now too!
Right now, get a 30-day FREE trial of Walmart+ when you sign up. This is a great way to try it out risk free. Just be sure to sign up for a 30-day window when you know you will be wanting to use the services.
Is Walmart plus worth it?
This question is going to depend on how you shop. If you do alot of shopping online (and often look for best price, or brands Walmart carries), this is a great option. If you do your grocery shopping online too, then I would say this could definitely be worth it for your family.
Also, if you are someone who would like to avoid the checkout lines, then the mobile scan as you go feature is going to be very nice, and may make it worth it for you just for convenience sake.