Disney World Food + Tips To Save & Free Disney Dining Option!
This post may contain affiliate links and I may be compensated for this post. Please read our disclosure policy here.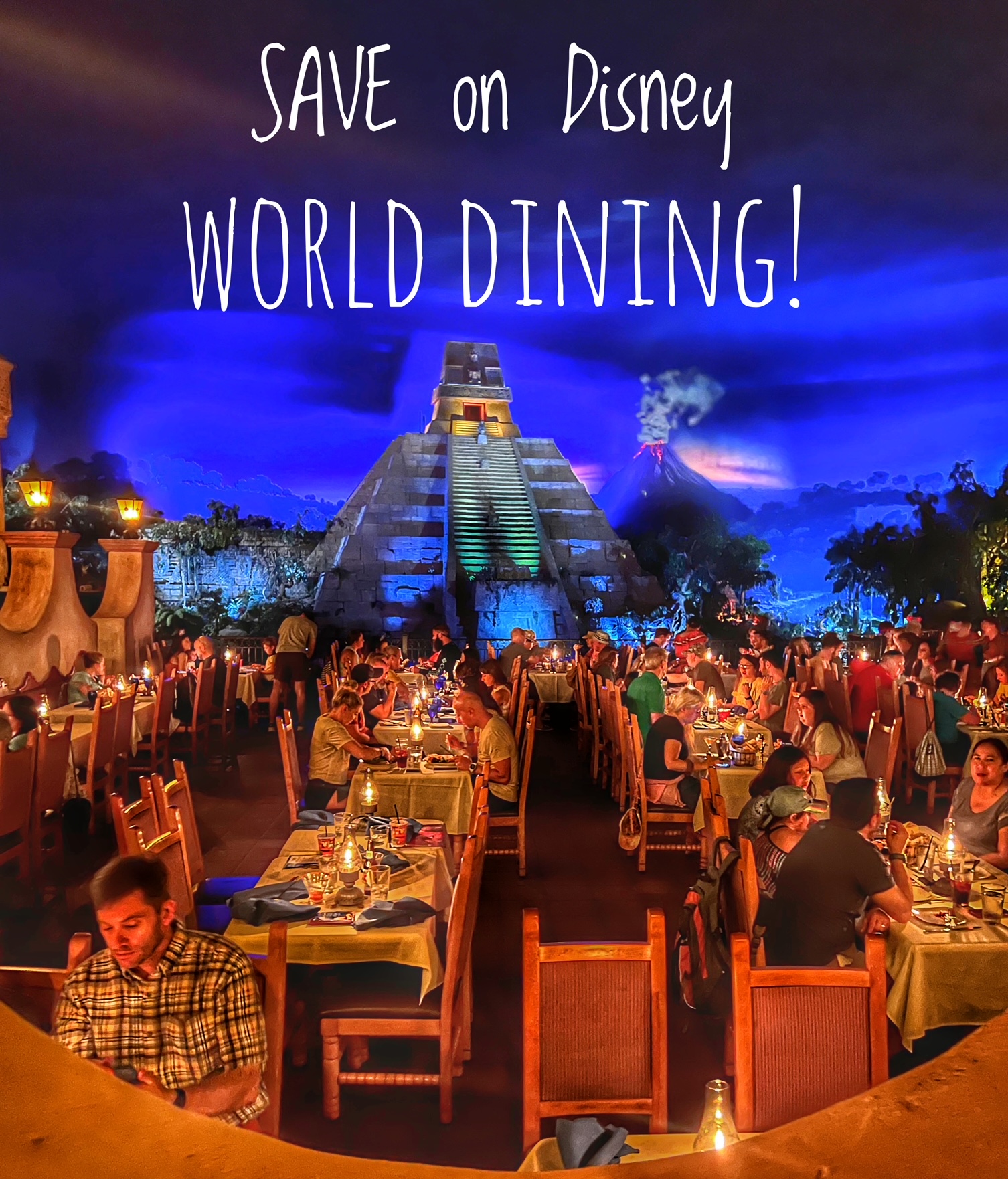 Disney World Food + Tips To Save & Free Disney Dining Option!
Food can be a big expense for families visiting Walt Disney World, but not to fear. We have lots of tips on how to make the most of Disney World Food options, as well as how to save too. If you want to eat on site, there are not too many ways to save a lot of money on food, but we did find a few great ways to save an manage your food budget. I know when I am on vacation I like to take a break from too much food preparation, and enjoy some fun meals out, but they can add up. One of the tricks here is planning ahead, and knowing what your food budget it – then sticking to it!
Best Food at Disney World –
We share ideas here on how you can save on Disney World food costs as well as tips to find the best spots your family will love. If you want tips on the Best Food at Disney World, to help you pick out the restaurants you want to eat at and make reservations for, check out these resources:
The Best Restaurants in the Walt Disney World Parks – find some of our favorite picks for the best restaurants and tips for dining there, if you are looking for the best food in Disney World Parks.
The Best Disney Springs Restaurants – Find lots of great dining options in Downtown Disney Springs for families! You can get transportation to and from here from any of the Disney World parks and properties, so it expands your dining options quite a bit.
Note that Disney opens dining reservations 60 days in advance if you have a reservation, so booking sooner rather than later will help you get into the restaurants of your choice. Get Away Today offers no interest no fee Disney Vacation layaway plans if you want to take advantage of current specials, but need some extra time to pay off your trip (and then you can book your reservations as early as possible).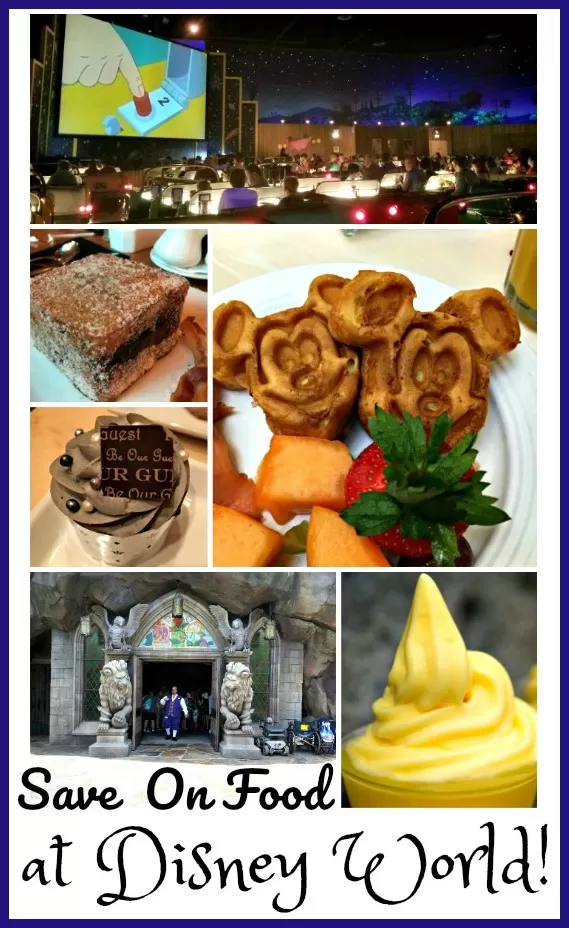 Disney World Food Dining Plans
While the popular FREE Disney Dining Plan that you use to be able to get from Disney vacations directly has not happened in the past few years, we have a new and exciting way to get free Disney Dining! This is big news in the world of Disney, as this offer used to be very popular each year, and many have been disappointed to not see it come back. However – our partners at Get Away Today are currently offering a $750 Disney Dining Promo Card with select vacation packages. Here is how this works:
Get up to a $750 Disney Dining Promo Card with a 5-night, 4-day Walt Disney World® Resort vacation package with Get Away Today Stay Play & Dine Packages! This offer is valid for travel most nights:
July 1 to July 10, 2023
August 1 to September 14, 2023
Choose between select Value, Moderate and Deluxe Walt Disney World® Resort hotels. Depending on what dates and hotel you choose, you could get up to $150 per night with this offer. It is incredibly flexible… and delicious!
Note that the Disney Dining Plan in general has not returned, but there are rumors it may this year (but that does not mean the free option will return). It is a wait and see game at this point. Here is now it works though, should it return. 
This is an important place to start, as it might change where you stay. You can only get a Disney Dining plan if you are staying on a Disney property. Once a year (usually in the Spring) Disney offers a FREE Disney Dining Plan that could help you save big. This could potentially offset the cost of staying at a Disney property, verses another option. They generally only allow a certain number of bookings, so it may fill up before then. The available dates are arrival dates (that means you just need to arrive on those dates, and then free dining will be available for your entire stay).
In the past it is available for select dates across four months usually – the days available are pretty limited. Your best bet is to book as soon as possible when it is announced, if you are interested. It might also be a deciding factor in where you stay, but also when you stay. Check out the current offers here, if your interested in booking the free dining plan.  There are rumors floating around that it is possible Disney *may* bring back free dining for later in the year, but that is not confirmed and I think it is pretty iffy.
The Disney Dining Plan is available all year long – BUT the free dining plan is a special promotion that is only available at select times. Generally the Disney Dining plan will not save you money, just allow you to prepay for your meals. However, when they offer it for free with Disney Vacations, it is a big deal. Consider planning a vacation around when this perk becomes available (and it is currently available)!
Use the My Disney Experience App to Plan Ahead:
Be sure to install the My Disney Experience App to help you plan your dining choices in the parks. You can use it to make dining reservations, as well as to order from the counter service restaurants and save time. The most useful thing though, was that we could view the menus, so we could decide where we might all want to share something, or where the kids would like the kids meals. We found that a little planning helped us save lots. If we waited until we were all hungry, we were often stuck eating at the closest spot and just grabbing what was available – and that seemed to add up. If we planned to stop at a spot where we knew we could share a sandwich we liked and a bucket of fries, we saved more.
(Tip – Using the My Disney Experience App, search on these items if you want to find where they are sold in the parks)
Eat a Late Sit Down Lunch, Rather than Dinner – This will cost you less money, as lunch menus can be up to 20% less then dinner menu options in the parks. It also lets you take a nice afternoon break, and restaurants will be less crowded during these off hours. You will then likely need a light dinner , verses a full sit down dinner, so counter service would work perfect for a late dinner.
Dole Whip – this is a classic treat at Disney. They offer the pineapple dole whip, or a mix with vanilla Ice Cream for under $6. You can find similar treats with orange sherbert and vanilla (like a creamcicle) or other flavors around the park too. We thought that two people could easily share these, making them a great deal for a refreshing treat on a hot day!
Ordering Kids Meals – You can order kids meals at the walk up windows at Disney. These will still run you around $9 to $10, but they include a beverage and so can be one way to save if you do not want to drink water. If you are using the free water tip we have listed below, then it might not save you as much as an adult meal (although we found that portion sizes where not that far off for things like chicken strips and fries). My kids shared one of those meals.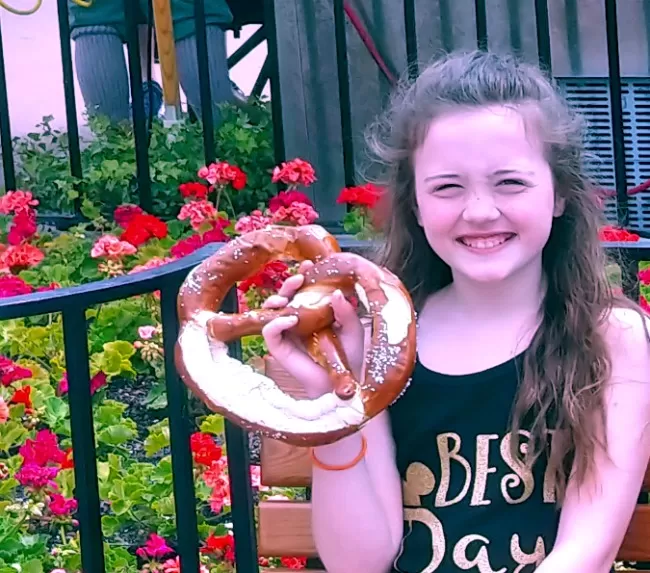 Share snacks (like these Giant Pretzels) – We found these super sized pretzels in Germany in Epcot, and all 4 of us ate off of it for a snack one day. My kids loved the frozen lemonades, so between one of those for them to share and the pretzel (and water for mom and dad), we paid around $15 for this snack. That might sound like a lot for a snack, but that works out to $3.75 per person, and is a deal at Disney!
Foot Long Hot Dogs – There were a few spots we found that sold foot long hot dogs for around $10. Buy one, and split in in half, and you have two regular size hot dogs for half the price!
Refillable Popcorn Buckets – These are great to buy if you have any popcorn fans in the family. On our recent trip the refillable buckets where just under $12, and then you get refills for $1.75 per refill. The prices may vary across parks, as they come in souvenir buckets or containers, and the price may vary on those.  With 4 in our party, sharing these refillable buckets was a great deal for the Disney parks for a snack as well as take home container the kids can enjoy!
Sharing a Meal – This tip is going to depend on your families eating preferences, but one of my kids is 11. She is kind of in-between the kids menu and adult menu, so sharing a plate often works perfect for the two of us. We will often get a sandwich and share it. If we are really hungry we might order an extra side of fries so we can both have our own portion of that, and we still save quite a bit by going this route. It is usually cheaper then having her order off the kids menu, when that is an option.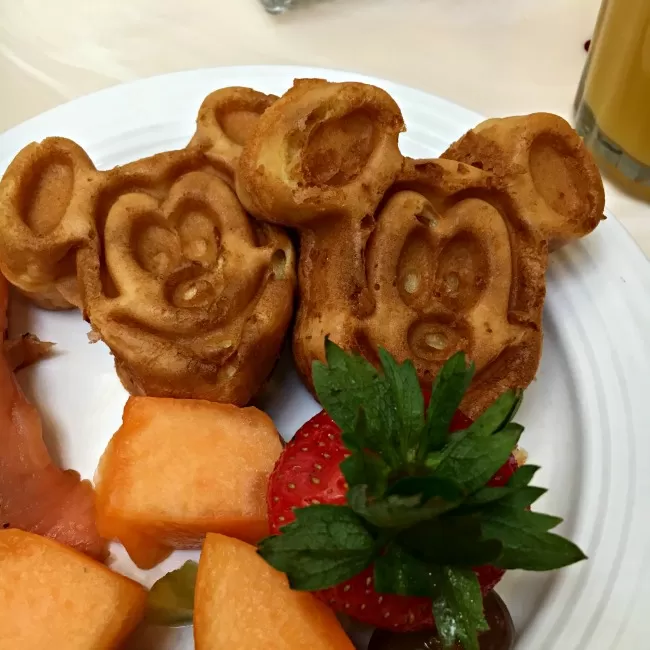 Do Character Meals for Breakfast or Lunch, rather than Dinner – Better yet, do them at brunch time and make it both breakfast and lunch. Not only will this save you money on your character meal (as the dinner rates are usually higher), but they are filling meals and so you can offset that with a light dinner plan to balance out your food budget for that day.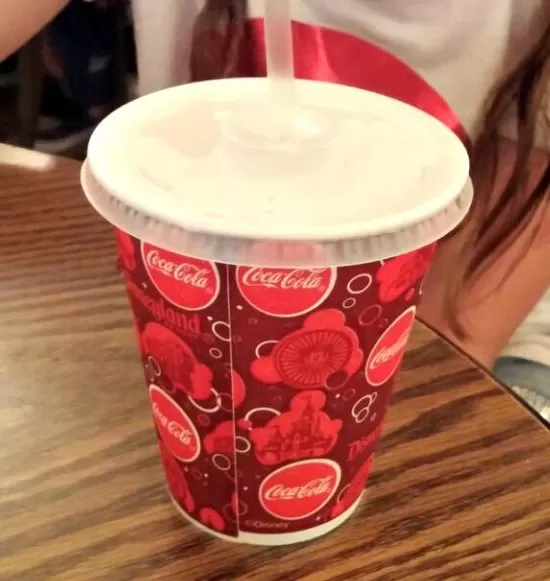 Water Cups – ask for a free cup of water where they offer fountain drink service. Many counters have these already made up and will hand them out quickly to you. You can save big time by drinking this (as a bottle of water will often cost you around $4 in the park).
Water Fountains – we bought these Britta filtered water bottles off of Amazon and used them daily. We would carry them in empty in the morning, and then fill them up at water fountains throughout the day to stay hydrated. The filtration kept the water tasting good, and we did not have to pay anything for it.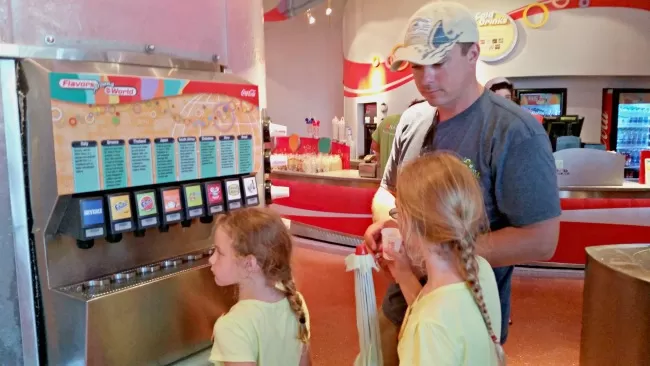 Soda Sampler Station – in Epcot, there is an showcase in Future Worlds, called Cool Club, and you can sample a handful of different soda beverages for free. There are some exotic flavors available, and its fun to test them out.
Wine, Beer & Spirits – if you like to have a glass of wine or cold beer at night, you will make your money stretch much further by keeping a bottle in your room. They will run you $9 to $15 in the parks or at the restaurants to have a cup (so about as much as your meal). You can easily double the cost of your meal if you are ordering these drinks with them.
How to Save the Most on Food on a Walt Disney World Vacation by Eating Out of the Park:
Book a unit with a kitchenette and eat in your room 
Outside of scoring the Free Disney Dining packages, this is probably the best way to save the most. Many local area hotels offer rooms with full size kitchens or kitchenettes. We even stayed in a cottage nearby with a kitchen to use. This way you can use your regular grocery budget to feed your family, even while on vacation.
Some people do not like to leave the parks. We enjoy taking a mid-day break or late afternoon and then head back for the evenings in the parks. If you do not mind taking breaks, then this is a great way to also fit meals from your kitchen in. If you are at the parks at opening and do not leave until closing, this tip might not work as well for your family.
Book a room that includes free breakfast
Free breakfast can be a big perk for families staying in local hotels. If you sit down in one of the parks for breakfast, it can cost you over $50 for a family of 4 easily, so this savings will add up. If your family are not early risers, eat later during the breakfast hours (like closer to brunch time) and the meal can hold you over until dinner. This would mean you would only have to pay for one meal + snacks each day possibly.
Eat out of the park / Coupons for local restaurants
There are many restaurant options outside of the parks to choose from, too.  One of our favorites was visiting the Food Trucks across from Old Town Kissimmee one Sunday evening!
We stayed in Kissimmee on a recent trip and many chain restaurants that we had coupons for were nearby (like Bucca Di Beppo, Chipotle, Panera and more). We joined some of their email clubs ahead of time and came prepared with coupons to save even more.
If you plan to eat at some of the off-site restaurants near Disney, it can be a good idea to buy an Entertainment Book for the Greater Orlando area. Then, you will have many local restaurant coupons to pick from (and you can preview some of them prior to purchasing). We even saw they have one for the Rainforest Cafe and you can access that restaurant from the Animal Kingdom park! Many times, these are buy one get one free coupons, so the book could help you save big.
Buy Discounted Gift Cards at Costco, and use coupons. For example in the Kissimmee area, about 10 minutes from the parks, you will find Buca Di Beppo. You can currently get $100 in gift cards on Costco for $69.99. We had a $15 coupon they mailed us. Since gift cards are a payment method you can still use them with coupons. That means we would get $115 in food at Buca Di Beppo for $70. Split that into two meals, and that is $35 a meal – a great price for my family!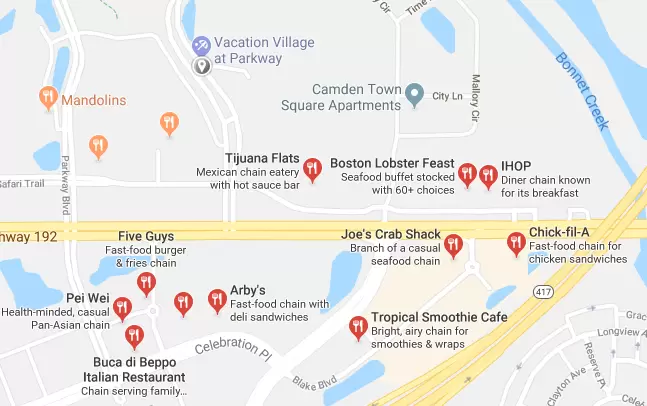 Example of how how I researched what restaurants where near our hotel on our recent Disney World Trip.
Do some research ahead of time regarding what restaurants are near where you will be staying. An easy way to do that is to go to Google Maps and put in your resort name (and address if needed). It will then show you what restaurants are nearby (and you can zoom in to see how close they are). Select the nearby option, and then restaurants to drill down even more. Once you see if there are restaurants near you that your family likes to eat at, you can find if there are coupons available (check their websites, or google for coupons).
Lastly, use cash to pay for meals. I find that if I set a food budget per day and take that money out in cash, and then always pay in cash, I stay on budget. I can quickly lose track of my food budget if I am using my card to pay. One kiddo is asking for a drink here, and another for a treat there, and then we are all tired and so sit down for dinner and before I know it I have spent twice as much as I intended too. However when I have the cash amount set aside for that day in my wallet, I know where we are in our spending at any given point in the day and can make adjustments when necessary.
Now that you know how to save on food, find the best Disney World Vacation Specials for booking your trip here!