Best Disney Springs Restaurants – Great Options for Families!
This post may contain affiliate links and I may be compensated for this post. Please read our disclosure policy here.

Best Disney Springs Restaurants – Great Options for Families!
If you are planning a trip to the Orlando area for a Walt Disney World getaway, or any other reason, then a stop at Disney Springs may be on your list. Disney Springs is a downtown Disney area that is a popular destination for restaurants and shops. It is free to enter, which makes it even nicer. It is fun both in the day time and evening, and for all ages.
There are so many spots to eat at in Disney Springs that it would take quite awhile to make it through them all. My family and I recently stayed at the Walt Disney World Saratoga Springs resort for 8 days, and it was directly across from Disney Springs. We had easy access to Disney Springs via a short boat ride provided by the resort or a nice paved walk over. This meant we had lots of opportunity to check out many of the restaurant options in the area, and here are some of our favorite recommendations for the Best Disney Springs Restaurants. Of course, it still was not enough time to check them all out, so there are plenty more, but these where some of our favorite picks.
If you will be in the area and want to know where to get legitimate savings on Disney World Ticket Discounts, we share the best spots for that too. You can also find the Best Restaurants in the Walt Disney World Parks + Tips for Dining Onsite here as well.
Do you need to make a reservations & More Tips for Disney Springs Restaurants
Disney Springs may be a bit bigger than you would imagine if you have never been. It is big enough that they have divided it into four specific neighborhoods: Town Center, Marketplace, The Landing, and the West Side. You will find everything from fast food to fine dining options throughout this area, and many different cuisine options.
It is highly advisable that you do make a reservation as far in advance as possible. This is more important for some spots than others (there was a restaurant or two that we would have had long waits if we had not done that. We share more about how Advance Dining Reservations (ADRs) at Walt Disney World work here. Although we definitely recommend reservations, we did find it much easier to get a reservation at some of the Disney Springs restaurants verses ones in the parks – so it is a nice option if you are booking later and still looking to get your hands on a reservation.
Disney Springs at Night
When you visit depends on your schedule and the ambiance you are looking for etc. If you have older kids the ambiance at night is festive, and there are lots of folks there enjoying dinner and other entertainment available at Disney Springs (live music, shopping, Cirque Du Solei shows and more).
If you have younger kids the day might be a better option, before they get too tired. Their is a fun carousel and shopping, as well as air balloon rides you can take up and more, in addition to all the dining options. You also will find more affordable lunch menu options at many of the locations, so that is a plus. Depending on the time of the year you are visiting, mid day can get pretty hot (if you are there during the summer months), so keep that in mind.
There are a number of hotels in the area, if you want to stay near here too. The Disney resort that is closest is called the Saratoga Springs Resort and is a Deluxe category as far as Disney classifications go. We were able to walk over, or take their complimentary ferry service from this resort. If you are wondering how to get to Disney Springs from other areas within the Walt Disney Resort (hotels, parks, etc), or you have a car and need directions – you will find all that info here (as well as details on free parking and more too). Like all Disney locations, you will be required to go through a security checkpoint before entering.
I loved staying near this area, especially with teens, as there was always someplace to go hang out or try a new restaurant without having to trek too far.
Best Disney Springs Restaurants
After staying 7 nights in this area, and spending lots of time at Disney Springs, here are some of our favorites. They all have wonderful theming, and generally lots of food options too.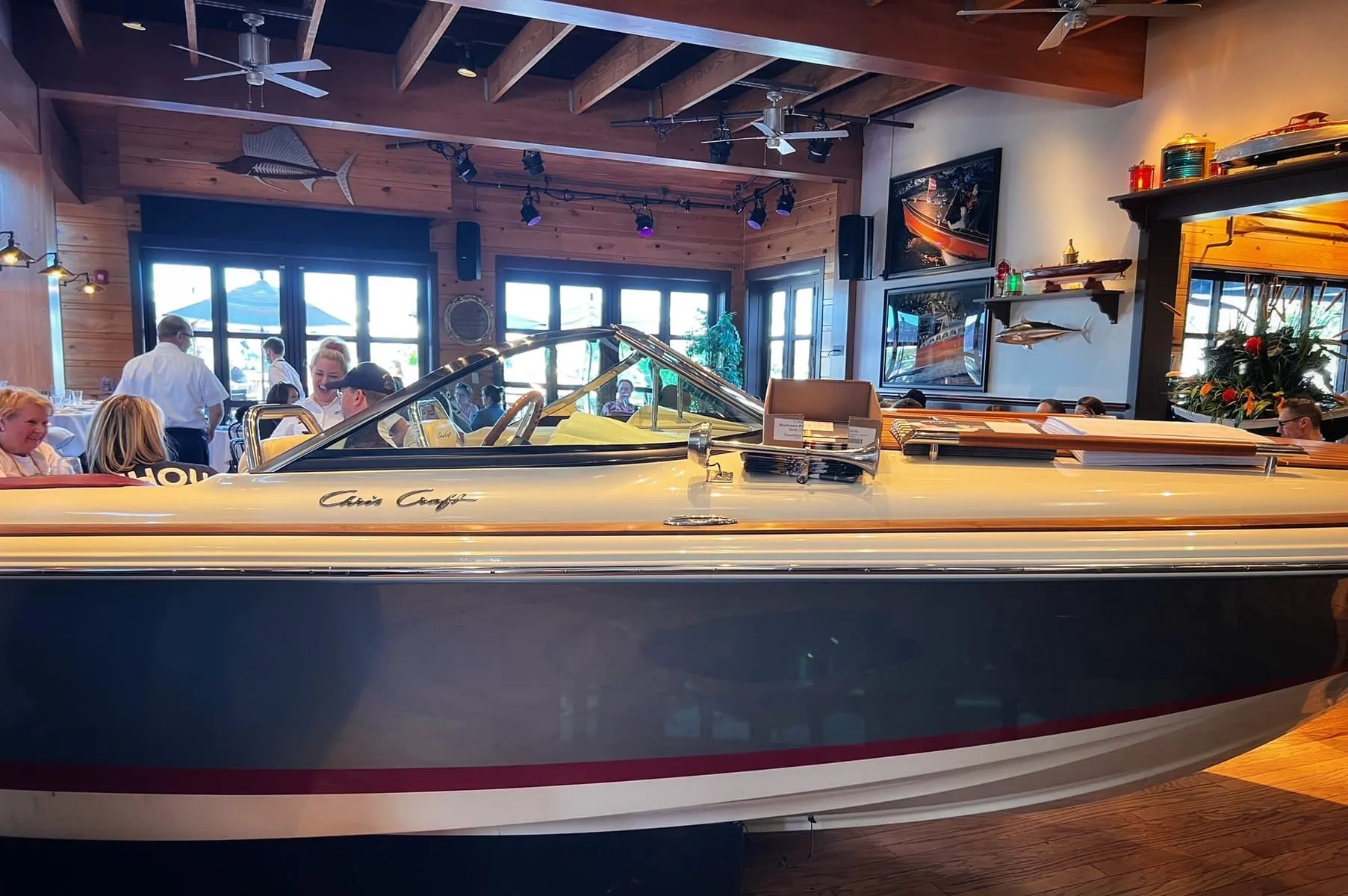 The Boathouse Disney Springs
The Boathouse at Disney Springs got great reviews so it was our first stop, and it was good. The food is what people talk about most here, as it is a nicer restaurant, but you can sit in a boat (will have to make reservations for that I am pretty sure), or pay to take a tour on the lake in one of their Amphicars before or after your meal as well. You will find seafood and steak selections here, as well as a nice kids menu if you are feeding younger kids. Service was great, and this was a fun meal for sure.
Paddlefish Disney Springs
This spot is located on a steamboat that sits on the side of the lake. The kids noticed this spot right away, and wanted to eat here. They also serve seafood and steaks type of menu. This spot also offers a roof deck bar (see if you can get a reservation around sunset for this spot – as it is the only one of its kind in the area)!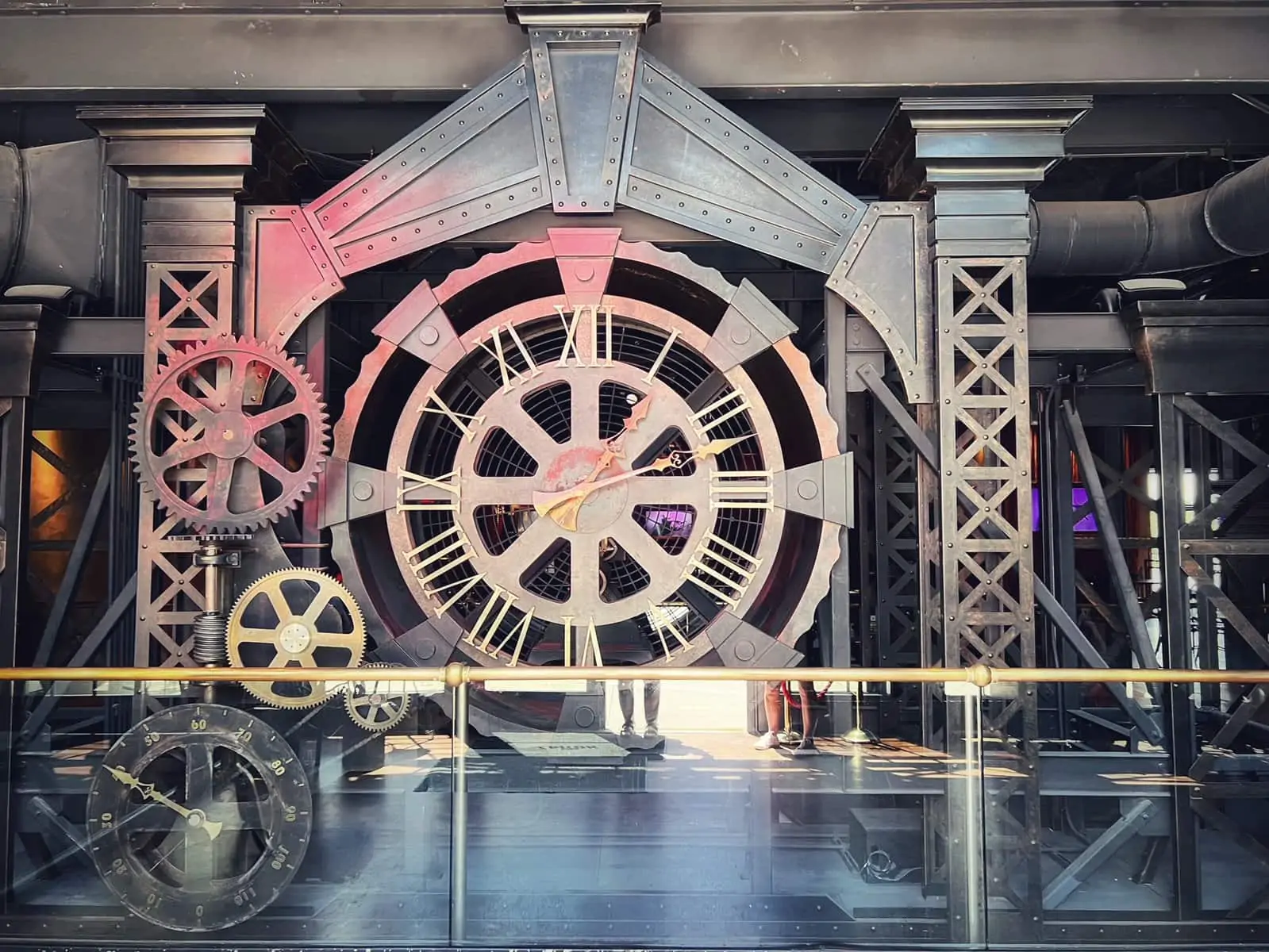 The Edison Disney Springs 
I loved the theming at Disney Springs The Edison, and found it to be one that was a little easier to get reservations for. They offer a classic American food menu, and there are different themed areas to sit in.
Trex Disney Springs
This spot is a dinosaur fans dream restaurant, themed with fun Dinosaurs from the outside in. We did not eat here, as the line was long and we were with our teenagers, but it looked popular. If my kids would have been younger this one would have been at the top of our lists. This would have been my sons favorite spot for sure, during his school years – so it made the list for those of you traveling with younger kids. Be sure to make reservations, as the line was always long when we walked by.
Rainforest Cafe Disney Springs
Ok, I am going to be honest here and admit that I have never really loved the food here – but have still visited many times for the ambiance. It is themed like a rainforest, with sounds and attractions that make it feel like an immersive experience. If you have young kids especially, this is always a fun and wonderfully themed spot. There is also one right outside of the Animal Kingdome if you have a day planned there too.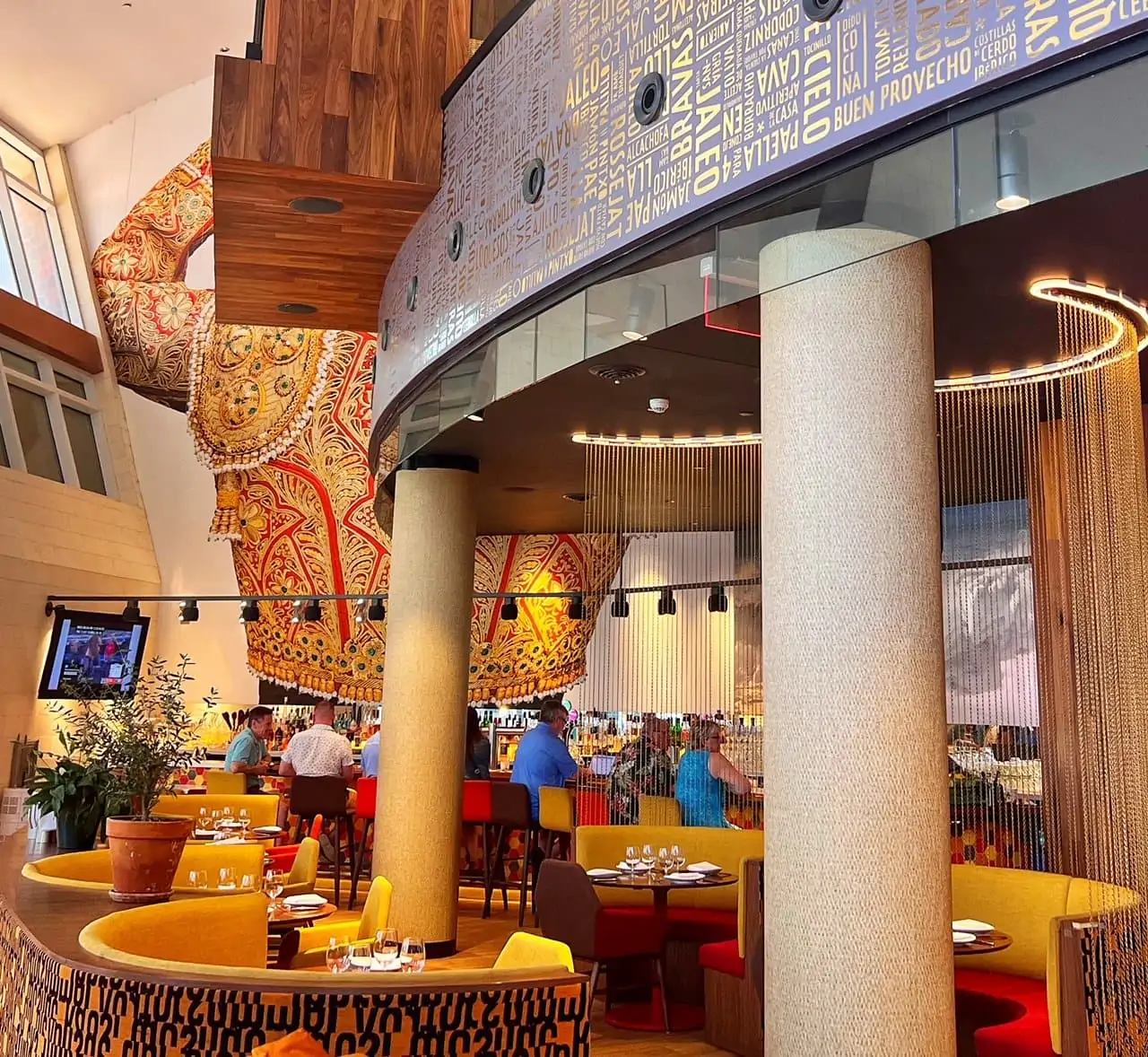 Jaleo Disney Springs
This spot serves tapa type bites of Spanish cuisine by celebrity Chef José Andrés'. It is not cheap after you order a few things, but I loved this spot. It may not be the best spot for young kids, unless they have a more adventurous pallet, but it was a fun dining experience to taste different bites from around Spain. Of course we had to order some of their daily paella too while there, and that is made fresh in the open kitchen where you can watch them make it over an open fire.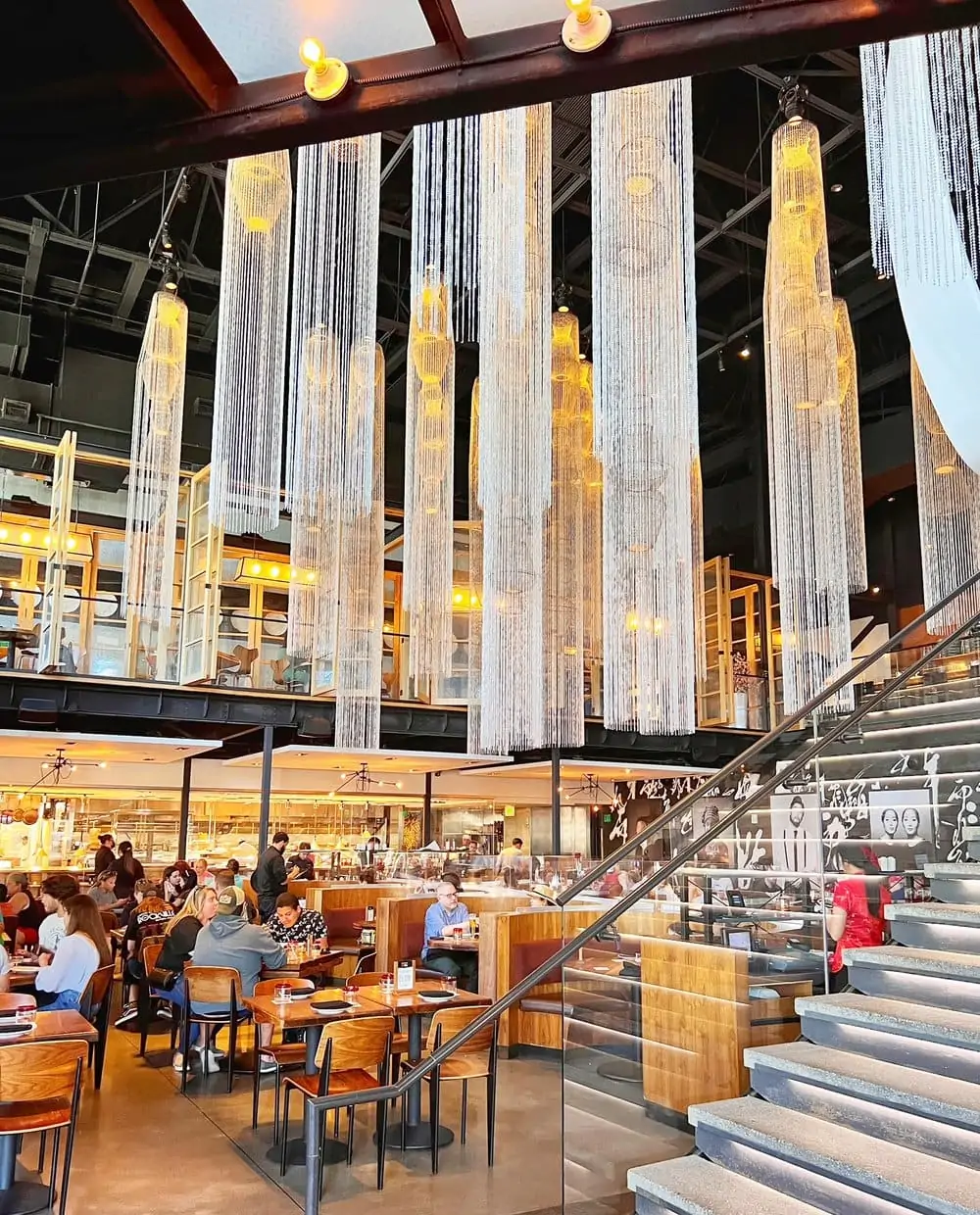 Morrimotos
This spot was one of the hardest for us to get reservations for, but they do have a walk up counter too if you are not able to get in. This was one of our more expensive meals, but also a favorite for the group. My teens loved their Thai Teas, and I think everything we ordered was delicious. We went for lunch, as that menu was slightly more affordable during our visit.
Raglan Road
Raglan Road is an Irish themed pub style restaurant, with dining indoors as well as nice patio seating too. This spot is festive, and I really enjoyed the food here (but I love Irish food). If you are looking for good fish and chips, or a nice Shepard's Pie, this is the spot for you. It was also one of the more lively options with live music at times, an authentic bar, and fun gift shop too.
Wine Bar George
This spot is nice if you like a good glass of wine, and a fresh small plates. I love small plates (and theirs are good!) and wine, so really enjoyed this spot. We did visit this one without kids, as it was not as much of a family atmosphere as other spots. And it was also a pricier one (if you are getting a small plate or two with a drink it can quickly add up). Really enjoyed this spot though (they do also have a walk up counter where you can get little salami and cheese kits to go, etc.
Chef Art Smiths Homecoming
I love southern cuisine, and this spot was high on our list, but we were not able to get a reservation during the window we had to visit so we did not eat here. I am including it on this list though, as it gets such high reviews, that if you can get in when you want to visit, you might want to add it to your list. If you like comfort food this is supposed to be the spot – but try to get those reservations early, as this spot is harder to get into (it is also one of the pricier options).
Quick Bites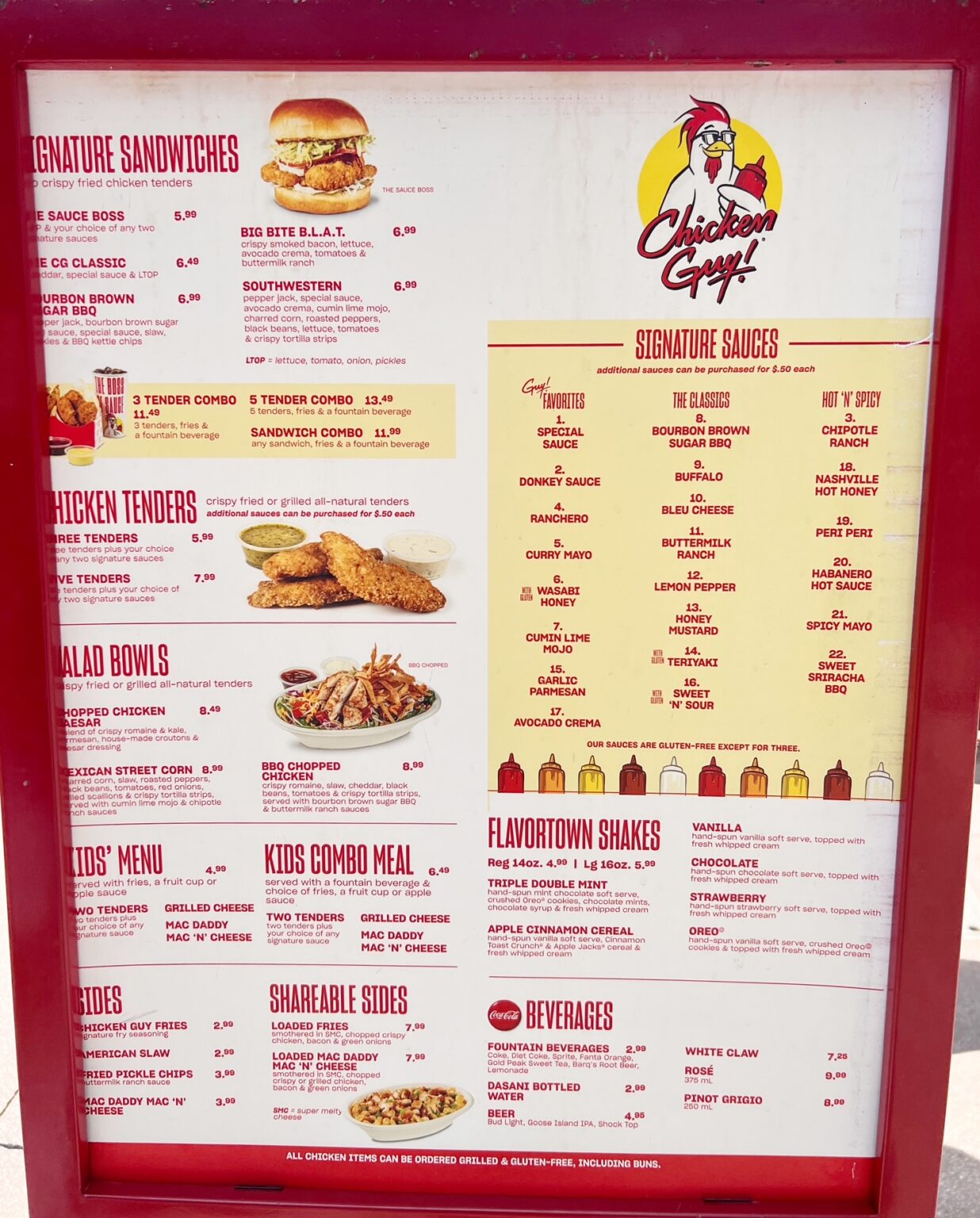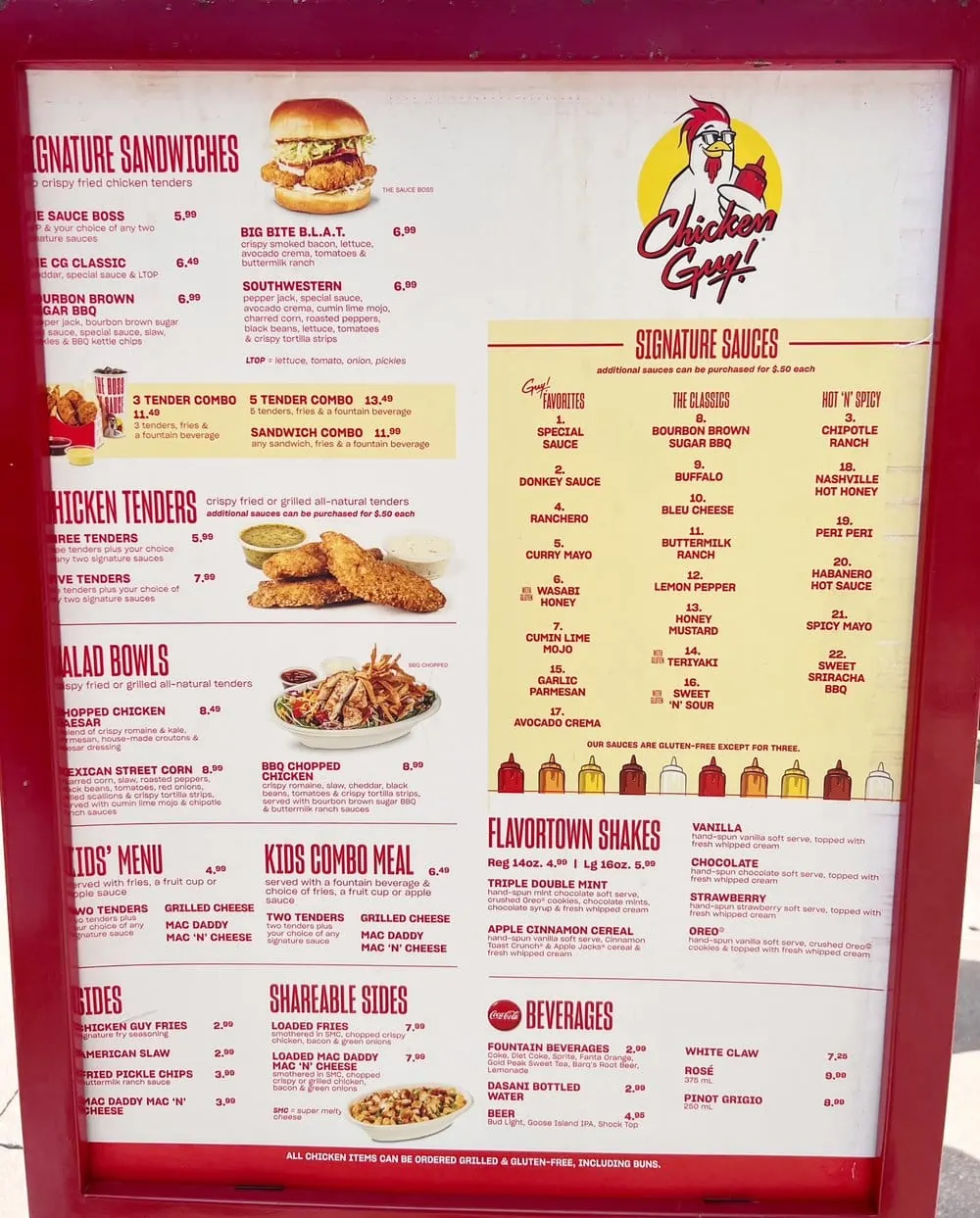 Guys Chicken
We had to stop here because my mom is a big fan of his show. The prices are great, the food good for fast food, and they get you through those lines pretty quickly here.
Earl Of Sandwich
This is my favorite pick for best value restaurant. I have eaten here often at Disneyland, so new I liked their salads and sandwiches, and we very rarely run into too much of a crowd. You can also sign up for their online rewards program ahead of time to get savings offers too. It has some of the most affordable options you will find in the area.
Just Want a Drink or Snack?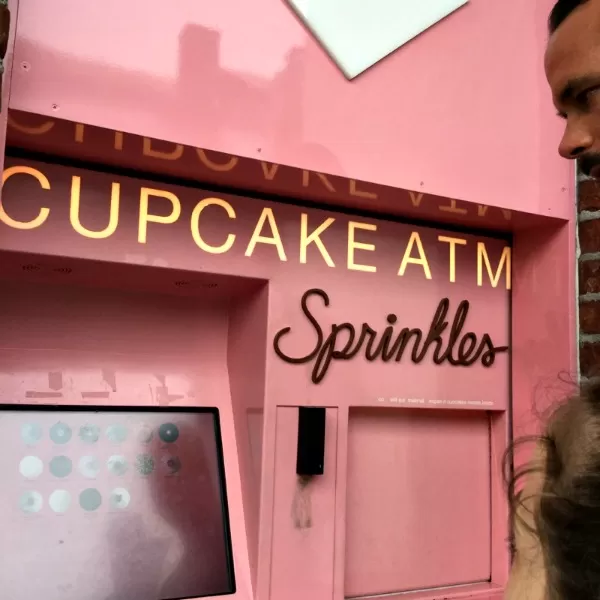 Order your cupcake at the ATM and pay there.
The Cupcake ATM at Disney Springs – my kids have been talking about this cupcake ATM for a couple of years now. They took me on a wild hunt in Downtown Disneyland this past summer, before they realized it was at Disney World in Disney Springs (the newly remodeled downtown Disney area).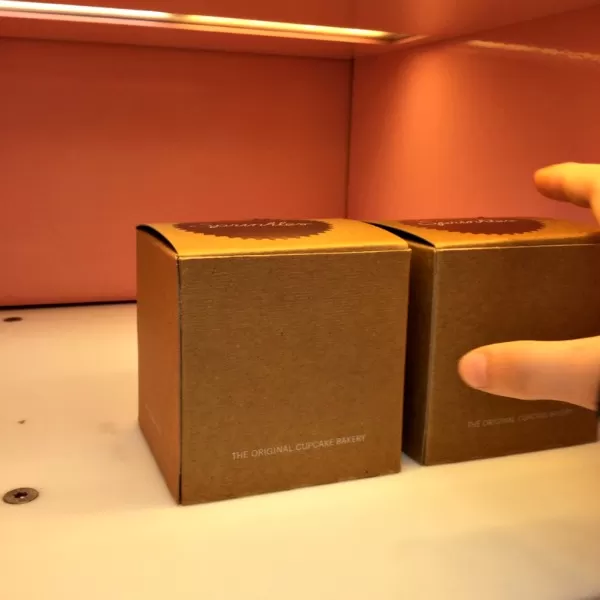 Your cupcakes are delivered in boxes, via a door that opens on the ATM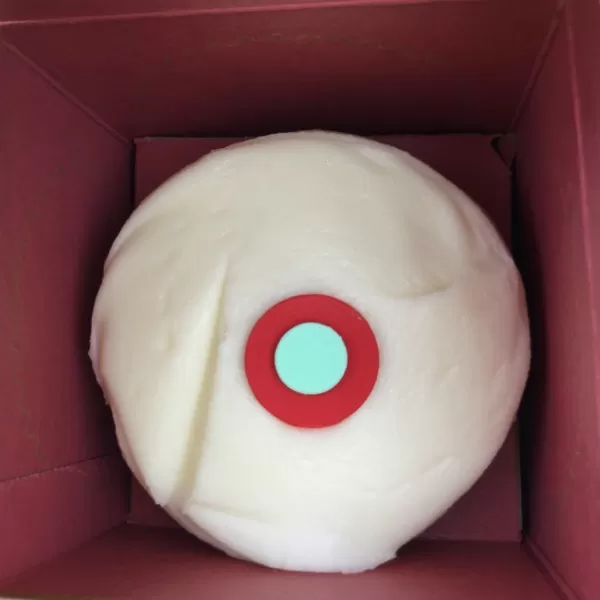 This is the red velvet cupcake in the box that one of my girls ordered.
You can buy the cupcakes at this walk up cupcake ATM just outside their cupcake shop. The cupcakes were around $5 each, but were a good size (we split one cupcake between two of us – but some may prefer their own cupcake). For a treat, the kids were thrilled with in this area, I thought $5 was an ok price (and they were delicious)!
You can also go in the store and actually look at the cupcakes you want to buy, but the Cupcake ATM was on my girls bucket list, and I thought some of your kids might enjoy it too!
Check out Dockside Margaritas for a drink stop. This spot was recommended to us by a couple of locals, and is a fun stop to stop and relax with an outdoor water view for a minute or twenty!
Gideons Bakehouse Bakery was on our must visit list for treats, but the line for this place was always long. I think that probably speaks to its popularity, so if you do not mind standing in another line, do not miss this one.