Seattle Seahawks Tickets for Pre-Season Games On Sale At A Discount!
Groupon is offering Seattle Seahawks discount tickets for pre-season games, starting at as low as $53/ticket right now.  These will likely sell VERY fast so check it out before it sells out.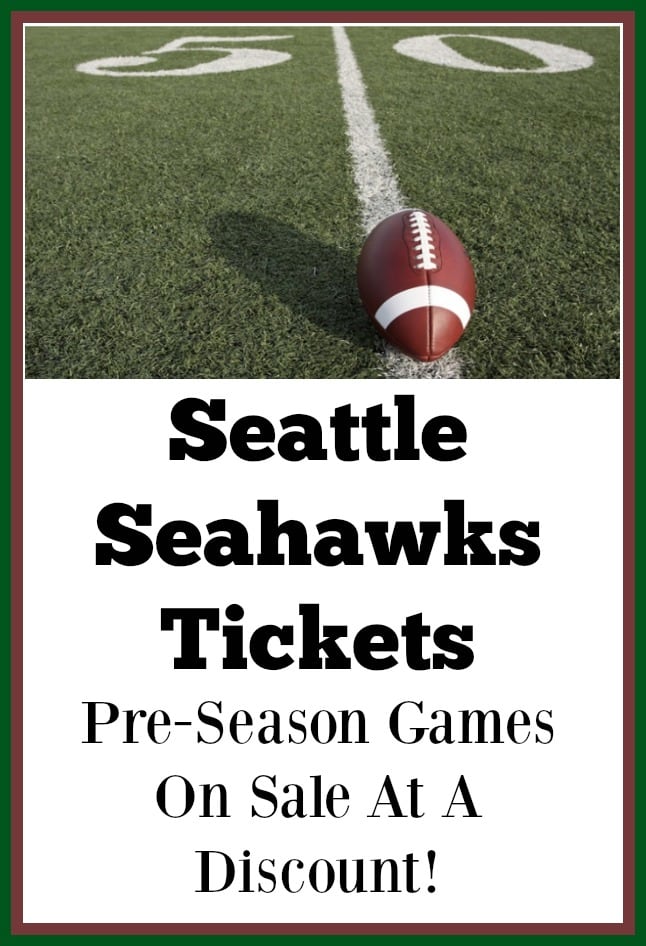 I do want to caution you to head to the Seattle Seahawks website to compare prices as I did find some cheaper prices on the Seahawks website but it just varies on the seating and the fees they are adding on. So, it may be cheaper for you to purchase directly thru the Seahawks website, but look into it & compare. I wanted to offer this option to you to see which one you can find is a better deal.
These are the best priced option we found currently available on Groupon:
Thursday August 8, 2019 @ 7:00 PM : Denver Broncos at Seattle Seahawks Preseason
Thursday August 29, 2019 @ 7:00 PM : Oakland Raiders at Seattle Seahawks Preseason
Sunday September 8, 2019 @ 1:05 PM : Cincinnati Bengals at Seattle Seahawks
Sunday September 22, 2019 @ 1:25 PM : New Orleans Saints at Seattle Seahawks
Thursday October 3, 2019 @ 5:20 PM : Los Angeles Rams at Seattle Seahawks
Fine Print:
ALL SALES FINAL.
Subject to the Vivid Seats' 100% Buyer Guarantee.
Groupon promo codes may not be used for this offer.
Vivid Seats Terms and Conditions apply.
Groupon Extraordinary Event Policy does not apply.
Contact Vivid Seats at 

[email protected]

 with questions.
Review event location and ticket note before purchase (games/events listed may take place in other cities and some options are add-ons, not tickets).
Price listed is the lowest available price at the time tickets are made available via Groupon.