Universal Studios Discount Tickets
Here are the best current deals from legitimate re-sellers for Universal Studio Discount Tickets! We have tips on how to save on one and two day tickets, as well as combo tickets if you want to visit other parks too. You'll find ways to save on Universal Studios Hollywood & Florida destinations.
Discount Tickets Universal Studios
Universal Studios is a popular theme park to visit with both families, and especially families with older kids, or those that are big Harry Potter fans. If you are planning to visit either the Hollywoood or Orlando locations with your family, and are looking for great savings we have a round up of the best offers for both locations here. Believe it or not, it seems to be one of the parks that offers fewer deal offers, but there are a couple of very reputable re-sellers that provide some nice savings for both locations, and we have highlighted them below.
Universal Studios Tickets Hollywood: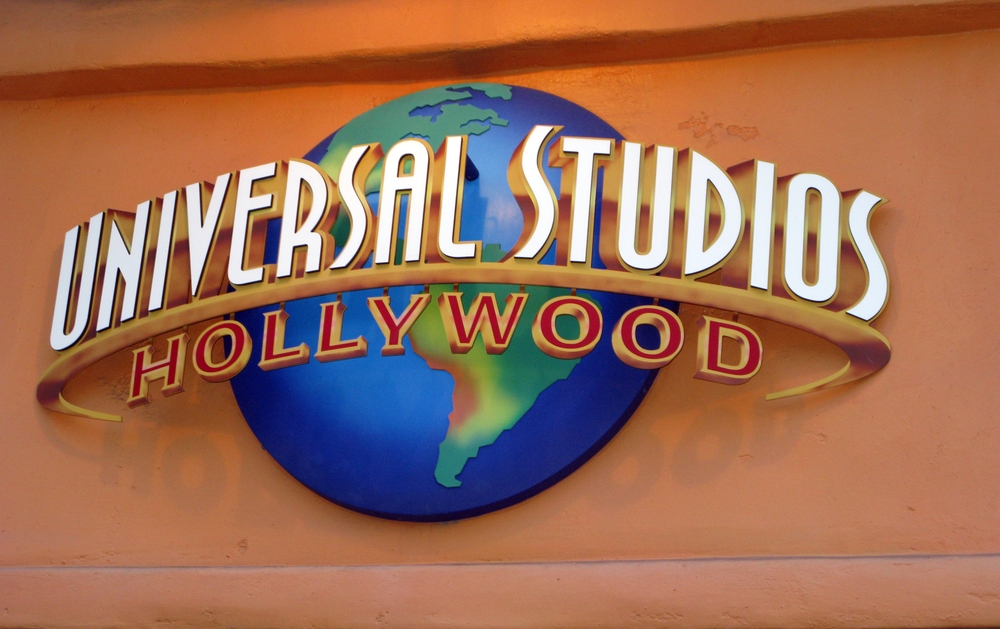 Here are ways to save at Universal Studios Hollywood!
Universal Studios Website –
Right now, there is a special BOGO offer on the Universal Studios website – Buy One Day & get a 2nd Day for free. This is valid through December 19, 2019 (blackout dates for 11/29 & 11/30).
Getaway Today:
Get Away Today has the following discount tickets currently available for Universal Studios Hollywood (we have personally traveled through them on more than one occasion and they are great!).
One Day, General Admission Tickets:
Adults (ages 10+) – $106 (Reg $140)
Kids (ages 3 – 9) – $100 (Reg $134)
Buy a Day, Get a 2nd Day Free Promo – available thru December 19, 2019 – with blackout dates of 11/29 & 11/30/19)
ARes:
aRes travel has some nice deals on discount tickets for Universal Studios Hollywood too! Here are some examples of their offers.
One Day, General Admission Tickets:
Adults (ages 10+) – $100 (Reg $139)
Kids (ages 3 – 9) – $94 (Reg $133)
Buy a Day, Get a 2nd Day Free Promo – available thru December 19, 2019 – with blackout dates of 11/29 & 11/30/19)
Two Day, General Admission Tickets:
Adults (ages 10+) – $136 (Reg $169), that works out to $68 per day
Kids (ages 3 – 9) – $132 (Reg $163)
Groupon Discount for Universal Studios – 
Groupon currently has a deal on one day tickets to Universal Studios Hollywood, starting at $103 a ticket here.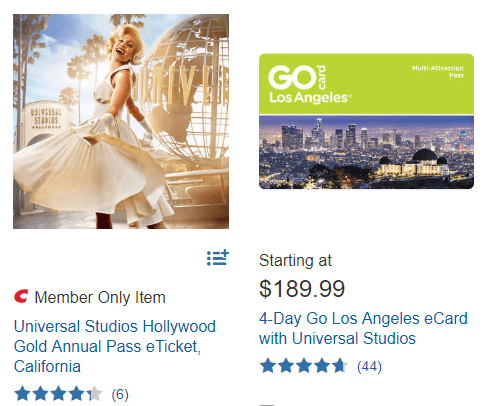 Costco Deals for Universal Studios –
From time to time, the Southern California Costcos will carry discount tickets for the parks. If you are a Costco member, it may be worth calling a store in that area to see if they are available.
Costco also has this page with their
Theme Park discounts
(currently they have a Universal Studio Gold Annual Pass deal available, and they have a deal on the Go Los Angeles card we mention above – these can change at any time though, so find the current deals
here)
. For most of these online offers you can buy them even if you are not a Costco member, you will just have to pay a 5% surcharge. The exception is when it says "member only item".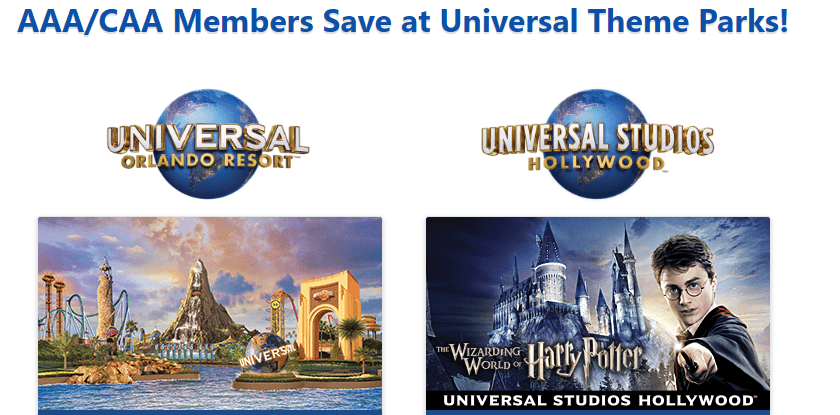 Discount for AAA members –
Either check with your local office, or this site
here
 to find current discounts available with your AAA membership. The offers can vary by region, so we recommend calling your local office to see what the best offer available to you might be at any given time.
Southern California / Universal Studios Combo Tickets:
If you are interested in also visiting other Southern California area attractions, there are also combo tickets available. These are available a few different ways:
Buy Combo Tickets to Universal Studios + Disneyland (or whatever attraction you want to visit), directly through retailers like aRes, for a discounted price.
Getaway Today 
Buy Southern California Combo Tickets to Universal Studios + Disneyland – You'll get Adults at Kids' Prices on 3 Day or longer Disneyland tickets + a discount on any added ticket, which includes Universal Studios. This is the lowest combo ticket prices for the year! No code needed!

CityPass is now offering discount tickets for a variety of Southern California attractions, including Universal Studios Hollywood, and the way it works is that you can pick & choose the destinations and amount of days you are interested in.  You can choose from Disneyland, Universal Studios, SeaWorld & more.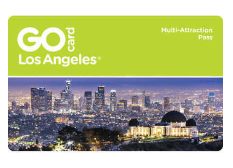 They have them for multiple destinations. These cards can help you see multiple attractions, and you can build your own itinerary. To get one that includes Universal Studios, you will have to buy a 3 day+ pass. They go up in price depending on how many days you want to use it (so its $219 per adult and $189 for a child 3 day pass for example). They often will offer you an extra 10% off when you sign up for their emails, for extra savings.  Note, there is also a Go San Diego card, that offers different attractions, and does not include Universal Studios.
Universal Studios Hollywood Vacation Packages:
If you're looking for Universal Studios Vacation Packages, aRes Travel also has these available. You will be able to choose from 58 different hotels, and one of the following ticket options, and get some nice discounts by bundling them in the vacation package:
1-Day General Admission
2-Day General Admission
Universal Express™ Including 1-Day General Admission Off-Peak
VIP Experience
Universal Studios – Orlando Florida
Ways to save on tickets to Universal Studios Florida, Islands of Adventure & Volcano Bay
If you are looking to visit the Universal Studios theme park in Florida, you will also want to determine if you want to go to the Volcano Bay water park as well, as this will determine what kind of tickets you will want to purchase. The waterpark is separate from the Universal Studios Theme Park, but looks pretty spectacular. It does sit right off of one of the main freeways in Orlando, so it's easy access, but traffic can be an issue – and it was not quite the setting we were expecting for a tropical theme park (in the heart of city life).
Make sure to check out our post about what to expect at the Universal Studios in Orlando to decide which parks are best for you.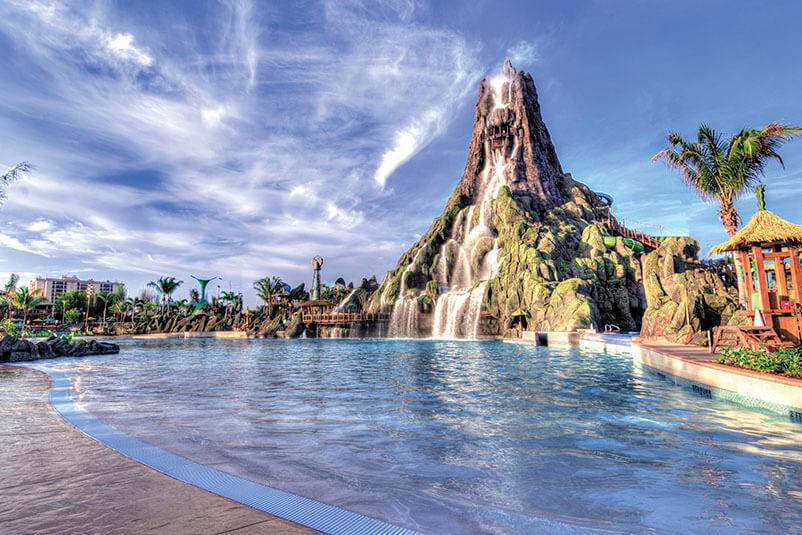 (Photo Credit: Universal Studios Orlando)
Universal Studios Florida Tickets & Deals – 
Get Away Today is offering a Buy Two Parks Get the Third Park Free Promotion for Universal Studios Orlando for a limited time. This special offer is for admission to either Universal Studios Florida, Universal's Islands of Adventure & Universal's Volcano Bay for up to 5 days total.
Here are the options::
3 Park 3 Day Park to Park Ticket, 3rd Park Free – 
Adults (10+) – $299 (reg $395)
Kids (3-9) – $289 (reg $384)
3 Park 4 Day Park to Park Ticket, 3rd Park Free – 
Adults (10+) –  $312 (reg $421)
Kids (3-9) – $302 (reg $410)
3 Park 5 Day Park to Park Ticket, 3rd Park Free – 
Adults (10+) – $324 (reg $448)
Kids (3-9) – $314 (reg $437)
Florida has fewer discount options and we find that Undercover Tourist provides regular deals for the Florida Parks, so check their offers out here too.
If you are a Military Member or Veteran, Shades of Green offers some great discounts for the Florida area theme parks as well.
More Articles You Might Be Interested In:
All Disneyland Deals (including best Disneyland Ticket Prices)
All Disney World Deals (including best Disney World ticket prices)