Should I Stay at a Disney Resort or Off Property For My Disney Vacation?
This post may contain affiliate links and I may be compensated for this post. Please read our disclosure policy here.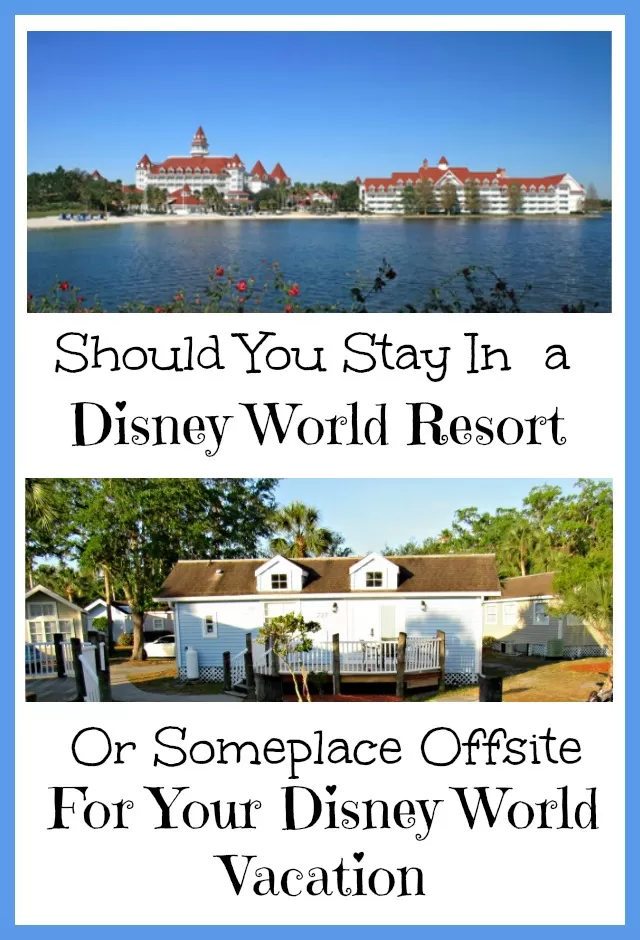 Things To Consider, When Deciding Where To Stay For Your Disney World Vacation
If you are starting to think about a Disney World Vacation, or have decided to plan one, one of the first things you will want to decide on is where to stay for your trip. There are so many options in the Orlando area, that it can be a bit intimidating to start to figure that process out if you are not from the area. We will provide some tips on things to consider, depending on how your family likes to travel, to help you narrow your choices down to if you want to stay at a Disney Resort, or if you should consider staying off property in this article. We will share more about specific hotels you might want to consider in an article we will publish later this week.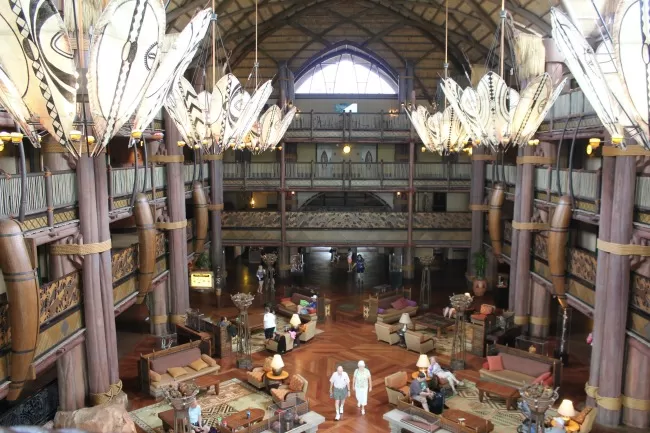 The Animal Kingdom Lodge Lobby, this hotel will cost you, but it is so well themed!
Disney Resorts are where many Disney fans prefer to stay. Beyond the fun themes of the resorts, there are some important perks that come with staying at a Disney property, that you should factor in when trying to decide between staying at a Disney Resort or staying offsite. While staying offsite is often more affordable then a Disney resort, staying onsite is definitely more convenient for a Disney trip. Some of these perks will save you money on things (like transportation) and some are perks that you cannot necessarily put a price on (like booking your Fastpasses early). Generally speaking staying offsite can be more affordable, but this is not always the case (especially when factoring in things like transportation costs, etc.), so it is good to do a little homework when trying to decide where you want to stay for your trip.
We will first look at the perks to staying on a Disney property, then some of what we would consider perks of staying off property. Get Away Today offers great deals on packages for the Disney Resorts, and you can save $10 off with promo code THRIFTYNWMOM too.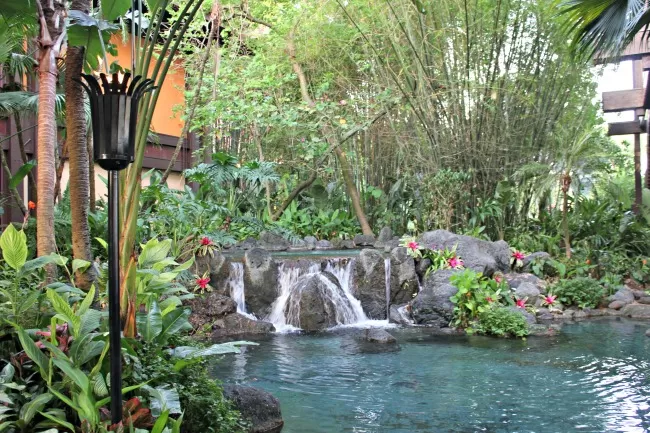 The Polynesian Hotel, more examples of great Disney themes at their hotels!
Here are a few perks you get staying in the Disney Resorts that you may want to consider:
You must be staying in a Disney Resort to take advantage of their Dining Plan. While this will not save you money in general, it can be a big deal when they are offering the FREE Dining Plan promotion!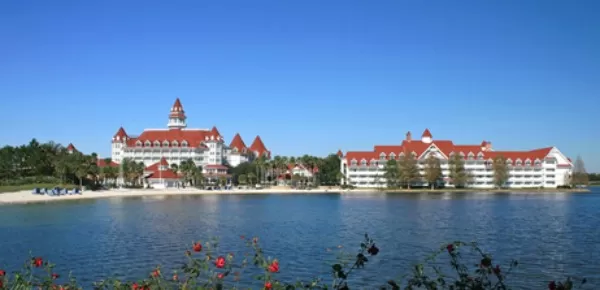 Transportation Perks. When you stay at a Disney Resort you will have access to a free shuttle from the MCO airport to your hotel, as well as transportation to the parks for free through various transportation modes (monorail, boats, buses and more). This can be a convenience, as well as cost savings. There are mixed reviews on the Disney transportation system, but one big perk is the free shuttle from the airport to your hotel for sure. The ease of the transportation will have something to do with where you stay, and which parks you like to visit the most. For example, if you stay at the Polynesian and you love to visit the Magic Kingdom, there is a Monorail you can get on to take you right to the park entrance. However if you stay at the Wilderness Campground, it is all run on the bus system.
To give you some perspective here, we stayed off site during a recent stay and it took us about 10 minutes to get to each park driving a rental car, but then generally another 10 to 15 minutes to get parked in the lot, on the tram, and in to the gates of the parks. It cost us $125 to rent a car for a week through Priceline. We then paid $22 a day for parking (we did 5 days in the parks, so $110 in parking costs, and around $40 in gas – but we did take a day trip out to Cocoa beach which was around an hours drive away).  So we spent about $257 for transportation costs during our trip. If you drive your own car, and stay at a Disney Resort, you will get complimentary parking in the parks. We liked the convenience of being able to come and go in the parks easily with the rental car. The one place that was the exception here was visiting the Magic Kingdom. If you park in the Disney parking lot here, you then take a tram to the transportation hub, and then either a ferry or the monorail to the park entrance. It was a bit of a hassle honestly, and made it difficult to take a mid day break (which we like). If you have young kids, who need mid-day nap breaks and love the Magic Kingdom – this is something to consider. It may be best for you to stay in a resort near that park.
Early Bookings for Fastpasses & Extra Magic Hours. If you are staying at a Disney Resort you can book your Fastpass 60 days in advance of  your trip. If you are not staying at a Disney Resort you can only book your selections 30 days in advance. This can make the difference between getting a Fastpass for the most popular ride during busy times, and that can mean waiting in a three hour line, or skipping it altogether possibly. You will also have access to extra magic hours, if your family likes to be in the parks early or stay late.
We stayed offsite, and so where not able to book until that 30 day window. Then we also waited a little too long to purchase our tickets, so we were booking our Fastpasses just a few weeks before our travel date, and the two most popular rides where booked up. Fortunately for us it rained one day, and we took advantage of the thinned crowds and stayed through the rain, and got on the ride we wanted – but that may not always work for everyone. Some will wait in line for 3 hours. We won't, so getting the right Fastpasses can be important!
Complimentary Magic Bands. If you book with A Disney Resort, you will get magic bands for everyone in your party that you purchase park tickets for. If you are not staying on a Disney property, you have the option of purchasing them with your tickets, starting at $12.99 per person – otherwise you just use the standard cards. We had 4 in our party, and so it would have been an extra $52, so I opted to skip it and just use the cards. Next time around I will be sure to get us the bands. It would have been a real convenience to just use our bands to get into the Fastpass lines, and into the parks, vs. having to pull out our cards each and every time. I was always afraid the kids would lose them, so it meant digging in my purse, and putting them away again, each time we wanted to use a Fastpass for a ride.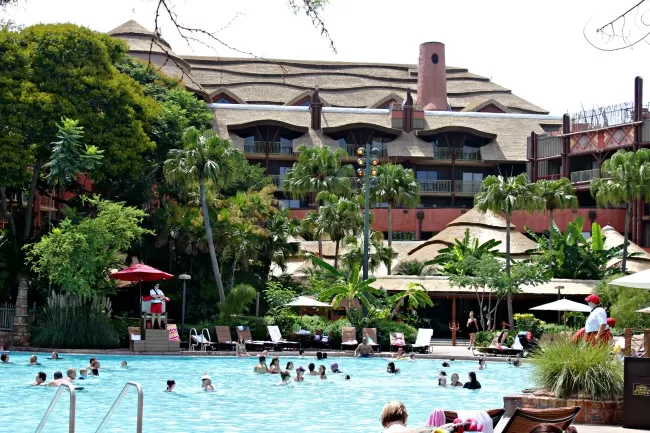 The Polynesian Pool – life guards on duty are another example of how Disney goes above and beyond at their resorts.
Other than that, the big thing many folks like is the idea of never leaving the Disney Magic! When you are on Disney property, you can stay more immersed in the Disney experience if you stay in one of their resorts too. For super Disney fans, this can be very important. If you are planning a trip from the NW, it takes awhile and some expense to get there, so some folks find that staying in a Disney property helps them make the most of this Disney experience.
For my family, we find that to be more important at Disneyland then Disney World. Here is why I feel that way:  Disneyland is much smaller, so if you stay at a Disney hotel there, you walk everywhere, and can really stay in the Disney area for your full stay. The areas outside of Disney are not as themed, in Anahiem, as they are in Orlando, so that makes a difference for us. Plus, we generally stay for a shorter period of time at Disneyland, so I can be immersed for a few days, verses the 10 days we were in Florida. Disney World on the other hand is huge, and there are tons of themed areas outside of the Disney World property too, so it had that vacation feel for us everywhere we went here. That is of course, our personal experience, but can give you some things to think about depending on how your family likes to travel

The Swan and Dolphin Hotel – it is located on Disney property, but is not a Disney Hotel!
Non Disney Resorts on Disney Property:
Somewhere in the middle of staying at a Disney resort vs a Non-Disney resort, are a handful of resorts and hotels that are not owned by Disney, but are located on Disney property. One of the first and most well known in this category is the Swan and Dolphin resort. These are worth looking into, as you may get more bang for your dollar at these hotels, and you will still qualify for many of the same perks you can get when staying at a Disney property. They also usually have lots of amenities like Disney resorts too (like access to the transportation system, etc).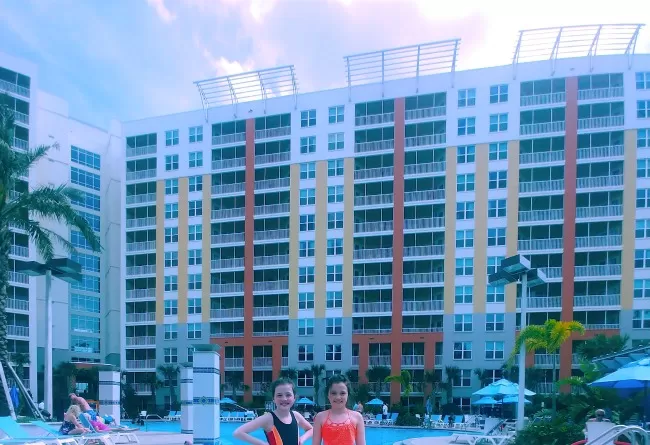 The Vacation Village where we found great value on our recent trip. They have 7 pools. This one we were at had a kids spray water play area too, and very large hot tub.
Here are some of the benefits of staying off property during a Walt Disney World Trip:
While one of the benefits of staying on property at a Disney Resort, is that you don't have to leave the magic when you leave the parks, I think the flip side of that is that if you stay off property, you can leave Disney for a bit. I love Disney (and the Disney Resorts), but I also sometimes like to get away from it all for just a bit, especially on a longer trip (which is what we usually take for Disney World). This one really depends on your travel style though, and for my family we can go either way on this one. Some days we wished we were going back to a Disney Resort, and some days we were really glad to be getting away for just a bit.
Other benefits I found include –
Affordability. It is often easier to get a room offsite then it is onsite, for a good deal. In addition to the cost of the room itself, non Disney hotels can have more affordable restaurant options onsite, or you can get a room/condo with a kitchen in it and have some of your own food on hand in the room to save money.  Look for options that include free breakfast for the family and that will help you save even more. If you are part of a rewards program, you can earn points, or perhaps get upgrades. In general, you will get more bang for your buck, in terms of the quality of hotel for what  you are paying, when you stay offsite.
For our recent visit, during my kids Spring Break, staying in a Disney resort would have really busted our budget. School breaks can be a popular travel time, so we were looking at the lowest end of the Disney resorts starting at over $300 a night, vs. offsite hotels with comparable quality for $150. This will not always be the case, it depends on your travel dates (you can compare current rates here).
(*One side note here we want to mention is that many off-site hotels charge resort fees. These often fall in the range of around $20 per night during our recent research. You will want to pay attention to this, and factor it into the price of your nightly fee when comparing).
The main living space of our condo at Vacation Village. It was very spacious, with a full kitchen, outdoor deck, separate sleeping bedroom, and huge bathroom. We loved the extra space.
Larger Rooms for Larger Families. If you have a larger family (5+ in many cases), you will have to book rooms that get more expensive at Disney. For many Disney Resorts you will need to book a suite or deluxe villa and these can cost alot depending on when you are traveling. There are some offsite options (like the two we stayed at recently – one was a cottage and one was a condo), both where themed and could sleep 6 for the price of a regular hotel room. They both also had their own kitchens, which saved us on food.
There were only 4 of us traveling on this trip, but we still prefer the larger rooms with some separated space. Our girls are tweens now, and it is nice to feel like we can all unwind at the end of the day without being on top of each other. Again, that is a personal preference, and for us it has changed as our kids have gotten older (we definitely would have preferred convenience over space when they were younger and we were pushing strollers and dealing with nap times).
If You Will Be Doing More Than Just Visiting Disney, You Might Want to Stay Someplace Central. As other theme parks (like Universal Studios for example) gain in popularity, many folks plan a trip to Orlando hoping to do more than just visit the Disney parks. If this is the case, you may want to stay someplace more central to all of the spots you plan to visit. We did do a trip out to the beach one day, and spent some time out in the Universal area as well, and enjoyed adding those things to our itinerary.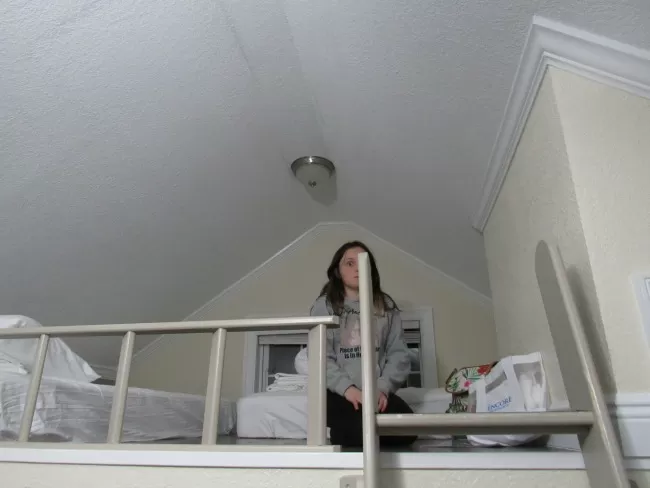 The Loft area of the Dessert Palms RV Park Cottages (so cute). Close to Disney property, and the kids find having a loft space to be a really cool perk when we travel!
Other Perks. We list a bunch of the Disney Resort perks above, and most of those are specific to visiting the Disney parks. However, many other hotels offer various perks too, so pay attention to those when looking at the various hotel options. For example, they may have a free shuttle to the parks, and local stores too. They may offer free breakfast, or early or late check in and out options that work well with your schedule. Or perhaps your traveling with a pet, and some are pet friendly. Alternatively, if you are looking at a timeshare spot, they may only have once a week cleaning service, vs. daily, so be sure to pay attention to all of those to find what fits well with your family.
In the end, it really is all about your family's travel style, and preferences, so it is important to take some time to consider what that is for you, and then find a price range and accommodations that will fit with that.
While we are big Disney fans, and often prefer to be immersed in the bubble, sometimes we want what feels like a more relaxed vacation. I feel more pressure to be doing things sometimes on Disney properties (maybe that is just me), but I seem to be able to relax a little more outside of the parks, when we are in a larger room (so everyone has their space) with a quieter pool (where I can easily find a chair to lounge in) for example. I am one of those odd people who like to do Disney vacations both ways. I do like to spend time finding a nice hotel, for a good deal, with amenities, but personally can go both ways (enjoy staying on-site and off-site). When my kids where smaller, I definitely preferred the Disney hotels for the convenience. Now that my kids are getting older, I find I like spots where we all have our own space at the end of the night to relax.
Disney has a pretty high standard of service in there hotels, so if you choose to stay on-site it is really a matter of budget and preference in terms of styles and themes. There are tons of offsite options, so you will want to do a little research to make sure its located in an area that will work for your vacation plans, and that other customers have enjoyed their stay there as well. Stay tuned we will be sharing some specifics on ideas for where to stay on your Disney vacation, later this week!
You can compare current deals on Disney World Vacation packages here (onsite, vs offsite) to see the price difference or the dates you want to travel.
More Articles You Might Be Interested In:
Disney World Ticket Discounts!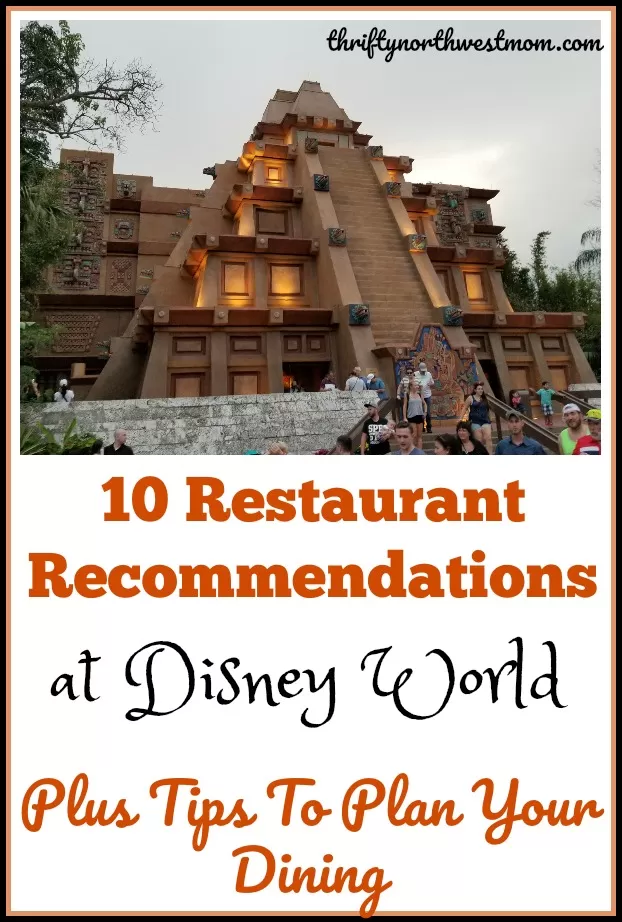 Our Top 10 Favorite Restaurants to Eat at in Disney World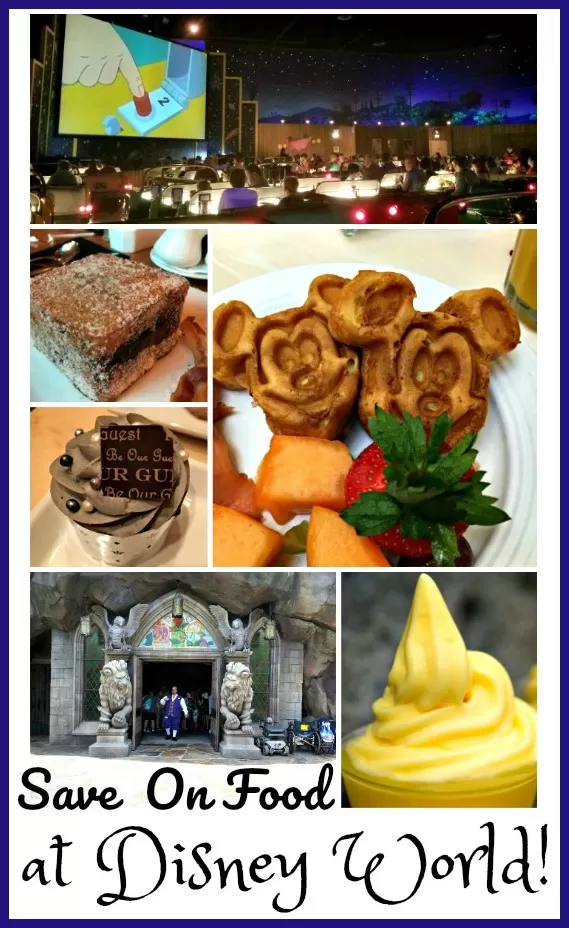 Best Ways to Save on Food at Disney World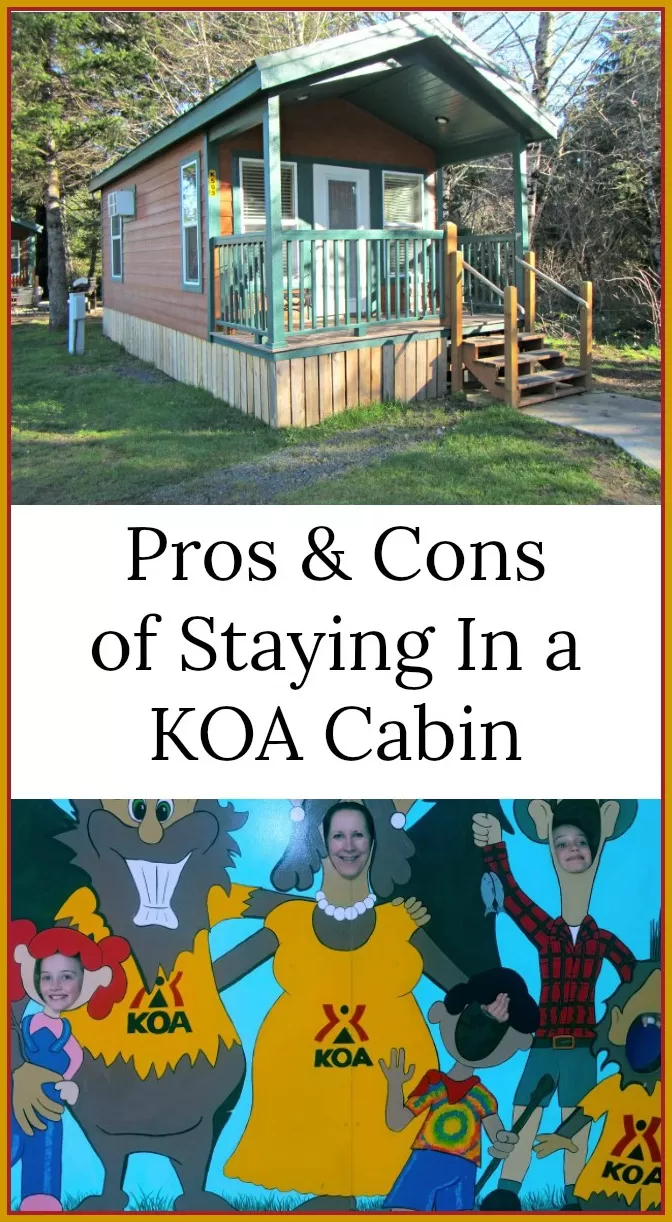 KOA Campgrounds, staying in a cabin as an alternative to a hotel room