Best Value Restaurants Near Disneyland
This post may contain affiliate links and I may be compensated for this post. Please read our disclosure policy here.

Best Value Restaurants Near Disneyland
We all know that eating out on vacation is one of the biggest splurges. But, it doesn't have to be! With the help of the travel experts at Get Away Today, I have a list of the best value restaurants near Disneyland so your next Anaheim vacation doesn't have to break the bank.
Be sure to check out this article here on how to save on Disneyland tickets, if you are still in the planning stages for your vacation. You can also find out how to use this zero interest payment plan, to book your vacation with a small down payment.
To balance eating in the Parks, this list of affordable restaurants nearby will help you stretch your dollar! Or, if your Disney vacation includes days when you relax at the hotel pool or enjoy the sunshine at the beach, it's great to know some of the best value restaurants near Disneyland.
Another thing to keep in mind, is that you can get food delivered from many of these restaurants (via one of the delivery services like GrubHub, Door Dash or Uber Eats), so if you prefer to head back to your hotel first and have the food delivered there, that is another option.
Be sure to check out restaurants in the area that might have discount deals on Groupon here too. We have seen some on the list below pop up here for extra savings too!
We also have a list of the best value options to eat at in the Disneyland and California Adventure Parks here, for those times that you want to save the most eating in the parks.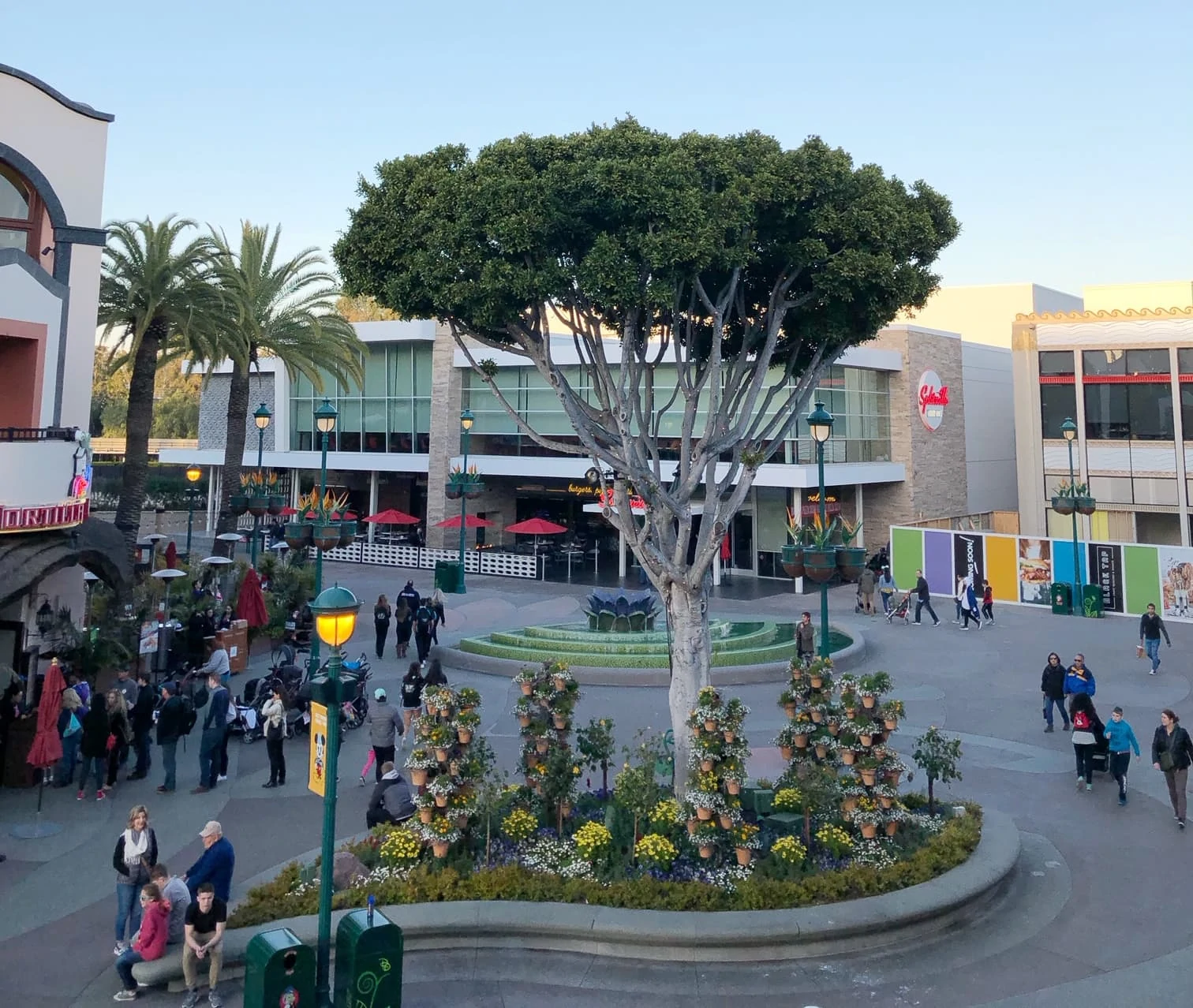 Best Value Restaurants in Downtown Disney
Downtown Disney is located adjacent to both parks, and is easy walking distance to the parks. In fact, if you are staying in one of the Disney hotels, chances are you will be walking through it to get back to your hotel.
While Downtown Disney feels like it is part of the parks, you will find some restaurant options that are not owned by Disneyland, that will help you save some. Many of the restaurants in this area though, will be as pricey as inside the park, and most will need advanced reservations, if you do not want to wait along time. Be prepared in advance before dining here, if you are looking to save money.
Earl of Sandwich – At the End of Downtown Disney (by Disneyland Hotel)
The Earl of Sandwich has some great prices, plus if you sign up for their Loyalty club you can get a $5 reward to use their too (be sure to sign up 7 days before your visit, as it can take this long to show up in your account). In the past they have also given a 10% discount for AAA members, so be sure to ask about that if you are a member.
They have soup, salads, sandwiches, pizza breads, mac n cheese and more. It is a great spot for an affordable breakfast in the morning (including one of the most affordable cups of coffee we found around).
Eat at the Express restaurants, vs the sit down option.
Many of the restaurants in this area offer a walk up window, and some limited seating in that area. These are also great options to take to go, and eat in the park somewhere or at your hotel. Here are some of the express restaurants you will find: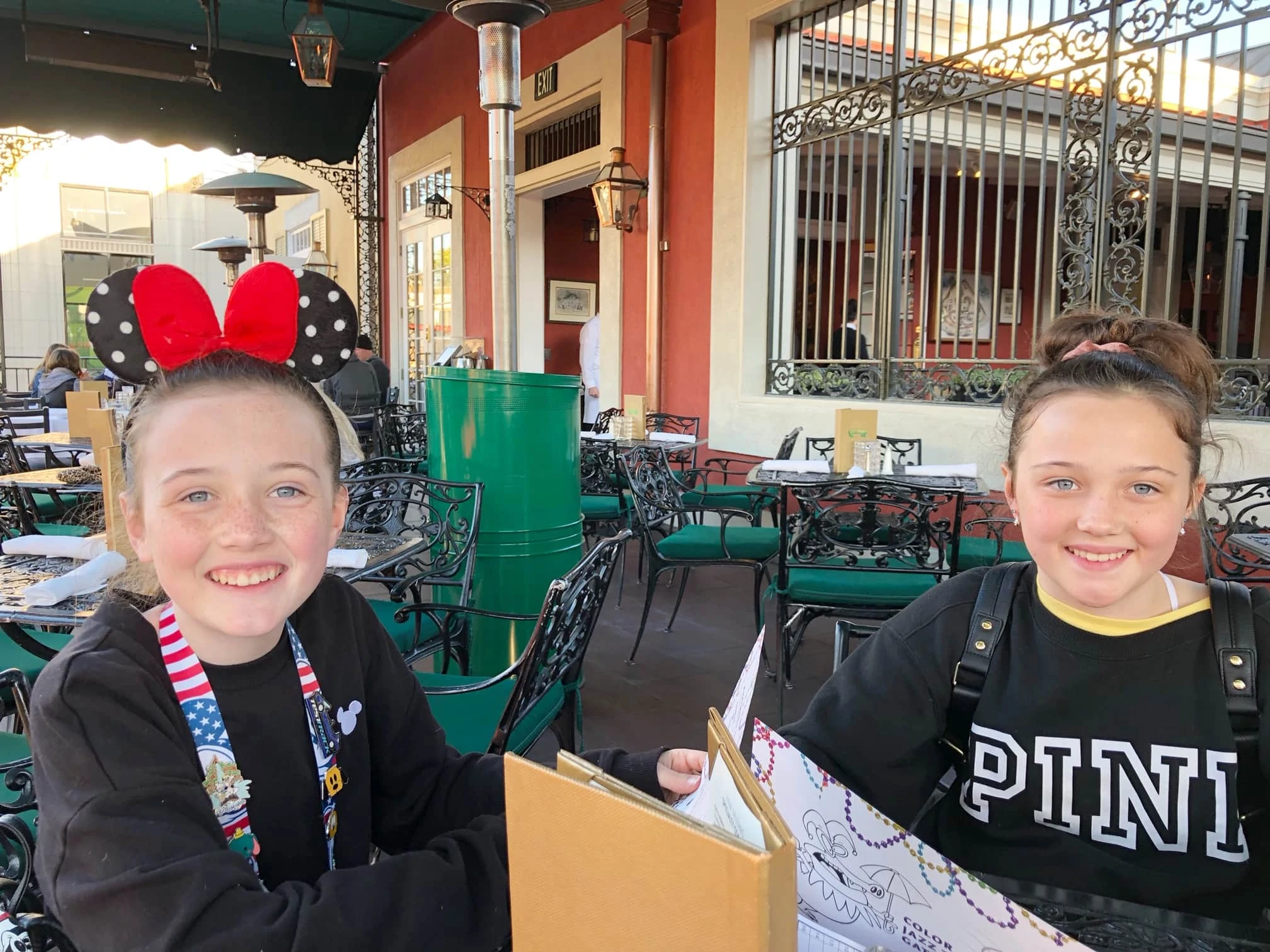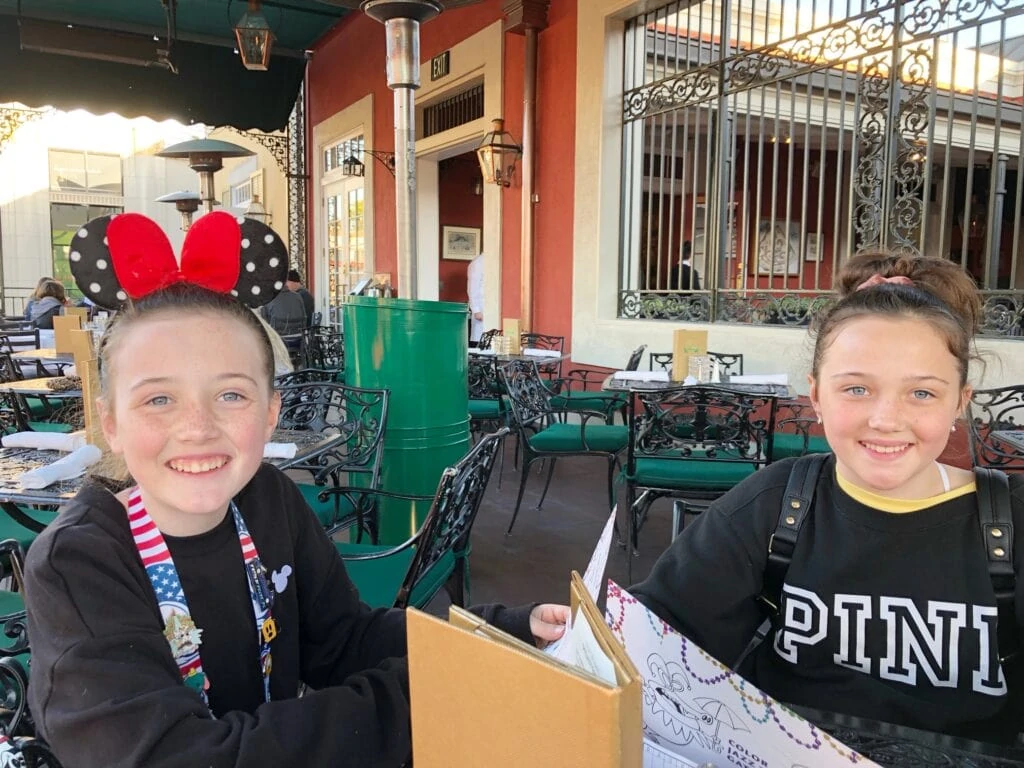 Jazz Kitchen Express  – this spot is particularly good for a bag of beignets in the morning (grab a family size to go around). or a bowl of gumbo in the evenings.
Tortilla Jo's Taqueria – Grab this coupon for an extra 10% off, and order from their express window to save the most. They also make a great fresh guacamole right at your table, and if a snack will hold you over you could share some of their fantastic guac and chips without breaking the bank.
Naples – Grab this coupon for an extra 10% off, and use it at their walk up counter, vs sit down restaurant to save more!
Free meal during your birthday month!
If you will be at Disneyland during your birthday month, be sure to sign up with the Patina Group here (and select the Downtown Disney/Anahiem option for location). They send out a free birthday certificate that you can use a their restaurants in Downtown Disney (Catal, Tortilla Joes and Naples).
Best Value Restaurants Near Disneyland – Harbor Boulevard
In case you're not familiar with the area surrounding Disneyland, Harbor Boulevard is the road in Anaheim where the main entrance to Disneyland is located. This is the entrance shuttles take to and from the Resort, and you'll find a lot of value restaurants here. Most of these restaurants will be a 5 to 10 minute walk from the park entrance (and not any further then some in Downtown Disney).
● Mimi's Bistro and Bakery – 1400 S Harbor Boulevard
Casual, French-inspired cuisine with American staples. They have a fun kids'
menu with favorites such as chocolate chip pancakes, quesadillas and burgers.
Open 7am – 11pm.
● Pizza Hut Express – 1460 S Harbor Boulevard, inside Fairfield Inn Anaheim Resort
This Pizza Hut Express offers a limited menu for carryout only, making it perfect
for grabbing a pizza to take back to your hotel. There is also plenty of spots to eat there (like a mini food court) and the Fairfield is right across the street from the main Disneyland Entrance (where you catch the buses and shuttles.
Another plus about this spot, is that there is an arcade connected to it. It is small, but a fun spot to stop and relax away from crowds, while kids can still have fun for a few dollars.
● Panera Bread – 1480 S Harbor Boulevard
Grab a bite at this bakery, which dishes up sandwiches, salads & more. Open
5:30am – midnight. Be sure to sign up for their Rewards before heading out, as sometimes they give out freebies.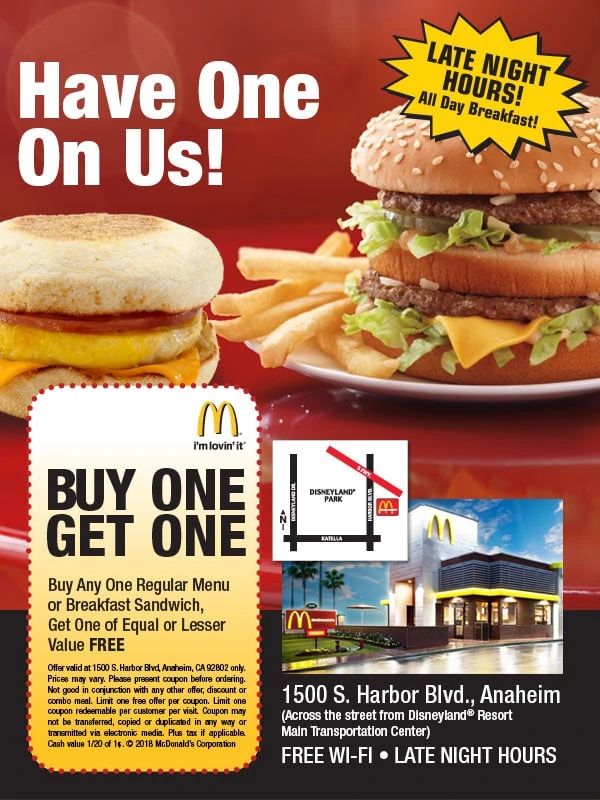 ● McDonald's – 1500 S Harbor Boulevard
If you are looking for something that is really affordable, and quick, there is a McDonalds in walking distance from the main entrance of the park. Choose from burgers, chicken nuggets, salads and sides such as fries, yogurt
and shakes. Open 5:00am – 2:00am.
Plus, be sure to grab this BOGO coupon to save even more at this McDonalds!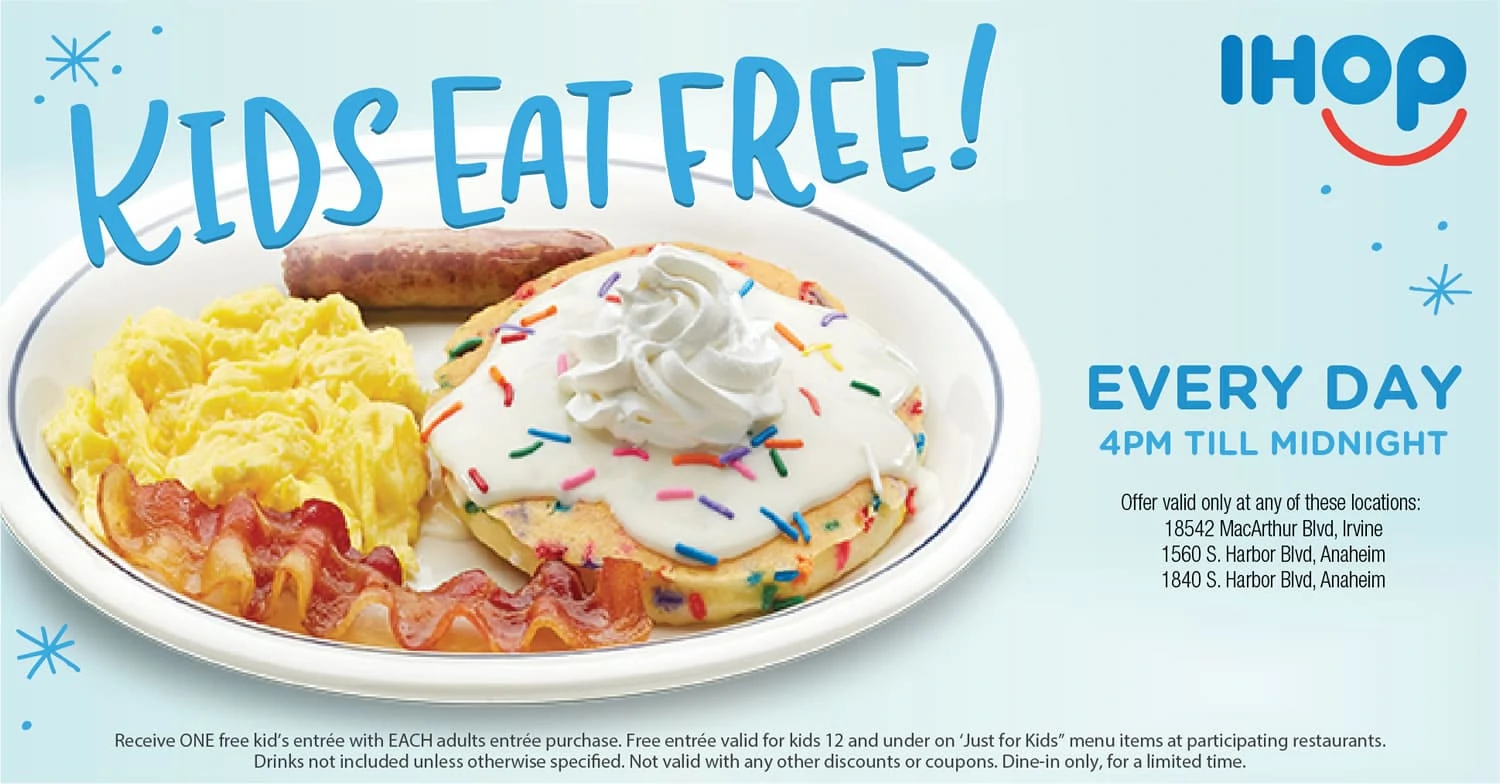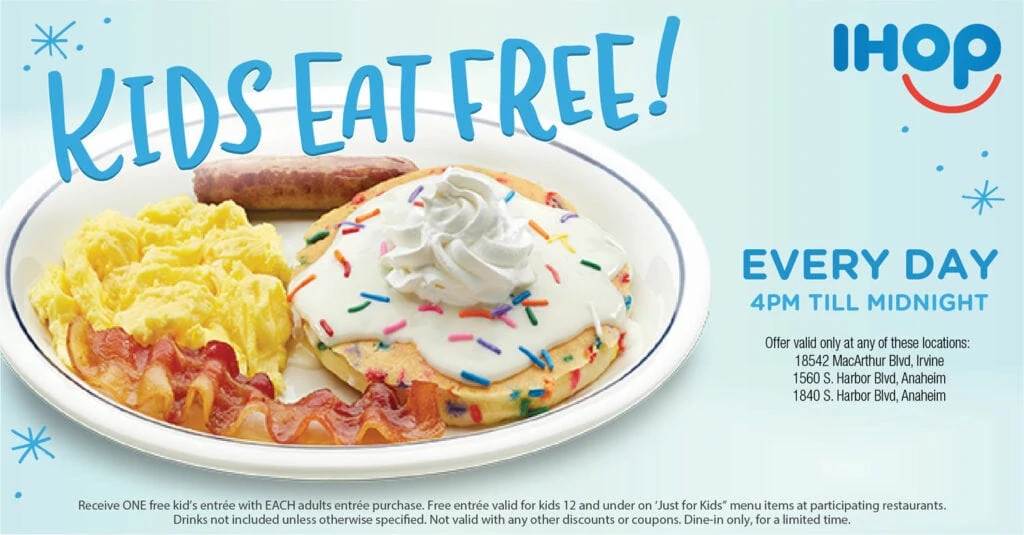 ● iHop – 1560 S Harbor Boulevard
Enjoy classic American breakfast and more at this 24-hour iHop near Disneyland. If the park is closing, and you are not sure what might be open to feed hungry bellies, this spot is a sure bet.
This restaurant makes the list because kids eat free here each day, from 4pm until midnight (one free kids entree for kids 12 and under, for each adult entree purchased). Since the kids meals in the Disneyland area tend to cost a little more, this is a great offer. They also currently have a BOGO free entree offer, available for a limited time. Find the details on that here. 
● Joe's Italian Ice – 2201 S Harbor Boulevard
For the BEST dessert near Disneyland, stop by Joe's Italian Ice. Bonus, when
you book your Disneyland vacation package with Get Away Today, coupons for
Joe's are included! Typically open 11am – 11pm.
Grab this 10% off coupon to save more on Joes Italian Ice here.
Best Value Restaurants Near Disneyland – Katella Ave
Katella Avenue is a main road just south of Disneyland Resort. This is another great spot for value restaurants near Disneyland, including those at Anaheim GardenWalk, a shopping and dining district.
Note that a number of the restaurants in this area also offer a Happy Hour, which is a great way to save by planning to eat during those times (but some are only available in bar areas, so if your visiting with kids check on these ahead of time).
One more tip, for the restaurants in this area – if you know you will be eating at one like California Pizza Kitchen, PF Changs or McCormick and Schmicks, Costco sells discount cards to these. You can get $100 in gift cards for $79. The really great thing about the gift cards is that they act like cash, so you can use them with the coupons or reward offers too. On point of caution though – since these are not on the Disney property, you have to make sure you will make it there. After a long day of walking the park, it is easy to get tired and change plans up for convenience , so make sure this is a good fit for your travel style before buying ahead.
● Bubba Gump Shrimp Co. – 321 W Katella Ave Suite 100 (Anaheim GardenWalk)
For all things seafood, visit Bubba Gump Shrimp Co. Also serving ribs and a kids'
menu that includes mac and cheese, chicken tenders and more. Open 11am –
10pm.
Grab a coupon for a free Kids Meal (with 2 adult entrees).
● California Pizza Kitchen – 321 W Katella Ave Suite 104 (Anaheim GardenWalk)
Go for pizza, salad, soup and more at California Pizza Kitchen. Open 11am –
10pm.
Be sure to sign up for their rewards program, and you will get a free small plate just for signing up!
● P.F. Chang's – 321 W Katella Ave Suite 120 (Anaheim GardenWalk)
Enjoy Chinese-inspired cuisine at P.F. Chang's. This family-friendly restaurant
near Disneyland is open 11am – 11pm.
● Cheesecake Factory – 321 W Katella Ave (where Clementine Street intersects)
This family-friendly chain serves a wide variety of Italian-inspired cuisine and
delicious desserts. Typically open 11:30am – 11pm.
Best Value Restaurants Near Disneyland – Disney Way
At the north end of Anaheim GardenWalk, you'll find another selection of value restaurants near Disneyland. Choose from family favorites like Johnny Rockets or try something new at House of Blues Anaheim.
● Johnny Rockets – 400 W Disney Way Suite 320 (Anaheim GardenWalk)
Step into the 50s at this diner that features burgers, fries and shakes. Open
11am – 9pm.
Be sure to join their email club too for a free burger with purchase coupon.
● Grasslands Meat Market BBQ – 400 W Disney Way Suite 199 (Anaheim GardenWalk)
Enjoy classic American-style BBQ and Brazilian-inspired bites at Grasslands.
Open 4pm – 10pm.
● FiRE+iCE – 400 W Disney Way (Anaheim GardenWalk)
This bar and grill offers an all-you-can-eat Mongolian grill, as well as American,
Latin, Asian and Italian-inspired dishes. Open 11:30am – 10pm.
Book with Get Away Today for the Best Value
When you book with Get Away Today, you always get the best value on your Disneyland theme park tickets and hotel accommodations. Plus, a Southern California vacation package includes $300 worth of coupons and discounts that you can use the Anaheim area, including add-on experiences and dining. The travel experts at Get Away Today regularly visit Disneyland and can easily answer any questions you may have about value restaurants and attractions near Disneyland. Give them a call at 855-GET-AWAY, or book online at Get Away Today. Be sure to mention Thrifty NW Mom and use code THRIFTYNW for an additional $10 in savings.