5 CUTE DIY Christmas Gifts That Cost Under $15 (as Low As $3) – Cricut Version
This post may contain affiliate links and I may be compensated for this post. Please read our disclosure policy here.

5 CUTE DIY Christmas Gifts That Cost Under $15 (as Low As $2) – Cricut Version
These 5 DIY Christmas Gift ideas are sure to make gift giving a little more special. Not only are they gifts that are made with love, but they are items you will feel great about gifting others. I was thinking about our Christmas gifting this year and I wanted to make some things from my loved ones, but I wanted them to be things they would want and use. I love mugs and wine glasses, but I found that when I was looking for homemade gift ideas, so many of them were different versions of some kind of drinking glass. Although those are all cute, I was looking for some ideas of things I could make, that might be a little different than other standard DIY Christmas Gifts. Here are my top 5 favorite ideas, as well as a couple of bonus ideas. These are things that are homemade, but do not necessarily look homemade. Your cost may vary a little from mine, depending on what supplies you have on hand, but we tried to include something for all budgets, so you will find options from $2 to $15.
While we used our Cricut to make these gifts, most of the can be made without one with some alterations (ie buy an iron on, or applique for designs we put on the gifts, or cut out your patterns with scissors, etc). If you are interested in a Cricut, we do have a round up of Cricut Maker deals here, and other Cricut machines and product deals here too.
If you have a fun and unique homemade gift idea, we would love to hear your ideas too!
Some of My Favorite DIY Christmas Gifts Include:

DIY Baking Mitts / Pot Holder Gift Sets – $3-$5
These baking mitt gifts or pot holders, are so easy to make, and really fun to give out. I used these pot holders / baking mitts (they open up for your hand to go in them) that I found at at the Dollar store, along with the utensils, and the baking kits you can find at any grocery store generally (and for around $1). That means that this gift is $3 plus the cost of your HTV or iron on (so depending on what you get your HTV for and how much you use, you could easily do this one for under $5)!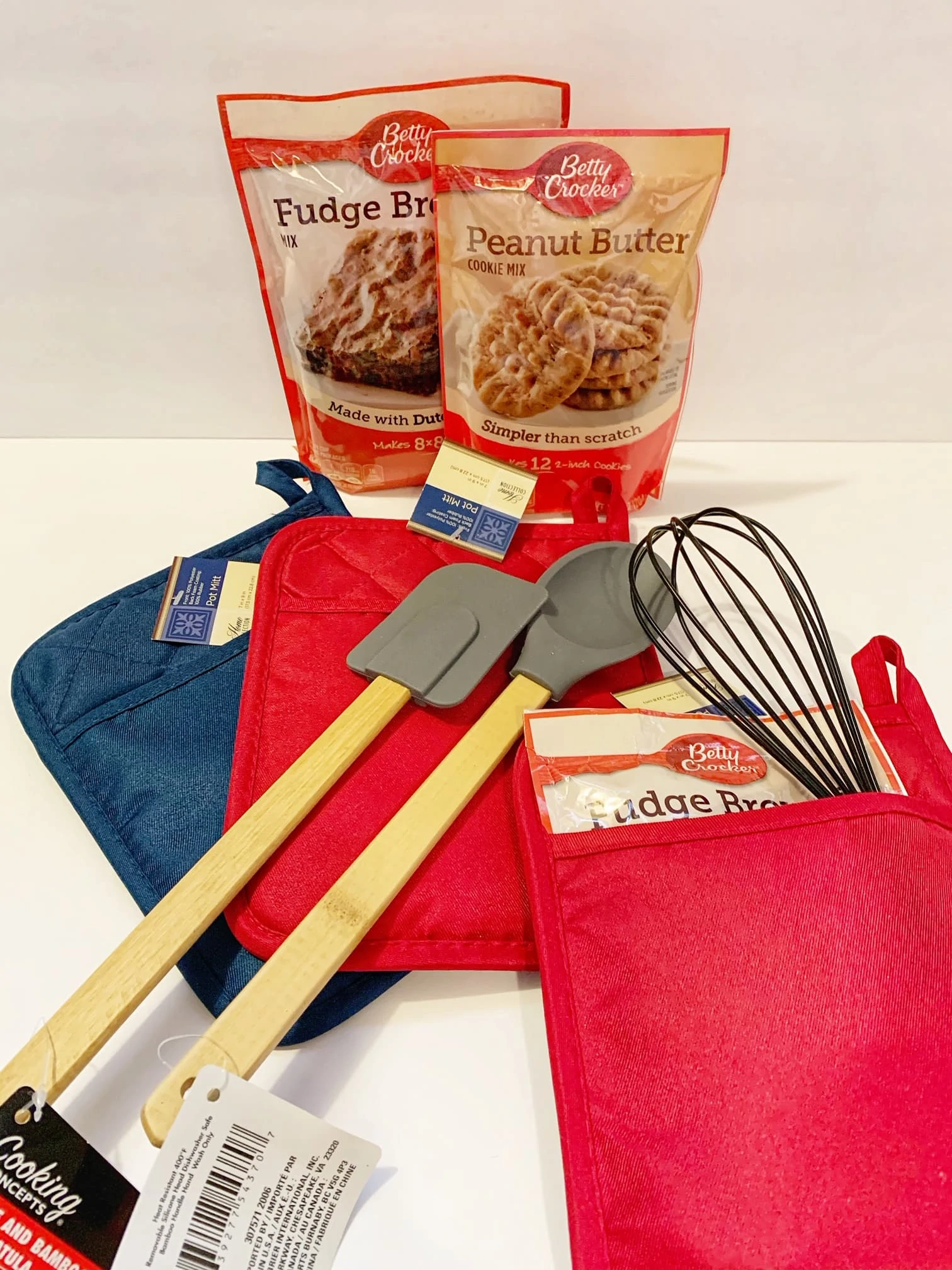 Here are a couple of idea of what to add to your mitt as an iron on:
We whisk you a Merry Christmas
Trying to earn brownie points
Baking Spirits Bright
Life is short, lick the spoon
Or just order an iron on decal to add to it, if you do not have a Cricut.
These are fun as teacher gifts, small gifts, part of a larger cooking basket, or great to give to neighbors who stop by during the holidays.
Lazy Susan with Home Depot Rounds – $15
I love this project, as it is so much cheaper than it costs to buy a Lazy Susan generally, and you can customize them with so many different looks. They are so easy to make too. I am a little obsessed with these right now, and here is my most recent one I made above, for my niece, who is in college this year.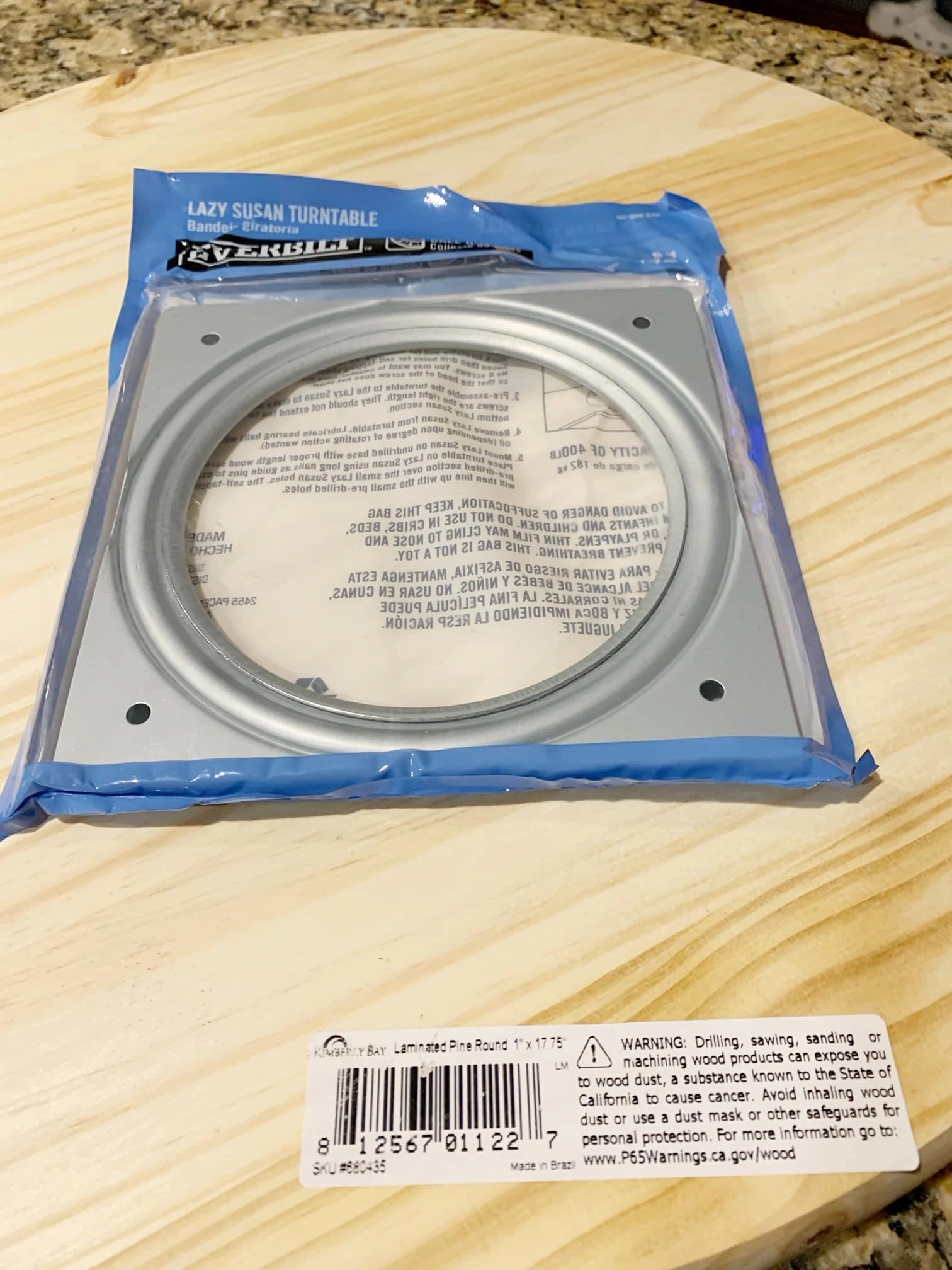 You will want to start with one of the rounds from Home Depot for $6.42. Then grab a lazy susan kit for $4.48, and attach it to the bottom center of the round, to make it a lazy susan.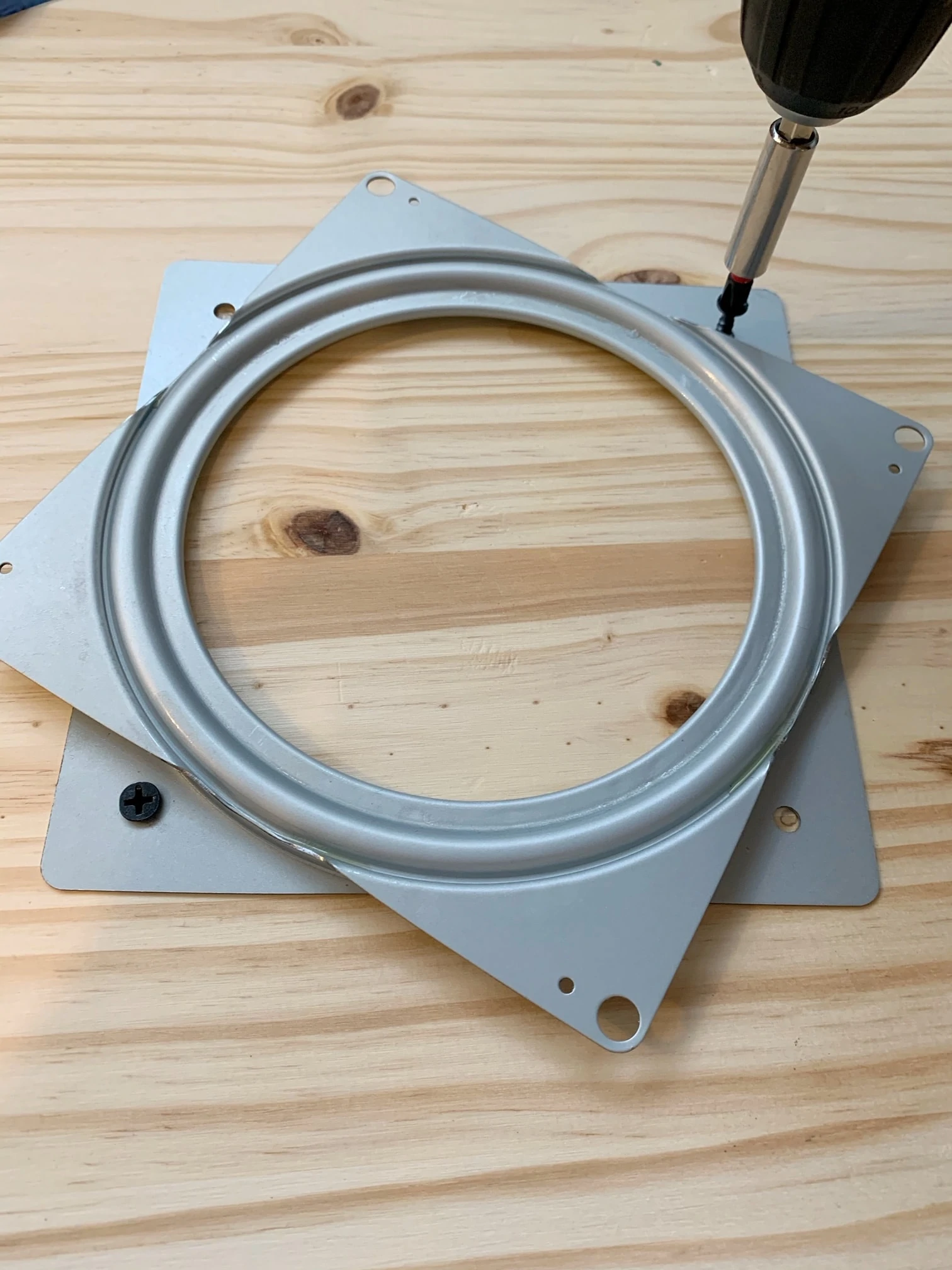 That means that the base cost for your Lazy Susan is under $11 and any additional costs is what you choose to add with paint, stain and or vinyl. Alternatively, you could do the same thing, but rather than spend the money on the Lazy Susan kit, get two handles to attach to two sides of the top of your board and make it into a tray. That will save you a few dollars, if you prefer that idea.
For the one I did above, I did a light paint wash, and then a mandala design on it. I have also done them with stain, and words on them. Your imagination is the limit. You could do a word design like Gather, or Family, or anything else you design! I also love to sign the back (underside), to personalize them. You can do this with a pen, or more vinyl, but something like "made with love from the Hills family" works great.
One important tip is that you will need to seal it before you add the vinyl, and then be sure to use permanent vinyl for your design. If you try to seal it after, you will likely have bubbling in your vinyl and that looks bad.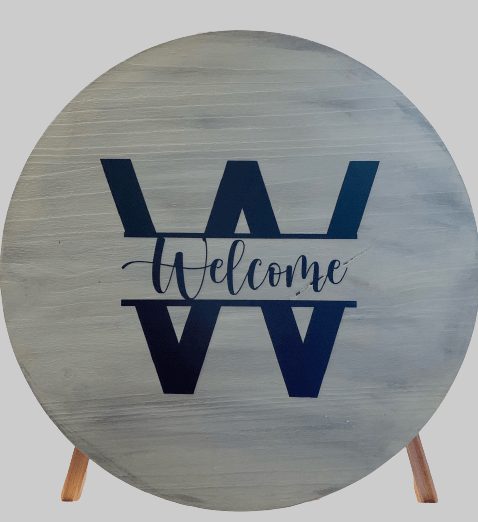 Wooden Signs With Rounds – $10
These ones will range from a few dollars to up to $10+, depending one what supplies you have and which signs you choose to make. If you are repurposing an old sign, that will save you a lot. My favorites for the holidays are the Home Depot rounds (they are impressive for the price) and it will be a few dollars in vinyl (depending on what you are paying for yours). These are the same wood rounds we used for the Lazy Susan above, so there are lots of uses for it!
These are great to gift with a door hanger (that L shaped hanger that goes over a door) and some felt pads. That way folks can use them on their front doors, and the felt keeps it from making lots of noise when it moves around as door opens or closes.
We show you lots of different wood sign options you can make here, along with some ideas on where to get your supplies to keep your cost down.
You can also make these adorable Shadow Box Signs, if you find the Shadow Boxes on sale (just add some fake snow inside, and put your vinyl sign either as a mirrored image on the inside, or as a regular cut out on the outside of the glass.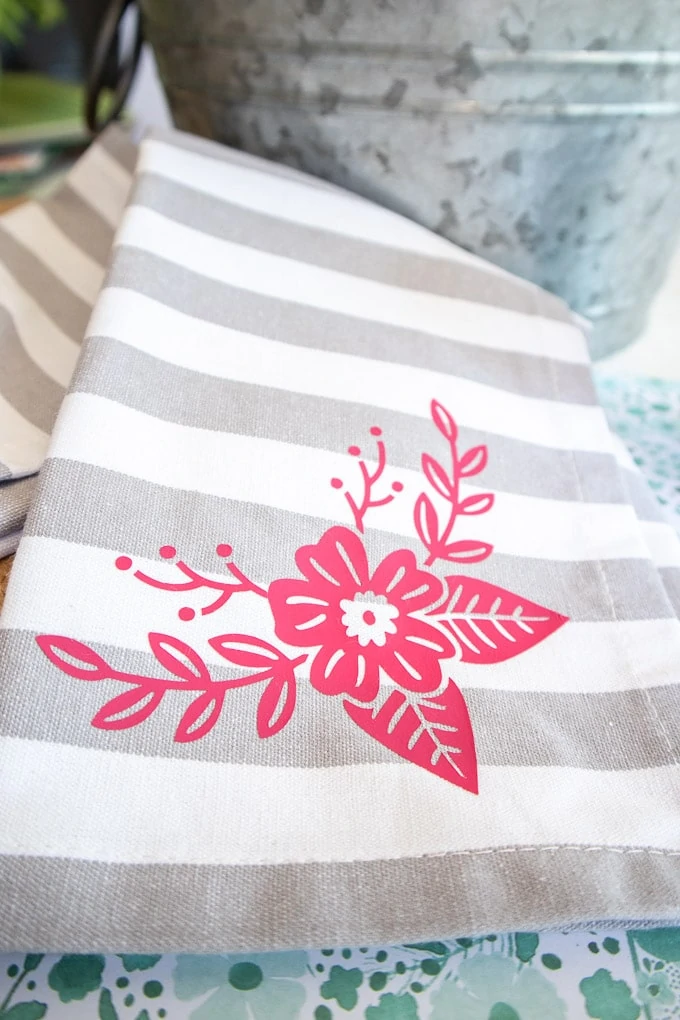 These can be just a few dollars each if you buy your tea towels at a great price. I got this set of 5 flour sack towels from Walmart for $5, so about $1 per towel. I also found nice thick flour towels at the Dollar Tree for $1 each. They are small, so you don't use a ton of HTV, so these can be done for around $2-3 per towel.
We also share directions on how to make this tea towel with the Cricut Joy, if you want to follow step by step instructions!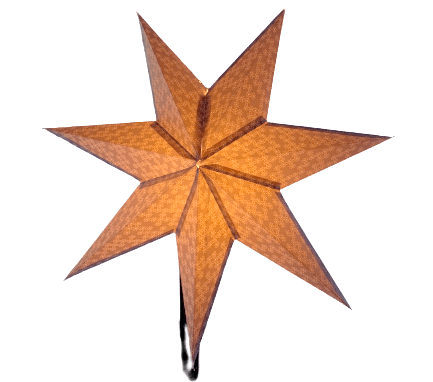 Paper Lantern Star Lamps – Approximately $10
These are a great way to add some lighting, and you can make them in all kinds of patterns and colors, for lots of different personalities. This project is affordable, but it will require some patience (but so worth it)!  You will need 5 pieces of card stock paper (and velum if you want the diffused light look – but you can make them without that), plus hot glue and a light bulb pendant. I found them on Amazon starting at $6.99 (but prices can change on Amazon at any time).
You could also add battery fairy light strings to them, if you do not want to have to plug your star lanterns in (or worry about the bulb getting too hot).
You can find patterns to download on the internet, but my favorite tutorial is Jennifer Makers' tutorial here. 
More Articles You Might Like:
DIY Holiday Decor Items You Can Make With Dollar Store Items
DIY Christmas Card Ideas to Inspire You! Plus Fun Ways to Display Your Cards!