Movie Night Gift Basket & Free Printable To Use!
This post may contain affiliate links and I may be compensated for this post. Please read our disclosure policy here.

Movie Night Gift Basket & Free Printable To Use!
Get these Free Printables To Gift Redbox Movie Codes, or Movie Gift Cards With!
Here is a fun idea for a teacher gift, or small gift, stocking stuffer, gift exchanges etc. Make a Movie Night Gift Basket! You can make it as affordable as you want, or make it a splurge gift by adding more. I love the flexibility of this gifting idea, as it really can work for most budgets. For example you can add a Redbox Movie code and pack of licorice to a small box for a really affordable gift. Or you can do a full blown dinner & a movie night basket, and add movie cards, dinner cards, or ingredients and treats for a home movie option.
We have provided two free printables here that you can use to gift either a movie card to a movie theater, or a to use to provide a gift code for a Redbox Movie so they can watch one at home.
Plus, we share movie gift basket ideas below too, to provide inspiration on what to add to those too.
You Can Download Our Free Movie Gift Card Printables Here:
We have an option for all budgets. You can buy a movie gift card (like to AMC or Regal for example) and use our free movie gift card printable, to gift that in. Or you can buy a Redbox free movie promo code for $2, and use our free Redbox Movie printable to gift that with. This is perfect when you are looking for something that someone can enjoy, but only want to spend a couple of dollars.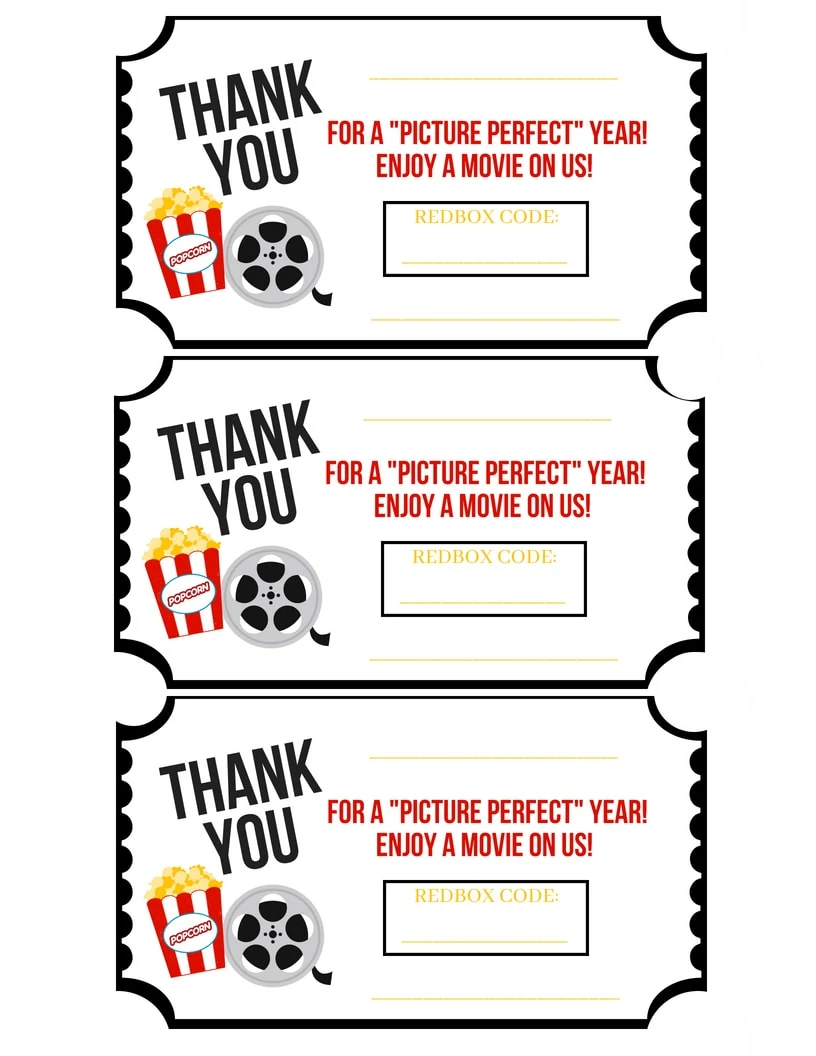 Grab our free printable here, and then head over to Redbox and get a free movie promo code that you can gift to someone here.
Where Can You Buy A Redbox Gift Card Or Promo Code (and How To Do It)?
Did you know you can buy either a Redbox eGift Card, or just a Redbox One Time Promo Code? The difference between the two, is that you will add the amount you want to gift to the eGift card (and the recipient can spend as they wish) or you can buy them a one time use promo code, that they can use to go rent a movie from Redbox.
The Redbox eGift cards start at $5 (and you can go as high as you want in increments of $5)
The Redbox promo codes start in bundles of 5 codes for $9.25. It used to be that you could be single codes, but it looks like that has changed. You can however split them up (so if you wanted to make 5 gifts out of this starter bundle, that works out to $1.85 per movie code or person). They send you 9 single use codes, so you can split them up however you want to gift them out. You can send the bundle to one person directly, via their email address, but what I like to do is send it to my email address, and then use these free printable cards to add each promo code to, and gift them as I need to.
You can find both of these options on the Redbox Gifts page here.
I gave these out to my kids teachers during Teacher Appreciation week one year. We were doing small gifts all week, and this one of their favorite small gifts that we came up with (but they really can be used for any occasion).
We made a movie night bucket, that had the free movie, and then movie night treats like red licorice, popcorn and special drinks. This also makes a fun family gift, when you put it together with all the treats, but you could just do the free printable with a movie code in a card too.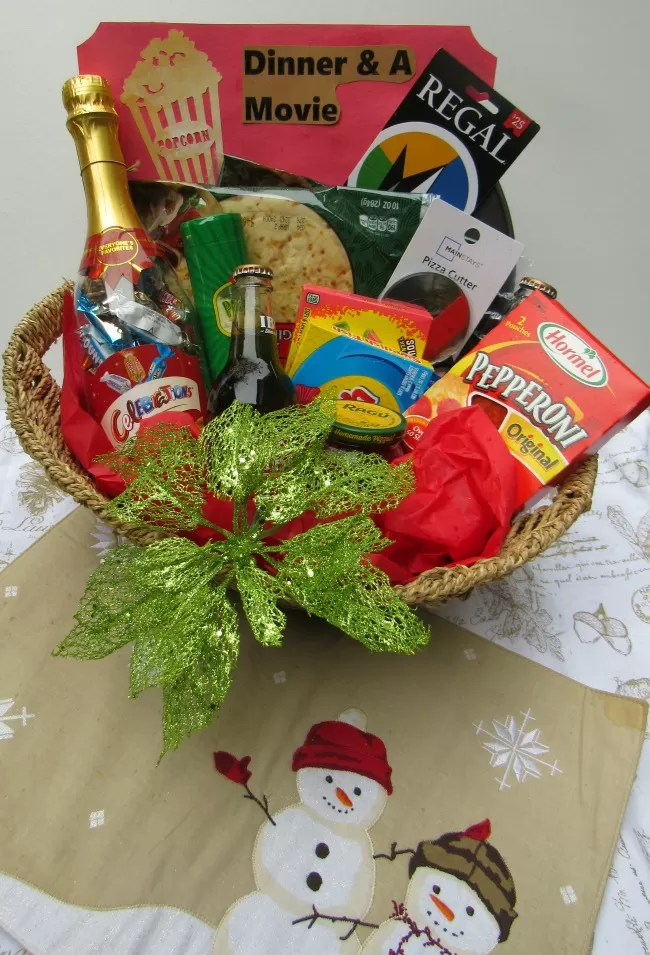 Movie Gift Basket Ideas
Movie gift baskets are so fun to make, and you can keep them simple, or go to town on yours, so it is a great option for different budgets. Add just a few of these items, or all of them – you decide!
Start with a movie gift card, movie tickets (you can buy packs at Costco for example), or Redbox promo codes for smaller gift baskets
Another option, is to include an actual DVD of a special movie you want to gift (instead of or in addition to the gift card ideas)
Add snacks the recipient might like. Standard ideas for movie baskets are –

Popcorn
Licorice
Soda
Boxes of candy
Popcorn Toppings (like seasoning salt, or parmesan cheese)
Hot Chocolate
Special mugs
Popcorn bags or containers (you can often find these at the dollar stores)
Special blanket to cozy up with
Set of PJs to get cozy in before movie time
Chips or other salty snacks
I also love the idea of tailoring it to the recipient. So for example, you can make a healthy basket option, or a gluten free or sugar free option, depending on the dietary needs of the person you are gifting it too.
You can also do themed baskets. Lets say you are shopping for a Disney fanatic. You could gift them a Disney movie, a Disney mug, some Disney themed snacks, and maybe some Disney PJ bottoms to get cozy for their movie in. You can really use this theming idea for so many things the recipient might be interested in!
Dinner & a Movie Gift Baskets::
Another idea is to create a Dinner & Movie Night Basket like this one we did here. They can make a pizza, have snacks, and watch a movie together – it is a fun family gift idea. I like to get the personal size pizza crusts, so everyone in the family can make their own pizza, just like they like it. These baskets actually make more sense to gift the Redbox eGift card or promo code with, as it is more like dinner and a movie at home, but you can do it with actual movie gift cards too, and they can do dinner before or after they head to the movie.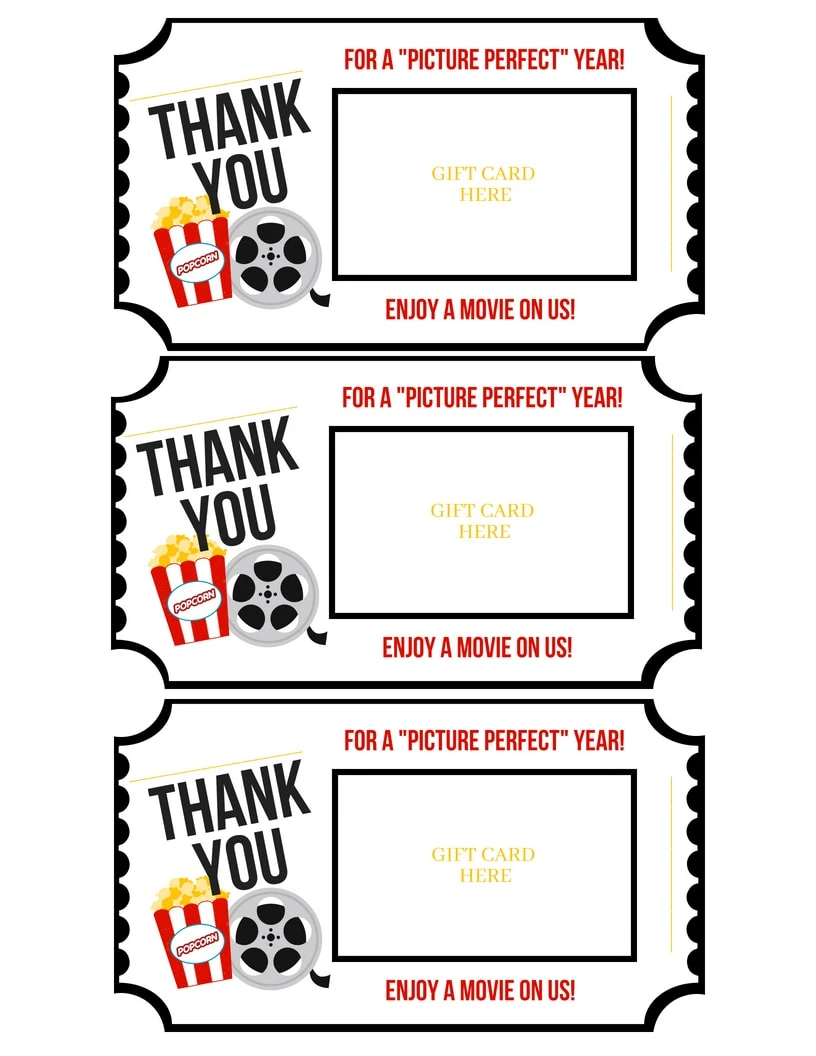 If you are looking for teen gift ideas, gift cards are always a hit, and most like movie cards. If you are getting them a movie card gift, you can use this free printable to give it to them in, to make it a little more fun. Simply tape the card to the spot designated for it (or add a small drop of hot glue) to attach it.
Be sure to print these on card stock, to make them sturdy. Or you could print on paper, and cut out and glue to the inside of a card too.
You can print from this pdf file here too.