Simple Christmas Charcuterie Board Ideas – Christmas Tree & Wreath Boards!
This post may contain affiliate links and I may be compensated for this post. Please read our disclosure policy here.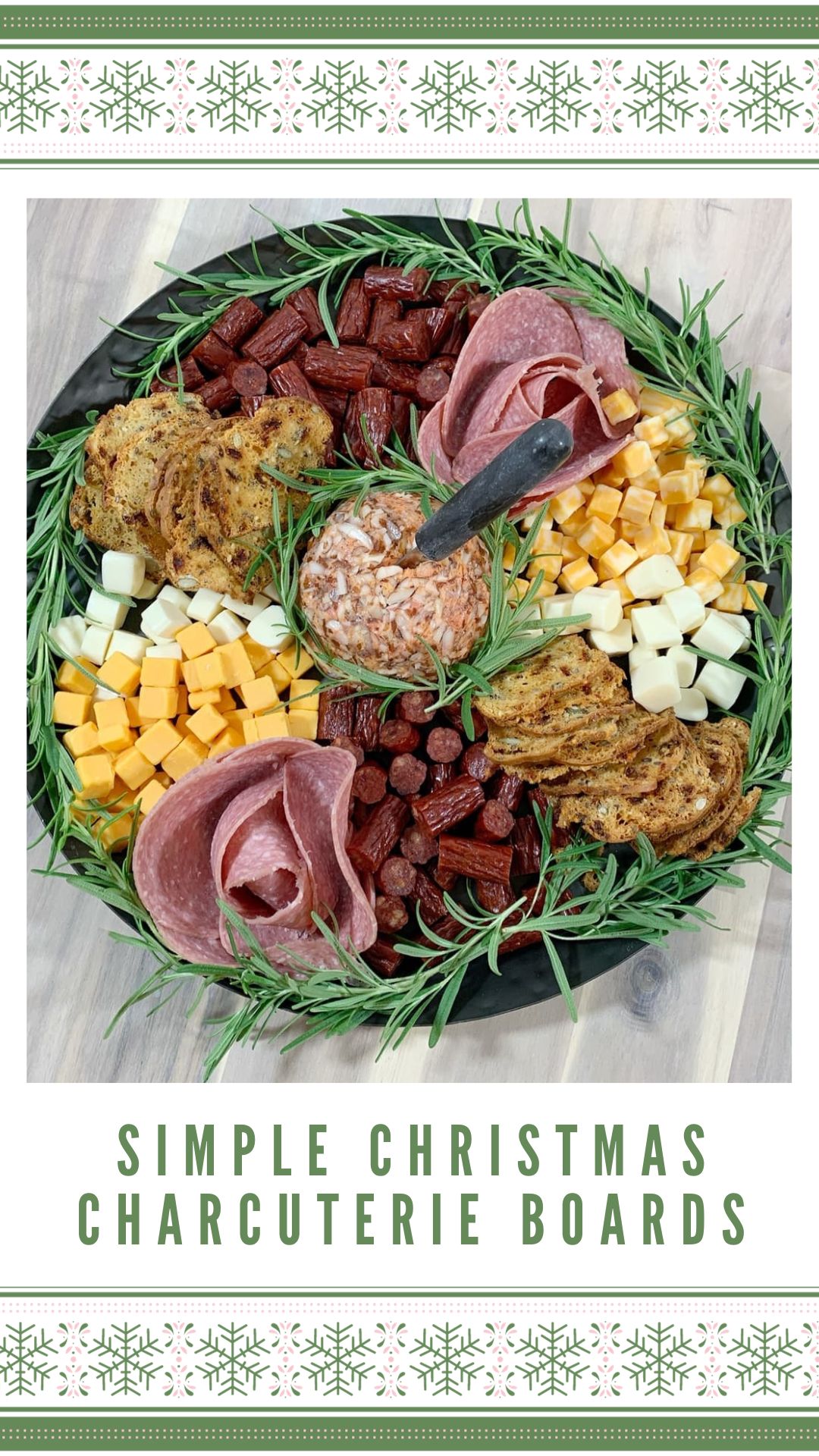 Simple Christmas Charcuterie Board Ideas – Christmas Tree & Wreath Boards!
I love these simple Christmas charcuterie board ideas. Both the tree and wreath styled Christmas Charcuterie Boards are about the easiest way to put out a fancy dish for your Christmas spread. They require very little work, but are beautiful! Not only are they festive, but honestly, it is about the simplest thing you will probably put on the table for the holidays. Plus, it works for quite a few different eating habits, so it is a great one to make lots of folks happy. We use pre-cut items in ours so they can be put together in a matter of minutes, but you can cut the cheese and meats yourself too.
Not only are they simple, but they can also be really affordable to make.
Here are two of the easiest Christmas charcuterie board Ideas that are my favorites, and your guests will love them. You can buy pre-cut cheese and meats and then all you have to do is put it together – it will literally take you just a couple of minutes!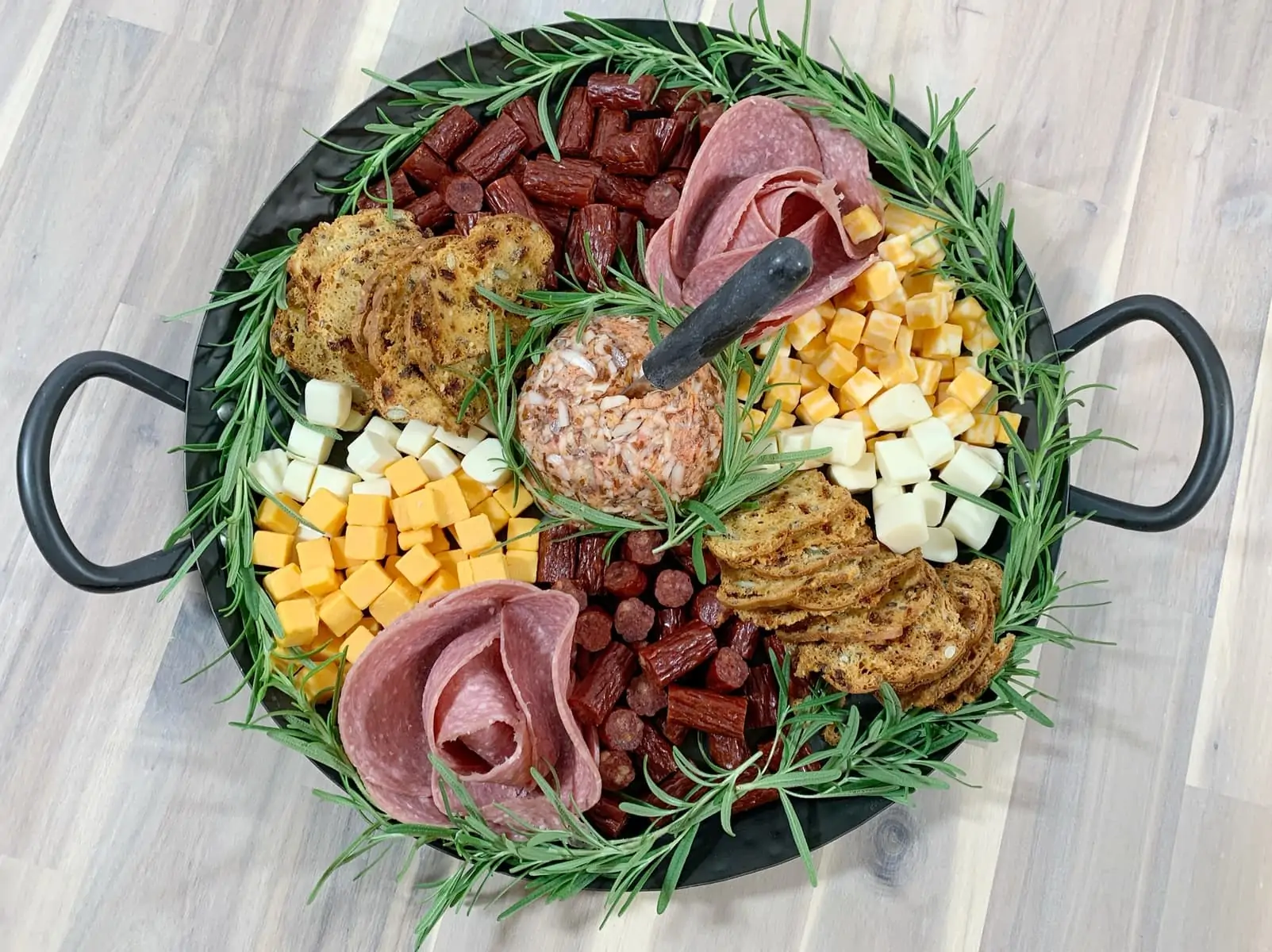 A Christmas Wreath Charcuterie Board
This one is my favorite, because all you need is a round tray and some fresh rosemary to make a Christmas wreath charcuterie board. For this one, we used pre-cut meats and cheeses, so it literally took a minute or two to put those on the tray. There is a cheese ball in the middle (you could use brie if you wanted to be fancier).
The only thing that takes any time (and it is not much), is to make the salami roses. Just follow the simple instructions in the video above. It really only takes minutes!
Make a Christmas Wreath Charcuterie Board
If you want to see the tray we used, as well as the products in this one, we share those here.
Ingredients needed for this Christmas Wreath Board –
At least two cheeses of choice (you can use more though)
At least one salami or cured meat of choice (again, you can use more). We also used pre-cut pepperoni sticks
Your favorite cheese ball for the middle
Rosemary Sprigs and cranberries to garnish
Crackers of choice
A round tray is best for this style of board, but it could be done on a different shaped board (will just take a little more work to get it in the round shape).
You could really add other items if you want (ie nuts, chocolates, olives, etc). We kept ours simple, because the idea was to make this easy to assemble and affordable to buy, for many different entertaining budgets.
How to Assemble this Christmas charcuterie board
It's about as simple as drop and go! And it can be customized with your favorite cheeses and meats.
Start by adding your cheese ball to the center of your round tray.
After that you can being piling the cheeses two piles (one for each type of cheese) on opposite sides of the board.
Next add your cut meats next to them.
Make your salami roses (we show you how in the video above), and add one to each side of your wreath.
Lastly add a line of your favorite crackers to the space left on each side of the tree.
Once all of your ingredients are laid out, take your rosemary sprigs and begin to make a circle around the outer edge, as well as around the outside of your center cheese ball. Make sure all the ingredients are tucked inside the sprigs, so it makes a border around your wreath. You can then dot it in a few places with some cranberries too if you want.
Now its ready to serve!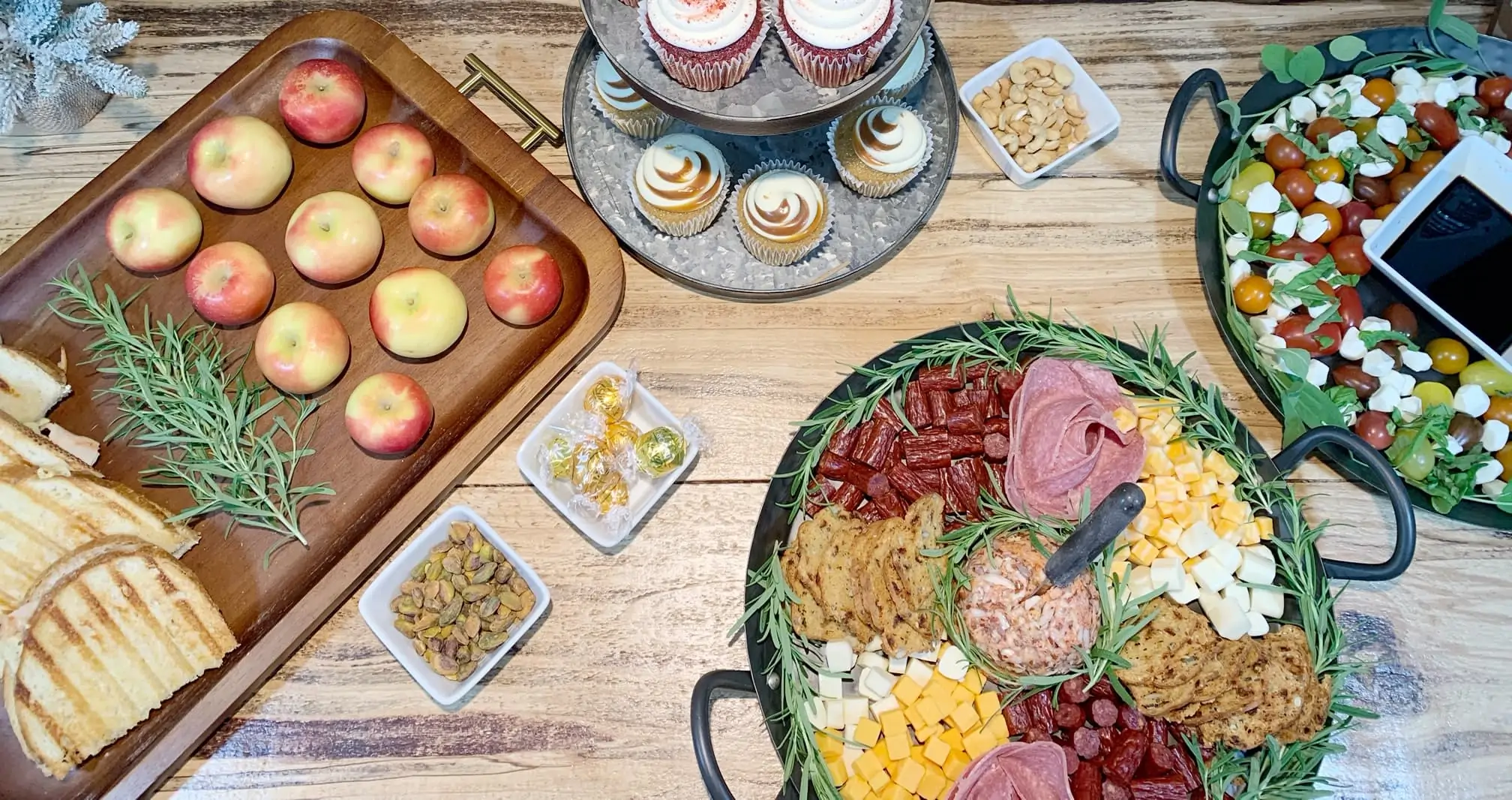 You can find all the things we served with this Christmas wreath charcuterie board, to keep the spread simple but ready to impress our guests, if you are short on time this year (also budget friendly).
Easy entertaining can make the holidays so much more enjoyable, without cutting any of the special touches you want to offer guests and family alike.
Make a Simple Christmas Tree Charcuterie Board
Ingredients needed:
Rosemary Sprigs
Pepperoni
Cheddar Cheese
Coby Cheese
Swiss Cheese
White Cheddar
Crackers
Star cookie cutter
A Christmas Tree Charcuterie Board
This Christmas tree charcuterie board is just as easy as the one above. It uses many of the same ingredients as above, so if you wanted to do one of each start with a block of cheese and slice some and cube some. You will also be using the same technique as above for the pepperoni roses (or you could do salami as we did above. We rolled these ones tighter, as we used them for the top row, but you could do bigger ones and use them at the bottom too.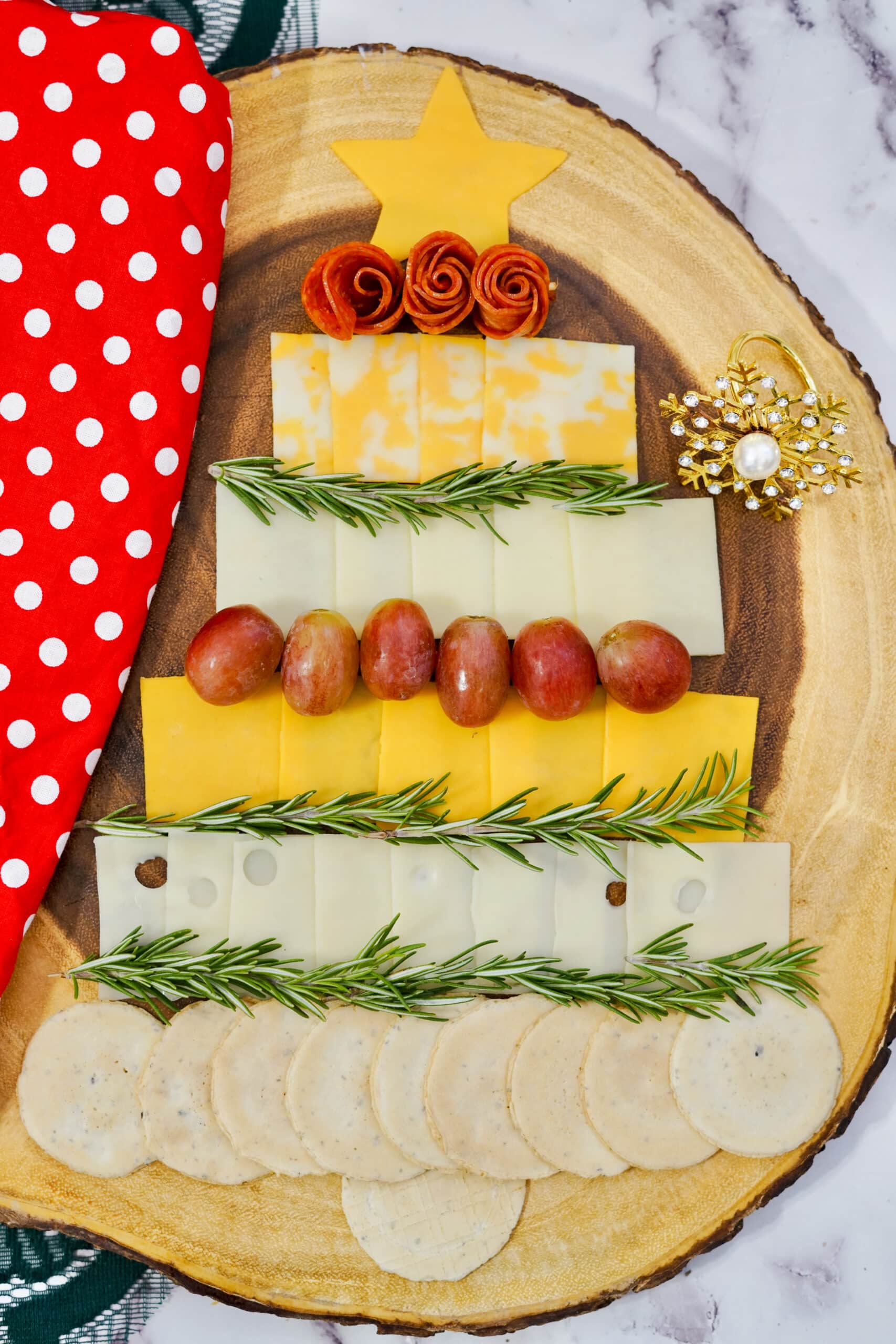 How to Make the Christmas Tree Charcuterie Board
For this one you simply lay out a layer of the crackers at the bottom. Once you have your layer of crackers placed, add one more cracker just below this one, and centered (to act as the tree stem).
Next you will add a layer of a white sliced cheese that is a bit shorter on each end than the cracker layer.
Next do a layer of the yellow cheese above that, that is a bit shorter than the white cheese layer.
We then added a layer of grapes that is shorter than the previous cheese layer (you could also use olives here if you prefer).
Then repeat with the white cheese, and the yellow cheese (each time making each layer a bit shorter than the one before it).
Top your Christmas tree charcuterie board with a piece of cheese that is cut into the shape of a star (we used a small cookie cutter to do this).
Lastly, border each cheese row with your fresh rosemary sprigs to give it more of a tree look, and you are done!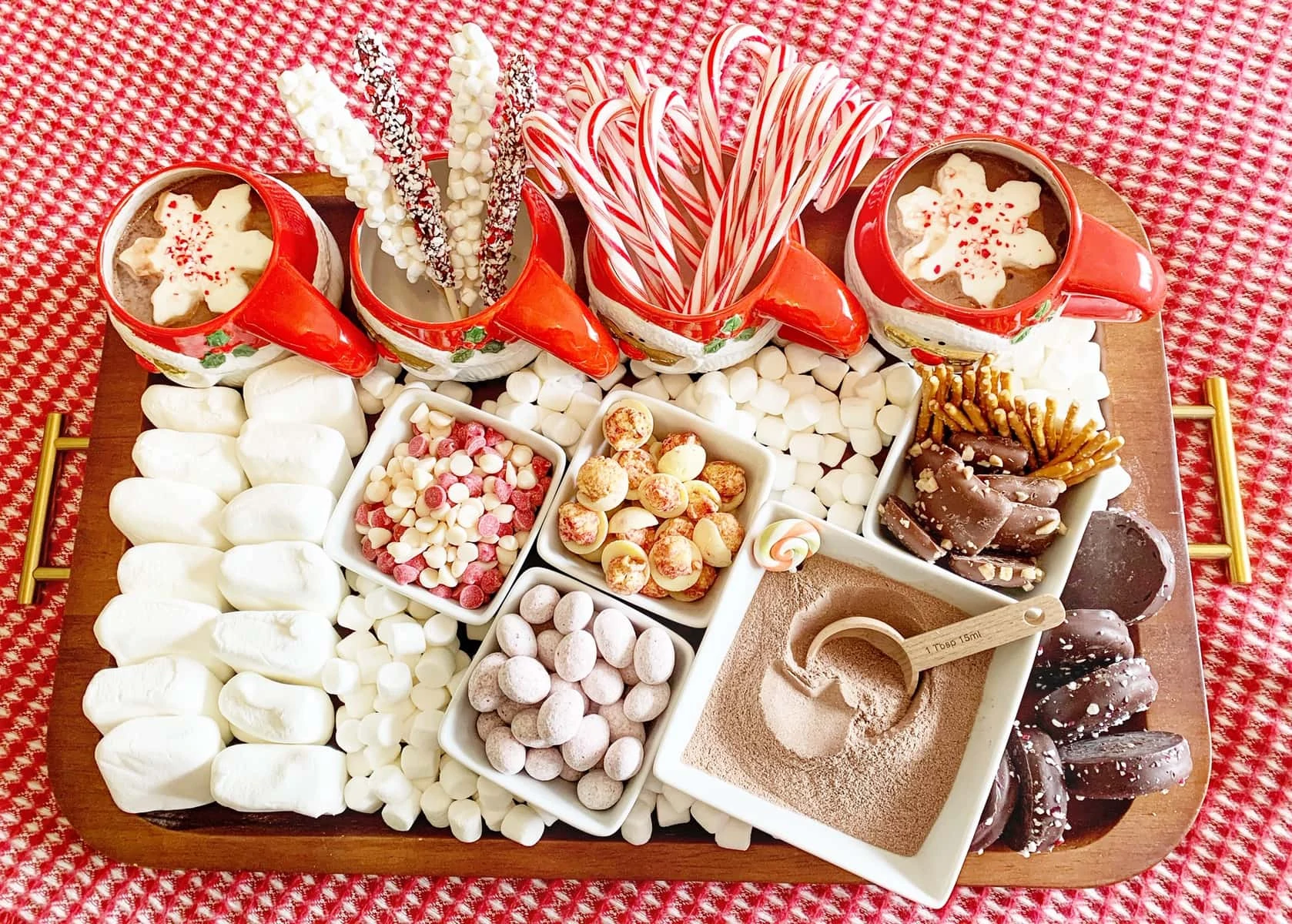 Christmas Dessert Charcuterie Board
This Hot Chocolate Charcuterie Board is my favorite dessert board to do around the holidays. It is a slash between a drink board and a dessert board, but I think it is the perfect fit when looking for a sweet Christmas dessert charcuterie board idea to serve up next to the savory. It is really budget friend too, and provides both drink and dessert!
We show you how to make this Hot Chocolate Charcuterie board here.
Here is a fun idea for a really easy Dessert Charcuterie Board you can make too (just switch out the colors for the holiday you are celebrating!