Keeping Holiday Entertaining Simple & Fresh with Walmart!
This post may contain affiliate links and I may be compensated for this post. Please read our disclosure policy here.
Disclosure: This post was sponsored by Walmart and Rewards Style. All opinions are 100% my own. Find our disclosure policy here for more information. 

Keeping Holiday Entertaining Simple & Fresh
(Without Sacrificing Taste)
Walmart to the rescue for Holiday meal and decor planning and so much more!
Over the years, as my family has grown, I have learned to use some hacks to keep the holidays simple. This way I have more time to enjoy family. The best part is that you do not have to sacrifice quality for simplicity. One of my favorite parts of the holiday season, is enjoying all of the delicious food options. So I have come up with some short cuts to get delicious and fresh food on the table for company, without a ton of work involved.
(click on the black boxes above if you want to shop the items in the image above – so many great prices!)
Walmart is my go to spot to keep things simple, beautiful and delicious, for the best holiday celebrations possible. I can do all my shopping in one spot, which saves me a ton of time. That and it does not bust my budget. I can even grab a few gifts to put under the tree, while I am shopping for my meal and decor. Find everything you will need for the holidays here too, and keep your holiday simple as well.

This year, my theme is to keep things fresh and simple. This spread looks fancy, but it really is not at all. Most of it can be prepped ahead of time, that way you can just bring out the buffet spread the day you are entertaining, and enjoy the party right along with everyone else!
Although, really when it comes down to it, we are having sandwiches and appetizers, these are not just any sandwiches and appetizers. They are the holiday edition, full of festive flavors, but easier on my wallet and time. So your guests will feel like they had a really special meal, all while you keep things "fresh and simple" this year – and spend more time enjoying your company (but not sacrificing taste).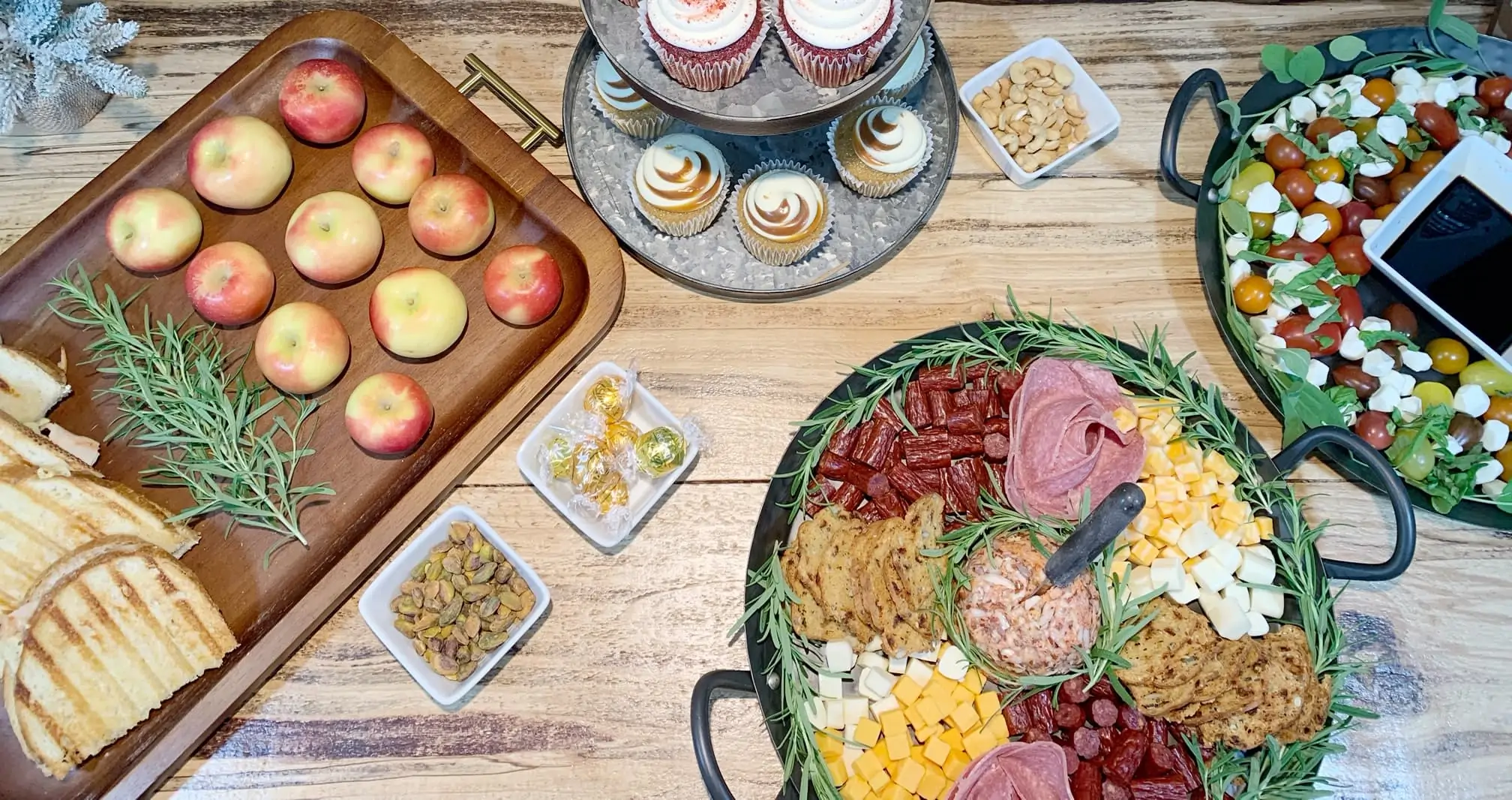 Here are some ideas you can use too, if you want to keep things simple, yet worthy of holiday entertainment.
We list all the items we use for our Fresh and Simple spread, to keep things easy for you, below each recipe. Look for that list, and you can scroll through it to see what is included. You will find each list by dish below, if you want to either shop online, or make a list out for the store. Each item from the appetizer platter, the salad platter, and the sandwiches, are included below their pictures.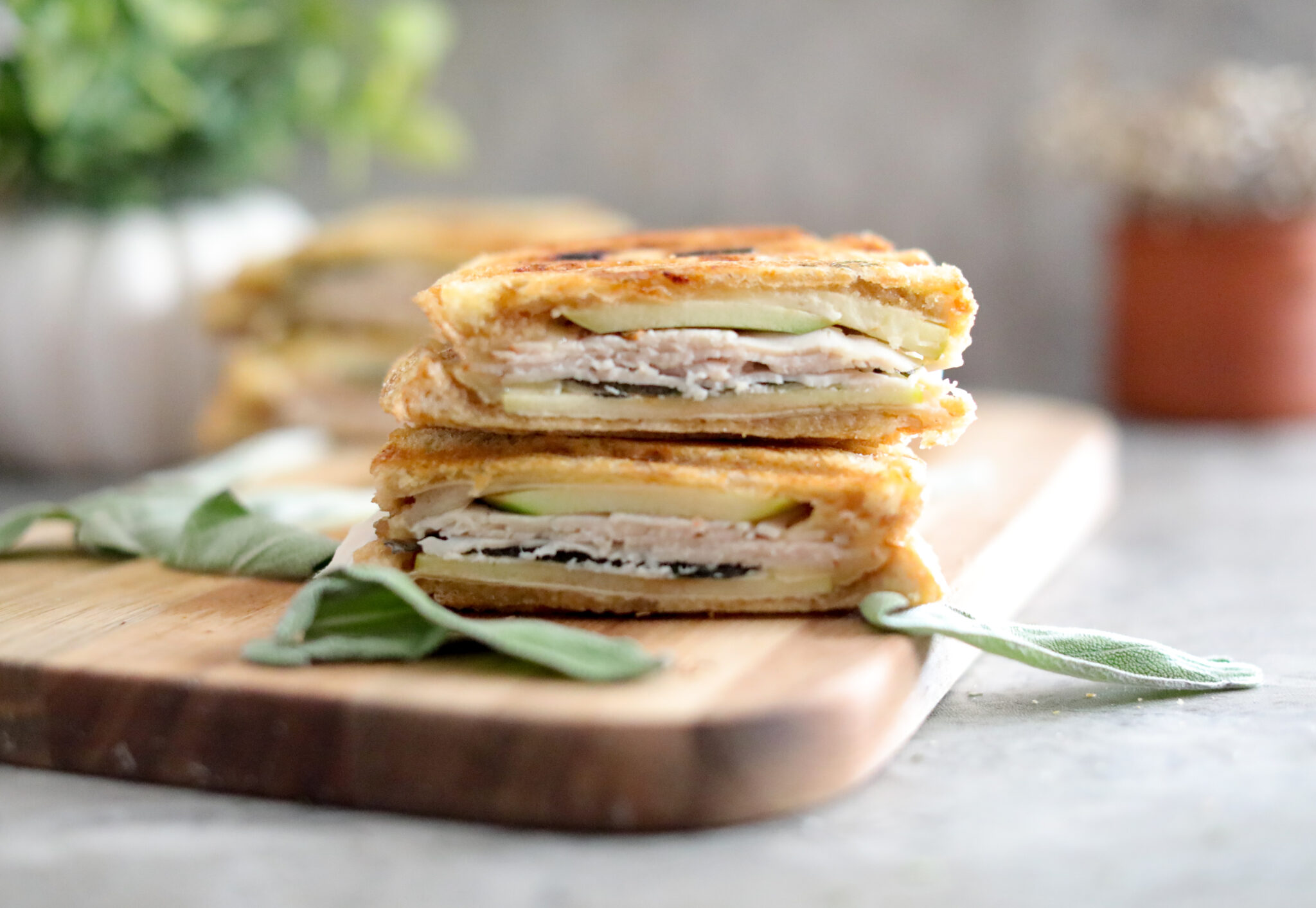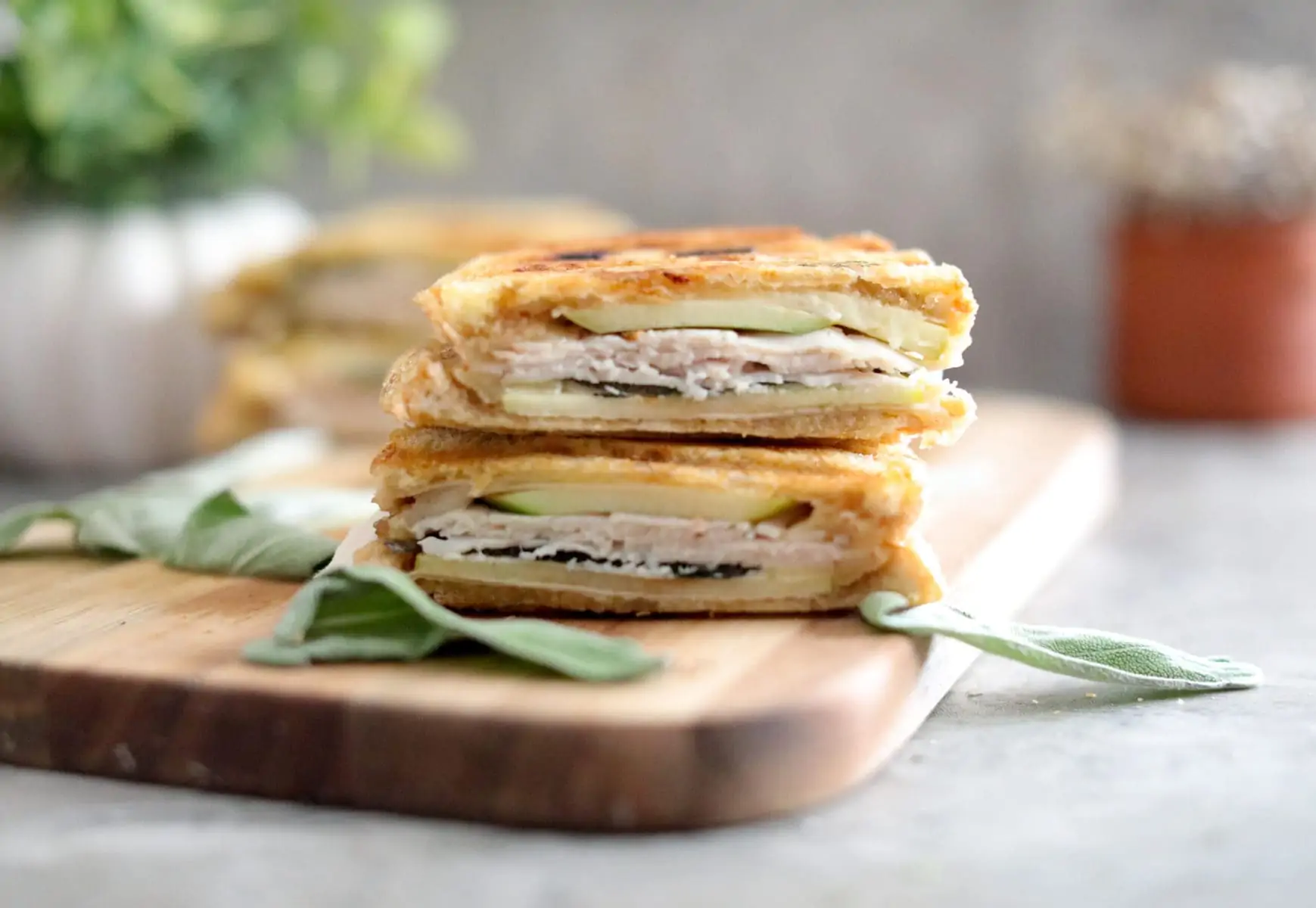 The centerpiece for this holiday spread are these Apple, Turkey & Sage Panini Sandwiches. The name just sounds fancy, and they taste even better than they sound. But yet, they are so simple to make. They are paninis, so you will grill them (we used the George Foreman Grill we grabbed at Walmart for under $20). Something about serving a hot sandwich makes it feel so much more special than "just a sandwich" too.
My favorite part about making these is that you can assemble your sandwiches in the morning, or even the night before, then just grill them up right before you serve your meal, so you are not still slaving in the kitchen when your guests start to arrive.
There are a few things that make this sandwich holiday special. Use a nice rustic bread, and butter the outside before grilling it. Fresh sage leaves balanced out with the crisp crunch and sweetness of the apple slices, take this panini to another level of goodness. Then add the fact that it is being grilled, so the cheese will be melting out the sides, and you will have beautiful golden grill marks on your bread, make this sandwich special enough to serve to guests this season.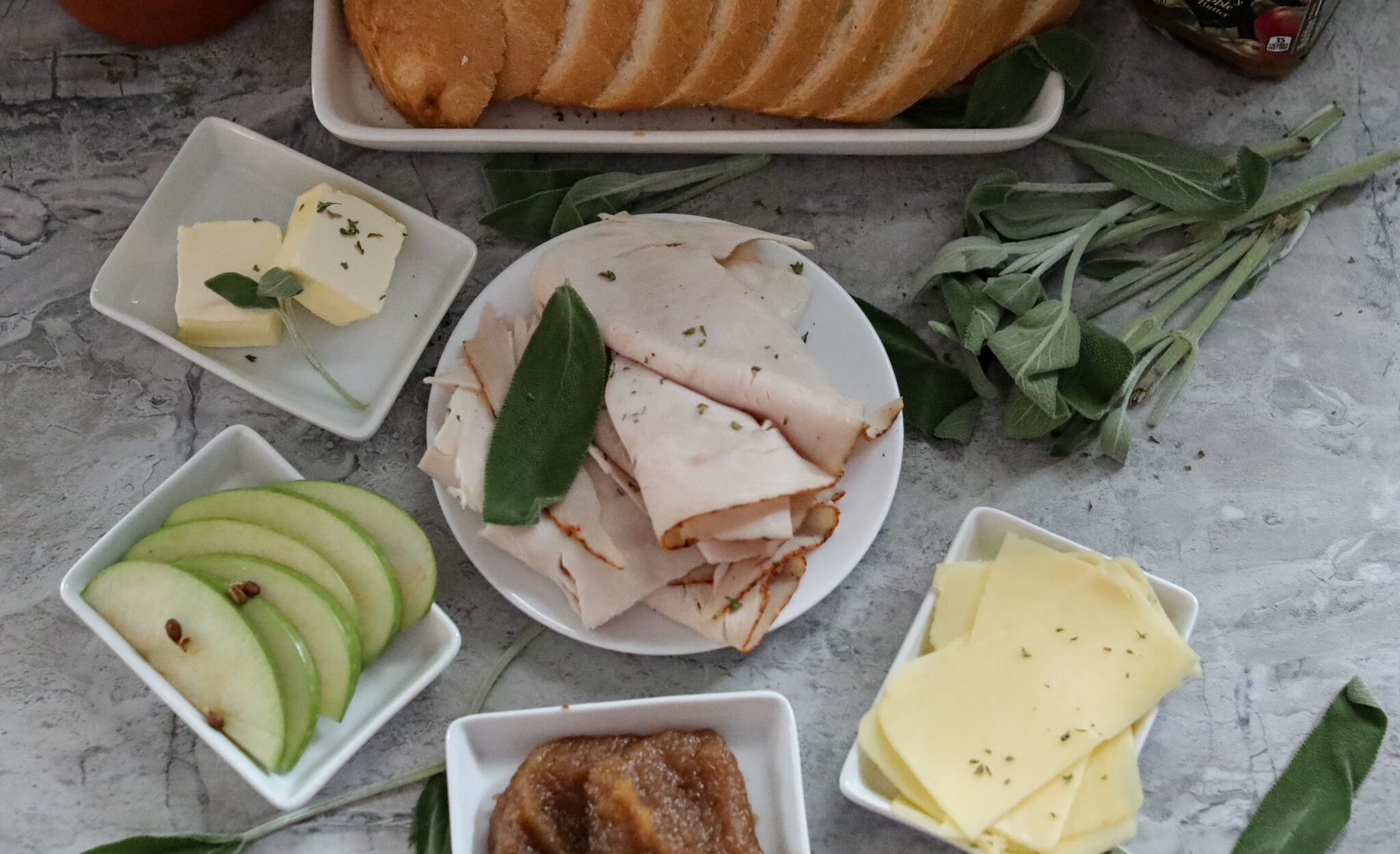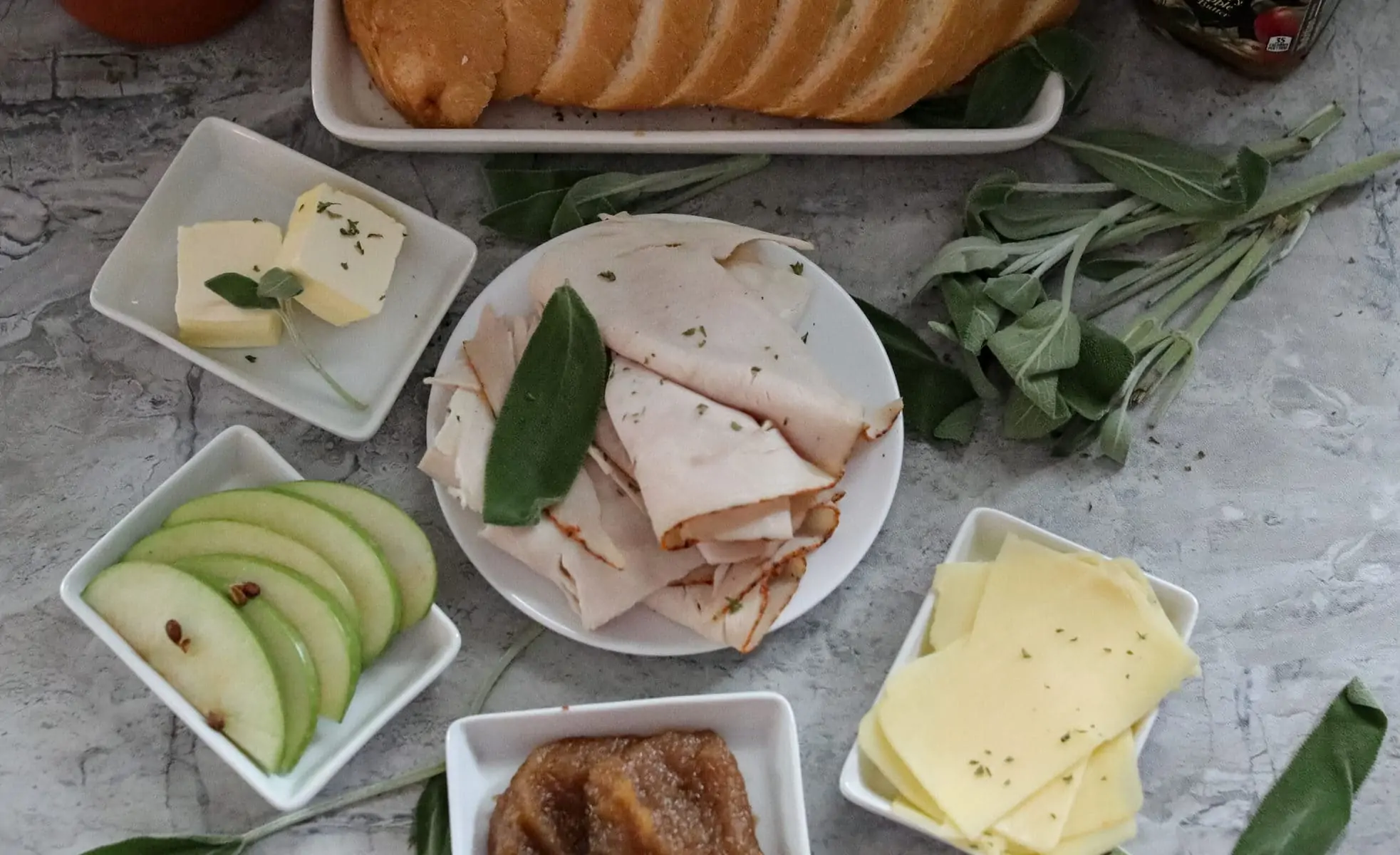 You could even put the ingredients out as a self serve bar, and let your guests make their own sandwich and grill it up. We buttered the outside of the bread, then layered the inside with a spread of apple butter on one side, turkey, sage leaves, Havarti cheese and thinly sliced green apples. Put it on the grill until the cheese is melted and you have beautiful golden grill marks, and it is ready to serve.
I was able to grab the George Foreman counter top grill we used to grill our sandwiches, cutting boards and serving dishes to put the food out on (and even some festive holiday decor to spruce the table up), all while I was shopping at Walmart for my food. That is about as convenient as things get these days! You could even do it all online, and then pick it up or have it delivered, if you want to make it even more convenient.
(scroll over the items in the picture to see what we picked up at Walmart to create this holiday buffet)
Another important thing to me, is to decorate my tables for the holidays. Food tasting good is the most important, but if it can taste good and look good (and not make me work too hard) that is what I consider holiday entertaining perfection! My kids love when I decorate the house for Christmas – it is one of their very favorite times of the year. I have gone with a little bit of a rustic farmhouse look (keeping in line with simple decor) and so I was really excited when I was at Walmart shopping for somethings I could display the food on, and I found these pieces to decorate my buffet area. They were simple and affordable things I could grab to transform my buffet area, and many of them where under $10 an item. Score!
You can use what you find at  your store, or we have linked to all the items we grabbed at our local Walmart in the picture above. Just click on the item in the picture above to find it available online at Walmart.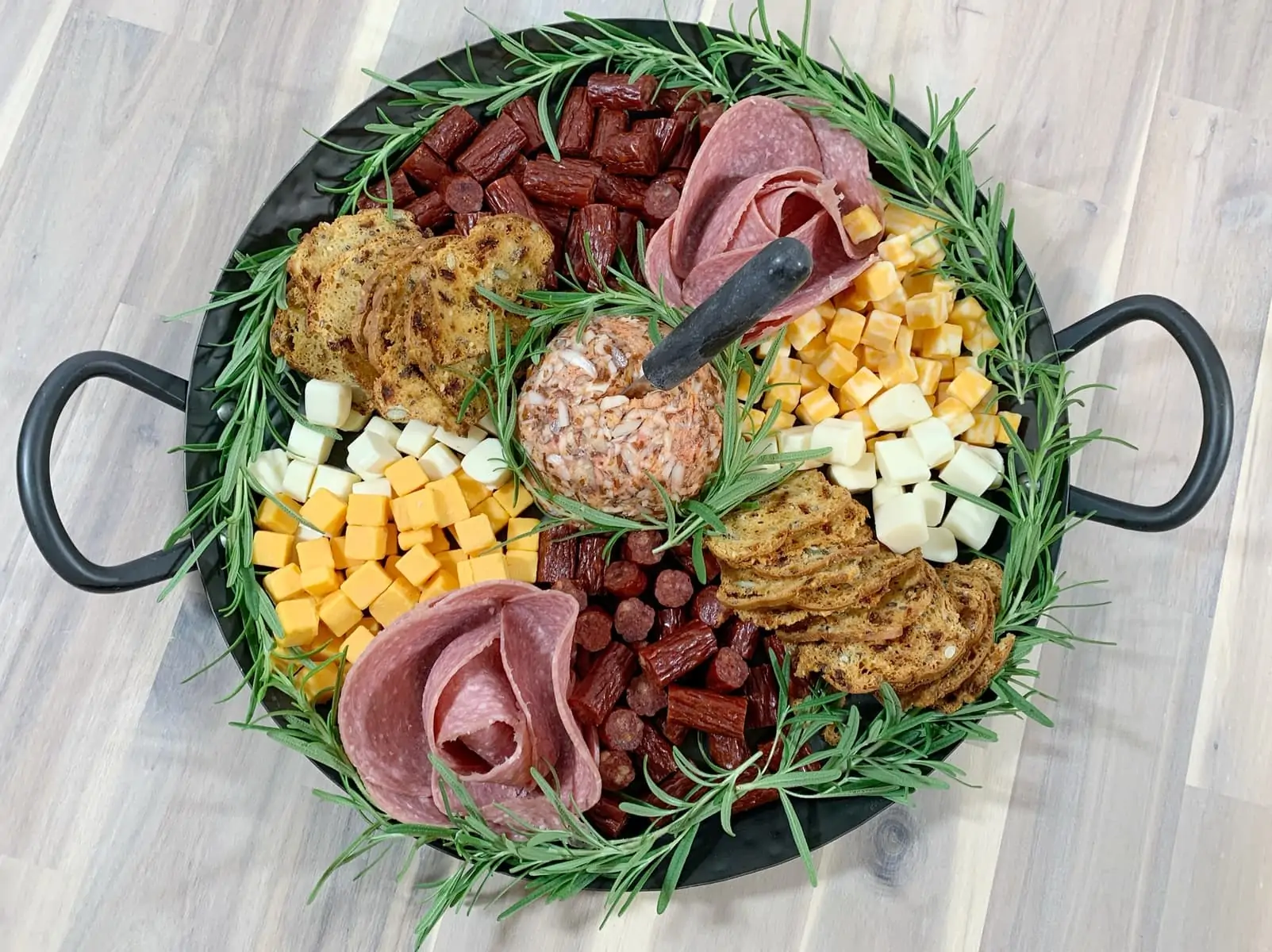 Appetizer platters always feel festive too. We made this one with pre-cut cheese and meats to keep things simple again. We designed it to look like a Christmas wreath, using round dishes from the Hammered Metal Collection at Walmart. Here are the items we used in this Christmas Wreath Appetizer Platter. You can add green or black olives too, and you will need fresh rosemary to create the wreath look. I like to buy a small plant but you can buy the sprigs in produce section too.
One of the things I loved is that I was able to buy most of these items already cut (so the cheese cubes and cut pepperoni sticks) and then literally just had to arrange it on the tray to make it look beautiful. It does not get much easier than that. Another reason that I like to shop Walmart for these items, is they have so many options to make things more convenient.
I arranged the appetizer platter to look like a Christmas wreath simply by wrapping sprigs of rosemary around the outside of the food and the inside. It was not only so easy to do, but it also gives your table a nice earthy smell that feels wintery to me too.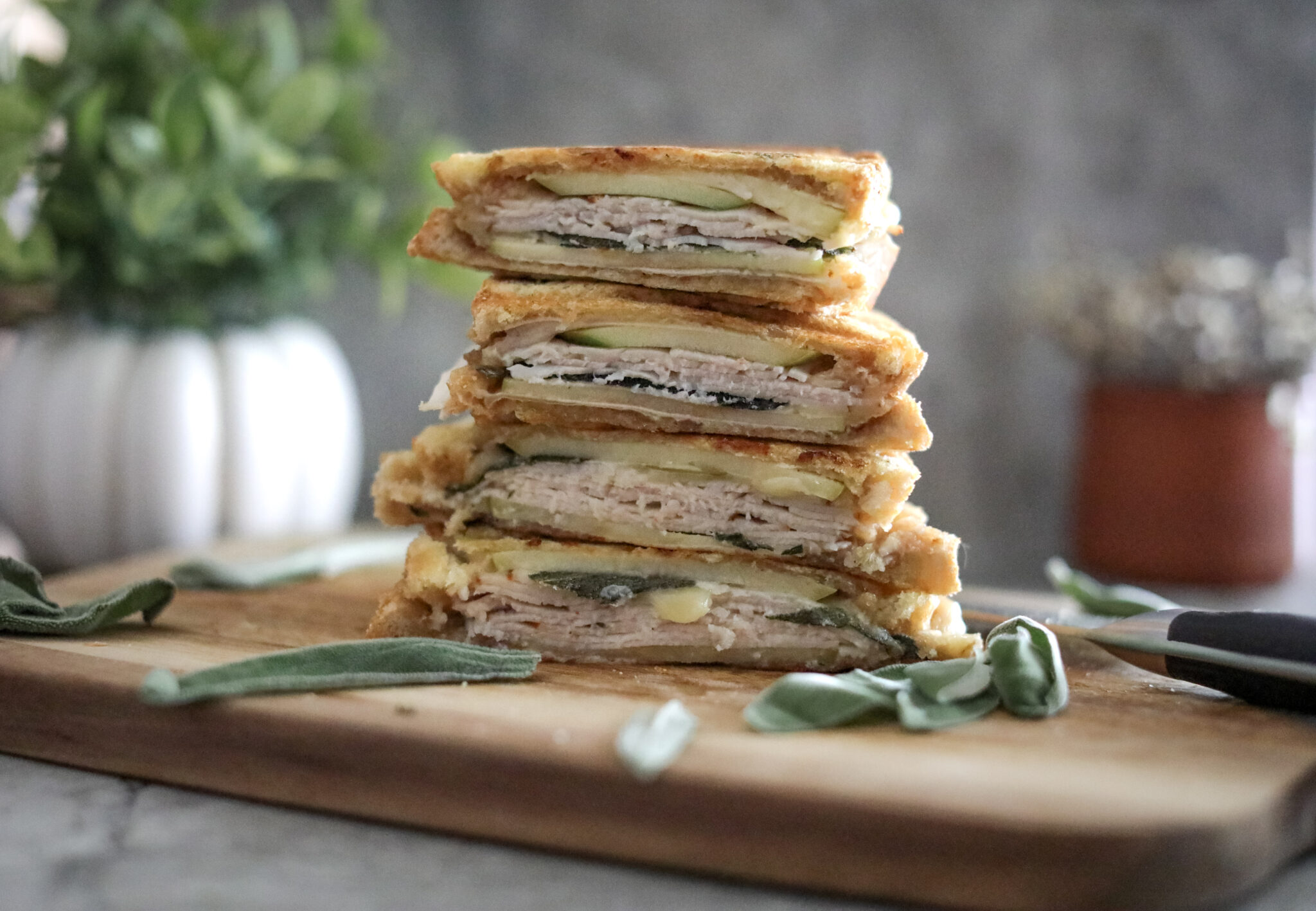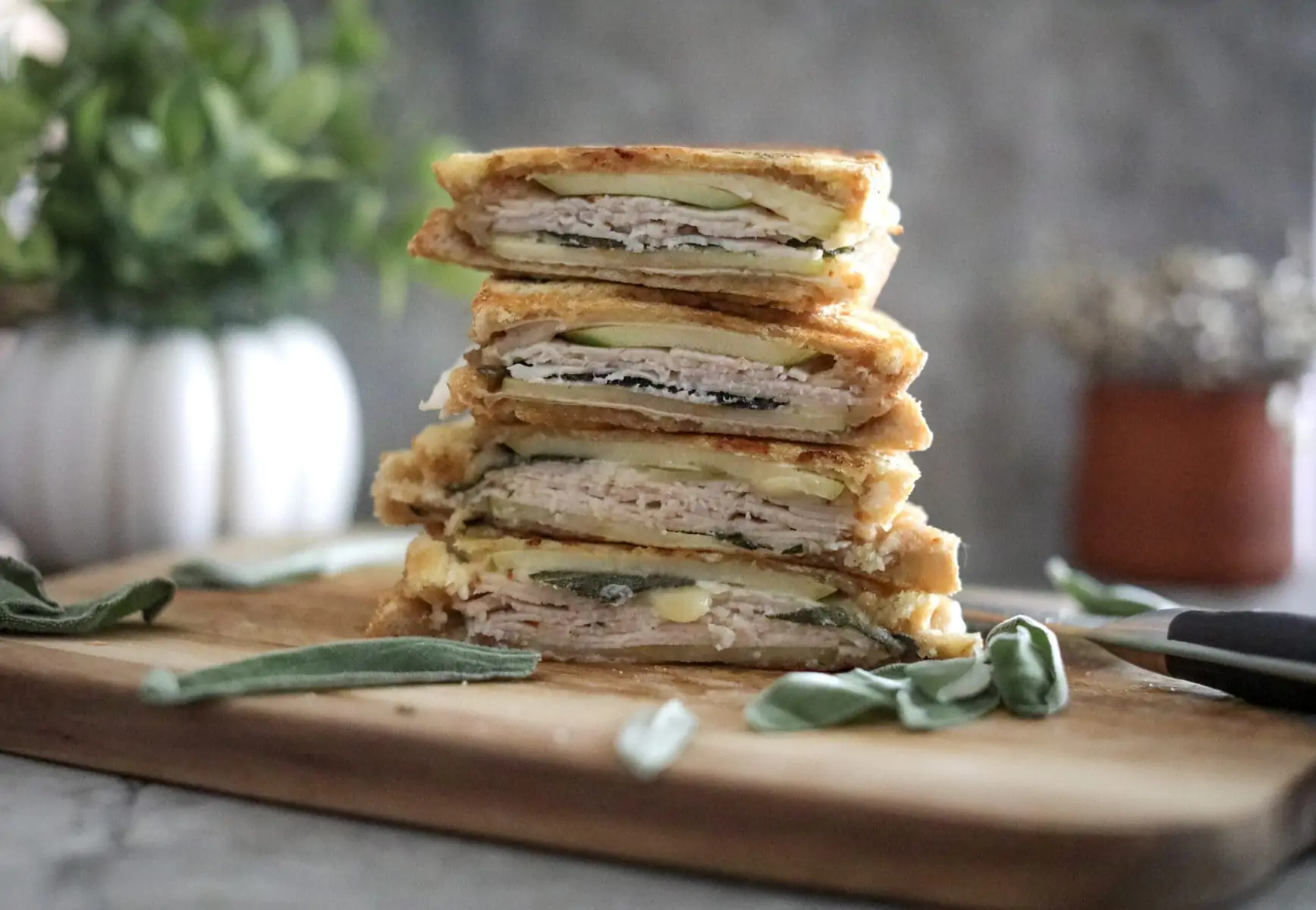 See above for the list of items used for the Apple, Sage and Turkey Panini's (we add fresh sage leaves to ours, and you can usually find that in the produce section of your grocery store).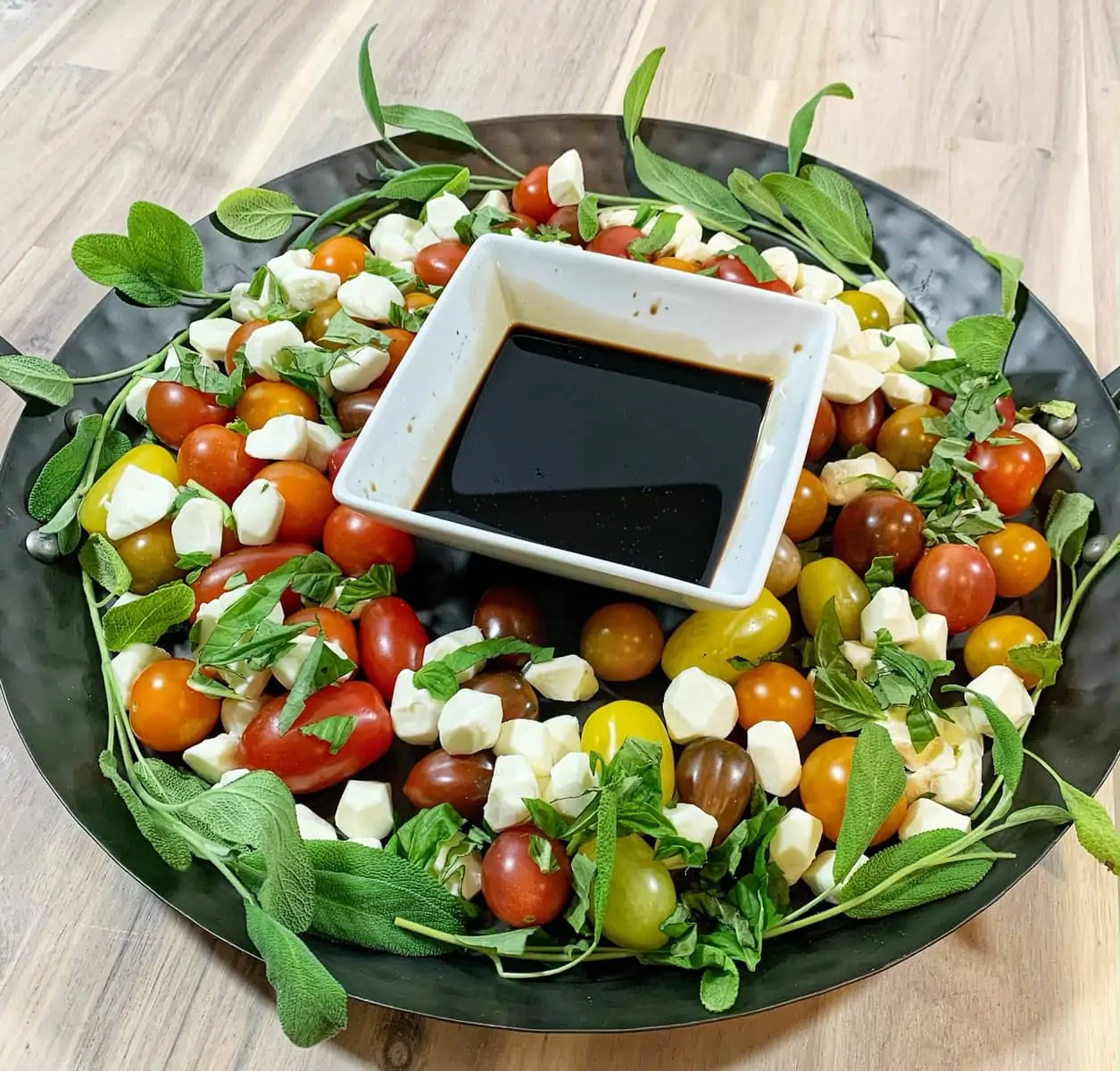 And the list for the Caprese Salad Wreath is really simple too. I used the leftover sage from the sandwiches to wrap around the outside of this one, to mimic the look of a Christmas wreath. I like to look for the pearl size mozzarella, but you could also dice it up yourself. Add some fresh cut basil to the top after you spread out your cherry tomatoes, and cheese, and then put a bowl of the balsamic dressing in the middle for folks to sprinkle over their salads.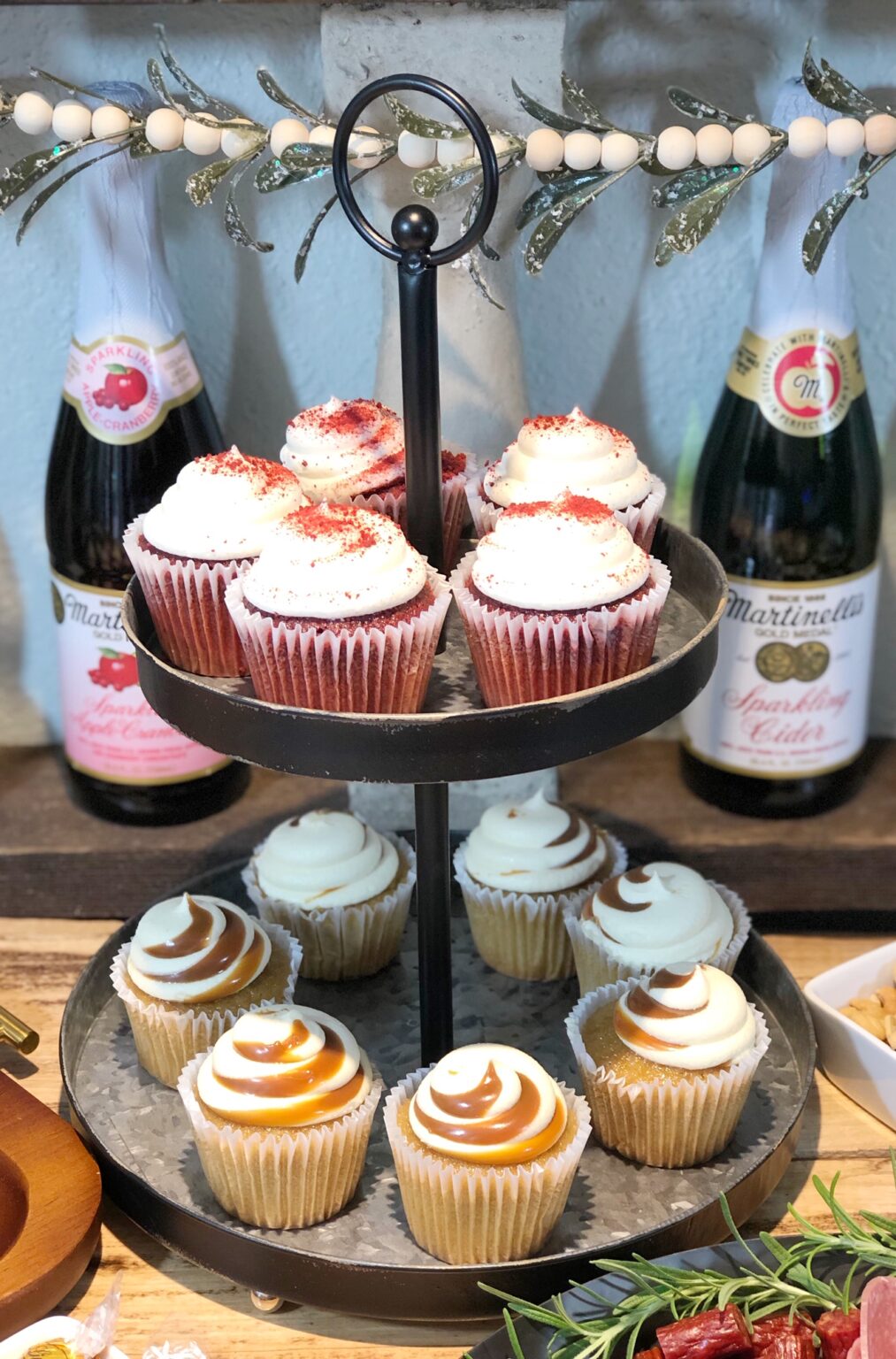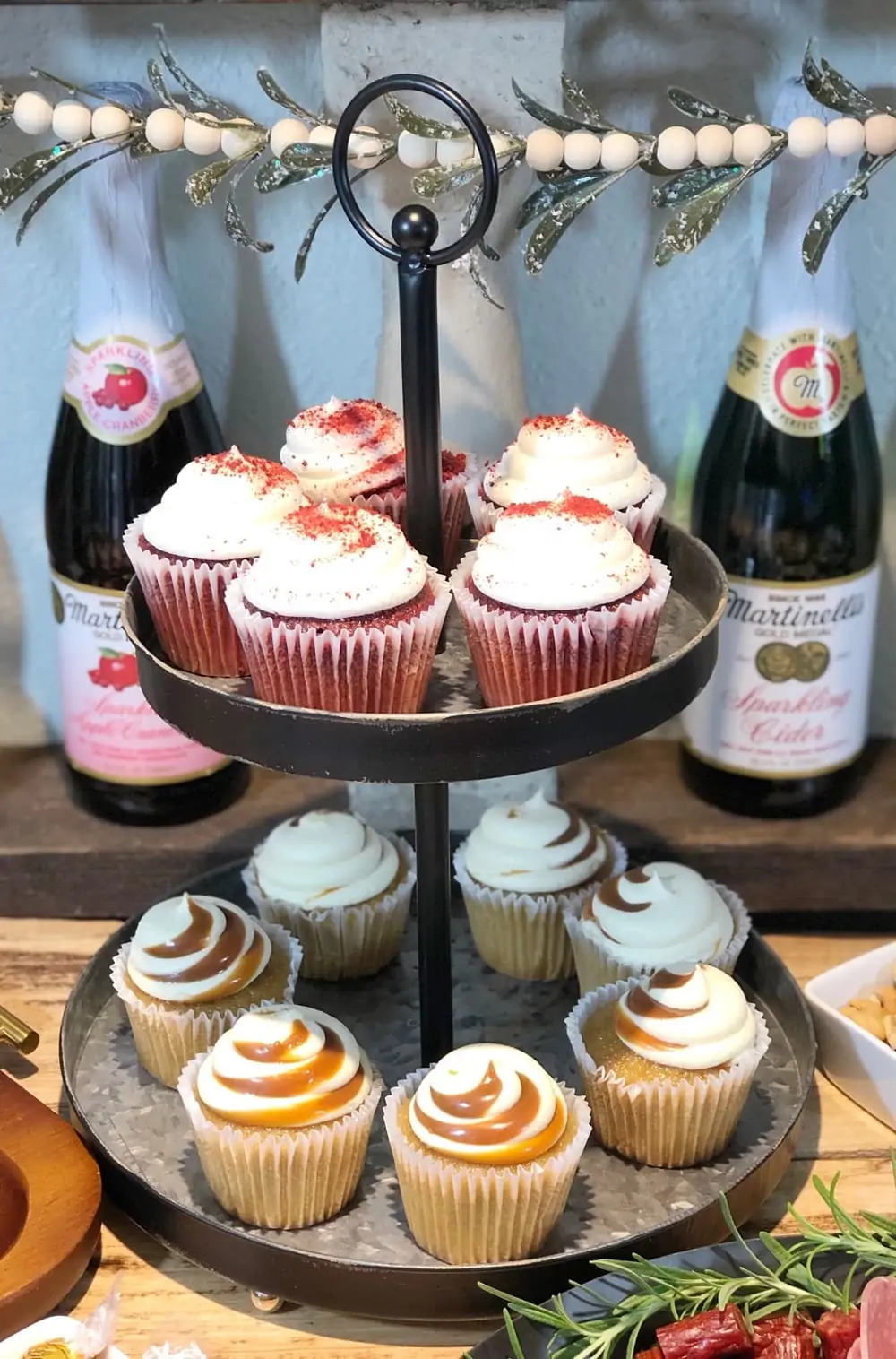 Think outside the box too. This two tiered metal stand was with the Christmas decorations, and it cost quite a bit less then the ones in the kitchen area. It was the perfect rustic element to put some Christmas treats in, and I got it for under $15!
Grab some of your favorite pre-made treats (or make your own favorite recipe) and some sparkling cider to round out your Christmas buffet table, and it is as simple as that. Easy Peasy!
Find all of these items and more, to create the perfect simple holiday spread for you and your family, from Walmart here. Now all that is left to do is enjoy it all with your family and friends this year!