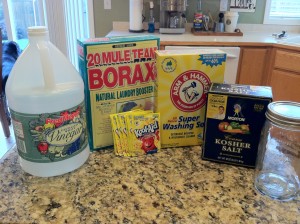 After making my own laundry soap,  it was a natural progression to start making my own dishwasher soap.  It is another item that can be made for much less than it can be bought.  However I was not pleased with my first results.  I had found a simple recipe online, and all seemed well but after a few months, my dishes seemed to be getting a cloudy tint!  Not good!  So back to the store bought brands I went.  A few months back, I stumbled upon a different recipe and decided to give it a try again – this time it worked and is still working!!
Homemade Dishwasher Soap Recipe:
Ingredients:
Mix all ingredients well and store in airtight container.  Use 1 tablespoon per load in the dishwasher.
*The Lemonade or Citric acid is the key to not getting the milky, cloudy look after time.  I like using the lemonade; however it can stain the dish soap dispenser a lemon yellow color, but it smells really good.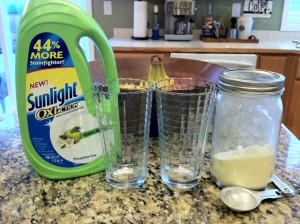 Store-bought detergent vs homemade dish detergent – same results!
I have been using the homemade dishwasher soap for about three months and have noticed a difference between the store-bought brand and the homemade version.  I decided to run a load using the store-bought brand versus the homemade soap.I then compared the two glasses – they both look the same to me!! Success!

DIY Rinsing Agent:
This is such a simple way to save money on rinsing agents – just use white distilled vinegar as the rinsing agent. Pour the vinegar in the section where you put Jet Dry or other rinse aids.  The white distilled vinegar works just as well as another rinsing agent & is significantly cheaper.
Cost-Effective:
The homemade dishwasher soap costs about $.05 per load. The store bought brand is about $0.15 cents per load.  I run at least one load if not two a day.  At one load a day,  it is a savings of $36.00 per year.
You can see a significant savings by using the white distilled vinegar as a rinsing agent.  Typically,  I would refill my rinsing agent once a month.  By using the vinegar, I'm paying $0.06 per fill versus Jet Dry at about $4 per fill. I am saving $47.28 per year.  If you combine the two,  that is a savings of $83.28 a year!!
If you use coupons & match with the store sales, you could get the dishwasher soap & Jet Dry/rinsing agents cheaper, but  using the homemade version could still be a great savings for your family on a regular basis.
Have you ever used homemade dishwasher soap & what has been your experience?
Here are more DIY posts you might be interested in:
By contributor Sarah