How To Make Espresso Drinks (Lattes, etc) – No Fancy Machine Needed!
This post may contain affiliate links and I may be compensated for this post. Please read our disclosure policy here.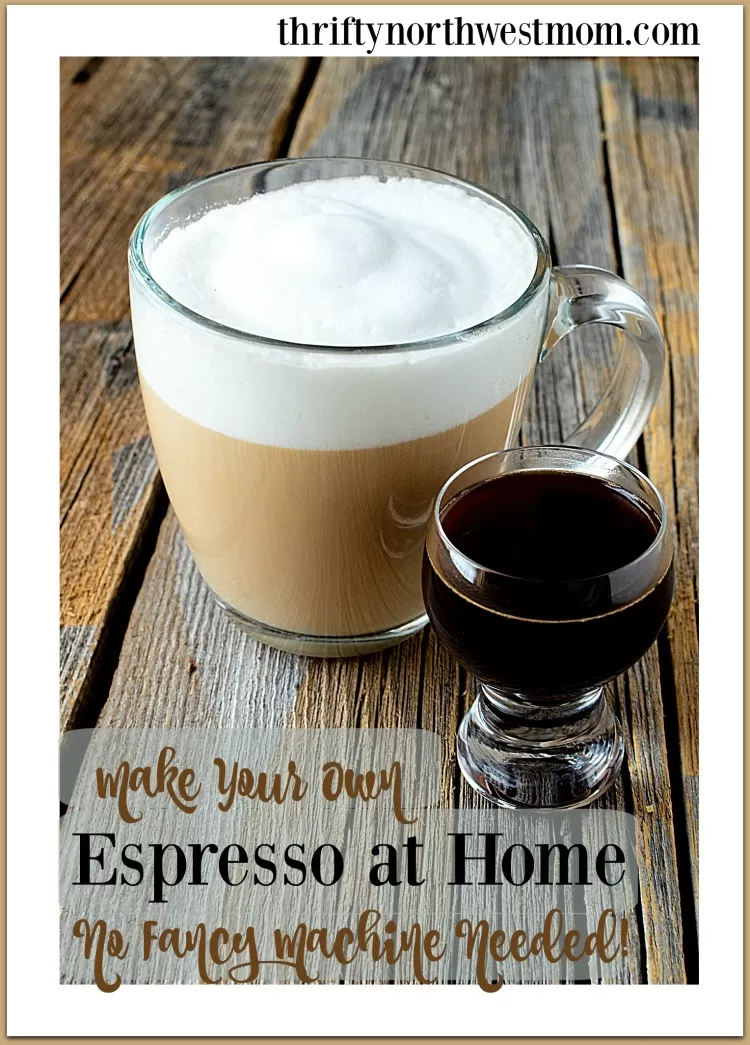 How to make espresso without a machine!
Want to know how to make espresso, without expensive espresso machines? We tell you how to do it, as well as provide some details on different coffee recipes you can use for those specialty drinks.
Living in Seattle, we love our coffee! There are a many coffee shops around, but I like to be able to make a great cup of espresso before I even leave the house. Well, more accurately, a creamy foamy latte (hazelnut is my flavor of choice this morning).
I also find that making my own espresso drinks at home saves me quite a bit of money, versus buying from Starbucks and other coffee shops around.  I worked my way through college as a Barista, and have not stopped whipping up espresso drinks since. Now my family and neighbors are the ones drinking my lattes and I thought some of you might be interested in how to make espresso at home too!
Did you know that you don't need an expensive espresso machine to make a great latte or americano? Its true, there is not a big up front investment requirement to enjoy a good espresso.
Want to know how to make espresso at home? Here is how you can make a latte without an expensive automated espresso machine.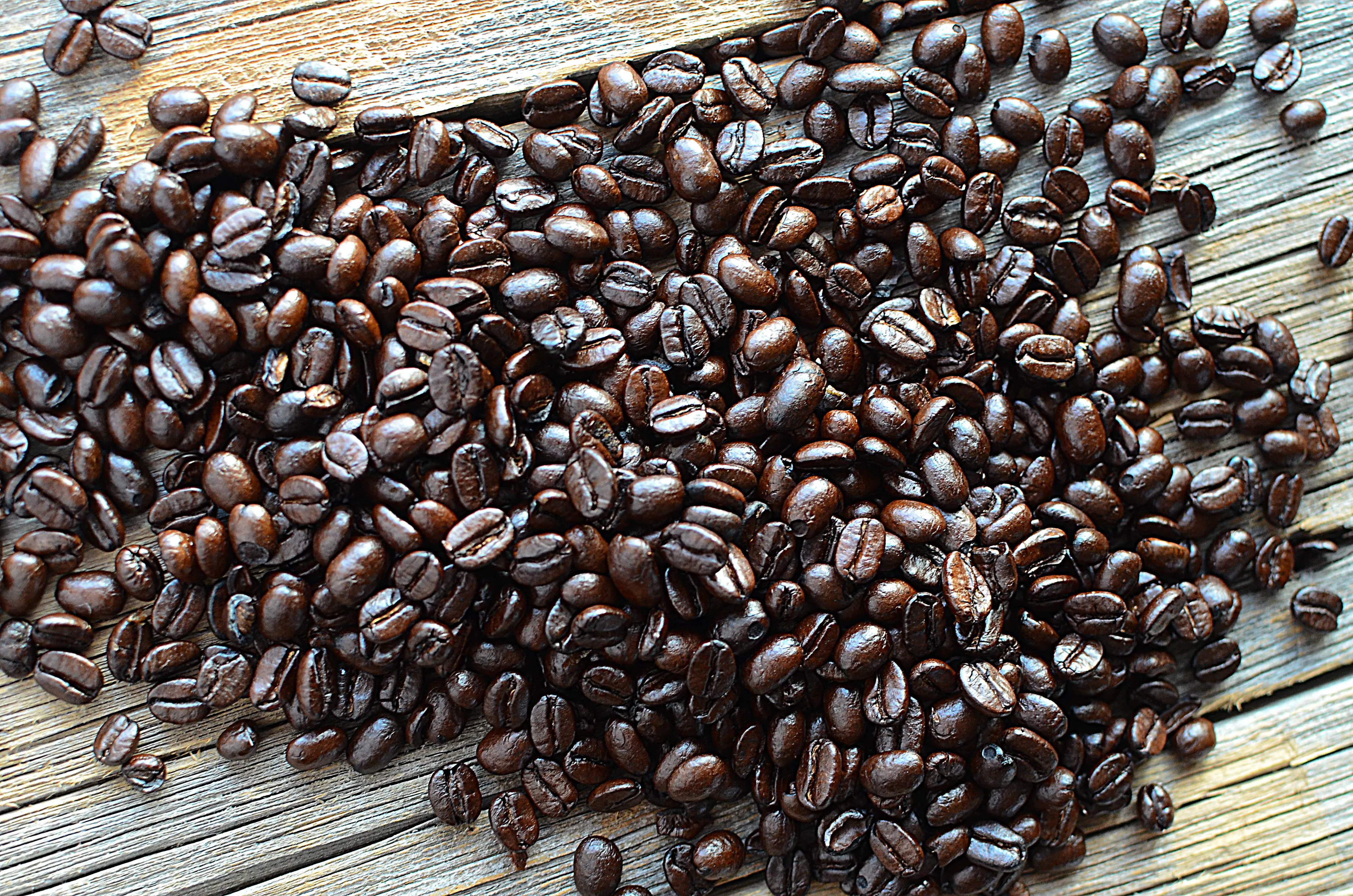 Ingredients Needed To Make Espresso At Home
Espresso
Milk of choice or water for Americano
Extra ingredients (syrups, flavorings of choice, whip cream).
Amazon has some good deals on quality espresso's here.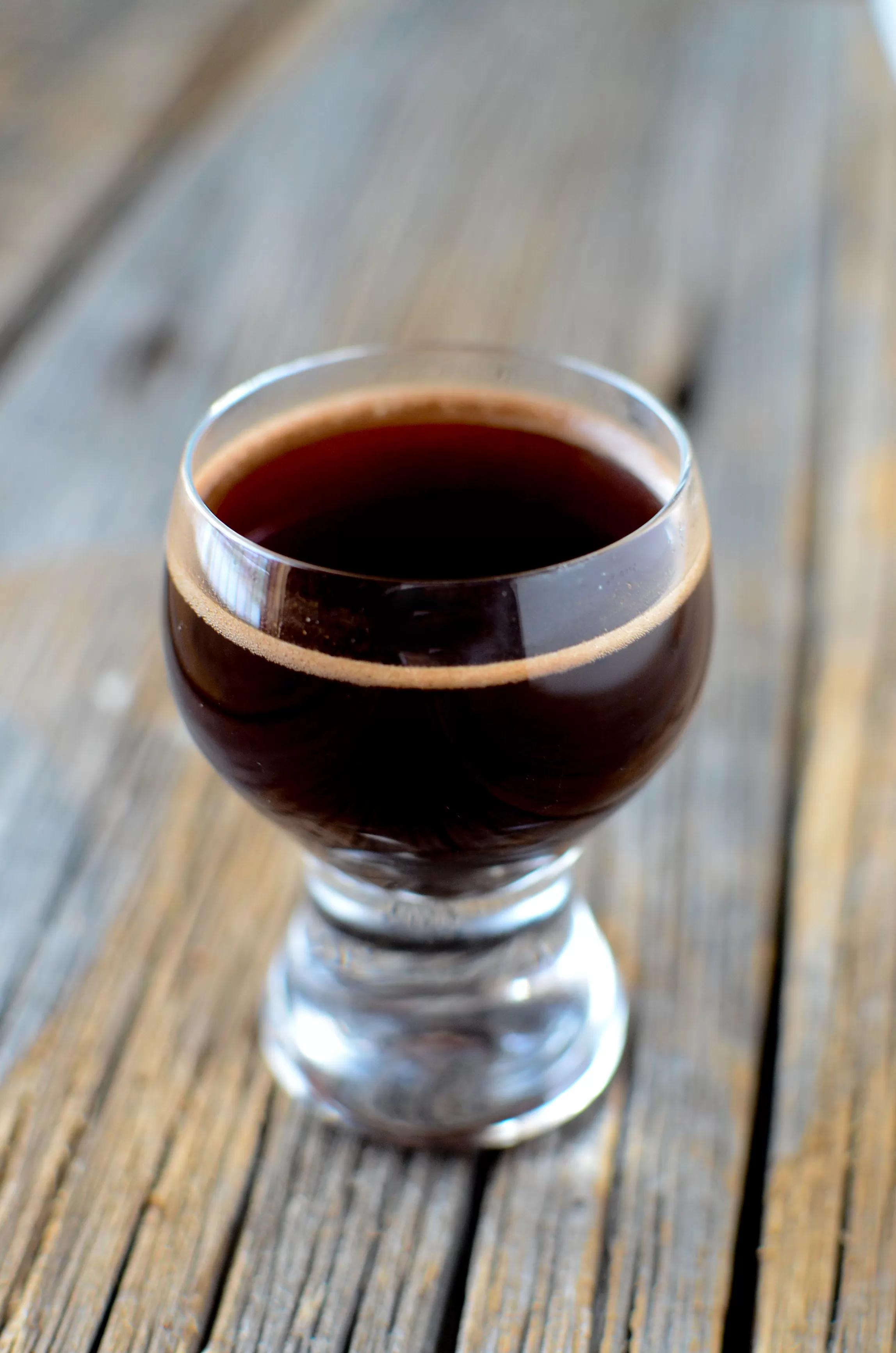 How to make the espresso or how to make a latte (different options):
1)Simple Machines – A very popular product on the market these days is the Aerobie AeroPress Espresso Coffee Machine. Reviews on this machine are excellent (you can find more of them on Amazon here), and it makes a great tasting espresso!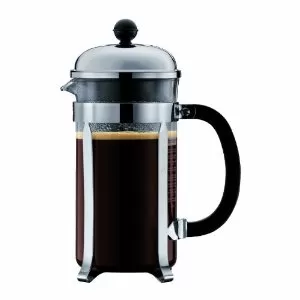 2) With a French Press
–  You can get a Bodum French Press
 (this is what I have and love it).
Find step by step directions on this brewing method on wikihow here.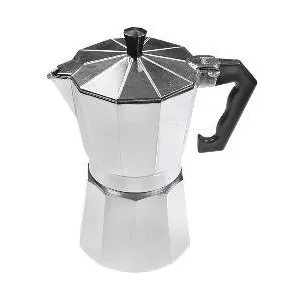 3) Use a Stove Top Espresso Maker
 (often called a Moka Pot or poor mans espresso).
4) Use a standard Coffee Maker. This is my least favorite method, as it makes the least strong espresso. However its a great option if you already have a coffee maker and don't want to invest in new equipment, or if you are a regular coffee drinker and just want an occasional latte.
For this method you will:
Want to get an espresso blend of coffee, it needs to be ground very finely.
Double the amount of coffee you would put into your pot, to make a really strong coffee.
Use right after finished brewing for best results.
When coffee is finished fill your cup with 1/4 of the espresso mixture and 3/4 milk for latte (or 3/4 water for american).
 Be sure to heat your milk in the microwave, with hand frother or over the stove first, so its hot.
You can purchase a hand Milk Frother
, but I highly recommend reading through reviews on this product, because not all milk frothers are made the same.
You can find milk frothing instructions on Wikihow here.
You can also just warm your milk over the stove or in the microwave if you are not a fan of foam on top of your latte, or make your latte over ice – no frothing necessary!
Here are two more alternatives to milk:
Make an Americano (espresso and hot water) and add a big dollup of whip cream to the top. Mix that into your coffee (like creamer) and it will add a sweet creamy taste to your americano. I love to make mine this way, with a little vanilla and cinnamon (yum).
Tips for the milk:
160 degrees is what you will get at most coffee shops. You can get a Milk Thermometer to check your temp if you want (these can be pretty affordable).
Kids drinks are usually 130-140 degrees.
Adult drinks are usually around 160-165 degrees.
I like mine extra hot around 170-180 degrees (I believe you will start scalding at 180 so be careful).
Want a really rich drink, use half and half to make a 'Breve" (so delicious!)
You can make non fat milk taste creamier by making a nice dense foam on the top (vs one with lots of air bubbles).
Want a cheap flavored latte. Grab some flavored creamer and add a tablespoon to your milk before frothing.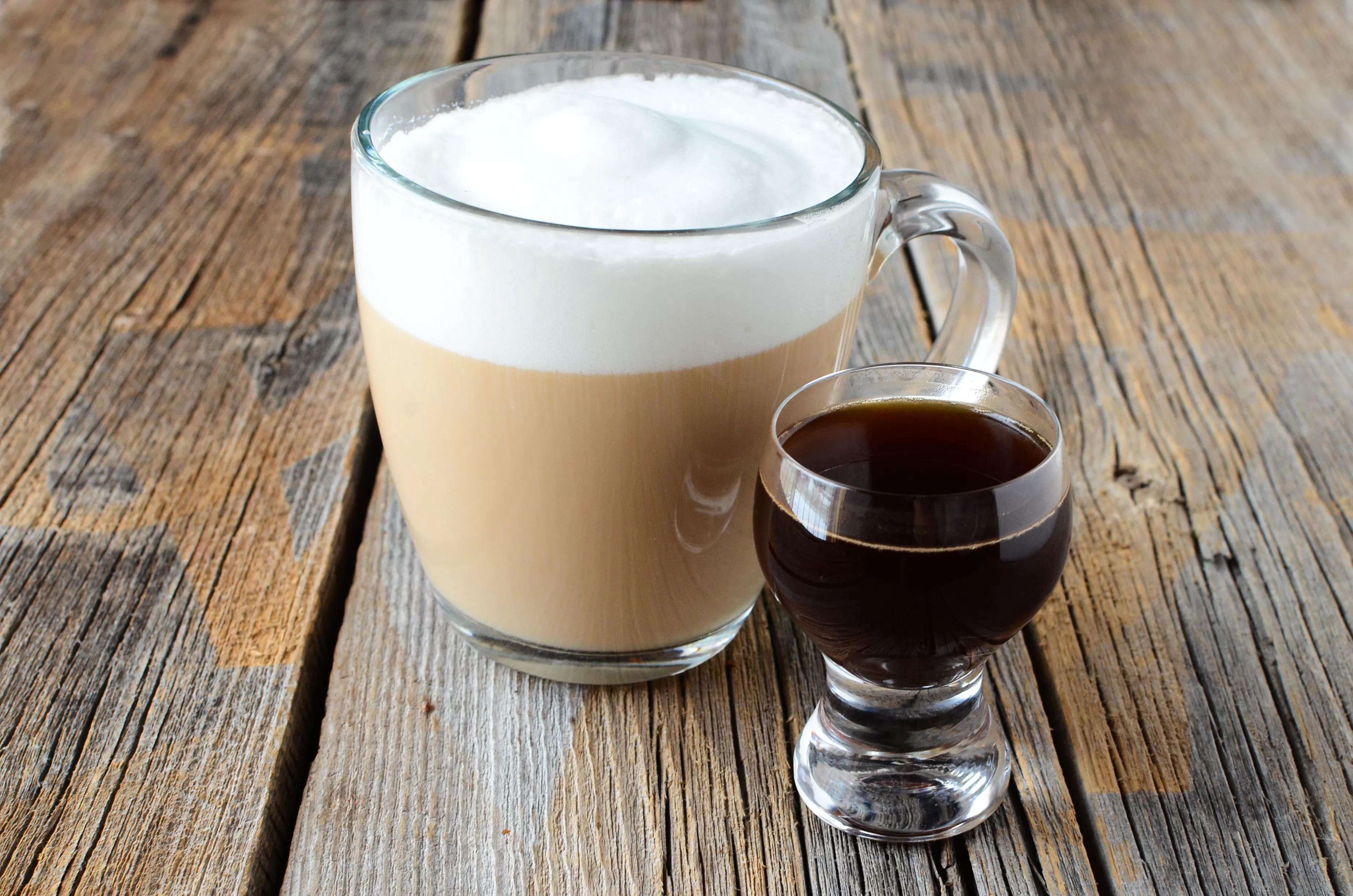 Tips for making DIY flavored lattes (how to make a latte):
Coffee syrups can be pricey, but you can often save by buying in bulk or stopping at your local Cash and Carry to take advantage of restaurant pricing (that is my favorite spot to buy them)! You can also check out this article on DIY: Iced Coffee & Homemade Syrups
Syrups are not the only way to flavor up a latte. If you are going to buy them I find the best prices at Shop and Carry or Fred Meyer (when they have the Extra Value coupons available). If you do not want to make this splurge, here are some other great tips:
Use chocolate syrup for mochas, its generally more affordable then syrups
Use caramel sauce rather then caramel syrup. I actually prefer caramel sauce (I think it provides a more mellow taste and less sweet). You can even make caramel sauce yourself!
Use condensed milk with a dash of cinnamon and nutmeg for a Spanish flavored coffee. I love these, reminds me of drinking coffee in Puerto Rican restaurants in NY (where I stole this trick from).  Add anywhere from 1 tsp to 1 tbsp depending on how sweet you like your coffee.
Make Mexican mochas.  Every couponer knows Hot Chocolate often goes on sale around this time of the year. Stock up on it, and use it as an alternative to expensive chocolate powder in a Mexican Mocha recipe.  You can make up the mixture and then just scoop a couple of tsp. into your latte, and stir until dissolved.  Use all of the packets of hot chocolate from one box, 1 tsp cinnamon and 1 tsp nutmeg. If you want to give it a kick you can add a 1/2 tsp cayenne pepper. If you have vanilla powder, thats the best to add (1 tbs), but if not I substitute 1/4 tsp of vanilla extract (add it directly to your coffee cup, not to the powder mixture if you want to store it).
Buy flavored coffee creamers and use them in your Americano, or steam some with  your milk.
Use chocolate milk to make your mochas (then you wont need a syrup, just steam the chocolate milk like you would regular milk).
Use eggnog cut with a little regular milk to make an eggnog latte (you can add a splash of rum extract to really make it great).
Add a splash of peppermint extract to your chocolate syrup (be careful with this, a very little bit goes a long way – you may want to use an eyedropper (clean of course) to add.
Make it really special with garnishes. Grate a little chocolate over the top, or break up a candy cane to sprinkle on top. My favorite is to add homemade whip cream to the top and drizzle some caramel sauce over it. You can also add a sprinkle of cinnamon, nutmeg or chocolate powder to add pizzazz!
Do you have any additional tips for how to make espresso drinks at home? What are your favorite bargain coffee tips?
(Note – Amazon prices can change at any time)
Other Articles You May Be Interested In:
You can view more frugal homemaking & DIY ideas under the "Resources" tab – Frugal Living,DIY Ideas, &  Recipes .